As one of the most hotly-anticipated bikes of the year, the brand new 2020 Giant Reign 29 arrives on the scene as the longest travel 29er that Giant has ever built. Following hot on the heels of the success of the Trance 29 – a bike that we've become rather fond of here at Flow – the Reign 29 ups the suspension travel at both ends, beefs up the chassis and kicks out the geometry to suitably enduro-y proportions. Flow's Oli Smith set aside his own Reign 27.5 to put the 2020 Giant Reign Advanced 29er Pro 0 to the test at the bike's official launch.
---
See the 2020 Reign 29 in action in the video here
---
Say Hello To The Giant Reign 29er
It's early. The coffee hasn't quite kicked in yet. The heli drop has landed us atop Mt Cartier, a 2499m high peak in Revelstoke, British Columbia. Slung across my back is the new 2020 Giant Reign Advanced Pro 0. Oh yeah, it has big wheels now. Welcome to the long-travel 29er crowd, Giant.
We hike-a-bike up to the peak and watch as the bright-orange helicopter cuts a direct line across the peaks, returning to base to pick up the next group. It's bloody cold up here, but my palms are still sweaty.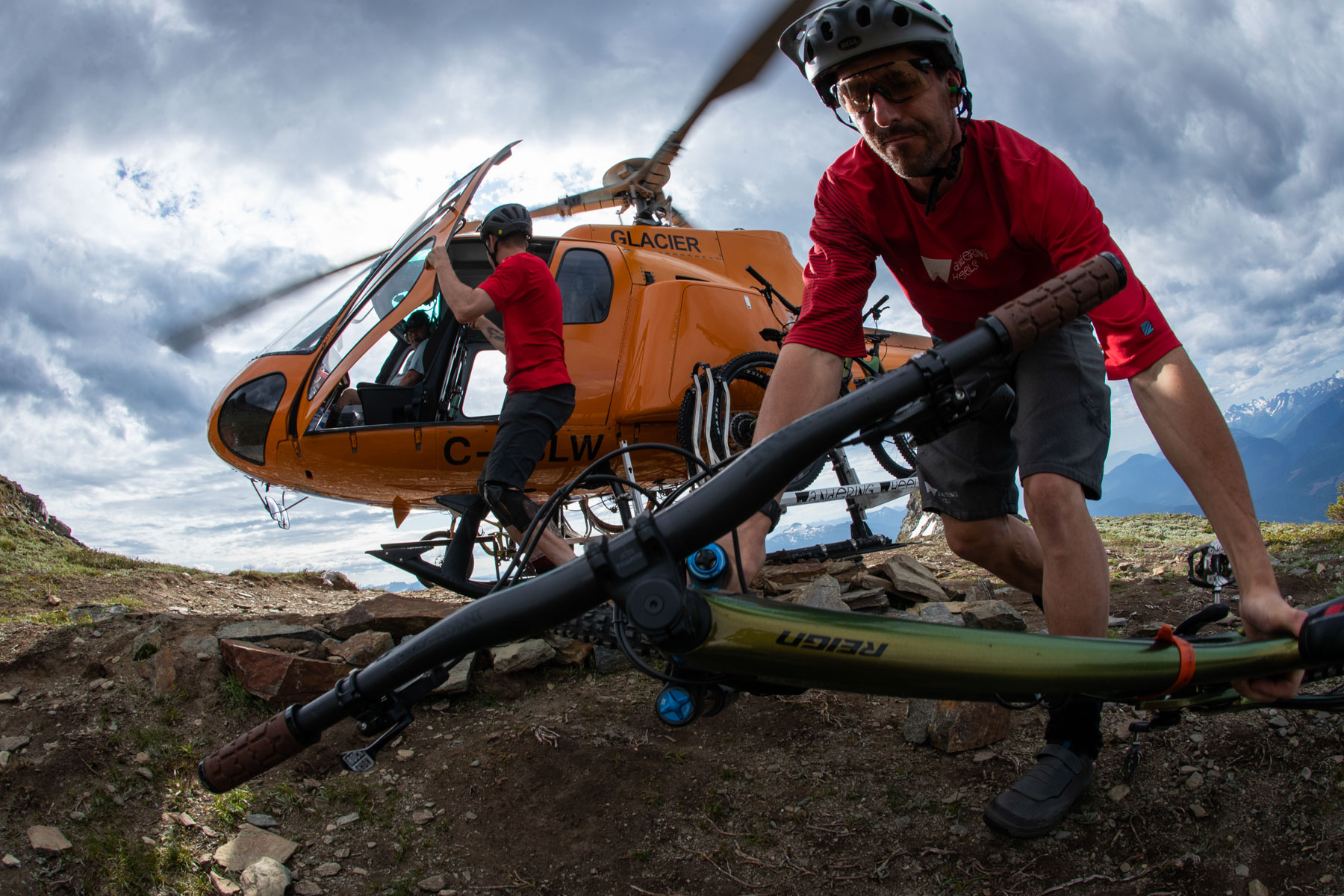 Snaking below is a ribbon of perfect but concerningly narrow singletrack on shale rocks, with tight goat-track turns. Below that lies a carpet of wildflowers, and below that still is the tree-line. Today's descent is over 2,200 vertical metres on 18km of pure singletrack.
Conditions are perfect: recent rain has left the trails tacky, but mostly dry. As far as the terrain goes, it's rough, rocky, rooty, and yeah, steep.
Big Travel, Big Wheels
Perfect for the Reign 29er, then. 146mm of rear travel compliments 160mm upfront. 65° head angle, progressive-but-not-extreme geometry numbers, and a compliment of Fox Factory suspension and SRAM Code RSC brakes with 200mm rotors. I'm going to need all of that to get me to the bottom in one piece.
The bike comes with a RockShox Reverb SL dropper, which was specced at 125mm for the Medium. You could probably fit a 150mm in there if needed, as the frame design has been revised to allow more space for longer droppers. I'm not particularly tall but I would have liked to try a 150mm.
Did I mention this bike without pedals weighs just 13.1kg? Yeah, that's light – I felt like my backpack full of gear weighed more.
Err, What About The 27.5 Wheel Thing?
We gather at the top as the marmots watch, and begin our descent. As we drop, I'm watching the loose shale edges drop off right next to my wheel. I need something to take my mind off this exposure, so I think about where the idea of this bike has grown from.
In 2014, Giant launched a range of new bikes, boldly claiming that 27.5 wheels were the future. The brand was "fully committed" to the 27.5 wheelsize, and called this the boldest decision in the company's history.
Allow Us To Eat Our Hat
So, why do we now have a Reign 29er? Well, let's just say bike companies aren't very good at predicting the future (though I do admire their confidence). Giant desperately needed a longer-travel 29er to complement the Anthem 29 and Trance 29, which are both already well established in the market.
The reality is that Boost wheel spacing and 1x drivetrains have made building good 29ers much easier, because manufacturers can slam the rear wheel in closer without having to engineer-around an awkward front derailleur. We're also demanding bikes with longer reach for added stability, which compliments the 29er approach when combined with better fork offsets to keep the front end snappy.
We particularly loved the Trance 29er at Flow, which basically nailed the "fun 29er" brief, so the curiosity levels were high for its big brother.
Rightio. But What's It Like To Ride?
So this bike is good. Really good. That's quite a short review though, so allow me to elaborate.
I'd say it feels more like a longer travel Trance 29er than a Reign with big wheels, and I'll explain why that's actually a compliment. It's supportive on big hits, climbs well, and is still a lot of fun to throw around, whether that's sliding the tyres around tight turns or getting the bike comfortable in the air.
146mm rear travel may sound a bit underwhelming next to the smaller-wheeled Reign's 160mm, but it makes this bike much more versatile. It's a great do-everything bike for the rider who prefers aggressive, nasty trails to smooth, snaking singletrack, but still needs to get to the top of the mountain under pedal-power.
Why 146mm, I hear you ask? Apparently the designers tried a range of travel options, and 146mm just turned out to be the preferred sweet spot. They wanted this bike to be fun and playful, but still able to get you to the top of the climb. Giant didn't want any weird leverage curve characteristics either, and 146mm was the magic number. So there you go.
Bombs Away!
We survive the top switchbacks, and the trail pitches in to the treeline. Suddenly the trail gets steeper, with big roots and some rocky turns. Speed goes up as the exposure disappears and I feel more comfortable surrounded by trees for some reason (even though they hurt just as much when you hit them, I can attest).
The turn-in is sharp. It's sensitive to light inputs and easier to get your weight over the front compared to some other long travel 29ers. The 44mm fork offset is a good choice for this bike.
The riding position was well centred – I felt I could have had a tiny bit more reach in the size medium (455mm), but I forgot about it after the first few hours. The shorter reach allowed me to put my weight further forward on the front wheel, and I felt inside the bike, rather than on top of it. Any concerns about the longer 439mm chainstays were dropped as quickly as our elevation changed.
In terms of straight-line descending, it finds traction everywhere, with the Maestro suspension design extending effortlessly into holes in the terrain and collecting big hits with excellent composure. It doesn't have quite the 'liveliness' of a Trance 29er, which feels like it pops and skips over rough terrain more than sinking into the undulations. But that's not a bad thing for what will inevitably be the go-to enduro bike for the Giant Off Road team – it means the tyres are on the ground and gripping more of the time, which leads to more traction and more speed when things get really gnarly.
Stealthy Quiet
This bike was almost completely silent on the descents, something that modern bikes are getting very good at. The wheels came with DT Swiss' standard and underwhelming 18T ratchet, which is a quiet and reliable performer. For a bike costing over ten grand though, it really should come with a faster-engaging freehub. That's one thing I would personally be upgrading straight away for better engagement – at least a 54T ratchet kit is cheaper than a whole new rear hub.
Upwards & Onwards
During the launch, we climbed quite a bit to get to a local trail with lots of features, rocks, roots and loam – everywhere. Deep breath – this bike climbs well. Again, it's not a Trance 29er, but the much improved seat tube angle (76.8°), combined with some revised suspension kinematics meant I wasn't really having any issues getting up and over short pinches, or spending hours in the saddle. The longer stays also helped with stability on short, steep pinches. It's a huge improvement on the outgoing Reign 27.5.
This bike will excel for riders that want an "all-day" enduro-capable bike – climbing to the top again and again for multiple laps, or going out on a big adventure to hunt out rough, steep and nasty descents.
Rubbed Up The Wrong Way
There's something I do need to mention before I go any further. On the climb, myself and all of the other journos on the launch noticed that the rear brake rotor was rubbing against the calliper whenever we put the power down. It wasn't an issue of calliper adjustment. Instead, it seemed like flex in either the wheel or the new carbon swingarm was causing the brake to rub as you climb.
I asked the crew from Giant about it and they said that they are already investigating it. Hopefully it's not going to be a matter of reducing the rotor size to 180mm, because that would feel like a bit of a patch job – this bike is capable of impressive feats and a 200mm rear rotor is a must for big-mountain descents.
Reign 27.5 VS Reign 29
Finally, how does it compare to the 27.5 to ride? Frankly, quite different. The Reign 27.5 was like a flaky friend – great when it was time to party and let loose, but somewhat aloof and boring for of the in-between stuff. The 27.5 Reign felt muted and sluggish on a trail that wasn't steep and full of rocks and roots. It used up a lot of your forward energy to flatten the terrain – which only works when it gets really steep.
The Reign 29 really isn't like that at all. As mentioned above it's not a short and snappy short travel bike, but during the launch we rode some classic 'blue' singletrack as a warm up and it was a lot of fun – it popped and hopped and skidded around tight turns.
The blue trails we rode were quite smooth, so it will be more revealing to see how it deals with some local Australian trails, which are often much rougher at the same gradient, but first impressions are good.
Models & Pricing
Ok, Australian pricing. Are you sitting down? $10,299. That's the Advanced Pro 29 0. Full carbon (even the swingarm this time), full Fox Factory suspension, hookless carbon wheels, all of the good stuff. In context of the spec on this bike, it makes sense. Also remember the weight of this bike is 13.1kg. Incredible for a long-travel enduro 29er.
If you want the model down, the Advanced Pro 1, that's a much more palatable $6,999. The entry-level alloy is $3,999 and the SX version, with 170mm travel upfront, is $5,299.
2020 Giant Reign Advanced Pro 29 0
Frame | Full Advanced Grade Carbon Fibre, 146mm Travel
Fork | Fox 36 Float Factory Series GRIP 2, 160mm Travel
Shock | Fox Float X2 Factory Series
Wheels | Giant TRX 0 Hookless Composite
Drivetrain | SRAM X01 Eagle 1×12
Brakes | SRAM Code RSC, 200mm Fr & Rr
RRP | $10,299
2020 Giant Reign Advanced Pro 29 1
Frame | Full Advanced Grade Carbon Fibre, 146mm Travel
Fork | Fox 36 Float Performance Series GRIP 2, 160mm Travel
Shock | Fox Float X2 Performance Series
Wheels | Giant TR 1 Hookless Alloy
Drivetrain | SRAM GX Eagle 1×12
Brakes | SRAM Code R, 200mm Fr & Rr
RRP | $6,999
2020 Giant Reign Advanced Pro 29 2
Frame | Full Advanced Grade Carbon Fibre, 146mm Travel
Fork | RockShox Lyrik Select, 160mm Travel
Shock | RockShox Deluxe Select+
Wheels | Giant AM
Drivetrain | SRAM NX Eagle 1×12
Brakes | Shimano MT520, 203mm Fr & Rr
RRP | $5,699
2020 Giant Reign 29 2
Frame | ALUXX SL Grade Aluminum, 146mm Travel
Fork | RockShox Yari RC, 160mm Travel
Shock | RockShox Deluxe Select+
Wheels | Giant AM
Drivetrain | SRAM NX Eagle 1×12
Brakes | Shimano MT520, 203mm Fr & Rr
RRP | $3,999
2020 Giant Reign 29 SX
Frame | ALUXX SL Grade Aluminum, 146mm Travel
Fork | Fox 36 Float Performance Elite Series GRIP 2, 170mm Travel
Shock | Fox DHX2 Performance Elite Series
Wheels | Giant AM
Drivetrain | SRAM NX Eagle 1×12
Brakes | Code R, 200mm Fr & Rr
RRP | $5,299
Verdict
This is a bike that feels like it has been in the development wings for quite some time, and a lot of attention has been paid to finding that magic balance between rock smasher and trail ripper. They could have made another big travel 29er with extreme numbers – long reach, lots of travel, super slack head angle, but Giant stopped short of that, and the bike is all the more impressive for it. We can't wait to try it on home trails.