On review we have the cream of the crop, the top of the shelf race bike from prestigious brand Cannondale, the Scalpel Si Hi-Mod Team. The highest spec of all the Scalpel models available in Australia comes in at a mighty $11999, but is dressed accordingly in an absolute premium parts kit from SRAM, ENVE and FSA.
Our medium sized bike tipped the scales at 10.47kg after tubeless conversion and without pedals, top that!
---
UPDATED – Final review is now live, click through to that here.
---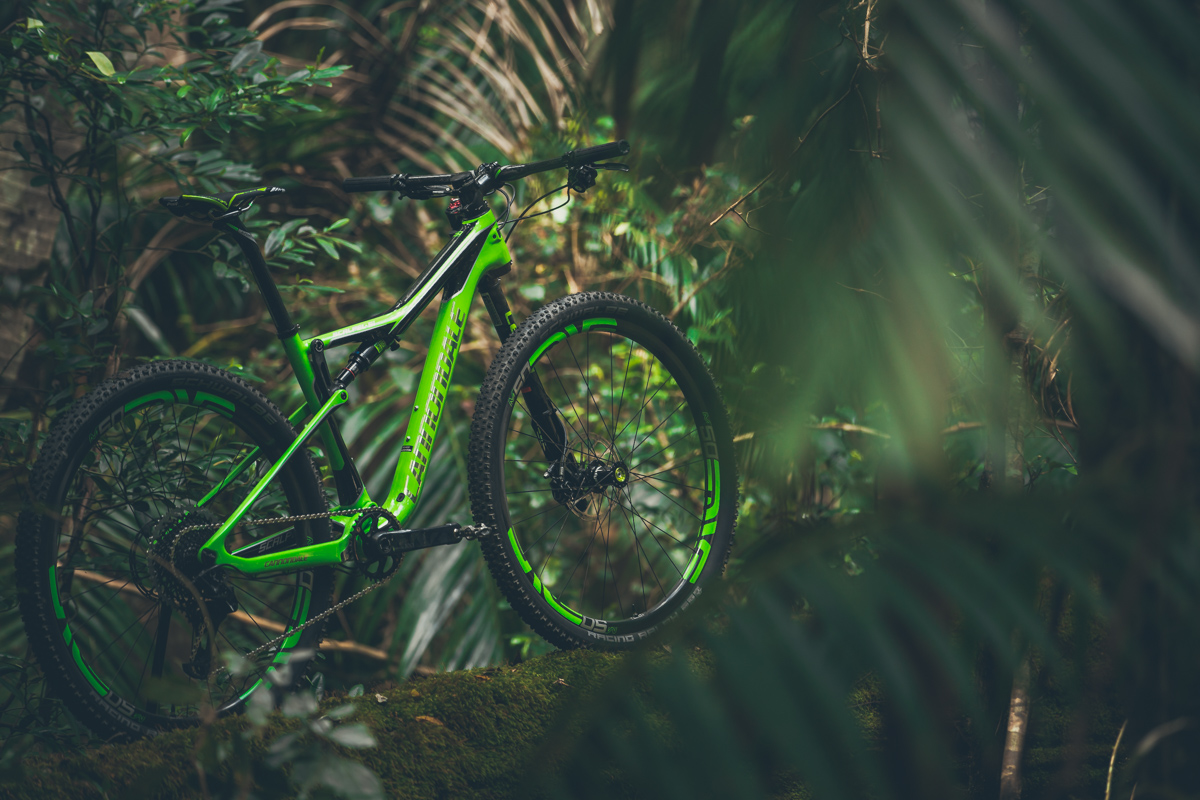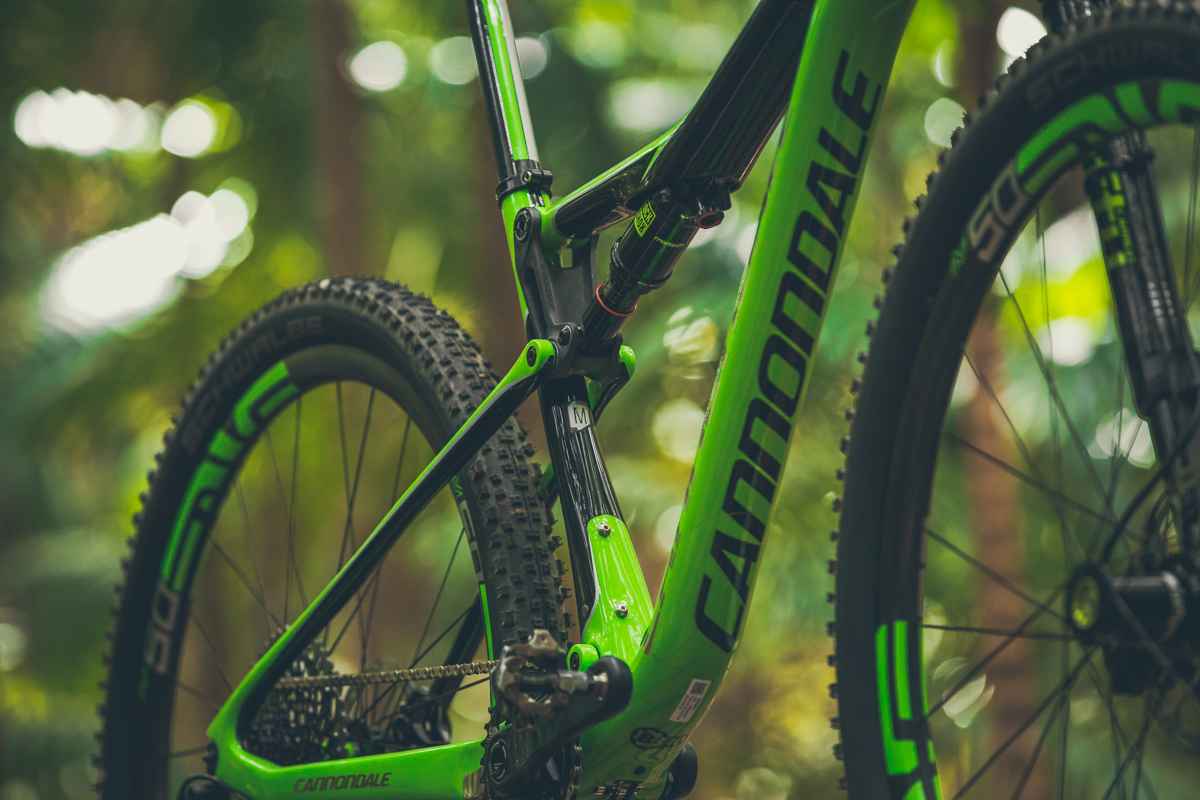 Before we get into the nitty gritty of the review, here is what we are looking at.
Who is the Cannondale Scalpel for?
The Scalpel has been around for many, many years and has always catered for the cross-country and marathon racing crowd with its lean and lightweight frame and minimal suspension travel. It rolls on 29″ wheels, but the size small frame uses 27.5″ wheels.
It's not for the faint hearted though, this is a seriously fast handling race bike. There is the Cannondale Habit for anyone looking for a more fun and confident trail bike on a variety of terrain, read our review of that one here: Cannondale Habit review.


Check out the numbers on this one.
It's a new frame for 2017, what has been changed?
Lighter, stiffer, slacker, shorter, longer etc. The new Scalpel is 'Built For XXC' by adding another 'x' to 'xc' they want the message to be that this is an XC bike that can handle the rougher race courses out there. Shorter chain stays, slacker head angle, increased fork offset, and Cannondale's new OutFront Geometry. We'll have more to say on that in our final review.
There's not a lot of symmetry going on here, aside from the obvious – single sided fork – the rear end and wheel is also wildly offset to help achieve shorter chain stays with good tyre clearance. It's a trippy bike to look at!

There's also a new internal cable routing and provisions for Shimano Di2, and the rear shock remote lockout cable is the neatest we've ever seen, travelling inside the top tube to the shock.

---
For more on the frame details head over to our feature on the release of the 2017 Scalpel here: CANNONDALE'S NEW SCALPEL SI
---
What is 'Si' that Cannondale harp on about?
Si stands for System Integration, where many of the components of the bike are closely integrated into the frame like the cranks, fork, stem etc. Cannondale take this a few steps further than most with their proprietary front suspension 'fork', the Lefty.


So what's new about this new Lefty then?
We have ridden and rated dozens of Cannondale Leftys since 1998 when it was introduced to the world, but they've always polarised with their obvious appearance and performance when up against the likes of FOX and RockShox. While we've always had plenty of great things to say about the light weight and steering precision of the single sided fork we've had just as many unhappy opinions on the plushness and sensitivity of the air spring and damper. At a time where the suspension market is making huge improvements with air spring curves we wanted more from the Lefty, we wanted it to be more supple off the top of the stroke and lighter in the compression tune.


Enter 2Spring, a completely new part developed by the team at Cannondale that can be retrofitted to 2014-2017 model Lefty forks and fitted as standard going forward with 2017 bikes. After one short ride we can certainly say that this is the best Lefty we've ever felt, far more sensitive and supple over the small bumps and it remains that way when the impacts become faster and harder. So far we're very, very impressed.
Here's the word from Cannondale on 2Spring:
"2Spring is named for its self-balancing positive and negative air springs, which are controlled by two coil valve and top-out springs that deliver significant improvements in performance and dependability."
"First, the coil top-out spring reduces friction, allowing Lefty to move more freely at the top of the travel, which provides increased traction. Second, the simple design combines multiple parts into one and reduces part count by 17% which increases reliability. Third, softer material and reduced surface area at contact points create a soft touch, further removing feedback to the rider. Fourth, the air piston geometry was changed to hold more oil against the seal which keeps the fork moving more smoothly."
"Finally, 2Spring's valve and top-out springs have been designed to last the lifetime of the fork, unlike previous systems that required servicing every 100 hours."
Pretty high spec, is it worth the cash?
It'd be hard to find a bike with such a high spec as this one, especially with SRAM Eagle and ENVE wheels. Then there's the premium stuff from FSA with the bars and post, and Schwalbe tyres all ready for tubeless. So, yes it is mega bucks, but mega high-end too.
We've already had one quick ride on this thing and holy moly it is quick. We were very well acquainted with the older Cannondale Scalpel Carbon 29er Ultimate after a few weeks testing and racing it at the Cape to Cape, and already this feels like a very different beast. Once we got the suspension setup and tyre pressures sorted we began to put huge confidence in this bike and really let it gallop on fast singletrack, we were absolutely flying. For such a rapid handling front end, there was also a lot of stability on the descents, not what we'd expect from a racey 100mm travel 29er.
As we gear up for a few more solid test rides we're going to get to know the details behind the 2Spring part in the new Lefty, and investigate what tuning capabilities there are with the front and rear suspension. We'll also look into stem configurations too, we may want to get those bars down a little lower and we also noticed our medium frame had us nearing the limit of the seat post maximum height out of the frame.
Stay tuned, we're going to love sinking our teeth into this one!