Firebird is another term for a Phoenix (or so Wikipedia tells us), which is why it's not surprising that this rig has a lot in common with Pivot's downhill bike, the Phoenix. Those similarities are going to be put to the test in Thredbo, where we'll be spending a week smashing out laps of the awesome trails Thredders has to offer.
---
Heading to Thredbo? We'd suggest you give the Makin Trax Basecamp a try. They hosted us for our week in Thredbo, and it was the perfect setup for our crew of six riders. With five bedrooms, to sleep up to 12 riders, a huge kitchen, an open fire and plenty of space to store your bikes, it's just bloody ideal. They're doing some great accommodation and lift pass packages too. Take a look!
---
That's a big looking bike- what are the numbers?
For a few years now, 160mm has been the accepted travel amount for bikes in the 'enduro' category. For 2017, many brands have bumped the fork travel up to 170mm matched with 160mm rear ends. Pivot decided that they could go one better, and the beefy Firebird sports 170mm of travel both front and rear.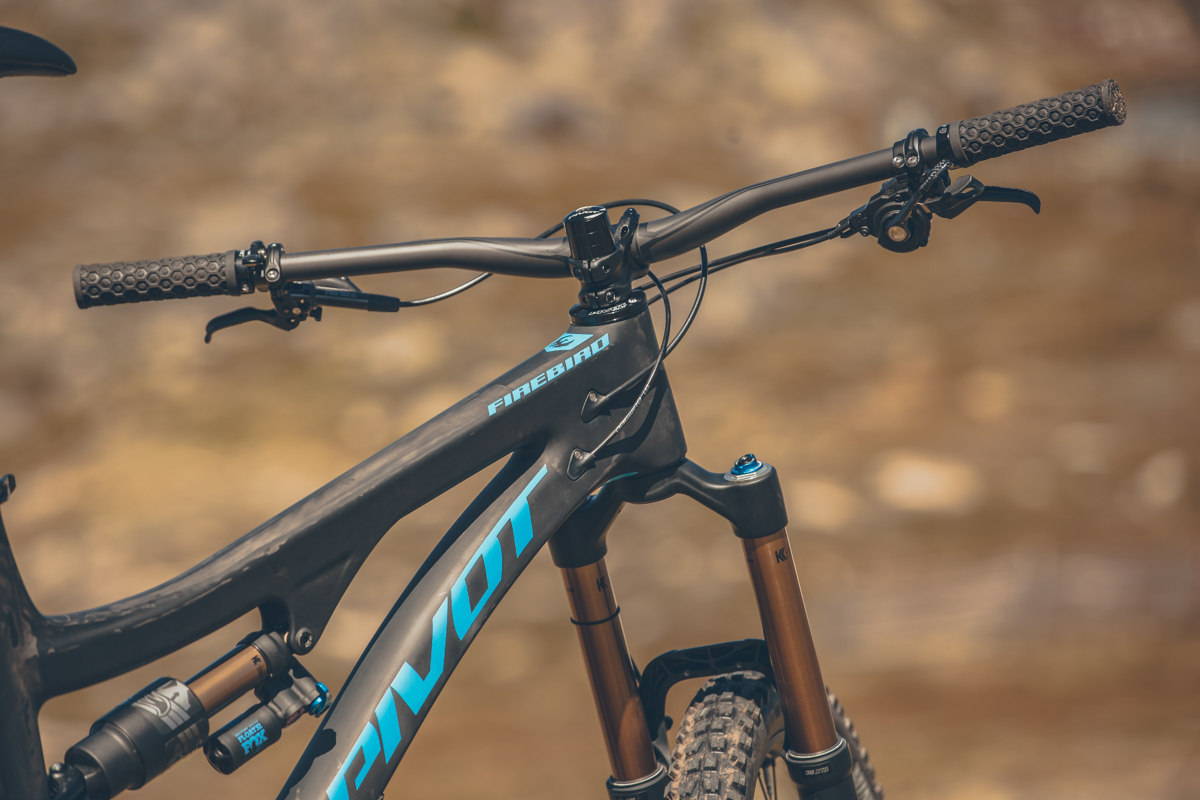 On paper, it looks like the capabilities of our tester will be reached before the capabilities of the bike, with a very slack 65-degree head angle. While some folk have criticised Pivot's earlier long-travel bikes for having reach measurements that were on the short side, the new Firebird is very roomy up front, the wheelbase being a massive 1228mm in a size large.
---
Pivot bikes are usually pretty, what's the Firebird like in the flesh?
Gorgeous. We're currently also testing a Mach 429 Trail (we know, we're spoiled) and we described is as the sort of bicycle that begs for an owner who wants a classic trail bike that leaves the 'aggressive, hard-charging, progressive,' tags at home.
Despite both being Pivots, the Firebird's construction couldn't be further from the 429. The chunky tubing screams stiffness and strength, and the frame protection throughout further stresses the Pivot's trail ploughing intentions.
That's not to say the Firebird doesn't have a subtle side as well – the bike still possesses the smooth, flowing frame design that Pivot is renowned for, and well thought out cable routing ensures a clean look.
---
How have Pivot specced the Firebird?
Our Firebird is the Pro XT/XTR 1x build. Highlights include Fox Factory suspension front and rear, with compression adjustment switches on both the fork and the shock to lock out that 170mm of squish when you need to, a Shimano XTR rear derailleur, and a Pivot cockpit with their nicely shaped carbon handlebar.
We really appreciate that, regardless of which of the four build kit options you choose, the bike retains a Fox Float 36 fork and the X2 rear shock, as well as a Maxxis Minion DHF 2.5" front tyre and a Minion DHR 2.4" on the rear mounted to wide rims. Not only does this ensure that throughout the range the bikes will ride relatively similarly, but it's clear that whoever specced this bike rode one first, as these capable components are essential to bringing the best out of the Firebird.
---
170mm is a lot of travel, where would you ride this thing?
170mm is a lot of travel, but Pivots are renowned for pedalling efficiency through the DW linkage design, lightweight frames and spec decisions. Obviously, the Firebird is aimed at the rider who prioritises the descents, but that rider is still likely to have the occasional singletrack blast, so we'll be seeing how the Firebird fares at all types of riding for our full review.
With the downhill track, flow trail, all-mountain trail and valley loop handy, we'll certainly have a variety of riding to assess just what the Firebird is capable of. Keep your eyes peeled for a full review shortly!