Both the 360 and Vice sit at the top of their range populated mainly of entry level and city bikes, but after reviewing the 360 earlier this year we really got the feeling that there's real thought and consideration going into this new push into the mountain bike market.
Check out our review of the Reid Solo 360 here: Reid Solo 360 review.
The Vice is Reid's new plus bike, using 27.5″ diameter wheels and huge 2.8″ tyres available in three levels, the 1.0 for $699, 2.0 for $999 and 3.0 for $1399. Riding the wave of the fast-growing category of plus bikes, Reid could well be on to a winner with this thing, big tyres with loads of grip and cushion really makes sense to us for bikes in this price point. Newcomers to the sport are the ones to benefit from a bike with loads of confidence inspiring control, it's a no-brainer that plus bikes suit this segment.
Before we get too far on the review, let's take a quick look at the Vice as we go for a quick spin around our local trails.
---
The frame
Perhaps not the most stylish bike we've seen, but at least it's clean and simple without being covered in three-letter acronyms and technology features. The unsightly rack mounts are a bit of an odd one though, we're not too sure that this would be the best commuter bike or touring bike, we sure won't be fitting panniers to the Vice in a hurry, there's a whole host of great city bikes from Reid for that.
Upon closer inspection the aluminium frame construction is actually pretty impressive, it uses boost spacing at the rear hub, with a solid thru-axle clamping everything nice and tight. There's removable cable guides for an externally routed dropper post, and the rear derailleur cable runs inside the frame for added neatness.
---
Parts
Single ring drivetrain: There's a real neatness about the spec on the Vice, the single-ring drivetrain gives the bike a modern look and an uncluttered cockpit and drivetrain area. The FSA cranks feel super tight to spin and didn't loosen up during our first ride, the bottom bracket bearings are overloaded with tension, we'll look into that before riding again
Plus wheel: WTB's Trailblazer tyres in 2.8″ size are well-known to us here, they strike a good balance of tacky-ness, bite and rolling speed with low profile tread and small knobs that can conform to the trail surface. They are tubeless ready, with the rims taped up, tubeless valves fitted and a couple cups of sealant the Vice will be taken to the next level. Shame the valves don't come with the bike as standard, but at least a common bike shop stock item.
The 40mm Alex rims are on the wide side for a plus bike, typically between 30-40mm the wide rim gives the tyre a strong footing, and when running low pressure they won't squirm and roll over like they would on a narrow rim.
Suntour fork: The Suntour Raidon fork may not be from the RockShox or FOX stable, but we've had plenty of good experience with it before. Not overly supple and plush in comparison to the big guns, but it's certainly no pogo-stick with good control, air tune-ability, lockout, rebound control and an excellent quick release axle system.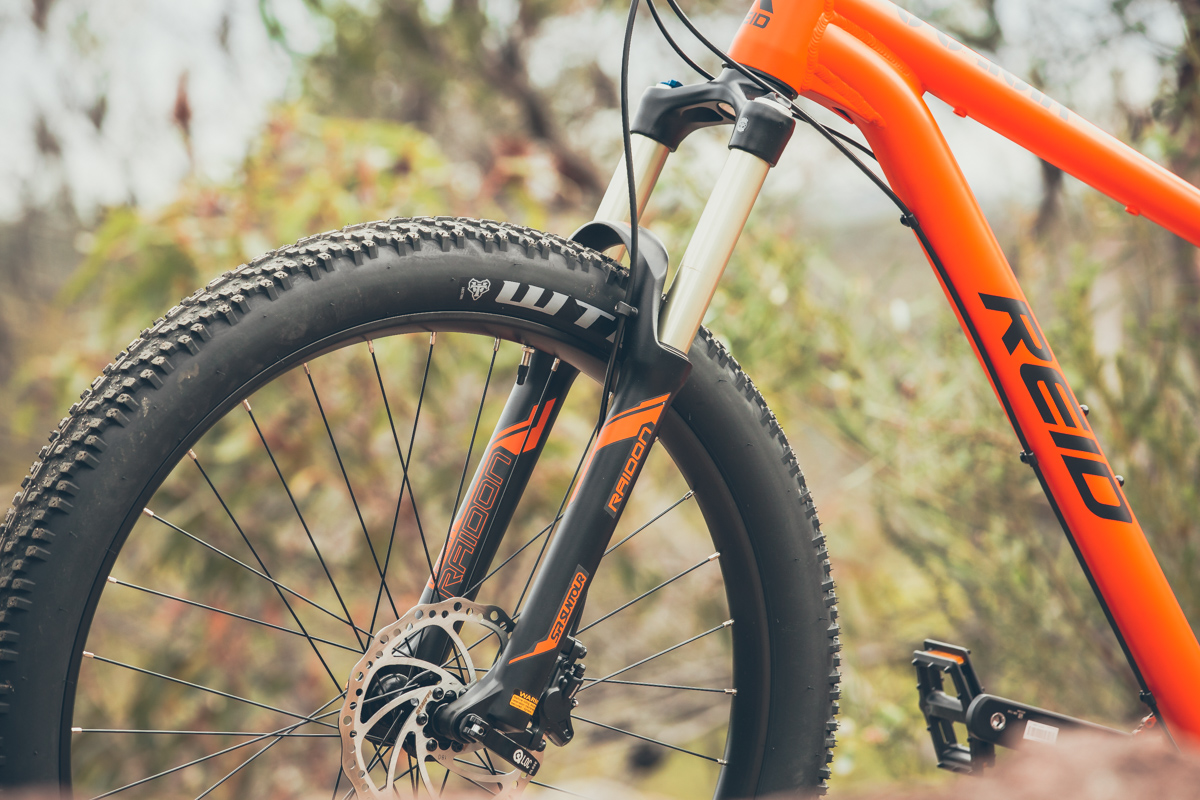 Seatpost: We know, we know… You can't have everything in life, but riding a bike with no dropper post makes it even clearer that every mountain bike under the sun should have one. Either get used to stopping and flipping the quick release lever to drop and lift the seat on the trails, or fit a dropper and fully unleash the potential of this thing.
---
First ride impressions
Considering the last bike we were riding was around four times the price as this one, we were a little sceptical of how we'd enjoy the first ride on the Vice. But there's something about plus hardtails that promotes hooligan riding, the areas a bike is specced to reach a $1399 price point, the big volume tyres makes up for it on the trail. Grip is amazing, the ride is comfortable and the control under brakes is excellent.
The cockpit is quite high to begin with, giving the Vice a real tall and laid-back feeling. That translates to pretty relaxed cornering, but when the trials turn it up you're ready for it. We ended up blasting the descents off the brakes, bouncing around and loving it, but never with that feeling of crashing or being thrown over the bars.
Jumping off rock ledges and popping wheelies with the Vice was a hoot, this bike is not built for cross country racing, it's here for a good time. So far it looks like they have the vital ingredients of a fun hardtail covered, good tyres, geometry and brakes. That's all you need to have a good time.
---
Over the years we've had plenty of experience with all sorts of bikes in this price range that miss the mark when it comes to proper mountain bike riding, and there is often some compatibility issue. But if you've got someone in the design team with good experience that actually rides, you're off to a good start. The Vice is a solid example of this, it's a well-rounded bike that so far holds its own on the trail.
We'll be putting it through its paces a lot over the next few weeks, but we won't be hitting the trails again without fitting tubeless valves and sealant.
Stay tuned for our full video review of this fun-loving entry level plus bike soon.