What's the difference between XT and XTR Di2? Not much – a bit of weight and a lot of dollars. XT actually gets some features that makes it an even more attractive offering than XTR in many respects.

---
Read all about our experience with XTR Di2 here: XTR Di2 Long-Term Test
Watch a video XTR Di2 in operation with an explanation of the shift modes here: Di2 Shift Modes Explained
---
XTR is a racer's product; it's all about the incremental gains that most of us wouldn't really even notice. A few grams shaved here, a few Watts saved there. XT on the other hand, is aimed directly at the trail rider – the person who wants a tough, reliable but still high-performance groupset. So what is the weight penalty? Well, if we look at a 1×11 XTR vs XT setup (excluding brakes), then the weight penalty is about 290g. If you want to run an 11-42 cassette with your XTR 1×11, then the weight difference drops to just 180g. Yep, that's it. Take a look at the spreadsheet below for the full weight comparison of XT and XTR Di2.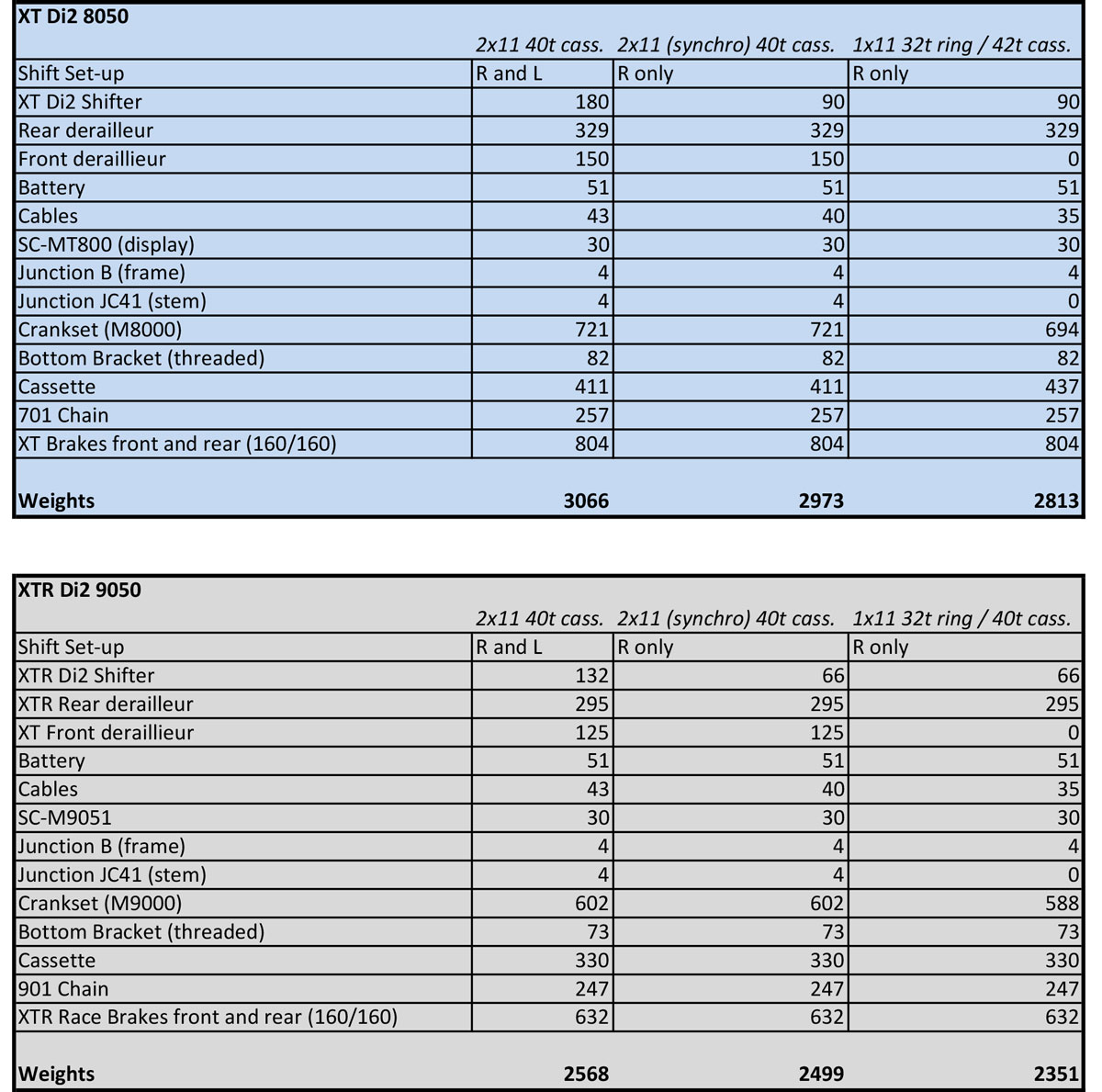 From a features perspective, XT Di2 misses out on the multi-release shifting found on XTR (the ability to fire off two shifts with one push of the lever), but frankly, that feature is kind of redundant, given you can simply hold down the shift button and shift through multiple gears anyway.


Otherwise, it essentially mirrors the features found on XTR. It has all the programmable Syncro Shift modes, customisable shifter paddle functions and adjustable shift speed features, and like XTR you can get it in 1x, 2x or 3x configurations.


What makes XT even more appealing than XTR, in our mind, is two things; a broader cassette range and an improved user interface.
Unlike XTR, which only comes with an 11-40 cassette, XT gives you an 11-42 and even an 11-46 option as well. With this extended range out back, we're sure to see a lot of people going down the 1×11 route with XT Di2, which reduces the expense of the system a lot too.


Finally the Di2 E-Tube interface (the software which allows you to customise the performance of your Di2, or to run diagnostics should a problem arise) gets brought into the 21st century. The previous version of this software was PC only, and required you to physically plug your Di2 system into a computer. It was clunky at best. XT sees the introduction of Bluetooth to the world of Di2, with all new E-Tube App for both iOS and Android devices, allowing you to customise your Di2 from your phone or tablet. Admittedly, once the system is configured how you like it, you're not likely to use the E-Tube software very often, but it's still a great improvement. XTR Di2 users can 'upgrade' to XT Bluetooth system by purchasing the XT display/head unit.

XT has built its reputation on reliability, that's what's made it the go-to for weekend warriors who can't afford unnecessary trips to the local workshop. Does the introduction of electronics risk undermining this reliability? Based on our experiences, no. We've had well over a year of riding XTR Di2 now, and reliability hasn't been a concern. In fact, with no cables or housing to get gummed up or damaged, we've had to spend far less time making shifting adjustments than we would have with a mechanical system.


We'll be getting our hands on an XT Di2 groupset for a proper long-term test in the near future. For now, we've nabbed one of Shimano's demo fleet, a Giant Reign Advanced, setup with a 1×11 drivetrain. Unlike an increasing number of frames, it's not specifically optimised for Di2 use, but even still the Di2 integrates into the bike very cleanly, especially as the bike has the PRO Tharsis bar and stem which facilitates internal wiring of the cockpit.
We'll bring you more on XT Di2's performance on the trail in coming weeks.