Whilst the constant confusion around what to call this style of riding and the bikes it involves (aggressive trail, all-mountain, long travel trail, enduro) makes defining this category difficult, here are some of the bikes we've ridden in the past 12 months that fit the bill. The links below will take you straight through to the full reviews.
Giant Trance Advanced 1
Merida One-Sixty 5000
Focus SAM C Team
Scott Genius 710 Plus
Polygon Collosus N9
Whyte G-160 Works
GT Sensor Carbon Team 2
Canyon Strive CF 9.0 Race
Pivot Firebird Carbon Pro XT/XTR


We've already done a 'Trail Bikes of 2016' piece, which summarised some of the best trail bikes we reviewed here at Flow last year, so this article moves one rung up the travel ladder.


Where in our Trail Bikes piece we discussed bikes that really nail the 'jack of all trades' moniker, this article will take a look at bikes with a bias towards descending fast, aggressively and most probably on the sphincter clenching limit at one point or another.


Before we get stuck into the bikes, we should clarify that all the bikes discussed fall within the rear travel boundaries of 130mm-170mm of travel. Savvy readers might remember that our trail bikes review covered bikes with more than 130mm of rear wheel travel, however this is a perfect example that the amount of travel doesn't necessarily define ride qualities, and whilst some bikes don't have huge amounts of travel, it's perfectly clear that they've got very rowdy intentions when it comes time to get the tyres dirty.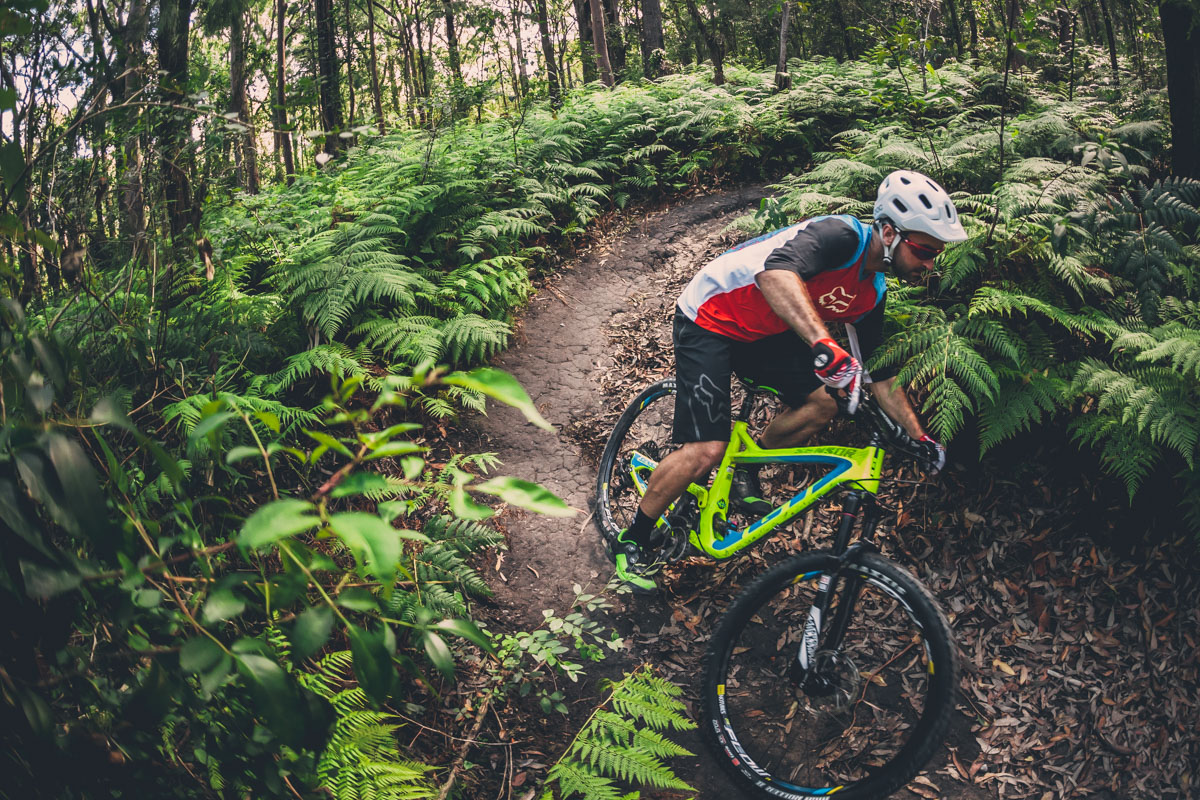 On the flip side of the spectrum, we found that a bike like the Pivot Switchblade has 135mm or rear wheel travel and 150mm of travel up front, however it's not an out an out descender like the bikes discussed in this article, and is better suited as a trail bike despite its longer travel.


In terms of price, just like our trail bikes round up there's a fair variance between the models discussed. At the low end, the Merida One-Sixty 5000 retails for a shade under four and half thousand. The Pivot Firebird tops out the pricing, with its price approaching the five-figure mark.


Alright, enough disclaiming, let's jump into some of the bikes we think you should be looking at if the 'cruise to the top, descend till you drop' motto is your cup of tea!
"What about if I had a bike with a slick carbon frame, carbon wheels, top of the line suspension and a wide range single-ring drivetrain for under six grand," says the bike shop guy with a grin."

We know that the link to this bike is for a First Bite, but we've spent plenty of trail time aboard this beast over the summer, and a full review is just around the corner.


With 140mm of rear wheel travel paired to 150mm of squish up front, the Trance doesn't push the travel envelope, however some geometry redesigns make it an excellent option for Australian tracks, as our typically flatter and more pedally terrain means that 140mm of rear wheel travel in the hands of a skilled rider is pretty much bang on for technical riding across the country.


"The Trance platform received major updates to the frame this year, it's longer in reach, lower in bottom bracket height, shorter in its chainstay length and fork travel is bumped up 10mm to 150mm. The 2017 model comes with a host of new and emerging technologies, such as boost hub spacing front and rear and a trunnion mounted rear shock."


We summed up out first impressions of the Trance by discussing how a few changes for this year have got us really excited, and these changes have delivered in spades out on the trail.
The full review is yet to come, but rest assured we're pretty content that the Giant Trance rolls together a bike that you can race on, but is also capable of general trail duties at the same time.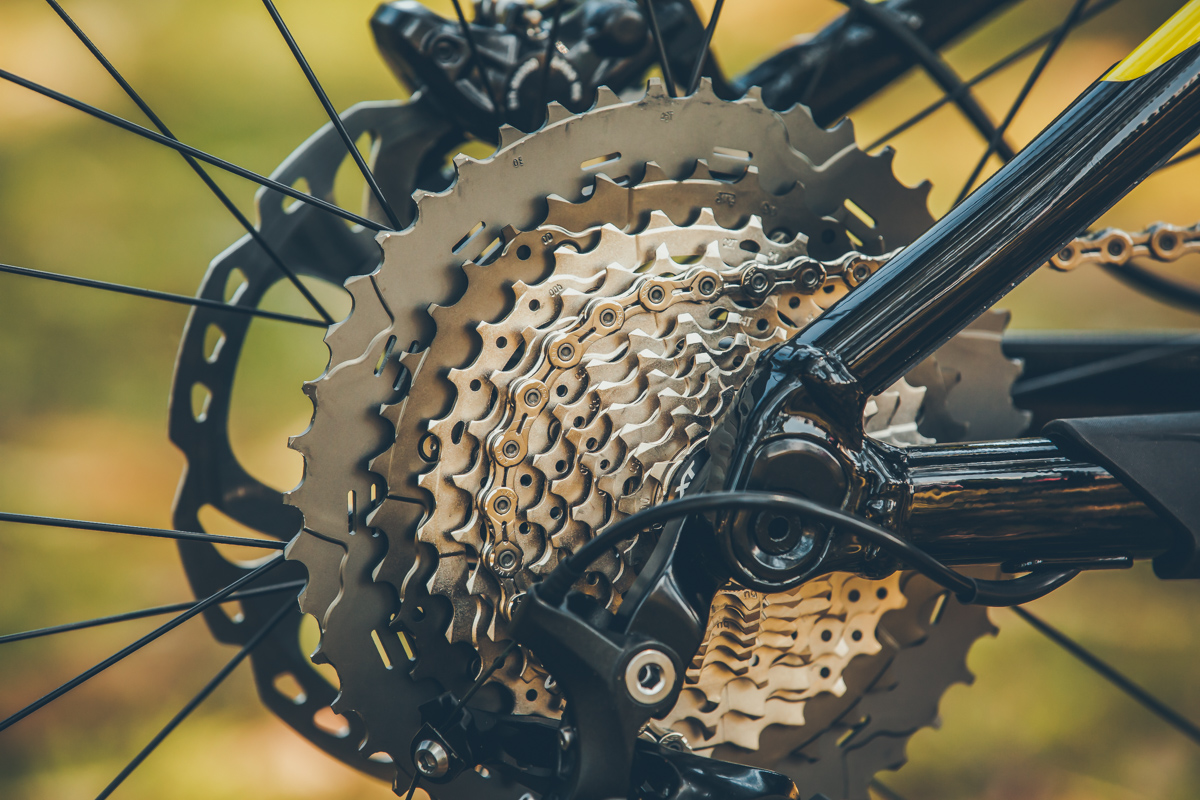 "A bike like the Trance Advanced 1 is probably going to have an owner that uses it for many things, so that's exactly what we'll be doing. From buff singletrack to downhill bike worthy terrain, we're keen to see what this bike is capable of."

"Merida is one of the largest bike companies in the world; their reach spans 77 countries, and they're found on just about every trail and road down here too. So, it's about time they cracked open the lucrative current enduro market with a genuinely competitive offering that may well be the cause of a few nervous, clammy hands amongst the big brands."

We don't think we're being harsh to say that even at first glance, the Merida One Sixty 5000 is a far superior machine than its predecessor, which was very much due for a revamp. For a brand with such a big presence internationally in almost every cycling discipline, it's exciting to see them finally step into the limelight of Enduro bikes with the all new One Sixty.


"The One-Sixty is a new all-mountain/enduro bike with those key components that are essential to the type of riding this segment is all about. We're talking about 160mm (you picked it!) out the back and 170mm travel up front of RockShox travel, aggressive tyres, dropper post, wide bars, and a single-ring 11-speed drivetrain."


In terms of the suspension, Merida have kept things simple with a proven design, allowing them to focus on getting the geometry and spec dialled.
"The all-new carbon/aluminium frame is built around their 'Floating Link' configuration. We received many comments that shape of the new One-Sixty resembles the vertical shock mount and kinked top tubes of bikes like the Giant Trance or Trek Remedy. But in all fairness, this is reflected across the whole industry, with bike designers from many brands seeing the benefit of mounting the rear shock low and central to the bike's architecture."

Out on the trails, despite the One Sixty's beefy spec and ample amounts of travel, it didn't have the monster truck-like feel of some other 160mm enduro bikes on the market.
The shorter reach numbers compared to other bikes in this category plays a big part, which we feel is an excellent character trait for the rider looking for a bike with long travel, but snappier handling out on the trail.


"The reach doesn't feel as long as many of the racier 160mm bikes we've reviewed like the Canyon Strive or Whyte G-160. The new generations of 160mm travel bikes are becoming increasingly long, requiring trails with serious gravity on their side, certainly not for everyone's capabilities or regular trail rides."


In terms of the spec, for under $5000 we think the One Sixty 5000 is one of the best value for money enduro bikes out there, due to the sheer performance of the components for a fraction of the cost, and marginal gains in weight.


"Merida has chosen some new offerings from RockShox for this year, with a trunnion mount Super Deluxe rear shock and a 170mm travel Yari. The forks look massive with the Boost hub width and the front hub also uses the Torque Cap system, when in combination with the forks provide a more positive connection between fork and axle to lift front end rigidity."


Despite not being the top of the line components, the kit on the One Sixty performed admirably on the trail.


We also appreciated the small details on the One-Sixty, details that truly showed this is an enduro-race ready machine.
"One of the details we appreciate is the adjustable MRP micro chain guide – a simple addition that removes the need for an expensive aftermarket purchase and just makes rides safer, quieter and hassle-free."


The Merida One Sixty has us excited for the future, where performance will continue to trickle down to lower and lower price points, lowering the cost of entry for riders after a long travel machine to take their technical riding to the next level.


"If you are either looking to tap into the unlimited fun a long travel bike provides, or upgrade to something to take it even further, the One-Sixty 5000 is a legitimate contender in the competitive and rapidly growing segment of 160/170mm travel bikes."

Some Enduro bikes have one focus, and one focus only. Bikes like the Whyte G-160 and the Pivot Firebird have been designed to go downhill as fast as possible, which makes them amazing for racing and flat out, knuckle clenching riding, but less exciting when you just want to go for a razz around some cruisy singletrack, or your regular descents aren't overly steep or technical. Luckily, if this sounds like you, the Focus SAM C Team is a different sort of 160mm bike.

"Eagerness: the Focus SAM C Team has it in spades. Like an excited dog pulling its owner about as it charges to sniff every tree and post, this is a bike that's always in a hurry."


The SAM C Team is a bike that can handle the rough and tumble of 'Enduro' style riding, but still feels capable of keeping a relatively high pace on undulating and climbing terrain.
"The suspension is a simple linkage-driven single-pivot setup, handing out 160mm of very responsive, lively travel. It's a buttery, supple suspension feel too, but with enough anti-squat it preserves the sprinty, excited performance under pedalling that we like about the SAM."


If a bottle cage mounted inside the frame is a prerequisite for your next bike selection, unfortunately the SAM is a pack only ride.
"A RockShox Monarch Plus is housed centrally in the frame, which means no bottle mounts, so it's a pack-only affair. Having the shock nestled there between your knees gives easy access to the compression lever, so you can quickly flick it into firmer setting on the climbs."


In terms of spec, the SAM costs a pretty penny at $8999, however you get some quality kit for your money.


"It's an attractively adorned bike, as it should be for the $8999 price tag. The premium SRAM XX1 drivetrain is a standout, with a 32-tooth chain ring. The drivetrain that started the single-ring revolution continues to impress us, its quiet, stable performance is brilliant. There's no chain guide, but it's possible to mount one off the ISCG tabs, which would be a good idea if you're going racing. SRAM have been given the nod for the brakes too, with the premium Guide RSC stoppers. With a 200mm rotor up front, you'll have all the braking confidence in the world."


Summing up the SAM, it's a bike that is well up for the rowdy descending Enduro racing demands, but also excels in tamer terrain in the way few 160mm bikes do.
"There's a lot of urgency to the way this bike rides, even on flatter trails, it keeps shooting forward in a way that few Enduro bikes do. It sprints out of corners beautifully, feeling even lighter than it's already impressive 12.8kg weight figure. We really came to love the way the SAM could pump speed out of trails, letting your work the bike, pumping into terrain that would see you simply holding on for dear life on board a lesser bike."
What! A plus bike? I thought this was an article about Enduro bikes?!
Hold on with us for a second here. If you've ridden a plus bike, especially one with the right tyre and suspension settings for the conditions, you probably don't think we're crazy for including a plus bike in this list.


For many riders, the biggest hindrance to increasing their descending speed is traction and control in corners and technical terrain. With a well setup plus bike, your confidence will go through the roof in both of these areas, as the increased contact patch with the ground allows for huge amounts of traction, braking control and the ability to make your own line through choppy sections of trail that would have you bouncing all over the place aboard a regular bike.


Anyhow, enough on why we're talking about a plus bike, let's get into why we've chosen the Scott Genius Plus 710 for this wrap-up!


"The Genius platform is now available in three wheel sizes – 27.5, 29 and 27.5+. If you can't find a version to suit you, you're a very unique individual indeed. Visually, the three frames are similar, but there are travel and geometry differences. The 710 Plus shares the same travel as the 29er version, with 140mm up front and an adjustable 130/90mm out back, but the geometry is quite different. The 710 Plus is significantly slacker, a 67.5 degree head angle versus 68.9 degrees on the 29er, and the stays are a tad shorter."


Whilst handlebar clutter is one of our pet hates here at Flow, we excuse Scott to an extent because their Twinloc system works bloody well, and they're integrating it in a more aesthetically pleasing way every year. The Twinloc system on the Genius allows for on the fly adjustments, which are great for firming things up for climbs and flatter singletrack, then switching back to fully open as you get over the crest.


"As with all Scott duallies, the suspension system is built around Twinloc. The bar-mounted lever lets you select either 140mm or 90mm travel modes, or you can lock the rear end out completely. The fork's compression is activated in tandem – open, firm or locked – completely changing the character of the bike at the push of a button."
"Really the Twinloc system and Plus tyres are a perfect match – the extra compliance of the big volume rubber makes the shorter travel mode more usable in rough terrain."

As we touched on earlier, tyre pressure is so critical to getting the most out of any plus bike, and here's what we settled on with the Genius.
"Tyre pressure is critical with this much air volume. Too high, and you're not going to get any advantages from the big tyres, just a bouncy, jumping castle kind of ride. Too low and you risk a vague, slow feel. For us, the sweet spot was about 14/15psi. A digital pressure gauge is essential, don't trust your track pump."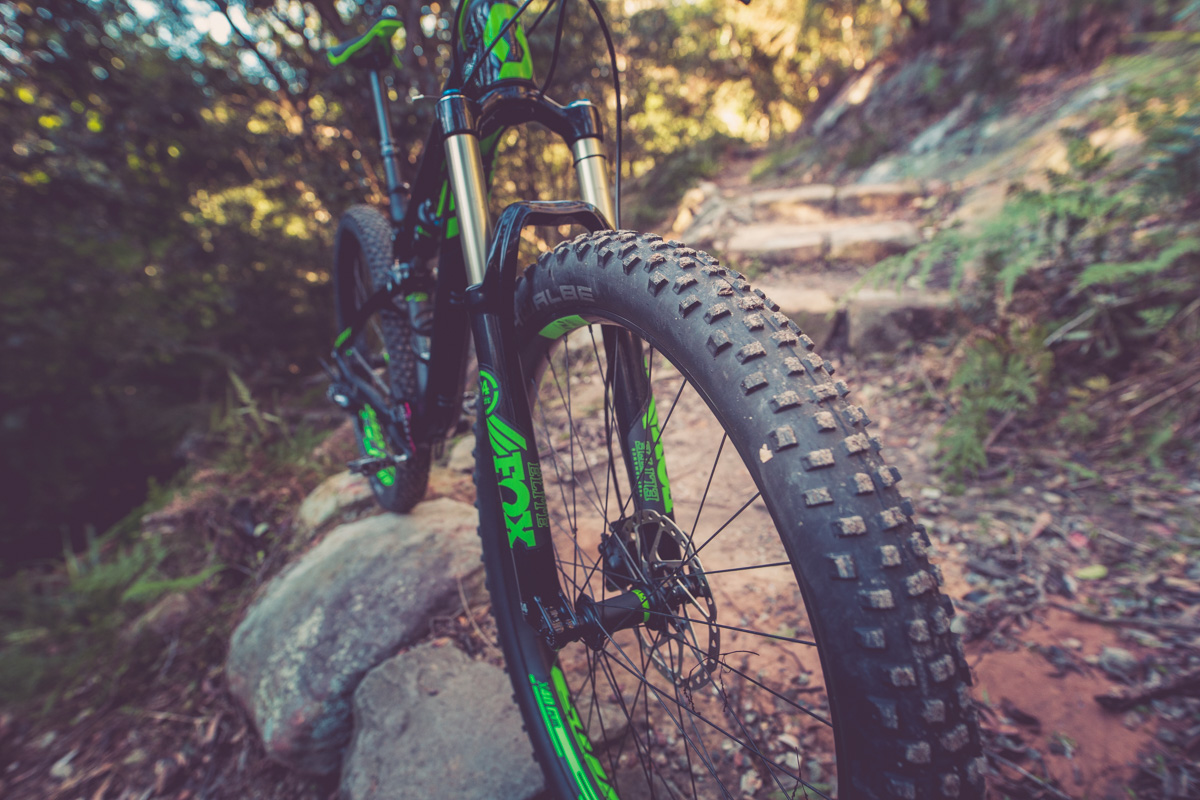 Once we set up the bike to suit the conditions, we began to consider if the plus bike option would be faster not only for a small minority, but the majority of riders riding the loose, techy sort of riding we experience daily on Flow's home trails in Northern Sydney.

"We struggled to get our head around the cornering abilities of this bike. Even with its long rear end, the way it flings into a corner is ridiculous. On trails that we've ridden a hundred times, we needed to unlearn our usual braking points, and on corners where we'd usually unclip our inside foot, we could ride with both feet up. You just carry more speed through turns, and that makes for a faster ride overall."

Okay, we've been pretty flattering of the Genius, but there are a couple of downsides as a trade-off for the many pluses (pardon the pun). Other than a small weight penalty however, we believe the Genius Plus has earned its place on this list as a bike that deserves consideration as a long travel, enduro race ready weapon!
"So what about downsides? Certainly, there are some. On smooth, flatter trails, there's a small increase in rolling resistance, but it's hardly perceptible. There's also a little more weight to cart about, but again not a lot. When you compare the Genius 710 Plus to its 29er equivalent, there's about 600-700g in it. But it's not weight for weight's sake, it comes with huge benefits in terms of traction. We know what we'd choose when it comes to trade-off between weight or grip."

Resembling a prop from a Star Trek movie more than a bicycle with its futuristic frame design, the Polygon Colossus N9 is a bike that impressed with its fun and lively attitude, and it would suit a rider after the forgiveness of a longer travel machine, but more playfulness than an out and out enduro racer.

"It truly is one of the most spectacularly outlandish frame designs going, big scimitars of carbon out back, a collection of tube profiles that comes together in great style, a real demonstration of what's possible with carbon and creativity. In an era of increasingly similar frame designs, it's one of the few frames that look like they were approached with a truly blank slate. That attention to detail continues with other design features, like the smart cable ports and bonded chain slap protection."


We can't talk about a Polygon without talking about value for money. Of course, a bike is so much more than the parts attached to it, and without a good frame you're not going to get very far, but the Polygon Colossus takes the dollars to bling ratio to the next level.


"The FOX 36 is just one highlight in a truly stacked spec sheet though. Polygon bikes are always incredibly well equipped, and when you consider the price tag, we can't think of another bike which even comes close to matching the N9's component offering. A full SRAM XX1 drivetrain, E13 TRS race wheels, XT brakes, a RockShox Reverb dropper… If you're more of a Shimano fan, you can get a the N9 with an XTR double-ring drivetrain and XTR brakes for the same price! Ridiculous."


Much like the Merida One Sixty and the Focus SAM, the Polygon Colossus prefers a variety of terrain, and a rider that can flick it around over ploughing technical descents at top speed.
"Playfulness and pedalling performance are two of the elements which stand out for us. This isn't a 160mm bike that hugs the ground like a mini downhill bike. Rather it gives you the engagement you'd normally expect from a 140mm-travel bike, but with some more forgiveness when you need it. You're not isolated from the trail, and even when already pushed deep into its travel, the N9 can be flicked to a new line easily."


"This responsiveness is in part due to the supportive suspension which has a firm mid-stroke, and the responsive E13 wheels, but it's also a product of the bike's geometry. When you compare a medium-sized N9 to other medium-sized 160mm bikes, you'll notice the wheelbase is shorter. The head angle is 66.3 degrees (which is pretty standard for this category of bike) and the stays are 430mm (again, pretty much the norm) but the top-tube/reach measurements are 15-20mm shorter than is common. This makes it an easier bike to flick about, at the expense of stability when it's really steep and fast."

Whilst we loved the nimbleness and fun loving nature of the Colossus, we do think that if Enduro racing is your focus, you might want to upsize your frame for a bit more stability when the pace is getting blurry.
"If you're hoping to use your N9 for Enduro racing, we'd encourage you to consider 'up-sizing' to get more length in the front end. If you're a trail rider looking for a bike that'll give you the ability to descend harder, but without too many handling or performance compromises usually associated with a longer-travel bike, then make sure the N9 is on your shortlist."

Rocking up to the top of a trailhead aboard the Whyte and dropping into anything but the most demanding and gnarly descent is bringing a bazooka to a knife fight.

This is the bike you want if you couldn't give a hoot about riding tame singletrack or getting to the top in a hurry, but strapping on a race plate and waiting for hours at the bottom of descents for your mates is what gets you out of bed in the morning.

"UK brand Whyte are well-known for their high-quality frames with radical geometry, if you didn't know that already take a look at this one – the Whyte G-160 Works is a real monster. We absolutely love the way it doesn't aim to please everyone, its purpose is crystal clear, to dominate descents."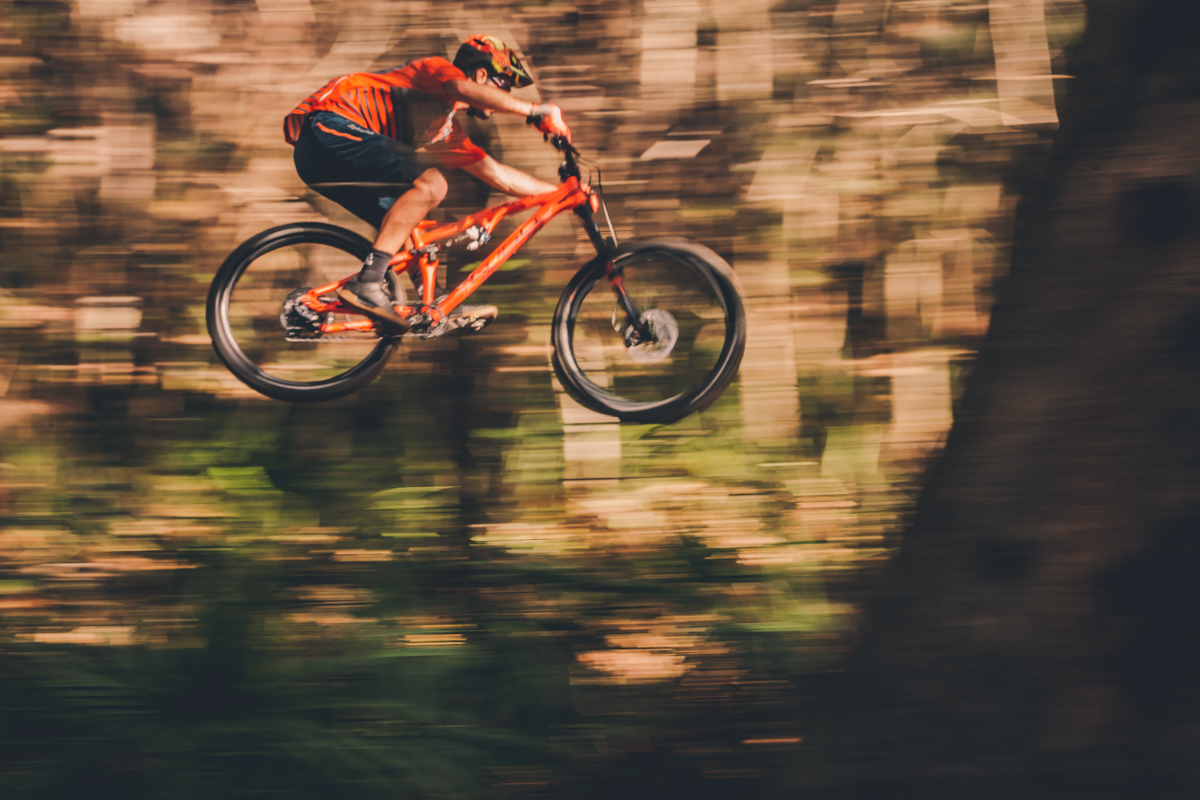 Long, low and slack pretty much sums up the G-160s's geometry, which is optimised for the rowdiest Enduro riding imaginable.
"The G-160 Works is a 13.2kg big-travel enduro bike with seriously aggressive geometry and 160mm of travel. It has the longest top tube measurement of any bike we've ever tested here, 636mm long for the medium size frame optimised for use with a super-short 32mm stem. Geometry aside the G-160 is built for speed and steep terrain with a burly parts spec and a single-ring specific frame design."


As with all the Whytes we've tested here at Flow, the build quality and finishing touches on the G-160 are on another level, it's quite clear this British brand have a great deal of pride in their products.


"Take a close look and you'll certainly be impressed with the classy finish and the all the pivots and suspension linkages look stout, add in the fact that the suspension bearings are backed by a lifetime warranty, you'll certainly have confidence in the construction and ability to handle all types of weather."


One surprising attribute of the G-160 however was the lack of chainguide as standard- for a bike this aggressive, we'd be strapping one on before heading out for the first ride.
"With no chain guide fitted as standard, we were a little apprehensive when the trails turned ultra rough, and sure enough we dropped a chain when we really needed it most. We'd suggest fitting one, the weight and appearance sacrifice is worth it."


Spec-wise, the G-160 doesn't muck around with anything but the most meaty and aggressive components for the job at hand.
"A Pike RCT3 fork and Monarch Plus RC3 Debonair rear shock are a perfect match and suited this bike's appetite for gravity-fed gnar. The combination of a meaty High Roller on the front and the low-profile Minion SS out the back is growing in popularity for the racers, the lighter rear tyre loses the tall centre knobs but retains plenty of chunky tread on the side for cornering traction. While we certainly appreciated its fast acceleration we'd be sure to keep a matching High Roller rear tyre on hand to match the front when the trails are steeper and the dirt is softer."


As we continually stressed throughout the G-160 review, this is a bike with single minded intentions, and with that comes limitations in other areas.
"Our first ride on this bike began with a climb, and believe us we were not exactly singing the Whyte's praises along the way up! With so much bike in front of you it takes great care to steer it where you want it to go when spinning up a climb. The short stem reacts quickly to your steering input, almost too quickly at times, we often found ourselves chasing the front wheel with little warning."


Summing up, we think that for the money, if Enduro racing and descending are your out and out priorities, the G-160 should be right up there as an option for your next bike.
"The Whyte G-160 Works has massive appeal for a rider that knows what they want, can forego all-rounder capabilities and appreciates ultimate build quality."
Much like the Scott Genius 710 Plus, some of you might be questioning why a 130mm bike is appearing on this list, especially considering we did a trail bikes wrap up only a few weeks ago.

Well, despite only packing 130mm of travel in the rear, we thought that the aggressive, push me harder attitude of the Sensor makes it a worthy candidate on this list, particularly if you want to do some technical riding and Enduro racing, but you appreciate the flexibility a shorter travel bike provides.
"After a few weeks pounding the GT Sensor Carbon Team around our trails we've grown an appreciation for its finest attribute – its brawn. GT label the Sensor as a trail bike, but have dressed it in some serious parts. The big tyres, 150mm RockShox Pike and wide bars make this 'trail bike' look badass."


Starting with the burly frame, the Sensor strikes a serious demeanour from the get go.
"There's nothing svelte about this one, it's built like a tank. Big shapes and wide-set pivot points give the Sensor real muscle."

The spec shows real attention to detail, which really impressed us as it allows you to roll out of the shop content that you've got the best parts for the job at hand.


"GT seem to have a thing with shopping around for parts, there's an eclectic bunch of bits from a wide range of brands on this bike, but all the parts work well together, testament that whoever specs these bikes rides them too."


As we said earlier, despite its 130mm of travel, the Sensor doesn't want to plod about the trails sedately, it wants its owner to take control and put the 150mm front end and stiff chassis to good use.
"Once up to speed it's easy to keep it there and if you're game, the key is to lay off the brakes and give it hell! It'll hold lines through rocky sections and won't lose momentum, the rear end stiffness helps gobbles up big impacts transferring the energy of the impact into the shock rather than deflecting. You don't ride this bike like your run-of-the-mill trail bike, you ride it hard and then reap the rewards from such a solid chassis and firm, supportive suspension."


Where a bike like the Pivot Firebird, with its 170mm of travel front and rear and ground hugging traction wants to plough through the meanest lines with careless disregard, the Sensor is a bike that would suit the rider who likes the challenge of moving around the trail, popping from one line to another and pumping undulations for speed.
"Rather than a ground hugging or offering a supple kind of ride, it's more a firm and engaging one that responds instantly to your input. Jumping from one side of the trail to avoid a rut, or gapping over a hole and into a corner becomes a possibility when you're not wallowing in a cushy and comfortable bike. This beast begs you to take control."

Whilst GT went through a barren patch a few years ago, bikes like the Sensor get us excited about the future for this historic brand. If you're after a bike that forces you to take control, rather than make the decisions out on the trail for you, the Sensor is worth a look.


"The GT Sensor is a prodigious bike that relishes hard riding. Where many bikes sacrifice robustness, the Sensor manages to keep its weight down to 13kg but still feels so solid beneath you. But it certainly isn't a peppy and agile trail bike, so if you're a lighter or gentle rider you may find it a bit heavy to get going."

The word 'Race' in this bike's title, combined with the fact Fabien Barel helped develop, and then piloted this bike to numerous EWS podiums tells you straightway this isn't the bike to do a bit of everything on.

"Make no mistake the Strive ain't no casual all-rounder, this is a dedicated enduro race bike. It's super long, very slack and as we were to quickly find out it needs to be ridden hard or its capabilities will go to waste."


"Our test bike comes from the 'Race Geometry' range of Strives, which have a slightly longer front centre than the 'Regular' models, a requirement from the race team to meet the demands of top-level enduro racing. A longer bike coupled with a short stem will result in quick handling but with room for stability at speed."


At times, direct to consumer brands get a bad wrap as 'cheap' alternatives to the main players in the Australian market, but the Canyon Strive is a truly jaw-dropping bike, both in appearance, and engineering precision.


"It's a full carbon affair front and back and wowzers it's stiffer than an Eskimo's nipples, there's a serious lack of twisting or bending when you grab the rear wheel and flex it side-to-side. All the cables travel internally via nice little rubberised ports, and while we did hear some rattling at times from the rear brake line inside the frame we found it all pretty easy to work with."


Whilst the Strive is a heavy hitting 160mm Enduro race bike, the very clever Shapeshifter technology promises the old 'two bikes in one' claim. Does it work out on the trails though? Hell yes!


"The Shapeshifter is a Canyon developed system that switches the rear shock between two positions via a button at the bars – climb and descend mode. The two distinctly different positions toggle the rear suspension travel between a super plush 163mm and a firmer 139mm while simultaneously having huge impact on the bike's geometry. It's very slack and low when descending and in climb mode the head angle sharpens 1.5 degrees and the bottom bracket sits 20mm higher."


"The Shapeshifter is essentially just a volume of air with a lockout button, lean your bodyweight back into the rear of the bike with the lever pressed and it'll compress into descend mode with a faint clunking sound, increasing the leverage on the shock and dropping the bottom bracket height. To pop back to climb mode shift your bodyweight forward with the button pressed and it'll extend open again."
In classic direct to consumer style, the Strive represents amazing value for money, so if Enduro racing on a budget is your priority, you'll be very pleased with the bang for your buck the Strive presents.

"Canyon went shopping in the enduro section to deck out this one in the best bits. The RockShox Pike RCT3 is ideal, and the SRAM Rail 50 wheels are a worthy. A Maxxis High Roller front and Minion rear combo offers remarkable traction anywhere and are a Flow favourite, we especially like the way they bite in deep with the brakes on."

Much like other bikes discussed in this article, such as the Whyte G-160 and the Pivot Firebird, the Canyon Strive requires an aggressive style and intent to get the most out of it, and ideally some pretty technical terrain.


"The length of the frame promotes you to really push harder and faster, and the stability from such a long top tube gives us major courage to let the brakes off and really punch it harder. Through the turns you mustn't forget you're riding a true enduro race bike, it requires real body language to tip it down and whip it about but after a few runs of our local downhill track we changed tactic and came into the corners drifting sideways instead, foot out and totally pinned."


"The trade-off for the length is when the descents got slower and tighter, maybe that's why Barel does such magnificent nose wheelies around tight switchbacks, because this thing can feel like a mini bus at times. But that is how you pay for the mega stability, fair is fair."
All in all, the Strive is another bike to add to the list if you're after a super capable Enduro race bike. And if your rides involve a lot of climbing, the Shapeshifter is a real game changer too.

"And who can look past the price, it's a seriously good bike for the dollars, a testament to the modern sales method from this huge German bicycle company. Out of the box it is ready to shred, it's a true modern enduro race bike."
After spending time aboard bikes like the G-160, and the Canyon Strive last year, we didn't think we'd get on a bike that was any more downhill oriented in its intent or performance than either of those descending brutes! We shouldn't have assumed- the reinvigorated Pivot Firebird certainly made an ass out of us!

"Put simply the Firebird adheres to the long, low and slack formula that tends to be the standard for bikes with more than 150mm of travel in 2016. Pivot have combined a modern geometry with 170mm of travel front and rear, and even on our first ride, the plushness of 170mm of DW link suspension blew our minds."


We spent a fair amount of time on the Firebird at Thredbo's unforgiving, technical trails and in much the same vein as other Enduro-specific bikes out there, we found our own limits on the descents much quicker than the limits of the Firebird.


"In terms of ploughing through rock gardens, committing to loose, high speed sections and taking the gnarly lines, the Pivot never felt out of its depth- it was always the rider pulling the pin before the bike lost control."


"On high speed sections, as well as wide open turns, of which Thredbo has about a million, the Pivot felt exceptionally stable thanks to its long wheelbase and low bottom bracket. Combined with a rear end that grips the trail like Velcro, we never felt like we were skipping around through braking bumps, or being taken off line in rough sections. If you point the Firebird in the general direction you want to go, it'll get you there."

With 170mm of travel, and the long, low and slack geometry, the Firebird isn't similar to a bike like the GT Sensor where you can quickly change lines to stay smooth and pump the trail. Strap in and hold on, if you're game!

"In the air the Firebird is very stable. Come up short or land awkwardly, it will save your bacon – we rolled out of some situations where other bikes might've bucked us off. In terms of using little hops or transfer lines in the singletrack however, the Firebird felt sluggish- this is a bike that much prefers to plough through disrespectfully than tiptoe its way along the trail."


By now, you're probably sick of reading that bikes with long wheelbases don't corner amazingly when it's tight and slow- but we should reiterate it, because we know that our home trails at Flow have lots of awkward, slow speed sections that required some real effort aboard the Firebird, so you really need the terrain to back up the Firebird's capabilities.
"An area where we noticed the Pivot's slackness and length was in tight turns. Getting the Pivot to corner tightly required either some serious body language to muscle the bike, or forethought about using an endo or cutty to whip the bike around."


Getting back to the top wasn't as arduous as you would expect aboard a 170mm bike, and the Firebird retains the classic pedalling efficiency Pivot have been renowned for over the years, which was pleasing.
"The Pivot climbs remarkably well considering it's a 170mm bike. The low speed compression lever on the shock was excellent for firming the bike up not only on longer, smoother climbs, but almost all the time when the trail points up. As the Firebird is such a long travel machine, the shock does bob a fair bit when it's left open on the climbs, so utilising the compression lever (which doesn't lock the shock out completely, and still allows the suspension to maintain traction up technical climbs) gives a much more efficient pedalling platform for climbing."


Much like the G-160 and Canyon Strive, the Pivot Firebird's component selections have as much to do with its meaty performance as its design. Continuity within all the models in the range, consisting of solid suspension and wide, aggressive tyres means you'll be able to get the most out of the bike straight out of the box, regardless of what model you buy.


"We discussed in the First Bite our approval for Pivot deciding to provide continuity within the Firebird models by speccing Fox suspension and Maxxis Minion tyres front and rear throughout the range, and this approval was warranted, as these critical components provide so much of the confidence the Firebird oozes out on the trails."


The Firebird is another example of a bike with one mandate, to descend the stuff you'd normally have white knuckles and a tight sphincter through with careless disregard and a smile on your face. Whilst we love this sort of riding, and for racing the gnar we couldn't think of many better bikes, you need to have some speed and technical terrain on your everyday rides to make the Firebird, and similar bikes worthwhile.

"If you place a high priority on descending fast, you're an aspiring Enduro racer, or you want to boost your confidence on technical descents, the Pivot Firebird is a very worthy consideration. This bike has a clear mandate – to descend as fast as possible whilst still being able to ride to the top. It knows what it wants to do, and does it incredibly well."
So, which of these bikes is the right one for me?
Luckily, we think that if you randomly picked any of these bikes, you wouldn't be disappointed. That being said, despite belonging to a similar category, many of these bikes are real 'horses for courses' options. We see this as a real positive, as it allows the consumer to pick a bike that truly suits their goals and riding ambitions. With that in mind, we're going to finish this piece by giving examples of what bikes would suit what situations, with questions we hear pretty often from people trying to decide on their next bike purchase.
I'm looking for a bike that I can improve my technical descending skills on, but still head out for faster paced trail rides on with my mates on the weekend?
If this sounds like the sort of bike you're after, bikes like the Giant Trance Advanced One, Focus SAM C Team and the Polygon Colossus N9 are worth a look.


I'm confident in my handling abilities in technical terrain, and am looking for a playful and lively long travel bike that I can jump around the trail on rather than feel like a passenger on?
For a long travel fun machine, rather than single-minded descending plougher, we think the Polygon Colossus N9, GT Sensor Carbon Team 2 and Merida One Sixty 5000 are pretty good options.


I'm pretty fit, and I don't want something that's designed for EWS racing but I do want to feel more confident in technical terrain, both up and down?
If you're after confidence on the descents and ascents, bikes like the Scott Genius 710 Plus, Merida One Sixty 5000 and the Canyon Strive are worthy options that are still fun to ride on tamer trails.


I couldn't care less about anything less than the rowdiest, most downhill-esque trails and riding them at KOM pace in preparation for raceday?
For ultimate downhill performance in a package that can still pedal back up the hill reasonably efficiently, we'd be looking at the Canyon Strive, Whyte G-160 and Pivot Firebird. The last two bikes especially really do require some serious pushing, or rigorous terrain to shine, but if you've got the conditions, they're hard to go past!


We had an absolute blast riding long travel bikes in 2016, which has given us the bug to get amongst some more racing this year on these capable and grin inducing machines. If you're in the market for a new rig, or just interested in what's out there, we hope you've found this wrap up useful- keep an eye out for more comparative content in 2017!