Lezyne, a company best known for pumps and tools so stylish they'd look at home in an Audi showroom, have branched out into the world of electronics lately. First it was with lights, and now they've released a range of three GPS units. We'll be putting at least one of these to the test, so let's have a gander and what they're all about.
[divider]Mini GPS: So small, you could eat it. $189.95[/divider]
First up, the Mini GPS. The appeal of course, is its size – it's, well, very, very little. For mountain bikers, it makes a lot of sense as it's = small enough to mount on top of even quite short stems (we fitted it to a 70mm stem without a worry) and it's less of a target in the event of a crash. The weight is impressive too, at only 35g including the mount.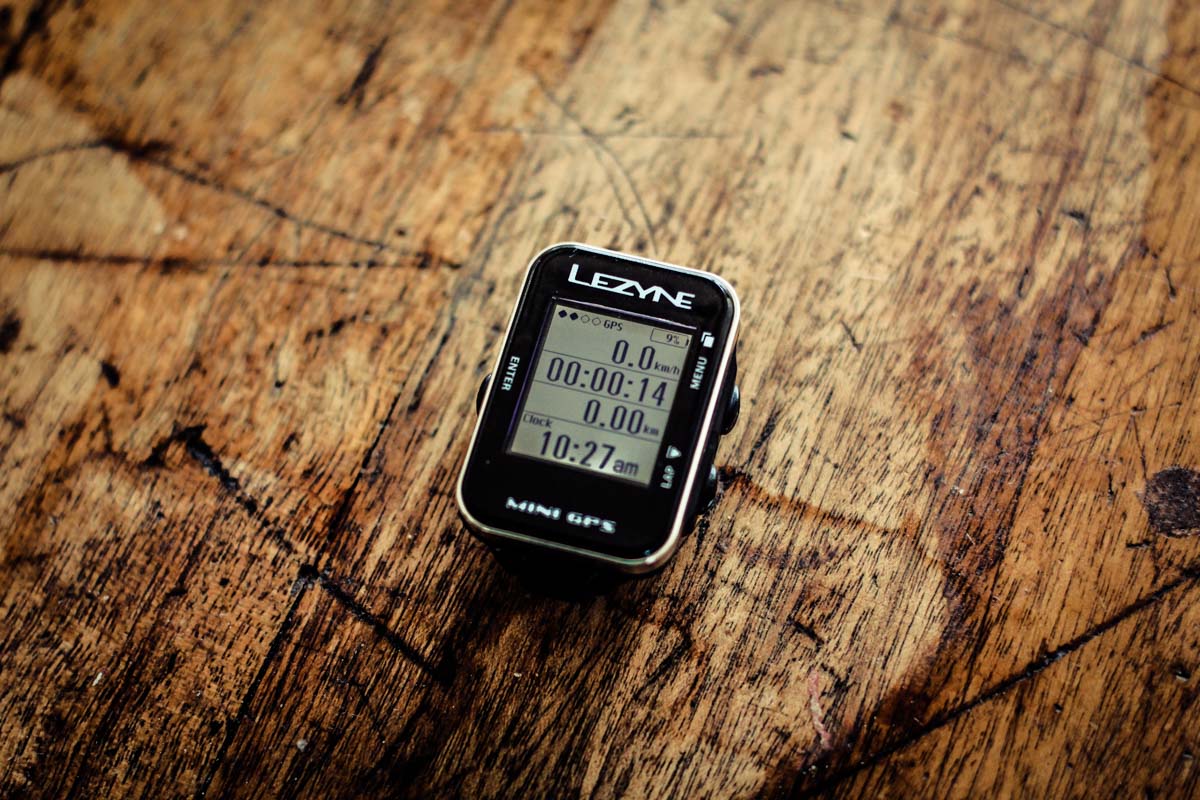 In terms of functionality, the Mini doesn't offer the same Bluetooth/ANT+ or smart phone connectivity as the bigger units, but it can still display a fair amount of information at a glance with up to four fields on show at a time. Because it's not Bluetooth enabled, uploading the files must be done via USB. Run time is claimed to be 10 hours.
[divider]Power GPS: Get your texts and calls on your bars. $229.95[/divider]
Less easy to lose in the wash than the Mini, the Power GPS has a bigger display and longer run times (22hrs) and can also store twice as much data (200hrs).
The Power GPS is all rigged up for Bluetooth connectivity, so it has the ability to be paired up with all your usual sensors (heart rate, cadence, power etc), which will appeal to those who are more serious about their training. It can also be paired with your phone, and will display incoming texts, emails and calls, so there's no escaping your office/partner/responsibilities. You can also pair it with the Lezyne Ally app, for wireless uploading of your rides.
It's still nice and light, especially considering its alloy construction, at just 76g.
[divider]Super GPS: Bells, whistles and ANTs. $269.95[/divider]
The Super is yet another step up in terms of data capture, with 400hrs of ride storage possible. It offers all the same functions as the Power GPS, but will also pair with ANT+ devices (. Again, it can display all the emails/texts you're probably trying to avoid, and can upload your rides wireless via the Lezyne app.
All three units use a basic 'X-Loc' mount, which is affixed to the bike with o-rings. It's a simple system, and you can get the 'out-front' style mounts aftermarket. It is a pity though, that the Lezyne units don't work with Garmin, Magellan or Barfly mounts, which are all readily available.
We'll be looking to test the Mini and Power GPS units over summer, so expect a full review soon. For the full stats on these units, head here.