Jack reviews the Giant Trance X
Introduced in late 2021, the Giant Trance X is a brand new full suspension trail bike that's built around 27.5in wheels front and rear. In a world where 29ers and mullet bikes are clearly taking over, this isn't exactly a common sight. If you're feeling like the market has moved on from the little wheels, you might then be left wondering — what exactly does the newly released Trance X bring to the table?
Giant Trance X overview
The Giant Trance X follows in the footsteps of the Trance X 29 — a bike that we rate highly having tested both the alloy and carbon variants. The Trance X we have here is essentially a 27.5in version of the Trance X 29, albeit with a slightly different outlook on life.
It features more travel with a 160mm fork paired to 145mm of rear wheel travel courtesy of the Maestro dual-link suspension platform. It also gets some seriously raked-out geometry with a slack 63.8° head angle, and it sits very low to the ground with a 30mm BB drop. That puts it into the aggro long-travel trail bike category, and while the list of dedicated 27.5in bikes is getting smaller, the Trance X is here to take on fellow little-wheelers such as the Canyon Spectral and Norco Sight.
To suit its ambitious attitude, the Trance X is built with a tough hydroformed alloy frame that's lined with soft-density rubber armour in the key strike zones. It gets big 4-piston brakes, aggressive 2.6in tyres, and a chainguide with a lower bash plate.
It's no doubt a burly looking bike, and one that aims to fill some of the gap left behind as the Reign has evolved into a dedicated 29er enduro race bike.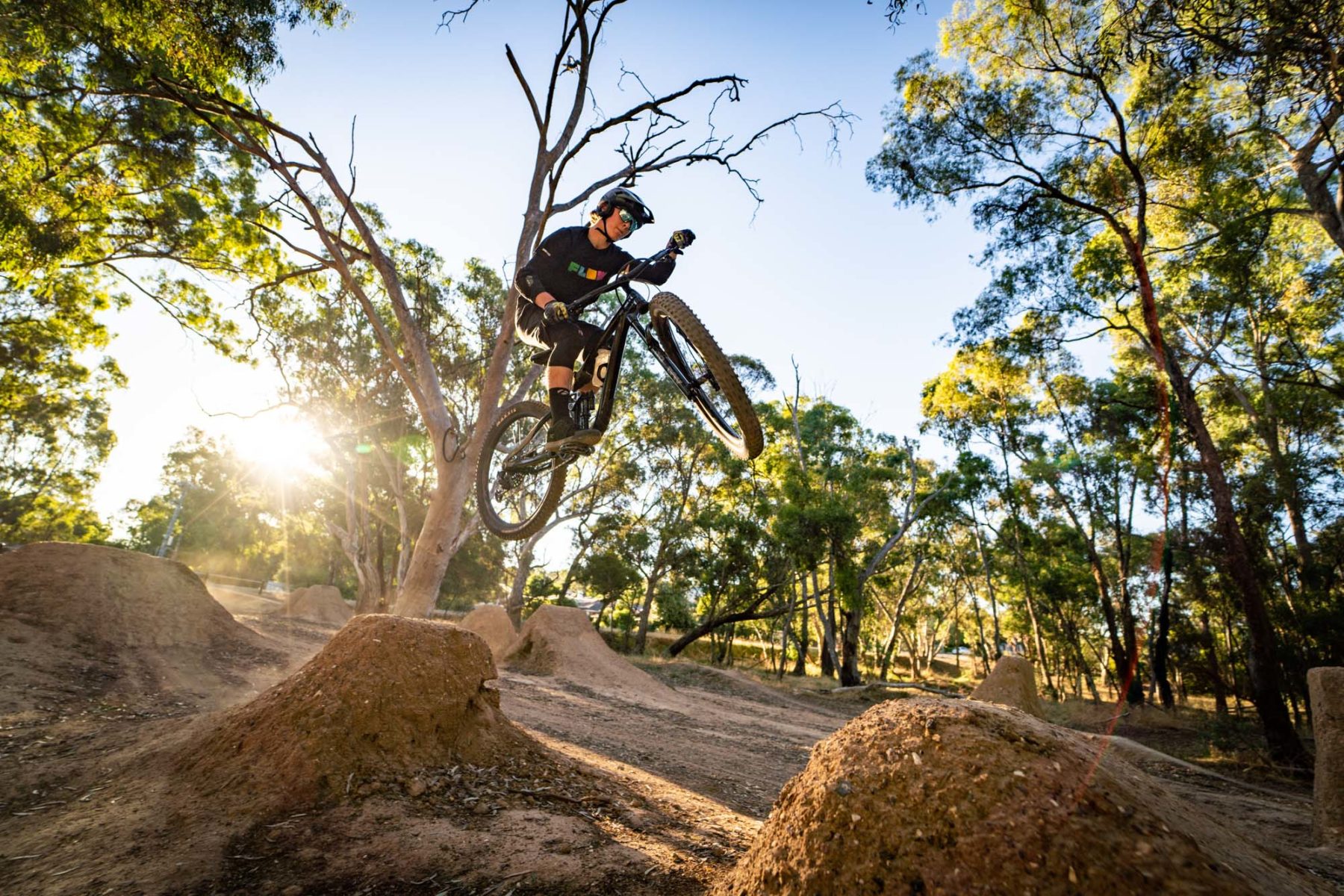 Giant Trance X price & specs
There are just two models in the 2022 Giant Trance X range, both of which are built around the same alloy frame. There's no carbon to be found here folks.
Pricing starts at an appealing $4,199 AUD for the Trance X 2, which gets a RockShox Yari RC fork, a Fox Float DPS shock and a Shimano Deore groupset. You can get the full spec and geometry details in our first look article.
The bike we've been testing is the shiny top-end model; the Giant Trance X 1.
2022 Giant Trance X 1
Frame | ALUXX-SL Alloy, Maestro Suspension Design, 145mm Travel
Fork | Fox 36, Performance Elite, GRIP2 Damper, 37mm Offset, 160mm Travel
Shock | Fox Float X, Performance Elite, 185x55mm
Wheels | Giant TR-1 WheelSystem, Alloy Rims, 30mm Inner Width
Tyres | Maxxis Assegai EXO 3C Maxx Terra 2.6in Front & Minion DHR II EXO+ 3C Maxx Terra 2.6in Rear
Drivetrain | SRAM GX Eagle 1×12 w/GX Eagle 32T Crankset & 10-52T Cassette
Brakes | SRAM Code R 4-Piston w/200mm Front & 180mm Rear Rotors
Bar | Giant Contact TR35 Alloy, 20mm Rise, 800mm Width
Stem | Giant Contact SL, Length: 40mm (S-M), 50mm (L-XL)
Grips | Giant Tactal Pro Lock-On
Seatpost | TranzX, 30.9mm Diameter, Travel: 150mm (S), 170mm (M), 200mm (L-XL)
Saddle | Giant Romero
Confirmed Weight | 14.72kg
RRP | $6,499 AUD
Giant Trance X sizing & fit
We put the Giant Trance X into the hands of our talented teenage test pilot, Jack, who is both a competitive enduro racer and a rider that relishes in any opportunity to get both wheels in the air. An ideal candidate for a fun-loving bike like the Trance X then.
At 175cm tall, Jack's been testing a Medium size Trance X. It features a 447mm reach, and that pairs nicely with a not-too-steep 76.3° effective seat tube angle to deliver a comfortable climbing position.
The seat tube is fairly short at 430mm, and Giant must also be commended for spec'ing a whopping 170mm travel dropper post on the Medium frame. The TranzX dropper can easily have its travel reduced by up to 30mm without need for tools, providing sizing flexibility for shorter-legged riders.
Up front is a stubby 40mm stem and huge 800mm wide riser bars. Worth noting is that the stack height is quite low on the Trance X, coming in 15-30mm lower than an equivalent 29er. We lifted the stem up as high as it would go on the steerer tube to get the grips to a more comfortable height.
Setting up
We settled on 27% sag for the rear shock on the Trance X, which ended up requiring 183psi to support Jack's 75kg riding weight.
Cleverly the Float X features numbered dials for rebound and low-speed compression damping, and each dial has a nice positive detent when being adjusted. Jack set the rebound damping one click slower than halfway (7/16 clicks), and added just two clicks of low-speed compression from full open.
As for the fork, we've found Fox's suggestions for the 36 to be a little higher than we'd like. Jack ended up with 5psi less than recommended, with 75psi inside the EVOL air spring.
Before hitting the trail, Jack fitted a Vittoria Air-Liner insert into the rear wheel and set tyre pressures at 25psi for the front and 28psi at the rear.
What does the Giant Trance X do well?
If it's agility and playfulness you're after, then look no further than the Giant Trance X. This is a very nimble bike, and one that leans in heavily on the inherent advantages of its smaller 27.5in wheels.
The Trance X loves to manual, hop and jib its way down the trail, with an enthusiastic character that encourages you to look at the terrain with a different perspective. It sits low to the ground, and the short 433mm rear centre length keeps your weight close to the back wheel, allowing you to steer from the rear of the bike.
Cornering performance is brilliant, with minimal effort required from the rider to drop the inside grip and initiate a quick change of direction. There's masses of grip on tap from the supple suspension and Assegai/Minion DHR II tyre combo, which look especially chunky in their 2.6in guise. These are really aggressive tyres that put a load of rubber onto the dirt.
The Trance X excels on flow trails and dirt jumps, where its low-slung geometry, short rear end and small wheels make it easy to flick around. And when things do get rough and rowdy, that same agility allows you to hop between lines and over obstacles when required.
Despite its flickability, the Trance X's stout chassis means it handles big hits with ease. The suspension on this bike is top-notch, with the 36 GRIP2 fork and Float X shock offering a balanced ride with an incredible amount of sensitivity and plenty of high-speed damping control. There's excellent progression built into the rear suspension too, and not once did the shock hit full bottom-out. Or not that we noticed anyway.
Though small-bump sensitivity is sublime, you also don't sink too deeply into the travel. There's useful stability for pummelling the bike into steep lips and sharp berms, with notable mid-stroke support on offer from both the fork and shock.
Unsurprisingly for a Maestro-equipped bike, the Trance X also has great pedalling manners. It's plenty efficient when heading uphill, though the Float X's climb switch is a useful tool when tackling particularly awkward ascents that require lots of heavy weight shifts and pedal stabs to make it through. The suspension maintains some sensitivity in the climb mode, and along with the steep seat angle and huge Minion DHR II out back, the Trance X can manoeuvre its way up some pretty steep and chunky climbs. It's not as planted as the Trance X 29, but it's no slouch either.
What does it struggle with?
While helping the Giant Trance X to feel very nimble, the 27.5in wheels make the square-edge hits more noticeable. Compared to its 29er counterpart, you can feel your average speed dropping through rock gardens, where the bike struggles to maintain the same momentum. And the faster and rockier the trail gets, the sketchier the Trance X feels, resulting in a higher likelihood of you getting bounced off-line.
The low stack height doesn't do a lot of favours to your confidence on really steep descents. Lifting the stem to the top of the steerer helped, but we'd consider fitting a higher rise bar if this were our bike. Unless it was super rocky though, the Trance X is great fun on steep loamy trails in the woods, where that slack head angle, low BB and short rear end allow you to get your weight back and carve through deep S-bend turns.
The adjustable geometry is a nice touch, but there's a big gap between the two settings. The 30mm BB drop is arguably too low in the low setting, resulting in an excessive number of pedal strikes when climbing on our local rocky trails. The high position gets you another 10mm of clearance, which is great for those tech climbs, but since it steepens the head angle at the same time, we found the steering ended up being a little too twitchy on the descents.
This differs from our experience of testing the 29in version of the Trance X, where we found both settings to be useful. In comparison, the change brought about with the geometry flip chip seems to be more pronounced on the 27.5in version. We might sound a bit like Goldilocks here, but we'd actually like to see a middle position to offer a more neutral compromise.
Lastly, we got along well with the stock 2.6in tyres, which offer heaps of traction that was much appreciated on natural off-piste singletrack. However, heavier riders are likely to find the big bag tyres to feel vague and wobbly in high-load scenarios. And those who are spending most of their time at the bike park and local dirt jumps will want to consider fitting narrower 2.3.-2.4in tyres with some stiffer sidewalls to improve steering precision further.
What about a mullet Trance X?
One thing we've been thinking about while testing the Giant Trance X is how it would ride as a mullet. Given the flip chips, generous BB drop and low stack height, the frame appears ripe for being propped up with a 29in front wheel and fork.
That has the potential of creating a pretty sweet setup, which would likely improve the bike's front-end stability and rollover capabilities, while maintaining the short rear end. Problem is, it'd be a very expensive process – you'd obviously have to go out and buy a whole new fork, front wheel and tyre to make it happen.
Still, it's something that Trance X owners may consider, and we'd be very curious to see if Giant has anything in the works for the future. Mullet bikes are still a new thing for the bigger mainstream brands, but we think this style of bike is ideal for a mixed wheel setup, and would arguably have greater commercial appeal than a full 27.5in bike.
Component highs & lows
There are no doubts that the Giant Trance X 1 is a well-appointed bike for the money, with the high quality Fox suspension being a notable standout.
We've also been impressed by the stock TR-1 wheels, which managed to stand up to a barrage of abuse through testing. They feel stiff and strong, and none of the spokes have managed to work their way loose. And while the front calliper exhibited some sticky pistons from new, the SRAM Code R brakes have settled in nicely, delivering great lever feel with reliably huge power.
There's still room for improvement with the Trance X 1 however. Our Medium sized test bike came fitted with 170mm crank arms, though we reckon shorter 165mm cranks could be the ticket to offer more ground clearance when riding in the Low geometry setting.
We also had the pivot bolts on the lower linkage work their way loose after the first 4-5 rides. The rearward pivot is annoyingly difficult to tighten on the trail, since the nut requires a crescent wrench, and you're extremely unlikely to have one of those on your multi-tool. After adding some Loctite and torquing it to spec in the workshop, it's been fine since.
Though the soft rubber downtube armour is great at silencing trail noise, there's no protection further up the downtube. The sticky Assegai has a habit of spitting up debris from the front wheel, and there are a few scratches in the paintwork as evidence. We'd recommend Trance X owners add some clear stick-on protection in this area.
Otherwise the frame has been remarkably quiet throughout testing, with the rubberised chainstay protector dampening chain noise nicely. Giant's new generation bolt-in cable ports have also kept everything snug, with no cable rattle to speak of. Overall it's a really solid and well put together bike.
Flow's Verdict
Staying true to the strengths of the 27.5in wheel, the Giant Trance X is a brilliantly fun trail bike that's up for, well, a bit of everything really. It's equipped with a tough frame, fantastic suspension, powerful brakes and hugely grippy rubber, with very little to be sneezed at in the spec list. Owners of an older generation Trance or Reign, who may be reluctant to step up to a 29er, will be well served by this modern interpretation of an aggro long-travel trail bike.
As good as the suspension is, for the riders who want to send it down the chunkiest and most technical black diamond trails, the reality is that the Trance X just isn't as planted as an equivalent 29er. The smaller wheels hit rocks harder, and the lighter steering can make it a bit of a handful on loose, blown-out singletrack. It's not to say it isn't a capable bike, it's just not necessarily designed for ploughing through chunder at warp speed. If you're after stability and rock-gobbling momentum, then you'll be better off looking towards the Trance X 29, or the Reign 29.
But what this Trance X lacks in straight-line speed, it more than makes up for in its ability to rip corners, manual through rollers and send it into space off whatever lip you can find on the trail. It's a bike that's built for riders who are more interested in hitting big jump lines, riding flow trails and getting jibby at the bike park. Think the Hero trail at Bright, the Kosciuszko Flow Trail at Thredbo, and Air Ya Garn in Derby. If that sounds like your bag, then the Trance X is a nicely executed and up-to-the-minute trail bike that's a proper riot to ride.