Legendary Californian frame manufacturer, Intense, have been busy, with a bunch of new carbon frames popping up lately. Now they are fast making inroads into the world of 650B. This was to be our first full test experience aboard a 650B (27.5") bike, with real trail time booked in for this glossy red stunner.
Our Carbine is about as expensive as mountain bikes get, at $10,999, but is also adorned with some of the sweetest components available too. Intense bikes are well known for having the dialed geometry that appeals to the experienced pilot, and their VPP suspension system has always attracted much attention from those looking for a supple yet efficient ride.
But after our testing term at Flow we felt divided; both positive and disappointed, stoked and frustrated. Were we able to see past the stellar components and the ride characteristic of the wheel size to see what the frame offered us in terms of construction and geometry? Did we expect too much for the money, or just more from such a highly regarded manufacturer? This was a tricky one to test. [private]
Firstly, it was too hard to go past the fact that this bike is rolling on the new wheel size. We could bang on about wheel sizes for yonks, but in short having a bigger diameter wheel helps you roll over rough terrain with better momentum. Apply 29" wheels to a bike with more suspension travel and it becomes too much of a challenge to retain snappy handling and the whole wheelbase becomes too long. That is where the whole idea of the 650B wheel comes into play, with the theory that a 650B wheel does not compromise a bikes geometry but benefits from added rolling performance and traction. Mumbo jumbo? No, absolutely not, trust us on this one.
We took the Carbine 275 on our third magazine road trip, down the south coast of NSW to the singletrack haven of Tathra. And our first ride was just behind town in lovingly constructed trails oozing flow and speed. Through turn after turn we found ourselves well adapted and comfortable in no time. That is exactly what we have been hearing from those who try 650B for the first time – it doesn't really feel that much different, certainly not like it does when you jump from a 26" to a 29" bike.
Rolling momentum aside, what we found out quickly was how damn hard you could push the front tyre through a turn. It became almost a challenge to wash the front end out! The added contact patch of the 650B wheel in unison with our most beloved all mountain tyre – the venerable Schwalbe Hans Dampf – made for more traction than we have seen on a bike as light and agile. This translated to cornering speed like nothing else!
So what did we think of the wheel diameter? We liked it a lot but it didn't blow us away. It definitely did roll better over the terrain than a 26" bike of comparable nature, but rarely did it feel top heavy, long or cumbersome like some 29ers can. In corners, you could feel that the slightly bigger wheel required a little more exaggerated body language to really tip the bike underneath you to have the side knobs of the tyres biting the trail. Also, when we applied the brakes in a long turn, the bike wanted to 'stand up' more than a 26 might. Lucky the Enve wheels are ridiculously light, we feel that a heavier wheel will portray that more. But, all said the benefits of rolling and traction certainly do outweigh any adverse experiences.
On to the frame now, and there is a lot to say about this. The heart of the bike's performance lies in both the supple VPP suspension system and the smooth and quiet carbon feel. VPP (virtual pivot point) is a patented design used by both Intense and Santa Cruz. VPP was the first really successful application of the dual link concept, where the aim is to have greater control of the rear axle path as it travels through the suspension travel. It has gone under many modifications over the years, but it has to be said that the birth of the VPP concept spurred a flurry of frame designers from other brands looking to create a suspension design that offered similar traits but not infringing on any existing patents. Many brands have similar designs on the market today, a testament to the design's effectiveness and ability to transcend suspension trends.
The Carbine is one of very few bikes that can be converted to accommodate 26" and 650B wheels. In this case, Intense's G1 replaceable dropouts that let you fit a bigger wheel and also adapt the geometry to suit. So effectively, with wheels, tyres, forks and dropouts you could have two bikes, but that would be pretty crazy.
There is so much to love about how the Carbine feels on the trail, but we were not impressed with the lateral rigidity and stiffness of this bike. The lower VPP linkage was the location of the flex, and over the first few rides it developed more side-to-side play and a knocking sound that we could not pinpoint or eradicate. In comparison to Intense frames of years past, a few construction modifications have been made to boost the stiffness (like creating a wider lower link), so the Carbine is stiffer than some of its predecessors, but the flex is still worth noting.
Why is this a problem? Well, at times we lacked the confidence to really push the bike hard through banked turns, or hold high speeds through heavy g-out compressions like a gully. Also when you put power into the pedals we felt like we were losing power through frame flex. This won't be a deal breaker for everyone though, and could simply be a trade off for the efficient VPP suspension and one of the lightest frames in its class.
The bike rides very well in regards to the rear suspension. When mashing down hard on the pedals the bike resists wallowing nicely, and that feeling of stability was there with us on the climbs too. It's a different feeling suspension action to, say, a Specalized FSR or the Lapierre Zesty we've been riding a lot; when you push down on the suspension when stationary it feels firm under hand, and not too supple, even when bouncing around in the car park the same firm feeling is obvious. But let it roll through the trails and it can do no wrong, maintaining great composure, soaking up hard knocks to keep you moving forward, or conforming to the terrain helping your tyres staying in contact with the dirt. The Carbine also exhibits that supple feeling of carbon that we have all grown to love when compared to aluminium frames, dampening the vibrations of the ride and exhibiting springiness and shock absorption.
Intense bikes are offered in Australia as frames and build kits, this one was about as premium as it gets, with a full dose of flashy ENVE kit, a reliable SRAM X0 drivetrain and the Avid X0 Trail brakes we have grown very fond of. The Rockshox Reverb adjustable seat post confirmed our love of the product and with tubeless ready Schwalbe tyres we hit the trails in confidence with no fuss.
All said and done we enjoyed the ride, the beautiful appearance and fast rolling 650B aspect of the Carbine 275. We did however feel a little let down by the knocking and flexing linkage, especially for the high price of the frame alone. But with such a low frame weight and efficient suspension this bike could well be the 'quiver killer'. Sell your marathon race bike and all mountain bike to own just one high-dollar trail blaster. You'd need to sell two bikes to buy this one, that's for sure.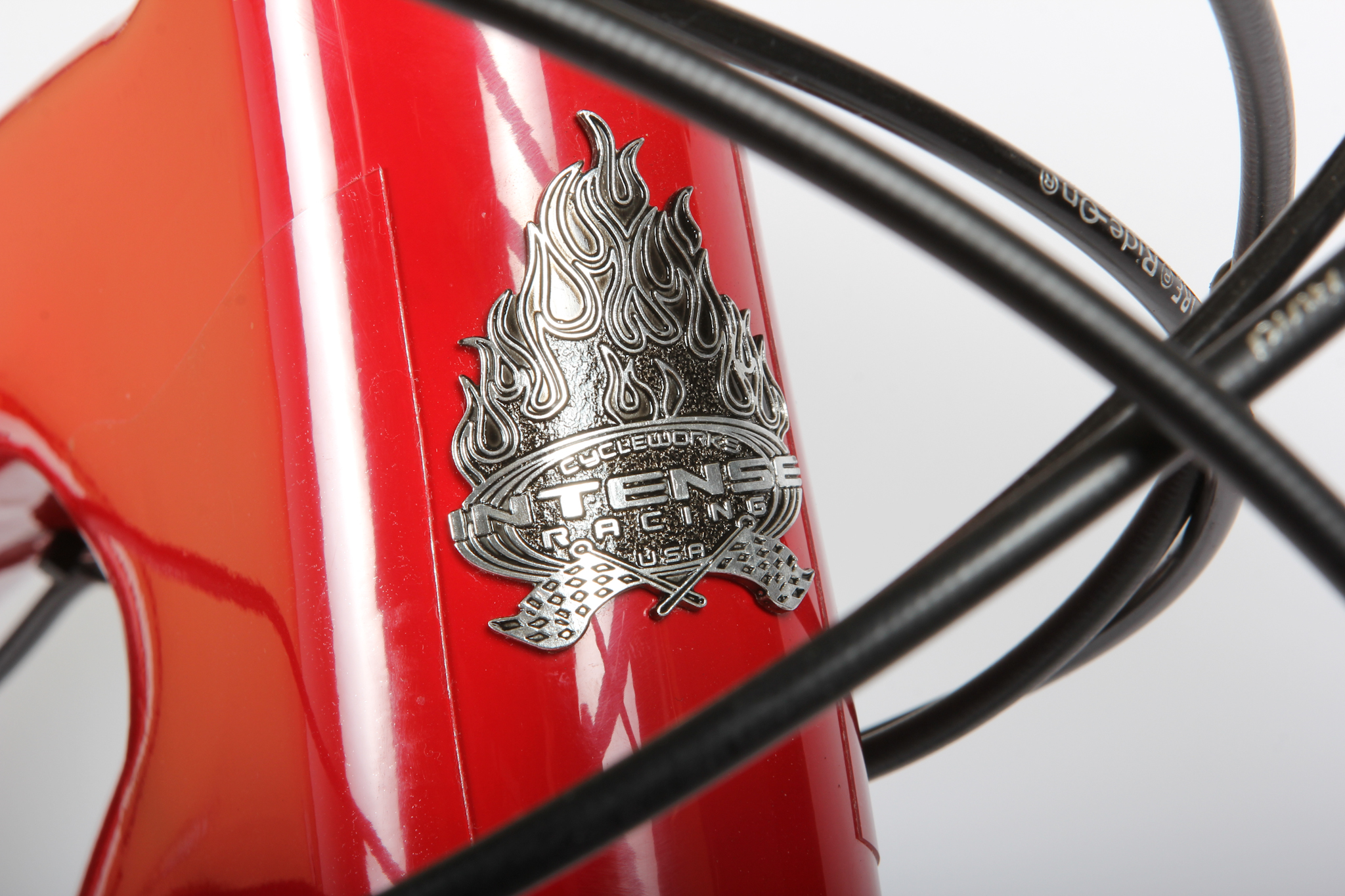 [/private]