Just in for review is the lowest cost full-suspension bike we've had on test with a really long name; the Cube Stereo Hybrid 140 Race 500 27.5. An aluminium e-bike with 140mm of travel, a Bosch CX motor, FOX suspension, a SRAM Eagle drivetrain and Magura brakes.
We've only had a couple of rides on it so far, and already have a fair idea what we're going to expect over the next few weeks of testing. It's a plush and comfortable bike with loads of power and grip, the chassis feels rock-solid.
Cube is not new to the e-game and it shows, their latest generation of Stereo Hybrid bikes are well refined, and aesthetically the bike is quite nice, especially given the price. There is a 120mm and 160mm travel version of this platform available, plenty of options for different riders, that's for sure.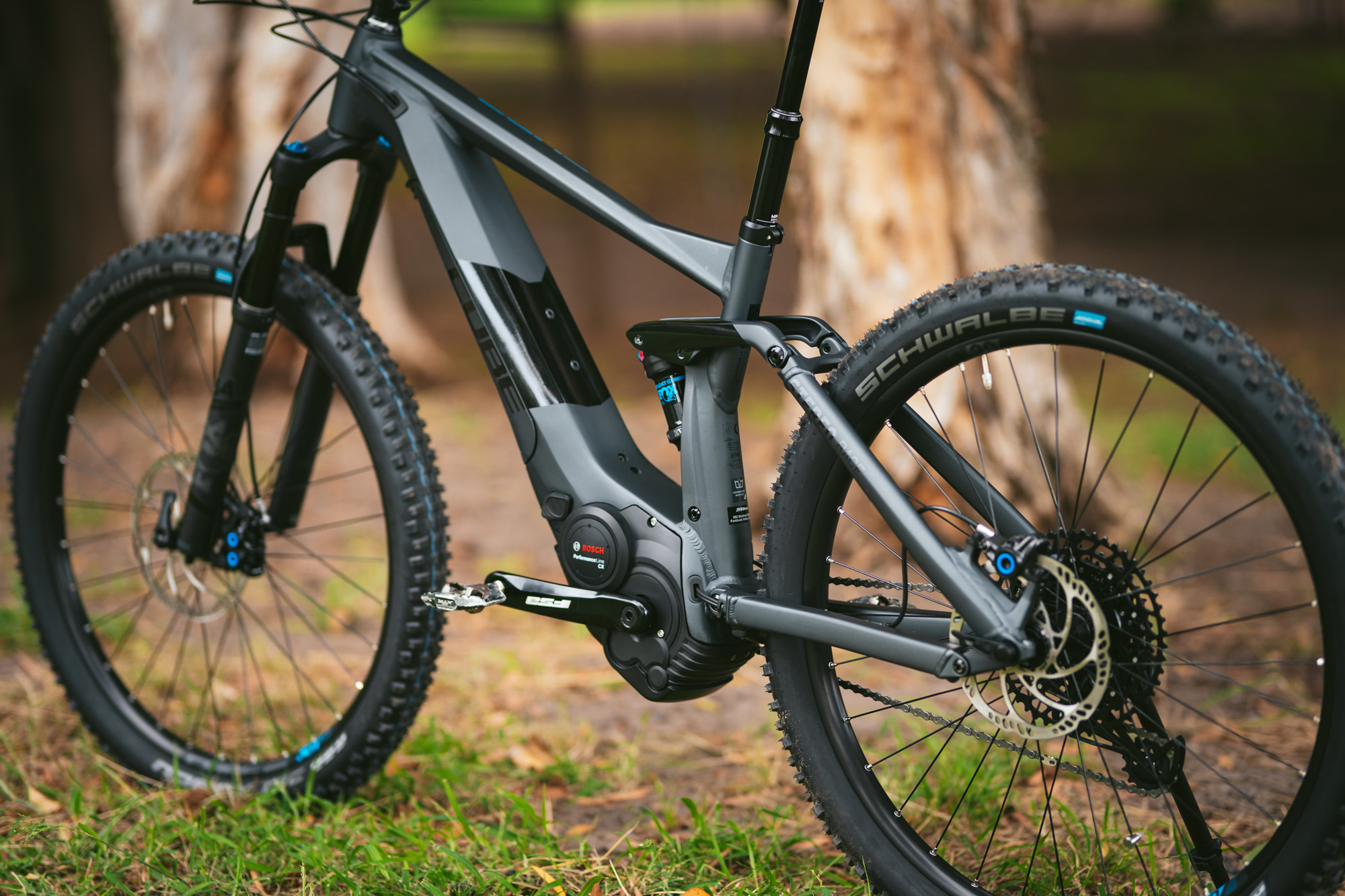 ---
Setup
Rolling on 27.5″ wheels with reinforced Schwalbe tyres wrapped around generous 30mm wide rims, we lamented the lack of tubeless valves included with the bike. We'd not advise going anywhere on a bike this heavy with inner tubes, you'll be walking in no time.


Setting up the Stereo Hybrid was all rosy bar the cockpit ergonomics. These Magura brake levers, a dropper post lever and the Bosch Purion display didn't cooperate too well, and the result was not as comfortable as we'd liked but it'll do for now. Oh, the grips are not that grippy, we'll swap them for a thinner and softer pair next ride.
---
First ride thoughts
On the trail, you really sit deep in the travel, it feels amazingly smooth and plush for just 140mm. Pointing it down an ugly trail, and it stayed really composed, glued to the ground when we'd expect to be shaken off the desired line.


The tape measure-of-truth showed us that the Stereo Hybrid 140 is long in the chainstays, 473mm, and short in reach, 420mm. On paper that will make for a bike that won't really want to leave the ground without a lot of oomph, and sure enough, it did take a lot of effort to flick around.
We're going to install some tokens into the FOX 34 fork to help it match the excellent rear suspension, experiment with cockpit height to gain a better climbing position and convert to tubeless. That's all for now, we'll be putting the Cube to test over the next few weeks, stay tuned for our full review!