After countless trail hours, car miles, domestic flights and mountain bike events, it has come time to begrudgingly hand back our beloved Lapierre Zesty AM long term test bike.
We've made no mystery of the fact that we love Lapierre bikes here at Flow, they tear through singletrack like a pro and their e:i Shock gizmo takes efficiency to an unprecedented level. This one in particular – the Zesty AM729- with its top-tier spec and fancy electronics, attracted its fair share of attention on the trails. And in the end of our time aboard the Zesty we review our relationship as having been bitter-sweet, equal parts joy and frustration.
[divider]A bit of background on the e:i Shock[/divider]
All the big bike brands are frantically duking it against each other out for rear suspension supremacy by using tricky rear axle paths, proprietary shock valving, remote lockouts or, in Lapierre's case, an automatically-adjusting and electronically-controlled rear suspension system. It's a confusing time for the consumer, and even for us. They all have their strengths and weaknesses, and the weaknesses in particular keep shrinking each year as the technologies develop. What the heck is going to be next? The future of mountain bike suspension is an unknown to us, where can it all go from here, will it plateau and calm down? Do we really need all this?
Lapierre's unique electronic intelligent suspension system is not an easy concept to explain – it all makes a lot more sense when you actually ride a bike equipped with this system. Fortunately here at Flow we've had plenty of trail time on a wide range of e:i equipped bikes, take a look at our first review of  the 2013 Zesty 314. Lapierre use the e:i on three models of suspension bikes, the XR, Zesty and Spicy.
Lapierre have clearly realised that explaining the e:i system in mere words is a bit of a task, and so they've just released this great vid that does a really good job of explaining what it's all about and how it works.
In the end, we most certainly appreciate what the e:i Shock does, whole heartedly. The best thing about it? You're always in the best suspension setting for whatever riding you are doing. You don't have to reach for a lever on a shock, or a switch on the handlebar, it's all 100% automatic. You are always in the optimum shock setting, and you can't fool it, trick it or be caught out.
Our test bike here is a 2014 model, but for 2015, Lapierre have greatly simplified the operation of the e:i system, ridding it of the unnecessary display unit and bar-mounted mode adjuster. We recently spent time on the new e:i system, and met the engineers behind the incredibly clever and effective system, whilst previewing the 2015 Lapierre range. We're also currently testing the new 2015 Zesty TR 829, so come back soon!
[divider]Our Long Term Test[/divider]
The 2014 Zesty AM 927 is a gorgeous bike, immaculately finished, and specced with the finest parts possible for almost $10k. From the forests of Cairns, to the big mountains of Mount Buller, to the flowing trails of Orange and all over the trails of Sydney, the Zesty was that perfect 'one bike' that was up for anything. Exploring unknown trails is always a tricky one; what bike to take? Our Zesty always seemed to be the right choice, and we reached for it all the time. We raced it at Bike Buller, the multi-stage event in the big Victorian Alps, with its hour-long climbs and insanely fast descents, tight switchback corners and wide open fire roads. The Zesty was never too much, or not enough bike. We raced it at Enduro events, and wouldn't hesitate to roll around a multi-lap endurance race either.
Sure, its high end parts make this bike very appealing, keeping the weight low and therefore requiring less effort to pedal around the trails, but the geometry and handing characteristic really lend itself to taking on a wide variety of trails too. 150mm of travel is a fair bit of bounce, but the electronic motors continually zapped away, making sure that you were always in the right setting for climbing, springing or descending. You never get that soggy, energy sapping feeling as your pedal power is absorbed into the the bike as the rear shock compresses, it is firm when you want it, but stop pedalling or hit a bump and it instantly becomes plush and active.
One thing we kept on wishing for, was a FOX shock in place of the RockShox Monarch. It's no secret that a FOX rear shock in most cases feels smoother, more sensitive and reacts faster than a RockShox. This 2014 model Monarch is better than last year's one, but still at high speeds and when the trails became choppy, those fast and repetitive impacts seem to choke up the shock. For 2015 however, the new Monarch's have improved out of sight again, new model bikes we've ridden with 2015 Monarch shocks are far smoother and sensitive.
We chatted to Lapierre's suspension engineer about the working relationship with RockShox, and why FOX was never used with the e:i Shock. It turns out that FOX simply weren't that interested in working with the e:i Shock folks, and the current Shimano/FOX electronic systems were simply not fast enough to work with the e:i system. RockShox shocks may not be the smoothest, but their damping internals are able to be changed at 0.01 seconds, that's the key to the operation.
But, for all our praises of this bike comes some disappointing negatives. At the risk of sounding a bit brutal we were not 100% stoked on the 2014 e:i Shock's hardware durability or visual appearance. Due to a few niggling electronic component issue – all of which were swiftly rectified under warranty – our Zesty has spent a portion of its life in varying states of operation. At times these niggles dominated our thoughts when riding, and left us wondering if the bike would be better without the electronics.
The issues we had lay in the connectivity of the electronic points, both at the head unit and at the main internal junction, suffering from the elements most likely. Inside the frame, above the bottom bracket is a little junction of wires, soldered together and waterproofed with heat shrink. Ours had issues, and the junction wires were replaced by our local Lapierre dealer. We also had problems with the display unit going blank intermittently, but Lapierre have just released an updated head unit has a more positive connection between the computer display and the housing. We know this technology is young, and these kind of early generation issues are inevitable, but it is frustrating nonetheless.
On a more positive note, the upcoming 2015 version of this bike with its refined and simpler e:i Shock 'Auto' system will blow the 2014 model out of the water. We've ridden the 2015 system extensively, and look forward to more users having a better experience with e:i on the new system. Improvements to the 2015 system include the connections between the wires inside the frame. Gone are the soldered and heat shrink-wrapped junctions of wires, in place are new durable and weatherproof plugs, like you would find inside the frame of a Shimano Di2 bike. The display head unit is gone entirely too, as is the remote buttons near the shifter. This is all good news as far as we're concerned – the system is much simpler visually and in its user interface.
[divider]Upgrades[/divider]
We couldn't help ourselves, a RockShox Pike had to happen. The 150mm travel 32mm FOX TALAS fork that came stock on the bike didn't match the whole bike's ready-for-action attitude. We opted for a 160mm Pike, which no only beefed up the front end with bigger diameter 35mm legs (in place of the FOX 32mm legs) but also lifted and slackened the front end. With a 160mm fork, the Zesty was beginning to look more like the Lapierre Spicy (which shares the exact same frame) which comes stock with a 160mm fork and a few more burly parts. Maybe we wanted really just wanted a Spicy all along?
The Schwalbe Nobby Nic tyres, like the skinny FOX fork are nice and light, but were holding back the Zesty's true capabilities of going really, really fast. We've also not really been big fans of the Nobby Nic unless the soils are really soft; we find they ping and slide around on hard packed surfaces, which is quite scary at times.
A pair of gummy Maxxis 2.35 TLR 3C (tubeless ready, triple compound) were a good swap; the Minion front and High Roller II added weight and a bit of drag, but the traction trade-off was well and truly worth it. No flats, burping or cuts occurred, but the eye-poppingly good braking control from the High Roller on the rear was short lived as the tall and aggressive centre knobs shredded fairly quickly.
Everyone has a favourite seat, and the Bontrager Evoke is one of ours. In favour of the the Fizik Tundra, the Bontrager would save our buns on the longer rides.
We would typically muck around with the cockpit of a long term test bike, but in this case it remained unchanged. The length of the stem, ride and width of the bars was perfect. Even the grips stayed on the whole time.
Aside from the fork, the biggest change made to the Zesty was the ENVE M60 wheels. These lustrous hoops don't need much of an introduction to road or mountain bike riders, they are the cream of the crop of carbon wheels. There is no better place on your bike to throw money at, the performance boost is huge. An excellent suspension fork is better than just a good one, but the differences with a top-notch set of wheels is night and day over a stock set.
What the ENVE wheels did to the bike was three-fold. Weight dropped significantly, the tyres were given a wider profile, and the bike's direct and fast handling was lifted to the next level. The M60 rim is a fair bit wider than the stock Easton Havens, and in our opinion the wider the better. The tyres can be run at lower pressure to add major amounts of traction without experiencing a squirming or spongy ride. The contact patch of the tread was increased too as the casing of the tyre is set wider. But the best bit (not just the looks) is how they ride. The ENVE wheels know where you're going, they feel stiff and strong without feeling harsh, and really encourage harder riding. Our ability to hold a rough line was noticeably more confident, and the rolling speed was wild, so damn fast.
[divider]Ride[/divider]
Zestys love speed, cornering and making light work out of the trickiest trails. They are a true all-mountain bike. They have a knack for hauling around a flat corner, and ripping through the tight and twisty sections. A short rear end is to thank for its nimble handling in tight terrain, and we love the way the Zesty pulls a manual or flicks around a switchback. Up front, a roomy top-tube gives the bike a nice dose of length. Pair that to a short stem, and you have a nice balance of room for stability, but also fast and responsive handling. Pretty much ideal for a lightweight 150mm bike.
The overall low weight was instantly evident on the first ride, not just getting up climbs with less effort, we found ourselves able to pop over sections of the trail, searching for smoother and faster lines like we had loads of energy. Lifting the bike and placing it down where you want it is super easy. And there is no doubt about it, the e:i Shock component (when it's working) is superb. If you can put up with the noisy motor zapping away, you will quickly forget about the fact you're carrying a battery, accelerometers, computers and cadence sensors on board and you'll just leave the computer in auto mode, and just ride. It is perfect efficiency, and it's completely automatic and intuitive and instant.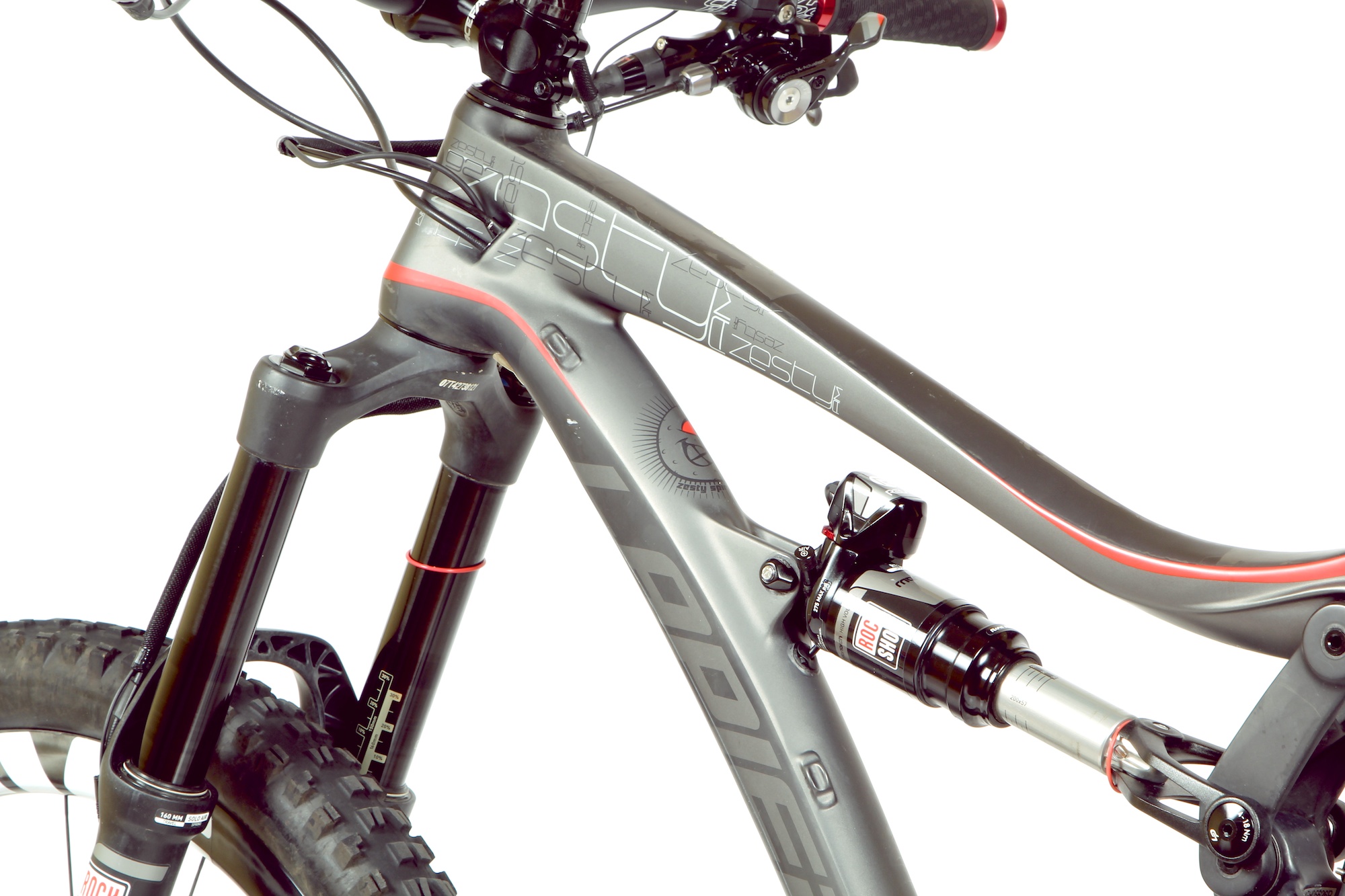 [divider]Verdict[/divider]
In comparison to a regular bike test, a long term test lets us delve deeper into how a bike performs over time, allowing elements like durability and different setup results factor in to the test. In this case, we did have durability issues with the electronics, but that was it. We made a couple spec changes, but aside from the tyres, nothing actually needed replacing.
We often hear people saying that they think mountain bikes 'don't need' electronic suspension. That's true. But that doesn't mean it's not a positive development, and in reality it's simply an evolution of what are already very advanced machines. Take a look at a high-end modern bike; carbon framed, carbon wheeled, hydraulically damped, amazing strength to weight ratios – these bikes are not simple any more. We've accepted electronics into just about every other aspect of out lives, from our timepieces to our toothbrushes to our cars, why not our bikes too?
If it wasn't for the hardware issues we had with the electronics, we would have been 100% happy with this bike. We know there are countless Lapierre owners out there who have never had any troubles, so maybe we just had bad luck. We really enjoyed this bike, and we think that Lapierre is onto a great thing with e:i. Now we're looking forward to the 2015 range resolving the niggling issues we had and reinstating the public's belief in what we think is one of the leading suspension designs ever made.