Flow reviews the Marin Alpine Trail 7
As the longest travel bike from the Californian brand, the Marin Alpine Trail is a burly bruiser that's designed for enduro-style riding and racing. Built around 29in wheels, a 160mm fork, 150mm rear wheel travel, and some seriously progressive geometry, the Alpine Trail sits in a similar space as the Norco Sight, Commencal Meta TR, Canyon Spectral, and the Specialized Stumpjumper EVO.
While there are more expensive options on offer, it's the entry-level model that we've got on test here. And with a price tag underneath the four grand mark, the Marin Alpine Trail 7 has set out to prove that you don't need to spend a kerbillion dollarydoos to get a decent, capable and solid enduro bike. So, how does it ride? And just how solid is it? We've been testing the new Marin Alpine Trail 7 to find out!
---
Watch our Marin Alpine Trail video review here:
---
What's changed with the Marin Alpine Trail for 2022?
The overall layout of the Marin Alpine Trail remains much the same as last year's bike. The tough-looking, no-bullshit alloy frame features the straightforward MultiTrac suspension design, a threaded BB and ISCG 05 tabs. A new ribbed chainstay protector aims to dampen chain whacking, and a tidy bolt-on plate protects the underside of the downtube.
Bigger changes can be found in the Alpine Trail's geometry, with the new frame punching the head angle out to a DH-worthy 63.5°. Reach measurements have gotten longer too, though to keep the rider in a balanced climbing position, the seat tube clocks forward to an incredibly steep 78°.
Whereas some brands are balancing out long front ends with longer chainstays, Marin keeps things very short out back with a 430mm rear centre. It's the same length on all sizes, and you also won't find any fancy geometry flip chips, integrated frame storage or headset steering limiters. There's certainly an appeal to that simplicity, particularly as it helps to lower manufacturing costs.
It's still very good value on paper though, and no doubt one of the most accessible big travel enduro bikes currently on the market
Marin Alpine Trail price & range overview
Marin offers four Alpine Trail models; two with alloy frames, and two with a carbon/alloy frame. All bikes feature the same alloy back end, suspension design, travel, and geometry.
If you're looking for a little more bling, the top-end Alpine Trail Carbon 2 comes with a Fox 36 GRIP2 fork, a Float DPX2 shock, Shimano SLX/XT drivetrain and SLX 4-piston brakes. It's a bloody good-looking package considering the $6,299 AUD sticker price.
Also intriguing is the Alpine Trail XR, which is very similar to the bike we've got on test here, but features a RockShox Super Deluxe Coil shock and a Lyrik Ultimate fork. Along with its Deity cockpit and Maxxis Assegai tyres, it ups the big-hitting ante for $5,299 AUD.
What's the competition like?
The bike we've been testing is the Marin Alpine Trail 7, which sells for $3,899 AUD. That makes it remarkable value on paper, and no doubt one of the most accessible big travel enduro bikes currently on the market, especially one with such progressive geometry. For a point of reference, here's how it compares to some popular options in that $3-5K zone;
Merida One-Sixty 400 – $3,499 AUD
Canyon Spectral 5 – $3,749 AUD (plus $199 shipping)
Marin Alpine Trail 7 – $3,899 AUD
Polygon Siskiu N7 – $3,999 AUD
Norco Sight A3 – $4,199 AUD
Giant Reign 29 2 – $4,299 AUD
GT Force 29 Elite – $4,699 AUD
Specialized Status 160 – $4,900 AUD
Trek Slash 7 – $5,299 AUD
Of course there are differences between all those bikes in terms of frame design, spec, geometry and suspension. And some folks may simply prefer buying their bike from a local bike shop rather than online.
We'll also point out that comparing prices is kinda irrelevant if a bike doesn't ride well, has durability issues, or requires immediate upgrades to get it to perform properly. So how does the Marin Alpine Trail 7 stack up in that regard?
Marin Alpine Trail 7 specs
Frame | Series 4 6061 Alloy, MultiTrac Suspension Design, 150mm Travel
Fork | RockShox Yari RC, DebonAir Spring, 42mm Offset, 160mm Travel
Shock | RockShox Deluxe Select+, Trunnion Mount, 205×65mm
Wheels | Shimano MT410 Hubs & Marin Alloy Rims, 29mm Inner Width
Tyres | Vee Tire Flow Snap, Tackee Compound, 29×2.6in
Drivetrain | Shimano Deore 1×12 w/FSA Comet 32T Crankset & 10-51T Cassette
Brakes | Shimano MT420 4-Piston w/203mm Front & 180mm Rear Rotors
Bar | Marin 6061 Alloy, 28mm Rise, 780mm Width
Stem | Marin 3D Forged Alloy, 35mm Length
Grips | Marin Lock-On
Seatpost | TranzX Dropper, Travel: 125mm (S), 150mm (M-L), 175mm (XL)
Saddle | Marin Speed Concept
Available Sizes | Small, Medium, Large & X-Large
Confirmed Weight | 16.21kg
RRP | $3,899 AUD (plus shipping)
Testing the Marin Alpine Trail
We put the Marin Alpine Trail 7 into the hands of Fireman Dan, an accomplished enduro racer who owns a Specialized Stumpjumper EVO and has previously tested the GT Force 29 and Trek Slash.
With Marin mountain bikes being sold direct-to-consumer in Australia via Bicycles Online, the Alpine Trail 7 was shipped right to Dan's door inside a cardboard bike box. This means you will have to factor in an additional shipping cost – it's only $25 if you live in Melbourne or Sydney, though if you're in Broome for example, you'll be forking out $209 to get it to your door.
Assembly is simple and some basic tools are included in the box to help you with installing the front wheel, handlebar and dropper post. If you need further assistance, Bicycles Online has a range of online How To videos to guide you through that process.
Fit & Sizing
Bicycles Online recommended a size Large for Dan's height of 183cm, and that turned out to be absolutely spot-on. The 480mm reach is long, but the riding position ends up being quite upright and comfortable due to the dinky 35mm stem and 78° seat tube angle. While Dan is used to shoving the saddle forwards on the rails to get it into the right position for climbing, that wasn't necessary with the Alpine Trail.
Despite the steep seat tube angle and relatively short effective top tube length, the Marin Alpine Trail does well not to pitch the rider forward on flat terrain. The 780mm riser bars offer a neutral sweep profile and plenty of rise, helping to reduce excess pressure on the rider's hands. There's also a usable length of steerer tube for adjusting the stem height as needed.
Improving both standover clearance and sizing flexibility, Marin has built the Alpine Trail with a very short seat tube, measuring just 425mm on the Large. It does mean there's a heap of extension with the stock 150mm dropper post – we reckon a 175mm dropper would be a better match.
Suspension & Tyre Setup
RockShox's clever anodised sag gradients on both the fork and shock make suspension setup a doddle. Marin also has a handy setup guide on its website, with suggested shock pressures providing a useful starting point. This is welcome to see for a bike that's sold direct-to-consumer, particularly when so many other brands just don't even bother.
You'll notice that suggested air pressures are quite low compared to some other full suspension bikes, which is a direct result of the low leverage ratio that Marin has built into the Alpine Trail with its big shock stroke. Indeed to hit 30% sag, Dan only needed 150psi for his 80kg riding weight. He also ran the shock's rebound damping within a click or two of the fastest setting, as the suspension would feel sluggish and over-damped with any more clicks than that.
While both the rims and tyres are tubeless compatible, you'll need to purchase valves and sealant separately if you want to go tubeless. It is a relatively simple job since the rims are pre-taped from the factory. It's not the neatest job however, and consequently we had a bit of leaking over the first few rides. Once everything was sealed up, Dan settled on 23psi for the front tyre and 25psi in the rear.
What does the Marin Alpine Trail do well?
It might not come as a surprise for a bike that weighs over 16kg and has a 63.5° head angle, but it has to be said that the Marin Alpine Trail's descending abilities are nothing short of outstanding. It certainly didn't take long for it to feel composed on our local test trails, where it excelled on rough, techy and natural terrain.
Although the suspension isn't top of the range, the performance really isn't that far off. That's especially the case for the brilliant Yari RC, which features the latest DebonAir spring that boosts mid-stroke support over the previous design. It's sensitive, easy to tune and very stout.
It loves to pop a manual and loft the front wheel when directed, delivering an involving ride quality that is nicely balanced against its descending muscle.
Along with the heavy duty alloy frame, the Marin Alpine Trail feels solid and brawny, and it handles big hits with aplomb. There's excellent progression built into the rear suspension, so while you can access all the travel, it's never obvious when you've run out. It is possible to increase progression further if you fancy, since the shock comes from the factory without any volume spacers installed.
It has to be said that the up-to-date geometry is a huge plus on this bike, with the riding position keeping you well centred and in the bike, rather than making you feel like you're perched on top of it.
That also makes it a really fun bike to hit corners with. The short rear end helps to instigate turns with surprisingly little effort, while the low BB, slack front end and high-traction tyres allow you to commit and rail those corners aggressively. Indeed for what is a hefty and slack bike, the Marin Alpine Trail is thoroughly playful. It loves to pop a manual and loft the front wheel when directed, delivering an involving ride quality that is nicely balanced against its descending muscle.
The suspension is otherwise quite bobby, though the active performance does help the rear tyre to drive for traction on crumbly surfaces and up techy ascents.
Naturally, there isn't quite as much outright warp-speed stability here as other bikes that employ much longer chainstays. Indeed the short rear end does mean you'll need to adopt a more aggressive new-school riding position, with more commitment to getting your bodyweight over the front of the bike. On less-steep terrain, nervous riders who normally sit off-the-back will struggle to keep that front tyre driving into the ground. This is a bike that really rewards a more assertive pilot on more demanding terrain.
Still, the short rear end was less of a real-world issue than we expected. There's minimal lifting on the climbs, since the steep seat tube puts you in such a forward-biased climbing position. And the added agility it delivers means the Alpine Trail is a more balanced bike for a wider range of typical Australian trails.
No, it's not the sprightliest bike uphill, but thanks to the excellent seated position it does ride far lighter than we expected given the 16.21kg weight. On the road and up smooth gravel climbs, you'll want to make use of the shock's two-position compression lever to firm up the rear end. The suspension is otherwise quite bobby, though the active performance does help the rear tyre to drive for traction on crumbly surfaces and up techy ascents.
Component highlights
Marin has to be commended for the excellent package it's put together for the Alpine Trail 7, which really contributes to its overall ride quality.
The Vee tyres are absolutely fantastic, with a supportive tread design and a sticky rubber compound that proved thoroughly reliable in a wide range of conditions. While the broadest point of the tread does measure quite wide at 2.77in, the casing itself is closer to 2.45in wide. This gives them a slightly lower volume compared to some other brand's 2.6in tyres, so they're not as wobbly and vague when being pushed hard. They've also been plenty tough – despite not being paired with any rim protection, we only encountered a single puncture throughout testing.
We've ridden bikes that cost three times this and have made far more noise.
We've also been really impressed by the budget Shimano MT-420 brakes. Paired to big rotors and metal-compound brake pads, the 4-piston callipers dish out a surprising amount of power. And while the long levers look a little pedestrian, they deliver excellent feel with the flatter profile providing a slightly bigger perch for your index finger to wrap around, compared to Shimano's higher-end brakes.
As expected the Shimano Deore drivetrain has been similarly reliable, and it's nice to see an I-SPEC direct-mount shifter. Our bike hasn't dropped a single chain throughout testing, despite the FSA crankset and lack of any sort of chainguide.
Indeed the overall quietness of the Marin Alpine Trail 7 has stood out (or rather hasn't stood out) as being one of our favourite attributes. It's great to see some solid downtube armour, and along with the textured chainstay protection, well-managed cable routing, and non-finned Shimano brake pads, there is very little rattle or clanging on the trail. We've ridden bikes that cost three times this and have made far more noise.
Any problems?
On the very first ride the rear wheel on our test bike de-tensioned in quite a dramatic fashion, with almost all of the spokes coming loose. Over the next few rides we also had the crank bolt come loose, along with the rear suspension's main pivot and central rocker link pivots. Not ideal, and not something we were expecting for a mountain bike sold in 2021.
We've since been informed that Marin's factory is aware of these issues, and has already made changes to production to ensure that pivot bolts are being treated with Loctite and that wheels are properly relieved during the building process. Still, we'd always recommend carrying tools with you when out on the trail, and it's also worth running a bolt check during those first few rides on any brand new bike.
While pretty comfortable, the saddle has also developed an annoying creak from the rails. The rear shock has also been weeping a considerable amount of oil from the main wiper seal. It seems to have cleared up lately, which would indicate that it isn't a dodgy seal, but rather the shock simply shedding some excess oil that it may have been built with in the factory. It's still something you'd want to keep an eye on though.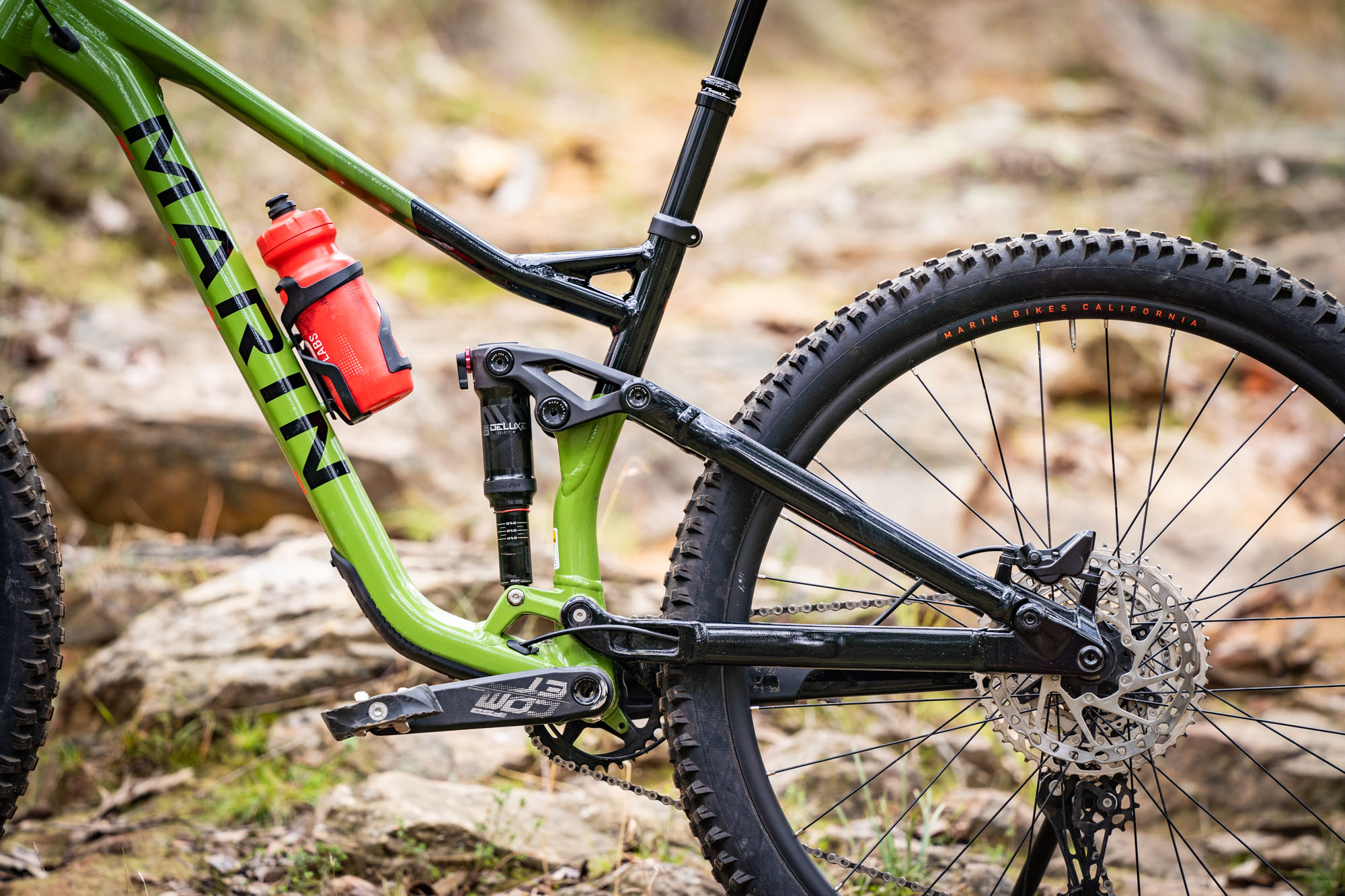 What could be improved?
Honestly? Very little.
Of course it is quite heavy, and combined with the raked-out geometry, the Marin Alpine Trail 7 is somewhat sluggish on flat terrain. That's not what this bike is aimed at though, and for riders chasing a lighter and more sprightly all-day trail bike, you'll be better off looking at the shorter travel Rift Zone instead.
If you desperately wanted to throw money at it, we'd consider a higher quality dropper post lever, as the stock remote is a bit wiggly and cheap. A longer-stroke dropper would also be useful for leggy riders frequenting steeper terrain.
It's also possible to upgrade the Yari fork with a high-end Charger damper, which would net you greater adjustability. Whether that adjustability is actually useful for the vast majority of riders out there is debatable, but it's an option. The frame is also coil and piggyback shock compatible, something that riders who are spending most of their time shuttling the bikepark may want to consider. At that point you'll want to seriously think about the Alpine Trail XR model though, which comes with the coil shock and Lyrik Ultimate as standard.
Flow's verdict
No doubt about it, the Marin Alpine Trail 7 is a stupendously capable bike for the money, with a cleverly-selected parts package that helps to nudge the price below the $4,000 barrier without sacrificing on crucial performance.
The suspension is smooth and easy to tune, the brakes are powerful and reliable, and the tyres offer superb traction in loose conditions. It all helps to back up the Alpine Trail's robust chassis and contemporary geometry, which fully supports hard-hitting descending and corner-ripping shenanigans.
It may not be the lightest bike around, and it's certainly no zippy all-day pedaler. The lack of fancy features and tech-acronyms may also disappoint some riders, but we really dig the gimmick-free simplicity.
Certainly for those enduro-adjacent riders who place a priority on going down the mountain as fast as possible, while being able to jump, jib and manual along the way, the Marin Alpine Trail 7 is one tough cookie that's well-equipped to thrive on technical terrain. It certainly had us questioning why you'd need to spend any more than this. Sure you could, but we can guarantee that at that point, it won't be the bike that's holding you back.