What have we got here?
The High Roller II and Minion SS are two popular treads from Maxxis. As the name implies, this is the second generation of High Roller. The Minion was the downhill tyre that was a serious 'must-have' for a number of years (cheers to Sam Hill for cementing its popularity), and the SS is a semi-slick version of the tread. It scores the same cornering knobs as the regular Minion DHF, just shaved down in the middle.
Compounds and construction details?
EXO is Maxxis's lightweight sidewall reinforcement. 3C stands for triple compound, naturally. It's soft on the sides (42a durometer), firmer in the centre and firmer still underneath, for good rolling speed and excellent grip. The Minion SS is dual compound, not 3C, which is why it's a little cheaper too.
How do the weights and prices stack up?
Pretty well. Maxxis tend to be good value, and at $64.95 for the Minion SS and $79.95 for the High Roller II, they're much cheaper than an equivalent from Schwalbe, and in line with what you'd pay for a Specialized or Bontrager tyre. Weights are quite reasonable, 850g for the High Roller and 773g for the Minion SS.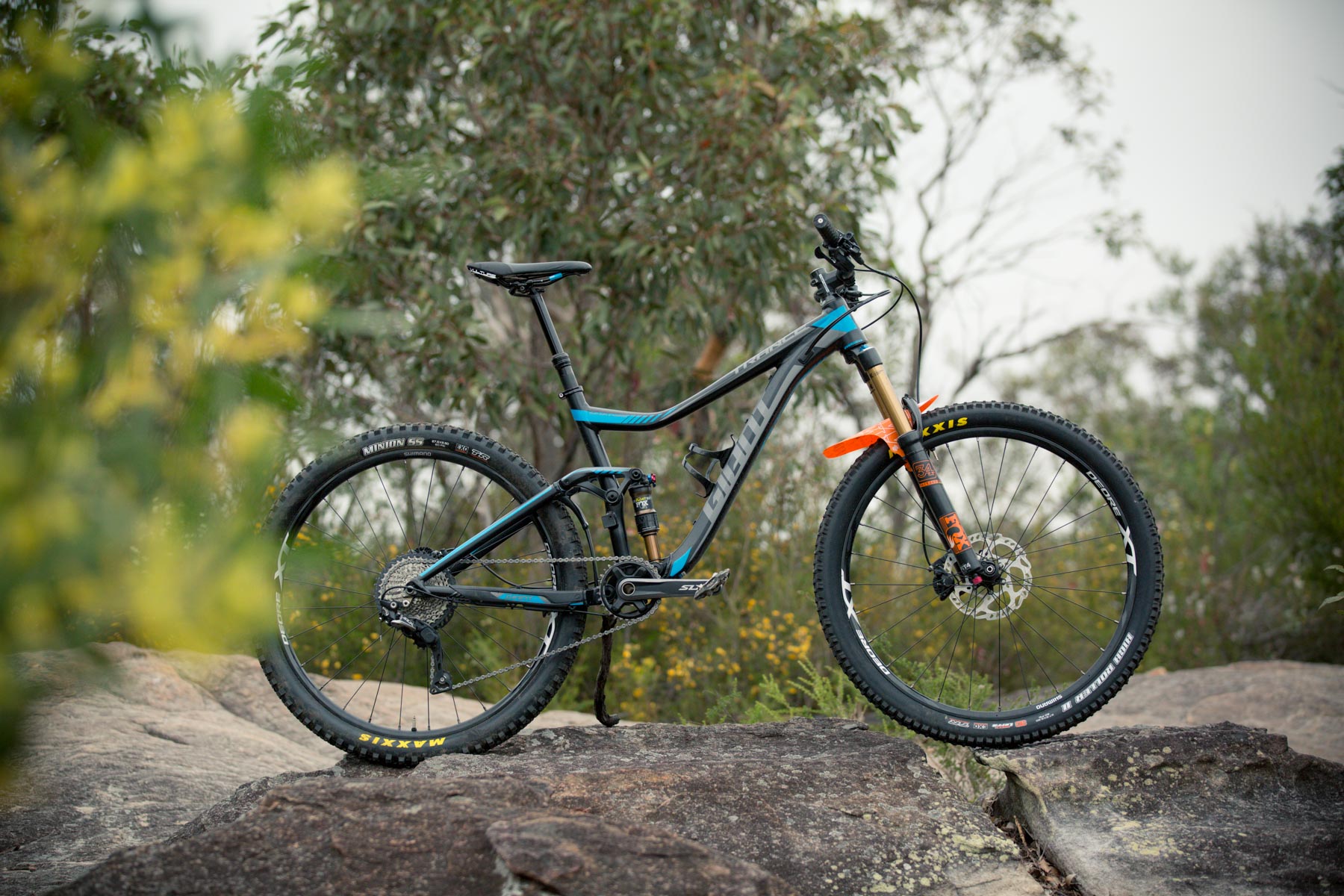 What bike did you fit these to?
Our Maxxis High Roller II / Minion SS combo has found a home on our Giant Trance test sled (the same bike we've been using to review Shimano's SLX groupset).
This bike is going to play host to plenty of test parts, so we want a set of reliable tyres that are up to the job – we don't want to be worrying about flats when we're trying to concentrate on the performance of other products.
Will they fit my wheels?
Yes, you can get both of these tyres in 26, 27.5 and 29" versions. The Minion SS is 2.30" only, while the High Roller II comes in 2.30" plus 2.40" in the 27.5"diameter.
Mixing and matching:
On paper, these tyres looked like the perfect combo for this bike – we wanted something fast and whippy out back, to get a little loose, but with bite we could trust up front.
Mixing and matching tyres is nothing new, and we do it a lot. Other grippy front / rippy rear combos that we're very fond of include the Schwalbe Rock Razor/Hans Dampf, the Specialized Slaughter/Butcher and the Bontrager XR3/XR4.
How have they gone?
They're quick! We hoped these would roll well, but they've surpassed expectations in that regard. At the same time, they're great in the corners, in a wide range of trail conditions. The High Roller excels on hardpack and or slightly sandy corners, or in the loamy stuff too. In fact, it's an awesome all-rounder. For such a speedy tyre it handles hard braking brilliantly, which is good because the Minion SS does not.
Not cuts, flats, tubeless leaks or other worries have arisen either, and Maxxis are traditionally rather indestructible.
Any drawbacks?
For a 2.30" they feel a little skinny. Maybe it's just the relatively narrow Shimano XT rims they're mounted to, but Schwalbes and Bontragers in the 'same' size look a fair bit bigger. The smaller volume makes them less impressive in really wild conditions with lots of loose rock.
As you'd expect too, there's not a huge amount of rear braking traction, so the line between braking and skidding is easy to overstep.
Would we recommend them, and why?
100%. If you like the ride feel of a rear tyre that encourages a bit of fishtailing, but you still want the front end grip to stop you crashing onto your face, then this is a great combo. The value for money and reliable construction is just the icing on the performance cake. These tyres mightn't be new in the market, but they still deliver.
Where can I get them?
Maxxis tyres are available across Australia at a number of preferred dealers. Take a look below to find a dealer in your state.
Queensland:
FOR THE RIDERS / (o7) 3891 7561 www.fortheriders.com.au
CRANK'D CYCLES PH / (07) 4728 5838 https://www.facebook.com/crankdcycles/?rf=790415367668940
New South Wales/ACT
SUMMIT CYCLES / (02) 9661 4245 http://www.summitcycles.bike/
STEEL CITY CYCLES (02) 4267 1747 www.summitcycles.bike
FLOW BIKES www.flowbikes.com.au
Victoria:
MY MOUNTAIN / (03) 9388 8678 http://www.mymountain.com.au/
LIFE OF BIKES / (03) 5940 2299 http://www.lifeofbikes.com.au/
Western Australia:
TBE / (08) 9277 9181 https://www.tbe.com.au/search.asp?mc=5&sc=951&b=25&slf=1
South Australia:
BICYCLE EXPRESS /(08) 8232 7277 http://www.bicycleexpress.com.au/
Northern Territory:
SPOKES NT / (08) 8931 3111 http://spokesnt.com.au/
Tasmania:
SPRUNG / (03) 6334 5419 http://sprungmtb.com.au/