Wil reviews the Merida Ninety-Six 8000
The Merida Ninety-Six range has undergone a radical revamp for 2021, centred around an all-new chassis that features contemporary geometry, a refined suspension layout, and a fresh attitude. Out of the four models on offer though, it's the 8000 that sticks out like a sore thumb. Equipped with plusher suspension, slacker angles and chunkier rubber, it's clear that this ain't no nervous welterweight race bike.
For the past six months, I've been testing out the Merida Ninety-Six 8000 alongside the lighter and racier Ninety-Six RC 9000. Read on to see what both bikes are about, how they compare directly to each other, and whether Merida has been able to successfully pull off the two-bikes-in-one trick.
---
Watch our video review of the Merida Ninety-Six here!
---
Merida Ninety-Six overview
The Merida Ninety-Six 8000 is a bike that aims to fill the gap between Merida's regular Ninety-Six RC models, and the One-Twenty trail bike. I like to think of it as an extra naughty XC bike, though you might also consider it as a lightweight, race-able trail bike. In that sense, it's not unlike the Trek Top Fuel and Specialized Epic EVO. Either way, it's a new and exciting concept for Merida – a brand that has had a relatively conservative approach in the past.
Built around the same frame as the rest of the Ninety-Six range, it's a carbon fibre affair front-to-back, including the compression-moulded swing link. There's a one-piece, flex-stay swingarm, with a RockShox SIDLuxe shock governing over the 100mm of rear travel. That's paired to a 120mm travel RockShox SID Ultimate fork that lifts up the front end, slackening the head angle out to 67°, which is slack for an XC bike.
Also curious to see on such a svelte carbon frame is a pair of 2.3in wide Maxxis Minion DHR II tyres, lending quite the aggressive look. Merida has also beefed up the braking power with a 4-piston front calliper matched to the 2-piston flat-mount calliper on the rear.
While those changes do add to the overall weight, it's all been done in the name of boosting this bike's versatility and capability. Of course riders have been modifying XC bikes like this for years (see our feature on 8 Upgrades to make your XC bike more fun and more capable), though in this case Merida has wholeheartedly committed to the concept with a bike that's built for ripping right off the shop floor.
Merida Ninety-Six price & specs
You've got four spec options within the 2021 Merida Ninety-Six range. Prices kick off at $5,599 AUD for the Ninety-Six RC 5000, and top out at $9,999 AUD for the RC 9000. Regardless of price, all Ninety-Six models feature a carbon frame, 1×12 drivetrain, dropper post and a TwistLoc dual remote lockout.
If it's more XC racing you have in mind, you'll be wanting to check out one of the Ninety-Six RC models. These bikes come equipped with 100mm travel forks, so their geometry is sharper, and with 2.25in Maxxis Rekon Race tyres and twin-piston brakes, they're also lighter too. You can get a closer look at the full range, including all the specs and pricing, in our detailed first look story here.
To see how the full-blown race bike compares, check out our separate review of the Ninety-Six RC 9000. Right now though, let's dive straight into our on-trail experience of testing its musclier counterpart – the Ninety-Six 8000.
2021 Merida Ninety-Six 8000
Frame | CF4 Carbon Mainframe & CF5 Carbon Swingarm, Single-Pivot Suspension Design, 100mm Travel
Fork | RockShox SID Ultimate, Remote Lockout, 44mm Offset, 100mm Travel
Shock | RockShox SIDLuxe Ultimate, Remote Lockout, 190×42.5mm
Wheels | Reynolds TR 309, Carbon Rims, 30mm Inner Width
Tyres | Maxxis Minion DHR II EXO 3C Maxx Terra 2.3in Front & Rear
Drivetrain | SRAM GX Eagle 1×12 w/32T Crankset & 10-52T Cassette
Brakes | Shimano XT 4-Piston/180mm Front & 2-Piston/160mm Rear
Bar | Merida Team Carbon, 740mm Width
Stem | Merida Team CC II, 70mm Length
Seatpost | Merida Expert TR, 30.9mm Diameter, Travel: 125mm (S), 150mm (M), 170mm (L-XL)
Saddle | Merida Expert CC w/Multi-Tool
Sizes | Small, Medium, Large, X-Large
Colour | Anthracite (Black/Titan)
Confirmed Weight | 11.63kg (Medium)
RRP | $8,699 AUD
Testing the Merida Ninety-Six 8000
I'm sad to say that this snazzy ice blue colour won't be coming to Australia. Instead, we'll have a glossy black colour hitting our shores in mid-2021. That's a real shame, because I reckon this bike looks bloody good with that bright blue SID fork on the front.
The frame is otherwise nicely finished with a discreet chainguide, a SRAM UDH, and an integrated 4/6mm hex tool within the rear thru-axle lever. There's also the option to fit two bottles inside the front triangle, and you'll also find a tool mount along the underside of the top tube.
The Ninety-Six 8000 is dressed with a slick trail-oriented spec, including a Reynolds TR 309 wheelset. This features stout carbon rims, straight-pull spokes, along with a 4-pawl freehub mechanism with 36 engagement points. Confirmed weight is a reasonable 1,807g.
While Merida sticks with Shimano for brakes, the Ninety-Six 8000 gets a SRAM Eagle drivetrain with an elegant mix of GX and X01 components. The carbon cranks help to save weight over the cheaper alloy alternative (566g vs 635g), and likewise the X01 cassette is quite a bit lighter than the GX equivalent (373g vs 455g). Combined with the colour-matched X01 chain, shifting is notably crisper and more positive than a full GX setup.
Merida really has to be commended for this spec decision, which offers improved performance and lower weight in the two areas that are most expensive for a customer to upgrade themselves. This is the exact opposite of what most brands do, which is to typically skimp out on the cranks and cassette.
All-up our Ninety-Six 8000 test bike has a confirmed weight of 11.63kg – that's weighed without pedals, and with the tyres setup tubeless.
Merida Ninety-Six sizing & setup
As with the RC 9000, I've been riding a Medium size to suit my 175cm height. Despite my short legs, there's still breathing room with the 150mm dropper post. However, those in the 175-180cm height range who would normally consider upsizing to a Large frame will want to pay close attention to the seat tube length. As well as being 30mm longer, the Large size also comes with a 170mm stroke dropper post.
The riding position itself is slightly more relaxed on the 8000. According to Merida the angles kick back by 1.5° relative to the RC models, and the BB sits 9mm higher off the ground. Reach shrinks to 440mm on the Medium frame, and Merida pairs that to a 60mm stem and 740mm wide flat bars.
It still feels very much aggressive-XC, though that sensation is exacerbated on our test bike, which was supplied with a slammed stem. Production bikes will come with a longer steerer tube and 25mm of headset spacers to tweak the riding position.
Having reviewed the SID separately, I setup this fork exactly the same. Merida recommends a generous 30% sag for the rear shock, which is made easy thanks to the anodised sag gradients printed on the shock stanchion. I settled on 160psi to support my 68kg riding weight, and set the rebound damping halfway at 5/10 clicks. Of note here is that the shock requires a 2.5mm hex key to adjust rebound damping. Cleverly there's one integrated into the SID fork's rebound adjuster, which you can tug out and use to adjust the shock.
I had a sneaking suspicion that this bike was likely going to make me do indecent things, so I fitted a CushCore XC insert for the rear wheel for some added pinch-flat and rim protection, and set the tyres at 20psi on the front and 22psi on the rear.
What does it do well?
With the Merida Ninety-Six 8000 being less focussed on racing and more on having a good time on the trail, this bike delivers a curiously distinctive ride quality.
It's still sharp and whippy thanks to the lightweight carbon frame and lean cockpit. The stiff swingarm is suitably taut and responsive, with a relatively compact 435mm rear centre length. There's plenty of natural pedal efficiency too, which keeps the back end well behaved when pedalling with vigour, the shock firming up under hard efforts.
Overall the suspension is plusher though, with greater initial sensitivity compared to the Fox-equipped RC 9000. The SIDLuxe shock is more progressive too, giving the Ninety-Six 8000 enhanced bottom-out support and more pop too. It loves to jump and play with the trail, the taller front end making it easier to pick up the front wheel and initiate takeoff. I rode some pretty hard and fast trails on this bike, and while things did get a bit *ahem* wooly, it handled the more savage sections surprisingly well. That tiny rear shock was working bloody hard a lot of the time, and yet it never once bottomed out on me – a rare trait amongst all the 100mm XC bikes I've tested.
Confidence in spades
The fork's 35mm chassis also lends a load more confidence up front, with considerably smoother and more controlled performance over its 32mm cousins. And the outrageously grippy Minion DHR II tyres deliver what feels like an endless amount of traction, whether it's dry and hardpacked, or wet and loose.
Together, these two changes make a huge difference in maximising the the Ninety-Six 8000's capabilities over the skinnier RC models. It means you can either attack the same descents with more speed and confidence, or seek out more challenging terrain altogether. On trails that I would normally be piloting 130-140mm bikes on, the Ninety-Six 8000 was a fiercely fast and precise tool. The responsive chassis and poppy suspension encourages you to search out options for jumping over sections of chunder, rather than just ploughing straight through. And when things did come together as planned on those technical sections, it was highly satisfying doing it on such a lightweight XC bike. Of course it would occasionally feel hilariously under-biked, but the suspension and tyres did a remarkable job of saving me whenever I went A Step Too Far™.
Admittedly the aggro tyres are very draggy, and they're also heavy at 882-896g each. Compared to the Rekon Race tyres that come on the Ninety-Six RC models, there's more than 300g of extra rotational mass here.
That difference is noticeable on technical climbs, where you're constantly accelerating and decelerating as you make your way up rocky ledges and over tree roots. The big volume does help to round off sharper edges though, and along with the active suspension design, rear wheel traction is splendid up loose, chunky ascents.
There is more front-wheel wandering due to the slacker head angle. However, by pushing the saddle all the way forwards on the rails, I was able to get close to the steeper seat tube angle of the RC model, while putting more weight onto the front tyre. Once positioned like this the Ninety-Six 8000 is a very comfortable climber, with excellent support from the agreeable Prologo saddle.
Any problems?
I had a better experience with the TwistLoc remote on this bike than I did with the RC 9000, but it would still occasionally rotate on the bars when I throttled the grip backwards to lock out the suspension. The main clamp bolt is made of cheese, so tightening further is not possible. And the way the remote spits two cables out perpendicularly to the bars flies in the face of Merida's efforts to discreetly route the other cables and brake hose through the headset.
Another issue with the TwistLoc remote is that the Shimano dropper lever sits too close to it. Every time I'd activate the dropper, by thumb would rub up against the grip portion of the TwistLoc remote and the lockout release button. The dropper itself has worked fine throughout testing, though it has developed some rotational play that's noticeable during seated pedalling.
As with the Ninety-Six RC, I'm not totally sold on the internal routing through headset. It does look neat and I've not encountered any issues, but it does mean that you'll have to disconnect the rear brake, dropper post and shift cables to replace a bearing. Simply giving the bearings a clean and re-grease becomes a more involved process.
While I really dig the Minions, and I'm sure they'll go down well with the UK market, this is a very aggressive tyre choice for such a lightweight XC bike. I can see this bike having more appeal for Aussie riders if it was fitted with a lighter and faster-rolling rear tyre, like a Dissector or a Rekon.
Out of curiosity I did sub in the DT Swiss wheelset and Rekon Race tyres from RC 9000 model, which made for a hefty boost in the 8000's acceleration and ability to maintain speed on traversing terrain. It certainly shows that with a spare set of tyres at least, this bike could comfortably double-duty between weekday trail rides and weekend racing duties. And unless you're up at the pointy A-grade end, that surely makes the Ninety-Six 8000 the more versatile option out of the range.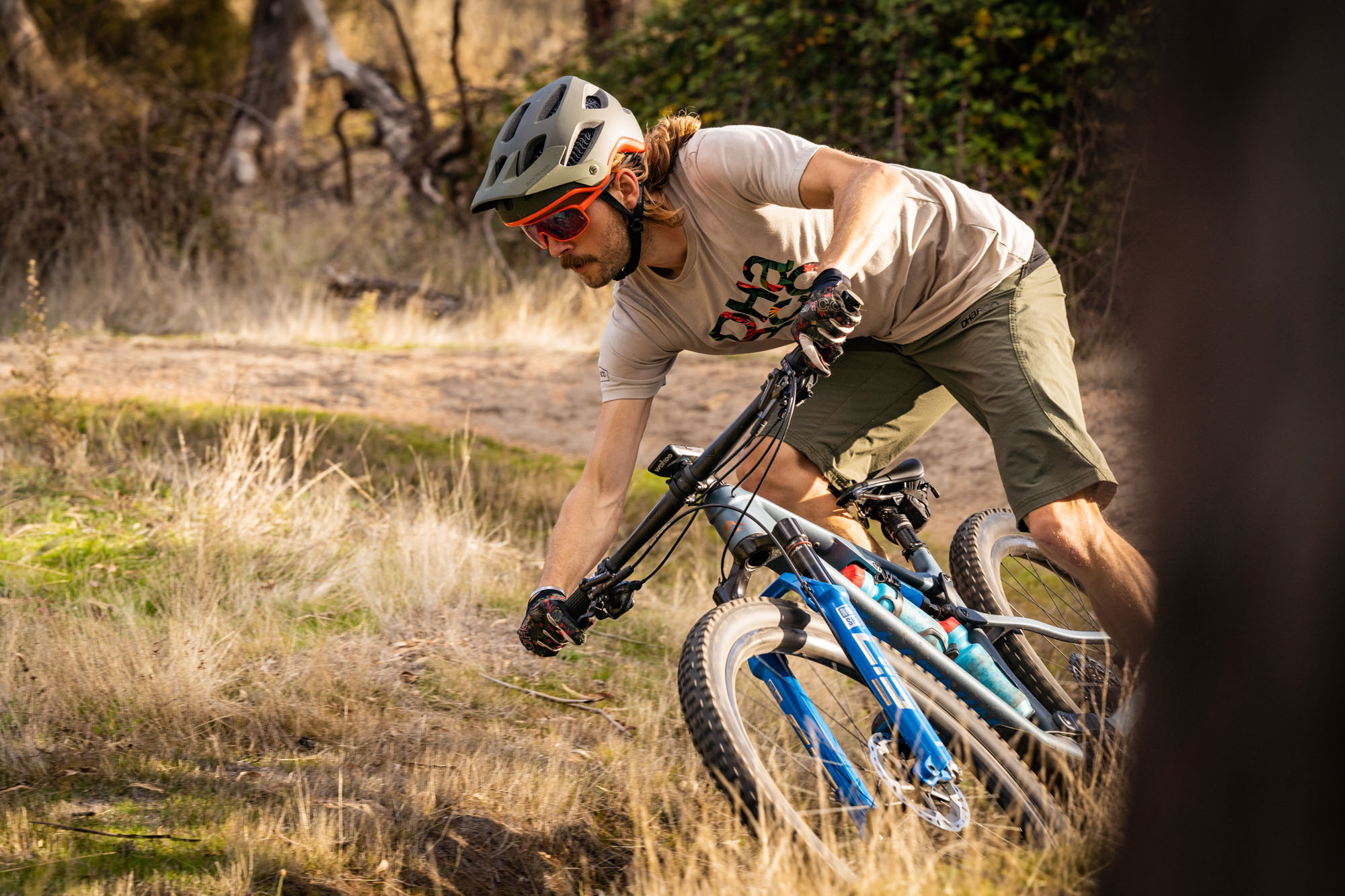 What could be improved?
While we've gotten along well together, I can see a few areas for improvement to take the Merida Ninety-Six 8000 up to the next level.
For a start, I'd love to see wider bars as stock. The 740mm carbon flat bars, while powerful and stiff, don't deliver quite the amount of stability on the descents that this bike warrants. A 760mm bar would also provide more leverage over the front wheel, as occasionally I found myself understeering on tight, flat corners due to the slacker geometry. It would also help to differentiate this bike further from the RC models.
Given this bike is less focussed on serious all-out race performance, let's get rid of that remote lockout entirely. That'd tidy up the cable clutter and allow you to fit standard grips of your choice. Also, the SID fork has those oversized Torque Cap dropouts, so let's have the front hub end caps to match eh?
While the stock brake setup worked well for me, with the front brake in particular providing masses of bite and control, heavier riders who need more sustained power will be happy to know that you can fit a 180mm rear rotor – something that isn't always possible with smaller flat-mount setups.
Merida Ninety-Six vs Specialized Epic EVO
Out of the bikes we've tested over the past year, it's the Specialized Epic EVO that stacks up closest to the Merida Ninety-Six 8000.
The Epic EVO is also based around a 120mm travel fork, though it has slightly more rear travel at 110mm. The angles are very similar, being just half a degree slacker on the Epic EVO. The BB height is identical between the two bikes, and reach measurements are very close too.
To get a similar spec level as the Merida Ninety-Six 8000, you'd be looking at the Specialized Epic EVO Expert. That bike also comes with a SIDLuxe shock and SID fork, albeit with the cheaper Select+ versions. You then get SRAM G2 RS brakes, a GX/X01 Eagle drivetrain, and Roval Control Carbon wheels. Despite both bikes having a carbon frame and a similar level of components, the Epic EVO Expert's price is significantly higher at $10,100 AUD.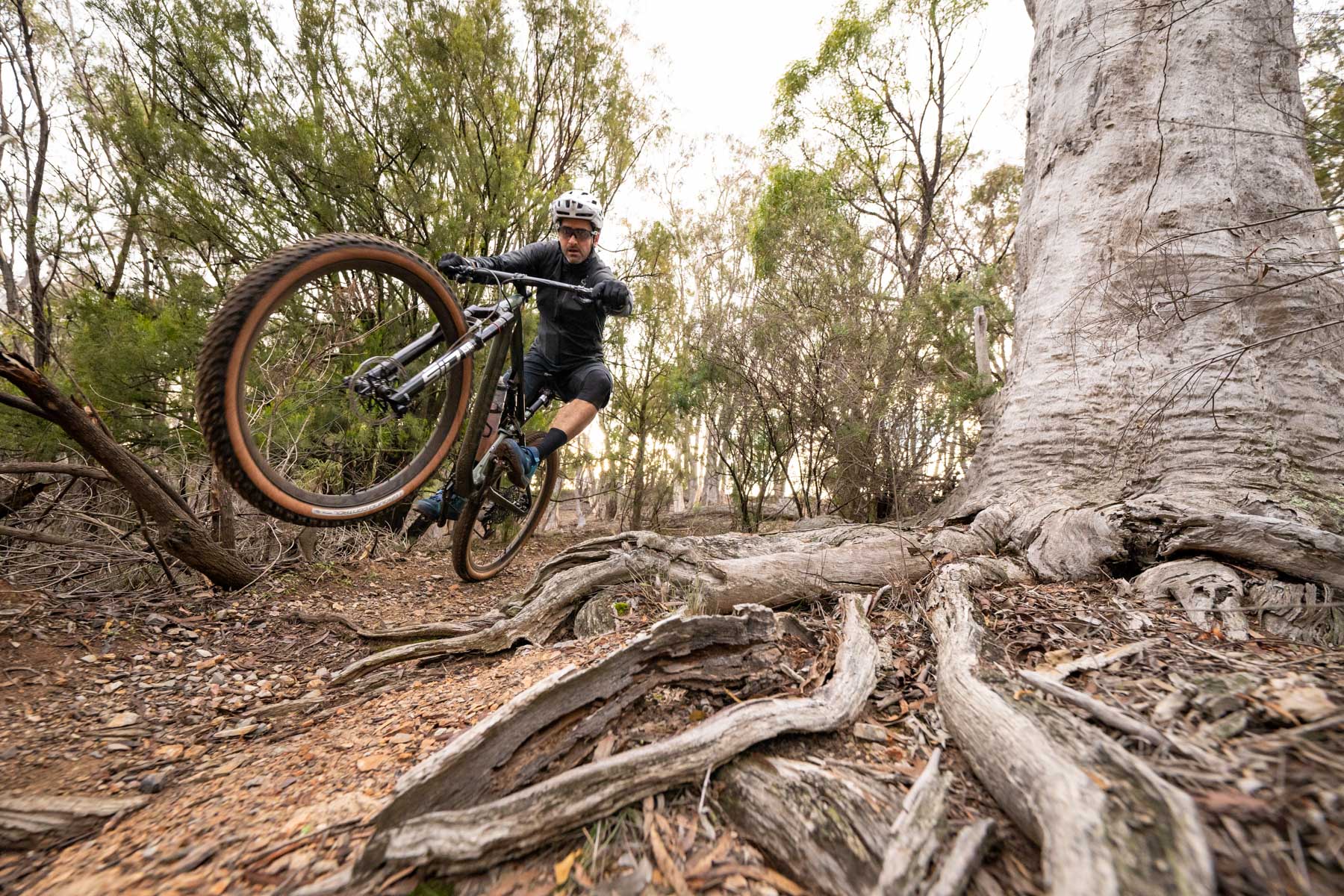 On the trail, the two bikes are quite close in terms of ride quality. They're both efficient, snappy and spirited thanks to their lightweight carbon frames and efficient single-pivot suspension platforms. You get excellent pop and progression out of both, though the Epic EVO is marginally more sensitive thanks to the bearing mount for the shock extender, and the extra 10mm of travel.
It's also noticeably zippier out of the box due to its choice of lighter and faster-rolling tyres in the form of the 2.3in wide Ground Control/Fast Trak combo. Those tyres don't offer nearly the same durability or corner-ripping traction as the Minion DHR IIs though, and when venturing off smooth machine-built trails, it was the Ninety-Six 8000 that felt more planted on rougher, naturalised singletrack. With that in mind, I'd love to test out both bikes fitted with the same tyres, as I suspect the difference would be hair-splittingly close.
In terms of finishing details, the Epic EVO is certainly an elegant and practical machine with its lack of remote lockout cables, dual bottle clearance, and generous chainstay protection. And according to the manufacturer's claimed weights, Specialized's FACT 11m frame is also lighter than Merida's CF4/CF5 frame (1,757g vs 2,289g). Whether that's worth the extra $1,400? That's entirely up to you.
Flow's Verdict
With its new Ninety-Six platform, Merida has ushered in a vastly more capable bike that possesses up-to-the-minute geometry, a responsive carbon frame and progressive suspension performance. Combined with the aggro rubber and 120mm fork, this musclier 8000 model delivers a raucous ride quality that successfully bridges the gap between the RC models and the One-Twenty trail bike.
I would like to see Merida spec wider bars, and the cockpit would be considerably neater without the TwistLoc altogether. Save the wrist-flicking lockout for the race-focused RC models I say.
That said, this is a neatly spec'd bike for the money. And while some riders may want to de-aggro the rear tyre choice, I love the commitment and intent that Merida has shown with the Ninety-Six 8000. I honestly can't name a single bike on the market that pairs Minion DHR IIs to a 100mm travel frame with a dual remote lockout.
With an absurd amount of traction on tap, it rips through corners like they're going out of fashion. It's lighter, snappier and more agile than your typical trail bike, with excellent pop that'll have you skipping and jumping your way down far more technical trails than a 100mm travel bike should really be on. If you do decide to grow up and be sensible, then you're only a tyre swap away from having a speedy, comfortable and competent race bike at your disposal. And that's exactly what makes the Merida Ninety-Six 8000 such a versatile and appealing mountain bike.