Wil reviews the Merida Ninety-Six RC 9000
Launched in 2008 with the Beijing Olympics squarely in its sights, the Merida Ninety-Six debuted on the race scene as a pure, red-blooded, full suspension XC bike. And with 96mm of rear travel, 26in wheels, a 71° head angle and 330g Maxxis Flyweight tyres, it was about as terrifyingly angry as race bikes could possibly get.
Things have moved on just a tad since then, and for 2021 the Ninety-Six has undergone its most radical update yet. Featuring a freshly augmented chassis with a load of refinements, contemporary geometry and a reworked suspension layout, the new Ninety-Six promises improved performance on technical terrain – both up and down the mountain – to bring its capabilities into line with what we expect from a modern XC bike these days.
For the past six months, I've been testing two different flavours from the Ninety-Six lineup, which has provided me with ample opportunity to compare and contrast Merida's go-fast bike with the likes of the latest Cannondale Scalpel, Specialized Epic, Trek Supercaliber, Orbea Oiz and Canyon Lux. How does the Merida Ninety-Six stack up against the competition? Read on to find out.
---
Watch our video review of the Merida Ninety-Six here!
---
Merida Ninety-Six overview
While the overall silhouette of the Merida Ninety-Six carries over from the previous model, the latest iteration has undergone a wholesale redesign. Indeed the carbon fibre frame is all-new from its integrated head tube down to the 148x12mm dropouts.
You'll still find a single-pivot suspension design, with a compression-moulded carbon link driving the rear shock. Rear suspension travel has lifted slightly to 100mm, and Merida has also moved to a carbon flex stay design for the one-piece swingarm. This helps to reduce weight and moving parts, while also increasing lateral rigidity. The point of flexion is said to occur as close to the axle as possible thanks to the use of a compact flat-mount brake calliper.
With a keen eye on practicality the new frame features a threaded bottom bracket shell, a SRAM UDH, and a removable lever for the rear thru-axle. The latter of which possesses a hidden 4/6mm hex key, and so can be used for adjusting the seat clamp and controls, as well as for removing the front thru-axle.
Thirsty riders will be pleased to see the option to fit two water bottles inside the front triangle, and Merida has also built a tool mount underneath the top tube. Less practical however, is the fact that most of the cables and rear brake hose now thread through the upper headset. It looks quite neat, but you will have to disconnect those lines to service the headset bearings.
Merida Ninety-Six price & specs
There are four models in the 2021 Merida Ninety-Six range, with prices starting at $5,599 AUD for the Ninety-Six RC 5000, and topping out at $10,499 AUD for the RC 9000. Regardless of price, all feature a carbon frame, 1×12 drivetrain, dropper post (yes!) and a dual remote lockout.
The Ninety-Six RC models are spec'd with 100mm travel forks, 2.25in Maxxis Rekon Race tyres and twin-piston brakes, making them more suitable for purist XC riders and racers. There is one curious model that stands out in the lineup though, and that's the Ninety-Six 8000. Looking to appeal to a broader range of riders, that bike is equipped with a 120mm travel fork, 2.3in Maxxis Minion DHR II tyres and a bigger 4-piston front brake.
To see how the two bikes compare, Merida sent us both the RC 9000 and an 8000 to put to the test. Be sure to check out our detailed first look story on the full Ninety-Six range for more info on all the specs, geometry and pricing. And if you'd like to know how its burlier brother performs, check out our separate Ninety-Six 8000 review.
Here we'll be getting stuck straight into our review of the flagship model – the Ninety-Six RC 9000.
2021 Merida Ninety-Six RC 9000 Specs
Frame | CF5 Carbon Mainframe & Swingarm, Single-Pivot Suspension Design, 100mm Travel
Fork | Fox 32 Float Step-Cast, Factory Series, FIT4 Remote Lockout, 44mm Offset, 100mm Travel
Shock | Fox Float DPS, Factory Series, Remote Lockout, 190×42.5mm
Wheels | DT Swiss XRC 1501, Carbon Rims, 30mm Inner Width
Tyres | Maxxis Rekon Race EXO 2.25in Front & Rear
Drivetrain | Shimano XTR 1×12 w/34T Race Face Next SL Crankset & 10-51T Cassette
Brakes | Shimano XTR M9100 Race 2-Piston w/180mm Front & 160mm Rear Centerlock Rotors
Bar | Merida Team Carbon, 740mm Width
Stem | Merida Team CC II, Length: 60mm (S), 70mm (M-XL)
Seatpost | Fox Transfer, Factory Series, 30.9mm Diameter, Travel: 125mm (S), 150mm (M-L), 175m (XL)
Saddle | Prologo Scratch M5
Sizes | Small, Medium, Large, X-Large
Colour | Anthracite (Black/Titan)
Confirmed Weight | 10.52kg (Medium)
RRP | $9,999 AUD
Testing the Merida Ninety-Six RC 9000
As the top-dog of the range, the Merida Ninety-Six RC 9000 is the only model to receive the premium CF5 mainframe. The shape and geometry are identical, but according to Merida, the higher spec carbon means it's a full 200g lighter than its cheaper siblings that use a CF4 mainframe. The swingarm is otherwise the same for all Ninety-Six models.
Claimed weight is just 1,695g for the bare frame. Once you add the rear shock, thru-axle, hanger, seat clamp and frame protection, that number grows to 2,089g. Respectable, though nothing out of the ordinary.
Decked out with Fox Factory Series suspension, a glossy paint job and holographic decals, there's no denying the Merida Ninety-Six RC 9000 is one sharp-looking race bike. And while it is a buck short of $10K, it is – believe it or not – very well spec'd for the money.
Whereas most XC bikes around this price point will come with a basic rigid seatpost, the Ninety-Six RC 9000 gets a Fox Transfer dropper post. Hooray! The 150mm of travel is generous, and it's worth noting that production bikes will come with the blingy gold Kashima version to tie in with the suspension.
As well as the Shimano XTR Race brakes and 1×12 drivetrain, Merida has spec'd Race Face Next SL carbon cranks because they're lighter than XTR (469g vs 542g). Another highlight is the DT Swiss XRC 1501 wheelset. These came in at just 1,581g on my workshop scales, and feature the latest Ratchet EXP freehub mechanism, 28 straight-pull spokes per wheel, and carbon rims with a modern 30mm inner width.
Confirmed weight for our test bike is a respectable 10.52kg – that's without pedals and with the tyres setup tubeless.
Merida Ninety-Six sizing & setup
Right out of the box the Merida Ninety-Six RC 9000 affords an aggressive, long-and-low riding position that athletic racer types will feel well at home on.
At 175cm tall I've been riding a Medium size, which features a substantial reach of 453mm. That's considerably longer than most XC bikes on the market, and the 76.5° seat tube angle is also quite a bit steeper too. Combined with the slammed stem, there's no mistaking what kind of riding the Ninety-Six has in store for you when you first climb aboard.
I'll note here that Merida's team cut the steerer tube on our test bike as short as it could go, which looks pro, but has also occasionally left me questioning the integrity of my lower spine. Production bikes will have more adjustment, with 25mm worth of spacers to fine-tune the bar height to a more genteel position. And while it is personal preference, I've found the snub-nose Prologo saddle to be a stupendously comfortable perch, removing one potential barrier against long-range comfort. It is also very light, weighing just 164g thanks to its carbon construction.
I setup the Fox 32 Step-Cast as per usual, while aiming for 30% sag on the rear shock as per Merida's recommendations. That's a healthy amount of sag for an XC bike, given that most brands recommend 20-25%. And because of the low average leverage ratio, operating pressures are also low – I needed just 130psi to support my 68kg riding weight, and I set rebound damping halfway (7/14 clicks).
With both tyres setup tubeless and a Tyreinvader insert in the rear wheel, I typically ran pressures around 21-23psi up front and 23-25psi out back.
What does it do well?
Merida has totally hit the nail on the head with both the suspension and geometry on this bike. Not only is the new Ninety-Six vastly more stable than its predecessor, it's also one of the most stable XC bikes I've ever ridden. Full stop.
It's still an exceptionally fast and agile bike through curvaceous wooded singletrack, with crisp handling and excellent response from the stiff carbon chassis. The 68.5° head angle and 44mm fork offset help to calm down the steering somewhat, and paired with the generous reach, the Ninety-Six has a much broader footprint on the trail compared to many of its peers. This improves composure at higher riding speeds, and it also gives you more flexibility for altering your weight distribution on technical sections, or whenever traction is limited. While I would have preferred the bars to have been a touch higher, overall it delivers a thoroughly confidence-inspiring stance on the descents.
Superb suspension
The dropper post is a stellar choice too, offering much-needed room to breath when dancing down rougher trails. 150mm travel is overkill on an XC bike, but I'm still stoked to see a dropper on here rather than none at all. Other brands – please take note.
There's excellent support from the suspension as well. Off-the-top sensitivity is superb from both fork and shock, and with a nice progressive leverage rate, the back end soaks up bigger impacts with impressive control for a 100mm XC bike. Unless I was actively hucking, I rarely bottomed out the suspension at all. Because of the lower shock pressures, small changes are quite noticeable though – adding or removing just 5psi will be useful tuning tool for racer's looking to adapt the bike to different courses.
Climbing performance is equally impressive thanks to the uber-steep seat tube angle and lean cockpit, which keeps you in a powerful pedalling position. Efficiency is unremarkable – in a good way. There's minimal pedal-induced bob, with anti-squat hovering around the 100% mark with the suspension at sag. Merida has focussed on keeping the suspension neutral under pedalling and braking inputs, so the back end isn't as obscenely snappy under power as the Supercaliber or Epic, especially when you're mashing out of the saddle. Indeed smoother climbs warrant the use of the remote lockout, though the active suspension design does generate welcome grip on loose, rocky pinch climbs. As such, it's a more comfortable and competent technical ascender than its firmer counterparts.
Any problems?
Unfortunately the TwistLoc remote was about as loose as a wizard's sleeve, rendering it unusable. According to Merida the handlebar on our pre-production test bike is slightly undersized, and since the tolerances are already quite fine with the TwistLoc remote, it just couldn't clamp down with enough force, even with plenty of carbon grip paste. Oh, and don't try to over-tighten it – the bolt and threads are made of cheese and will surrender easily.
Even if I left the remote alone in the unlocked position though, bizarrely it still had a tendency to lockout the suspension all by itself. This is obviously no bueno, and perhaps hints at a compatibility issue between the TwistLoc remote and Fox's push-to-unlock damper configuration.
The solution? I fitted a Fox under-the-bar remote lockout and a BikeYoke 2-By dropper lever. A setup that isn't as ergonomically appealing, but it's all worked without drama, and it offers considerably neater cable routing too.
Speaking of the dropper, that stopped returning properly after the first few rides. While it was off getting rebuilt, I fitted a BikeYoke Divine SL to keep me rolling. I really like this dropper, particularly as it's nearly 200g lighter than the Transfer (569g vs 388g confirmed). I also found the 80mm drop to be more appropriate for XC use, with less squatting required. Over the course of a 2-hour XCO race, that kind of effort can really add up.
What could be improved?
The good news is that the important stuff on the Merida Ninety-Six RC 9000 – the frame, geometry and suspension – are absolutely superb. The wheels are light and responsive, though sensibly built with high quality hubs, and I've also had faultless experience from the drivetrain and brakes. Zero complaints there.
However, the TwistLoc remote certainly tainted our overall experience. The concept itself is fine, and I have had a positive experience with a TwistLoc remote on a different test bike, where the interface with the handlebar was sufficiently snug to ensure it would stay put during use. Personally though, I'd love to see Merida develop a more robust solution, something like Bontrager's DropLock remote would be ideal. That would also allow for standard grips, rather than having to use the specific lock-on grips that come with the TwistLoc.
The stock 740mm bars have a nice sweep profile and will likely suit most XC racers, though if I was being picky, I'd like to see 760mm bars for a little more front-end leverage and stability. 760mm bars are now quite common on XC bikes for that reason, and you can always cut them down.
Given the trend for wider rubber, and the fact that Merida has spec'd 30mm wide rims, 2.35in tyres would be a great addition too. Merida is being quite cautious here though, as the Fox 32 SC *technically* has a maximum recommended tyre width of 2.3in. That hasn't stopped Orbea though, and I've managed to fit a 2.4in WT Rekon Race in that fork too.
Personally, I'm not totally sold on the internal headset routing. It does look fantastic, and you can go quite short on all the cables and hydraulic lines. I also see the engineering appeal from not having to drill so many holes around the headtube. But for privateer racers who like to maintain their own bike, the simple task of cleaning and greasing your headset bearings following a wet and muddy 100km marathon event will be a more time-consuming process with this routing method. If you're the sort of rider who drops your bike into the mechanic for regular servicing though, that will be a non-issue.
Merida Ninety-Six vs Orbea Oiz
Out of all the XC bikes I've tested lately, including the Cannondale Scalpel, Specialized Epic, Trek Supercaliber, and Canyon Lux, it's the Orbea Oiz that matches up closest to the Merida Ninety-Six.
Sharing a similar frame shape, with a flex-stay suspension design and room for two water bottles inside the front triangle, the Orbea Oiz M Team I tested is spec'd with the same DT Swiss wheels, Fox Factory suspension, XTR Race brakes and a 1×12 drivetrain, albeit with XTR cranks. The Oiz does come with more contemporary 760mm bars and 2.35in tyres, but sticks to a rigid carbon seatpost.
Along with the lighter OMX carbon frame, the Oiz M Team is certainly svelte at just 9.86kg. However, it is more expensive at $11,799 AUD.
Geometry isn't too far different, though the Oiz is a little more restrained with its 69° head angle, 75° seat angle and short 435mm reach. With the main suspension pivot sitting slightly higher, the Oiz also has more anti-squat, giving it a touch more zest when stomping on the pedals. Furthermore, the Squidlock remote and custom Fox shock gives you access to a third suspension mode, which increases the rear shock's compression damping to give you a firmer platform on the climbs. It's a brilliant feature, and as I found during my time testing the Oiz, it allows you to tune the rear shock for descending performance since the Squidlock is so usable on the climbs. Along with the lower weight and shorter wheelbase, the Oiz is the sharper of the two bikes, with nippy handling through narrow singletrack and a more energetic performance on the climbs.
In comparison, the Ninety-Six only has two suspension settings: locked and unlocked. It keeps things simple, but since the suspension design is quite neutral, I was occasionally wishing for that third position to firm things up for rough, but less technical climbing. When unlocked however, the Merida's suspension is more supple and progressive than the Oiz. It's more comfortable pedalling through rock gardens, it generates better grip through loose turns, and it's also more supportive at higher speeds. Combined with the longer front centre and dropper post, it is for sure the better descending bike of the two, with greater composure when going full-gas.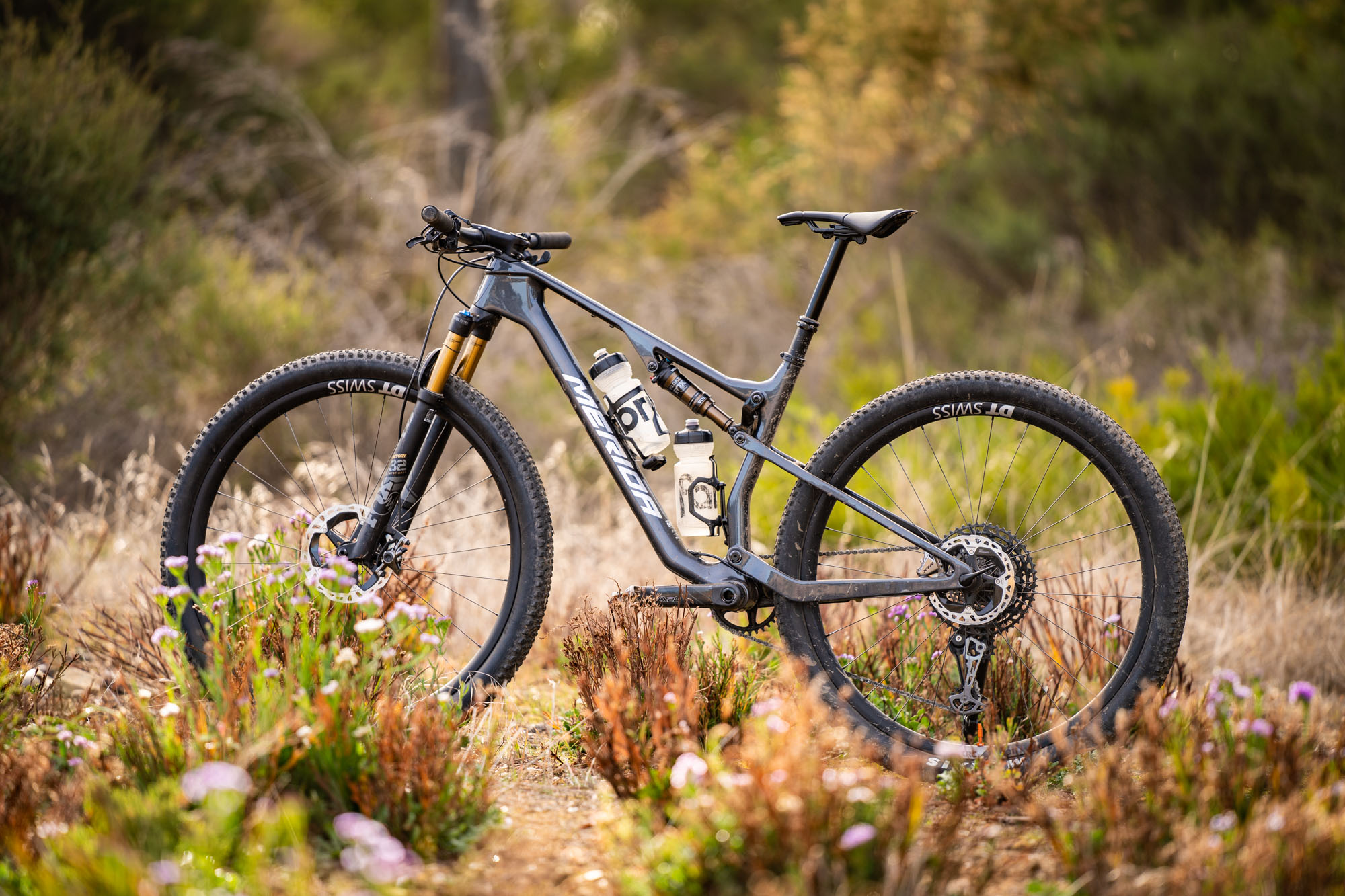 Flow's Verdict
No doubt about it, the the new Merida Ninety-Six RC 9000 is an exceptionally well-appointed XC race bike for the money, with a level of kit that many of its competitors simply cannot match at this price point. The frame is nicely finished, most of the spec is impeccable, and the option to fit two bottles is highly appealing for racers and long-distance trail riders.
Unfortunately the TwistLoc remote let the whole team down, and only time will tell if our experience will be reflected on production models.
Once that problem is rectified though, the Merida Ninety-Six RC 9000 delivers an outstanding performance on the trail thanks to its modern geometry and progressive suspension quality. It feels comfortable and powerful on the climbs, with excellent stability and traction on the descents. And unlike some of its competitors, the Ninety-Six manages to pull all of this off without any funky proprietary suspension components. That makes it a highly practical choice, and without doubt the most versatile and well-rounded XC race bike we've tested.