We'd not heard of MyTinySun until recently. This German-made brand is new to us, and while its pricing means it will never be a mass-market item, it will appeal to those who want a quality product above all else. [private]
There are an ever increasing number of light manufacturers out there now; it's hard to stand out from the crowd. A claimed output of 2800 lumens certainly helps! This is amongst the brightest claimed outputs we've ever seen. But that whopping figure is only part of the story. This is a light of great quality and amazing output for such as small lamp.
This 2800X comes with both helmet and bar mounts. It didn't take long to work out that the bar mount is far better with this light; it uses a simple o-ring system to mount the lamp to the bar, or a more finicky Velcro setup for helmet mounting.
A feature we really appreciated is the 'lever' incorporated into the mount that help stretch the o-ring into place to secure the light. Anyone's who has ever battled with an o-ring mounting system will know how frustrating they can be, but the MyTinySun system is so easy to use. People with weaker (or gloved / wet) fingers will really appreciate it.
With the light on the bar, we tried running the remote switch both on the stem and mounted close to the grip. If you mount the light on your helmet, then the remote switch is more troublesome to secure.
The battery is housed in a tough nylon pouch. It's not small, but given that it'll power this light at full output for three hours, you wouldn't expect it to be little. We tried mounting the battery both off the stem (a tight fit with a stem of 70mm or less) and hanging below the bars (better).
One of the coolest aspects of this light is the three supplied lenses. It comes with 19-degree, 25-degree and 42-degree beam angle lenses, meaning you can customise the beam to your tastes. Swapping the lenses is an easy job (just don't lose the little weather sealing o-ring!). We ran the the 19-degree at first before swapping to the 42-degree down the track.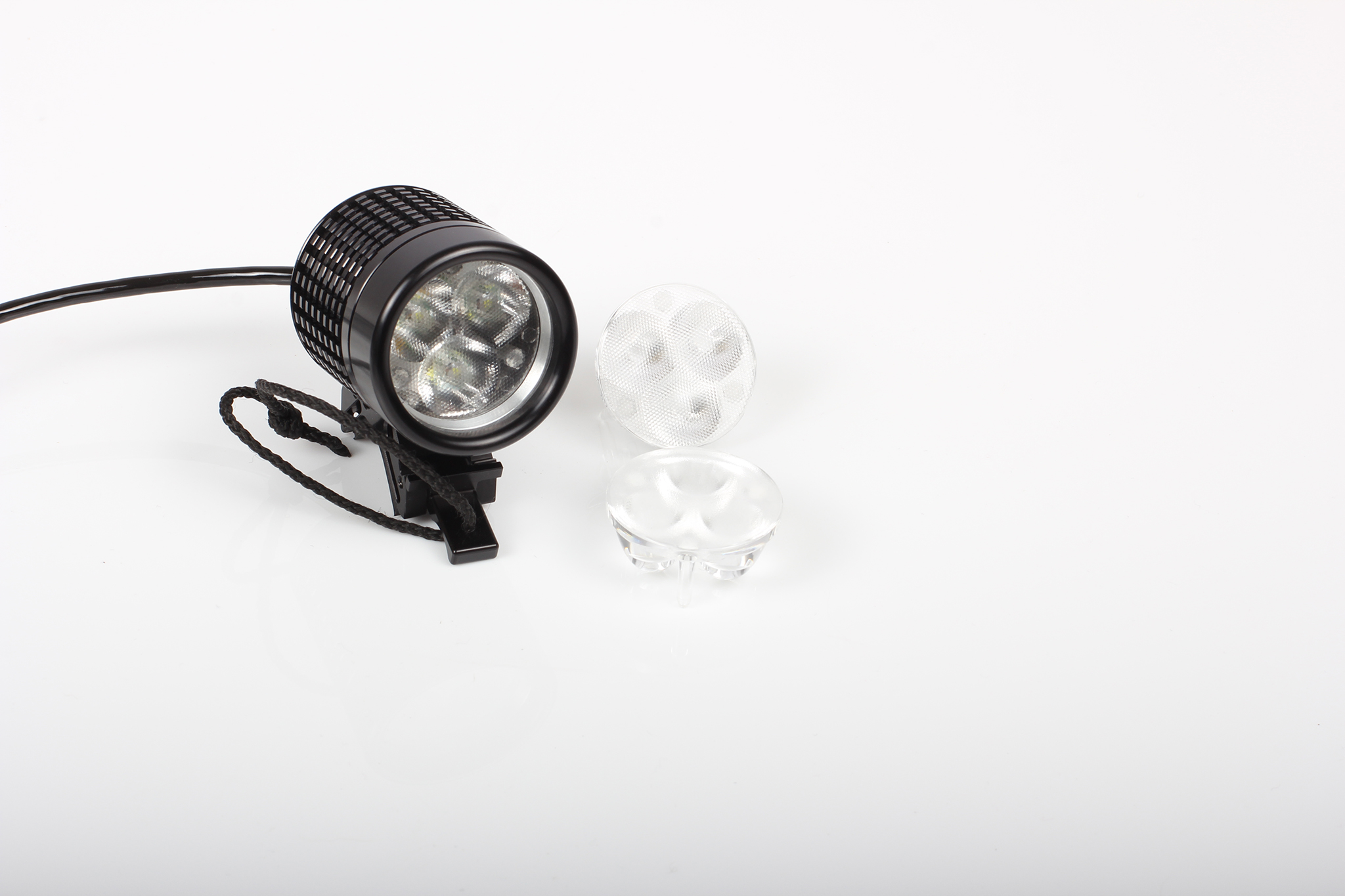 If you're hungry for a lot of light (like, heaps), then the 2800X will satisfy your cravings. It's staggering how much light this small, neat light throws out there. It runs three Cree LEDs (the duck's nuts) which generate surprisingly little heat for their whopping output.
There are variety of output levels; in its basic mode you can toggle between two main levels and a low-output energy saver level (plus SOS flashing too), but the light can be configured for up to six levels of output. We're not sure who'd really need that level of control, but it's there if you want.
Because the light has such long run times, we never found the need to use the lower levels of output. More light is better! It will keep on cranking at full power for three hours.
Helmet-mounted, the 2800X is ok, as the lamp itself isn't heavy at 157g. But, as we alluded to earlier, this light is better off on your bars. We just didn't like the helmet mount and found it tricky to use the remote switch on our helmets.
With the light on the bars we made the switch to the 42-degree lens. What a great move! With a bar-mounted light you want a broad beam pattern to light up the periphery of the trail and cast light through the corners – the 2800X hits the jackpot here. The 42-degree lens spreads even and bright light far and wide.
Having the battery indicator visible on the bars is a nice touch too, though with such good burn times we think it'd be rare that you'd need to toggle to a lower power mode to save juice. Recharge time for the light is under four hours from flat, but given we barely dipped into the battery's reserves we got back up to full steam in little over an hour.
In terms of construction quality, optics and output, the 2800X is a stunner. It's frustrating that the helmet mount isn't more refined, but it works very well as a bar-mounted light. It is a more expensive option, but a 24 month warranty should give you some peace of mind about your investment. If you're looking for a superbly bright light to turn your night to day, have a look at the 2800X (just not while it's switched on, it hurts).
[/private]