If you're looking for a travelling mate, you want someone dependable. You want someone open to new experiences. Someone who can cope with situations that might be out of their comfort zone… like getting robbed by prostitutes while sleeping in car park.
The top-shelf Trek Fuel EX 9.9 29er is sure doing a lot of travel with us: this is one of the bikes we've picked to take along on our Flow Nation trips across Australia and New Zealand. In just the past three months, we've taken this bike to Alice Springs, Tasmania, the Victorian High Country, as well as spending plenty of time on our local trails too. So how's it going as a travelling buddy?
---
Watch the Fuel EX 9.9 29 in action, in Alice Springs, Hobart and Falls Creek, below:
---
The Fuel EX 9.9 29 is the top-shelf 29er trail bike in the Trek range, a flashy 120mm-travel steed that's aimed at the rider who wants a no-compromise cross-country/trail bike. With a full carbon frame, XTR sprayed all over it, and plenty of Bontrager's lightest components, it weighs three-tenths of bugger all. But while the feathery weight will rival most cross-country race bikes, it's also decked out with the all the necessities for technical trail riding, like wide tyres and bars, and a dropper post. Hands down, this is one of the fastest and lightest trail bikes going. We're going to get into the particulars of this bike's handling down the track with another update, so for now we'll stick to the changes we've made, and why, and how it's all holding together.
We were also eager to further reduce the bike's weight and cable clutter, so fitting a single front chain ring was the call. We went for the Australian-made Noble Entities CB-1 ring/guide, with 32 teeth. While the XTR setup with a single ring doesn't offer the same gear range as a SRAM 1×11 system, for a bike this light, pushing the 32:36 low gear isn't a hard ask. Without a front derailleur, the bike just looks great too – it's so clean!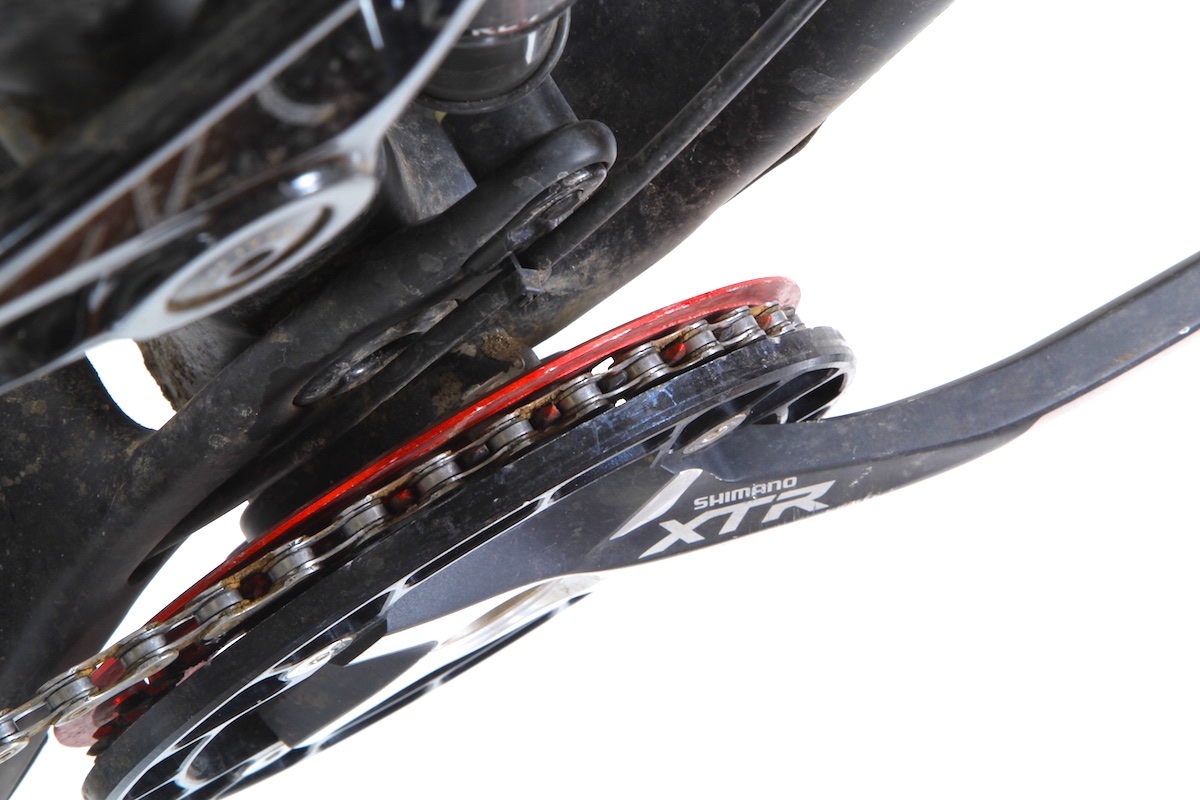 The Noble Entities chain ring/guide has been flawless. We haven't dropped a chain yet, and the extra protection of the integrated bash guard adds a little reassurance too when riding rocky terrain. It is a bit noisier than a narrow/wide ring (because the chain flicks against the bash guard), but it seems more secure overall.
For us, riding without a dropper post is like eating a pizza without the cheese. The Fuel is equipped with a Rockshox Reverb Stealth, a very fine post indeed, but not when it doesn't work. (Those with keen eyes may have noticed this bike was running a different post when we took it to Tasmania). Our post had to go back to SRAM, which was doubly a pain in the butt thanks to the Trek's internal cable routing. Re-installing the post meant both removing the bottom bracket and the main suspension pivot axle in order to re-thread the hose. It's now working perfectly, as we'd expect.
In terms of ongoing maintenance, we've had to give a little bit of love to the rear wheel. An occasional loose spoke has been bit of a surprise, but the wheels have still stayed nearly dead straight in spite of the hammering. The performance of the XR3 tyres has been top notch – no flats, no cuts, plenty of grip. We remember a time when Bontrager tyres would make us wince in anticipation of crashing, but now they're some of the best on the market.
We've just received a set of Zelvy Carbon wheels to review, so we'll be popping them onto the bike very soon. It'll be interesting to see how the wider rim of the Zelvys (35mm) changes the bike's performance.
The XTR brakes have also surprisingly needed some attention, with the pads seemingly to mysteriously become slightly contaminated if the bike goes unridden for a while. We've had this problem with XT brakes on previous test bikes, but never with XTR, and we imagine this is a pretty unusual occurrence. Giving the pads a quick once over with sand paper and regular riding seems to keep the problem at bay, and thankfully we haven't heard other XTR users complain of the same issue.
We've run a couple of different forks on this bike over its short lifetime already; the stock FOX 32 Factory, and the super trick new RockShox RS-1. (Read our full review of the RockShox RS-1 here) We're hard pressed to say which one we prefer…. The weight, looks and quiet operation of the RS-1 are magic, but the FOX is less cluttered (no remote lock out) and, we feel, a fraction stiffer. It's also a lot cheaper! If money was no object, we'd run the RS-1.
On the topic of suspension, the Fuel comes equipped with the new Re:aktiv DRCV shock, developed in conjunction with automotive suspension company Penske. This 'regressive damping' system was released to much fanfare earlier this year. Does it work? Yes, it does. It won't blow your mind, but the Re:aktiv valving does offer more pedalling support and a smoother transition into the shock's stroke than a standard FOX CTD shock. As a result, we've been running the rear shock in the Trail setting pretty much the exclusively.
We'll bring you a final wrap up of this bike in a couple of months time, when we'll focus more on the construction and handling aspects, and you can watch the bike in action over in the 'Must-Rides' section of the site for now