Wil reviews the new Polygon Mt Bromo
If you were to visualise what Polygon's first full suspension electric mountain bike would look like, we'll take a punt that it wouldn't have looked anything like this. Far from being the Siskiu-E that we expected, the Polygon Mt Bromo is a big and burly e-MTB with forward-thinking geometry and a totally new, if somewhat head-scratching suspension platform.
Why the departure from the norm? What does it do differently on the trail? And how does it compare to its well-established competitors? To find out, Polygon sent us one to put to the test. Here we'll dive into the tech details behind the new bike, followed by our review from riding the Mt Bromo N8 over the past few weeks.
---
Watch our video review of the Polygon Mt Bromo here!
---
What's in the name?
Firstly, props to Polygon for mercifully sparing us from the 'E-name' trend. Instead, the Mt Bromo draws its moniker from an active volcano in Indonesia, which I think we can all agree is far more creative. The unique name also signals the fact that this is a genuinely new platform, and not simply a reinterpretation of an existing model within the Polygon lineup.
Some 18 months in development, the Mt Bromo's arrival is certainly a big deal for Polygon. And given the aggressive pricing, we suspect it's going to stir significant attention amongst consumers too. It does arrive somewhat late to the e-MTB party, though Polygon appears to have used that time to observe the mistakes and follies of other brands, while identifying and assessing the shifting trends of a fast-evolving market. The result of that patience is this bike here – the brand new Mt Bromo.
Polygon Mt Bromo overview
Equipped with 29in wheels and 160mm of travel front and rear, the Polygon Mt Bromo is pitched as a ride-all-of-the-things bike that's designed for the same kind of riding as the Norco Sight VLT 29, Trek Rail, Merida eOne-Sixty and Specialized Levo.
Built around a tough, if somewhat agricultural-looking alloy frame, the Mt Bromo is powered by a Shimano motor with a removable battery pack. You'll find aggressive Schwalbe tyres with heavy duty casings and sticky rubber, a Shimano 1×12 drivetrain, and powerful 4-piston brakes with big rotors. On the model we've been testing, there's a hefty Fox 38 fork up front, and a high volume Float X2 shock out back. All thoroughly desirable features on the e-MTB wish list.
Curiously though, where other brands have embraced the mullet trend for their e-MTB models (like the Merida eOne-Sixty, Canyon Spectral:ON and the latest Specialized Levo), Polygon has not.
One of the big reasons for going to a mullet setup is that it allows for a shorter chainstay length, which has the potential to add a generous dollop of liveliness to what is otherwise quite a heavy bike. In the case of the Polygon Mt Bromo, the chainstays are indeed short, but the engineers have managed to pull this off with a full-size 29in wheel back there. And with a proper 2.6in tyre, no less.
How exactly? Well, that's where the new suspension platform comes in.
Whoa – that's a funky suspension design!
Unlike the Siskiu trail bikes, which are built around a relatively straightforward single-pivot suspension layout, the Polygon Mt Bromo employs a brand new platform called IFS. Standing for Independent Floating Suspension, IFS has been developed in-house by Polygon's engineering team. It's a considerably more complicated 6-bar design that features All Of The Bearings and an elevated swingarm.
Err hold on, 6-bar?
Yep. Whereas the majority of mountain bike brands on the market are utilising some variation of a four-bar design, Polygon ups it to six. There's certainly a bit going on there – we counted a total of nine pivot points and 16 bearings. Yikes!
There aren't a whole lot of 6-bar designs out there, though you've probably heard of the Specialized Enduro and Demo. There's also Atherton Racing, which uses the DW6 suspension design for its exotic carbon/titanium-lugged full suspension bikes. And don't forget the OG multi-link master, Knolly, and its FOURby4 suspension design.
How does it work?
If you're wondering how the heck it all works back there, you're not alone – it took us a while to wrap our tiny noggins around it too. Firstly, it really helps if you can visually separate the seatstays from the chainstays.
The chainstays, which form the primary swingarm, have the rear axle at one end and two small links at the other end. These two small links rotate as the suspension goes through the travel, controlling the rear wheel's axle path – not unlike a dw-link or Maestro suspension design, albeit without a rear shock attached. By altering the length and position of those links, Polygon can tweak the axle path, anti-squat and anti-rise characteristics of the Mt Bromo.
In the case of the Mt Bromo however, the elevated swingarm does bring in another notable benefit.
The seatstays on the other hand, are simply used to drive the rear shock via the seat tube-mounted rocker link. In this way the upper portion of the linkage controls the shock leverage rate, which is designed to be mildly progressive until the last third of the travel where it flattens out slightly.
And it's this separation of wheel path from shock leverage that Polygon claims to be the advantage of the IFS design, and the reason behind the added complexity of the 6-bar platform. That's also the same reason that Specialized and Knolly give for their respective 6-bar suspension platforms. In the case of the Mt Bromo however, the elevated swingarm does bring in another notable benefit.
It's got a super short back end
With the chainstay tubes routed over and above the chainring, the Mt Bromo's rear wheel can be tucked right in up against the motor. As in, you can barely squeeze a finger between the tyre and the frame.
The result is a ridiculously short 435mm rear centre length – impressive on any 160mm travel 29er, let alone an e-MTB. To put that number into perspective, it's notably shorter than the Norco Sight VLT 29 (455mm) and the Trek Rail (447mm), with only the Pivot Shuttle and Merida eOne-Sixty coming close (439.5mm). The Canyon Spectral:ON does have the same 435mm rear centre length as the Polygon Mt Bromo, though of course the Canyon does so with a smaller 27.5in rear wheel.
We'll admit we were skeptical when first laying eyes on the Polygon Mt Bromo with its IFS design.
As mentioned earlier, a short rear end can be a useful way to inject agility into any bike, though especially for a heavy e-MTB like the Mt Bromo. A short rear end does have its tradeoffs though, particularly when it comes to things like steep, technical climbing and full-gas descending. For this reason, some e-MTBs on the market are actively pursuing longer rear centre lengths, such as the aforementioned Norco Sight VLT 29.
Though as with anything, there's always a balance to be made, and bike designers will pursue a particular approach based on how they want their bike to ride. And for Polygon, it clearly believes enough in the advantages of those short chainstays to pursue such an elaborate suspension design to achieve it.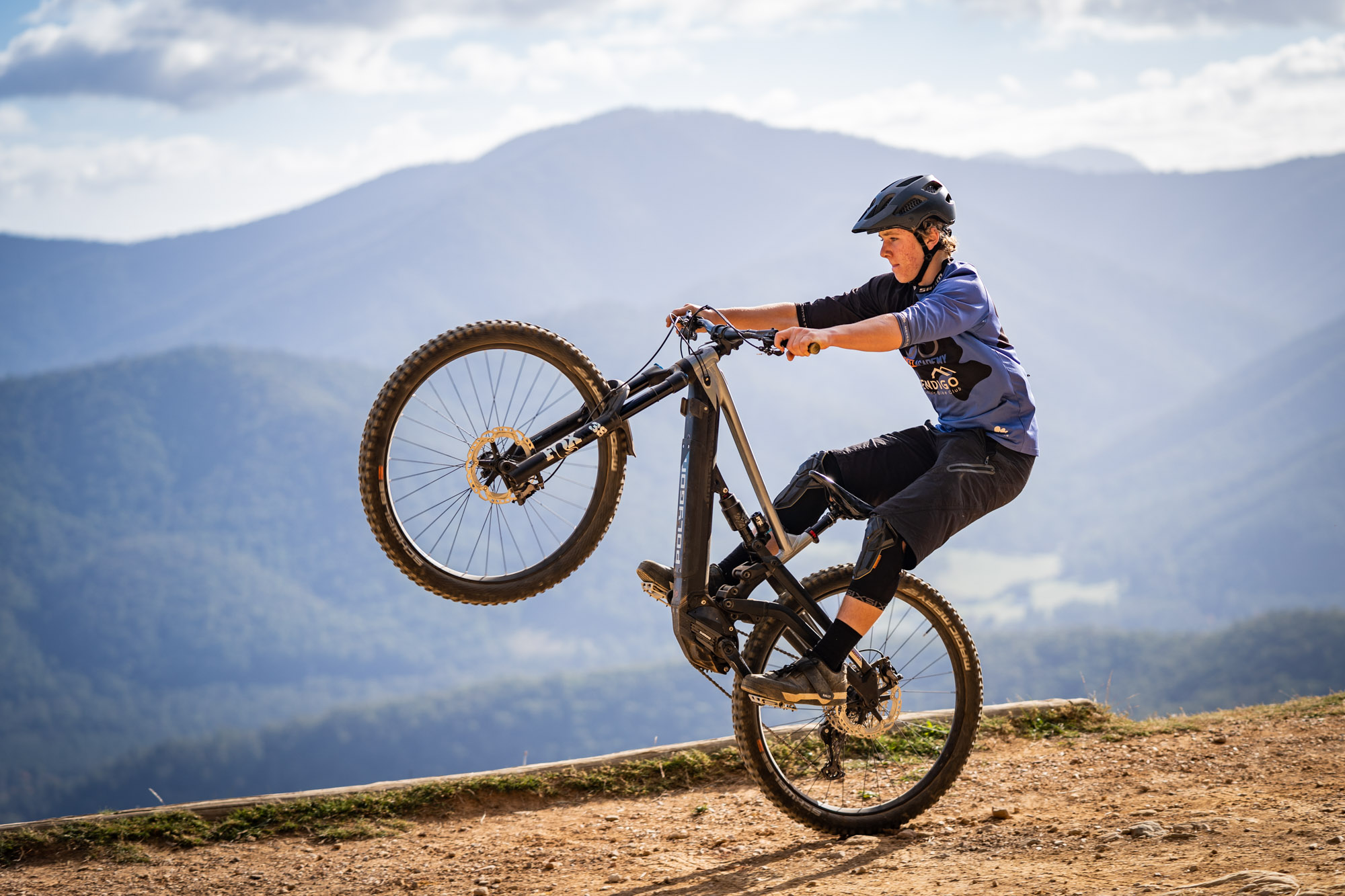 Hasn't Polygon dabbled in whacky designs before?
We'll admit we were skeptical when first laying eyes on the Polygon Mt Bromo with its IFS design. After all, it wasn't long ago when Polygon was touting the benefits of the Naild R3act suspension design on the Xquare One.
Now despite its challenging aesthetics, we really liked that bike. The suspension performance was incredible, so plush and controlled, yet with impressively well-behaved pedalling manners, especially given the 180mm of travel.
Barely three years later though, the Xquare One has largely disappeared from the scene, along with its fellow Naild peers in the Marin Wolf Ridge and Mount Vision. It's no secret that the Wolf Ridge didn't exactly receive glowing reviews from the press when it first launched, and that reputation certainly didn't do any favours for the Naild platform as a whole. On top of that, we suspect the design was just too left-field and too visually challenging for consumers to wrap their head around. As a result, it never delivered the commercial success that both brands had hoped for.
And even if Polygon is confident in it, will consumers warm to the additional complexity of the unproven 6-bar design?
Of course there are some big differences between the Mt Bromo's IFS suspension design and the Naild platform. For a start, while there are 16 bearings back there, they're commonly available 6902 & 6901 sizes. There are otherwise no proprietary parts to the suspension, and you don't require any special tools to pull it all apart.
Still, if we were to put our sceptical hat on for a minute, we do have to ask the question; is IFS just another experimental suspension platform that's unlikely to last beyond a couple of model years? And even if Polygon is confident in it, will consumers warm to the additional complexity of the unproven 6-bar design? Only time will tell.
Geometry
While the IFS design does allow for a very short rear centre, Polygon hasn't held back at the front of the bike, which gets a very slack 64.5° head angle paired to a 44mm fork offset.
Reach measurements are massive too, with the size Small kicking off at 450mm, which is about the same as a Medium in most other brands. With sensible 20mm increments, reach goes all the way up to a whopping 510mm for the XL.
The other number that stands out in the Mt Bromo's geometry chart is the short seat tube length. Increasing just 10mm per size, the seat tube lengths top out at a diminutive 430mm for the XL, which is really bloody short. In comparison, a Merida eOne-Sixty has a 440mm seat tube length for the Medium size. In the equivalent XL size, the eOne-Sixty's seat tube length is a sky-scraping 500mm.
Of course the shorter seat tube length on the Mt Bromo allows for longer-stroke dropper posts, and it also makes it a little easier for riders to up or down-size to get the reach measurement they prefer. Also helping is the fact that standover height is identical between all four sizes.
Can you mullet it?
Officially, no you can't. While there is physical clearance for 27.5+ wheels and tyres, fitting a smaller rear wheel drops the BB height down too much. Trust us, we checked. The Mt Bromo already hangs quite low with a 35mm BB drop, and a smaller rear wheel will see it coming perilously close to the ground, while also affecting the rest of the geometry and the suspension kinematics.
Whereas other brands have built in high/low geometry adjustments into their full suspension e-MTBs, Polygon has not, which seems like a missed trick on Polygon's behalf. Of course the lack of adjustability results in a simpler and easier to manufacture frame, though that point seems moot when we're talking about a bike with nine pivots.
You can tweak the Mt Bromo elsewhere though. The frame is rated for use with up to a 170mm travel fork, which would obviously slacken the angles out a touch further, and you can also fit a coil shock since the leverage rate is sufficiently progressive. While stock bikes come with 203mm brake rotors front and rear, Polygon has given the green flag for upping that to a 220mm rotor.
Shimano motor, small battery
Powering the Mt Bromo is a Shimano motor and battery. On the Mt Bromo N8 we've been testing, there's the latest Shimano EP8 motor with a peak torque output of 85Nm. On the cheaper Mt Bromo N7, you get a Shimano E7000 motor with 60Nm of peak torque.
Both bikes use the same 504Wh internal battery pack, which is shielded by a large plastic armour plate and is easily removable from the downtube with a 4mm hex key. You can charge the battery separately on its own, or while it's mounted in the bike via the charge port just above the motor on the non-drive side.
We expect some riders will be disappointed with the Mt Bromo's 504Wh battery pack, given that Shimano does offer a 630Wh option. On the plus side, the smaller battery is lighter by nearly a kilo and it is of course cheaper too. And that helps Polygon to get the complete bikes down to a very sharp price point.
Polygon Mt Bromo price & specs
For the Mt Bromo N8 shown here, you're looking at $7,899 AUD. That is bloody impressive considering the high-end Fox suspension and Shimano XT componentry.
For the cheaper Mt Bromo N7, the price drops down to a rather incredible $5,799 AUD. The frame, geometry and suspension design are identical between the two bikes, though you do down-spec to a Suntour Durolux36 fork, a Fox Float DPS shock, a Shimano Deore drivetrain and MT420 brakes.
Both bikes are due to be available in Australia from July 2021. As per the rest of the Polygon mountain bike range, they'll be sold direct to consumer in Australia via Bicycles online.
Read on for a closer look at the specs of the two options, followed by our review from testing the Polygon Mt Bromo N8.
2022 Polygon Mt Bromo N7
Frame | ALX 6061 Alloy, IFS Suspension Design, 160mm Travel
Fork | Suntour Durolux36, RC-PCS, 44mm Offset, 160mm Travel
Shock | Fox Float DPS, Performance Series, 205x65mm
Drive Unit | Shimano E7000, 60Nm
Battery | Shimano BT8035, 504Wh
Wheels | Shimano Deore Hubs & Entity XL2 Alloy Rims, 35mm Inner Width
Tyres | Schwalbe Magic Mary Super Gravity Addix Soft 2.6in Front & Rear
Drivetrain | Shimano Deore 1×12 w/e*13 E-Spec Plus Crankset & 10-51T Deore Cassette
Brakes | Shimano M420 4-Piston w/203mm Rotors
Bar | Entity Expert Alloy, 25mm Rise, 780mm Width
Stem | Entity Expert Alloy, 35mm Length
Seatpost | TranzX Dropper Post, Travel: 150mm (S-M), 170mm (L-XL)
Saddle | Entity Xtent
Available Sizes | Small, Medium, Large & Extra-Large
RRP | $5,799 AUD
2022 Polygon Mt Bromo N8
Frame | ALX 6061 Alloy, IFS Suspension Design, 160mm Travel
Fork | Fox 38, Performance Series, GRIP Damper, 44mm Offset, 160mm Travel
Shock | Fox Float X2, Performance Series, 205x65mm
Drive Unit | Shimano EP8, 85Nm
Battery | Shimano BT8035, 504Wh
Wheels | Shimano Deore XT Hubs & Entity XL2 Alloy Rims, 35mm Inner Width
Tyres | Schwalbe Magic Mary Super Gravity Addix Soft 2.6in Front & Rear
Drivetrain | Shimano Deore XT 1×12 w/e*13 E-Spec Plus Crankset & 10-51T Deore Cassette
Brakes | Shimano Deore XT M8120 4-Piston w/203mm Rotors
Bar | Entity Expert Alloy, 25mm Rise, 780mm Width
Stem | Entity Expert Alloy, 35mm Length
Seatpost | TranzX Dropper Post, Travel: 150mm (S-M), 170mm (L-XL)
Saddle | Entity Xtent
Available Sizes | Small, Medium, Large & Extra-Large
Confirmed Weight | 24.38kg
RRP | $7,899 AUD
Testing the Polygon Mt Bromo
Without any suitable volcanoes to test the Bromo on, we had to make do with our local test trails around Bendigo and Harcourt, along with a trip up into the Victorian High Country to ride the Mystic Bike Park at Bright. To see how the Mt Bromo compared to some of the competition, we've been riding it for the past month alongside a handful of other fresh-faced e-MTBs in the Flow test fleet including the Canyon Spectral:ON, Merida eOne-Sixty and Specialized Levo.
Bike-in-a-box
As with previous Polygon test bikes, the Mt Bromo arrived on my doorstep, partially assembled inside a cardboard box. Aside from nearly dislocating my elbow putting it into the workstand, it's an easy bike to build – install the handlebar, front wheel and your pedals, charge up the battery, and it's pretty much ready to go.
During the build it was apparent that the Mt Bromo possesses a fair amount of rotational mass. Coming in at a confirmed weight of 2,272g, the wheelset is quite portly thanks to the beefy alloy rims and straight-gauge spokes. The tyres aren't particularly svelte either. Measuring exactly 2.6in wide as claimed, the Magic Marys feature Schwalbe's ADDIX Soft rubber compound and Super Gravity casings. Not far off a full-on DH tyre, these came in at around 1,350g each.
Along with the big-hit-ready suspension and alloy frame, the Mt Bromo N8 is at the heavier end of the e-MTB spectrum. All up, our medium sized test bike weighs in at 24.38kg. That's without pedals with the tyres setup tubeless.
STOP – Prototype!
Now before going any further, I do need to point out that the Shimano EP8 motor on our Mt Bromo test bike is labelled as 'prototype'. And unfortunately I don't mean that in the cool fun way either. It's actually a pre-production motor that Polygon has been using to facilitate internal testing, and as such, it's not quite up to snuff compared to the proper EP8 production motors.
It hasn't impacted our ability to test the Mt Bromo, and indeed we've put nearly 350km of riding into this bike. But for obvious reasons, there's no point me discussing the motor performance because it's irrelevant to customers who will be buying production bikes that come fitted with a production motor.
So, if you're after a more detailed rundown on the Shimano EP8 motor and how it feels on the trail, be sure to check out our detailed review of the Merida eOne-Sixty here.
Polygon Mt Bromo sizing & fit
At 175cm tall I chose a Medium size Mt Bromo to test. While the 470mm reach is positively humongous, the cockpit doesn't actually feel all that long thanks to the itty-bitty stem and very steep 77° seat tube angle. Indeed the effective top tube length actually makes the Mt Bromo feel short compared to the other e-MTBs I've been riding lately. The new-school riding position sees more forward-weight bias with the saddle at full mast, which does place more pressure on your hands when cruising along flat terrain.
Polygon's in-house component brand, Entity, has developed a new 780mm riser bar for the Mt Bromo, which I'm pleased to say is much more comfortable than previous efforts thanks to increased back and up-sweep. The new lock-on grips are also fantastic, with a nice sticky compound and terrific tactility. Bigger hands may prefer something a little more generous in diameter though.
While aptly-named, I do think the Xtent saddle could be a lot better. The squishy padding is ok (well, to an extent), but it lacks support on longer rides and the upper is unnecessarily slippery. Tilting the nose down and wearing quality padded shorts certainly helps.
Otherwise there are few surprises to the Mt Bromo's cockpit. There's a good length of steerer tube for dialling in your preferred bar height, brake lever reach can be adjusted without tools, and Shimano's I-Spec mounting system offers neat integration with a broad range of adjustability.
So many knobs!
Setup does get a little more involved once you get to the suspension on the Polygon Mt Bromo however.
The Float X2 features 4-way adjustable damping and a huge air can with a 65mm stroke. Polygon recommends setting it up with 30% sag, which for me and my 68kg riding weight, required 170psi. Of note here is that the Float X2's massive negative spring can suck the shock down a few millimetres under the bike's own weight. I found it necessary to lift the rear wheel off the ground to extend the shock to accurately measure sag.
That aside, Polygon doesn't currently have any other recommended settings for the Mt Bromo's suspension. That's unfortunate, since the wide scope of tune-ability in the Float X2 means there's real potential to get it very wrong.
Instead, Polygon directed me towards Fox's setup guide for the Float X2. Those damper settings felt far too sticky for my liking though, resulting in a harsh feel to the rear suspension in high-speed chop, where the sluggish rebound damping left the shock packing down as it struggled to recover.
To lighten things up, I backed off the high-speed rebound and compression damping until they were both one click off the fastest/lightest setting. For low-speed damping I set compression four clicks in from the lightest setting (14/18 clicks) and rebound five clicks in from the lightest setting (11/16).
With that in mind, I'd love to see Polygon develop some detailed suspension setup advice for its customers in the future.
The lighter damping made an immediate difference to the Mt Bromo's overall suspension performance, with a much livelier feel to the back end. More importantly though, the shock was able to recover properly, resulting in improved reactivity and suppleness on the trail.
For the more experienced suspension fiddlers out there, this kind of experimentation is par for the course. And those riders will be thrilled to see such high-end suspension on an e-MTB at this price point. But I suspect there'll also be plenty of Mt Bromo owners who will feel a little bamboozled by all the adjustments, particularly without the benefit of a local dealer's knowledge and setup advice. With that in mind, I'd love to see Polygon develop some detailed suspension setup advice for its customers in the future.
Killer traction
Once setup to my liking, the Mt Bromo's suspension performs beautifully. Though it looks quirky with its plethora of pivots and elevated chainstays, the performance on the trail is anything but.
I'm not necessarily convinced that the IFS platform delivers anything radically different to a well-tuned four-bar design. It isn't quite as buttery or as composed at high-speed as the Specialized Levo for example. The suspension on the Levo is remarkably well-balanced, which comes down to both the frame's kinematics and a custom-tuned shock.
Still, the Mt Bromo is plenty supple and floaty over smash-n-grab rock gardens. And there's no question that it's better at isolating the rider from the terrain than a single pivot platform, like that found on the Merida eOne-Sixty. In comparison the Mt Bromo's IFS suspension feels less jerky at the pedals, and more neutral under braking and pedalling, even if the latter isn't so important on an e-MTB.
The active suspension performance is complemented well by the sticky, high volume rubber, helping you to generate reliable grip in unreliably loose conditions. The Magic Mary is already a well-loved tyre here at Flow, but paired to the heavy duty casing and ADDIX Soft rubber, it's an absolute belter and a big contributor to the bike's overall traction and confidence levels.
Because of the robust carcass, it's worth experimenting with lower pressures to get the most damping out of both tyres. I settled on just 16psi in the front and 19psi in the rear – anything higher than that and the tyres started to feel a little stiff and wooden, transmitting more feedback through the chassis. Even at those lower pressures and with no inserts in either wheel, puncture resistance has been bloody impressive, and I'm still yet to put a hole in either tyre.
All that grip doesn't come for free though. The Mary isn't exactly the fastest-rolling option – less of a concern on an e-MTB, though still very much noticeable when you're trying to pedal and pump above the motor's 25km/h assistance cutoff. And after nearly 350km of riding, the tread on the rear tyre is starting to show some wear – an obvious downside of using such soft rubber. If it's long-distance durability you're chasing, and you're willing to trade some of the addictive grip of the stock setup, it may be worth sourcing a rear tyre with a firmer compound and perhaps even a faster-rolling tread pattern.
Up-front confidence
Another box-checker in the Mt Bromo's arsenal, the Fox 38 is a brilliant performer and lends further conviction to your line choices. The huge crown and 38mm upper tubes deliver a stout-feeling chassis, which is a great match for long-travel e-MTBs like the Mt Bromo.
This was my first experience with a Performance Series 38, which relies on a cheaper GRIP damper instead of the more adjustable GRIP2 damper found in the higher-end 38s. The chassis and EVOL air spring are otherwise the same though, and sensitivity is superb across a wide range of riding speeds.
It's also considerably easier to setup compared to the rear shock, with just a single rebound dial and the one compression lever. I initially setup the fork as per Fox's guide with 84psi inside the air spring, though as with the rear shock I found the recommended rebound damping to feel a touch slow. I sped that up a couple of clicks to just over halfway (13/23 clicks), and ran the low-speed lever 1/3rd of the way through its range to provide a little more support.
However, I would recommend that more aggro riders consider adding a volume spacer or two to beef up spring support.
While small-bump sensitivity is brilliant, and perhaps even a hair smoother than the more complex GRIP2 damper, at higher speeds and on more violent impacts, the GRIP damper doesn't offer as much control. Admittedly the difference is quite small – I really only picked up on this because I've been riding two other e-MTBs with GRIP2-equipped 38s lately. And perhaps I wouldn't have noticed at all if the Mt Bromo had a lesser rear shock.
However, I would recommend that more aggro riders consider adding a volume spacer or two to beef up spring support. It's also worth noting that the fork is upgradeable too – you could always fit a GRIP2 damper down the line if you were chasing more adjustability.
It's got the big bike feels
Overall though, the Mt Bromo is well equipped for swallowing up big hits, with plenty of access to all the available travel front and rear.
Polygon has resisted making the rear suspension overly progressive, so it never feels spiky nor harsh, instead delivering a more linear and usable feel throughout. That does mean it's possible to hit full travel if you're practicing your Bender-inspired hucks-to-flat. I only ever kissed full travel twice, though the big bottom-out bumper inside the Float X2 ensures it wass more of a dull thud than a harsh clunk. You could add volume spacers if you really wanted more progression, though I'd suggest trying a few more clicks of high-speed compression damping first as a quick and effective way to increase support without having to crack open the air can.
Combined with the long front centre and slack head angle, it's totally competent when things get rough and rowdy.
Personally, I preferred the lighter damping feel, which allows the rear wheel to get out of the way quickly when slamming into square-edge hits. Along with the stocky wheels and tyres, the Mt Bromo picks up speed rapidly on the descents. The near-25kg weight certainly helps to build momentum, though it's the bigger 29in rear wheel that keeps the whole bike from getting caught up compared to equivalent mullet e-MTBs. This is particularly noticeable on more rugged natural singletrack, where the big wheels and high volume rubber keep the Mt Bromo rolling along smoothly. Combined with the long front centre and slack head angle, it's totally competent when things get rough and rowdy.
After riding mullets over the past couple of months though, I did find myself having to readjust my descending position after buzzing the rear tyre on my arse during the first few runs down some properly steep trails. That's an inherent downside of a long-travel 29er for riders under 180cm tall, and something to consider if you frequent steep, off-piste trails.
But not all of them
Where the Mt Bromo surprised me most though is how nimble it is for such a big and heavy e-MTB. It doesn't take long to get used to its handling and weight distribution, and it manages to remain pretty involving to ride even on more mundane singletrack.
That said, it isn't as willing to dive into the corners compared to a mullet setup. A bike like the Canyon Spectral:ON, with its 27.5in rear wheel, sharper head angle and 51mm fork offset, initiates turns more naturally on twistier flow trails. Where the Spectral:ON only needs just a light push on the inside grip to tip the bike in, the Mt Bromo requires you to pull and push on both ends of the bars to crank the front wheel over.
This is partly down to the slack head angle and 44mm fork offset, which are inherently more resistant to being knocked off-line. That helps to boost the Mt Bromo's high-speed steering stability, at the expense of its low-speed agility. Along with the 29in wheels, it does mean you'll need to engage a more active riding style on the Mt Bromo when things get tight.
Once you're committed though, it's actually a very schralpable bike. You can push off of the rear wheel more easily than comparable 29ers with longer chainstays, and it's also more willing to loft up the front wheel over drops or when searching for a transition. No doubt the lighter 504Wh battery pack plays a role here too.
I've certainly not found myself wishing for a steeper seat angle.
To a certain extent, the short back end helps on the ups too. When scaling tight switchback climbs, I found it easy to pivot off the rear wheel to bring the front end around, rather than having to push the whole bike as wide as possible. You feel very centred in the bike thanks to the steep seat angle, which provides a terrific climbing position with your hips placed more directly over the crank arms. I've certainly not found myself wishing for a steeper seat angle.
Bear in mind that all of the testers who rode the Mt Bromo are around 175-178cm tall. Taller folks on larger frame sizes will have a different experience due to the fact that the 435mm rear centre length is the same on all frame sizes, even as the reach grows longer. Because of this changing front-to-rear centre ratio, those on the Large and XL frames may actually find the back end to feel too short, especially when trying to climb up steeper terrain where it can be harder to weight the front tyre sufficiently.
In our experience though, the Mt Bromo is a comfortable climber, and despite the low BB height, I didn't find myself clipping pedals often at all. The 165mm crank arm length helps, but it's really the stable pedalling platform from the IFS design that reduces rear shock wallow on the climbs.
In these scenarios, it's crystal clear why Polygon pursued the geometry it did for the Mt Bromo.
However, it's not as planted on stupid-steep pinches compared to the Norco Sight VLT 29. The two bikes are pretty similar on paper, but the rear centre is vastly longer on the Sight VLT 29, and that puts more weight onto the front wheel, reducing the chance of looping out on steeper ascents. For that reason, the Sight VLT 29 is one of the best climbing e-MTBs I've ridden. It's also hugely stable on the descents too, with more of a grounded, stuck-down feel compared to the Mt Bromo – something that's more apparent on rowdier blown-out trails. That's a key advantage of Norco building the Sight VLT 29 with a longer rear end, and it's also likely to appeal to taller riders.
The flip-side is that the Mt Bromo is for sure the more naturally agile bike of the two. It's easier to make micro-corrections and alter your line choice on the descents, and it's better at changing direction between back-to-back corners. It certainly feels right at home sessioning purpose-built flow trails, where the compact back end and traction-rich suspension and tyre package encourage you to rip through berms, boost jumps, and pull all the manuals and cutties in between. In these scenarios, it's abundantly clear why Polygon pursued the geometry it did for the Mt Bromo.
What could be improved?
There's certainly a lot to be impressed about the Mt Bromo given the sticker price, especially considering that this is Polygon's first proper full suspension e-MTB. Like all first generation products though, there's no doubt room for refinement.
For a start, I'd love to see the option to fit a water bottle. Not everyone wants to ride with a hydration pack all the time, but your hand is forced with the Mt Bromo.
While the 504Wh battery has suited all my riding needs, and I can appreciate the impact it has on the bike's price, I'm still surprised that Polygon didn't at least build the Mt Bromo around Shimano's BT-8035-L battery. That's still a 504Wh battery, but it has the same dimensions as the 630Wh unit, which would allow the option for owners to upgrade to a bigger battery down the line. It would also allow Polygon to introduce a higher-spec'd model with a 630Wh battery as standard in the future.
Some neater routing for the Shimano electric wires would also be appreciated, and cable management inside the downtube could be better too, particularly as you currently have to remove the battery to adjust saddle height. Also, the shock's climb switch is impossible to activate safely while riding, since clearance is so tight with the top tube.
Depending on your shoe size and gait, you might find your heels rubbing on the frame's seatstays. These tubes are relatively straight, and as a result my size 45 clobbers would occasionally brush up against them. I'd be adding some thick frame protection in this that area to prevent wearing through the paint.
I'd be dreading the day when one of the bearings does start creaking, as it'll be a more involved process to go through 16 of them to work out which one's the culprit.
Clearance is generous on the inside though, with a tonne of mud room despite the plump 2.6in tyre. However, while the majority of our testing took place in dry conditions, one especially wet and gritty ride saw a reasonable amount of filth building up on the suspension's lower linkage. This link then angles downwards into the frame, directing muck into the pocket where the pivot is located. This is an area that's crying out for some sort of mini-mudguard to prevent that link from turning into a mud-shelf. In the meantime, for those in wetter climes, you'll want to pay close attention to cleaning out this part of the frame.
Speaking of the pivots, we've not encountered any issues so far with our test bike. The hardware is reassuringly beefy, and having pulled a few of them apart, I was happy to find plenty of grease where it was meant to be, and Loctite on all the relevant threads. It's also nice to see captured spacers too. That said, I'd be dreading the day when one of the bearings does start creaking, as it'll be a more involved process to go through 16 of them to work out which one's the culprit.
Component highs & lows
For the most part Polygon has done well to build such a solid e-MTB at the price it has, putting the dollars where it counts and saving money in areas where there's less of an affect on performance.
For example, the solid-forged e*13 cranks seem pretty cheap, but they do the job and you're going to smash them into rocks anyway so who cares what they look like? The TranzX dropper isn't particularly sexy either, but it works, and pairing it to a Shimano lever gives it a much nicer feel.
And whereas other brands have built fancy steering limiters into the headsets of their e-MTBs, Polygon instead relies on two big rubber blocks behind the head tube to protect the frame from the fork crown crashing into it. They might look a little crude, but they're effective, and it means the Mt Bromo uses a regular headset with exactly the same bearings as the Siskiu range. It keeps the cost down, and reduces proprietary parts too.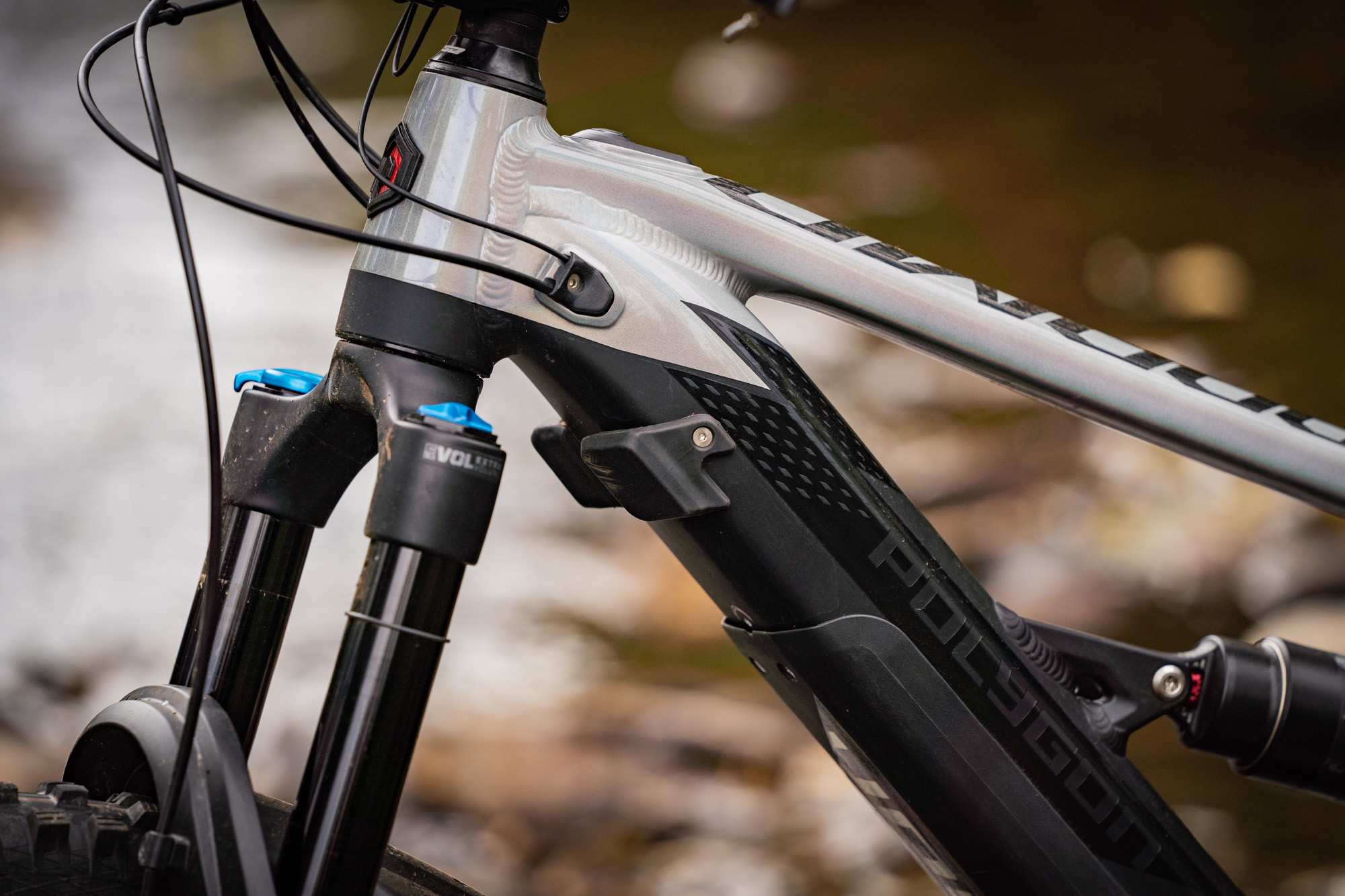 Another clever cost-saving spec choice, the Deore cassette is a little heavier than an SLX or XT equivalent, but shift quality is still brilliant, and the all-steel sprockets will last longer too. On that note, shift performance on our test bike has been spot-on, and we have to give a thumbs up to Polygon for the SP41 cable housing.
A partially blown O-ring at the bleed port saw the shock lose all damping, which wasn't ideal.
It wasn't all plain sailing with our Polygon Mt Bromo N8 test bike though. While we were impressed by the quality of the suspension performance, unfortunately the rear shock decided to spill its guts during the final few days of testing. A partially blown O-ring at the bleed port saw the shock lose all damping, which wasn't ideal. In speaking with our contact at Fox, it sounds as though this may have been an installation issue at the factory, and as such, a repair would be covered under warranty.
The following day we then discovered another oil leak – this time from one of the wiper seals on the 38 fork. Again, this is an issue that would be covered under warranty, but I don't think it's an overreaction to say that in 2021 we really shouldn't be encountering leaky forks and shocks on an $8K bike.
But geez, between that, the clacking noise from the EP8 motor and the rattle from the finned brake pads, Shimano isn't exactly blazing a trail when it comes to minimising on-trail annoyances.
Earlier on in the test period I discovered the spokes in the rear wheel were losing significant tension, to the point where several were rattling around on the trail. This is typically a sign of a poor factory build, where the wheel hasn't been properly stress-relieved during the tensioning process. It's a relatively simple fix for an experienced wheel builder, and adding some spoke prep to the nipples will also help them to stay put in the long run. But what about someone who's less experienced? Our contact at Bicycles Online explained that if a customer were to encounter that kind of issue, they would be able to take the wheel to a local bike shop to be repaired, and Bicycles Online would reimburse the customer for the incurred cost, which seems entirely reasonable.
Spoke de-tensioning aside, the wheels on the Mt Bromo have otherwise been solid. I did put a decent ding into the rear rim, which was bad enough that the tyre lost its seal. A few delicate taps with a hammer later, and the tyre sealed up again and has been fine ever since.
The XT hub does exhibit a weird silent-not-silent buzz, sometimes making noise and sometimes not. It's no functional issue, and I've not experienced any skipping issues at all. But geez, between that, the clacking noise from the EP8 motor and the rattle from the finned brake pads, Shimano isn't exactly blazing a trail when it comes to minimising on-trail annoyances.
How does it compare to the competition?
In terms of the package you're getting for the money, as expected, the Polygon Mt Bromo N8 kicks most brands to the kerb.
The Trek Rail 9 we tested recently is a ripping e-MTB with an ability to steamroll very steep and technical trails. It's a full 29er like the Mt Bromo, and features similarly progressive geometry, albeit with the punchier Bosch motor, a bigger 625Wh battery, and plusher suspension. The Trek Rail 7 would be a more appropriate comparison to the Mt Bromo N8, but even then it's still considerably more expensive at $9,499 AUD, despite coming with a lesser fork and shock.
Likewise, the new Specialized Levo is the best e-MTB we've ever tested, but it's also seriously expensive at $19,800 AUD for the Pro model. Specialized does offer a base-level Levo for $9,000 AUD, but it comes with a very basic RockShox 35 fork and SRAM NX Eagle shifting, and it's also built around the previous generation frame that features much more conservative geometry compared to the Mt Bromo.
The Norco Sight VLT A1 29 is much more in the ballpark with its $7,599 AUD price tag. And having tested the carbon version last year, I found it to share a lot in common with the Mt Bromo. You do get a bigger 630Wh battery with the Norco, and there's an option to add a piggyback battery to give you nearly 1000Wh of juice – an important consideration for riders chasing maximum range. However, the current Sight VLT range is built around the older Shimano E8000 motor. We expect Norco will be releasing updated models in the near future with EP8 motors.
The new Canyon Spectral:ON range does come with the latest EP8 motor, and Canyon has also updated the frame to fit the larger 630Wh battery. The price is higher at $8,799 AUD for the Spectral:ON CF 6 (basically $9K once you include shipping), and the shock and fork are a step down from the Mt Bromo N8. However, you are getting an elegant carbon mainframe, and the slightly lighter build and tighter geometry results in a more agile bike all-round.
Perhaps the closest competitor in terms of value-for-money would be the Merida eOne-Sixty. I've been riding the 9000 model, though Merida does offer the eOne-Sixty 700 with an alloy frame that sells for $7,999 AUD. The spec is very similar to the Mt Bromo N8 with tough tyres and a Shimano drivetrain. The main differences are the Marzocchi Z1 and DPX2 shock, as well as the bigger 630Wh battery. On top of that, the Merida eOne-Sixty uses a mullet wheel setup, and the geometry isn't quite as long and raked-out as the Mt Bromo. On the trail it's a poppier and more agile performer, though it isn't quite as steady when walloping through the chunder. That aside, it's a bike you can buy through a bricks & mortar bike shop, which will be appealing for riders who would prefer not to buy a bike online.
Flow's Verdict
As expected, Polygon has delivered one heckuva package for the money with its first full suspension e-MTB. The build kit hits a lot of the right notes with its highly-adjustable suspension, heavy duty tyres and powerful brakes. Add in the progressive geometry, Shimano motor and battery, and the Mt Bromo starts to sing a very sweet tune.
What we didn't expect though was the innovative suspension design. The IFS platform is more complex compared to your average four/faux-bar suspension design, though it does ride very well and early impressions indicate it's all well put together too. And unlike the previous Naild design used on the XQUARONE, there are no proprietary parts or tools required.
With that short back end, the Mt Bromo delivers a surprisingly agile ride quality for such a big and heavy e-MTB. It's not quite as sprightly as equivalent mullet bikes like the Canyon Spectral:ON, and it's also not as planted on steep climbs and high-speed descents compared to some other 29ers out there like the Norco Sight VLT. In that sense the Mt Bromo effectively straddles the middle ground, which will mean it's a compromise for certain riders, but the perfect balance for others.
Of course the small battery and lack of a water bottle mount will mean the Mt Bromo is a non-starter for some. But for those less concerned by all-day range, and are after a fun and involving e-MTB to session laps at the bikepark, there's no doubt that the Polygon Mt Bromo gets you an impressively capable bike for the cash.