Wil reviews the 2021 Polygon Siskiu T8
Updated with a new frame, refreshed geometry and refined suspension kinematics for 2021, the latest Siskiu T continues to carry the torch for Polygon as the brand's wildly popular trail bike. Sitting in between the Siskiu D (XC) and the Siskiu N (Enduro), the Siskiu T is a fun-loving trail ripper that's built for maximum versatility. Think bikes like the Specialized Stumpjumper, Trek Fuel EX, Giant Trance X and Norco Fluid. Unlike those brands however, the Polygon Siskiu T is sold direct-to-consumer in Australia via Bicycles Online. And that means the value for money on paper is impressive. Like, really impressive. Of course a cheap bike with attractive components is one thing, but a bike that puts a smile on your dial when you ride it? That's another thing altogether.
---
Watch our video review of the Polygon Siskiu T8 here!
---
Polygon Siskiu T8 overview
Despite looking very similar to the 2020 model, and sharing a similar silhouette to the shorter travel Siskiu D6 we tested last year, the latest Siskiu T actually has a totally new frame for 2021. It's made from hydroformed 6061 series alloy tubing, and it utilises a linkage-driven single pivot suspension layout. The rear shock has been pushed higher up the downtube on the new frame, so there's now room for a bottle cage underneath it. The main pivot also sits a little higher, with the aim of improving the Siskiu T's pedalling efficiency.
Whereas some of the big brands have moved away from wheelsize options, Polygon continues to offer the Siskiu T with both 27.5in wheels (S-M) and 29in wheels (M-XL). Suspension travel is slightly different between the two platforms. You get 140/135mm of travel on the 29in frame, and 150/140mm of travel on the 27.5in version.
Polygon has also taken onboard modern geometry trends with the new Siskiu T. The head angle has slackened out to 65.5°, the reach measurement has grown by 25-30mm across the size range, and the seat angle has also steepened to 76.5°. It's all very much up to date.
Trail-tough build kit
Polygon offers the Sisiku T in two different spec levels. There's the Siskiu T7 ($2,699 AUD) and the Siskiu T8 ($3,399 AUD). Both bikes share the same alloy chassis, and to make the most of the progressive trail geometry, a burly parts package.
You get a robust alloy wheelset with 35mm wide rims, bolt-up axles front and rear, and chunky 2.4-2.6in tubeless compatible tyres. 4-piston hydraulic disc brakes come standard with 180mm rotors, and both models get a 1×12 Shimano drivetrain. For those who are after a little extra chain security, it's possible to add on a full-coverage chainguide via the ISCG 05 tabs.
780mm wide riser bars and a stubby 35mm stem are fitted on all sizes, and thanks to the shorter seat tube on the new frame, 150-170mm dropper posts come as standard. All good box-ticking stuff for a modern trail bike.
While many components are shared between between the two models, the main differences are found in the suspension and running gear. The cheaper Siskiu T7 comes with a RockShox Recon fork, Deluxe shock and a Deore drivetrain. In comparison, the Siskiu T8 features a Fox 34 Rhythm fork, Float DPS shock, and an SLX drivetrain.
Alongside those competitors, the Siskiu T8 stacks up very favourably – at least on paper anyway.
How does the price compare to the competition?
Though the price of high-end mountain bikes has continued its upward trajectory, there have actually been some terrific improvements in the quality of bikes in the mid and low-end part of the market too. What you can get in a sub-$4K full suspension bike these days is really impressive, and there's also quite a lot of choice too. To see what the Polygon Siskiu T8 is competing with, here's a look at some of the other full suspension trail bikes you might consider around that price point;
Marin Rift Zone 2: $2,999 AUD
Specialized Stumpjumper Alloy: $3,200 AUD
Trek Fuel EX 5: $3,299 AUD
Merida One-Twenty 600: $3,299 AUD
Polygon Siskiu T8: $3,399 AUD
Commencal Meta TR Origin: $3,499 AUD
Norco Fluid FS 1: $3,599 AUD
Canyon Neuron AL 7.0: $3,599 AUD
Giant Trance X 29 3: $3,799 AUD
Alongside those options, the Siskiu T8 stacks up very favourably, at least on paper anyway. As to how it rides? Read on for a closer look at the specs, followed by our review of the Indonesian brand's newest full suspension trail bike.
2021 Polygon Siskiu T8 price & specs
Frame | ALX 6061 Alloy, Single-Pivot Suspension Design, 135mm Travel
Fork | Fox 34 Rhythm, GRIP Damper, 44mm Offset, 140mm Travel
Shock | Fox Float DPS, Performance Series, 210x55mm
Wheels | Shimano MT410 Hubs & Entity XL2 Alloy Rims, 35mm Inner Width, Tubeless Compatible
Tyres | Schwalbe Hans Dampf ADDIX SpeedGrip, 2.6in Wide
Drivetrain | Shimano SLX 1×12 w/MT510 32T Crankset & 10-51T Cassette
Brakes | Tektro HD-M745 4-Piston w/180mm Rotors
Bar | Entity Xpert Alloy, 35mm Diameter, 780mm Wide
Stem | Entity Xpert Alloy, 35mm Length
Seatpost | Tranz-X Dropper, 30.9mm Diameter, Travel: 150mm (S-M), 170mm (L-XL)
Saddle | Entity Xtent
Available Sizes | Small & Medium (27.5in), Medium, Large & Extra-Large (29in)
Confirmed Weight | 15.08kg (including tubes)
RRP | $3,399 AUD
Polygon Siskiu T8 sizing & fit
At 175cm tall, I've been riding a Medium size in the Siskiu T8, and in the 29in platform. It features a healthy 460mm reach, though the total cockpit length isn't overly stretched out due to the steep seat angle and tiny 35mm stem.
Bar width is good, but the stock shape is too straight, putting undue pressure on your palms – an issue I also encountered on the Siskiu D6. With a 90mm head tube, the stack is also on the low side relative to the Stumpjumper and Fuel EX. As such, I had to lift the stem up a few spacers to redistribute some of the weight off my hands. I'd love to see Polygon spec a bar with more sweep, and potentially more rise, to elevate rider comfort on what is otherwise a well-proportioned bike.
Setting up
Arriving inside a box on your doorstep, the build process of the Siskiu T8 is quite simple, and there's a multi-tool included in the box to help you fit the front wheel, seatpost and handlebar. That said, the dropper post cable did form a sort of lasso on the front of the bars, so I ended up trimming off some length to tidy things up.
New owners will also need to purchase a shock pump separately in order to get the air pressures setup correctly for their weight, and to get the most out of the bike.
For the rear shock, Polygon recommends 30% sag. Sitting on the saddle while the bike is stationary (get a pal to help you balance while you do this), you'll want the O-ring on the shock stanchion to move 16.5mm away from the main seal. For my 68kg riding weight, I needed 160psi to hit that sag figure. I set the rebound slightly faster than halfway, with 8/14 clicks.
The Fox 34 Rhythm is even easier to setup, thanks to a handy pressure guide on the back of the fork legs. I followed the guide and went with 72psi in the air spring and set rebound damping with 10/21 clicks. The blue compression lever can be set anywhere between full open and fully locked out. I'd recommend starting with it 1/3rd through its range, to help support the travel under braking and while descending.
Straight out of the box, our test bike came in at 15.08kg with inner tubes and without pedals. While the tyres and rims are both tubeless compatible though, unfortunately you'll need to BYO your own rim tape, valves and sealant to convert the bike to wheels to a tubeless setup. So that's another cost to factor in.
Thanks to the wide rims, the Hans Dampf tyres measure up exactly as claimed at 2.6in wide, giving the whole bike an aggressive demeanour. The high volume tyres also allow you to run quite low pressures. Once setup tubeless, and with a Tyreinvader insert in the rear wheel for some added rim protection, I aired up the tyres with 18psi in the front and 21psi in the rear. With the inner tubes gone, the weight of our test bike dropped down to 14.8kg.
Climbing performance
Despite its big tyres and generous mass for a 135mm travel trail bike, the Siskiu T8 isn't a terrible climber. It's certainly no overenthusiastic mountain goat, and I would like to see Polygon spec a smaller 30T chainring instead of the stock 32T, but providing you take a steady approach it'll make its way uphill just fine.
The suspension is respectfully stable provided that you remain seated, with chain torque helping to extending the shock slightly. The seated position is also excellent thanks to that steep 76.5° seat tube angle, so it never feels like you're on a recliner when you're heading uphill. While it is more of a plodder, it'll get you to your chosen descent comfortably.
The rear shock is quite active in the Open mode though, and on steeper gradients it does have a tendency to sink into its stroke, especially if you stand up to mash the pedals. Combined with the low bottom bracket height, I found myself clipping pedals pretty regularly on technical ascents.
To mitigate this, the blue 3-position lever on the shock also offers you Medium and Firm settings. The Firm setting is basically a full lockout, and I'd only recommend using that for riding on bitumen. When off-road, I preferred climbing in the Medium position, which increases the shock's compression damping to firm up the travel. As well as improving efficiency, this also lifted the BB height to provide a little more ground clearance, resulting in fewer encounters between pedal and rock.
Even still, the Siskiu T8 doesn't exactly relish in cleaning awkward tech climbs. While traction is good, the short rear end makes it harder to weight the front end, and the light steering sees the front wheel wander on steeper climbs and tight switchbacks. As such, it can be hard to keep it on-line when threading the front wheel around, up and over bigger features. In these situations, it isn't as composed as the Giant Trance X, and it's also not as energetic as the Specialized Stumpjumper.
For those who find the steering a little too twitchy, a longer stem would help to slow things down a touch, and it would also improve the climbing position. Bear in mind this would compromise handling elsewhere though, and to be fair, the Siskiu T8 is otherwise a perfectly adequate climber for the type of bike it is.
So smooth, so floaty
The flip-side to the active suspension performance is that combined with the high volume rubber, the Siskiu T8 is quite smooth and floaty when bouncing along the trail. This is a vastly plusher bike than the Siskiu D6 I last tested, which comes down to a few factors.
Up front the Fox 34 Rhythm is one smooth operator, with excellent comfort and sensitivity, even compared to the more expensive FIT4 version. It's balanced well by the rear suspension, which eases into the travel with minimal stiction.
Polygon has built the Siskiu T8 around a 55mm stroke shock, which creates quite a low average leverage ratio of 2.34:1. The overall rate has been flattened slightly for smoother performance, and it's paired to a Fox Float DPS shock with a high volume air can and a light internal compression tune. The result is that the suspension is nice and active across small and medium-sized impacts at typical trail riding speeds. Both the fork and shock feel supple off-the-top, and the travel is awake and usable all the way through the mid-stroke.
The big volume tyres complement the suspension with plenty of additional damping and excellent traction. Schwalbe Hans Dampfs haven't been my favourite in the past, but the 2.6in width puts more edges onto the trail, and the tyres are really well supported by those wide rims. That gives them good stability, and very little wobble despite the low pressures I was running. The SnakeSkin casings have also proven to be exceptionally durable throughout testing, with *searches for wooden object* no ride-ruining punctures or sidewall tears. That's impressive given they're sub-kilo tyres (892g and 921g confirmed).
Descending at speed over loose rocks can overwhelm the Hans Dampfs, where the big casing and round profile is more likely to float. Narrow ruts need more of your attention too, since the chubbier tyres can occasionally grab an edge when you might not want them to. For folks tackling steeper and looser off-piste singletrack, you may want to consider putting something like a Magic Mary up front for more trustworthy hold through the turns.
Still, the stock tyres are a great match for the Siskiu T8 and typical Aussie trail centre conditions, with a consistent feel and excellent traction on dusty singletrack and through hardpack berms.
Flat-out fun handling
Without a shadow of a doubt, the Siskiu T8's most endearing trait is just how playful it is on the trail. The handling is surprisingly sporty, for what is a relatively plump and capable trail bike.
There are a few key reasons for this. The 430mm chainstay length is really compact for a 29er, and thanks to the short stem, the steering is light and responsive. While this means the Siskiu T8 doesn't have the same straight-line plough-ability of the bigger Siskiu N, it does mean it's much more agile.
The sloping top tube results in a tonne of standover clearance, with plenty of room for moving about and leaning the bike over. It's easy to tip over and initiate a turn, and once you're tucked in, the active suspension, low bottom bracket, and grippy tyres keep you stuck all the way through.
While I wouldn't describe the Siskiu T8 as feeling whippy per se, changing direction doesn't require a load of input. The light steering and short back end allows you to carve turns and pop up the front wheel with ease. Add in the supportive suspension, and the Siskiu T8 handles rollercoaster flow trails like an absolute champ.
It's got plenty of muscle
As you get up to speed, the Siskiu T8 also holds its line well. Lighter weight trail bikes in this travel bracket can sometimes feel a little skittish, particularly if they're spec'd with lesser tyres and stiff carbon rims. In comparison, the Siskiu T8 feels steady and unfussy.
The wheels are certainly a contributing factor here. Weighing in at a confirmed 2,494g for the bare wheelset (without tyres, rotors or a cassette), they're porky. While this does mute acceleration on the climbs, it also helps the whole bike to build usable momentum on the descents. The strong centripetal force adds a degree of high-speed stability, as does the long front centre and slack 65.5° head angle.
The suspension is also well supported, with the rear shock ramping up nicely right at the end of the travel. There's usable progression for bigger landings, and I can't honestly recall a single harsh bottom-out during my time with the Siskiu T8. While the stock configuration feels smooth and plenty active, it's nice to know that you can tweak the feel of the rear suspension by fitting a smaller or larger volume spacer inside the Float DPS shock air can.
I did however, add a volume spacer to the fork, as the 34 Rhythm has a tendency to plough through its travel a little too easily. While a single spacer did the trick for me, there's room to add up to four in total, which bigger folks will want to investigate.
But it's not meant to be an enduro bike
When you move from jumpy flow trails into more rugged high-speed chop, the Siskiu T8 does an amicable job of imitating a bigger travel bike. That said, there are limitations to its stability and suspension.
The single-pivot platform isn't as neutral in its performance compared to a genuine four-bar or dual-link design. Depending on your riding speed and the roughness of the trail, there's occasionally some feedback through the pedals (that increased anti-squat doesn't come for free after all), and the shock isn't totally unaffected by braking. The big volume tyres do well to mask a lot of this for the most part, but the back end isn't quite as refined as the Giant Trance X, Pivot Switchblade or Specialized Stumpjumper EVO.
Standalone hits are swallowed up without fuss. But when you're smashing into numerous repeat impacts, the shock doesn't always recover quickly enough. That can cause it to choke up a little, particularly when compared to the slippery-smooth Thru Shaft shock on Trek's Fuel EX.
More aggro riders who are happy to trade up some of the floaty suspension performance in favour of more deep-stroke shock support should consider adding a larger volume spacer. Though if it's maximum butteriness you're after, you'll be happy to know the Siskiu T8 is coil-shock compatible, and the frame is rated for use with up to a 150mm travel fork too if you really want to let loose.
Speaking of the fork, while the Fox 34 Rhythm is an excellent performer at this price point, it does exhibit some wiggle through its 34mm chassis when you're really giving it the beans. Combined with some tyre casing flex, the Siskiu T8 doesn't quite have the sure-footed stability of some of its bigger and slacker contemporaries.
Bear in mind that I have come off the back of testing a string of carbon 29er trail bikes recently, all of which have been spec'd with the bigger and stiffer Fox 36. They also have sticker prices around 2-3 times as much as the Siskiu T8, so it's not exactly an apples-to-apples comparison.
However, what's important to note here is that stiffer isn't always better. A bit of compliance can actually help you to track through rock gardens, with less punishment for poor line choices. The Siskiu T8, with its alloy frame, supple suspension and big tyres, is certainly a comfortable and forgiving bike to ride in these scenarios. I also had to remind myself on a few occasions that this is indeed a trail bike and not an enduro racer. In that regard, it manages its 135mm of rear wheel travel well.
Component highs & lows
No question, the Polygon Siskiu T8 is an exceptionally competent package for the money, and there really is very little to complain about here.
If this were my bike though, I would upgrade the handlebar to something with more sweep, and I'd also search out a different saddle. The stock perch is an improvement over previous Entity saddles, but it's still a little too spongy for my liking. I also struggled with the original grips, but Polygon sent out a set of newer grips (shown in the photo just above) part way through the test period, which are significantly tackier and more comfortable. The good news is that these are a running change for production bikes.
To round out my nit-picking wishlist, I'd love to see tubeless tape and valves included with the bike, as well as volume spacers for the fork and shock. Since Polygons are sold direct-to-consumer, riders don't necessarily have the back-up service and support of a local bike shop they can walk into for help with such parts. Also, Fox volume spacers are surprisingly expensive.
Otherwise everything on the Siskiu T8 has been totally solid. The SLX drivetrain is a favourite of ours, with crisp shifting and no chain drops at all throughout testing. I did manage to split the rear mech in half thanks to the most bizarre freak rock strike incident, but aside from replacing that, it's all been Mickey Mouse.
The wheels, while heavy, have also managed to shrug off a lot of abuse. I've not managed to put a single dent into the shallow rims, the spokes are all still there, and the bearings are spinning smoothly. Likewise, the tyres are still in one piece, though the tread on the rear tyre is starting to show some wear after being dragged across plenty of granite both at the Beechworth and Harcourt MTB parks. As mentioned above, I'd consider fitting a more aggressive front tyre, and lighter wheels would be an obvious long-term upgrade option for Siskiu T8 owners.
While they don't have the same anchor-dropping power as an equivalent 4-piston brake from Shimano or SRAM, I've not had any issues at all throughout testing.
Tektro's 4-piston brakes were the only real question mark I had when the bike originally showed up. They're not the most refined brakes around – the levers are quite long and you need a tiny 2mm hex key to adjust the reach. There's also a fair bit of dead stroke before the pads engage. I bled them twice, but that had no effect, so I had to run the levers further out that I usually would. Despite this, the bite point has been both solid and consistent, and I've found the power to be totally adequate for my demands. They don't have the same anchor-dropping power as an equivalent 4-piston brake from Shimano or SRAM though. Heavier and more demanding riders may need to upsize to 200/203mm rotors, or consider a brake upgrade at some point down the line.
The Siskiu T's frame has been as similarly low-fuss as the rest of the bike. The finish isn't of the highest quality – the head tube sticker came unstuck on a particularly hot summer ride, the cable ports are basic, there's no armour for the underside of the downtube, and the external brake hose routing over the bottom bracket seems somewhat haphazard. But I will say that the paint job looks fantastic and so far it remains chip-free.
There have also been no creaks, squeaks or groans throughout the test period. Home mechanics will be happy to see a threaded bottom bracket shell, and while the rear seatstay pivot uses DU bushings, every other pivot point features sealed cartridge bearings. Likewise the chainstay protector isn't the neatest design, but it's perfectly up to the task.
Polygon Siskiu T8 vs Canyon Neuron AL 7.0
Out of the Siskiu T8's closest competitors, the Canyon Neuron AL 7.0 is a logical adversary. It shares a similar spec, sharp pricing, and it's also sold online in Australia. I've also had plenty of experience testing it, having ridden it on many of the same trails as the Siskiu T8.
The Neuron is also a mid-travel trail bike, though it has a touch less with 130mm front and rear. It covers both wheelsizes – smaller frames feature 27.5in wheels, while the Medium and larger sizes are built around 29in wheels.
In terms of spec, the 2021 Neuron AL 7.0 features a Fox 34 Rhythm fork, a Float DPS shock, Shimano SLX brakes and a 1×12 drivetrain. Even the wheelset has the same Shimano hubs, which are laced to Canyon's in-house alloy rims and wrapped with 2.35in Schwalbe Nobby Nic tyres. And with a list price of $3,599 AUD, the overall package for your money appears to be very impressive from the German direct-to-consumer giant. However, Canyon does charge you for the bike box ($30) and shipping ($199), so it ends up being a $428.90 premium over the Siskiu T8.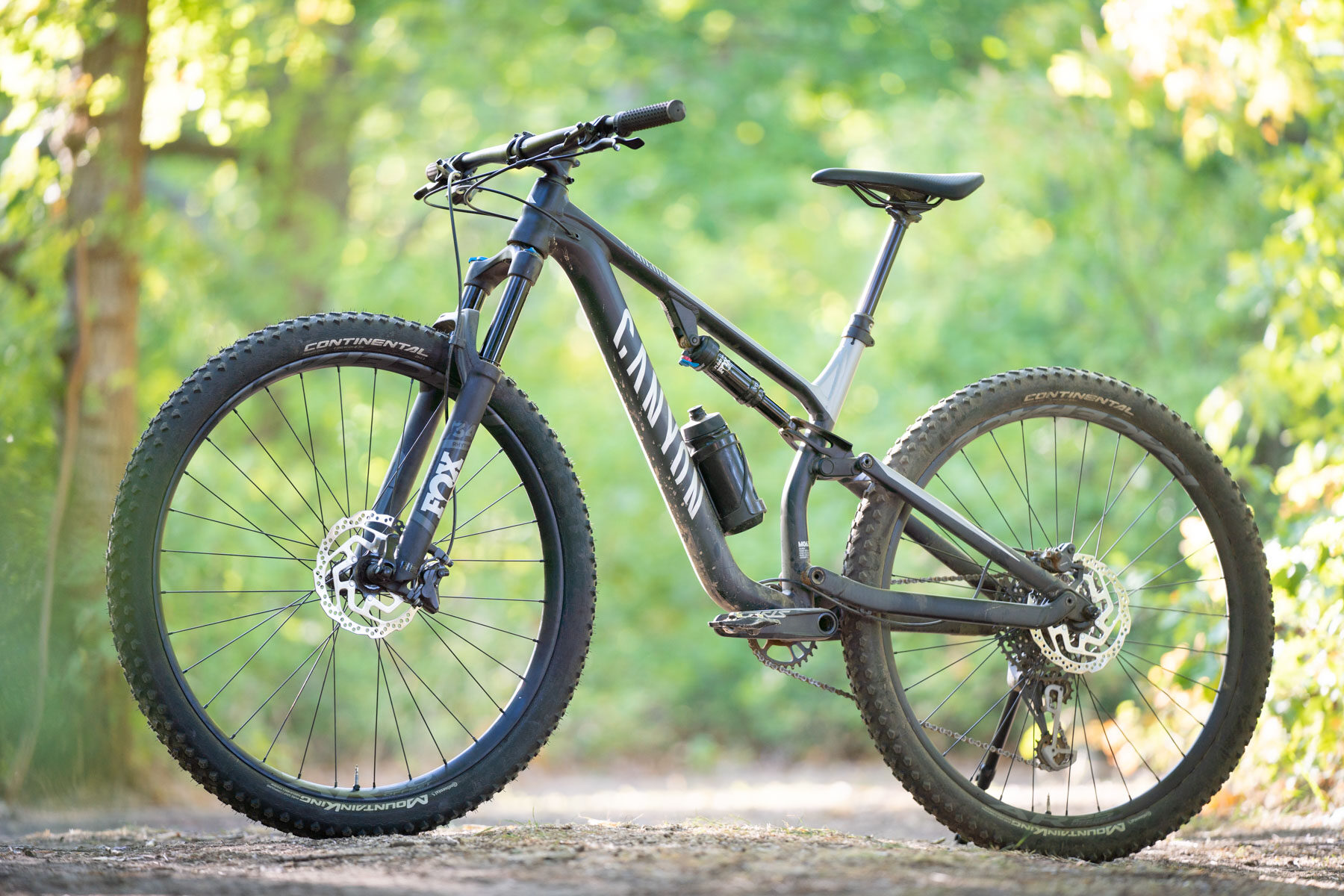 On the trail both bikes are plenty comfortable, though the Neuron provides a more neutral cockpit feel. The seat angle is a little slacker, so you don't end up with quite so much weight on your hands. It's for sure the zippier and more enthusiastic of the two, with stronger pedal efficiency and less drag from its narrower tyres. It's also a bit lighter than the Siskiu T8, giving it a noticeable advantage on the climbs. For longer map-crossing trail rides with plenty of elevation gain and ridge-line traversing, the Neuron AL is the bike I'd pick out of the two.
When it comes to hitting rougher trails however, the Siskiu T8 offers a noticeably floatier feel with better traction thanks to its supple suspension and 2.6in tyres. The rear shock is also better supported for bigger hits and harsh landings, and the slacker geometry gives it a more confidence-inspiring feel as descending speeds increase. Both are easy handling bikes overall, but whereas the Neuron AL excels with its climbing agility and slow-speed technical proficiency, the Siskiu T8 exudes a playful nature with a more enthusiastic performance on the downhills. If I was choosing a bike for ripping around bike park-type terrain while progressing my jumping skills, the Siskiu T8 would be the ticket.
Flow's Verdict
I gotta say that I've had an absolute blast testing the Polygon Siskiu T8. And I have no reservations in saying that hands down, this is the most fun and capable trail bike I've ridden at this price point.
For less than $4K, Polygon has done a remarkable job pairing such a capable build kit with a tough alloy frame and contemporary geometry. Add in the supple Fox suspension and grippy tyres, and you've got yourself a loyal trail bike that'll happily do almost anything you ask of it.
No, it isn't the lightest bike going, and it's not going to earn any medals for its technical climbing performance. There's also room for upgrades on the Siskiu T8 – I'd like to see a more shapely handlebar, and stronger brakes would be a thoroughly worthwhile addition as your skills and confidence improve over time.
But that still doesn't take away from the fact that this is a brilliant up-for-it trail ripper. It's unfussy and easy to ride, with a wide scope of performance that'll suit a lot of different riders. Sure, top-end bikes are getting mighty pricey these days, but the Siskiu T8 is proof that you don't need to spend the earth to deliver the good time trail vibes.