Mick reviews the 2021 Commencal Meta TR
For 2021, the Andorran trendsetters at Commencal have introduced a new generation Meta AM and the Meta TR. The former is the brand's 160mm travel enduro rig, while the latter (tested here) is the 140mm travel trail bike. Of course depending on how you eat your Tim Tam though, the word trail could mean all manner of different things. And as we've found from testing the Meta TR, Commencal's flavour of trail is rather different to the likes of comparable mainstream bikes like the Trek Fuel EX and Giant Trance X.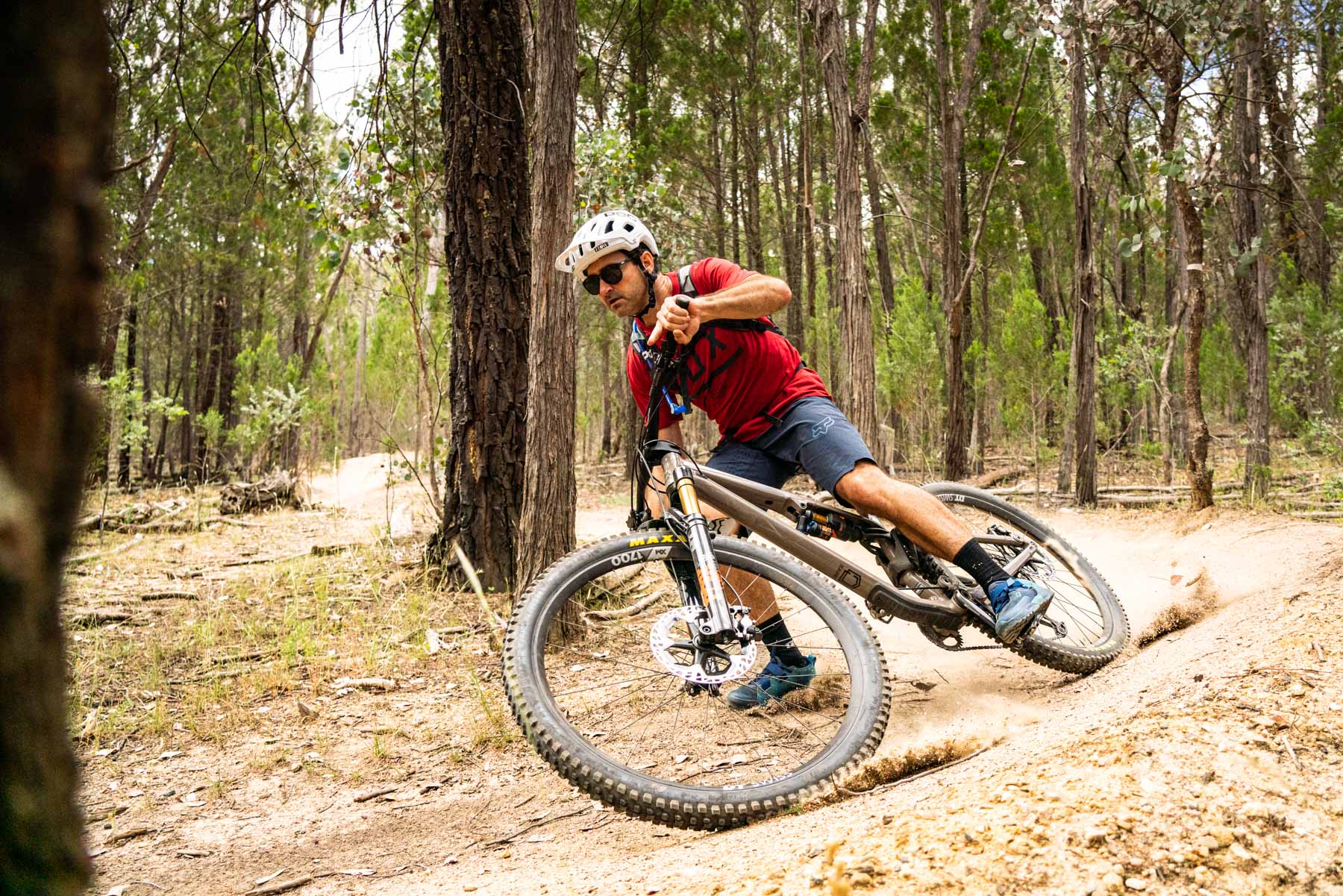 Commental Meta TR overview
The Meta TR has received an all-new chassis for 2021, which is made from triple butted and heat treated 6066 alloy. If you're hot for carbon you'll have to look elsewhere, because Commencal doesn't do carbon – it's metal-only around these parts. Not that we mind, because the Meta TR is a very good looking piece of hardware, with a reassuringly tough look about it.
The hydroformed tubes are much straighter than the previous generation frame, with less curves and sharper angles. There's no more hockey-stick top tube, and the seat tube doesn't kick back nearly as much, simultaneously steepening the effective seat angle while improving seatpost insertion depth. The seat tube is also shorter and fatter too – it now accommodates a 34.9mm diameter dropper post, an increasingly common size we've seen used by Specialized, Norco and Trek.
It's one mighty buff frame, both in appearance and on the scales. Commencal claims a Meta TR frame weighs around 4.1kg including the rear shock. Of course weight isn't everything, but that's a significant increase over its carbon counterparts, including the Canyon Spectral 29 CF (3kg), Specialized Stumpjumper EVO (2.75kg) and the Giant Trance X (2.5kg).
Single pivot suspension
Aiming to minimise rear end wiggle, the muscly frame tubes are complemented with chunky forged alloy linkages, a huge main pivot assembly and double-row bearings used for all the other pivot points. While it is essentially a single pivot suspension platform, Commencal employs a separate yoke to drive the shock and control the leverage rate. This shock extender rotates on sealed cartridge bearings, instead of the DU bushing in the lower shock mount, helping to improve sensitivity.
As expected, Commencal has updated the new Meta TR's angles and measurements inline with modern trends. Though with a 64.5° head angle, a 78.6° seat angle and a 465mm reach on the Medium, it's most definitely pushing towards the extreme end for a 140mm travel trail bike.
The five flavours of Meta
Commencal offers five different spec levels in the Meta TR range, starting with the $3,499 AUD Meta TR Origin. All models are built around the same alloy frame with 140mm of rear wheel travel and 29in wheels. The three base models are equipped with a 150mm travel fork and in-line shocks, while the two higher-end models get a 160mm travel fork and a piggyback shock.
The bike we've been testing is the top-banger of the range; the Meta TR Signature. For $7,699 AUD you're getting a Fox 36 GRIP2 fork and a Float X2 shock, both Kashima-coated for maximum bling against the understated 'Dirt' frame colour. There's a Shimano XT groupset, DT Swiss wheels, and a KS dropper post complete with the lovely Southpaw lever.
2021 Commencal Meta TR 29 Signature price & specs
Frame | 6066 Triple Butted & Heat Treated Alloy, Single-Pivot Suspension Design, 140mm Travel
Fork | Fox 36 Float, Factory Series, GRIP2 Damper, 44mm Offset, 160mm Travel
Shock | Fox Float X2, Factory Series, 210×55mm
Wheels | DT Swiss XM1700, Alloy Rims, 30mm Inner Width
Tyres | Maxxis Dissector EXO 3C Maxx Terra 2.4WT Front & Rear
Drivetrain | Shimano Deore XT 1×12 w/32T Crankset & 10-51T Cassette
Brakes | Shimano Deore XT 2-Piston w/203mm Centerlock Rotors
Bar | Ride Alpha, Alloy, 31.8mm Diameter, 27mm Rise, 780mm Width
Stem | Ride Alpha Freeride, 50mm Length
Grips | Ride Alpha DH Lock-On
Seatpost | KS Lev Integra, 34.9mm Diameter, Travel: 125mm (S), 150mm (M), 175mm (L), 200mm (XL)
Saddle | WTB Silverado
Sizes | Small, Medium, Large, X-Large
Confirmed Weight | 15.2kg (Medium, tubeless, w/out pedals)
RRP | $7,899 AUD
Commencal Meta TR sizing & fit
We chose a Medium size in the Meta TR to suit my 178cm height, and Wil's height of 175cm. The cockpit is garnished with Commencal's in-house components, with a 780mm wide riser bar and a 50mm long stem.
Thanks to the short seat tube, both Wil and I would have no troubles running a longer dropper than the stock 150mm KS Lev. While it would be nice to upsize to a 175mm dropper, what you see here is what you get. Although Commencal does sell its bikes direct to the consumer, unfortunately there's no option to customise any of the components at the point of purchase. So any spec changes or upgrades are on you.
Setting up suspension on the GRIP2 fork and X2 shock can be a little intimidating at first due to the myriad of high and low-speed damper dials. Starting with Fox's guidelines for the fork is a good place to start, though we favoured a slightly softer approach with 10% less air pressure than recommended. We set the shock up with 28% sag, and backed both the low and high-speed compression dials all the way off to maximise sensitivity.
Climbing performance
Despite the long front centre, the Meta TR actually has a somewhat cramped cockpit due to that very-steep seat tube angle. With the saddle at full mast, the effective top tube length is short, and on flatter terrain you'll find a considerable portion of your body mass is pushed onto the grips. Even with the stem positioned higher up on the steerer tube, we still found our wrists having to brace a lot more of our weight against the bars.
The sensation of your body being folded up is more pronounced on the Meta TR than we've experienced elsewhere, and on longer and more traversing backcountry trail rides, it proved to be quite a fatiguing bike to ride.
This isn't totally unusual for modern-geo trail and enduro bikes, and there's a certain degree of readjustment that you need to go through if you're coming off an older bike with a much slacker seat tube angle and a longer effective top tube. Working separately on core and upper body strength helps immensely. That being said, the sensation of your body being folded up is more pronounced on the Meta TR than we've experienced elsewhere, and on longer and more traversing backcountry trail rides, it proved to be quite a fatiguing bike to ride.
Winching
The thing is though, casually traversing isn't really what the Meta TR was designed for. This is a bike that was born in the heart of the Pyrenees, where the trail is either pointing up to the sky, or down to the valley floor. And that's exactly why it's built the way it is.
Once the gradient clocks up beyond a certain angle, the Meta TR's climbing position comes into its own. Your weight is well balanced between the two wheels, and despite the slack head angle, the front tyre stays stuck without you having to double over. What was cramped and uncomfortable on the flats, becomes relaxed and open on the climbs.
Pedal efficiency from the single pivot layout is decent too. Commencal does claim that the anti-squat on the Meta TR is substantially higher than the previous generation frame. In the lowest climbing gear it sits around 130% at sag, which is quite a bit higher than other bikes in this travel bracket. As an example, the new Canyon Spectral 29 has just under 100% anti-squat at sag.
On the climbs, the Meta TR is still more 'steady' rather than 'zippy' though, no doubt due to its substantial 15+kg mass. To help speed things along, I made regular use of the blue climb switch on the X2 shock. With the lever hidden from rider view though, the action is awkward, so it takes a bit of practice to flick on and off. With the climb switch engaged, compression damping firms up, and that helps to stabilise the shock when you're negotiating technical uphill features. It's not a total lockout, so you still get usable traction. It also means the suspension will still kinda work on the descents if you forget to flick it back to open. Not that that would *ahem* happen to us.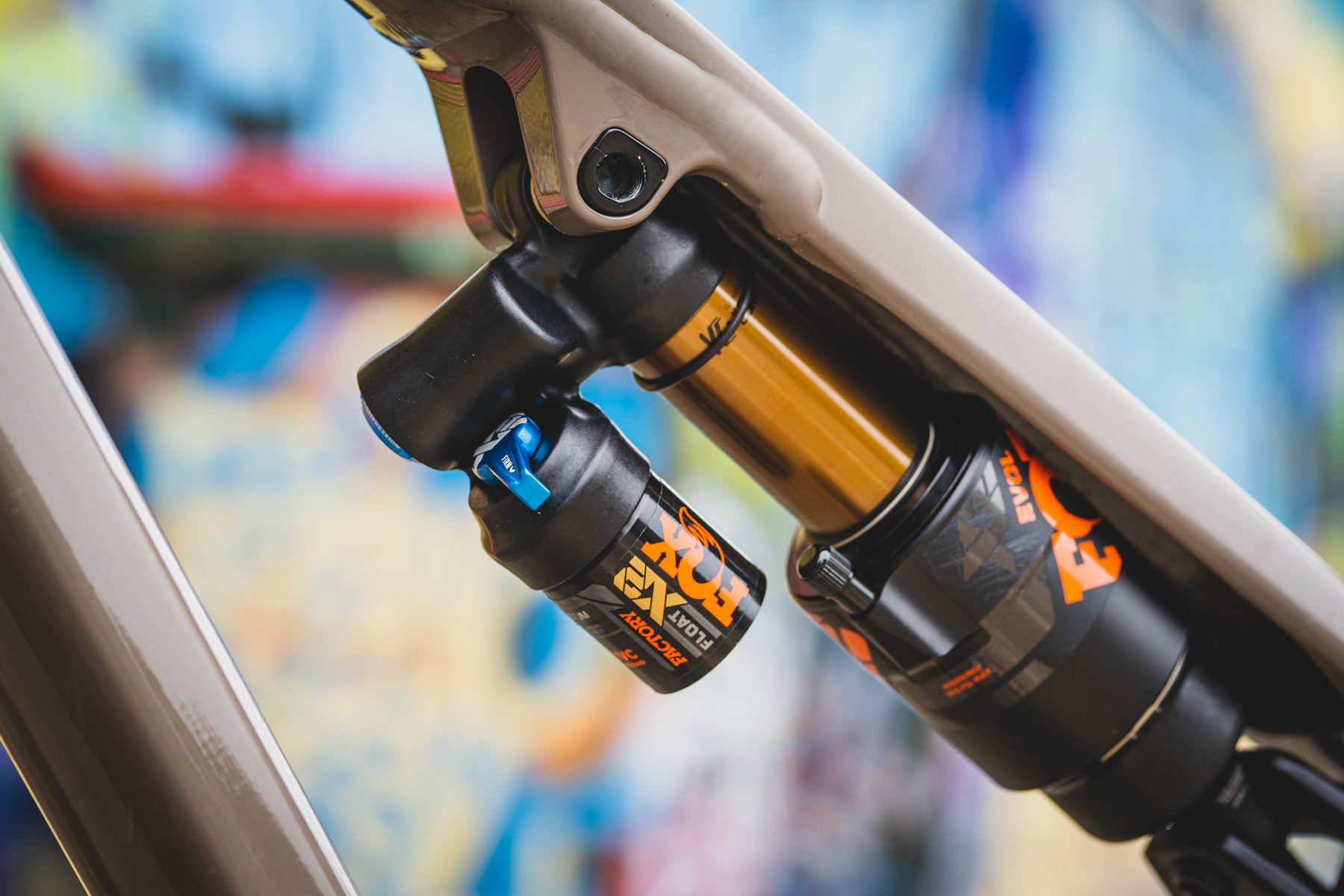 Descending performance
As much as the Meta TR has been designed for winching uphill, it's plummeting back down where this bike reveals its 'ohhhhh yeah!' moment.
The combination of its DH-adjacent geometry, along with the Fox 36 and X2 shock, gives the Meta TR a real penchant for bombing descents. Much like climbing though, there's a preferred operating window, with the Meta TR relishing in hitting steeper trails at faster speeds.
On shallower descents, you need to concentrate on weighting the front tyre to generate sufficient traction. This was something we occasionally encountered on the drifty and dry corners of the Beechworth MTB Park, where we were also testing the Canyon Spectral 29. You'll need to adopt a more forward and aggressive DH-racing position – tentatively riding off the back is a sure fire way to lose the front end on flatter trails.
Point the front wheel down a properly steep fall-line though, and the Meta TR naturally hits its stride. It feels calm and competent like a bigger travel enduro bike, albeit with a more agile and engaging ride quality thanks to its low-slung top tube, short 435mm chainstay length and the supportive suspension.
While there is 'only' 140mm of travel, it's well managed and well controlled. Commencal says there's less progression compared to the old Meta TR, so the end of the travel is a little more active, but we still had no issues with bottom-out harshness. The suspension ramps up nicely on bigger landings, and when you do find those final millimetres, the X2's internal bump stop ensures there's no jarring metal-on-metal crunch.
With all that kinematic anti-squat though, the single pivot platform does result in more feedback through the pedals. The suspension is smooth, but its not as active as the four-bar design on the Canyon Spectral, and it's certainly a ways off the gooey-plushness of the Stumpjumper EVO. This does give you a bit more platform to push off of though, with good spring for boosting jumps and a nice slingshot out of berms when you stamp back on the pedals. In fact, pummelling into banked turns, hitting big jumps and soaking up harsh landings are no doubt some of the Meta TR's strongest suits.
Mixed messages
Just when the Meta TR is starting to show its best on the descents though, it's unfortunately stymied by a lack of traction and braking power.
We've gotten along fine with the Maxxis Dissector previously, though usually only as a rear tyre on a bike with this kind of geometry and downhill intent. It might be ok on buffed-out bikepark trails, but we really think the Meta TR needs to have a Minion DHF up front or even an Assegai, which would offer the braking control and loose-condition grip that this bike is deserving of. The EXO-casing Dissectors are also quite lightweight, and the type of rider looking to go hard on the Meta TR will soon tear them to pieces. Tougher casings and some rear rim protection would be a sensible add-on.
Then again, Commencal isn't like a lot of other brands.
Likewise, the two-piston XT brakes are underpowered for those same speeds. These are a bizarre spec choice for a bike with a downhill shock on it, especially when the frame is designed for a 200mm rear rotor at a minimum. We'd much prefer the four-piston versions for both their higher power and greater modulation.
This muddled approach is really our biggest gripe with the Meta TR, and perhaps even the fact that it's labelled as a trail bike in the first place. For almost any other brand, this would be a flat-out enduro bike. Then again, Commencal isn't like a lot of other brands. Even though the Meta TR is its shortest travel full suspension bike, it's not a trail bike in the traditional sense.
Still, we reckon it either needs to come with a lighter-duty shock and some more chilled-out geometry, or it needs to commit to the bike that it is and get some chunkier tyres and bigger brakes to make the most of its potential.
Component highs & lows
Questionable tyre and brake choice aside, the build kit on the Meta TR Signature otherwise hits the mark for quality and functionality.
This is the third DT Swiss XM1700 wheelset we've tested over the past couple of months, and like the other two sets, this one has been flawless. The rims have shrugged off everything we could throw at them, and the 350 hubs with the 36pt Star Ratchet freehub mechanism are bulletproof. At 1,987g (confirmed), they're not the lightest hoops, but they are thoroughly reliable.
That's a theme that echoes throughout the whole bike really. The XT drivetrain is solid and punchy, the KS dropper post performed its job without hassle, and we've no complaints from Commencal's in-house components either.
There's certainly a sense that its a bike that will last a long time – alloy frames tend to shrug off scrapes and dings with less fuss compared to carbon, and the average Meta TR is surely going to encounter its fair shape of scrapes and dings. From that end, there's excellent coverage from the thick downtube protector, while drive-side chainstay and seatstay armour creates an effective barrier against chain slap.
We also dig all the sensibilities, like the option to fit a bottle cage in the proper spot, and how the cables are routed internally and externally where it makes sense. It's also nice to know the Meta TR is also coil compatible, and there are ISCG 05 tabs for fitting a chainguide. That said, the threadless PF92 bottom bracket seems like the odd one out. We didn't have any issues with creaking throughout testing, but we can imagine most potential Meta TR customers would prefer to see a threaded BB in its place.
Commencal Meta TR 29 vs Canyon Spectral 29
We'd argue that there are other bikes that make more sense to compare to the Meta TR, but the one bike that all of you seem to want to know about is the Canyon Spectral 29. And we can see why. Both bikes come from consumer-direct brands, they were both released this season, and they're both on the aggro side of the trail bike spectrum.
There are some key differences though. The Spectral 29 has a touch more rear wheel travel (150mm vs 140mm). It also features a genuine four-bar suspension platform, and it's also made from carbon fibre.
In terms of spec-for-the-money, the Spectral 29 CF 8.0 we tested beats the Meta TR 29 Signature hands down. While the Meta TR does get fancier Factory Series suspension, it sells for almost $1,500 more than the Canyon. The build kits are otherwise very similar between the two bikes, with a Shimano XT groupset and the same DT Swiss wheelset. The big difference is the fact that the Spectral 29 features a full carbon frame, and as a result the complete bike is almost a kilo lighter than the Meta TR (14.4kg vs 15.22kg).
In comparison, the Meta TR's alloy frame felt softer and more compliant, and it was less fussy about line choice in such circumstances.
We had the opportunity to test both bikes back-to-back in Beechworth, and the difference on the trail was immediately noticeable. The effective top tube length is significantly shorter on the Meta TR, and that leads to that cramped sensation I mentioned earlier. On longer distance rides, the roomier Spectral 29 is without doubt the more comfortable option, and being quite a bit lighter, it's also faster and more enthusiastic too.
While both bikes have essentially the same GRIP2 fork, the rear suspension is more active on the Spectral 29, with greater traction and fine-tune control. This allows it to carry more momentum when the trail gets choppy, even when you're gassing it on the pedals. The DPX2 shock also gives it a more lively attitude, so even though it has less anti-squat than the Meta TR, it felt peppier and more efficient overall.
We also noticed a clear difference in chassis stiffness between the two bikes, with the carbon Spectral 29 being noticeably stiffer. That isn't always a good thing – if we weren't pushing hard, it felt a touch harsh through lumpy rock sections, where it could pinball around more easily. In comparison, the Meta TR's alloy frame felt softer and more compliant, and it was less fussy about line choice in such circumstances. On really long alpine descents, this difference in compliance becomes even more noticeable.
It also meant the handling wasn't as direct as the Spectral 29 though, with more flex through the turns. While both bikes have similar head angles and reach measurements, the Meta TR was more likely to understeer and wash out if we weren't concentrating and pushing our weight hard into the front wheel. On top of that, the Dissector just doesn't have the same cornering support as the Minion DHF.
Based on our experience, if we had to choose between the two bikes, we'd go for the lighter and cheaper Spectral 29 for its all-round versatility. That said, there's definitely an appeal to the robust build quality on the alloy Meta TR, and it's only a couple of spec changes away from revealing its full potential. We also suspect the riders who will value that kind of rough 'n' tumble durability aren't going to be the same folks looking at a carbon Canyon. If that sounds like you, and you're 100% certain you've got the necessary terrain to sate the Meta TR's gravity-hungry appetite, then there's certainly a lot to like here.
Flow's Verdict
With its beefy alloy frame, robust suspension design and World Cup winning downhill roots, Commencal's Meta TR is an alluring bike for the hard-hitting rider. It's not perfect out of the box – it's gagging for some more chunkier rubber and bigger brakes, which would help to untether its full aggro attitude.
We do feel the 'TR' part of the name is perhaps a little misleading, and we suspect some Aussie riders will be disappointed with this bike's all-round capabilities, particularly on more mellow terrain that's typical of our rolling landscape. There are certainly more sprightly and more versatile bikes out there that will be more comfortable on less gnarly singletrack, such as the Spectral 29, Fuel EX and Trance X.
But at its heart, that's not what the Meta TR is about. This is a bike that is best suited to winching up steep climbs, before bombing back down even steeper descents. On those sorts of trails, with plenty of speed and plenty of air time, it's an absolute giggle-fest. For aggressive and skilled bike handlers, the Meta TR is about as anti-mainstream and as rock 'n' roll as it gets for a 140mm travel 'trail' bike.