Motorbike riders across Australia will wet themselves over this orange and black machine, and KTM Bikes Australia can probably expect to sell a mountain of them on that fact alone! The KTM brand has such a fine reputation in the world of motocross, enduro moto and on-road motorcycling – it's a brand that attracts fanatical loyalty. One look at the KTM softgoods catalogue will show you what we're on about: if you wanted to, there are enough KTM accessories and clothes that you could make your entire life black and orange.
However, KTM moto and KTM bike are actually completely separate entities, and their bikes are not just some cheap-o rebadge frame or hair-brained design wet dream like we've seen from other automotive companies in the past (eg Porsche and Ferrari!). No, KTM Bicycles have been making bikes solely for over 40 years and the brand has multiple Austrian and European titles to its name. But enough about the brand, more about the bike.
Design and construction:
The Myroon 29 Cross is a sub-$4000 race-ready machine. On spec alone, it's a competitive little beast, ticking all the boxes: carbon frame, FOX fork, DT wheels and full Shimano XT running gear. If you were so inclined, you could build it on a Friday, race on the Saturday and know you'd be worry free.
Taking a closer look at the frame reveals some really nice, well-thought out design and aesthetic features. The line of the top tube melds nicely into the seat stays that culminate in some sweet 142x12mm dropouts. Tucked neatly away between the seat stay and chain stay, the rear brake caliper position just enhances the smooth lines, as too do the internally-routed cables. A press-fit bottom bracket and requisite tapered head tube ensures stiffness where it matters while the elegant gentle curve of the seat stays should allow some vertical compliance. The seat tube isn't curved like on some 29ers, but actually joins the down tube in front of the bottom bracket, allowing the rear wheel to be tucked in nice and close. It's all very neat!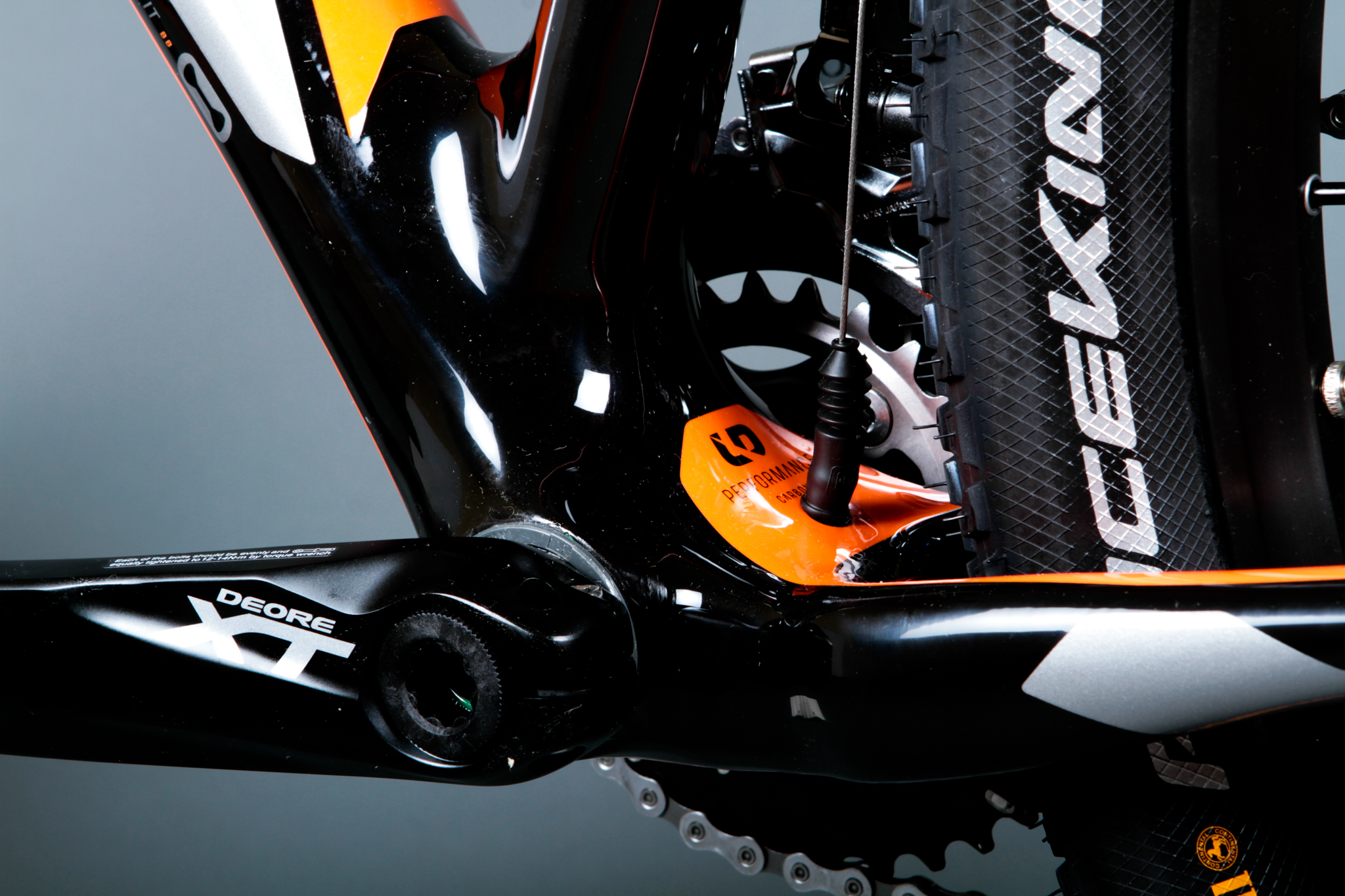 The Gear:
We cannot fault the spec at all, aside from the foam grips, which have a large bulge directly under the palm that we found uncomfortable. When you're racing, the very last thing you want to consider is a mechanical fault or a miss-shift mess with your rhythm, and the Myroon looks after you in this regard. Front shifting in particular was excellent with the direct-mount XT front mech banging out crisp changes on the twin-ring crankset. While we didn't go tubeless, the wheels are tubeless ready, so just whack in some valves and sealant to make the bike lighter, smoother and even more reliable for racing. We loved the set-and-forget nature of the FOX CTD fork – we just left in 'Trail' mode the entire test and found it supple yet supportive and efficient.
On the Trails:
When we hit the trails, a few sizing quirks became apparent. Once again, we cannot stress how important it is to get a test ride on a bike before you lay down your hard-earned cash! Our test bike was a 17" (the size we'd ordinarily run) but we really needed a 19" in this instance.
To get the right seat height we had the post on maximum extension, and the 584mm top tube felt cramped. By way of comparison, a Trek Superfly in the same size is almost 20mm longer in the top tube, so we'd say that KTM should consider lengthening their frame. The steep 70-degree head angle enhanced this feeling, meaning the front wheel was right underneath us and it was actually possible to brush the front tyre against our shoe. (We do run our cleats quite a rearward, so this may not be an issue for every rider). Going a bigger size would've given us more breathing space and made for a more confident ride.
While most of the frame proportions are tight, at the same time, we found the head tube too tall. The 120mm-long headtube is almost 20mm longer than most of the competition, and with the large cone-shaped spacer of the Ritchey headset we just couldn't get the bar position as low as we wanted it. The only fix here is a stem with more drop (negative rise) or changing the headset upper assembly.
Putting aside the sizing dramas, the Myroon delivered everything we expected. The light DT X1600 wheels and speedy Continental tyres (the stock spec is actually with Schwalbe Racing Ralph rubber) picked up speed like a scared rabbit, and the steep geometry gives the kind of instant responsiveness that cross country riders crave. It's doesn't give you the descending confidence of some bikes with more 'new-school' 29er geometry (ie longer top tubes, shorter stem with a slacker head angle), but for its cross country racing purpose, it's ideal, climbing with great precision.
In Conclusion:
Our sizing gripes with this bike can be avoided by carefully selecting the correct frame for your height and riding style. If we'd been on a 19" frame we've got no doubt our confidence and comfort would've been greatly increased (though the problem of high bar height would've remained). Overall – especially at this price -we're sure we'll be seeing many more of these striking machines at cross country and marathon races across Australia in the coming months.
The Test:
Test Rider: We had two test riders for this review, Pat Campbell and Chris Southwood. Pat is 172cm tall and 75kg, Chris is 172cm tall and 64kg.
Test track: We conducted this test at Manly Dam and some other secret trails around Sydney.
Suspension setup: 15% sag.
Tyre pressure: 30psi front and rear (a little high to avoid pinching).
Other notes: We ran the bike completely stock, but consumers' bikes should come with Schwalbe Racing Ralph tyres, not Continental Race Kings as on our bike.