Wil Reviews The Syncros Fraser iC SL Carbon Handlebar
Around the time of its acquisition by Scott Sports back in 2012, Syncros was primarily focussed on by-the-numbers parts and accessories. You know, stuff that worked fine and was decent, but prioritised value rather than attention-grabbing innovation. That's all been turned on its head over the past couple of years, with Scott having injected a serious amount of R&D clout into the Syncros brand to take the performance and desirability levels up a notch.
The Hixon handlebar was one of the first notable fruits of this labour. A very unusual-looking handlebar that integrated the fork steerer clamp into the single, angular, carbon fibre structure, the Hixon was the first bar to fall under the 'Integrated Cockpit' (iC) range. Syncros has since expanded on the iC concept – quite literally – with a 780mm wide option, and an 800mm wide DH-specific model called the Hixon iC 1.0 Rise.
For the XC racers and riders out there who don't need such wide ape-hangers, there's now a lightweight XC version too, called the Fraser iC SL.
Whoa Crazy Shape!
Pretty wild isn't it? Just like the Hixon, the Fraser is made in a single mould out of unidirectional carbon fibre. There is no need for a traditional stem with the Fraser iC SL, because the handlebar is the stem too. This creates a simpler structure overall, along with a distinctive look thanks to an organic, flared-out profile. When fitted, it kinda reminds me of a hammerhead shark.
Without a stem faceplate to worry about (and the overzealous, tool-wielding bolt-tighteners that are in charge of fitting and adjusting those faceplates), Syncros doesn't need to overbuild the bar to account for those forces. This gives Syncros' engineers more flexibility for tuning the bar's damping and stiffness profile, while using less carbon in the construction process. Of course that also makes it incredibly lightweight – these weigh in at just 226g on our scales. That's lighter than most handlebars on the market!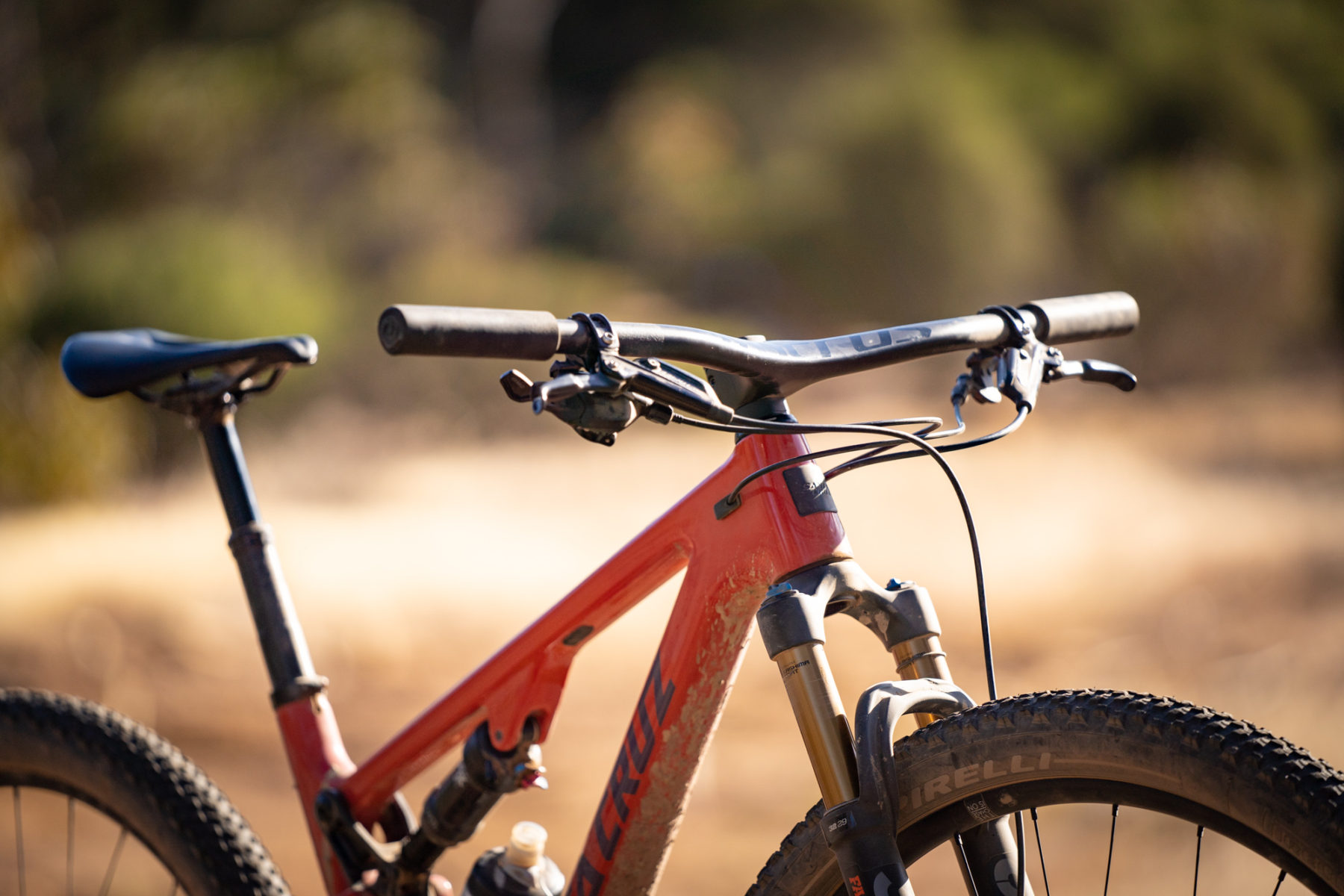 What Options Are There?
The Fraser iC SL comes in a single 740mm width, and it gets a flat profile with a 6° up-sweep, and a 9° back-sweep. You can get it in four different lengths with 60, 70, 80 & 90mm options that emulate an 8° drop.
There are two additional 'Signature Editions' of the Fraser handlebar: a 100mm long version with a 17° drop, as ridden by Andri Frischknecht, and a 90mm long version with an insane 25° drop as ridden by Nino Schurter.
Given my talent is lightyears away from those uber-flexible World Cup XC athletes, I elected to test the standard Fraser iC SL handlebar in a 70mm 'virtual' length to suit my Santa Cruz Blur CC. Previously I'd been running a 760mm wide Renthal Fatbar Lite Carbon with a 60mm Apex stem, so as well as putting me in a racier position, the Fraser iC SL helped to drop nearly 100g from the cockpit – mass that sits quite high up on the bike.
Installing The Syncros Fraser
The Fraser slides straight onto a regular mountain bike fork steerer tube. The 'stem' has a 37mm stack height, which is actually 2mm shorter than the Renthal Apex stem I previously had on the bike. You can use standard 1 1/8in headset spacers, though Syncros includes a suite of plastic spacers that are designed to integrate neatly with the shape of the stem. You also get a plastic Garmin GPS mount in the box – more on that later.
Unlike the Renthal setup that was on the bike before, the Fraser uses just two T25 Torx bolts to clamp it down. This makes installation a breeze, though I do find it's harder visually to align the bars with the front wheel. Carbon paste on the steerer clamp isn't a requirement, but Syncros says it doesn't hurt to use a little if you so choose.
Syncros has added sanding texture to the grip area of the bar though, which increases surface friction with your grips, as well as the brake levers, shifter and dropper post clamps.
With the Fraser installed on the front of the Blur, it's pretty rare to go on a group ride where someone doesn't point it out. And for good reason – it looks absolutely bonkers. The 'stem' is super stout, with most of the forward extension is provided by the bar, which kicks forward first before angling backwards where it straightens out at the grips.
On The Trail
Having tested out the Syncros Hixon handlebar in the 760mm, 780mm and 800mm flavours, I'm already very familiar with the iC concept, ride quality and styling. Compared to the wider versions, I wouldn't say the Fraser is 'harsh', but it is noticeably firmer, with less damping compared to its bigger brothers.
Part of this is simply down to the narrower width, which has less opportunity to flex than an 800mm bar does. But the shape and layup of the carbon fibre is also responsible for the stiff and responsive performance of the Fraser. This direct feel is ideal on the front of an XC race whip, particularly as it bears a lot of your weight as you jump out of the saddle to hammer the pedals and heave at the bars on the climbs. The lack of twang also complements the crisp handling of a sharp-angled XC bike well.
I did temper the firm feel with a set of Syncros' lightweight silicone foam grips, which provide a little more cushion compared to conventional lock-on grips. They're very similar to ESI grips, and come in at a low weight of just 55g for the pair.
As for the shape of the Syncros Fraser iC SL, it is most definitely suited to an XC race setup, with the 8° drop pushing the grips lower down towards the fork crown. The sweep angles are proven, though I did find the bar to be a touch more square than I expected given it has a 9° back-sweep. However, this is mostly down to the racier setup that I've move to on the Blur, which now has a slightly longer and lower effective reach relative to the Renthal bar and stem I had on before.
While I'm talking about the bar profile, it's worth factoring in the head angle of your bike, because this will alter the sweep at the grips. A much slacker head angle will feel like the bars have been rolled back, while a much steeper head angle will effectively roll the bars forward. If you're hyper sensitive to such things, this will be worth bearing in mind if your your bike has a head angle that deviates significantly from that of a Scott Spark (68.5°) or Scale (69.5°), which the Fraser handlebar was initially designed with.
What Are The Downsides?
The most obvious downside of the iC design over a conventional bar and stem setup is that you give up any adjustability to tweak the bar roll. You also can't as easily change stem length or bar width – you'll need to buy a whole new Fraser bar if you change bikes and decide you want a longer or shorter reach.
There are also practical limitations with the non-round section of the bar, which makes it difficult to attach a standard GPS mount. That's no problem if you've got a Garmin, as you can make use of the special mount that Syncros includes with the Fraser. I've got a Wahoo ELEMNT Roam though, so I fitted a K-Edge Adjustable Stem Mount, which does fit quite neatly. Since receiving this bar for testing, Syncros has launched an aftermarket adjustable GPS mount that's made by K-Edge, which is kind of a mashup between the two.
Other accessories that you'd normally mount adjacent to the stem faceplate, like a headlight, can also be trickier to fit. Lights that use a rubber strap-on mount (like a Lezyne or Light & Motion head unit) will fit fine, providing you can adjust where the light points to compensate for the wiggidy-whack angle of the bar. My little commuter lights don't have that option, so they tend to face a little off-centre, which is annoying.
And for those who own a light that uses a solid clamp (like an Exposure, Gloworm or Lupine for example), then you're basically up the creek sans paddle.
How Does It Compare To A Regular Bar & Stem Combo?
At 226g, the Syncros Fraser iC SL is very lightweight, but it isn't quite the lightest out there. It is also pretty expensive at $499, but if you're looking at other premium bar/stem combos, it's comparable. Here's a few of the more exotic options on the market, arranged from heaviest to lightest;
Syntace Vector Carbon Low 10 Bar & FlatForce Stem ($539 approx) – 353g
Renthal Fatbar Lite Carbon & Apex Stem ($420) – 323g
ENVE M5 Bar & M6 Stem ($669) – 291g
Tune Turnstange Flatbar 2.0 & Geiles Teil 4.0 Stem ($630 approx) – 237g
Syncros Fraser iC SL Handlebar/Stem ($499) – 226g
MCFK MTB Flatbar & 6° Carbon Stem ($919 approx) – 201g
Schmolke MTB SL Bar & Extralite Stem ($581 approx) – 194g
Gemini Pröpus Handlebar/Stem ($875 approx) – 149-159g
While there are three options I could find (and probably a few more that I couldn't) that have a lighter claimed weight than the Fraser iC SL, it's worth noting that once you get into ultra-light territory for carbon handlebars and stems, rider weight starts to become a more serious component of the whole equation. It's perhaps with some greater peace of mind then, that the Syncros Fraser iC SL has a generous 120kg rider weight limit – the same as a Scott Spark, since that's the bike the Fraser was originally designed for.
Flow's Final Word
There are no doubts that the Syncros Fraser iC SL is one trick piece of kit, though its performance and real-world practicality will prove to be as divisive as its unique looks. If you're after a smooth and flexy bar for trail riding, look elsewhere. Likewise, if you need to mount specific accessories onto your bars, then you might struggle to get what you want here.
If you can deal with those limitations though, and you're after a supremely lightweight cockpit without having to spend up big on exotica from the German and Italian brands, then the Fraser iC SL presents itself as a beautiful piece of engineering that has been tuned perfectly for the hard and fast demands of World Cup XC racing.