Dan MacMunn Reviews The 2020 GT Force 29 Expert
GT as a brand has always been a bit special for me. One of the first bikes I owned, certainly my first dual suspension bike, back in the 90's was a GT RTS – one of the original dual suspension mountain bikes. That raw alloy beast, with 2.2in (!) of rear wheel travel, was my pride and joy. And I remember watching trackside as Nico Vouilloz, who was pretty much God to my 13-year-old self, crushed a dusty Cairns World Champs course back in '96 aboard a red Boxxer-equipped GT LTS. Later in the 90's, blue and yellow posters of the GT racing team adorned my bedroom wall. Back then, as far as I and many others were concerned, a GT was THE mountain bike brand to have.
The Return Of LTS
Part of GT's allure was that the engineers have always seemed unafraid to think outside the box. They've had many weird and wonderful ideas over the years, including thermoplastic frames, gearbox DH bikes, pull-shock suspension systems, and in more recent years, the iconic i-Drive suspension design.
That all changed in 2018 though, when GT unveiled the new generation Sensor, Force & Fury models. Gone was the unique floating-BB suspension linkage of the previous AOS platform, and in its place was a more conventional four-bar arrangement. Utilising a Horst link chain stay pivot, this simpler layout heralded a return to GT's LTS (Linkage Tuned Suspension) design. Well, in name at least. To begin with, the LTS platform was brought out on the Sensor (the 130mm 29er trail bike) and the Force (the 150mm travel 27.5in enduro race bike). A year later, GT launched this bike here – the Force 29.
Big Wheel Forces
The 2020 GT Force 29 is essentially a scaled-up version of GT's race-winning enduro bike, albeit with a few key differences. While it also features 150mm of rear wheel travel, GT has plugged in a bigger 170mm travel fork up front, slackened out the head angle, increased the reach and steepened the seat tube angle to bring it up to speed with the competition. And with the "All Mountain" tagline, the Force 29 sits alongside other bikes such as the Giant Reign 29er, Canyon Strive and Norco Sight in its intended use.
There are two Force 29 models available, and both utilise the same hydroformed alloy frame. The top model is the Force 29 Pro, which sells for $6,499. The Expert we have here is the cheaper of the two, and for $4,999 its spec possesses plenty of value for money. More on that in a bit.
What Makes It Special?
With its eye-pleasing Aqua colour, bold but not retina burning, the robust alloy frame utilises a four-bar suspension design with a trunnion-style metric shock. A flip-chip in the lower shock mount is there to raise or lower the BB height by 7mm, in turn influencing the seat and head angles by half a degree each.
In the 'Low' geometry position, the Force 29 has a slack 64.6° head angle, a pretty steep 76.6° seat tube angle, and a BB height of 349mm. It's more modern than the 27.5in Force, and sits favourably alongside the competition.
The burly linkage and rear stays allow for loads of clearance for those muddy rides, even with the high-volume 2.4WT Maxxis Minion DHR II on the back. Of course there's a tapered head tube, ISCG tabs and a threaded BB – all standard fare these days. Cables are neatly routed externally along the top of the downtube, and the frame design also allows for a water bottle, a big plus for many riders.
What's It Wearing?
Despite being the cheaper of the two Force 29 models, the Expert comes locked and loaded with an enduro-ready outfit. Suspension duties are taken care of by a solid-performing Fox 36 fork, which provides a nice supple feel off the top and good mid-stroke support. The Fox DPX2 shock was also impressive, with excellent small bump compliance thanks to its large volume EVOL air spring.
GT has spec'd the popular Maxxis Minion tyre combo, albeit with tougher and heavier EXO+ casings – a great choice for a big hitter like the Force 29. The Stan's NoTubes Flow S1 wheels are a suitably tough addition, with a durable eyeleted construction and tubeless compatibility out of the box.
While we're more used to seeing Shimano and SRAM brakes spec'd on stock bikes, TRP's G-Spec Trail stoppers are a great addition. The tool-free reach adjuster is easy to use, and the drilled lever blades have a nice positive shape. On the trail they have excellent feel, and the 4-piston callipers and large rotors ensure there's plenty of power to slow down the big alloy beast.
And boy is there a lot to slow down. Our Large size test bike, with inner tubes but without pedals, tips the scales at 16.64kg. That's a whole lot of bike!
2020 GT Force 29 Expert Specs
Frame | Aluminium Alloy, LTS Suspension Design, 150mm Travel
Fork | Fox 36 Float, Performance Series, GRIP Damper, 44mm Offset, 170mm Travel
Shock | Fox Float DPX2, Performance Series, 185x55mm
Wheels | Formula Hubs & Stan's NoTubes Flow S1 32H Rims, 29mm Inner Rim Width
Tyres | Maxxis Minion DHF EXO+ 3C Maxx Terra 2.5WT Front & DHR II EXO+ 3C Maxx Terra 2.4WT Rear
Drivetrain | SRAM NX Eagle 1×12 w/Descendent 30T Crankset & 11-50T Cassette
Brakes | TRP G-Spec Trail S 4-Piston w/203mm Front & 180mm Rear Rotors
Bar | Spank Oozy 780 Trail, 30mm Rise, 780mm Wide
Stem | GT Alloy, 45mm Long
Grips | GT Statement2 Double Lock-On
Seatpost | GT Dropkick, 31.6mm Diameter, Travel: 125mm (SM, MD) 150mm (LG, XL)
Saddle | Fabric Scoop Shallow, Steel Rails
Size Tested | Large
Confirmed Weight | 16.64kg
RRP | $4,999
How'd You Set It Up?
There are four frame sizes available in the Force 29, with reach sensibly growing in 25mm increments from 420mm to 495mm. At 183cm tall I tested the size Large, and with a 470mm reach, it was a good fit and slightly longer than my personal 2019 Specialized Enduro 29er. However, I would have preferred a 175mm dropper post given that there's room for it.
A sag range sticker on the frame made setting up the rear shock easy. GT recommends a minimum of 22% sag (12.6mm) and a maximum of 28% (15.4mm). At 83kg, I ended up with 190psi in the shock, which put me closer to 22% sag. It's worth noting that the stock rebound tune is quite light, so I ended up with the dial set to the slowest position to keep the back tyre stuck to the ground. If you wanted slower damping again, you'd need to look a custom tune.
The fork was setup as per Fox's recommendations with 80psi in the air spring. From there it was just adjusting the stem height and saddle height and the big Force 29 was good to go.
Out of curiosity, I did 'flip the chip' for a ride on the GT. It is a nice little feature to have, and it's also a quick 30-second job that you can perform trailside. However, the High position made the seat angle feel a little too steep, almost like it was pitching me forwards when riding seated. Your results may differ depending on your terrain, and those who find themselves clipping pedals regularly will likely appreciate the extra BB clearance from that High position. Experiment completed, I flipped it back into Low and left it there for the remainder of the test.
What Does It Do Well?
With its slack head angle, big fork and sturdy alloy frame, the Force 29 feels composed and balanced on steeper and more chundery terrain. The suspension platform is very active and worked well in soaking up big and small hits alike, the weightiness of the bike actually helped to ground the bike and keep it from getting pushed off line. Thanks to the supple Fox suspension and roomy frame, the Force 29 felt balanced from to back. The 442mm chainstay length is neither overly long nor overly short, though the beefy tubing ensures that the rear wheel tracking is direct and responsive. Coupled with the Maxxis tyres, it absolutely rips around faster and more open corners. Tighter switchbacks were best tackled with the old set up wide as possible approach though, where the long wheelbase is more apparent.
Again because of that 16.64kg mass, it felt really stable in the air, the suspension being quite forgiving if one goes a bit short or long. If you are the kind of rider who is happy to plod away on the climbs, or does the odd shuttle day to get to the good stuff, this bike is ready to have A LOT of fun coming down.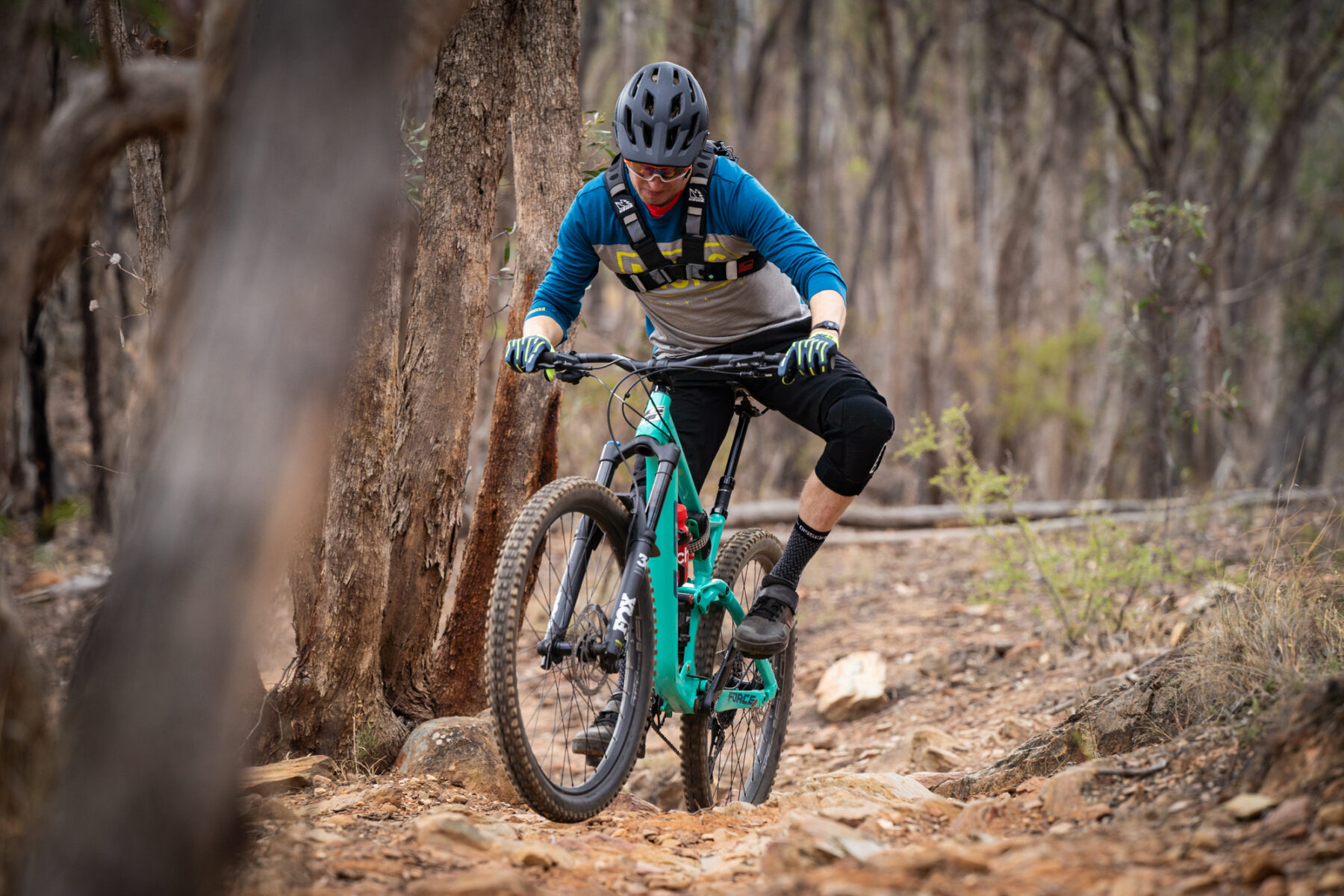 What Does It Struggle With?
There is no getting around the fact that this bike is heavy. Like real heavy. As you'd expect, it is hard work up the climbs, and the slack front end does lighten up a lot on steeper pinches. Still, it wasn't quite as bad as I was expecting. The steep seat tube angle helps to put you in a good forward position, and combined with the low gearing, Minion DHR II rear tyre and active suspension, there is good traction on techy climbs. You'll need good legs in the first place though, and there's no doubt that you'll be improving your climbing fitness.
On flatter train where you have to pedal out of the corners, the Force 29 can feel quite lethargic and uninspired – a direct result of the bike's sheer weight, length and active suspension. Getting all of that mass moving requires a bit of energy, and some body English is needed to lift and unweight the bike through flatter technical sections.
Component Highs & Lows
It is always great when a frame can hold a water bottle, although I noticed the screws to hold the cable guides to the frame weren't actually long enough to accommodate the cage. By no means a big issue, but a small detail that prospective owners really shouldn't have to think about.
The minimalist chainstay protector is too minimalist, in that it doesn't provide enough coverage towards the rear of the chainstay, I did notice quite a lot of noisy chain slap through rough terrain, especially when lower down in the cluster. This is evident in the paint chips on the chunky chainstay pivot that you'll see in the photos below. Some creativity with a bit of 3M mastic tape should be able to minimise this problem, but again, this isn't a problem we should be expecting of a mountain bike in 2020, especially when the likes of Specialized and Santa Cruz have this absolutely nailed already.
While the wheels are tubeless compatible, and the Stan's NoTubes rims come ready taped, there weren't any valves included in the box. Once I added my own, it was super easy to set the tyres up tubeless armed only with a floor pump, which was nice. There is nothing worse that wrestling with a tubeless conversion on your new bike day. As for the wheels and tyres themselves, I had no durability issues to speak of. They're not particularly sexy, but the alloy Stan's rims can take an absolute battering. And the EXO+ tyre casings are significantly more durable than the regular EXO model.
The SRAM NX Eagle drivetrain was a solid performer, and coupled with a 30T chainring has plenty of usable range. I did find the main bolt that connects the mech body to the derailleur hanger to work its way loose a few times over the test period. I have noticed this issue on a few SRAM mechs, so it's something to keep in mind.
GT's own branded stem was visually pretty chunky and reminded me of a BMX stem, but it did the job. I did not get along with the GT branded grips though, which were super hard and gave my hands a beating. If you ride with your palms on the outer limits of the grips like I do, the outboard lock ring will add to that discomfort. I subbed in a pair of Specialized SIP grips that were vastly more comfy.
The only other GT branded component on the bike was the dropper seatpost. Despite the negative connotation of the Dropkick name, it was really impressive. It has a great action and worked flawlessly over the test period, with no play at the saddle whatsoever. Even the paddle at the lever is well-shaped and easy on the thumb, and the two bolt head was solid, easy-to-adjust and creak-free throughout testing.
Flow's Final Word
GT's Force 29 is not for everyone or everywhere. If the trails you mostly ride are on flatter, smoother terrain, you will really feel this bikes heft, of which there is much. And if you're KOM-hunting climbing segments, then this is obviously not the bike for you. With all that bulk but a nice upright position, climbing to the top of said trails is an art in patience rather than pace. But hey, you will get strong doing so!
For those who are all about the descents, the steeper and rowdier the better, then you'll be able to reap the many benefits of this composed, well-balanced and solid machine. It's great in the air, is composed in the rough and rips corners. It comes with a sturdy and well thought out spec at a great price point, making it a great choice for those who are considering dabbling in some enduro racing.
So, is GT bringing back the cool factor that made the brand so desirable back when I was a pup? No, I don't think so. Not when there are companies out there like UNNO, Pole, Hope, Forbidden, Geometron and Atherton Bikes, who are all pushing the envelope when it comes to geometry, suspension designs and exotically-manufactured frames. But that's no bad thing. Here, GT's more pragmatic approach has resulted in a solid, no-nonsense performer that is heaps of fun to ride and has also proven at the highest level of the sport. And that is far more valuable to the ride experience than any whacky suspension design.
---
Mo' Flow Please!
Enjoyed that article? Then there's plenty more to check out on Flow Mountain Bike, including all our latest news stories and product reviews. And if you haven't already, make sure you subscribe to our YouTube channel, and sign up to our Facebook page and Instagram feed so you can keep up to date with all things Flow!