Mick & Wil review RockShox Flight Attendant vs Fox Live Valve
After close to a decade of prototyping and testing, RockShox Flight Attendant was finally unveiled to the world at the tail-end of 2021. A fully wireless and automated electronic suspension system, Flight Attendant is designed to elevate the efficiency and responsiveness of your bike by adjusting the suspension on-the-fly. No twisting compression dials or pushing remote lockout levers — Flight Attendant does all of that for you.
Of course this isn't a unique concept. Flight Attendant represents RockShox's long awaited response to Fox Live Valve, which was first introduced back in 2018. Fox has quietly updated Live Valve since then, introducing a suite of new features that have significantly improved its performance. The updated system is known as Live Valve 1.5 and it was first debuted on the Giant Trance 29 that we tested last year.
While both the Fox and RockShox systems are designed to achieve a similar goal, the way they go about it is very different. To dig into the details, we've been testing two bikes with Flight Attendant and two bikes with Live Valve 1.5 over the past six months. Here we'll be discussing our experience of testing these high-tech electronic suspension designs, including what's impressed us, what could be improved, and where we see things heading in the future.
---
Watch our video review of RockShox Flight Attendant vs Fox Live Valve here:
---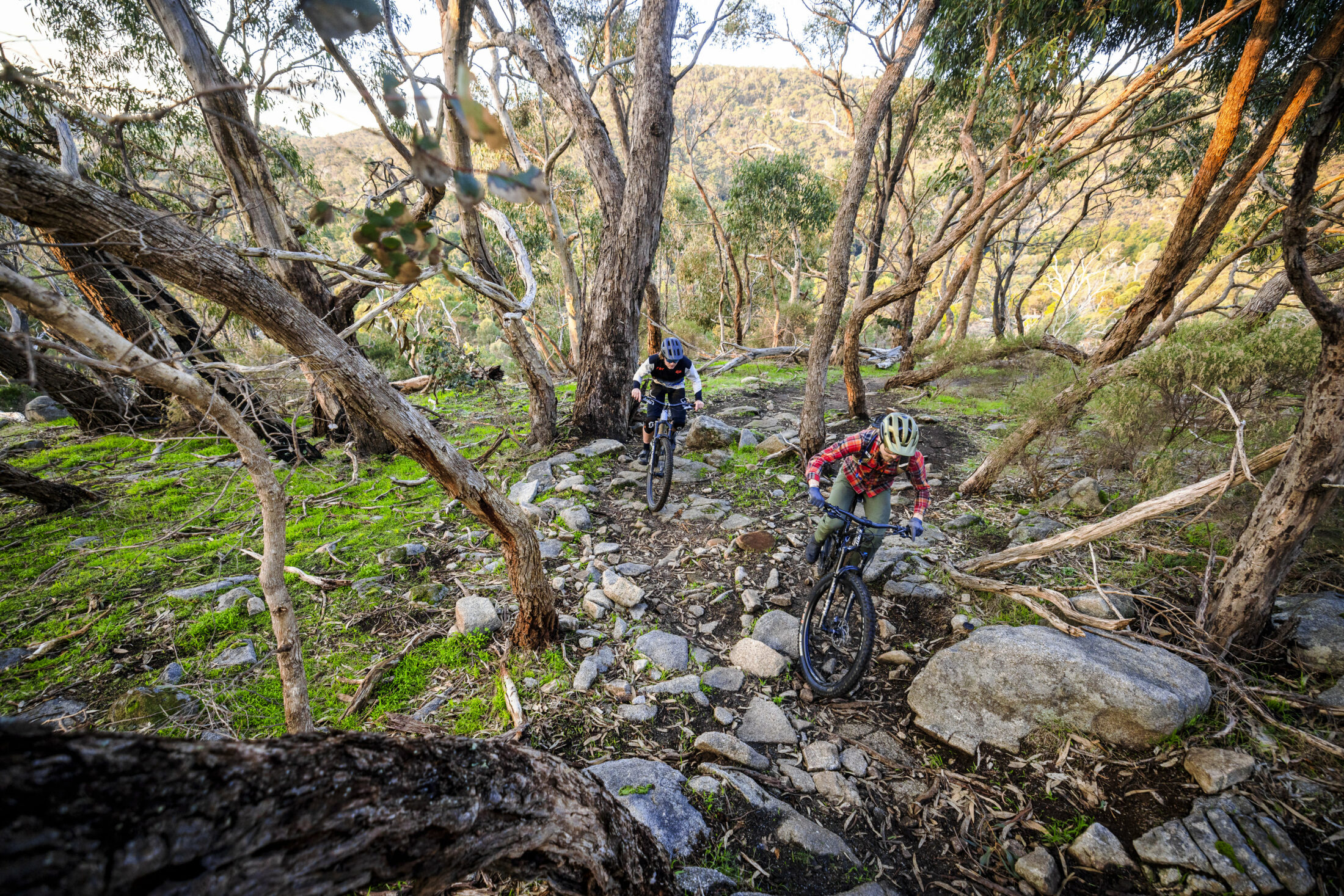 RockShox Flight Attendant
RockShox Flight Attendant has created quite the whirlwind of attention over the past year thanks to its fully wireless execution and the fact that it is extremely exclusive, only coming on a handful of super high-end mountain bikes.
While it is a brand new product, the concept behind Flight Attendant isn't new. It's essentially a modern evolution of the e:i system that RockShox co-developed alongside Lapierre, Ghost and Haibike nearly a decade ago. Unfortunately the first iteration of e:i was plagued by reliability issues, and while we really liked the second generation e:i auto system, the damage to its reputation had already been done. Consequently, e:i never took off commercially and it faded away after only a couple of years. RockShox clearly wasn't ready to let the dream die, and has been busy refining and improving the concept ever since. The result is Flight Attendant.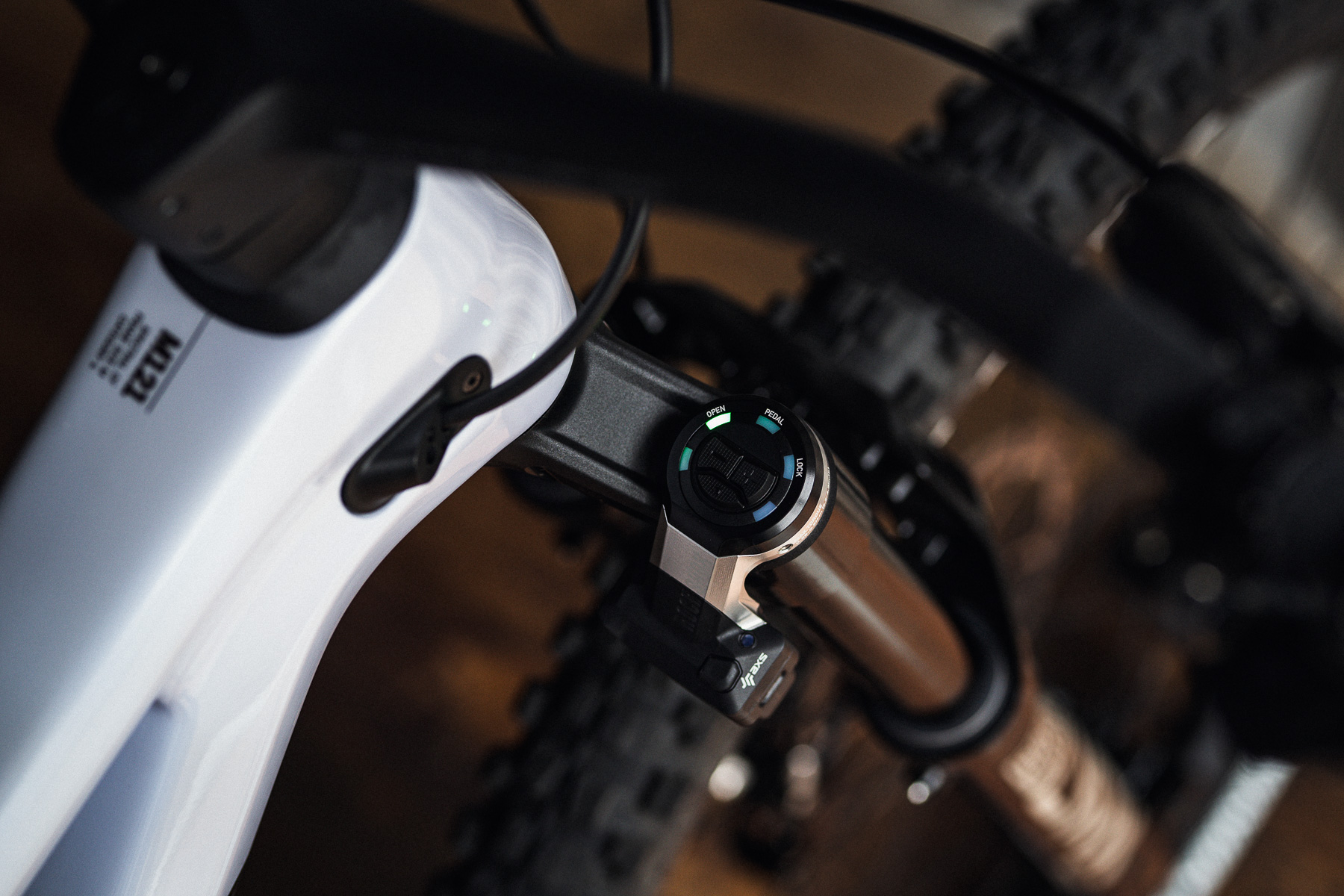 Flight Attendant is comprised of two primary components: a fork module and a rear shock module. The fork module sits atop a special Charger damper that comes inside a Pike, Lyrik or Zeb, while the shock module is built into the piggyback reservoir of a Flight Attendant-specific Super Deluxe Ultimate shock. These two modules communicate wirelessly, and decide whether the suspension should be in one of three predetermined compression settings: Open, Pedal or Lock.
The system makes these decisions based on input provided by an array of sensors. Inside the fork and shock modules you'll find an accelerometer and an inclinometer, which allows the bike to detect both bump forces and pitch. There's also a sensor within the crank spindle to detect if you're pedalling or coasting.
With this combination of sensors, Flight Attendant builds a picture of the terrain and the rider's pedalling input. Based on that picture, it automatically adjusts the suspension to the ideal setting. Put simply, it's designed to firm up the suspension to improve pedal efficiency on the climbs and along smoother terrain, while allowing the suspension to open up for the descents and on rougher trails. And all without your hands ever having to leave the grips.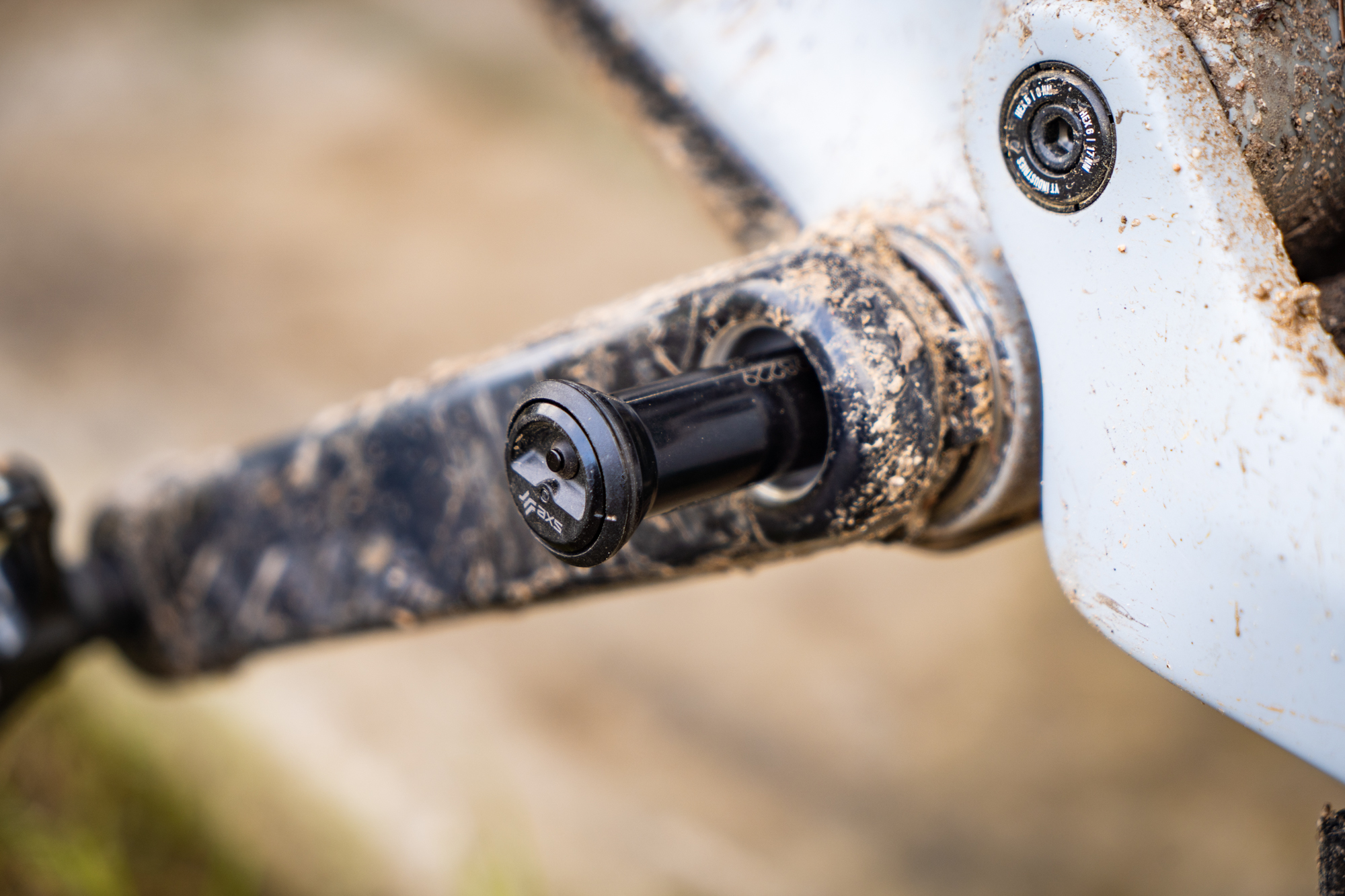 How does RockShox Flight Attendant work?
The way RockShox Flight Attendant is designed to operate is essentially the exact opposite to Live Valve. Instead of being in a firm setting most of the time and waiting for a bump to open up, Flight Attendant defers to the Open setting, and awaits input from the pedal sensor before choosing to firm up the suspension.
As soon as you begin to pedal a signal is sent up to the fork module — the brain behind the whole operation. Before firming things up however, the system checks in with the other sensors to determine how rough the trail is, and whether you're climbing, traversing or descending. It's here where the real magic happens, with the algorithm making some 200 calculations per second. It draws on the accelerometers to not only evaluate the size and severity of the bumps you're hitting, but also the frequency of those bumps.
On top of that, the system takes into account historical data. It looks back at the past five seconds of riding inputs in order to predict what the trail ahead is likely to do.
With all of that information to hand, Flight Attendant will then adjust the suspension between the Open, Pedal or Lock settings. Typically the system will adjust the fork and shock simultaneously, but in some circumstances it will adjust them independently. RockShox calls this 'split mode', where the fork is put into a softer setting compared to the shock.
You can tell when the system has changed settings via the green LEDs atop the fork module. If two LEDs are illuminated it means the system is in the split mode, with the fork being the softer of the two.
Each setting change is performed by a tiny servo motor inside both the fork and shock modules. This motor is the same as what you'll find inside a SRAM AXS derailleur or a Reverb AXS dropper post, and it emits a similar high-pitched electronic zzzrrt every time it shifts between settings. The motors are powered by the same rechargeable Li-Ion batteries as the AXS components, and RockShox claims you'll get around 20-30 hours of ride time from the fork and 30-40 hours from the shock before they need recharging.
It's worth reiterating that Flight Attendant is only adjusting the suspension's compression damping. It doesn't affect air pressure or rebound damping, so both of those are set up by the rider just like a normal RockShox fork and shock.
It is possible to fine-tune the Open mode's low-speed compression damping for both the fork and shock. You can do this via the buttons on the fork module, or via the SRAM AXS app. The app is also used to calibrate the system, and it allows you to adjust the Bias setting and set the Override function. More on those in a bit.
The last piece of the Flight Attendant puzzle is the optional left hand controller, which is basically a mirror image of the right hand controller that's used to operate a SRAM AXS derailleur. It's not essential, but the left hand controller does facilitate quick access to the Override mode, and it can also be used to manually cycle through the Open, Pedal and Lock settings.
What bikes does it come on?
Initially there were just six bikes launched with RockShox Flight Attendant; the Trek Slash, Specialized Enduro, Canyon Neuron & Spectral, and the YT Jeffsy & Capra. Since then the new Canyon Spectral:ON has arrived, which is the first e-MTB to come fitted with Flight Attendant.
As you'll gather by that list, Flight Attendant is primarily designed for longer travel trail and enduro bikes. There are currently no XC bikes fitted with it.
While it was previously only possible to get Flight Attendant on a complete bike, RockShox recently introduced a brand new Upgrade Kit. Comprised of a fork (Pike, Lyrik or Zeb), a Super Deluxe shock and a pedal sensor, the Upgrade Kit allows riders to fit the system onto their existing bike. The list of compatible bikes is quite short however – see our separate article on the RockShox Flight Attendant Upgrade Kit for all the details.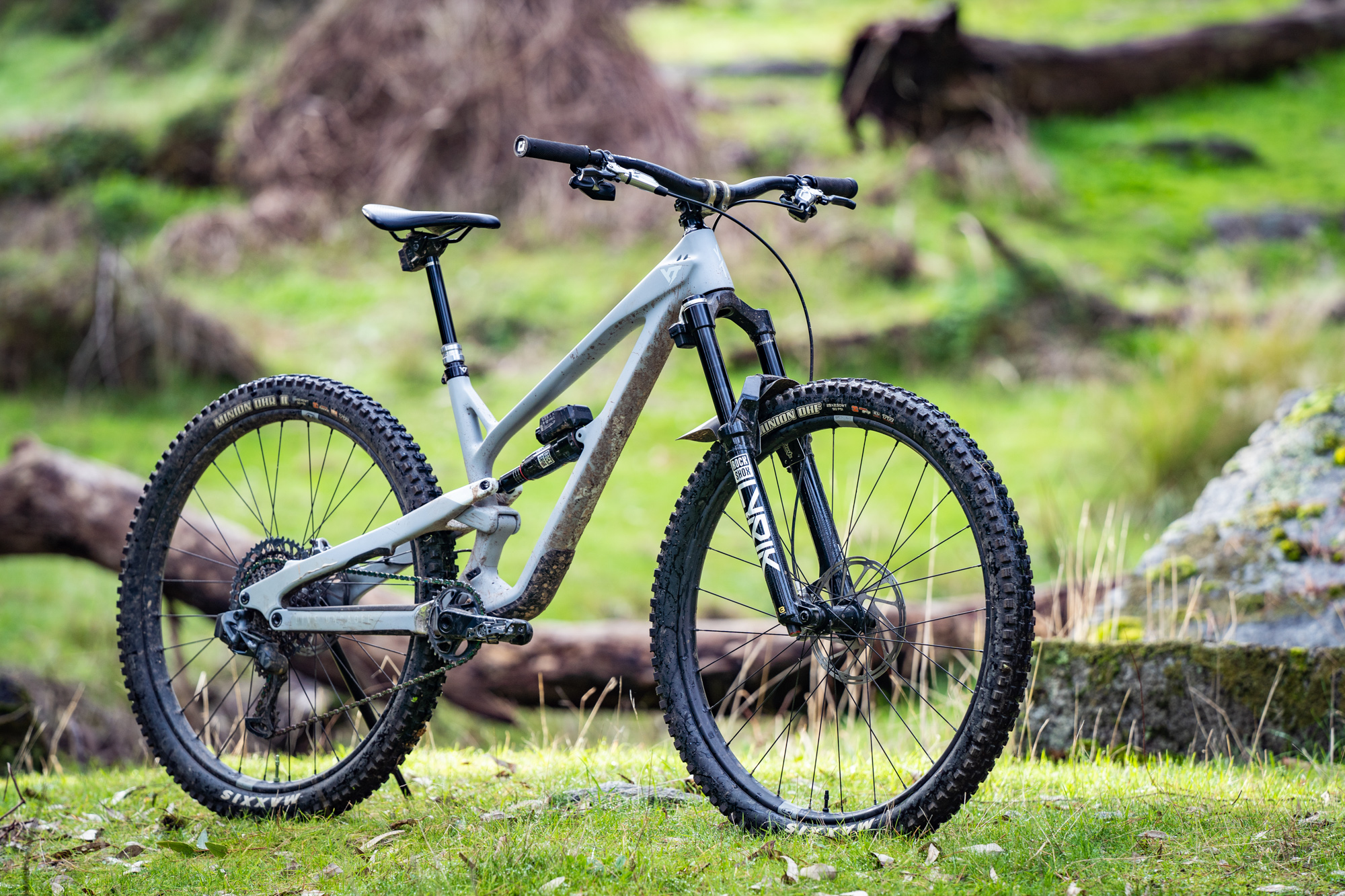 How much does RockShox Flight Attendant cost?
Now that RockShox Flight Attendant is available in a standalone upgrade kit, the price of entry has lowered significantly. The Trail Upgrade Kit is the cheapest option, with prices kicking off at $4,811 AUD.
As for the complete bikes, you'll only find Flight Attendant at the most premium end of the market. All of the bikes it comes fitted to feature full carbon frames, carbon wheels, SRAM AXS shifting and a Reverb AXS dropper post.
As such, the cheapest bike to come fitted with RockShox Flight Attendant is the Canyon Neuron CF SLX LTD, which sell for $11,749 AUD (plus shipping). The most expensive mountain bike to come with Flight Attendant is the S-Works Specialized Enduro LTD, which sells for a wallet-emptying $19,000 AUD.
How much does it weigh?
RockShox claims Flight Attendant adds 308g of weight over a conventional fork and shock. We were curious to see if that was the case, so we weighed the individual components from our YT Jeffsy test bike;
RockShox Lyrik Flight Attendant (29in, 160mm Travel) – 2,103g
RockShox Super Deluxe Flight Attendant (210x55mm) – 580g
Pedal Sensor – 41g
We also weighed a 2023 RockShox Lyrik with the new Charger 3 damper, as well as a conventional Super Deluxe Ultimate shock. Both the Flight Attendant fork and shock add around 100g each over the non-Flight Attendant versions, and by the time you add in the pedal sensor, the difference was just 240g. That's a pretty reasonable weight penalty, especially given what Flight Attendant brings to the riding experience.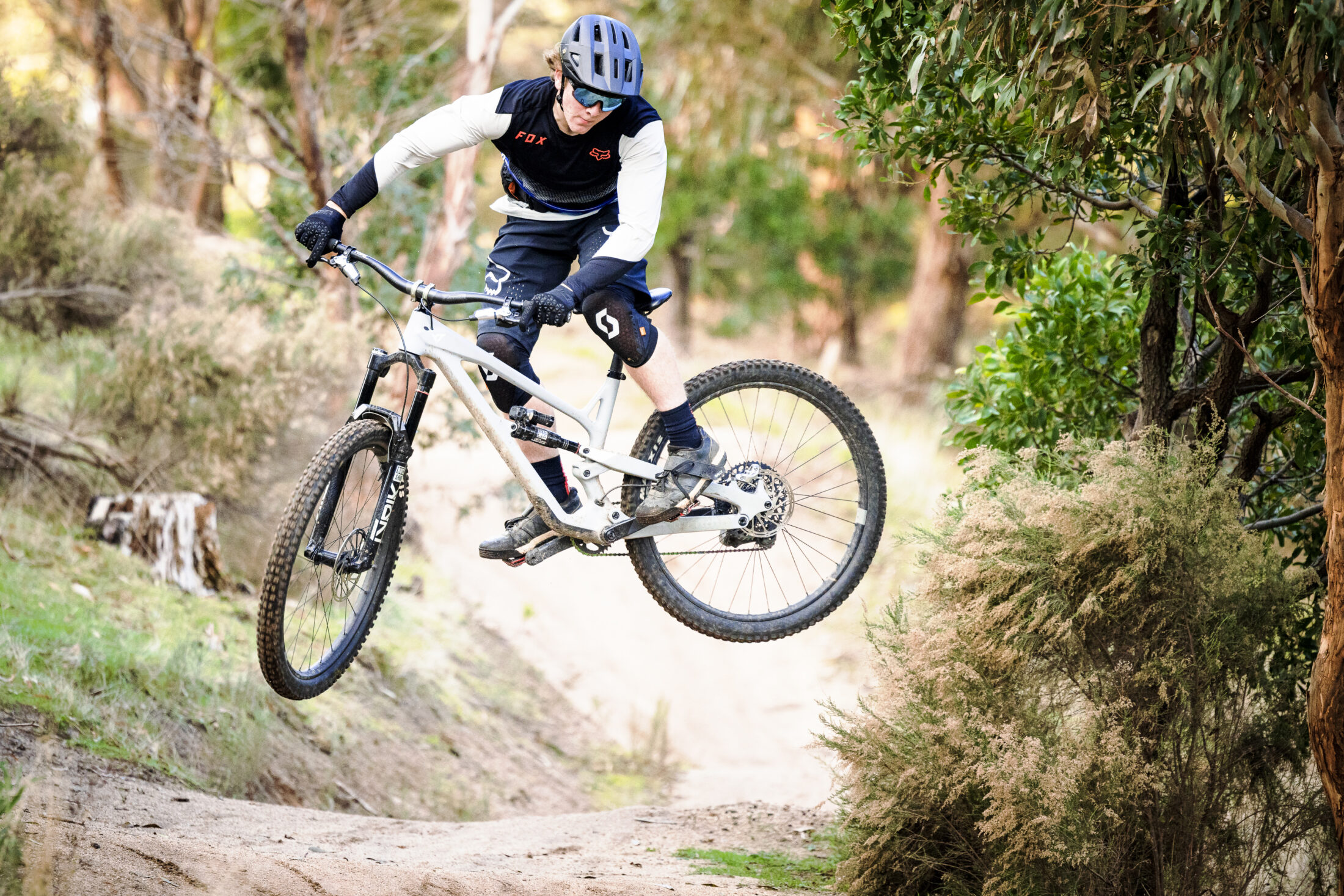 What does RockShox Flight Attendant do well?
In terms of its user friendliness and overall ergonomics, it has to be said that RockShox Flight Attendant has been brilliantly executed. The app is easy and intuitive to use, and we had no issues with calibration or pairing any of the components.
We love the super clean and almost entirely wireless cockpit, which looks great and results in a quieter ride with less cables flapping about. And while it's only a small detail, having identical contact points for your thumbs with the matching left-hand controller is really nice.
On the trail, the improvement that Flight Attendant brings to efficiency is truly profound. By shifting the suspension into those firmer compression modes, it's able to make burly long-travel enduro bikes feel energetic and lively in situations where you wouldn't always manually lock out the fork and shock.
It isn't just about improving pedal efficiency either. The firmer platform is more resistant to weight shifts, allowing you to get out of the saddle and move around the cockpit on challenging ascents. That's especially the case up front, given that most long-travel forks on the market don't feature a lockout or climb switch to begin with.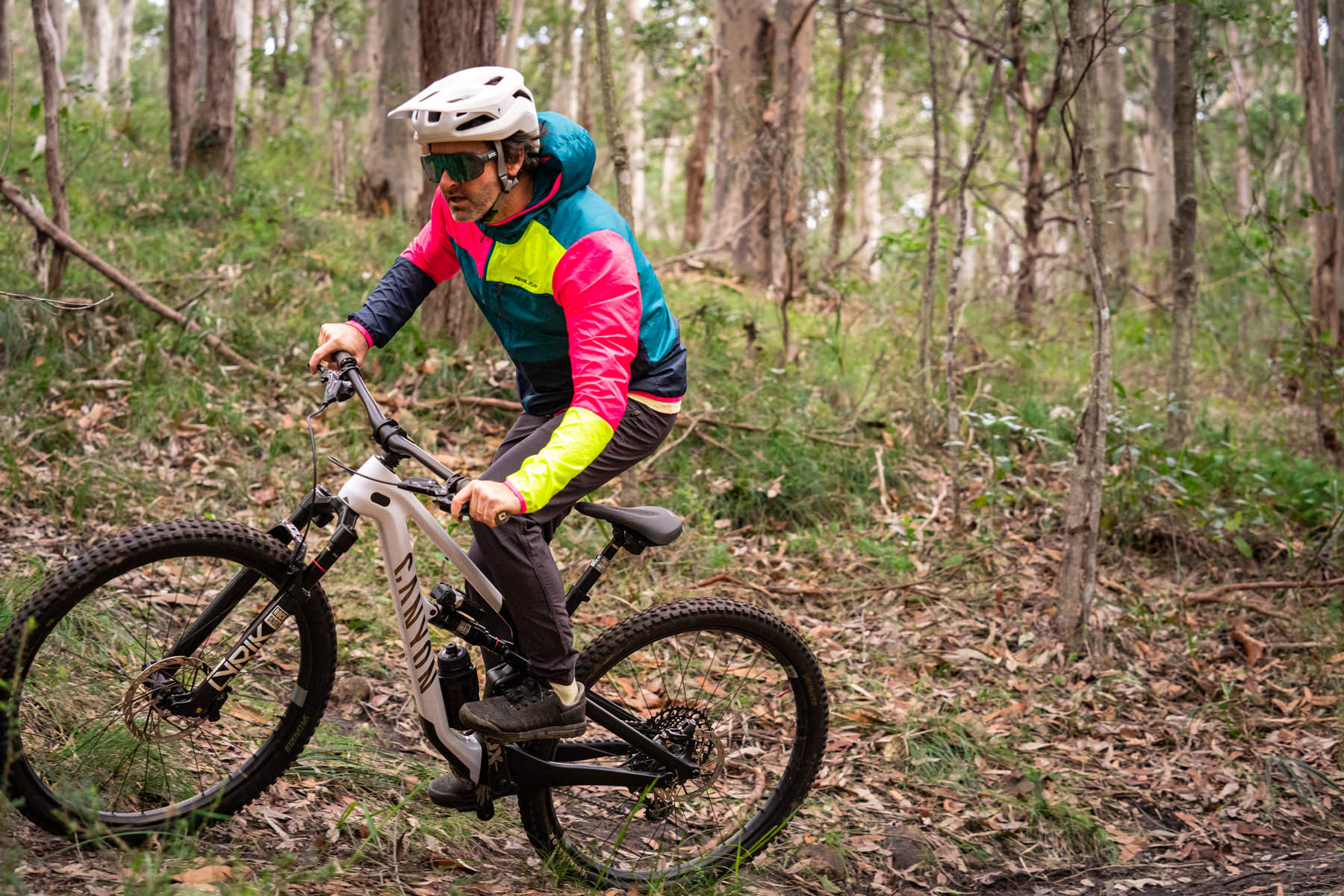 The rear suspension also sits higher up in its stroke, providing a significant increase in ground clearance and a steeper effective seat angle that keeps you in a more optimal climbing position. There's a much greater reward for your pedalling efforts compared to riding with the suspension wide open, saving you meaningful energy.
It's worth noting that the suspension isn't quite fully locked out in the Lock setting. It is pretty close though, which is appreciated when you're on the gas along fireroads and smooth sections of singletrack. Because of the firm platform it delivers, Flight Attendant really encourages you to stomp on the pedals and go after it like you're on a much smaller bike. Both our Jeffsy and Spectral test bikes weigh over 14kg and are equipped with aggressive tyres and 150-160mm of travel, but it's easy to forget that on the climbs.
Seamless suspension
The real beauty about Flight Attendant's efficiency-boosting performance is just how seamless it is on the trail, and the fact that you don't have to think about constantly making adjustments while you're riding. Of course Flight Attendant isn't really doing anything differently to you reaching down and flipping a 3-way compression lever on your fork and shock. But unless you're taking your hands off the grips every two seconds to make an adjustment, there is simply no way that you can be as responsive or as effective as Flight Attendant.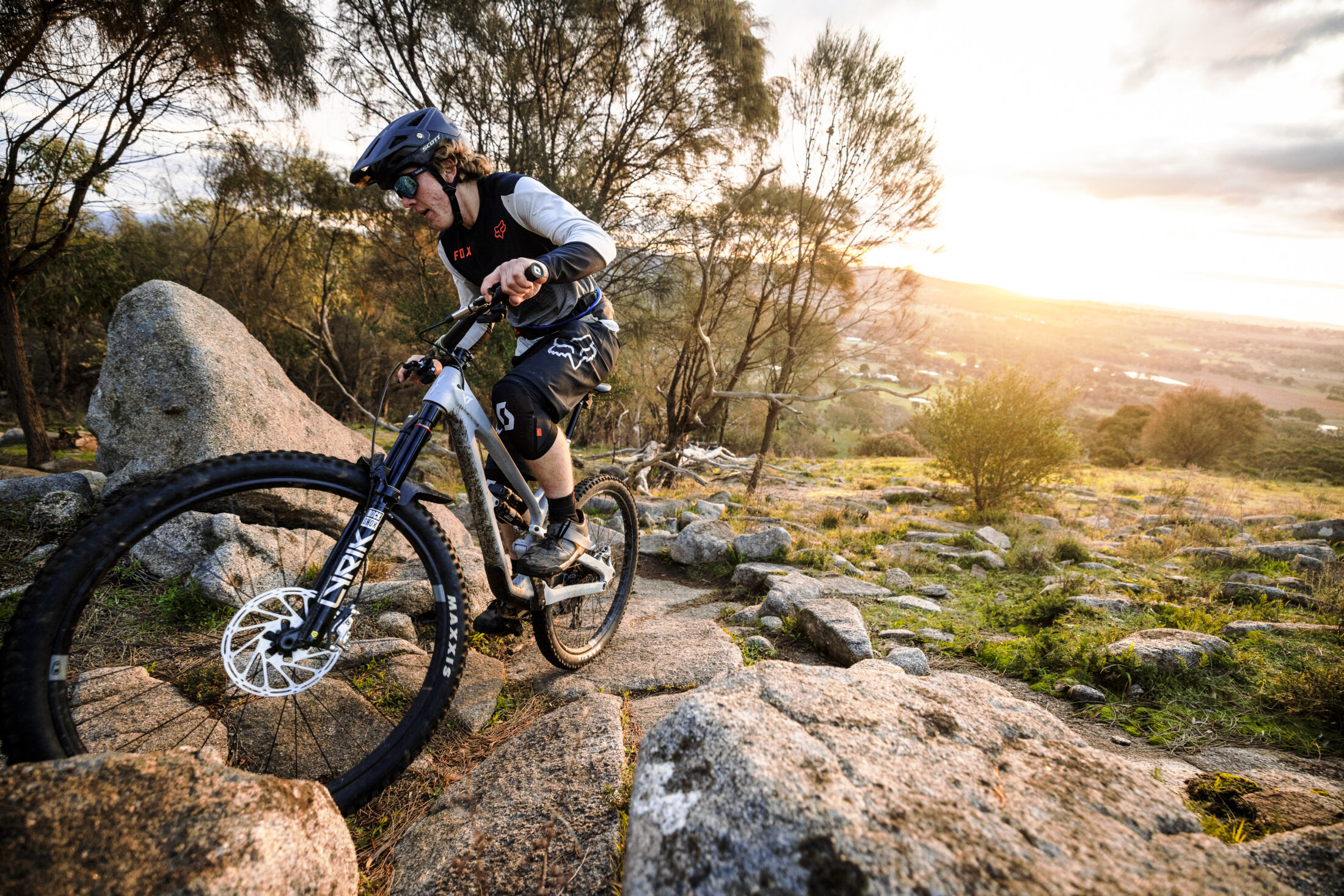 This has proven to be especially noticeable on undulating trails. On short pinch climbs, we'd normally avoid flipping a rear shock compression lever just so we don't end up accidentally descending with the suspension locked out. Flight Attendant gives you a distinct advantage in these situations, because not only does it automatically firm up the suspension for those climbs, it also quickly opens up as soon as you start bouncing down the next descent.
There were occasions where the benefits of the automated system surprised us, like the way it would firm up when we were pedalling between jumps on a fast and flowy jump trail, allowing us to build just a fraction more speed coming into each takeoff. This was particularly novel, as there is no way we'd be making manual suspension adjustments in situations like that.
Putting the clever electronics to the side for one moment, the underlying suspension behind Flight Attendant is outstandingly good. Both of our test bikes feature the Lyrik Ultimate, complete with the latest DebonAir+ spring and ButterCups. There's plenty of support on offer even with no Bottomless Tokens inside the air spring, but it's the fork's sensitivity and vibration control that has really impressed us. The same goes for the new Super Deluxe shock, which is incredibly supple and responsive throughout its stroke, marking a significant improvement over the pre-2023 RockShox suspension.
Indeed the high quality suspension performance is a big part of Flight Attendant's appeal. Because the suspension is so good in the Open mode, it makes the electronic system worth having in the first place.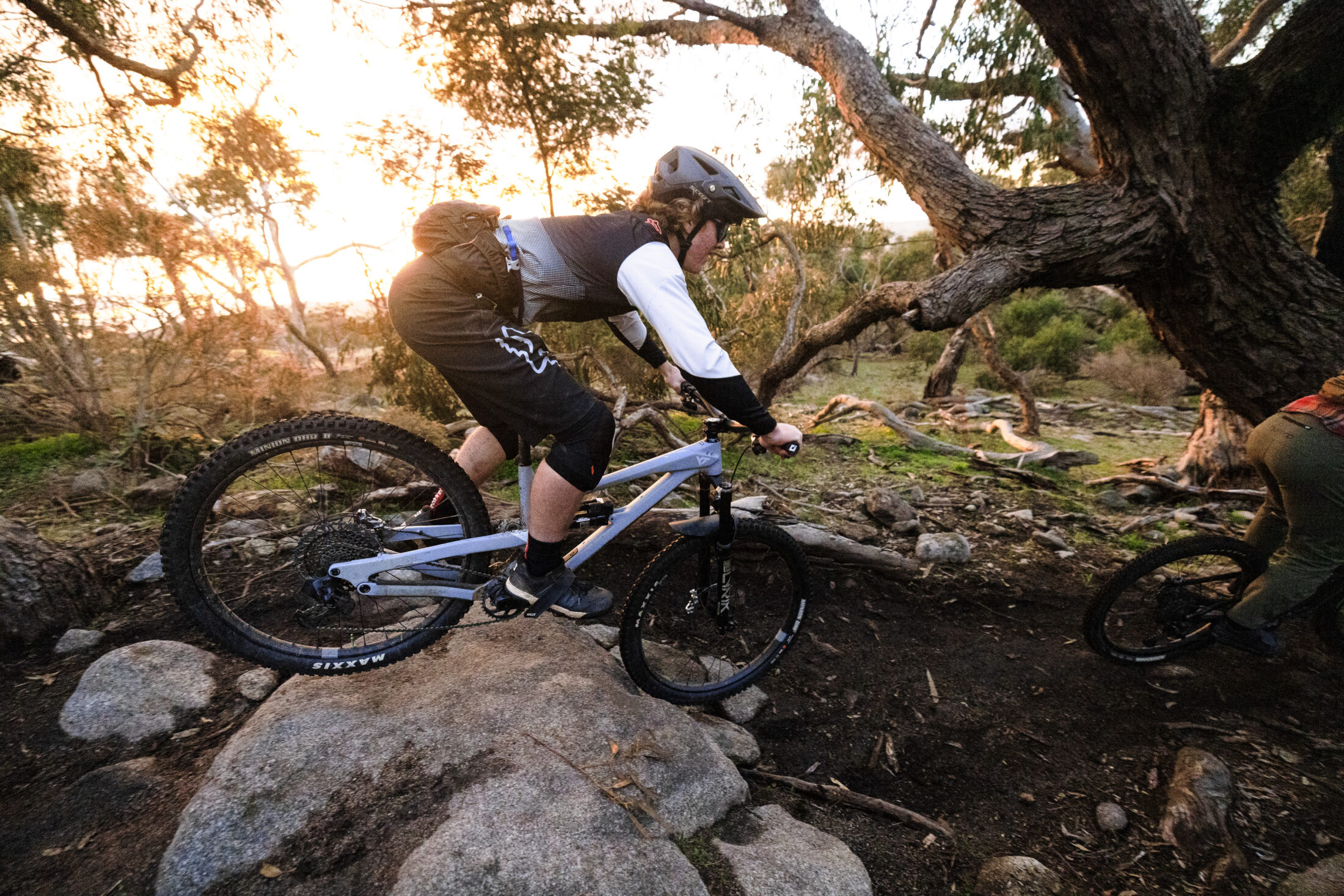 What are the downsides?
There are some obvious downsides to RockShox Flight Attendant. It's expensive, and the system adds two batteries that you'll need to remember to recharge on a semi-regular basis. Given the complete bikes are also fitted with an AXS derailleur and dropper post, that's four batteries in total. SRAM is yet to introduce a multi-battery charger, so we've gotten used to charging one battery at a time whenever we have the bike in the workstand.
The SRAM AXS app does give you a live reading of the battery level for each individual component, so it's easy to check if you remember. Thankfully the coin cell batteries in the controllers will last for ages, though we did recently have to replace the AAA battery in the pedal sensor.
We also found that it took a few rides to get used to Flight Attendant. If you're used to riding with your suspension wide open most of the time, the Lock setting feels kinda weird when you're riding up smoother singletrack. There's not a lot of give in this setting, so you'll experience more feedback from the smaller debris that isn't big enough to trip the sensors and open up the suspension. Of course this solid platform is what makes the bike so efficient on the climbs, but it is noticeably harder compared to the Firm setting on Live Valve.
While they're supposedly the same, the noise from the servo motors is much more prominent than it is in the derailleur or dropper. This could simply be due to the motors being in closer proximity to your ears, though they may also be working harder.
The LEDs atop the fork module can also be distracting. It's possible to dim these by selecting the dark mode in the app, though you'll still see a momentary green flash each time the system switches suspension settings. After a few rides we tended to forget about the LEDs and motor noise, but it could be bothersome for some particularly sensitive riders.
Speaking of sensitivity, Flight Attendant isn't as fast to react as Live Valve. When you're in the Lock mode, the suspension won't instantly open up when you hit something. So when you're pedalling along a smooth ribbon of singletrack, it's possible to feel the impact when the front wheel contacts the first rock.
RockShox claims that the system takes just five milliseconds to make an adjustment, but this is only referring to the speed that the servo motor can switch settings. It doesn't include the time that it takes for the fork module's accelerometer to detect a bump, and for the system to digest that information and decide on what to do next. Because this process takes a fraction longer, typically you'll be feeling that first impact, at least through the fork anyway.
Whether this is due to a lag in the wireless signal, or the mechanical nature of the servo motor, or the fact that the fork's accelerometer is located inside the fork module on the sprung part of the fork, we're not entirely sure. Either way, Flight Attendant doesn't have the ability to open instantaneously like Live Valve does, which can take a few rides to get used to.
It doesn't always get it right
There were also occasions when the system would pick a less favourable setting to what we would have preferred. This was noticeable on really choppy climbs, where the shock would often open up after hitting a rocky ledge. This resulted in a drastic drop-off in damping that would see the shock fall through its travel, disrupting our weight balance and forward momentum as the bike cantilevered backwards.
To begin with, we made use of the Override mode to engage the Pedal setting when approaching these technical climbs. A short hold of the top button on the left hand controller engages this Override mode, providing a predictable platform for the known stretch of trail ahead. A short tap of the same button then drops the system back into Auto mode, and Flight Attendant takes over once more. We really appreciated this Override function, and can see it being particularly advantageous for racers who wish to have access to the firmest Lock setting for outright sprinting efforts.
We also experimented with dialling up the Bias setting to improve the system's predictability on technical climbs. In Wil's case, he typically rides with a Bias level of +1 or +2, which means the suspension is more inclined to firm up where possible. Rather than opening up completely on those choppy climbs, the rear shock is more likely to switch to the Pedal setting, where it still provides a firm and high-riding platform, albeit with more tyre-driving traction on tap.
The higher Bias setting also sees the system choosing a split mode more of the time, with the fork in a softer setting than the shock. This is ideal when you're heading uphill, where you don't necessarily want the fork riding high in its travel and causing front-end wander. In fact, we kind of wish Flight Attendant would choose this split mode more often.
Lastly, we have recently encountered a failure with the rear shock module on the Canyon Spectral, which is no longer working. It's the only issue we've had between the two bikes and over six months of riding, but we also have no idea as to why it's happened. We've sent the shock off to SRAM DSD for assessment, and will update this review once we can confirm the issue.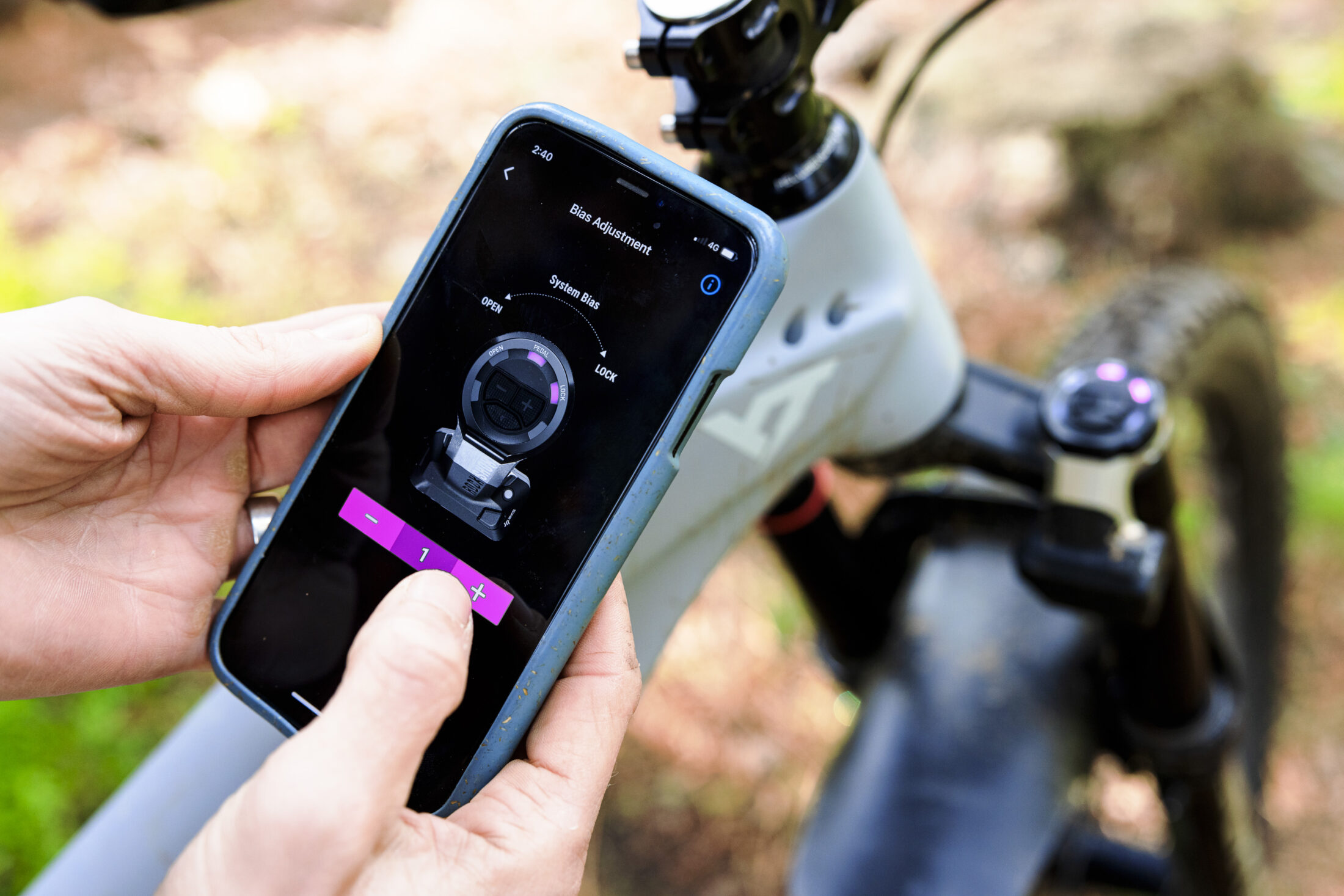 How could RockShox Flight Attendant be improved?
There's a lot to be impressed about RockShox Flight Attendant, but that's not to say there isn't room for improvement.
We'd love to see the lag time reduced and the system achieve a similar response time to Live Valve. In certain situations it can behave a bit like a Brain damper on the Specialized Epic, where you typically feel the first impact when the suspension switches from Lock to Open.
Independent adjustability of the fork and shock settings could also be an interesting addition. For trail riding you don't necessarily need the fork locked out, so we'd actually prefer it if we could limit the fork to just the Open and Pedal settings. Alternatively, being able to select a different Bias setting between the fork and shock could achieve a similar result.
For those who really want to fettle with their suspension, we'll point out that you can't externally adjust high-speed compression damping with Flight Attendant. So while the system does bring about huge benefits to pedal efficiency and climbing response on a big travel enduro race bike, not having the additional high-speed control may be a turnoff for some harder-hitting folks. Given the significant changes with the Charger 3 damper in the 2023 RockShox Pike, Lyrik and Zeb however, perhaps we'll see similar architecture making its way into future versions of Flight Attendant.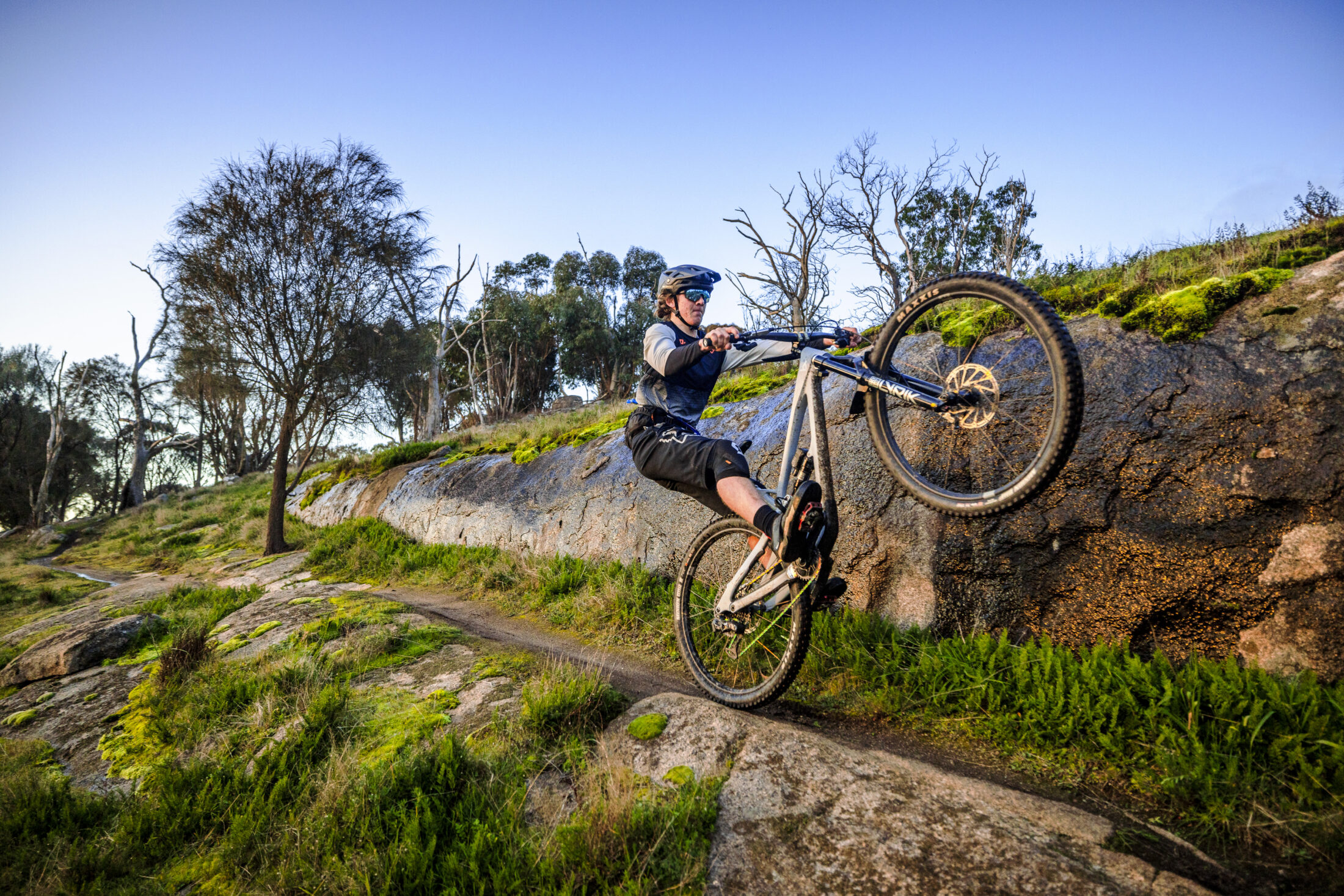 We're also interested to see other opportunities explored. Could you have just a Flight Attendant shock on its own, like the original e:i system? What about a cheaper version of Flight Attendant that removes the automated wizardry, and simply provides the rider with manual, but still wireless control of their suspension settings?
We'd also bet our great aunt that there's an XC version of Flight Attendant in the works. With the system adding up to 300g over a regular fork and shock, the weight penalty may be too much for some weight weenies. Still, not having to think about using a lockout lever on a hectic World Cup XCO race track sounds pretty darn appealing. And at the very least, a simple wireless dual lockout would be a welcome addition to ridding the birds nest of cables that typically plague most full suspension XC race bikes.
Overall though, we'd just love to see the cost of entry lowered for Flight Attendant. Sure it's been lovely having the matching AXS groupset and high-end components on our test bikes, but Flight Attendant will work on bikes with alloy frames and cable-activated drivetrains too. Building a sub-$10K bike with Flight Attendant is entirely possible, so we look forward to seeing the technology becoming more accessible.
---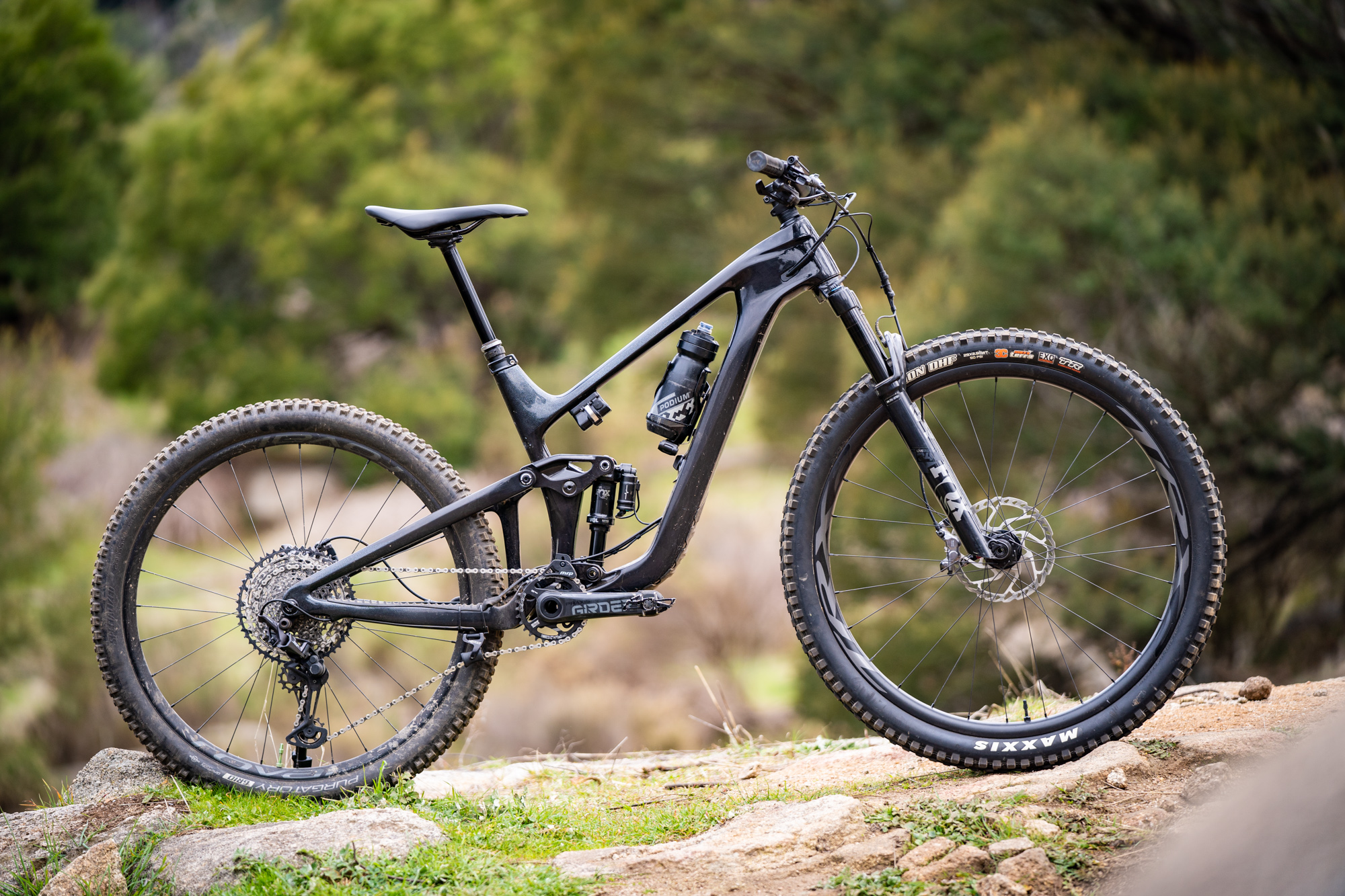 Fox Live Valve 1.5
Fox Live Valve was first introduced back in 2018 to much fanfare, though the hype around the system has really died down since then. In late 2021, Fox ushered in a suite of improvements, with the updated Live Valve 1.5 system debuting on the new Giant Trance 29.
Despite the updates, Live Valve's purpose remains the same. It's designed to automatically adjust the fork and shock between Open and Firm settings, with the goal of improving the bike's responsiveness and efficiency under pedalling.
Structurally speaking, Live Valve 1.5 looks the same as the original. There's the main control unit and a single battery underneath the top tube, with four wires snaking their way from the control unit throughout the frame. One wire leads to the rear sensor sensor that sits inside the frame's non-drive side dropout, while another wire leads to the front sensor that bolts into the back of the fork arch. There's also a wire that plugs into the Live Valve shock, and another that plugs into the Live Valve damper atop the fork.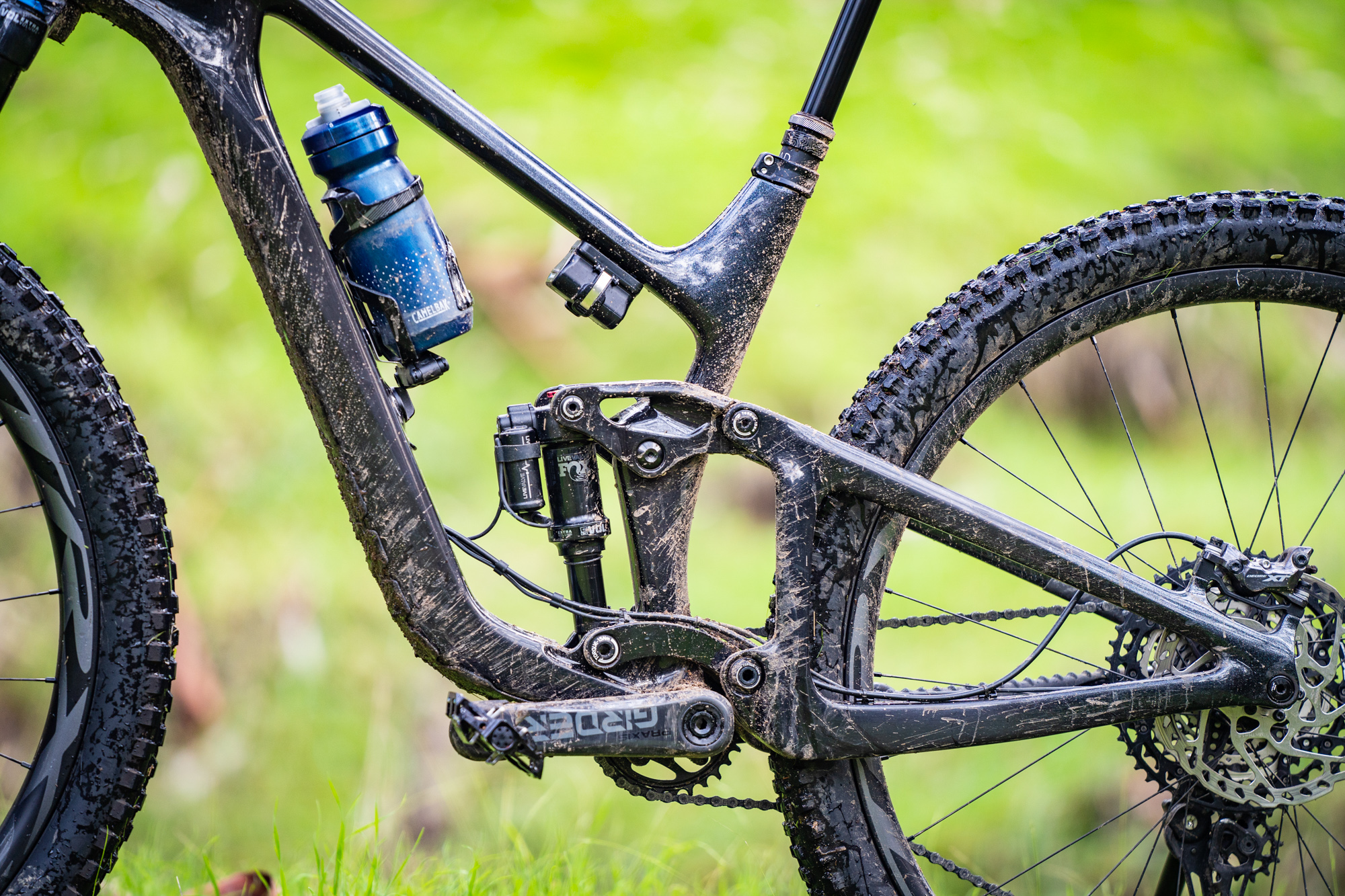 Different to the first generation system, Live Valve 1.5 has added Bluetooth connectivity, and there's now a smartphone app that offers you access to a load more customisation options as well as diagnostics. The Live Valve shock also features a new main piston that has been borrowed from the big Float X2. Finally, the controller receives updated sensors that are claimed to offer more accurate pitch detection. According to Fox, these changes are said to make Live Valve 1.5 smoother, faster reacting, and more seamless than its predecessor.
How does Fox Live Valve work?
As mentioned earlier, Fox Live Valve works in the opposite way to Flight Attendant. The suspension defaults to the Firm position, and only opens up when it encounters a bump that's big enough to trip the sensors. Once it does, the suspension switches into the Open mode.
It does this using a latching solenoid, which is essentially a tiny electromagnet. According to Fox it takes just three milliseconds between the system detecting a bump and the latching solenoid opening the valve, which is insanely quick. As well as being incredibly responsive, this mechanism requires a small amount of energy to operate. That's allowed Fox to power both the fork and shock from a single battery, which is claimed to last 16-20 hours of ride time.
Once the system has switched into the Open mode a timer starts, with the suspension remaining open for a predetermined interval. What's especially clever is that the system uses its pitch sensors to work out whether you're climbing, traversing or descending. The algorithm then changes the timer setting accordingly, allowing the suspension to remain open for longer while you're descending. If you're climbing however, the system reverts back to the Firm mode much quicker.
A lesser known fact about Live Valve is that it doesn't always change modes on the fork and shock simultaneously. If the sensors detect different bump forces between the front and rear wheels, the system may open the fork while leaving the shock in the Firm position, not unlike the 'split mode' on Flight Attendant.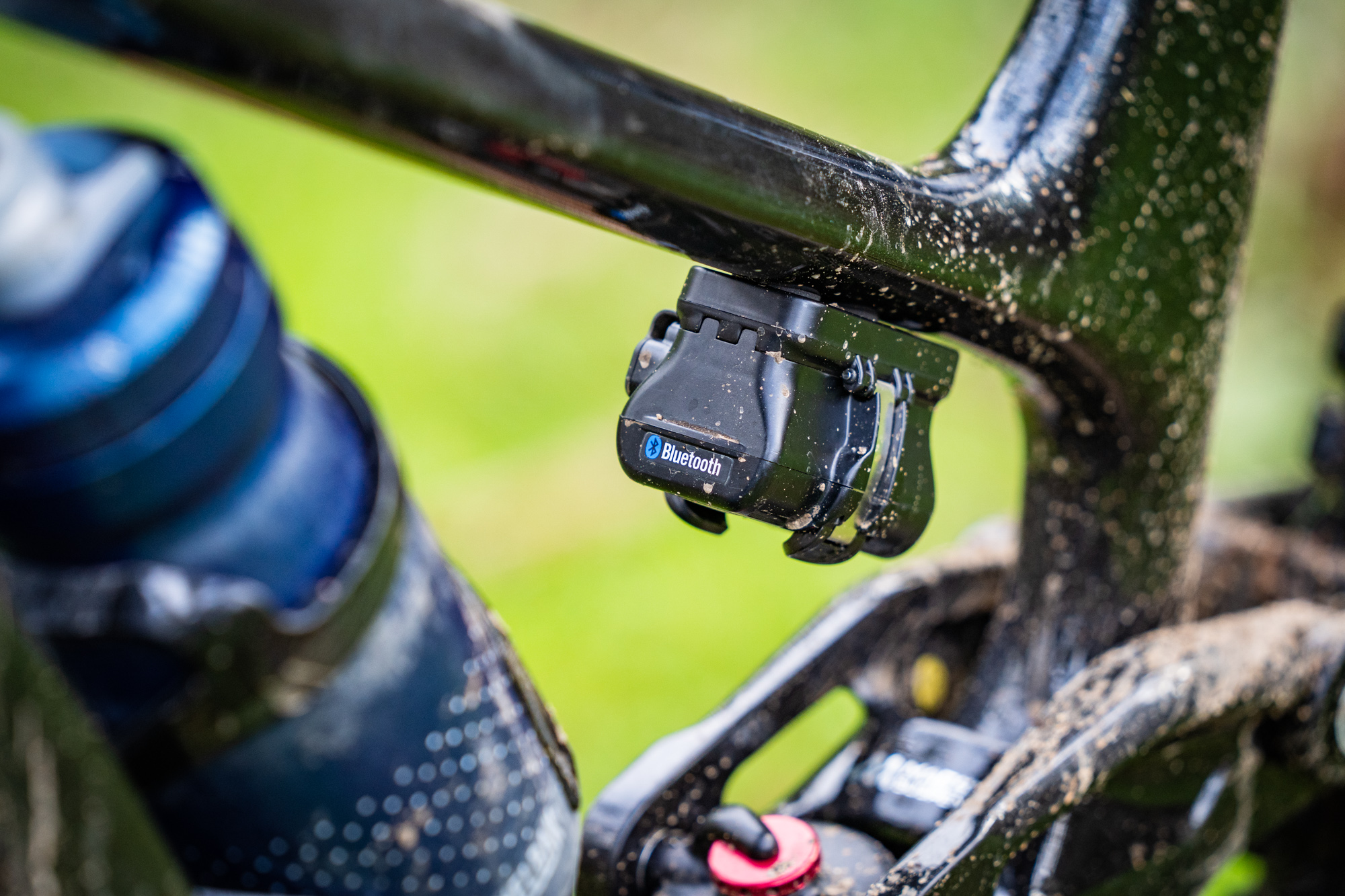 As with Flight Attendant, Live Valve only affects the suspension's compression damping. That means air pressures and rebound damping are set as normal. It is possible to adjust the low-speed compression damping of the Open, which you can do with a 3mm hex key for both the fork and shock.
There are further tuning options available with the updated Live Valve 1.5 system and the accompanying smartphone app. You can select between Open, Comfort, Sport, Firm and Climb modes, and with the exception of the Open setting, each mode offers you a further five levels of sensitivity. That gives you some 21 possible settings to choose from.
It's worth noting that the actual 'tune' of both the Open and Firm settings are otherwise preset. This is because the fork and shock's damping and the system parameters are decided on by Fox and the bike brand. As such, the performance of the suspension is different across the range of bikes that come fitted with Live Valve.
What bikes does it come on?
Fox Live Valve is available across a broad spectrum of different bikes, from 100mm travel XC race bikes through to 170mm travel enduro rigs.
There is essentially one model of Live Valve shock, while the Live Valve fork damper is offered in the Fox 32, 34, 36 and 38 models. Though the forks and shocks use standard fitments, you can only fit the Live Valve system to a frame that is equipped with the specific mounts. This is because the frame needs to accommodate the rear dropout sensor and the main controller underneath the top tube.
There were a number of brands initially producing Live Valve-compatible bikes, including Scott and Rocky Mountain. Those brands have since jumped off the bandwagon, and in 2022 you'll predominantly find Live Valve on Pivot and Giant bikes.
We tested the original Live Valve system on a Rocky Mountain Altitude, a Pivot Mach 4 SL and the Giant Trance X. We've since tested the updated Live Valve 1.5 system on the new Giant Trance 29 and Giant Anthem.
How much does Live Valve cost?
Previously Fox Live Valve was only offered at the premium Factory Series level. That changed for 2022 with the introduction of a Performance Elite version that is exclusive to Giant. The functionality is identical, you just lose the gold Kashima coating on the fork and shock stanchions.
Because of this new offering, it's now possible to get a Live Valve-equipped bike for $8,799 AUD — that being the Giant Trance Advanced Pro 29 1. This brings the price of entry down significantly compared to Flight Attendant.
Of course it is possible to spend a lot more on a Live Valve-equipped bike. For those with the deepest of pockets, consider the $19,999 AUD Pivot Firebird Team XX1 AXS Live model, which combines SRAM and Fox electronics into the one ultra-high end bike.
How much does Live Valve weigh?
Fox claims Live Valve adds 144g over a comparable cable-activated system such as Scott's TwinLoc. While we can't make that specific comparison, we did have the opportunity to weigh the Live Valve components on our Giant Anthem test bike, as well as the non-Live Valve versions for the same bike. Here's how the two systems compare;
Fox Live Valve 34 SC Fork, Live Valve Shock, Controller & Battery – 2,166g
Fox 34 SC Fork, Float DPS Shock, Dual Lockout & Cables – 1,870g
That's a difference of 296g, which is more than Fox claims. However, it's a similar weight penalty when compared to Flight Attendant.
What does Fox Live Valve do well?
Much like Flight Attendant, the best aspect of Live Valve is that you don't need to think about toggling lockout levers while riding. This makes for quite a different experience compared to riding a remote-activated bike like the Scott Spark or Canyon Strive, which demand a certain percentage of brain power to control the suspension. Because Live Valve does all the thinking for you, you can simply focus on the trail ahead, which we've found to be especially beneficial when racing. Here you're also provided with a distinct psychological advantage, knowing that your suspension is always going to be as efficient as it possibly can be.
Also like Flight Attendant, Live Valve brings about a significant improvement to your bike's pedalling response. However, the efficiency gain is even greater since the suspension is defaulting to the Firm position most of the time. The system's desire to remain in the Firm position is especially noticeable when pumping through rollers and when scrabbling up ledgy climbs. There's less oscillation and pitching after each bump, with the valve quickly closing to stabilise your body's weight shifts and return you to that firm pedalling platform.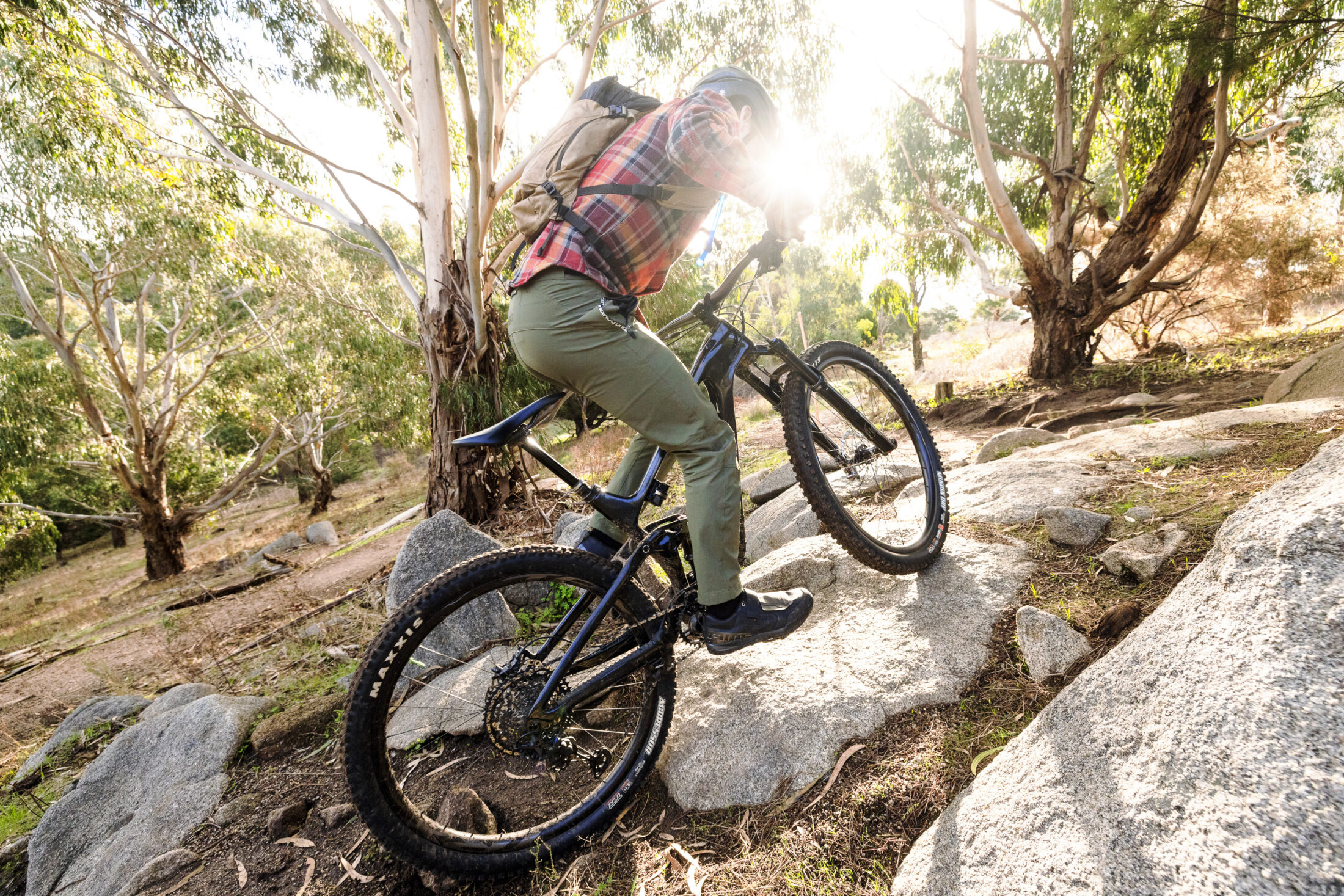 Contrary to what many folks assume however, the Firm setting isn't actually a full lockout. Instead it uses a heavy dose of compression damping that helps to stabilise the fork and shock, while still allowing oil to bleed around the valve to provide necessary sag. There's still a small amount of movement in the Firm position, which provides a bit more comfort and traction compared to the much firmer Lock setting on Flight Attendant.
While it isn't a full lockout, the stable platform that Live Valve delivers means the whole bike rides noticeably higher in its travel. This has the effect of steepening the seat tube angle while also increasing ground clearance, which was particularly advantageous on the Trance 29. While its low-hanging bottom bracket gives it a load of stability and makes it a riot to ride on flowy, twisty singletrack, it also means pedal strikes are a regular occurrence on rocky climbs. Those rock strikes all but disappear when Live Valve is switched on, with the suspension staying high in its travel. Ultimately this meant we could leave the geometry flip chip in the Low setting to enjoy the added stability on the descents, without compromising clearance on the climbs.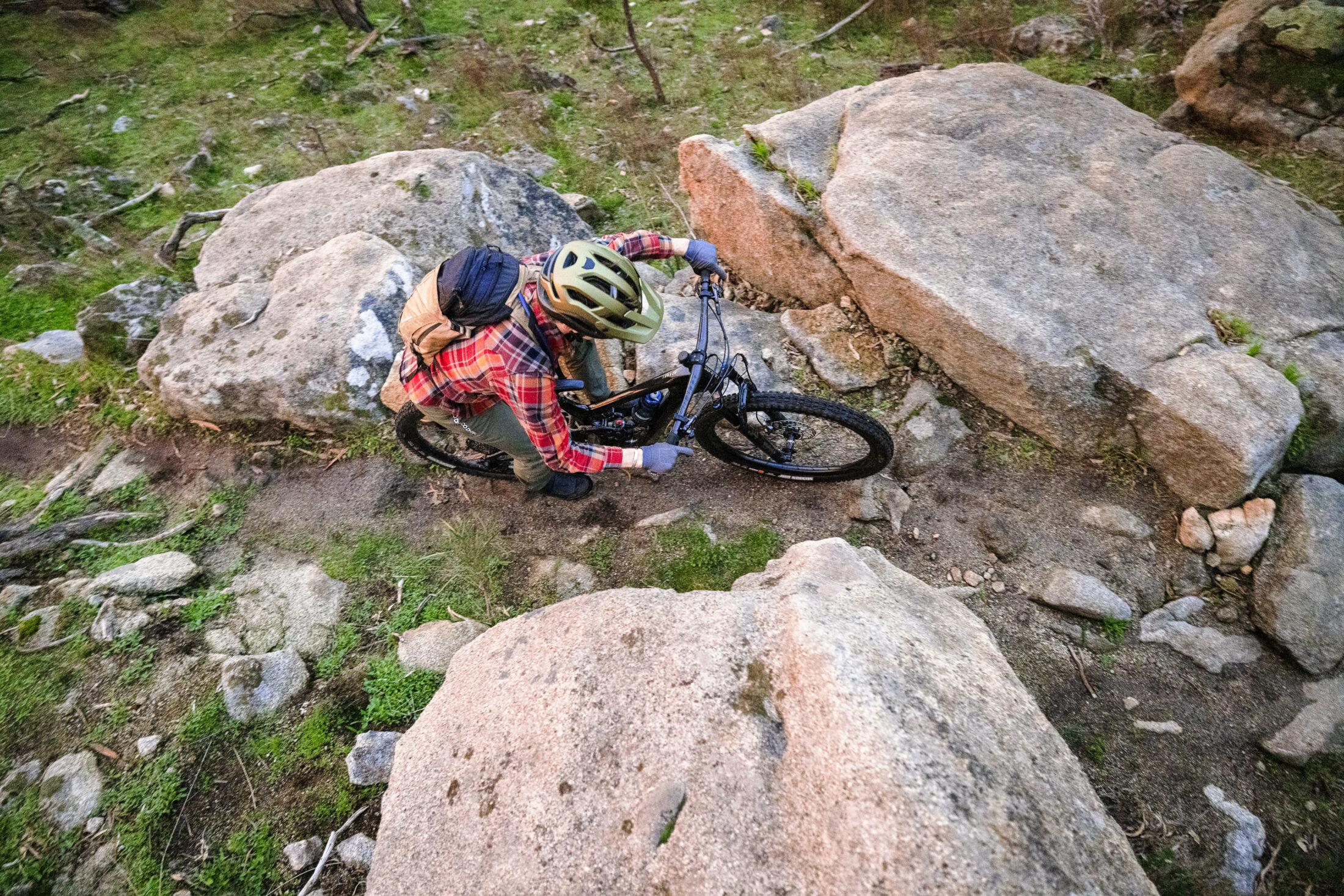 When you're really hammering through a rocky section of trail, it's hard not to be impressed by just how fast Live Valve is. The system opens up incredibly quickly, to the point where you typically don't notice the transition between the Firm and Open settings.
It helps that the click of the latching solenoid is basically impossible to hear while riding, unlike the noisy servo motors used in Flight Attendant. The wired system ensures the response time is as fast as possible, and having the front sensor attached to the unsprung part of the fork improves its sensitivity. All of that contributes to reduce lag, resulting in a near-instantaneous transition.
Compared to the original version, Live Valve 1.5 is also noticeably smoother and more seamless during that transition. The quality of the rear shock's damping has stepped up, with the improved all-round suppleness and impressive high-speed consistency offering more traction and control on the descents.
We thoroughly enjoyed this plusher ride quality on the Anthem, which is one of the most capable XC race bikes we've ridden. And by leaning into the automated efficiency of the Live Valve system, we love that you can bias the suspension setup for descending performance with a little more sag than usual. This allows you to benefit from a smoother ride when the trail gets rough, while still having excellent pedalling support and efficiency on the climbs.
What are the downsides?
It's no secret that Fox Live Valve hasn't enjoyed flawless reviews since its inception. We weren't overly impressed with the ride feel on the 2021 Giant Trance X, which suffered from an over-damped fork that, even in the Open position, was harsher on the trail compared to non-Live Valve Fox forks.
Thankfully things have improved, and we've certainly had a more positive experience with the latest Live Valve 1.5 system. The suspension performance is markedly better, and the tunes also feel more appropriate. This is particularly the case with the Trance 29, which has a deliberately softer tune for the fork's Firm setting, which better suits the aggressive trail riding it's designed for.
However, because the Live Valve forks are still based on Fox's FIT4 damper, you won't get the same level of buttery sensitivity compared to forks equipped with the GRIP2 damper. This was blatantly obvious when switching between the Trance 29 and bike's fitted with the Fox 34 GRIP2 fork, which offered greater suppleness and big-hit control.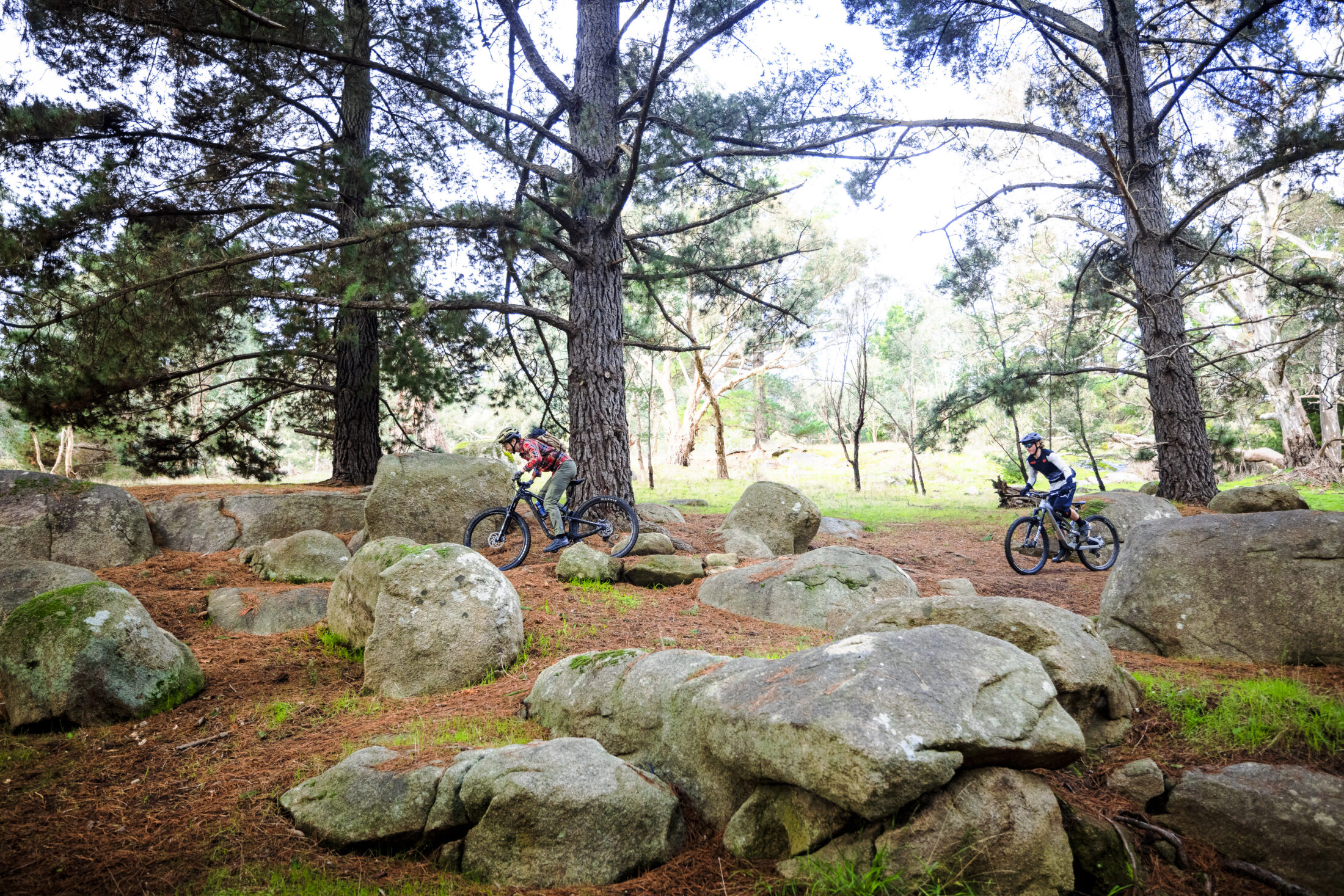 Also, Live Valve's propensity to stay in the Firm position means you'll typically experience more general feedback from the trail. This differs from Flight Attendant, which is more likely to flip into the Open position when you're coasting, and especially when you're descending. Live Valve doesn't automatically open up on those same descents however, since it's always waiting for a bump that's big enough to trigger the sensors.
As for smaller rocks and ripples on the trail? Well the fork and shock can still move, but you're going to be aware of any impact that's under the designated bump threshold. This becomes more prevalent on longer rides as you fatigue. If you're not riding assertively and pushing into the fork, you're less likely to trip the sensors and open up the suspension.
That's not such a big deal for trail riding, since you can easily hop off the bike and change modes to a less aggressive setting. It's tricky to change modes during an XC race though, since the controller is mounted underneath the top tube. There's no handy remote switch or Override function like with Flight Attendant, so you're pretty much forced to leave the suspension in whatever mode you started with.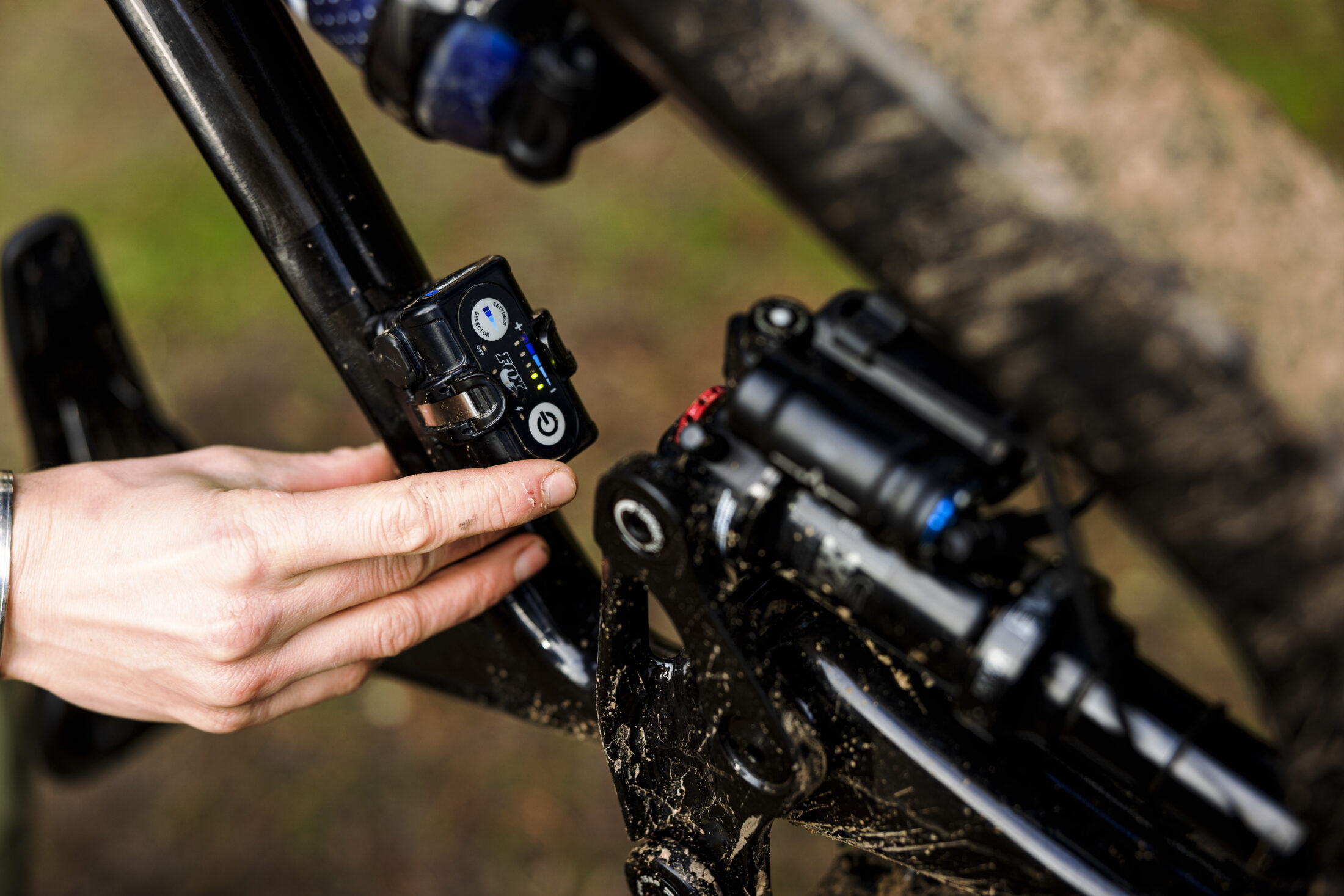 If you are chasing a more compliant ride, we'd recommend switching to the Comfort mode, which lowers the threshold values and ensures the suspension remain in the Open position for longer. Dropping down the sensitivity a level is also a good way of adding comfort. Alternatively, you can also switch the system off entirely.
On the topic of racing, we know there are plenty of XC racers who prefer a totally solid dual lockout, which Live Valve doesn't provide. There's still suspension movement in the Firm setting, and if you're flat-out sprinting it's also possible to exceed the system's bump threshold and accidentally open it up. Along with the 300-400g weight penalty, we suspect this is why World Cup XC racers such as Linda Indegand and Antoine Philipp have moved away from Live Valve and back to a standard cable-activated suspension setup.
Many riders will also be put off by the added clutter that Live Valve brings. The external battery pack isn't the most aesthetically pleasing solution, and the mess of wires require careful management to minimise noise. Each wire inside the frame has its own foam insulating tube, and it means things can be pretty tight through the top tube and downtube. We had to be especially careful of the excess length of wires when stuffing things through the downtube storage hatch on the Trance 29.
We did also have a failure with the Live Valve system on the Trance 29. This was apparently caused by damage to the wire that leads to the rear shock, possibly from the wire flapping about between the frame's exit port and where it plugs into the shock. We've since fitted a replacement controller, and have been careful to provide sufficient slack to the wire so there's no tugging during suspension compression. It's the only failure we've encountered on all the Live Valve bikes we've tested over the past four years, but it still highlights the added complication this system brings to a mountain bike.
How could Live Valve be improved?
Because the current Live Valve system is designed to cover such a wide spectrum of riding across a variety of bikes, it doesn't feel like it's necessarily optimised for any one application. For that reason, we reckon there's room for Live Valve to branch off into two distinct directions moving forwards; one system for XC racing, and one for trail/enduro.
For XC, we'd like to see some sort of remote switch added to provide you with manual control. While the electronic automation works incredibly well, and we love not having to think about suspension settings while we're riding, we expect hardcore racers would benefit from having a sprint button to allow them to fully lock out the suspension.
Those XC racers might also appreciate being able to adjust the platform of the Firm setting, which is currently non-adjustable. On that note, we'd like to see independent adjustability of the fork and rear shock settings, which could be advantageous for trail riding too.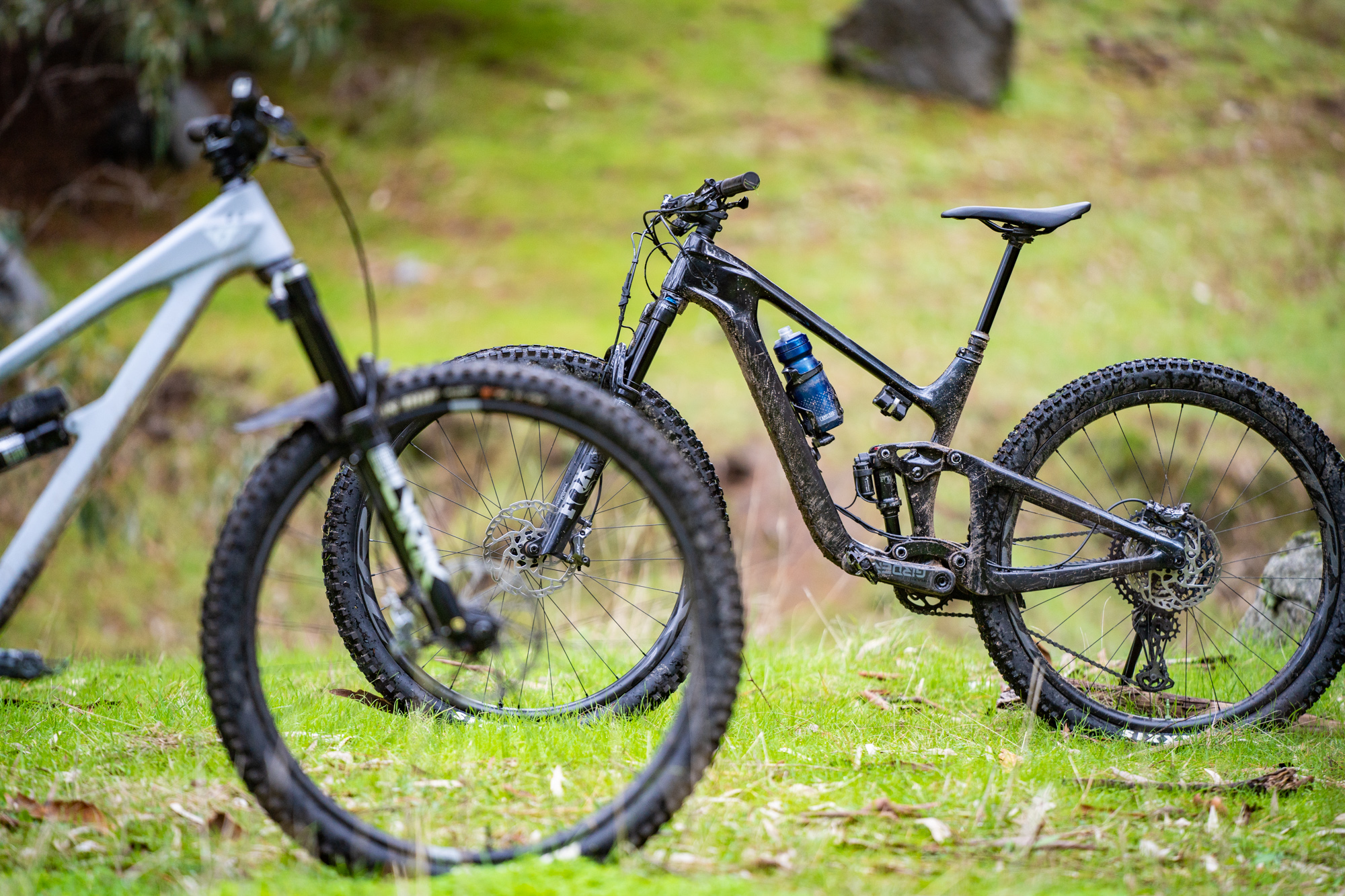 In fact, trail riders and enduro racers may even prefer to see a Live Valve system that only controls the rear shock. After all, that's where the biggest efficiency gains are going to be, and it would then allow you to run the superior GRIP2 fork up front. It would also remove two wires to help neaten up the cockpit.
Of course the logical next step would be to make the system wireless, and we suspect the engineers at Fox will be considering that very option. Previously Fox had stated that a wired system was necessary to achieve the three millisecond response time. Whether modern wireless technology could achieve the same speed is yet to be seen.
We're also curious to see whether Fox will consider following RockShox by adding a pedal sensor, and if future versions of Live Valve could offer more settings than just Open and Firm. The binary simplicity actually works well in an XC application, as it keeps the suspension predictable. For trail riding however, there's certainly room to make Live Valve more active and more comfortable.
---
What's the future for Flight Attendant & Live Valve?
While we've been utterly fascinated by both Flight Attendant and Live Valve, it feels like we're still in the early stages of their development life. Yes these are complex systems, but they've actually been designed to be as simple as possible. After all, they need to be robust, efficient and lightweight to be fitted to a modern mountain bike.
It's for this reason that both systems are only adjusting between two or three predetermined compression settings. In the future we expect we'll see systems that will be able to adjust in smaller increments, or perhaps even through an infinite sweep between Open and Locked settings. This would require more processing power though, which would require a bigger battery, or more of them.
Are we likely to see suspension designs in the future that are totally optimised around a system like Flight Attendant and Live Valve? Currently most full suspension bikes are built around a high level of anti-squat in order to provide pedal efficiency. However, this interaction between the chain and the rear suspension can have an affect on sensitivity, which is particularly noticeable when pedalling through flat rock gardens and up technical ascents.
Of course anti-squat becomes less crucial when you have an automated suspension system on hand, and that surely opens the door to a rear suspension kinematic that's freed from such constraints.
We actually hypothesised this back in 2018 when Live Valve launched, but so far it's yet to happen. This technology isn't cheap after all, and bike companies need to sell non-electronic models too. Still, we think there's potential to design a bike that is wholly reliant on automated electronic damping.
Flow's Verdict – Flight Attendant or Live Valve?
While we've been thoroughly impressed by both RockShox Flight Attendant and Fox Live Valve, it's clear that the two systems offer distinct advantages and disadvantages that will make them suitable for different riders.
We see Flight Attendant as offering the most benefit in longer travel applications, where its automated control taps into a new level of efficiency and responsiveness that makes a big enduro bike feel vastly more versatile. The fact that the supple suspension is so good in the Open mode means it simply rides like a normal bike on the descents, with none of the hiccups that Live Valve can throw out.
In comparison Live Valve is the more efficient platform of the two, which makes it better suited to shorter travel applications. It's especially good for XC racing, where it provides its pilot with a distinct psychological advantage knowing that the suspension is about as efficient as it possibly can be.
As for where we sit? Well funnily enough we're actually split right down the middle here at Flow, with a vote going each way.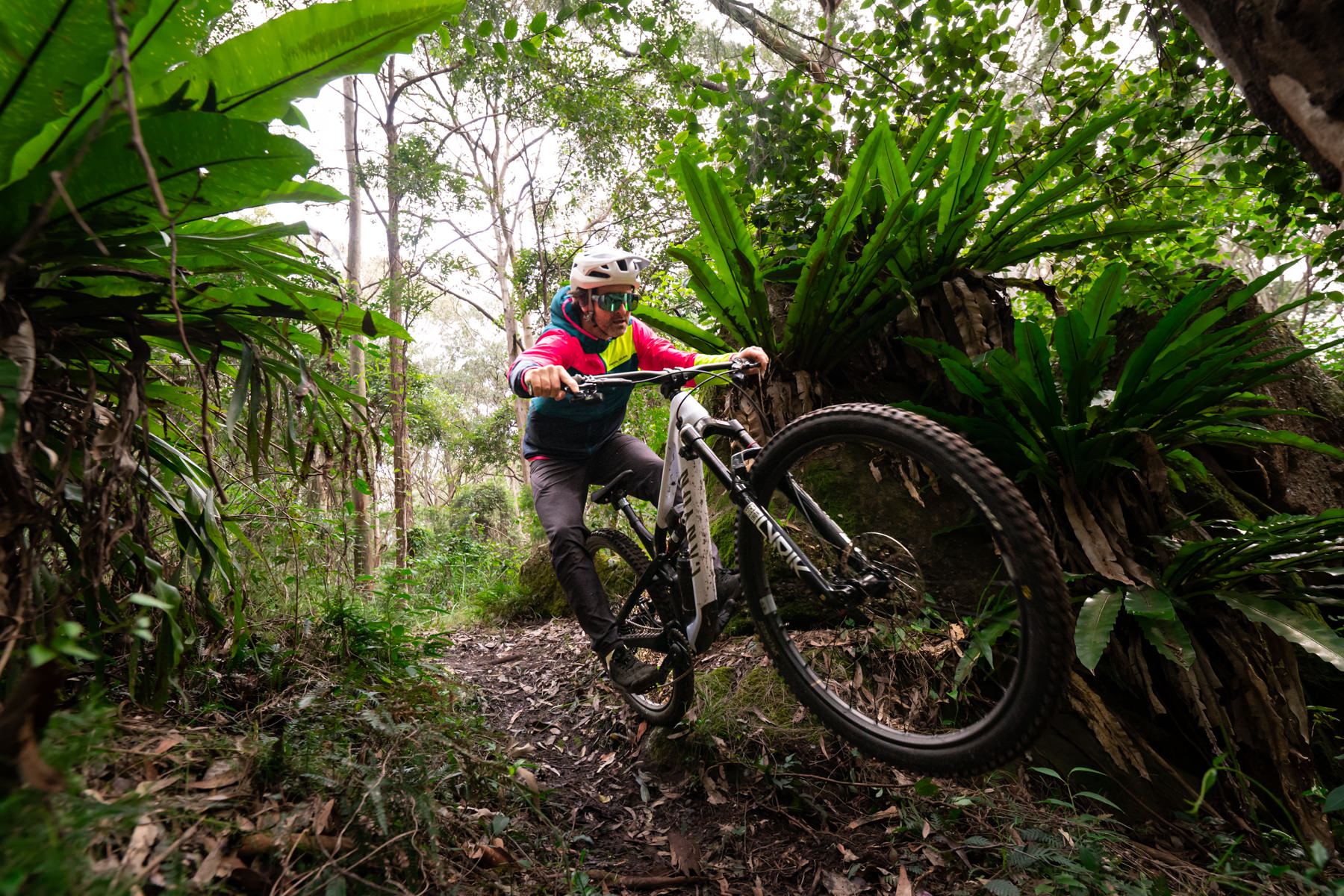 Mick has been quite taken by Flight Attendant, which unlike Live Valve, has provided a positive impression since day one. There have been no issues with pairing or making adjustments throughout the test period, and the user interface via the app and fork module have made it an intuitive system to operate.
Yes there are two more batteries to charge, but as someone who's capable of keeping his mobile phone charged every day, it's never been an actual issue for Mick. And having had SRAM AXS components on his personal bike for the past four years, he's been particularly drawn to the clean wireless setup of Flight Attendant.
Looks and ergonomics aside, it's the fact that the suspension is so plush in the Open setting that makes Flight Attendant so impressive. Of course you're getting improved pedal efficiency and better dynamic stability on the climbs, but when things get rough and fast, you still feel like you're riding a regular trail bike — and a bloody good one at that.
Indeed Mick was so enamoured with the performance of Flight Attendant on the YT Jeffsy test bike that he actually bought the Spectral CFR LTD shown in this review. That's right — the Spectral is Mick's personal bike, which likely says it all.
Wil has been similarly chuffed with Flight Attendant for all the same reasons that Mick has. But of all the electronically-controlled bikes that he's tested, it was the Giant Anthem that really stood out from the pack.
This isn't exactly a surprise, given that Wil comes from an XC background and has spent the last two years reviewing some of the best XC bikes currently on the market. It's arguably in the short travel world, where efficiency is such a big deal, where the automated platform of a system like Live Valve makes the most sense.
Live Valve is certainly not perfect, and we'd love to see future versions become tidier, lighter and more adjustable. Still, the latest Live Valve 1.5 system has significantly stepped up the performance, and it allows the Anthem to achieve a potent balance of plush descending performance with hardcore out-of-the-saddle pedalling efficiency. Not only has this broadened its general usability, it also makes it a more versatile and confidence-inspiring race bike.
For those reasons, Wil reckons Live Valve represents the current best use-case scenario for electronic suspension. The fact that it comes in a few thousand bucks less than a bike with Flight Attendant is also nothing to be sneezed at. And until we see RockShox bring the price of entry down, or bring out an XC version of Flight Attendant, it's the Live Valve-equipped Anthem that gets Wil's vote.