Wil reviews the Rocky Mountain Altitude Powerplay
Four long years after the Canadian brand introduced its very first electric mountain bike, the 2nd generation Rocky Mountain Altitude Powerplay has finally arrived. There have been some small rolling changes to the Altitude Powerplay in that time, but the 2022 model sees the platforms biggest overhaul yet with an entirely new chassis, an updated motor, bigger battery and a refined user interface. There have been changes to the geometry too, along with an increase in suspension travel and wheelsize. It's no doubt a much better looking bike, and it presents an appealing package with a different approach to the Specialized Levos, Merida eOne-Sixtys and Trek Rails that typically dominate our local trail centres. But is different any better?
---
Watch our video review of the Rocky Mountain Altitude Powerplay here:
---
Despite its ability to mob through straight-line chunder, it rips turns with surprising nimbleness that had me constantly grinning from ear-to-ear.
An overview of the Rocky Mountain Altitude Powerplay
The Rocky Mountain Altitude Powerplay is the biggest and baddest e-MTB that Rocky has ever built. It rolls on 29in wheels, and it's equipped with a 170mm travel fork and 160mm of rear travel. As such, it's designed for similarly rowdy riding as the Trek Rail, Specialized Kenevo SL, Giant Reign E+ and Norco Sight VLT.
Compared to the previous model, the new Altitude Powerplay updates to a trendy 'mid-high pivot' suspension design, with the main pivot sitting 100mm north of the BB. According to Rocky Mountain, the new kinematic offers increased anti-squat in the early portion of the travel, and a more supportive leverage rate throughout. Featuring a claimed progression of 44.1%, which is very high, the frame is compatible with both coil shocks and high volume air shocks.
Dual bearings are employed in the chainstay pivot for increased stiffness and durability, while external shields are added to all pivot bearings to ward off contaminants. For increased sensitivity, the lower shock pivot rolls on dual bearings rather than a conventional bushing.
Of note is that the Altitude Powerplay and Instinct Powerplay frames are virtually identical. The Instinct employs a shorter stroke shock, which shrinks rear travel down to 140mm. It also features a shorter 150mm travel fork, and an extended lower headset cup to balance out the ride height. Along with a lighter weight build kit, the Instinct Powerplay is targeted at longer distance riding on less extreme terrain.
New motor & user interface
In the same way that Giant has collaborated with Yamaha, and Specialized has partnered with Brose and Mahle, Rocky Mountain has employed the services of fellow Canadian brand Propulsion Powercycle to help engineer the motor for the Instinct and Altitude Powerplay models.
The motor is called Dyname 4.0, and like the frame it's had a significant update for 2022. It's claimed to be smaller and lighter, while maintaining the whopping 108Nm of torque that its predecessor was known for. The motor anchors above and forward of the crankset, with a small drive sprocket that sits close to the main pivot. This configuration affords greater flexibility when designing the bike's suspension kinematics, and it also allows for a standard press-fit bottom bracket shell. This means the BB bearings are easily replaceable, something that isn't the case with a Shimano, Bosch or Brose motor.
Along with the new motor the Altitude Powerplay gets a larger 720Wh battery, and it's now easily removable with just a 4mm hex key required to slide it out from the downtube. Even with the big battery, it takes less than four hours for a full recharge.
Also new is a slim controller by the left hand grip, and a display unit that's integrated into the frame's top tube. Called the Jumbotron, this screen displays speed, cadence, battery status, and your current assistance mode. Unfortunately it doesn't have a clock – a simple but much appreciated feature that we love about the MasterMind TCU display on the new Levo. The Jumbotron does allow you to personalise the motor's assistance levels and Boost character though, which we'll touch on in a bit.
All the geometry adjustments
Thanks to the compact motor, the geometry of the Altitude Powerplay closely follows that of the non-motorised version. In fact, the 437mm rear centre length is identical between the two bikes, and should be noted as being incredibly short for an e-MTB with 29in wheels and 160mm of rear travel.
The chainstay length can be adjusted however, with a dual position flip chip and a reversible brake mount that allows riders to easily extend the rear centre by 10mm. Also neat is that the frame will accept a SRAM UDH when the dropout is set in the longest position – a useful feature for folks who like to travel with their bike.
Further geometry adjustment can be found in the Ride-4 flip chip at the lower shock mount. This allows riders to tweak the BB height by up to 10mm, and adjust the angles by 0.8°. Bikes come shipped from the factory in position three (also known as 'neutral'), and these are the key numbers it delivers;
Head angle: 64°
Seat angle: 76°
Reach: 455mm (Medium)
Rear Centre: 437mm (Short) – 447mm (Long)
BB Drop: 27mm
Adjusting the Ride-4 geometry chip is even quicker than the dropouts, with only a single 5mm hex key required. And the changes are significant enough to make it a feature worth having – something that's not always the case with flip chips found on other full suspension bikes.
Rocky Mountain Altitude Powerplay price & specs
There are five options in total in the 2022 Rocky Mountain Altitude Powerplay lineup, three of which feature carbon frames and two that use alloy frames.
Regardless of price or material, all models are equipped with the same Dyname 4.0 motor and 720Wh battery, and feature the same 8-way adjustable geometry. Pricing starts at $8,999 AUD for the Altitude Powerplay A30, and goes up to $15,999 AUD for the Altitude Powerplay C90. For specs, prices and all the details on the new Altitude and Instinct models coming into Australia, check out our first look story for more.
Here we'll be diving into our experience of testing the second-from-the-top model; the Rocky Mountain Altitude Powerplay C70.
Rocky Mountain Altitude Powerplay C70
Frame | Smoothwall Carbon, Mid-High Pivot Smoothlink Suspension Design, 160mm Travel
Fork | Fox 38, Performance Series, GRIP Damper, 170mm Travel
Shock | Fox Float X2, Performance Series, 230×62.5mm
Motor | Dyname 4.0, 108Nm Peak Torque
Battery | 720Wh
Hubs | Rocky Mountain Sealed Bearing Front & DT Swiss Hybrid 370 Rear
Rims | WTB ST i30 Alloy, 32H, 30mm Internal Width
Tyres | Maxxis Assegai DoubleDown 3C MaxxGrip 2.5in Front & Minion DHR II DoubleDown 3C MaxxTerra 2.4in Rear
Inserts | CushCore XC Tubeless Inserts Front & Rear
Drivetrain | Shimano XT 1×12 w/Race Face Aeffect 34T Crankset & 10-51T XT Cassette
Brakes | Shimano XT 4-Piston w/203mm Rotors
Handlebar | Rocky Mountain AM, 38mm Rise, 780mm Width
Stem | Rocky Mountain 35 AM, 40mm Length
Grips | ODI Elite Pro Lock On
Dropper | Race Face Aeffect R, 30.9mm Diameter, Travel: 125mm (S), 150mm (M), 175mm (L-XL)
Saddle | WTB Volt Race 142
Confirmed Weight | 24.12kg
Price | $13,499 AUD
Of course as you'd expect for a big travel e-MTB, the Altitude is a terrifically competent descender. But what's surprised me most about this bike is just how adaptable and enthusiastic it is for all-round riding.
Rocky Mountain Altitude Powerplay sizing & fit
I've been testing a Medium size in the Rocky Mountain Altitude Powerplay C70 to suit my 175cm height. There's nothing outrageous about the geometry, and there are no surprises to the fit as a result. The reach is spot-on, the seat angle is on the relaxed side, and it's never felt like I've had too much weight pushed onto the grips.
One thing to note is that our test bike features the extended lower headset cup, which should only come on the Instinct frames. We're told this was down to a simple availability issue at the factory. Even still, the Altitude Powerplay doesn't ride like a chopper, with a fairly moderate 625mm stack height.
The cockpit itself shows great attention to detail. The bar has a fantastic profile with a suitable width and rise, the WTB saddle is totally agreeable, the Shimano I-Spec mounts are tidy, and the ODI grips are a really nice touch. My only complaint is that the 150mm dropper post felt on the short side, limiting how much I could move around the bike when jumping or bombing down much steeper sections of trail.
Suspension setup
Firstly, big kudos to Rocky Mountain for providing a masterfully detailed online manual for the Altitude and Instinct Powerplay models, which contains lots of useful information on setup, including baseline shock pressures and damper settings. Many other brands could do well to take note.
It's recommended to set up the rear shock with 30-35% sag, and Rocky's suggested pressure of 190psi for my 68kg weight proved to be spot-on, putting me at the lower end of that sag range. While the ride height was good, and the suspension felt pretty plush, I did find there to be a lack of sensitivity deeper into the travel.
The Altitude's kinematic is indeed very progressive, which provides a heap of big-hit support that will no doubt suit the freeriding Vanderhams and Simmons' out there. Being a lighter rider and on flat pedals, I personally found the suspension to be too kicky. A couple of rides in, I removed the single volume spacer out of the Float X2 shock. This increase in air volume gave me access to more travel, while providing a deeper and floatier feel to the rear suspension, with less bouncing around during seated pedalling — an important aspect for an e-MTB.
I ended up doing the same thing with the fork too. Being the e-MTB version, the Fox 38 comes from the factory with three volume spacers fitted instead of the usual two. As with the shock, removing a single volume spacer opened up the travel and improved deep-stroke reactivity. As for rebound damping, I set both the adjusters on fork and shock a click or two slower than halfway.
Rocky Mountain Altitude Powerplay weight
Confirmed weight for our Rocky Mountain Altitude Powerplay C70 was 24.12kg, weighed without pedals. That's on the heavy side even for a big travel e-MTB, though there's certainly nothing dainty about this bike.
We're thrilled to see Rocky spec'ing proper Maxxis DoubleDown tyre casings front and rear, and in a decidedly uncommon move, the wheelset has also been fitted with CushCore XC tyre inserts. These lighter inserts aren't necessarily employed for hardcore rim protection, but rather to lock the tyre beads in place to prevent burping. As such, I was able to run pressures as low as 22psi in the front and 24psi in the rear.
Testing the Rocky Mountain Altitude Powerplay
Testing the Rocky Mountain Altitude Powerplay has been quite the journey of discovery. I had the pleasure of riding the original model at the European launch way back in 2017, but we've admittedly not had a heap of experience with Rocky Mountain bikes since then. Given all the updates, I was curious to see how the proprietary motor would perform alongside all the other e-MTBs we've been testing lately.
To put it through its paces, I've taken the Altitude on chunky off-piste singletrack, swoopy flow trails and big alpine point-to-point rides. I've also spent some time self-shuttling at my local downhill zone as part of a standardised range test to see how far I could ride on a single battery charge. Those results are listed a bit further down in this review.
Of course as you'd expect for a big travel e-MTB, the Altitude is a terrifically competent descender. But what's surprised me most about this bike is just how adaptable and enthusiastic it is for all-round riding.
How does the Dyname 4.0 motor perform?
The Dyname 4.0 motor is one of, if not the most distinctive element of the Rocky Mountain Altitude Powerplay, so let's start there.
Firstly, this motor is incredibly responsive. As you pedal, the chain tightens and pushes up against a jockey wheel, which is the main torque sensor for the system. By reading changes in the chain tension, this sensor gives a direct line of communication with the motor output, delivering a near-instantaneous response.
There are four assistance modes you can choose from; Eco, Trail, Trail+ and Ludicrous. Yes, in something of a nod to Elon Musk, this bike has Ludicrous mode. Motor performance is highly sensitive in all four assistance modes, with the peak power output simply being the difference between them.
To manage that sensitivity, the new motor features a revamped torque curve that gradually applies power up to a maximum output of 770W. That is A LOT of power, but Rocky has worked hard to make the motor's output as directly proportional to rider input as possible, so it's more like a dimmer switch than an on/off button. The result is a surprisingly intuitive and controllable feel, which is especially noticeable when soft pedalling around tight uphill hairpins. The motor never punches too hard, even if you've left it in Ludicrous mode.
This differs to my experience of riding other e-MTBs, where I'll typically only ride in the Eco or Trail modes on technical ascents. With most motors, using the full-powered Boost/Turbo mode tends to be overwhelming, dominating the ride and making the bike difficult to control. But that's not the case on the Altitude Powerplay.
In fact, I was able to clean one bastard of a climb on my local test circuit that I have never cleaned before. Even while out of the saddle, with my chest hanging over the bars to keep the front wheel weighted, the power feels easy to modulate, allowing you to make the most of the high-traction suspension and grippy rubber.
Torque for days
There is of course huge torque on tap, which becomes apparent the harder you pedal. The acceleration is quite remarkable, and the motor's ability to pull all the way up to the 25km/h cutoff point becomes rather addictive.
You'll get the most out of the Dyname 4.0 drive unit when spinning at a cadence of 85-120 RPM, and there's actually a dedicated page on the Jumbotron display that shows a big tick when you're in that zone. However, if you've miss-timed a shift and find yourself tackling a steep incline in a higher gear than optimal, the motor still manages to produce decent grunt at lower RPMs, not unlike a Bosch motor.
Noise is also comparable to Bosch, and is significantly less whiney than a Shimano EP8 motor. This is because the guts of the Dyname 4.0 are spinning at a lower RPM, producing a lower pitch and generally less volume overall. It's impressively discreet, and vastly quieter than the old bike thanks to the improved motor and chain management. However, there is still some mechanical noise and vibration that's caused by the idler and lower chainguide. As with recent high pivot bikes we've tested like the Cannondale Jekyll and GT Force, I found this was exacerbated in dusty conditions, so it's a good idea to keep the chain clean and well lubricated.
One other important note on noise – the Dyname 4.0 motor suffers none of the annoying rattle found in the current Shimano and Bosch motors. Along with its tightly managed chain, thick rubber frame armouring and non-finned brake pads, the Altitude Powerplay is a pleasingly quiet bike on the descents.
Going long
During the first few rides, the Rocky Mountain Altitude Powerplay didn't quite feel as stable as I was expecting for a big travel e-MTB. After tweaking the air volume in the fork and shock to improve traction and high-speed control, I decided to try out a variety of the Ride-4 geometry settings.
The slackest position is great for full-blown descending, though I found that as I became tired towards the end of a longer ride, I was more likely to wash out the front tyre on flatter turns. Pedal strikes also became an issue, as the BB ends up being quite low in that slack setting. After some experimentation, I settled back on the neutral position.
From here the next step was to investigate the dropout flip chip.
Out of the box the Altitude is quite long and slack up front, but the back end is very short at 437mm. This can be a good thing for cornering on really tight trails and for super-steep descending, where you want to get as much weight rearwards as possible. At higher speeds and on flatter terrain however, the short back end felt unwieldy for such a heavy and powerful e-MTB. Front wheel lift was a problem on steep pinch climbs, and it also felt somewhat skittish on rowdier descents.
Partway through a ride I flipped the dropout chip into the long setting, which took all of about five minutes. The change made an immediate improvement to weight distribution, improving stability on the descents and offering balanced grip between the front and rear wheels. It was also much more planted on the climbs, allowing me to make better use of the massive motor power.
Even in the long position, the Altitude Powerplay is still agile for a big rig. It is somewhat planted, a byproduct of its overall mass and the mid-high suspension design, so while I have found it'll take to the air, it's not the poppiest bike going.
However, the suspension generates loads of grip, and combined with the robust tyres and well-balanced weight distribution, it absolutely rips through the corners. It tips over effortlessly, dropping quickly into turns with minimal hesitation and, providing you commit and stay off the brakes, a distinct lack of understeer.
Belying its 24kg weight, the Altitude Powerplay is remarkably adept at flip-flopping through repeat chicanes and high-speed berms, with a lovely mix of agility and unflappable predictability. The fact that the main pivot isn't sky-high no doubt contributes to this predictable weight distribution. Indeed cornering is unquestionably one of this bike's strongest suits, and it manages to achieve that without a 27.5in rear wheel. Mullet-who?
What does it struggle with?
Suspension-wise I didn't find the Rocky Mountain Altitude Powerplay to be as gooey-plush as the Specialized Kenevo SL, which is my personal benchmark out of all the big travel e-MTBs we've tested. That bike has a remarkable ability to insulate your feet from what's going on underneath the wheels, leading to a cloud-like ride quality. In comparison, the Altitude Powerplay offers a little more surface communication and support.
The difference here may simply boil down to the progressive suspension rate. It certainly soaks up awkward landings well, and I never once encountered a harsh bottom-out. The slightly rearward axle path eats up square edges nicely, and keeps the rear wheel decidedly connected to terra firma. It's also significantly more responsive under power compared to the Kenevo SL, and it rails turns better too.
However, there have been times where I would have liked external control of the high-speed rebound to calm down the rear end when facing more violent impacts. And while the big 38 is a great match, providing a solid and secure platform up front, it isn't as supple or as well supported compared to the higher-end versions that feature the more complex GRIP2 damper. Fitting a GRIP2 damper would be an excellent upgrade, and I'd be quite curious to try a coil shock too.
If I was being really picky, I'd suggest the seat tube angle could be steeper. Yes, you can steepen the angle by flipping the Ride-4 chip, but I don't want to steepen the head angle and lift the BB at the same time. Nope, I want my cake and I want to eat it too. A steeper seat tube angle would no doubt improve the seated climbing position, but it would affect the riding position and likely compromise comfort elsewhere. The swings and roundabouts of designing a modern e-MTB eh?
My only other concern is with the rear end length. While I've found the long chainstay setting to work beautifully for my height and riding style, I do wonder how taller riders on the Large and XL frame sizes will find the rear centre length. Will those taller folks wish for longer chainstays? Until my scheduled shin transplant pans out, it's difficult for me to say. But it's clear that the Altitude Powerplay looks a little slack and a little short compared to a bike like the Norco Sight VLT, which has a 78° seat angle and a 455mm rear centre length in the XL size.
Sensitive power
Speaking of climbing, the Dyname 4.0 motor doesn't produce a lot of overrun. The highly responsive torque sensor means that while power comes on with minimal lag, it drops off just as quickly when you stop pedalling, which can occasionally be a problem on awkward technical climbs. It's a heavy bike after all, and the deceleration is noticeable when the motor isn't engaged.
This is in contrast to the latest Bosch motor, which continues to deliver power for a little longer if you take a brief pause on the pedals, helping to push you up and over a big root or rock slab.
Personally, I've not found the reduced overrun to be an issue for the majority of trails I've ridden, and both motors are easy to adapt to after a few rides. And the flip side of the Dyname 4.0 motor is that it rarely pushes you unintentionally, say on a tight switchback climb. In those circumstances, it actually makes the Altitude Powerplay easier to control. Again, swings and roundabouts.
On smoother inclines, the motor's sensitivity can also be felt through untidy pedalling technique. Specialized e-MTBs tend to be very good at converting uneven pedalling inputs into a very smooth and linear motor output. In comparison, there's a little more pulsing from the Dyname 4.0 motor if you're stabbing at the pedals, and it can be slightly jerky when you're hovering around the 25km/h cutoff point.
Adjusting the motor output
Out of the box, one of the more obvious differences between the Dyname 4.0 motor and its big-name competitors is the fact that it requires more input from the rider. There is huge power under the hood, but because of the progressive delivery, you have to pedal with some meaning in order to access it.
It's possible to reduce the leg effort required to bring on the motor's power via the 'Boost' setting. This is accessed in a tuning menu through the Jumbotron display, and you have five levels on offer, with the default setting from the factory being 0. Turning the Boost level up to +2 is a bit like increasing the Support level on a Specialized Levo, or the Assistance Character on a Shimano system. It speeds up acceleration and allows you to access more power with less input, at the expense of draining the battery a bit faster.
Even still, soft pedalling doesn't automatically deliver you full power. This differs to the Shimano and Bosch systems where you can lightly tick over the pedals in those high-powered settings, and still get maximum output from the motor. Specialized even has a special Shuttle mode that further reduces the required leg input, with the idea being that you can climb uphill with the minimum of effort required, so you save all your energy for the descents.
There is no such shuttle mode on the Altitude Powerplay, which requires a more collaborative performance between your legs and the motor. You can certainly climb with ease, you just won't access all of the Dyname 4.0's gut-churning torque unless you put in a bit of effort. It's actually great encouragement, and if you go for it, it's possible to ride this bike very fast uphill. During one of my range tests, the Altitude Powerplay had no trouble ticking over 22km/h while going up a 12% gradient. That is very quick, resulting in a higher average climbing speed overall.
How much range can you get?
With four assist modes on offer, the performance band of the Rocky Mountain Altitude Powerplay spans a pretty wide gap. I spent a full day out riding in Eco mode alongside a pack of regular mountain bikes, which proved to be a good match for my non-motorised friends, while barely touching the sides of the 720Wh battery.
Generally speaking, I remained in the Trail setting during the test period, which netted me anywhere from 50-75km of riding with 2,000-2,400m of elevation gain. That's a hefty amount of riding, and more often that not I'd run out of steam well before the battery ran out.
To get some more concrete numbers though, I subjected the Altitude Powerplay to our standardised shuttle range test. This involves pedalling up a road climb with the motor set to the most powerful assistance level, before bombing back down along a variety of downhill runs to see how many laps I can get in until the battery runs flat.
For the Altitude Powerplay, I actually performed this test twice. Once with the factory tune, and a second time with the Boost level turned up to +2. Not surprisingly, the factory tune achieved more mileage due to the lower Boost setting. However, I've listed the results for the second experiment here, as I feel that's a closer indication of how it compares to the other e-MTBs I've done this test with, which all had their motor settings maxed out. Here's how the Altitude Powerplay faired;
Norco Sight VLT (Shimano EP8, 900Wh Battery) – 2,478m climbing (12.8 runs)
Rocky Mountain Altitude Powerplay (Dyname 4.0, 720Wh Battery) – 2,108m climbing (10.9 runs)
Cube Stereo Hybrid 160 (Bosch Gen 4, 625Wh Battery) – 1,800m climbing (9.3 runs)
Canyon Spectral:ON (Shimano EP8, 630Wh Battery) – 1,570m climbing (8 runs)
Orbea Rise (Shimano EP8-RS, 360Wh Battery) – 1,388m climbing (7.2 runs)
Specialized Levo SL (SL 1.1, 320Wh Battery) – 1,377m climbing (7.1 runs)
Specialized Kenevo SL (SL 1.1, 320Wh Battery) – 1,053m climbing (5.5 runs)
I'll admit I was surprised that the Altitude Powerplay managed to clock up over 2,100m of climbing in one hit. Given its weight, the stocky wheels, dual-ply tyres and sticky-compound Assegai up front, that amount of elevation gain is impressive. Perhaps the noisy idler also convinced me that the Altitude Powerplay wouldn't be as efficient as its competitors. Either way, it's clear this is a bike that is capable of racking up some seriously big rides.
Component highs & lows
Our Rocky Mountain Altitude Powerplay C70 test bike has delivered near faultless performance during our time with it, which is hardly a surprise given it's such a well spec'd bike.
The Shimano XT brakes have been powerful and totally consistent, with the non-finned pads delivering a rattle-free ride. Shifting has also been crisp and ever-so reliable even under high pedalling loads. On the note of the drivetrain, the Altitude Powerplay requires a longer chain than usual due to its idler and chainguide, so you may need to buy two chains when it comes time for a drivetrain service. You'll also need to replace the chainring more frequently than usual, as it's made from alloy. A steel chainring surely makes more sense for an e-MTB.
There's nothing but thumbs up for the tyre spec, especially the choice of a 3C MaxxGrip compound up front. The Assegai is an insanely good tyre, and for me it's bordering on a must-have for a big e-MTB like this. The DoubleDown casings are most certainly a must-have, and while you could improve the overall range by fitting lighter and faster-rolling rubber, it would be a total waste of this bike's capabilities. I've not suffered a single puncture throughout testing, and while there a number of small dents in the rear rim, the tough tyres and CushCore inserts have shielded them from the worst abuse.
The carbon frame is also nicely crafted. I found it easy to adjust the Ride-4 and dropout flip chips, and pulling the shock out to alter the spring volume showed just how cleanly everything fits together. The rubber fork bumper is simple, but does exactly what it's meant to without need for a funky steering limiter headset. The generous frame protection is brilliant, and on some of our more savagely rocky test trails, I was mighty glad to have short 165mm alloy crank arms under my feet.
On the note of the motor, some folks may be bothered by the fact that the Altitude Powerplay doesn't use a Shimano or Bosch system. While we can't comment on long-term durability, so far we've not encountered any issues with the Dyname 4.0 motor on our test bike. It's been consistent and rattle-free, with no surprises in its power delivery or weird system errors out on the trail. It's also a second generation system that's replacing a motor that's been on the market for four years, so it ain't exactly Rocky Mountain's first rodeo.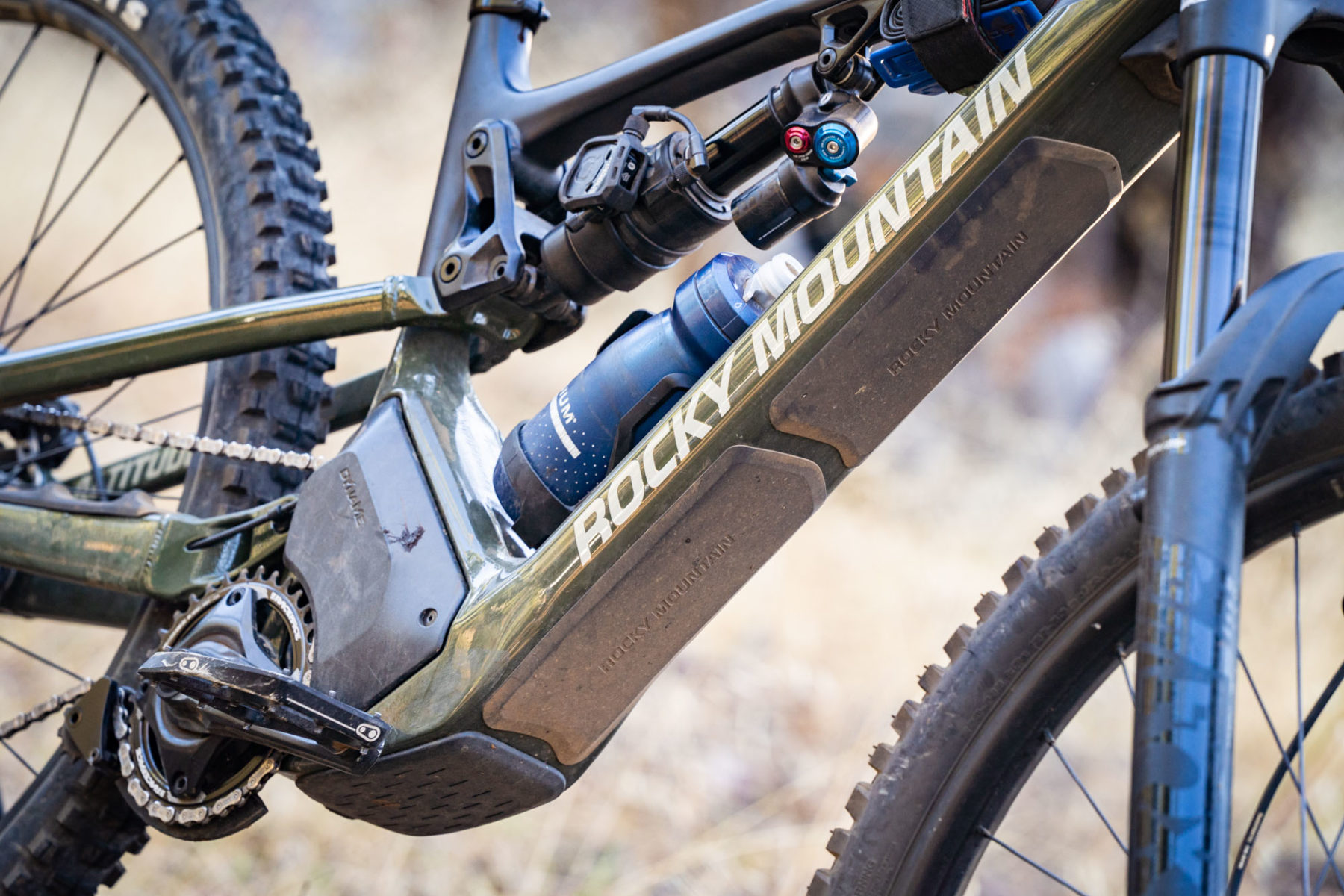 Cable management is nice and tight, though the external wiring at the handlebar and along the non-driveside chainstay isn't as tidy as some other bikes on the market. And while the overall integration is neat and the controls on the Altitude Powerplay are a vast improvement over the previous model, the main buttons on the remote switch are too light and a bit vague. There was more than one occasion where I accidentally changed the assistance level, or double-tapped a button. Not helping things, there's no audible beep to signal when you've changed mode. At the other extreme, the button on top of the controller is somewhat hard to push.
The Jumbotron display is fantastic, providing the rider with just enough useful information in a clear and easy to understand manner. It's a little lacking in features compared to Specialized's MasterMind TCU display — there's no phone connectivity, and it doesn't display metrics like ride time or altitude. Then again, Mick found the novelty of all those features quickly wore off during his long-term test of the Levo. I still wish the Jumbotron had a clock so I could leave my phone tucked away entirely, but otherwise it's totally functional, while being unobtrusive enough that it doesn't distract you while riding.
Flow's Verdict
I came into this test expecting the Rocky Mountain Altitude Powerplay to be a heavy, excessively powerful and glued-to-the-ground e-MTB. In some ways it fulfilled those expectations, but in other ways it totally surprised me.
While the Dyname 4.0 motor packs a ridiculous amount of power with near-instantaneous response, the progressive delivery makes it highly controllable. The excellent tyre spec and mid-high suspension design generates masses of grip, allowing the Altitude Powerplay to claw up rough and loose technical climbs with stability and quickness.
It doesn't offer the same amount of overrun as a Bosch motor for conquering ledgy moto-style climbs, and I suspect that taller riders may also wish for a steeper seat angle and longer rear end.
In my experience however, I've found the geometry and handling on this bike to be nothing short of brilliant. There's a heap of adjustability on offer, and once I found my sweet spot I was rewarded with a comfortable riding position and exceptional weight distribution that made the Altitude Powerplay both agile and predictable across a wide range of conditions. It inspires a load of confidence on technical descents, with the suspension gobbling up rocks and big hits with ease. Despite its ability to mob through straight-line chunder, it rips turns with surprising nimbleness that had me constantly grinning from ear-to-ear.
It's not the poppiest bike given its mass and suspension platform, though riders concerned by weight may wish to look towards the slightly shorter travel Instinct Powerplay. Personally, I'm not sure I'd want to give up the travel though, especially when the Altitude Powerplay handles as well as it does. This is indeed a bloody good e-MTB.