Mick reviews the new Roval Control Carbon wheels
Having received a complete redesign, the brand new Roval Control Carbon wheels have arrived on the scene as one of the most compelling options in the XC/lightweight trail market. With a confirmed weight of just 1,440g for the pair, these lightweight carbon hoops follow in the footsteps of the ultra-exotic Control SLs that were launched last year. We tested the Control SL wheels on both the Specialized S-Works Epic and Epic EVO, where they – quite frankly – blew us away thanks to their ridiculous 1,278g weight. That's absolutely bonkers, and lighter than most road wheels!
Of course the Roval Control SLs aren't exactly the most price-accessible wheelset on the market, with an RRP of $3,400 AUD. (Yes, yes, you could buy a car/horse/flat-screen TV/purebred Pug for that etc, etc.) For those who aren't quite ready to wax three grand on a set of wheels, these Control Carbons offer a more realistic proposition.
High performance, lowered price
The Roval Control Carbon wheels utilise exactly the same rims as the Control SL wheelset, though Roval has been able to bring the overall price down by skipping the fancy DT Swiss 180 hubs, ceramic bearings and Aerolite spokes. Here you'll find workhorse DT Swiss 350 hubs and non-bladed Competition Race spokes instead.
The result of those changes is a set of carbon wheels that sells for $1,400 AUD less than the Control SLs.
Given that price differential, is there a compromise in performance? And how do they compare to the competition? We got in a set of Control Carbons to put to the test and find out.
Roval Control Carbon – The key details
Lightweight XC/trail wheelset
Control SL carbon rims w/4mm FlatTop design
29mm inner rim width
DT Swiss 350 Straight-pull hubs
36T Star Ratchet freehub mechanism
DT Swiss Competition Race Straight-pull spokes & Prolock Alloy nipples
Confirmed weight: 1,440g (w/tape & valves)
RRP: $2,000 AUD
Those super-light Control SL rims
The big story with the Roval Control Carbon wheelset is with the rims. With a claimed weight of just 358g, these are some of the lightest carbon rims currently on the market.
They feature hookless sidewalls and a 29mm inner width, which is ideally paired with new-school XC and trail tyres between 2.25-2.4in wide.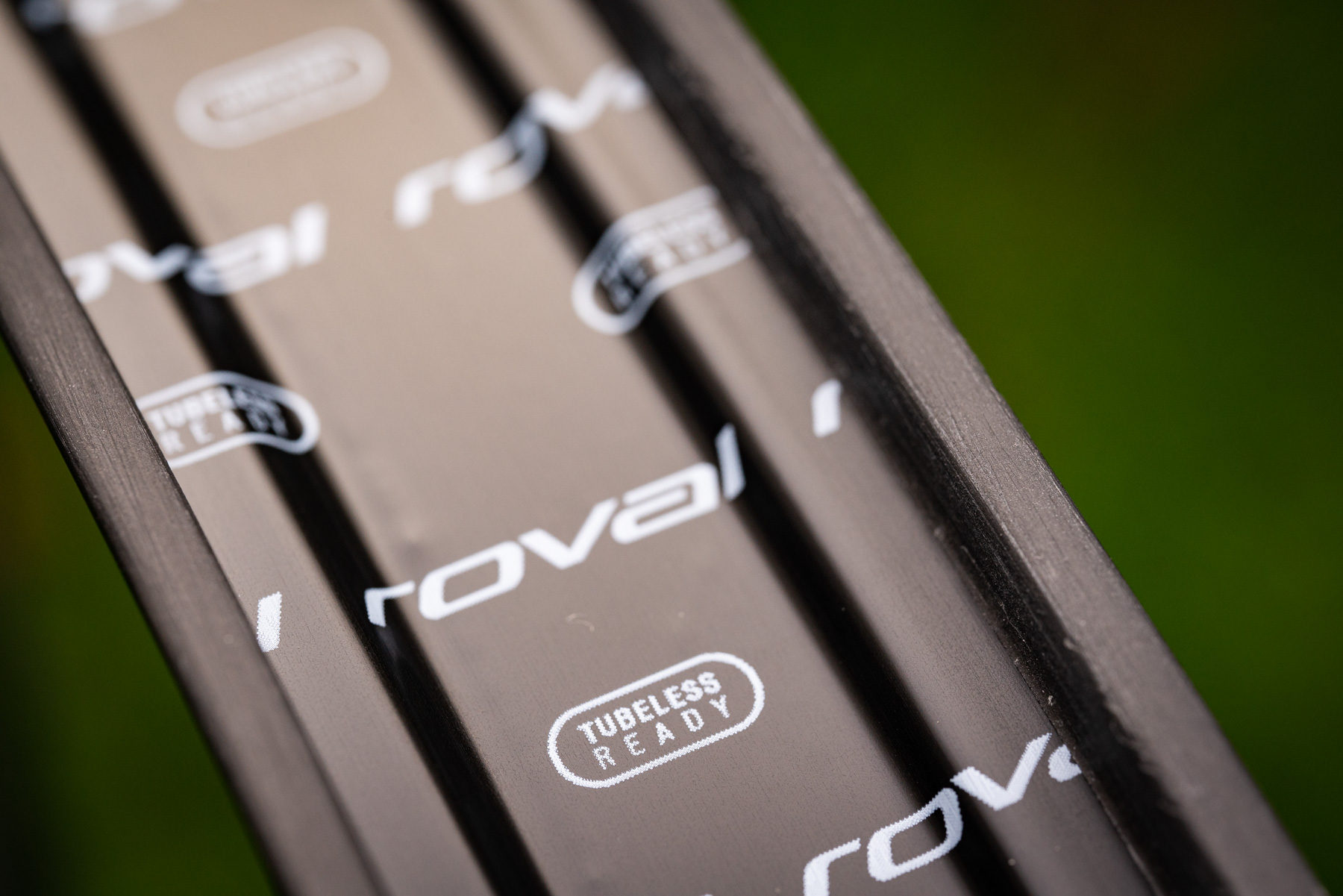 Look a little closer though, and you'll notice an external ridge running around the very most outer edge of the rim. Roval calls this design FlatTop, and this extra bulge of carbon creates a 4mm wide platform on top of each bead. This is considerably wider than most rims out there, which typically have 2-3mm wide beads.
Why the ultra-wide profile? It's primarily to reduce punctures. Under a hard compression, Roval states the FlatTop rim is less likely to cut through the tyre, reducing the chance of pinch-flats by a claimed 22%. That is a considerable difference in a racing scenario, and would either allow you to run the same tyres at a lower pressure, or lighter casing tyres with less durability fears.
Smoother & tougher
Bulgy beads aside, the Control SL rim is also much shallower in its profile compared to the rim design of the old Control Carbons we reviewed a couple of years back. According to Roval, the new Control SL rim achieves double the vertical compliance in its lab tests, resulting in a smoother-riding wheel on the trail.
Despite being much lighter and purportedly smoother, Roval reckons the new rim is actually tougher too, with a claimed 29% increase in impact strength. Part of this is down to the 4mm FlatTop beads, which are able to transfer impact energy over a larger surface area.
Additionally, the asymmetric rims use offset drilling so that spoke lengths are even from left to right. This allows for more balanced spoke tensions and wider bracing angles, which in theory will build a more durable wheel with increased lateral rigidity.
Testing the Roval Control Carbon wheels
While the Roval Control Carbon is billed as an XC race wheelset, I was eager to push them a little further towards their limits. With that in mind I fitted them to my personal Santa Cruz Tallboy, with a 2.4in Maxxis Dissector up front, and a 2.4in Rekon on the rear. The rims come pre-taped with tubeless valves fitted for easy tubeless setup.
Fitment is otherwise straightforward, as long as you have a 29er with Boost axle spacing. The hubs feature 6-bolt rotor mounts, and both standard end caps and oversized Torque Caps are included in the box, along with spare spokes – a nice touch.
On the trail these are an incredibly sporty and responsive set of wheels. No wonder given they weigh just 1,440g, with those svelte carbon rims reducing the amount of rotational weight that you need to accelerate and decelerate when riding techy, undulating singletrack. For the Tallboy, the Roval Control Carbon wheels have injected an addictive level of speed, and enthusiasm for rapid directional changes.
What has really surprised me though is that they feel as responsive as the Control SL wheels. The Control SLs are lighter yes, but most of the weight difference is concentrated at the hubs, where it's less noticeable in terms of acceleration. Furthermore, the Control Carbon has more spokes (28 vs 24), helping to brace the rim more evenly to produce a stronger wheel. You'd certainly need to be an ultra weight weenie to justify spending the extra cash for the Control SLs.
Roval Control Carbon vs DT Swiss XRC 1200
Prior to testing the Roval Control Carbon wheelset, I'd been riding the DT Swiss XRC 1200 Spline 30 wheels on my Tallboy for a good six months. Being on the same bike, under the same rider with the same tyres, this presented an ideal opportunity to compare the two.
The XRC 1200 is DT Swiss' premium high-end XC race wheelset, which features 180 hubs and carbon rims. They're slightly wider than the Rovals with a 30mm inner width, and confirmed weight is notably higher at 1,563g. They're also a lot more expensive at $3,099 AUD.
Despite the Roval Control Carbons being cheaper, hands-down they're the better riding wheelset on the trail. While the Rovals are lighter, it's worth noting that the DT Swiss XRC 1200 wheelset uses 180 hubs, which are significantly lighter than the 350s on the Rovals. This means that more of the wheelset weight is concentrated out at the rim, where it is more noticeable.
There's also less spoke wind-up with the Roval Control Carbons, which feel more solid and planted on the trail. The lag time between your pedals and the tyre driving into the dirt is reduced, improving acceleration further. This sensation is also detectable under heavy braking, where I noticed less pinging and more of a solid thud when the rear wheel was locked up. This could well be due to the contact point between the round versus flat-bladed spokes. Whatever it is, when really pushing hard the steering is more direct, where the DT wheels could feel a touch vague in direct comparison.
Factoring in the improved ride quality and lower rotational mass, I would 100% elect for the Roval Control Carbon wheels over the DT Swiss XRC 1200s if given the choice.
Durability
As for the Control SL rims themselves, this is now the third wheelset we've put significant time on. We're still yet to have any issues with damaging a rim or with experiencing a pinch-flat, so there's something to be said for the FlatTop design.
Despite those incredibly light carbon rims, the Roval Control Carbons come with a generous 125kg rider weight limit. A lifetime warranty covers you for any manufacturing defects, though if you do manage to break them under your own clumsiness, there's also a discount structure in place within the first five years of ownership. It's certainly not as impressive as the crash replacement guarantees from Reserve, ENVE, Reynolds and Bontrager, but at least it's something.
Otherwise I've had no concerns about overall rigidity and lateral stiffness, and we're fans of the Control Carbons coming with 28 spokes per wheel and external nipples. Round straight-pull spokes can be trickier to true, especially out on the trail, but we're still yet to get to that point, with both wheels maintaining excellent tension so far.
There's not a lot to be said about the DT Swiss 350 hubs, which are one of the most common hub designs on the market. They're a little heavier than 240s and 180s, but they leave nothing wanting in terms of functionality and serviceability. They're equipped with the venerable Star Ratchet freehub mechanism, which is about as reliable as they come.
What about the competition?
There is very little out there that can compete with the Roval Control Carbons in terms of weight, specs, performance and price.
As mentioned above, we'd for sure pick the Rovals over the DT Swiss XRC 1200 wheelset. DT Swiss does produce a cheaper XRC 1501 wheelset, which is closer in price at $2,349 AUD, though it is heavier at 1,581g.
The Giant XCR 0 wheelset achieves a comparable weight (1,487g) and price ($2,198 AUD), but it does use narrower 25mm rims. It's a similar story for the Crank Brothers Synthesis XCT 11, which are narrower than the Rovals and also considerably more expensive ($3,650 AUD).
The Bontrager Kovee XXX wheelset stands out as one of the lightest options going in this space, with a claimed weight of just 1,300g and the same 29mm inner rim width. We've ridden those wheels on the Trek Supercaliber, and they are insanely rapid. It's kind of a moot point for us Aussies though, as they're not available on our shores, and even if they were they'd be considerably more expensive than these Rovals.
The only other wheelset we have experience with that hits a similar note is the Reynolds Black Label 309/289 wheelset that came on the new Pivot Trail 429 we reviewed. Those have a claimed weight of 1,468g and shallow carbon rims with a 30mm width on the front and 28mm width on the rear. The weight is particularly impressive given the heavy Industry Nine Hydra hubs, and the ride quality is spectacular. Again, they're not available in Australia, and the US pricing would suggest they'd be very expensive if they were.
Flow's Verdict
We were already impressed by the Roval Control Carbon specs on paper, but we've been even more impressed by their performance on the dirt.
By combining the uber-light Control SL rims with more utilitarian spokes and hubs, Roval has been able to produce a very lightweight wheelset that has few genuine rivals at this price point.
Acceleration is rapid, and the clever FlatTop rim profile also means you could drop further weight by electing for a lighter weight tyre casing. Despite their low weight though, the Control Carbons feel exceptionally well planted and solid on the trail, and the broad rims pair nicely with modern XC and trail tyres. The higher spoke count and proven 350 hubs inspire long-term reliability, meaning these are much more than just race day-only wheels.