Wil reviews the Scott Patron
No doubt about it, the Scott Patron is the most striking electric mountain bike we've ever come across. Not only is the Patron an entirely new model for 2022, it's also the first e-MTB we've seen from the Swiss brand to integrate its rear suspension into the frame. This follows a similar design ethos to the latest Scott Spark, with the shock tucked away out of sight. It certainly contributes to the Patron's space-age frame design, which comes across as more of a concept sketch than a real-life mountain bike. But is this powerful, big travel bike only about the looks? And how does it actually ride on the trail? We've been testing out the Patron over the past few weeks to find out!
---
Watch our video review of the Scott Patron here:
---
With the Scott Patron being well suited to long-distance mountain exploring, the efficient Bosch motor and big 750Wh battery are a great match.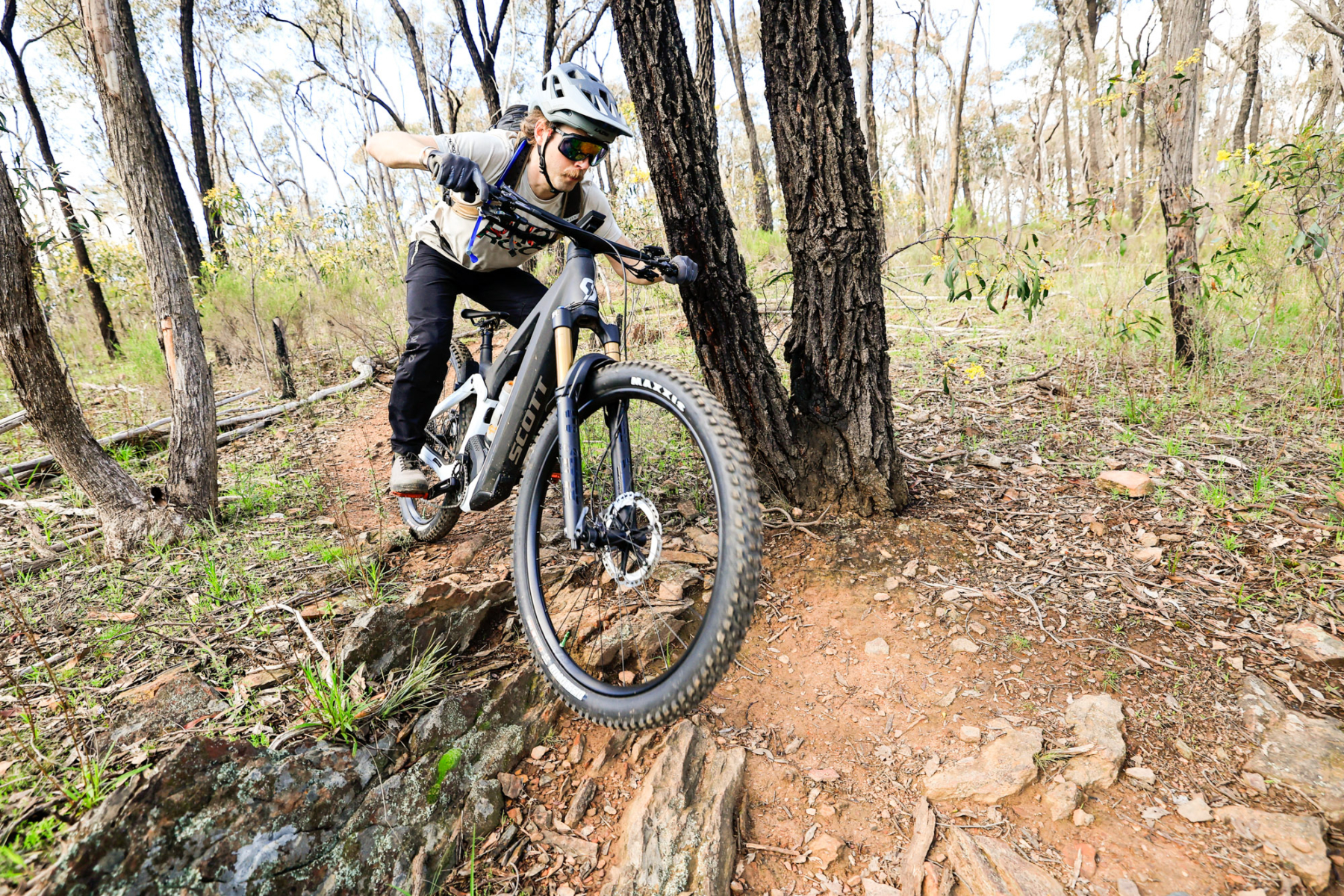 An overview of the Scott Patron
Replacing the outgoing Genius eRide, the Scott Patron ushers in an entirely new frame and suspension design that deliberately looks nothing like any Scott's non-assisted mountain bikes.
Built to be a versatile all-terrain machine, the Patron features 29in wheels with 160mm of travel front and rear. There's a four-bar suspension design, with a proprietary Fox-manufactured Nude shock hidden within the frame's top tube. The shock is compressed by an an internal bell crank, which is connected to the external rocker links via a splined axle.
As with other Scott mountain bikes like the Spark and Genius, the Patron's shock and fork are cabled up to a TwinLoc remote on the handlebars. While the bottom lever controls the dropper post, the two top levers are used to cycle between three suspension modes: Descend, Traction Control and Lockout. Why the heck would you need remote-adjustable suspension on a bike with a motor? That's a very good question, and one that I was eager to explore through testing.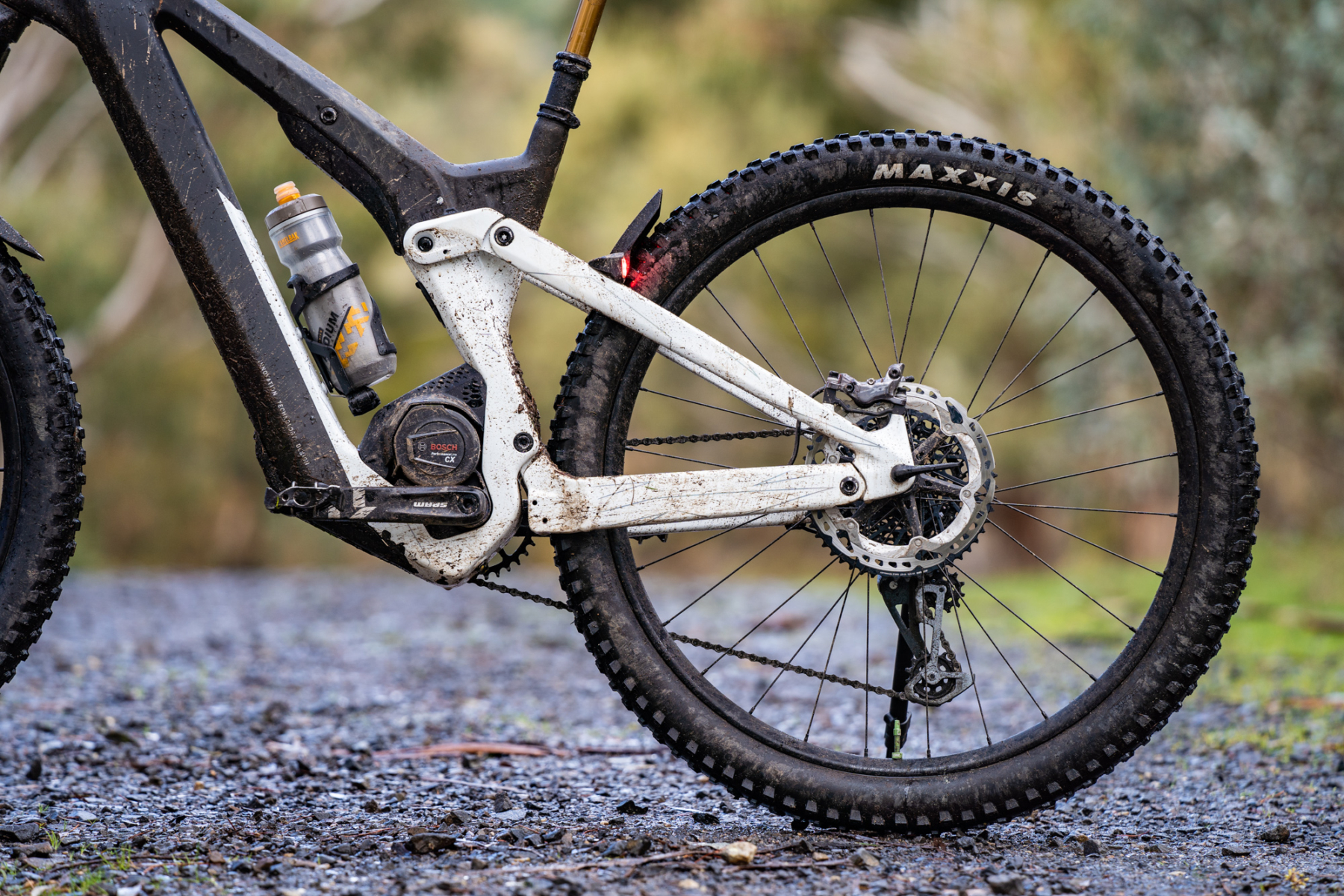 Bosch's high-tech LED controller sits next to the left-hand grip, along with a Kiox 300 display perched above the stem. It's all linked up to a powerful Bosch Performance CX motor, which has been rotated upwards to sit almost vertically within the frame. This allows the huge 750Wh battery to be positioned lower down and in front of the motor.
With those key specs, the Patron sidles up alongside other big travel 29er e-MTBs like the Trek Rail and Norco Sight VLT. It delivers quite a different riding experience compared to those two bikes however.
Scott Patron price & specs
There are only three Scott Patron models available in Australia this year; two that feature alloy frames, and one with a carbon frame.
All models feature the same Bosch SmartSystem, motor and 750Wh battery, with prices starting at $11,199 AUD for the Patron eRide 920. For a closer look at the specs and prices of the full lineup, check out our Scott Patron range overview.
Here we'll be diving into our experience of testing the top-end model; the Scott Patron eRide 900 Tuned.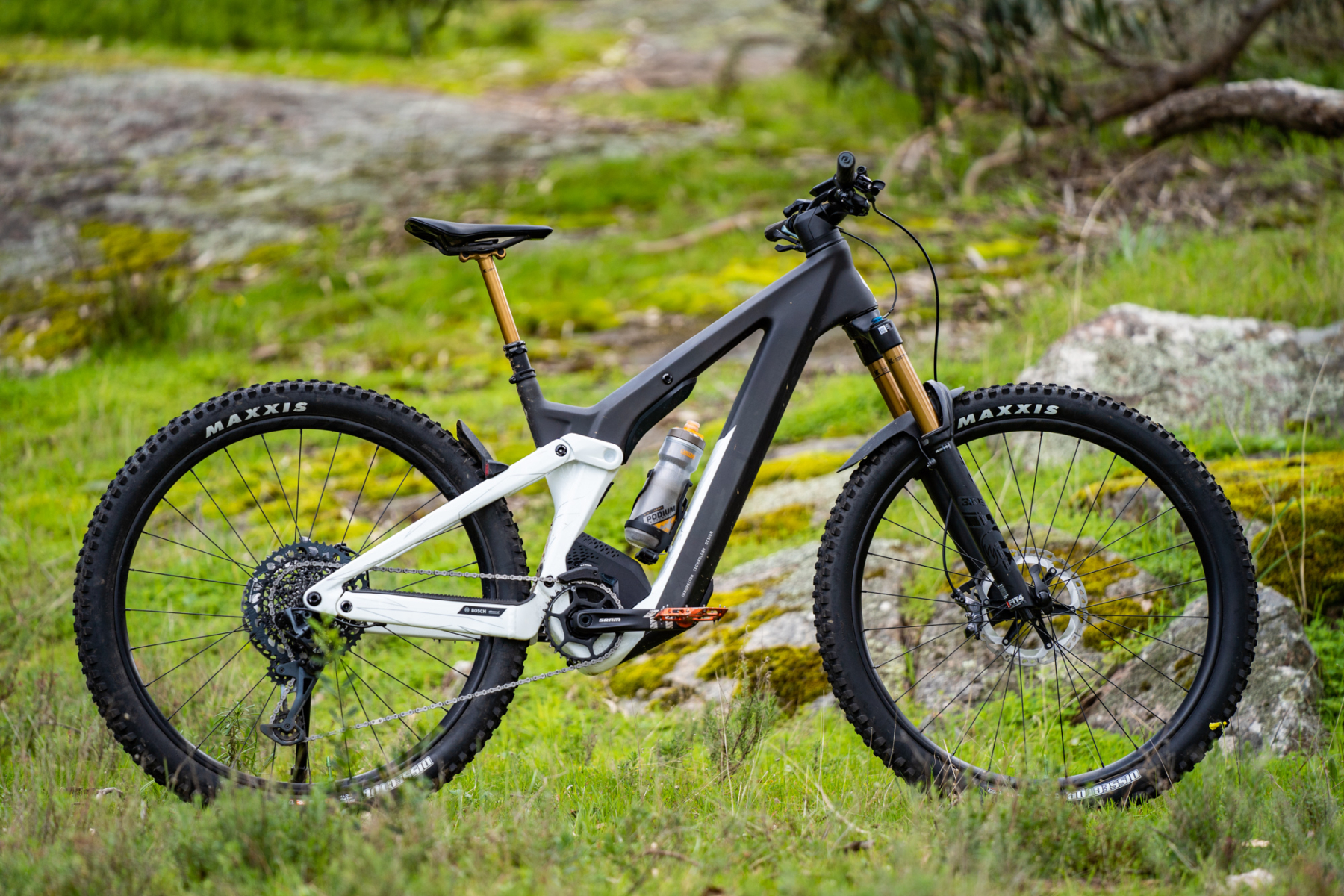 2022 Scott Patron eRide 900 TUNED
Frame | Carbon w/Alloy Chainstay, Virtual 4 Link Suspension Design, 160mm Travel
Fork | Fox 38, Factory Series, 3-Position FIT4 Damper, 44mm offset, 160mm Travel
Shock | Fox Nude T, 3-Position Remote, 205X60mm
Drive Unit | Bosch Performance CX Gen 4, 85Nm
Battery | Bosch PowerTube 750Wh
Wheelset | Syncros Revelstoke-E 1.5 CL, 30mm Internal Rim Width
Tyres | Maxxis Dissector EXO+ 3C MaxxTerra 2.6in
Drivetrain | SRAM GX/X01 Eagle 1×12 w/X1 Alloy 34T Crankset & 10-52T GX Eagle Cassette
Brakes | Shimano XT 4-Piston w/203mm Rotors
Handlebar | Syncros Hixon iC SL Integrated, Carbon, 15mm Rise, 780mm Width
Stem | Syncros Hixon iC SL Integrated, Carbon, Length: 50mm (S-M), 60mm (L-XL)
Grips | Syncros Lock-On
Seatpost | Fox Transfer, Factory Series, 31.6mm Diameter, Travel: 125mm (S), 150mm (M-L), 175mm (XL)
Saddle | Syncros Tofino 1.0 Regular, Carbon rails
Confirmed Weight | 23.86kg
RRP | $15,499 AUD
It builds momentum quickly when pointed downhill, ploughing through obstacles without concern.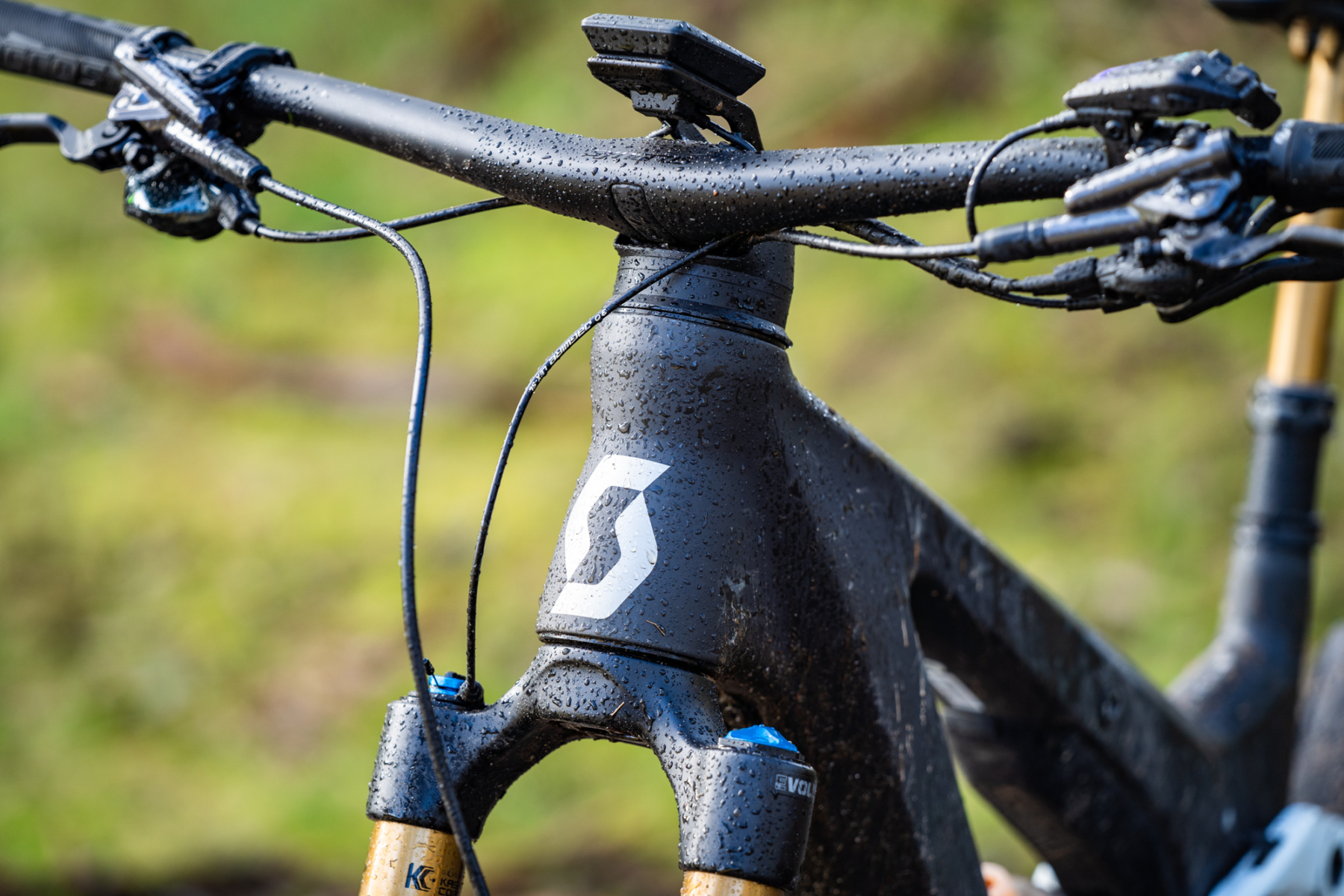 Scott Patron size & geometry
There are four frame sizes across the Scott Patron range. At 175cm tall I've been testing the Medium size, which features a 445mm reach, a 65° head angle and a 76.9° effective seat tube angle.
Looking like the front of a Soviet-era submarine, the Patron's enormous 1.8in headtube is quite long, resulting in a generous stack height. Combined with the snazzy one-piece Syncros cockpit, the Patron's riding position is upright and comfortable.
While the stock setup has worked fine for me, it's worth noting that the integrated handlebar and stem limits adjustability. It's possible to remove a couple of headset spacers if you're chasing a lower bar position, but you'll need to cut the steerer tube afterwards.
If you want a taller position however, you'll need to buy an entirely new bar and stem. And depending on how short the cables have been trimmed from the shop, you might need to fit a new brake hose and cables. The Patron's front-end integration certainly looks impressive, but it makes rider customisation more challenging compared to a conventional cockpit.
There are also limitations on seatpost insertion, which sees a relatively modest 150mm stroke dropper fitted to both the Medium and Large frame sizes. I'd much prefer a 170mm dropper on a big travel e-MTB like this.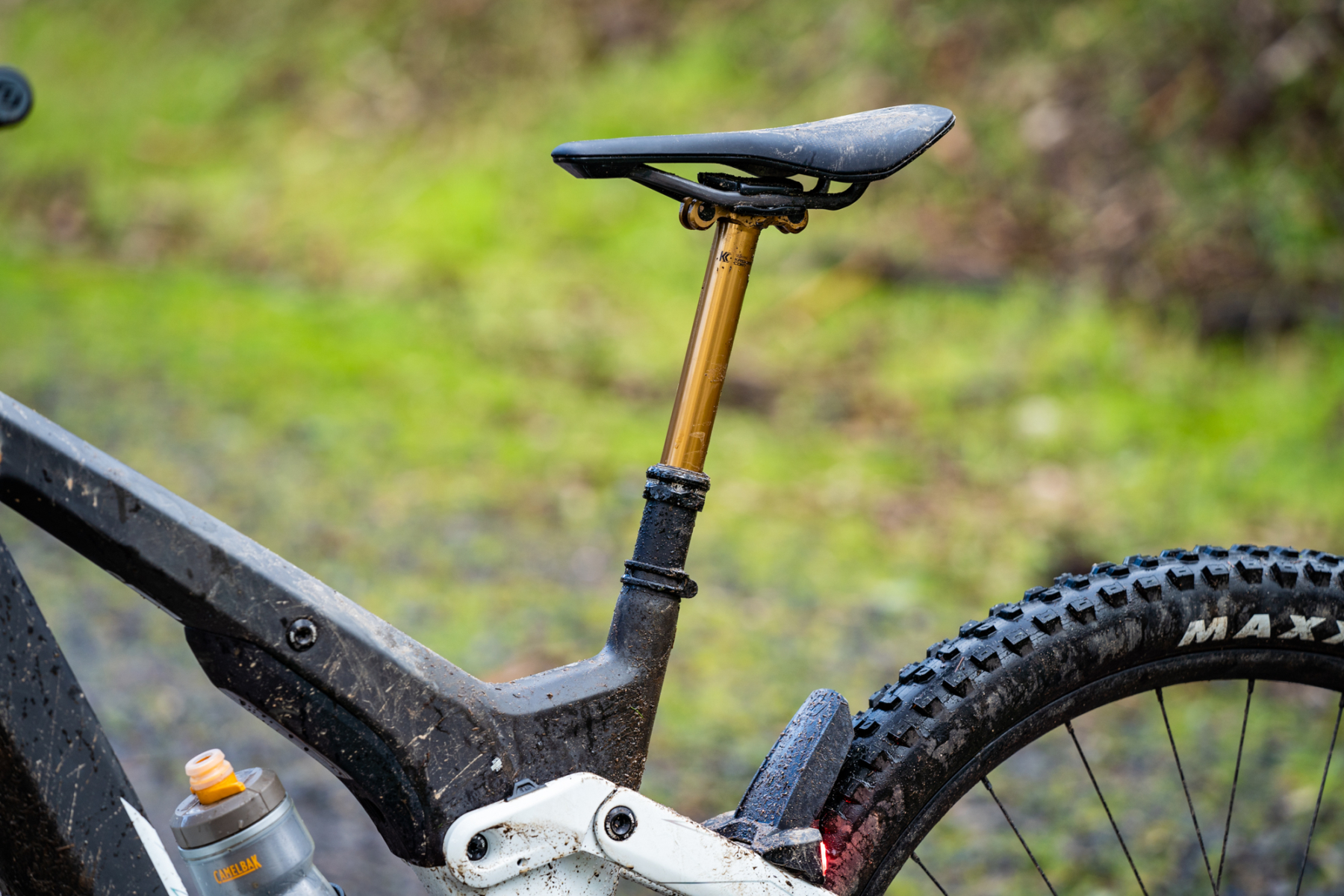 Suspension & tyre setup
While the shock is hidden away on the Scott Patron, it's easy to access thanks to a removable hatch underneath the top tube. Here you'll find the shock's air valve, rebound adjuster and the cable pinch bolt.
Scott recommends setting up the rear shock with 25-30% sag, which is made simpler thanks to an external guide on the rocker link. Unfortunately you can't see the sag guide when you're sitting on the bike though, which means you'll need a friend or a shop employee to help you with setup.
For my 68kg riding weight I needed 200psi to achieve 30% sag. I set the rebound lever about halfway through its range (7/15 clicks).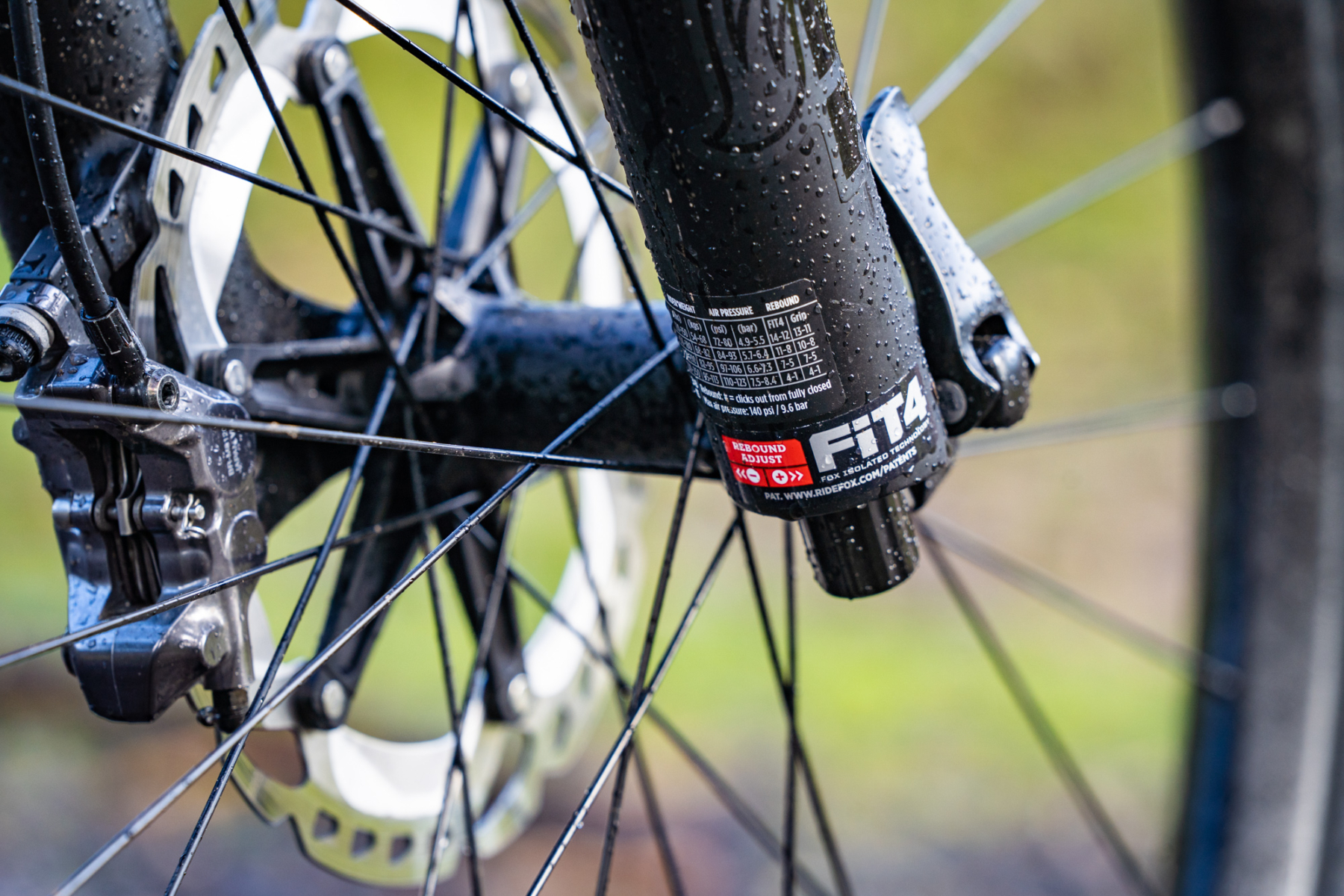 Up front is a Fox 38 with a FIT4 damper, which is a configuration I didn't realise existed up until receiving the Patron. A fork of this size normally comes with Fox's GRIP or GRIP2 damper, though the FIT4 damper is necessary to work with Scott's TwinLoc system.
I set up the fork as per Fox's recommendations with 84psi, the rebound set a couple of clicks faster than halfway, and the low-speed compression damping about halfway in its range.
As for the tyres, Scott has spec'd Maxxis EXO+ casings, which are lighter and less durable compared to the DoubleDown casings we'd prefer to see on a heavy duty e-MTB. Thankfully our test bike arrived from the distributor with CushCore tubeless inserts installed, allowing me to run pressures as low as 20psi up front and 23psi at the rear.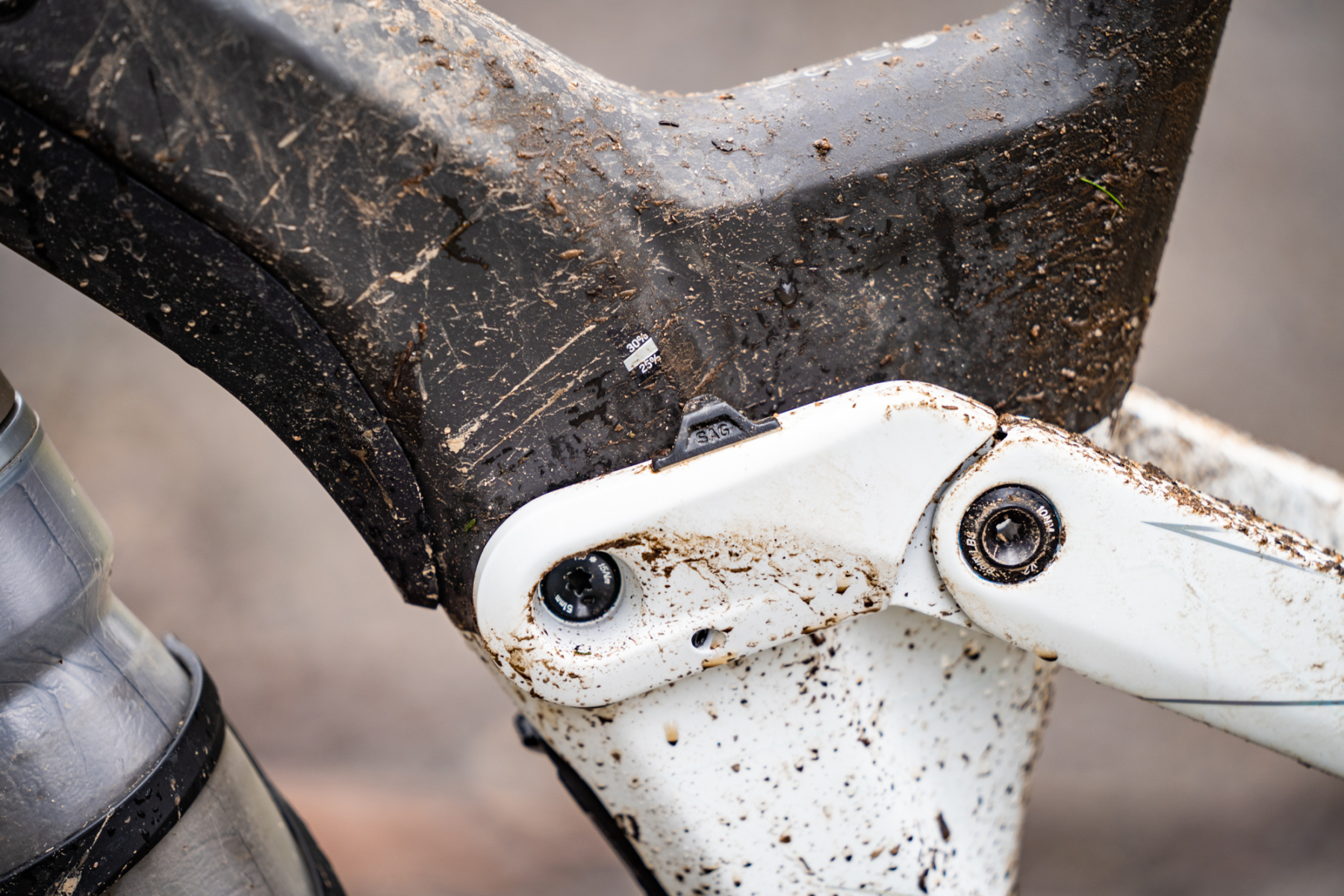 Scott Patron weight
Our Scott Patron eRide 900 Tuned test bike came in at a confirmed weight of 23.86kg. That figure is without pedals or CushCore inserts.
It's on the porkier side for a high-end, full-powered e-MTB, especially compared to the Canyon Spectral:ON that I tested recently, which weighs almost 2kg lighter. It's worth noting that the alloy Patron models are even heavier again, with the entry level eRide 920 claimed to weigh 26.5kg. Pwoar!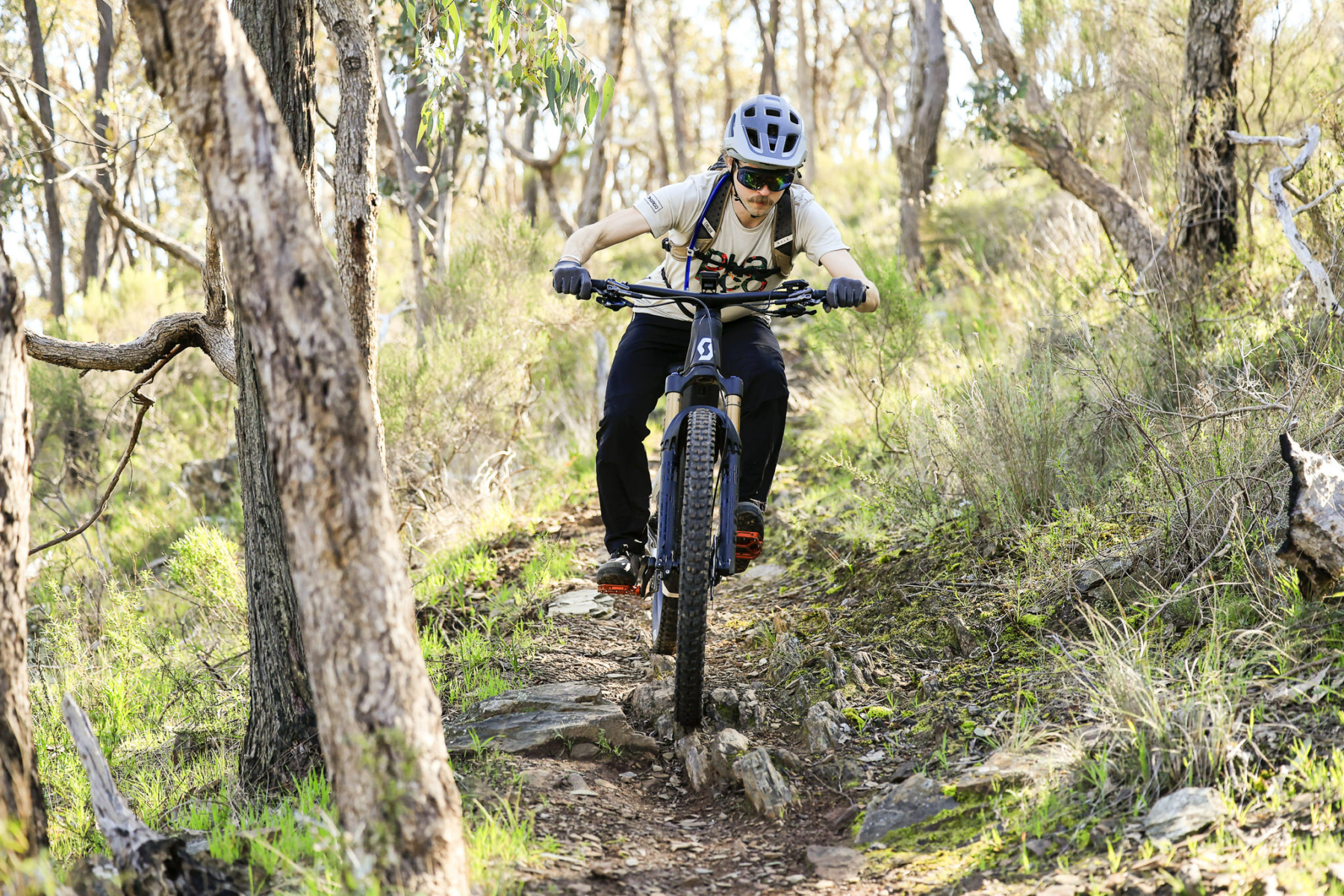 What do we like about the Scott Patron?
Thanks to its high volume rubber, generous suspension travel and restrained geometry, the Scott Patron is a capable and comfortable all-rounder. It's an easy bike to just get on and ride, with a grounded ride quality that inspires confidence and handles varied terrain without fuss.
At the heart of the bike, the Bosch Performance CX motor delivers outstanding power and control. It's been a while since I've ridden a Bosch-equipped bike, and I've found the latest SmartSystem-enhanced drive unit to be a really impressive performer on the trail.
Power delivery is superb, with a load of grunt across a wide cadence range. It's particularly good in the adaptive eMTB mode, which varies the output at the rear wheel depending on how much torque you're putting into the pedals. It makes the motor very predictable and easy to control, with less of the spiking and surging that you can sometimes encounter with a Shimano EP8 motor.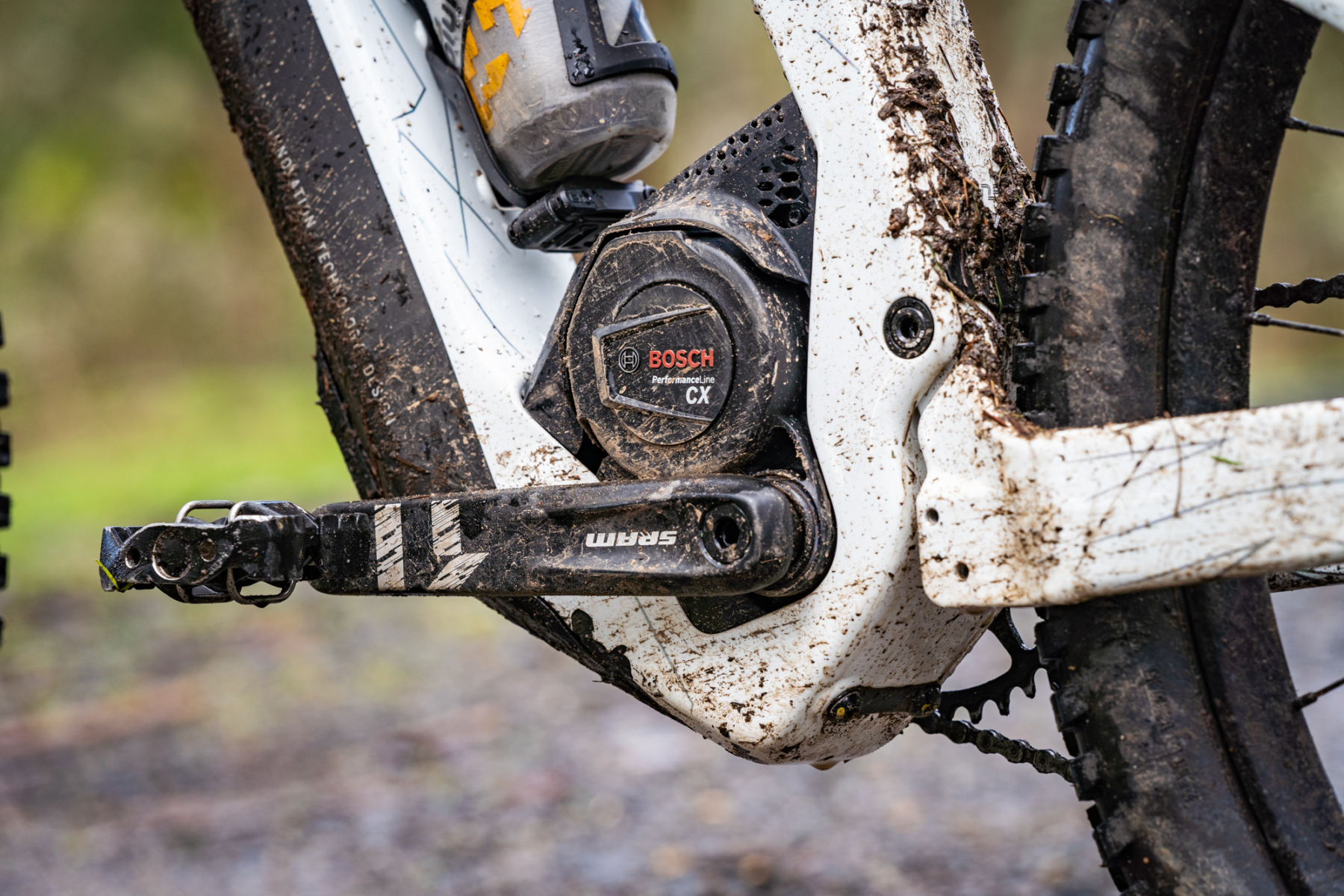 Along with the steep seat angle and long 454mm rear centre length, the Patron is a remarkably adept climber. It stays planted on steep pinches, with no errant wandering from the front wheel. And on technical sections, where you might be forced to stop pedalling to get over an obstacle, the Bosch motor delivers a noticeable amount of overrun to maintain your speed and forward momentum.
With the suspension set in the fully open 'Descend' setting, the rear end generates useful grip. However, as with most e-MTBs I've tested, the main limitation ends up being ground clearance. And this is where the TwinLoc remote comes in.
TwinLoc proved us wrong
I'll admit that I was very skeptical of the Patron's TwinLoc remote to begin with. The extra cables add clutter to the cockpit, and generally speaking, I want the suspension to be as open and as plush as possible when I'm climbing on an e-MTB. Even when I'm riding on the road, I've never once though I needed to lock out the suspension.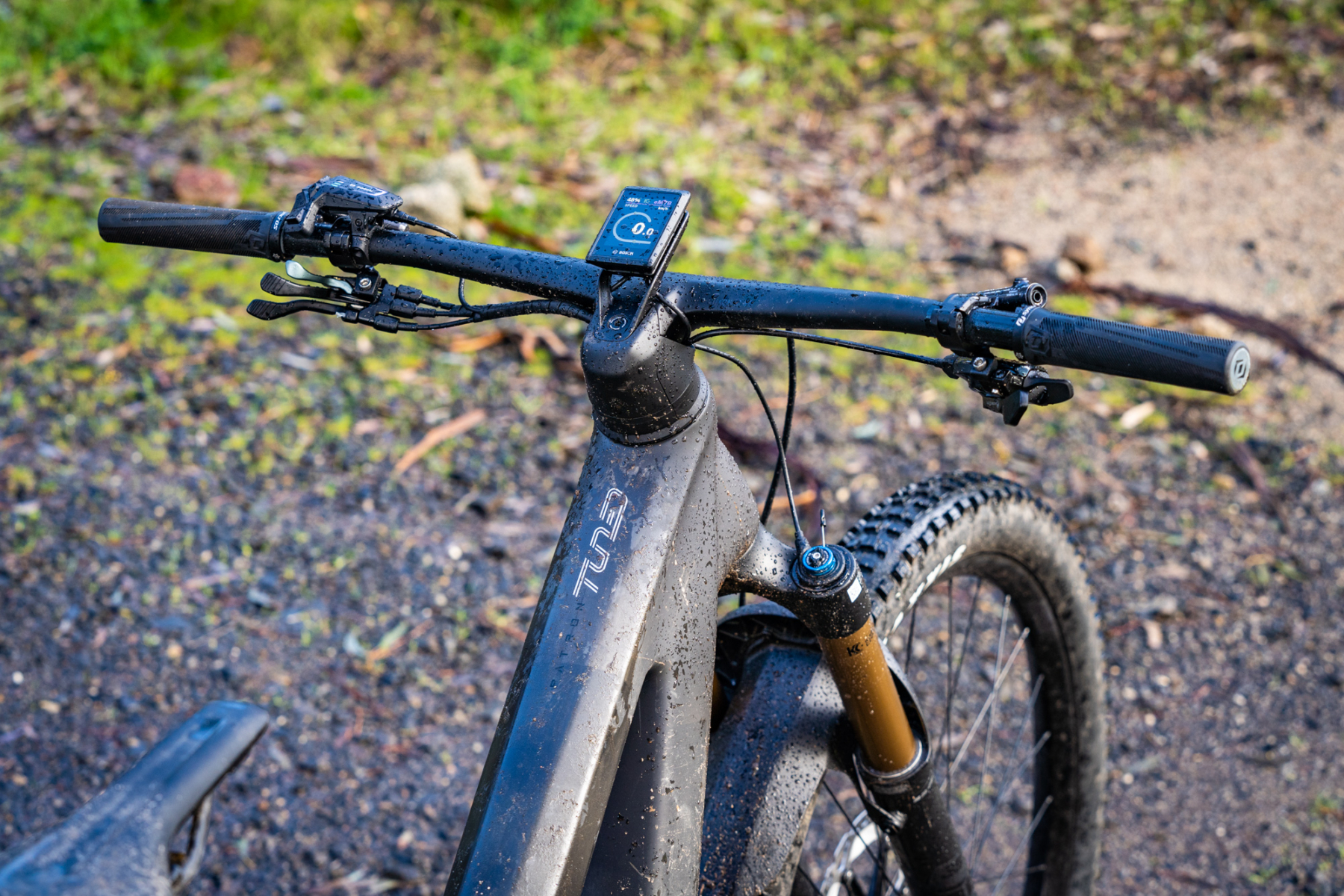 Admittedly, calling TwinLoc a lockout is selling it short. Really, it's all about the middle Traction Control mode, which limits rear travel to 115mm. It does this by shrinking the available air volume in the rear shock, making it firmer and much more progressive in the process.
While it improves efficiency and responsiveness under pedalling, the main advantage of Traction Control is the fact that it lifts the dynamic BB height, providing you with significantly more ground clearance. With Traction Control engaged, pedal strikes almost become a non-issue on the Patron, and that helps you to keep the power down during those crucial moments on awkward tech climbs.
Furthermore, the seated position is also more stable thanks to the steeper effective seat angle. It makes for a more comfortable climbing experience, since you don't have to bend your lower back as much on steep ascents. Because of this, I found myself using the TwinLoc remote a lot more than I expected. While it certainly isn't the most ergonomic solution, it no doubt contributes to the Patron being one of the best climbing e-MTBs I've ridden.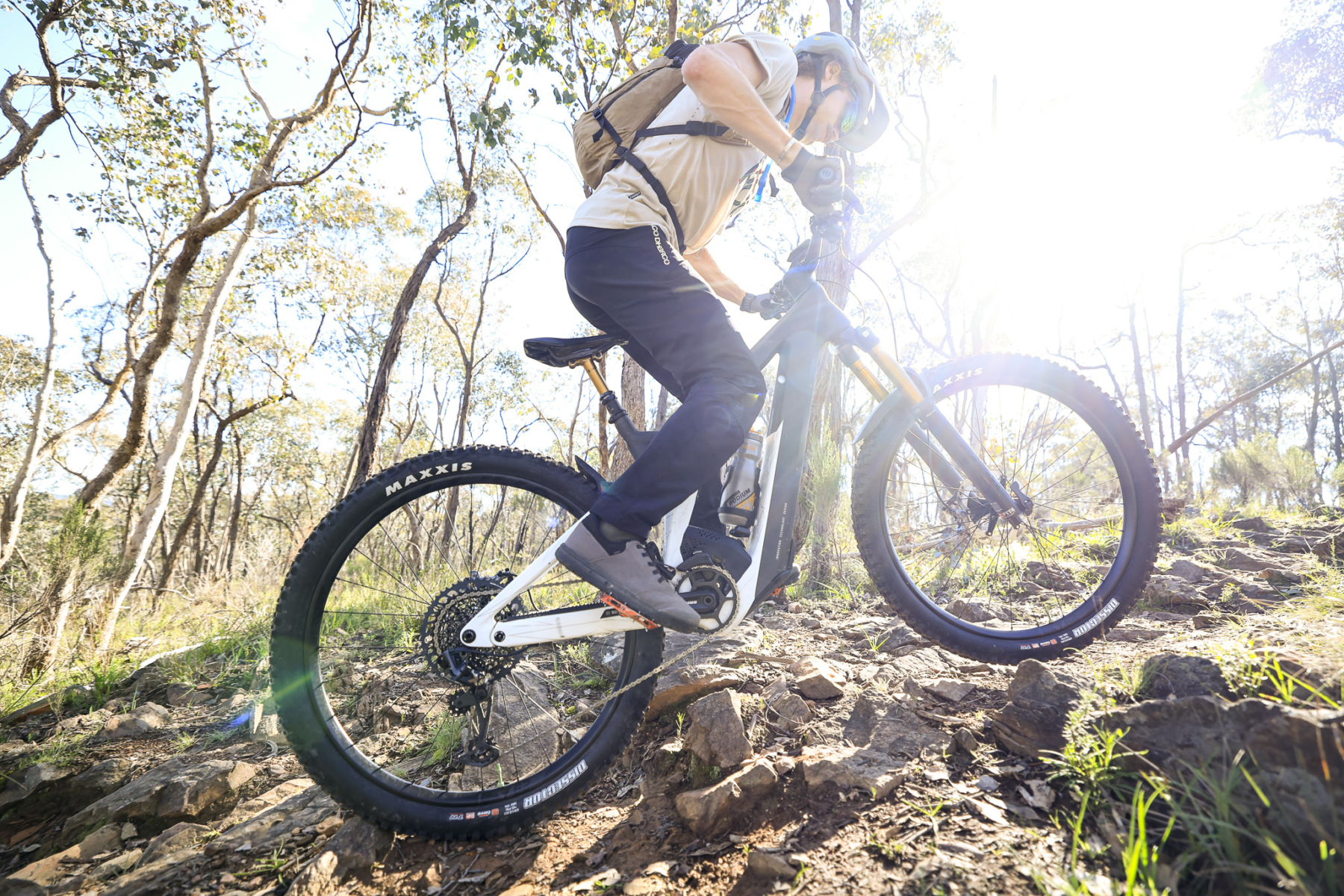 Calm & collected descending
The Patron's stability on the climbs is also apparent on the descents, where the generous weight and long wheelbase contribute to a very planted and tractor-like feel.
It builds momentum quickly when pointed downhill, ploughing through obstacles without concern. The stiff chassis is complemented well by the hulking head tube and Fox 38, minimising front-end twist and flex when slamming into boulders at speed.
The head angle isn't outrageously slack, but the steering is reasonably steady thanks to the use of a 50mm stem (60mm on the Large and X-Large sizes). It's also nicely balanced with the tucked motor and low-slung battery, which helps to keep the Patron stuck to the ground.
And with plenty of suspension in reserve at both ends, you're treated to a comfortable and floaty ride quality when the trail gets rough and rowdy. Combined with its big wheels and high volume tyres, the Patron offers a substantial trail footprint that makes it a stable and cool-headed descender.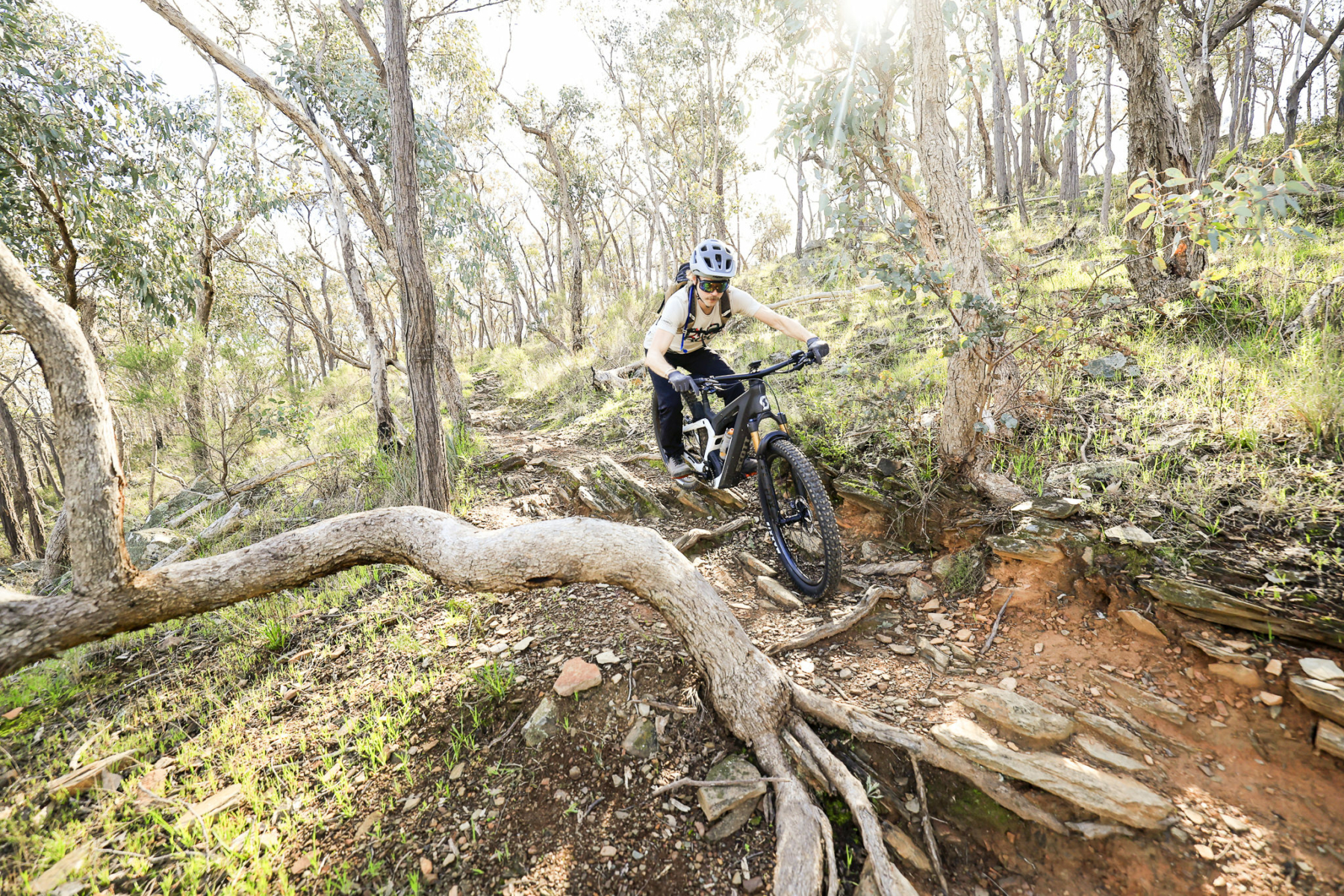 What don't we like?
Despite there being plenty of it, the suspension on the Scott Patron isn't as plush as other e-MTBs in this category like the Trek Rail or Canyon Spectral:ON.
The FIT4 fork damper lacks the hyper-sensitivity of the superior GRIP2 damper, which results in more trail chatter being passed through to the grips. It's not as well controlled on bigger hits either, so we'd recommend that heavier folks and more aggressive descenders add a volume spacer to help hold the fork higher up in its travel. Ultimately, since the remote-controlled FIT4 damper adds little to the Patron's climbing performance, we'd just much rather the extra adjustability and performance of the GRIP2 damper in the first place.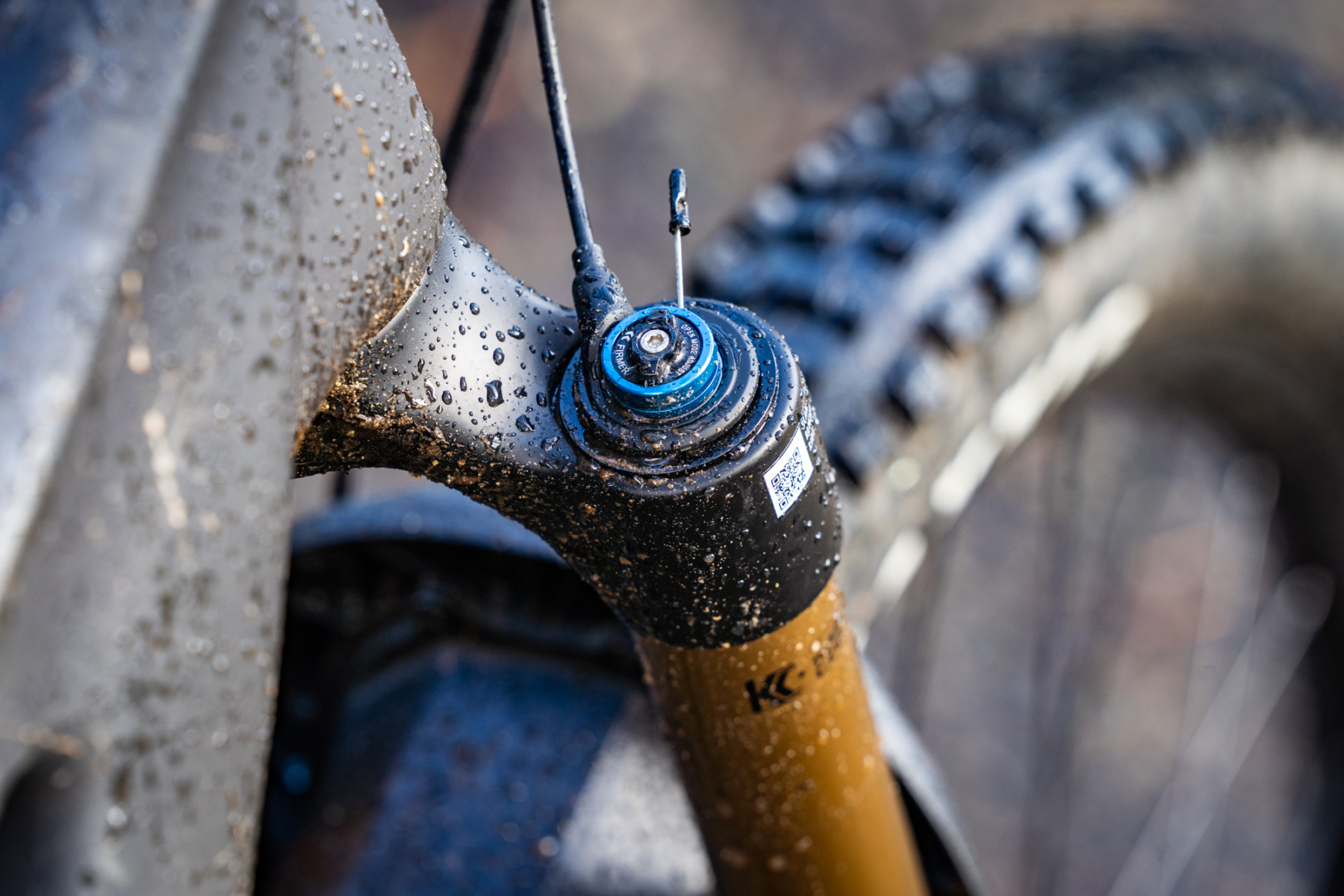 Likewise, I've not been blown away by the rear suspension's small-bump compliance. This may be due to the shock using a bushing for its lower eyelet, which undergoes a large degree of rotation throughout the travel. While a bushing can offer better durability and stiffness, it typically adds stiction. For this reason, other suspension designs will employ a sealed bearing in this high rotation pivot point.
While it does work well for the most part, the in-line Nude shock can struggle to maintain consistency when copping more violent impacts. I hit full travel on a few occasions, so again I'd suggest burlier riders will want to look at adding a volume spacer to increase bottom-out support. The Nude shock comes fitted with three volume spacers as stock, and there's room for a fourth if needed.
And for faster-paced riding in more challenging conditions, the Patron is held back by its tyre spec. The Dissector is ok on the rear, though I found the heavily-ramped leading edges reduced its bite when climbing on loose surfaces. Fitting a grippier tyre like the Minion DHR II would allow you to make the most of this bike's incredible climbing abilities.
It definitely needs a more aggressive tyre up front, preferably an Assegai with the softer MaxxGrip rubber compound. While the Dissectors are fine on hardpack flow trails, I just couldn't trust the front end on rockier descents.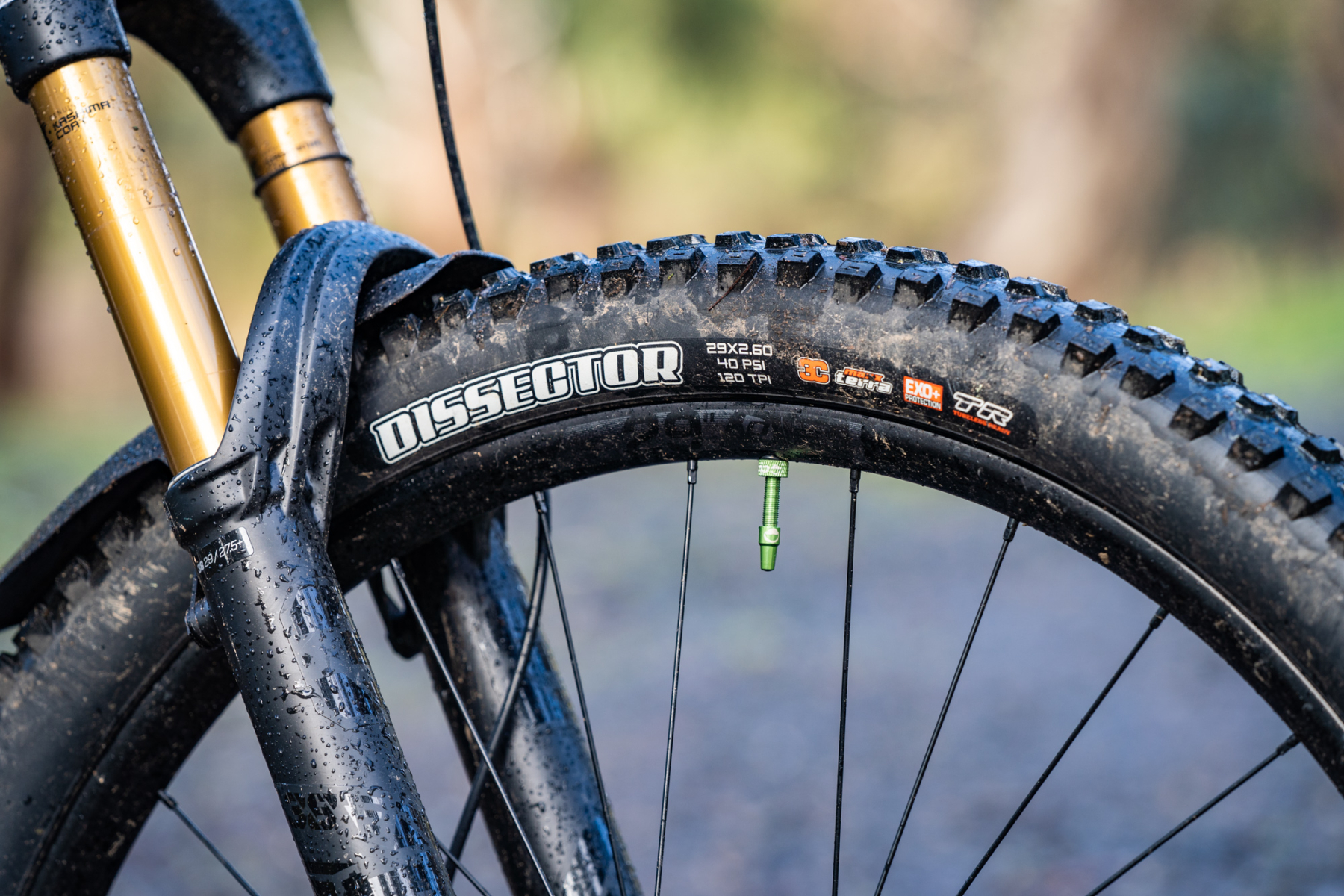 Longer isn't always better
The overall weight and the long chainstays mean the Patron isn't the most agile bike, requiring a lot of effort to flip it over through successive corners.
It's worth noting that the rear centre length is actually longer than the reach on both the Small and Medium size frames. This isn't an issue exclusive to Scott – both the Norco Sight VLT and the Giant Trance E exhibit the same geometrical quirk thanks to their enormously long chainstays.
Of course the long rear end contributes to the Patron's excellent stability, but it does make it harder to lift up the front wheel, especially with a 4.4kg battery inside the downtube. The rear wheel also feels like it trails behind you on the climbs, and I found it difficult to thread the bike around tight uphill switchbacks – the only fly in the ointment of the Patron's otherwise excellent climbing performance.
It's worth acknowledging that taller riders on the Large and X-Large frames are likely to have a more balanced experience aboard the Patron, and indeed the longer chainstays may be preferable in terms of high-speed stability.
For shorter riders and those who would prefer a more nimble and playful ride quality, you'll be better off looking at an e-MTB with a mullet setup, like the Canyon Spectral:ON, Specialized Levo or Merida eOne-Sixty.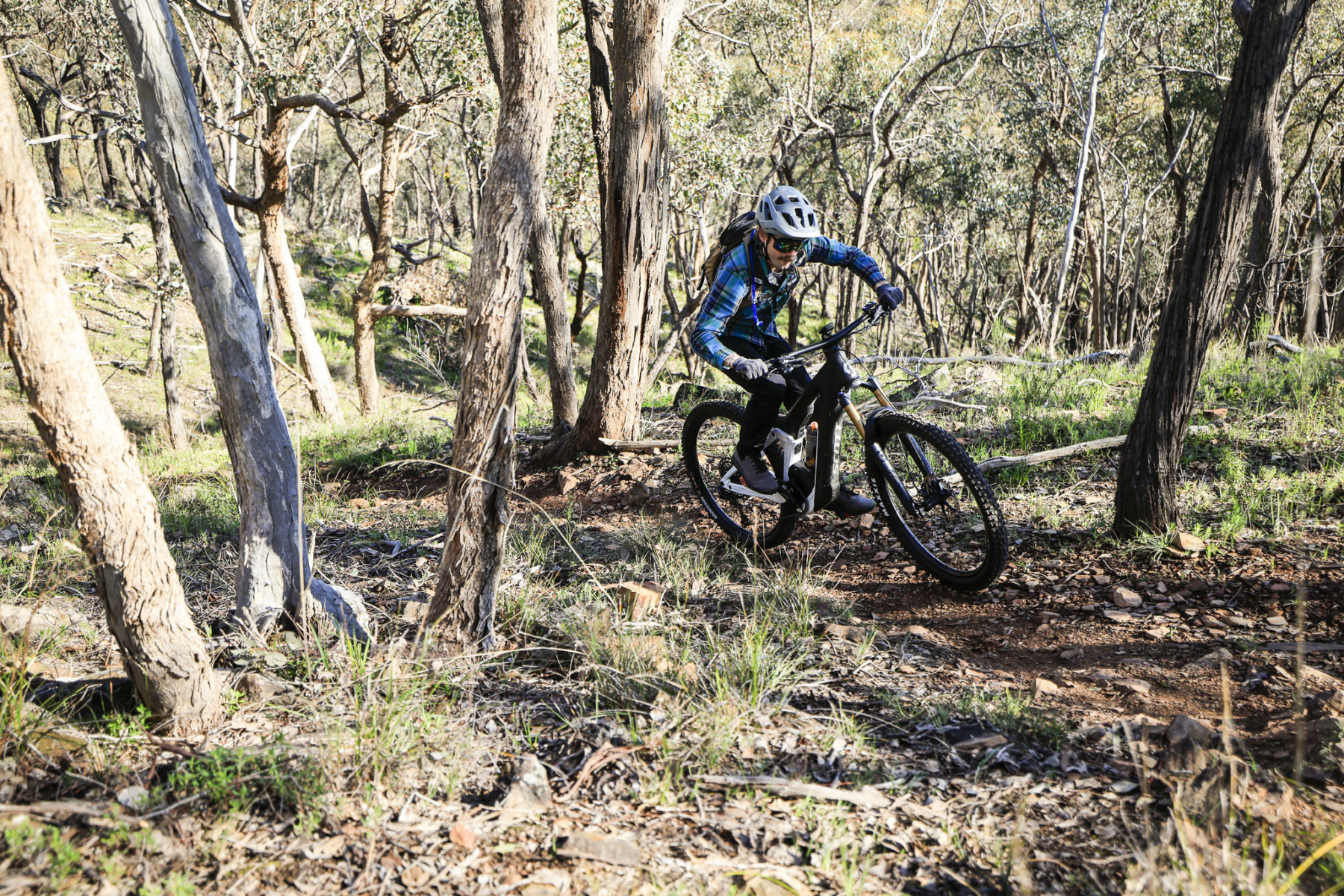 Scott Patron battery range
With the Scott Patron being well suited to long-distance mountain exploring, the efficient Bosch motor and big 750Wh battery are a great match.
I mostly made use of the eMTB mode and was able to get well over three hours of ride time from a single charge. At my local trail centre, which is made up of 100% singletrack and features a lot of changes in gradient, that got me 60km of riding with just shy of 1,700m of elevation gain. On rides that involved a mixture of fireroads and doubletrack across more gently undulating terrain, those numbers grew to 70km and over 1,800m of elevation gain.
To compare the Patron's range to some of the other e-MTBs we've tested, I also ran it through our standardised range test to see how much elevation gain I could eke out of it in the most powerful Turbo mode. Here's how it fared;
Norco Sight VLT (Shimano EP8, 900Wh Battery) – 2,478m climbing (12.8 runs)
Canyon Spectral:ON (Shimano EP8, 900Wh Battery) – 2,451m climbing (12.7 runs)
Rocky Mountain Altitude Powerplay (Dyname 4.0, 720Wh Battery) – 2,108m climbing (10.9 runs)
Scott Patron (Bosch Gen 4, 750Wh Battery) – 2,079m climbing (10.7 runs)
Cube Stereo Hybrid 160 (Bosch Gen 4, 625Wh Battery) – 1,800m climbing (9.3 runs)
Orbea Rise (Shimano EP8-RS, 360Wh Battery) – 1,388m climbing (7.2 runs)
Specialized Levo SL (SL 1.1, 320Wh Battery) – 1,377m climbing (7.1 runs)
Trek Fuel EXe (TQ-HPR50, 360Wh Battery) – 1,312m climbing (6.8 runs)
Specialized Kenevo SL (SL 1.1, 320Wh Battery) – 1,053m climbing (5.5 runs)
The Patron managed to clock up over 2,000m of elevation gain in one hit, which is mighty impressive. It was close to the Rocky Mountain Altitude Powerplay, though it's worth noting that the Patron was significantly faster up the climbs due to the Bosch motor providing much more support. I was able to comfortably maintain an average climbing speed of 22km/h, which was notably faster than the Altitude Powerplay or any EP8-equipped bike I've tested. Certainly if it's maximum support and climbing speed you're after, the Bosch motor is hard to go past.
Also nice was the Kiox 300 display providing a battery status warning at both 30% and 10% remaining, which is a useful prompt if you're on a backcountry adventure ride. Unlike some other e-MTB systems that drop down into a limp-mode once you're close to an empty tank, the Bosch motor's support level is maintained all the way down to 0%.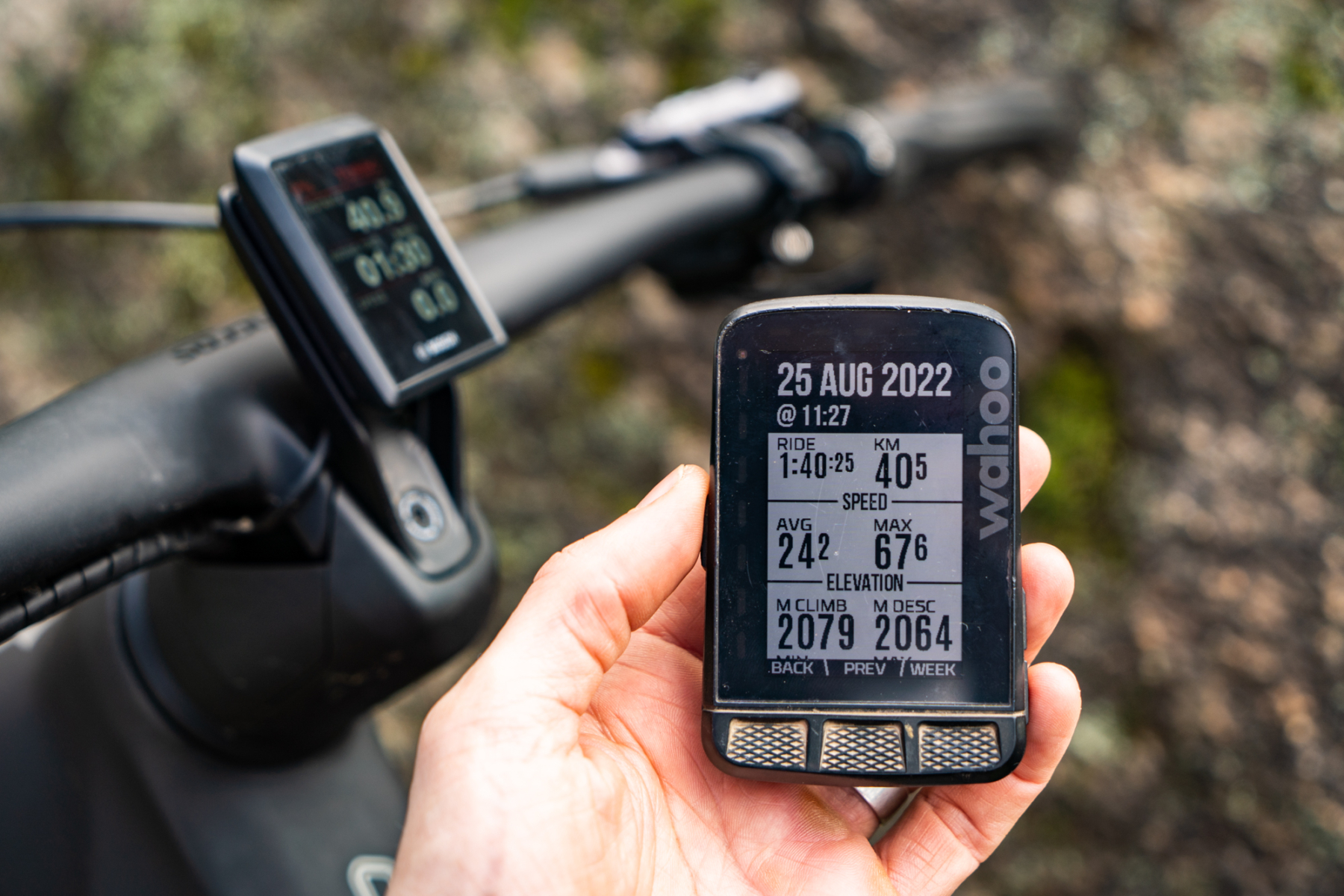 Component highs & lows
While there is a lot to be impressed by, as a complete package the Scott Patron eRide 900 Tuned is a mixed bag.
It certainly looks the business with its high-tech carbon frame, one-piece cockpit and Kashima-coated fork and dropper, though the alloy cranks, GX cassette and NX chain are cheap for a bike costing over 15 thousand dollars.
And while it is personal preference, the firm and racy Tofino saddle, with its carbon rails, also seems a little out of place on this otherwise big and bold e-MTB.
The Shimano XT brakes offer decent power thanks to the 203mm rotors, though riders who are racking up maximum descending time will want to replace the stock resin pads with metal pads for greater power and consistency.
As mentioned earlier, we'd love to see Scott equip the Patron with more aggressive rubber and a GRIP2 fork damper. It'd be interesting to see how it would ride with a piggyback shock, though unfortunately there's no space inside the frame to accommodate one.
Of course riders who are thinking along those lines will naturally gravitate towards the Ransom eRide, which already comes with all of those things. It has more aggressive geometry, 180mm of travel, and it skips the TwinLoc remote entirely.
The TwinLoc system does bring a distinct advantage to the Patron's climbing abilities however, and for the most part it's pretty easy to use. Scott's engineers have done well to tuck all of the cables through the headset, though the tight bends meant the dropper post lever on our test bike was quite sticky and difficult to activate.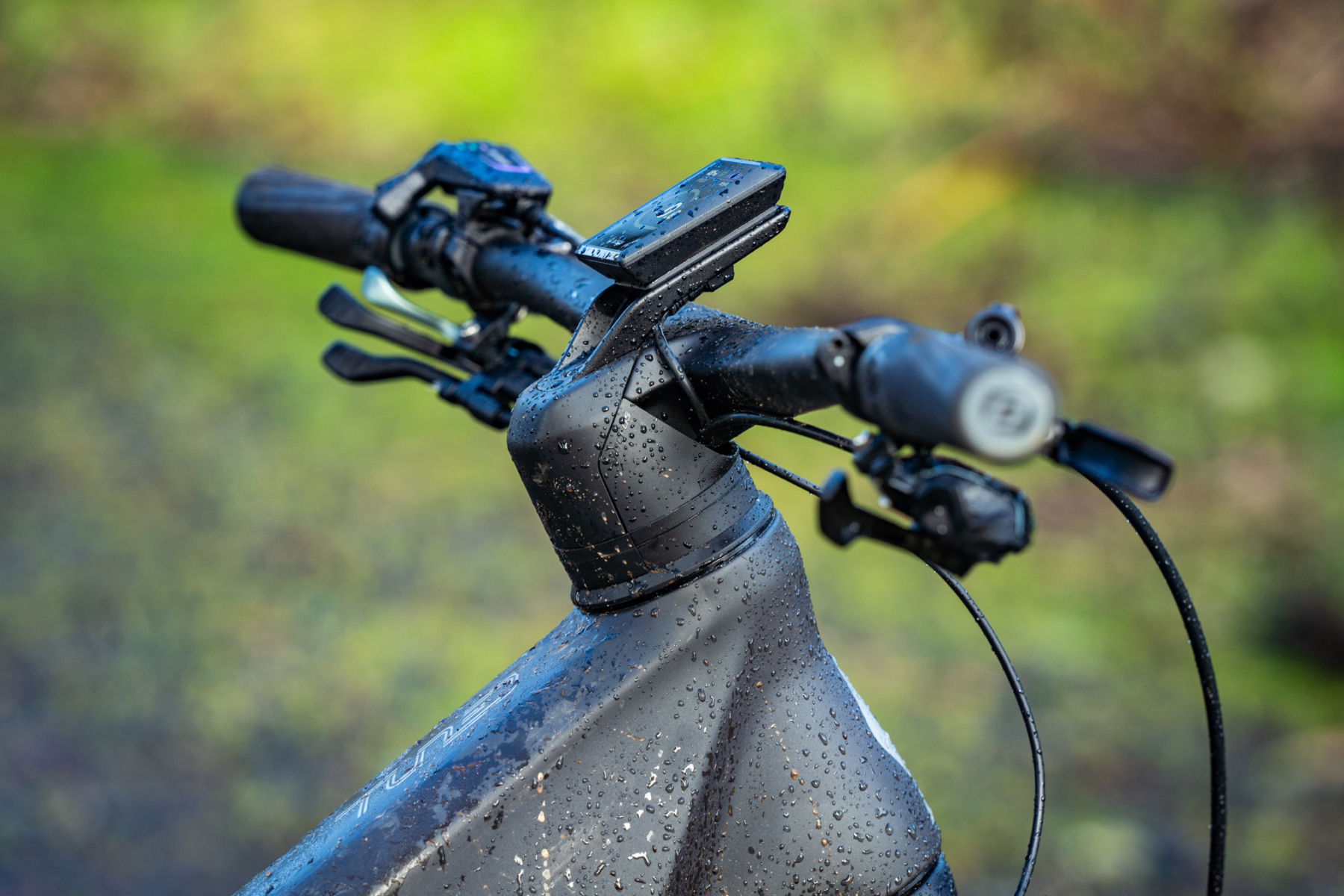 Motor & frame details
While I've been really impressed with the Bosch system, on one ride our test bike randomly turned off by itself. It eventually came back to life, and after removing, checking and reinstalling the battery, it's been fine since. There may have an issue with the connection between the battery and the receiver, or it may simply have been a freak occurrence. Either way, we'll keep an eye on things and update this review if the issue reappears.
A more pressing issue on our test bike is the lack of armouring around the motor casing. This part of the frame hangs very low due to the battery placement, so it's naturally going to be more in the firing line. Unfortunately the plastic battery guard is quite small, leaving much of the carbon exposed to rock strikes. The result is evident in the numerous chips our test bike has already suffered, with some damage to the surface layer of carbon. If I owned this bike, I'd be absolutely devastated. Scott really needs to provide a much more substantial skid plate for this vulnerable part of the frame.
Otherwise the rest of the Patron appears to have been well thought out. I like that the rear shock is hidden away from the elements and pressure washers, and unlike many e-MTBs, there's room to carry a proper full-size water bottle.
The battery is easy to remove without any tools or a key required, allowing you to charge it separately if needed. The integrated tail light is also a surprisingly useful addition, and the included mudguards are a nice touch. There's also a kickstand mount for those who are using the Patron as their only bike with a bit of commuting or rail trail cruising thrown in.
The crisp and vibrant screen of the Bosch Kiox 300 display offers a load of useful information, though it does seem quite vulnerable perched above the bars. You definitely wouldn't want to flip this bike upside down to repair a trailside puncture. Though unlike previous versions that housed the brain of the whole system, the Kiox 300 is only a screen. So if you break it off in a crash, the bike is still rideable. In fact, you can remove the display entirely if you want a cleaner cockpit.
The controller works well and features coloured LEDs to indicate battery status in 5% increments. The buttons are quite light though, and initially I found myself accidentally lowering the assist level when I was attempting to use the TwinLoc levers. Some adjustment is required to get everything in the right place to suit your thumb.
The new Flow app is a big improvement for Bosch, with the ability to adjust the motor's support levels and provide route mapping. There's also a clever eLock function that allows you to disable the motor in the event that your bike gets nicked. For those of you who are interested, we'll be going into further detail about our experience with the Bosch Smart System in a separate article in the near future.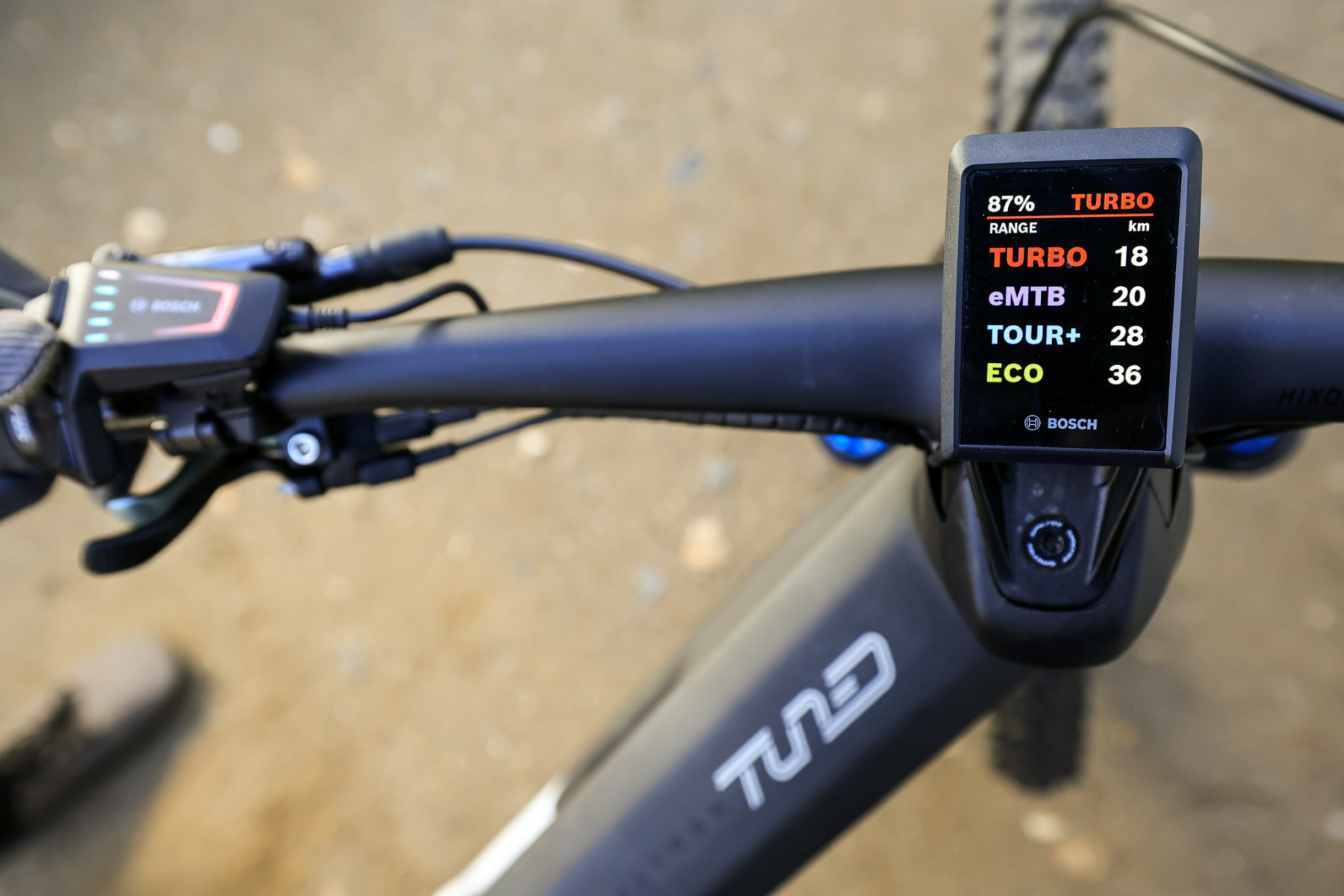 Scott Patron vs Rocky Mountain Altitude Powerplay
While the Trek Rail and Norco Sight VLT share similar specs to the Scott Patron, it's the Rocky Mountain Altitude Powerplay that we've tested most recently. This bike also features 29in wheels and 160mm of rear travel like the Patron, though it's clear that the Canadian brand has taken a much more aggressive approach to its biggest and baddest e-MTB.
Compared to the Patron, the Altitude Powerplay comes with a slightly longer 170mm travel fork. It's also spec'd with a Fox Float X2 piggyback shock and Maxxis DoubleDown tyres with a MaxxGrip Assegai up front. Geometry is more progressive with a slacker 64° head angle and a longer reach. You can also tweak the angles and BB height via the Ride-4 flip chip, and there are two positions for the chainstay length, with the shorter option coming in at just 437mm.
Rocky Mountain packages all of this around a mid-pivot suspension design, along with its own 720Wh battery and Dyname 4.0 motor. There's also a neat display integrated into the top tube, and a slim controller next to the left-hand grip.
With its plush suspension, sticky tyres and slack geometry, the Altitude Powerplay is a more confidence-inspiring bike on the descents. It offers greater traction and control when things get wild, though I also found it to be a more playful bike due to the shorter chainstays and progressive suspension.
The Patron is faster across undulating terrain however, and it's also the better climber of the two. The longer rear end and steeper seat angle offers better stability on challenging trails, and its Traction Control mode pretty much eliminates pedal strikes. The Bosch motor is also smoother, and it's possible to get maximum support in Turbo mode with minimal pedalling effort. The Dyname 4.0 motor doesn't have that luxury, requiring you to pedal with considerably more effort before it provides all 108Nm of peak torque.
Looking at both bikes, it's clear they've been designed to suit different needs. The Altitude Powerplay is much more gravity-oriented, with a load more adjustability in both its suspension and geometry. The Patron offers a more trail-friendly approach, with simpler suspension that will appeal to riders who appreciate its uniquely integrated design.
Flow's Verdict
No doubt about it, the Scott Patron is one polarising e-MTB. Its striking aesthetic certainly won't be for everyone, nor will its integrated cockpit or TwinLoc remote. Indeed its quick-rolling Maxxis Dissectors and remote lockable suspension should provide some further clues that the Patron is no heavy duty enduro sled.
Its descending performance would certainly be elevated with a GRIP2 fork damper and more aggressive tyres, and the lack of frame protection around the motor casing is disappointing. With that in mind, riders who are tackling rougher and more gravity-fed singletrack will likely be better served by the Ransom eRide.
In comparison, the Patron is more of an e-SUV with suspension and geometry that's geared towards all-terrain riding. Its powerful Bosch motor and 750Wh battery gives it fantastic long-range potential, which is matched by the comfortable riding position and grounded ride quality. Add in the TwinLoc's nifty Traction Control mode, and the Patron is one of, if not the best climbing e-MTBs we've ever tested.
For those who dig the integrated style and are after a versatile long-distance hauler, then there are few bikes that'll offer the same experience as the Scott Patron.