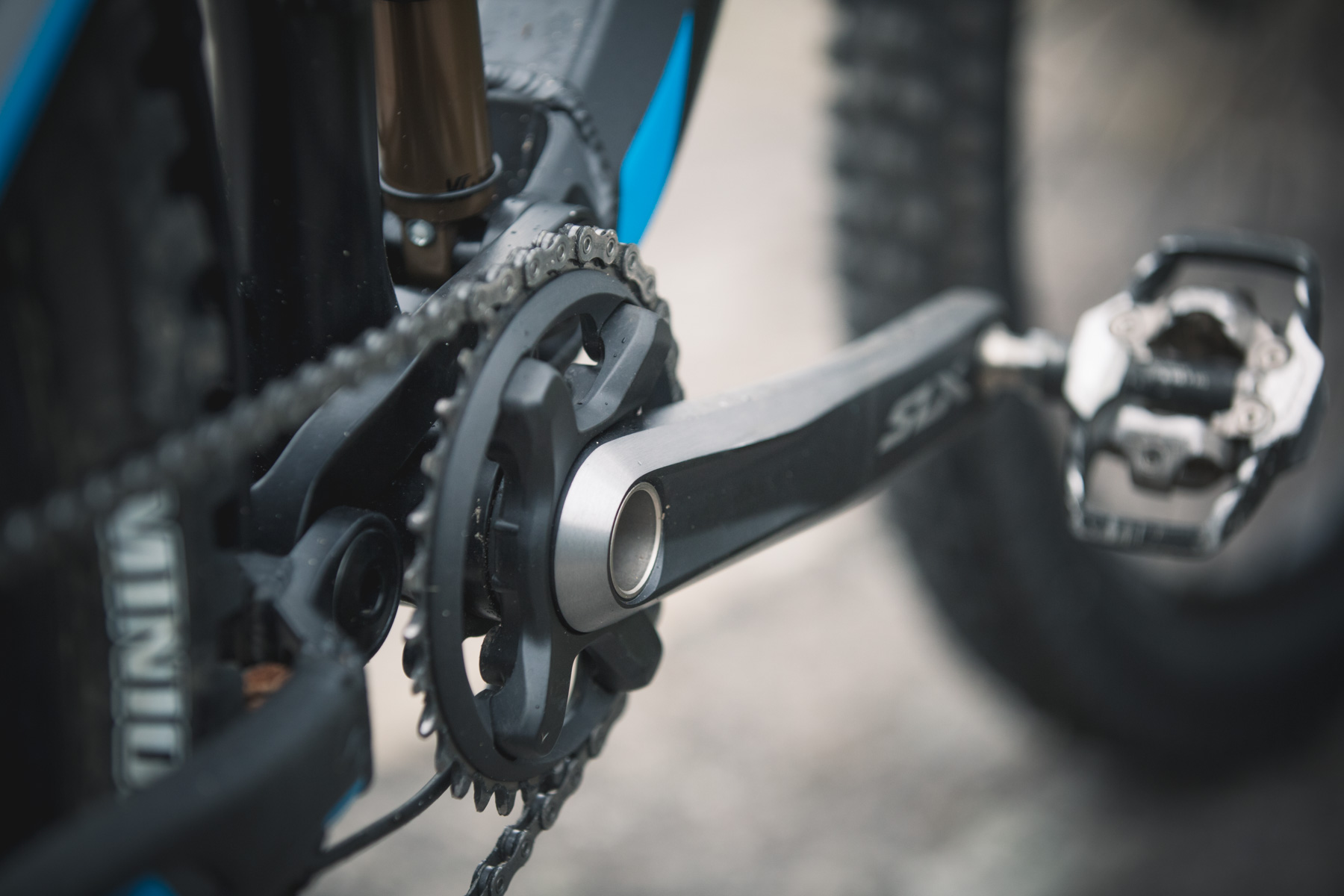 Well, weight savings are one reason, and certainly XT or XTR will last a little longer and ride a little smoother than SLX. Or perhaps you just prefer the feel and operation of SRAM over Shimano. But when get down to the nitty gritty of performance and price, the new SLX groupset smashes the ball out of the damn park. It's insanely good for the price.
From a features and performance standpoint, SLX isn't far shy of the XTR of three years ago.
The trickledown effect might be dubiously truthful in economics, but Shimano bring it to bear in their drivetrains with sensational results. From a features and performance standpoint, SLX isn't far shy of the XTR of two years ago. Fortunately for Shimano, there are plenty of people who simply must have the latest and greatest right away, because savvy consumers know that if they're patient enough it's only a matter of months till Shimano's top-end features are available at a fraction of the price.
We popped our SLX groupset onto an alloy Giant Trance 2015 frame – a sturdy, workhorse frame for a similarly themed groupset. Before we get into the specifics, let's do a quick weigh in… Now this surprised us: with a 1×11 setup, including brakes, the weight difference between XT and SLX is a paltry 151g! Here's the breakdown:
Weights
Crankset, 1×11 with 32-tooth ring (no bottom bracket): XT 694g vs SLX 715g
Right hand shifter: XT 127g vs SLX 135g
Cassette, 11-42: XT 434g vs SLX 476g
Brakes, pair with 160mm rotors and 800mm line: XT 804g vs SLX 836g
---
Drivetrain
Like XTR and XT, the new SLX groupset is available in a few variants, with 1×11 or 2×11 options. We opted to test the 1×11 version, pairing a 32-tooth ring to the 11-42 cassette out back. Riding with a front derailleur feels like going back in time. We'll happily accept the reduced range in exchange for lower weights and increased simplicity (though after riding SRAM's 1×12 Eagle setup, you can see the appeal of that extra low gear!). The ratios are nicely spaced across the range, and the shifting is typically Shimano smooth.
Shimano have used SLX to debut a new chain ring design, with a narrow/wide tooth profile and more rounded tooth shape. Coupled with the stability of the rear mech, it clearly does the job, as we haven't yet dropped a chain.
The new chain ring profile is quieter and smoother running than the previous version,
The main benefit of the new chain ring profile is that it's quieter and smoother running than the previous version, which had square-shaped teeth. It's noticeably less 'grindy' in the wet or when in the largest cog out back. We do still feel that SRAM has the edge in terms of quiet running though, overall.
The SLX rear derailleur may cop a weight penalty when compared to its more expensive friends, but the operation is 90% as good. The clutch mechanism keeps the chain on, and quiet, and the low-profile design is tucked up nicely away from trail debris, especially when compared to SRAM's derailleurs.
Take care to tighten the pinch bolts that secure the left-hand crankarm nice and tight.
One of the most eye-catching elements of the new SLX grouppo are the cranks, which look simply sensational, even better than XTR in our opinion. SLX uses the same crank arm for 1×11 or 2×11 configurations (unlike XTR).
Anyone who has ridden Shimano's cranks knows just reliable and foolproof they are, but take care to tighten the pinch bolts that secure the left-hand crankarm nice and tight. We stuffed up badly, not torqueing them enough, and off a particularly harsh landing we actually rounded out the splines of the crankarm / axle interface. We stress though that this was our fault entirely, so we say this as a warning to others not to replicate our mistake, not as a criticism! (We said they were foolproof cranks, not Flow-foolproof!)
In terms of functional differences between XT and SLX, there's bugger all in it – only the shifter gives up any obvious ground to XT. It feels a little more clunky under your thumb than XT, but the build quality still is far nicer than SRAM NX, which is the closest equivalent to SLX. We did miss the 'dual-release' function that you get with XT shifters – having that ability to fire off two upshifts in one push of the lever is great when accelerating out of a corner.
---
Brakes
Shimano's flawless reputation for amazing brakes (how sweet the sound…) took a bit of a hit in recent times, and there have been some running changes made to the master cylinders on some XT and XTR brakes to alleviate a few consistency concerns. The new SLX brakes benefit from the lessons learned, and we cannot find fault with them. Resin pads are fitted out of the box, and they have a nice gentle engagement that makes it easy to modulate the power. If you want more bite, we suggest fitting the sintered metal pads. Both the rotors and pads are Ice Tech items, with fins to cool the pads and an aluminium/steel sandwich design for the rotors, to dissipate heat. None of our riding has been steep enough to so much as raise a sweat from the brakes.
As we said at the start of this review, the quality of SLX 11-speed is going to leave a lot of people struggling to justify the leap to XT, let alone XTR. Still, that's Shimano's problem to worry about, not ours, and if the new SLX helps get more people onto 11-speed (particularly 1×11) then that's a good thing! A seriously great product at a great price.