Wil reviews his (updated) Specialized Chisel LTD
Out of all the high-end carbon superbikes, big travel enduro smashers, and fancy electric mountain bikes we get to ride here at Flow, the Specialized Chisel might seem a little, erm, pedestrian in comparison. So it might seem a little strange that when it came time to build up a new bike for myself, I specifically chose an alloy hardtail. The thing is, I really, really like this bike. And there are a few reasons why. Here I'll be taking you through the custom build behind my Specialized Chisel LTD, and what I love so much about it.
---
See our video review of the Specialized Chisel here:
---
The low weight is fantastic, and being a hardtail it possesses the sort of undiluted responsiveness that full suspension bikes, with their myriad of pivots, bearings and linkages, can only dream about.
Why the Specialized Chisel?
Having decided to move on my much-loved Santa Cruz Blur last year, I'd been eyeing up a new XC bike ever since. A hardtail isn't exactly the logical choice for our local trails, but I had such a good time ripping around on that stoopid-light Canyon Exceed CFR that I decided it could actually be a viable option for a personal long-term test bike.
I'm an absolute sucker for the clean lines, low weight and ease of maintenance of a hardtail. The simplicity is really appealing, and so too is the handling. And from the perspective of testing components like wheels, tyres and forks, you don't get much more high-fidelity feedback than riding a hardtail.
The Specialized Chisel launched in late 2020, gaining attention for its Epic-inspired geometry and the impressive 1,400g claimed frame weight. That is very light, and not far off most carbon frames. It's a striking example of how alloy tubes can be manipulated and formed into a lightweight structure that flows and curves in a way that we're more used to seeing from carbon fibre.
Appealing as it was, the Specialized Chisel only launched in Australia with just the single spec option – the $2,700 AUD Comp. I was seriously contemplating buying the complete bike and stripping it down to the frame to build up my own personal ride, until I heard a whisper through the grapevine that Specialized would be releasing a small run of limited edition framesets. A few emails later, and I was very fortunate to put my name down for one before they disappeared forever.
Structurally-speaking, Specialized Chisel LTD is identical to the frame used on the production bikes. Same alloy, same geo, same everything. It's simply treated to a snazzy limited edition paint job that's based on one of the four elements. Shown here is the 'Air' finish, which almost appears like it's been anodised.
The build kit
Having arrived as a standalone frame, my Specialized Chisel LTD has sprung to life as a custom-built bike. It was first assembled out of some parts I already had, plus some new bits I sought out specifically for this build. As you'll see shortly, it's already evolved quite a bit in the six months I've been riding it, and longer term it'll continue to serve as a rotating roster for various test components.
Currently it's equipped with a 100mm travel RockShox SID SL Ultimate fork. Originally I had it rolling on Hunt Race XC Wide alloy wheels, though they were switched out for a set of swanky Crank Brothers Synthesis XCT 11 wheels. These are wrapped with a Schwalbe Racing Ralph/Racing Ray combo. The tyres are 2.35in wide and feature snazzy tan sidewalls, with Tyreinvader inserts fitted front and rear.
The groupset is an all-SRAM affair. Initially that consisted of a wireless SRAM GX Eagle AXS drivetrain, though recently I went back to a mechanical XX1 drivetrain in search of some gram reduction. Slowing down the whole show is a set of Level Ultimate brakes.
Up top is the new Bontrager RSL one-piece carbon handlebar and stem, a Specialized Power S-Works saddle and the lightweight BikeYoke Divine SL dropper post.
For all the build details, check out the full spec list at the bottom of the page.
Any setup tricks or sweet details you're really into?
No real setup tricks, though I will say I'm a big advocate of running tyre inserts on a hardtail. Those Tyreinvaders only weigh 72g each, but they bring a significant degree of rim and pinch-flat protection to the party, allowing you to get away with slightly lower pressures for a smoother ride. I'm currently running 23psi in the front and 25psi in the rear.
I'm still unsure if the rainbow brake hardware is gaudy or classy, but either way I quite like the extra dazzle of colour. The titanium rotor bolts are sweet too, and the machined construction of the WolfTooth ReMote dropper post lever is another personal favourite.
Being someone that works on my own bikes, the threaded bottom bracket shell is a boring but much appreciated detail. I also like that the rear brake hose and cables are only routed internally through the downtube. They're well managed too, with a big alloy plug down at the BB that keeps them snug and secure.
I also love how smoothly the thru-axle head integrates with the dropouts, and how the Stumpjumper-derived chainstay protector effectively dampens chain-slap. It may only be an alloy hardtail, but it's a bloody nice one at that, and one that's finished to a very high level.
Specialized Chisel weight
In its current guise, my Specialized Chisel LTD weighs 9.88kg. As usual, that's weighed without pedals and cages, though it does include the two tyre inserts. Without those inserts, weight drops down to 9.73kg.
For my fellow weight weenies out there, here are some of the lightweight highlights from the build;
Specialized Chisel frame weight – 1,500g (Medium size, including headset cups, hanger & hardware)
RockShox SID SL Ultimate weight – 1,300g (including Maxle, steerer cut to 165mm)
Crank Brothers Synthesis XCT 11 weight – 1,575g (including tape & valves)
Schwalbe Racing Ralph/Ray weight – 699g (Ray) – 720g (Ralph)
Bontrager RSL handlebar weight – 239g (70mm length x 750mm width)
BikeYoke Divine SL dropper post weight – 388g (30.9mm diameter)
Specialized Power S-Works saddle weight – 159g (142mm width)
Without going into ultra-exotica territory, many of those components are indeed towards the lighter end in their respective categories.
However, the Crank Brothers wheels don't break any records. Still, it's worth noting that they are built with Industry Nine Hydra hubs, which are relatively heavy. That means most of the mass is concentrated at the centre of the wheelset, with the rims being quite light at a claimed 365-375g each.
If I was really hunting grams though, I could drop over 200g with a set of the Roval Control Carbon wheels that Mick has been testing lately. I quite like how the Crank Brothers wheels ride though, which I'll touch on in just a bit.
What do you love about this bike?
I love how clean this bike looks. I dig the paint job, which gives the appearance of being airbrushed. There is a logo underneath the downtube, but from the side you can't see any branding at all.
The low weight is fantastic, and being a hardtail it possesses the sort of undiluted responsiveness that full suspension bikes, with their myriad of pivots, bearings and linkages, can only dream about. Acceleration is addictively quick, aided by the ridiculous 690 engagement points (!) inside the Industry Nine Hydra rear hub.
However, I think the two attributes that have surprised me most about the Specialized Chisel is just how balanced the handling is, and how comfortable it is given there's no rear shock.
I've spent time on the latest Specialized Epic HT, and while that's up there as one of the lightest and most rapid XC bikes I've ever ridden, there's no getting away from the fact that the carbon frame delivers a somewhat uncompromising ride. Same goes for the Canyon Exceed. In comparison, the Specialized Chisel is decidedly more comfortable, with more give through its slender alloy tubes.
That quality is no doubt enhanced by the Crank Brothers Synthesis XCT 11 wheelset, with the shallow carbon rims helping to dampen high frequency buzz. I've ridden a lot of different carbon wheels, and these are up there as some of the smoothest I've tested. The slightly narrower rim width (26.5mm front & 24.5mm rear) also gives the tyres a little more spring to their step. Along with the supple tyre casings and inserts, the Chisel is pleasingly adept at rounding off sharper edges on the trail.
While it is very responsive, the use of a 68° head angle and a 44mm fork offset gives it a much calmer temperament compared to the angry race hardtails of old. The 750mm wide bars provide a broad platform up front, and while the dropper only has 80mm of travel, it makes a huge difference for your confidence levels on the descents, while giving you more room to throw the bike around through tight turns.
The RockShox SID SL has terrific small-bump sensitivity for a 100mm fork, but the supportive mid-stroke means it doesn't dive heavily under hard braking and pronounced weight shifts. Along with the high volume rubber there's good grip on offer, and minimal pin-balling through rock gardens as a result.
Of course it's still an XC hardtail, so there's only so much you can expect when riding much rougher trails. But I'm consistently surprised and impressed with how composed it is on a variety of trail types thanks to the good angles, beautifully refined frame, and considered parts spec.
What's changed so far?
Compared to the original build, I've since upped the front rotor to 180mm for improved braking power, and I also moved from the Syncros Fraser iC SL integrated cockpit to the Bontrager RSL setup. These are slightly wider at 750mm, and I reckon that's spot-on for XC riding.
I've also recently changed to Ergon GA3 grips, which have been an absolute game-changer. It may seem like a mundane component, but grips are one of the most important contact points with your mountain bike, affecting both comfort and control.
To begin with I setup the Specialized Chisel with a pair of ODI F-1 Float grips. These are very light at just 86g for the pair, and the squishy silicone foam offers good comfort when riding dirt roads and gentle singletrack. There's not a lot of absorption on bigger impacts though, and I was finding my palms were suffering on our local rock-laden trails as a result.
In comparison, the Ergon GA3 grips use a lock-on design and are made with a tacky rubber compound. They get a small flared profile with a mini-wing that provides a bigger platform for your palms, and more support for your wrists. There's actually a bit of squish and flex to each wing, which improves damping further. You still get a high-traction tread pattern, and because the wing is quite small, your fingers can still wrap around uninterrupted. It's a really nice balance between support and control that allows you to ride with a more relaxed grip. I also like how rotating the grips can help to fine-tune your riding position over the bars.
What don't you like about it?
Though the cable routing is well managed, the port for the brake hose is biased for those who run their rear brake on the right side. To suit Aussie and UK riders (and anyone who runs their brake the correct way round), I'd like to see an additional port so I could route the rear brake hose around the head tube for a neater setup.
Speaking of the brakes, it's worth noting that clearance is a little tight around the rear dropouts. I had originally intended to fit a set of SRAM G2 brakes, but the bulkier 4-piston calliper wouldn't physically clear the seatstay tube when paired to a 160mm rotor. Same problem with a 4-piston Shimano SLX calliper.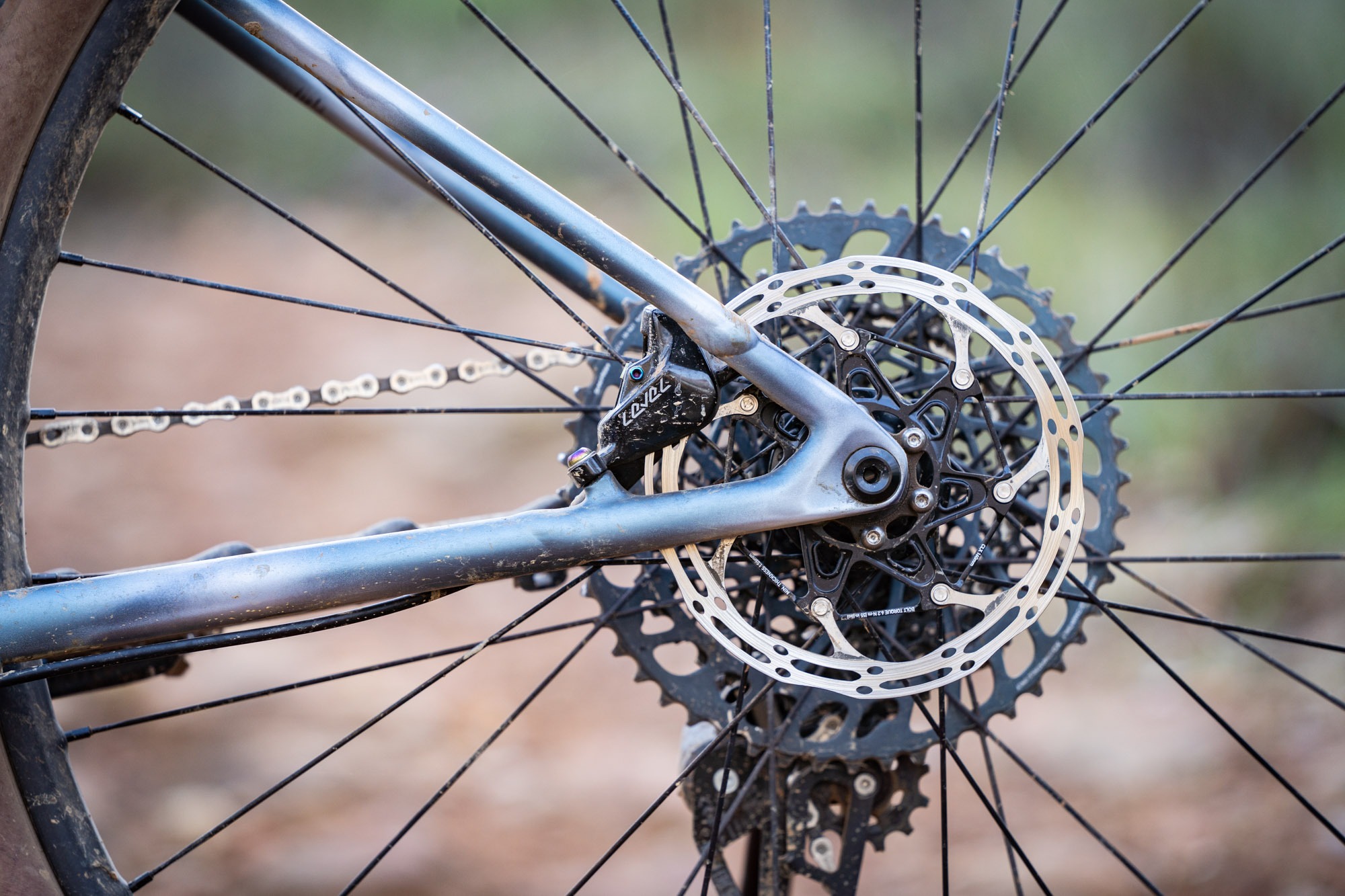 I suspect there'll be sufficient clearance when using a 180mm adapter and rotor, but I've not had a chance to try that out just yet (I settled on fitting the SRAM Level 2-piston brakes with a 160mm rear rotor for this build). And it's worth noting that the clearance limitation appears to be more of an issue for the Medium and Small-size frames. I have heard from a fellow Chisel owner who is riding a Large size, and has no such clearance issues with using a SRAM G2 brake calliper.
Otherwise the SRAM GX AXS drivetrain has performed well, with the wireless system offering a tidy setup and the 10-52T cassette achieving a huge gear range. The shifting is impressive, with only the lightest of touches required on the paddle to click up or down the cassette. As far as the action of the derailleur and shifter goes, you're giving up nothing over the more expensive X01 & XX1 AXS versions, albeit with a bit of extra weight.
The AXS derailleurs are quite bulky however, which is especially noticeable when mounted to such a slender bike. And given this is a bike that I'm reaching for in between other test bikes, there have been occasions where I've totally forgotten to charge the battery.
Any recent upgrades?
Having put a load of miles put into the existing chain, cassette and chainring (both on the Chisel and two bikes before it), I decided to use a drivetrain refresh to make a couple of key upgrades, with the goal of cracking through the 10kg weight barrier.
For those sensitive to grams, the alloy GX Eagle crankset is quite heavy (633g), and so too is the GX AXS derailleur (464g) and the cassette (455g).
In their place I've since fitted a set of XX1 carbon cranks (428g), a XX1 mechanical derailleur (271g) and a X01 Eagle cassette (354g). I chose a slightly smaller 10-50T cassette ratio, and I've also fitted a bigger 34T oval chainring up front to give a slightly taller gear, given I've been doing quite a lot of long distance XC and gravel riding on this bike.
Along with an XX1 shifter and chain, I managed to drop nearly half a kilo off the complete bike thanks to upgrading from the GX AXS drivetrain (1,893g) to the XX1 drivetrain (1,437g). That's not an inconsiderable amount of weight.
As for the performance, gear changes are noticeably crisper on the X01 cassette compared to the pinned sprockets of the GX cassette, and previous testing indicates that it lasts considerably longer too.
The shifting is super light thanks to the use of high quality housing with minimal bends throughout the frame. And while it is a total luxury, I must admit that I love the smooth feel of the carbon paddle on the XX1 trigger shifter. You can also adjust the angle of the main paddle, which is a nice touch.
I also like that the derailleur sits closer in to the frame, where it occupies less physical space at the rear of the bike. Chain management is also better – I've always found AXS mechs to have a little less clutch tension, resulting in some chain slap. The Chisel is notably quieter with the XX1 mechanical drivetrain.
At the front of the bike, I also recently purchased some Torque Caps for the Industry Nine Hydra hub. These oversized end caps use a 31mm external diameter, compared to the standard 21mm diameter end caps found on most standard thru-axle hubs.
Originally introduced for the RS-1 upside-down fork, these larger end caps are designed specifically to mate up with the oversized dropouts on most modern RockShox forks. Standard hubs will fit fine, but you get a much neater fit from a hub that's fitted with Torque Caps. Previously I found it slightly annoying how the hub would need to 'float' in the dropouts before you could locate the axle through.
As well as making wheel installation a little quicker and easier on the Chisel, the Torque Caps also provide a stiffer interface between the RockShox SID SL fork and the Industry Nine hub. While it's not exactly a game-changer, it's still a sweet little upgrade for RockShox users.
And what's next?
While I really like the shape and feel of the Bontrager RSL bars, the integrated look is perhaps a little too futuristic paired to the slender frame tubing. I'm eager to try out a classic 31.8mm handlebar and stem, which will add grams (aargh!) but will also hopefully improve compliance.
I'm also curious about trying a longer fork. The Specialized Chisel frame is rated for up to 110mm travel, which opens the door to fitting a bigger SID with the 35mm upper tubes, or the latest Fox 34 Step-Cast fork. I'd love to see how that affects the handling, though given how much of a hoot this bike has been so far, it's got a good vibe about it.
Either way, I'm absolutely frothing on the Chisel. The process of making small, incremental upgrades as part of the custom build is so satisfying, especially when it contributes to such a cohesive and well-rounded ride quality. And while it may not be a complicated bike, that's exactly what makes it such a pleasure to ride.
Specialized Chisel LTD Specifications
Frame | Smartweld M5 Alloy
Fork | RockShox SID SL Ultimate, Charger Race Day Damper, 44mm Offset, 100mm Travel
Hubs | Industry Nine Hydra, 6-Bolt, 110x15mm Front & 148x12mm Rear
Rims | Crank Brothers Synthesis XCT 11 Carbon, Internal Width: 26.mm Front & 24.5mm Rear
Tyres | Schwalbe Racing Ray 2.35in Front & Racing Ralph Rear, Addix Speed Compound, Super Race Casing
Drivetrain | SRAM XX1 Eagle 1×12 w/XX1 34T Carbon Crankset & 10-50T Cassette
Brakes | SRAM Level Ultimate, 2-Piston, 180mm Front & 160mm Rear Rotors
Bar | Bontrager RSL Integrated Carbon Cockpit, 750mm Wide
Stem | Bontrager RSL Integrated Carbon Cockpit, 70mm Virtual Length
Grips | Ergon GA3-S
Seatpost | BikeYoke Divine SL w/Wolf Tooth ReMote, 80mm Travel
Saddle | Specialized Power S-Works
Confirmed Weight | 10.34kg