Mick & Wil review the new Specialized Levo
Hold onto your hats folks, because Specialized has just unveiled the brand new 3rd generation Levo! This is huge news for electric mountain bike fans, with the Levo having long been one of the dominant forces within the e-MTB market ever since the original arrived in 2015, followed by the sophomore Levo in 2018.
For us here at Flow, we've had a load of experience with numerous Levos over the past six years. Indeed after calling the Levo his top pick of the current crop of e-MTBs, Mick actually bought one for himself. As you can imagine then, the Froth-O-Meter™ started bubbling when we heard a new model was on the way. But what's actually changed? And is it worthy of the froth? Time to find out!
---
Watch our video review of the new Specialized Levo here!
---
Ride High Country Test Sessions
To get some hands-on experience with the new bike, Specialized sent us out a Levo Pro to put to the test. Following on from the first edition of the Ride High Country Test Sessions, where we took the Canyon Spectral 29 to Beechworth for the granite-fest-IPA-extravaganza, we chose Mt Buller as our ideal location for the Levo, thanks to its big alpine terrain and technical backcountry singletrack.
Ever since Mick competed in his first downhill race in 1999 (on a classic Intense M1 no less!), we've been regular visitors to Mt Buller. There's something special about this beautiful high country landscape, with its striking bone-white snow gums, lush greenery, and deep dark loamy soil that continues to draw us in to this day. And with an eclectic network of challenging trails and lung-burning altitude, it's prime territory for an e-MTB, particularly one that's designed to be as capable as the Specialized Levo.
2022 Specialized Levo overview
Aesthetically speaking, the new Levo looks very similar to the outgoing model. It still features the Sidearm frame profile, and it retains the huge 700Wh internal battery and a Brose-manufactured motor that delivers 90Nm of torque. Go a little deeper, though, and you'll discover significant refinements to both the hardware and firmware, along with a brand new MasterMind Turbo Control Unit that offers far greater on-trail tune-ability than ever before.
Overall suspension travel remains the same, with a 160mm fork and 150mm of rear wheel travel. The kinematics have been altered however, with the goal of bringing rear suspension performance more in-line with the latest Stumpjumper EVO.
Perhaps the biggest change to the new Levo is its wheelsize, with Specialized fully committing to the mullet trend. Like the Merida eOne-Sixty and Canyon Spectral:ON, the Levo's chassis is now purpose-built around a smaller 27.5in rear wheel, allowing for significantly shorter chainstays.
Levo gets EVO'd
The easiest way to think of the new Levo? Looking at the geometry and frame features, it's basically an e-MTB version of the latest Stumpjumper EVO. And that, is a very good thing indeed. After all, Specialized knew it had some catching up to do with the Levo's geometry. Things move fast in the e-MTB world, and our expectations of what these bikes should be capable of have evolved significantly over the past few years.
To bring things up to date, the new Levo moves to the S-sizing concept, where shorter seat tube lengths encourage riders to choose the right size based on their preferred reach and not so much their saddle height. You can now choose from six frame sizes, up from four on the old bike.
Of course the new bike is slacker, longer and steeper in the areas you'd expect, and it's now also spec'd with a shorter 44mm fork offset. To keep the new Levo ahead of the curve however, Specialized brought over the adjustable headset cups and two-position chainstay pivot flip chip from the Stumpjumper EVO. This provides riders with three different head angles to choose from, while the flip chip tweaks the BB height and chainstay length. The scope for tweaking the geometry to your liking is plentiful.
With the new mullet setup, the rear centre length has shrunk to 442mm. While not the shortest out there (the Canyon Spectral:ON we're also testing has a 435mm rear centre length), it's still pretty compact, and a whole 14mm shorter than the old Levo.
Same power, improved guts
The Levo continues to employ a Specialized-designed and Brose-manufactured motor, but there have been some hefty advancements here too, with a big focus on durability and weatherproofing.
During our chat with the engineers at Specialized, they admitted that the Levo motor has had reliability issues in the past. Upon further probing, it turns out the reliability issue in question was specifically related to belts breaking in the previous 2.1 motor. Not every Levo owner encountered an issue – Mick's had a solid three years of riding on his own Levo with no problems with the belt whatsoever. But those riding at full power settings with a really low cadence in high-load applications (picture grinding up a steep hill in top gear) have an increased likelihood of snapping the belt.
To address this issue, the new 2.2 motor features an improved belt design that is wider, stiffer and sturdier to purportedly improve its lifespan, particularly when ridden in a more abusive manner. In a bid to further reduce wear and tear, the programming boffins have developed the new 'MasterMind' firmware, which aims to reduce power spikes from the motor and provide smoother assistance for the rider.
On top of that, Specialized has improved the motor's sealing to better protect the electrics against naughty owners who still pressure-wash their bikes despite being advised not to. There are now triple seals around the charge point along with a much sturdier hatch mechanism.
That's all well and good, but what about the Gen 2 Levo owners out there? They'll be happy to know that the new MasterMind firmware will be available to them free of charge as an over-the-air update via the Mission Control app. Also worth noting is that the new belt has actually already been introduced in later production iterations of the 2.1 motor. Furthermore, the mounting points haven't changed, so it is indeed compatible with the old frame. Specialized won't be selling the new motor separately, but the 2.2 motor will steadily make its way into warranty departments over time.
New MasterMind TCU
Up at the head tube, the new Levo also features a fully redesigned display unit called the MasterMind TCU. The goal here was to maintain the clean cockpit and simple user interface of the previous Levo, while improving the displayed metrics and provide greater on-the-fly adjustability.
Protected by reinforced and scratch-resistant Gorilla Glass, the vibrant MasterMind TCU display allows you to scroll through various pages by pressing a button on the handlebar's remote switch. Those pages are customisable via the Mission Control app, allowing riders to put up to 30 data values in front of them. That includes elevation thanks to the in-built barometer, and Rider Power Value, which shows how many watts your legs are putting in alongside the motor's assistance.
Going further, there's a new Live Consumption reading that displays your real time battery consumption in kilometres per watt-hour (km/Wh). According to Specialized, this can help teach you how to pedal more efficiently. We suspect it will also encourage those high-torque-low-cadence riders to put less strain on the motor in the first place.
More adjustability is provided by MicroTune. With previous Specialized e-Bikes, riders would have to use the Mission Control app on their smartphone to tweak the support levels of their motor. With the new Levo, you can now adjust those parameters in 10% increments via the MasterMind TCU.
Two small but really nice features – battery status is now displayed as a percentage value (hooray!), and there's also now a clock too. It's particularly useful for riders who prefer not to ride with a huge GPS head unit, and along with the new MicroTune function, there's less need for having to whip out your phone during a ride.
Specialized Levo price & specs
When the Levo was launched there were only two models, the Levo Pro we've been riding and the S-Works Levo. With the heavy price tag on both of these bikes, we speculated that Specialized would eventually introduce more budget-friendly models, and as of the end of May, the brand has confirmed an Expert level spec.
All three Levo models are built around the same FACT 11m carbon fibre chassis, and they feature the same 2.2 motor and 700Wh battery. They also get the same suspension package with a huge Fox 38 fork, and a Float X2 shock, though the two more expensive models get the Kashima Treatment, while the Expert build sees the Performance Elite spec. Despite the big piggyback shock, each frame size can still fit a water bottle inside the front triangle.
You'll find powerful 4-piston brakes and big rotors standard, though you can go even bigger – both the fork and frame are rated for up to 220mm rotors. Rubber is supplied by Specialized, with the new soft-compound Butcher T9 up front and the firmer Eliminator T7 out back. While some other brands are spec'ing their mullet bikes with a 27.5+ tyre on the rear, the Levo features the same 2.6in width front and rear.
Read on for specs and pricing for both models, followed by our review of the brand new 3rd generation Specialized Levo.
2022 Specialized S-Works Levo
Frame | FACT 11m Carbon Fibre, FSR Suspension Design, 150mm Travel
Fork | Fox 38, Factory Series, GRIP2 Damper, 44mm Offset, 160mm Travel
Shock | Fox Float X2, Factory Series, 210×55 mm
Drive Unit | Specialized 2.2, 90Nm
Battery | Specialized Turbo M3-700, 700Wh
Wheels | Roval Traverse SL, Carbon Rims, 30mm Inner Rim Width
Tyres | Specialized Butcher T9 GRID Trail 2.6in Front & Eliminator T7 GRID Trail 2.6in Rear
Drivetrain | SRAM XX1 AXS Eagle 1×12 w/Praxis Carbon 32T Crankset & 10-52T Cassette
Brakes | Magura MT7 4-Piston w/203mm Rotors
Handlebar | Specialized Trail, FACT Carbon, 35mm Diameter, 27mm Rise, 780mm Wide
Stem | Deity Copperhead, 35mm Diameter, Length: 40mm (S1-S2), 50mm (S3-S6)
Seatpost | RockShox Reverb AXS, 30.9mm Diameter, Travel: 100mm (S1), 125mm (S2), 150mm (S3), 170mm (S4-S6)
Saddle | Specialized Bridge, Hollow Ti Rails, Width: 155mm (S1-S2), 143mm (S3-S6)
RRP | $24,200 AUD
2022 Specialized Levo Pro
Frame | FACT 11m Carbon Fibre, FSR Suspension Design, 150mm Travel
Fork | Fox 38, Factory Series, GRIP2 Damper, 44mm Offset, 160mm Travel
Shock | Fox Float X2, Factory Series, 210×55 mm
Drive Unit | Specialized 2.2, 90Nm
Battery | Specialized Turbo M3-700, 700Wh
Wheels | Roval Traverse, Carbon Rims, 30mm Inner Rim Width
Tyres | Specialized Butcher T9 GRID Trail 2.6in Front & Eliminator T7 GRID Trail 2.6in Rear
Drivetrain | SRAM X01 Eagle 1×12 w/Praxis Carbon 32T Crankset & 10-52T Cassette
Brakes | SRAM Code RSC 4-Piston w/200mm Rotors
Handlebar | Specialized Trail, FACT Carbon, 35mm Diameter, 27mm Rise, 780mm Wide
Stem | Deity Copperhead, 35mm Diameter, Length: 40mm (S1-S2), 50mm (S3-S6)
Seatpost | Fox Transfer, Factory Series, 30.9mm Diameter, Travel: 100mm (S1), 125mm (S2), 150mm (S3), 175mm (S4-S6)
Saddle | Specialized Bridge, Hollow Ti Rails, Width: 155mm (S1-S2), 143mm (S3-S6)
Confirmed Weight | 22.06kg (As Tested, S3 Size)
RRP | $20,200 AUD
2022 Specialized Levo Expert
Frame |

FACT 11m Carbon Fibre, FSR Suspension Design, 150mm Travel

Fork |

Fox 38, Performance Elite, GRIP2 Damper, 44mm Offset, 160mm Travel

Shock |

Fox Float X2, Performance Elite, 210×55 mm

Drive Unit |

Specialized 2.2, 90Nm

Battery |

Specialized Turbo M3-700, 700Wh

Wheels |

Roval Traverse, Alloy Rims, 30mm Inner Rim Width

Tyres |

Specialized Butcher T9 GRID Trail 2.6in Front & Eliminator T7 GRID Trail 2.6in Rear

Drivetrain |

SRAM GX/X01 Eagle 1×12 w/Praxis Forged M30 32T Crankset & 10-52T Cassette

Brakes |

SRAM Code RS 4-Piston w/200mm Rotors

Handlebar |

Specialized Trail, 7050 Alloy, 35mm Diameter, 30mm Rise, 800mm Wide

Stem |

Specialized Alloy Trail Stem, 35mm Diameter, Length: 40mm

Seatpost |

X-Fusion Manic w/SLR LE Lever, 34.9mm Diameter, Travel: 100mm (S1), 125mm (S2), 150mm (S3), 175mm (S4-S5), S6 190mm

Saddle |

Specialized Bridge, Hollow Cro-mo Rails, Width: 155mm (S1-S2), 143mm (S3-S6)

RRP |

$16,300 AUD
Testing the Specialized Levo Pro
To get ourselves acquainted with the new Levo's capabilities, we took it up to Mt Buller for a week's worth of riding. Having visited many times before, Mt Buller is an ideal proving ground for a do-it-all e-MTB, with plenty of elevation on offer, and iconic trails including Gang Gangs, Misty Twist, Stonefly and the Delatite River Trail.
The early Autumn conditions were absolutely primo, with some light showers helping to dampen down the summer dust and deliver us a generous helping of soft, dark brown loam to sink our tyres into.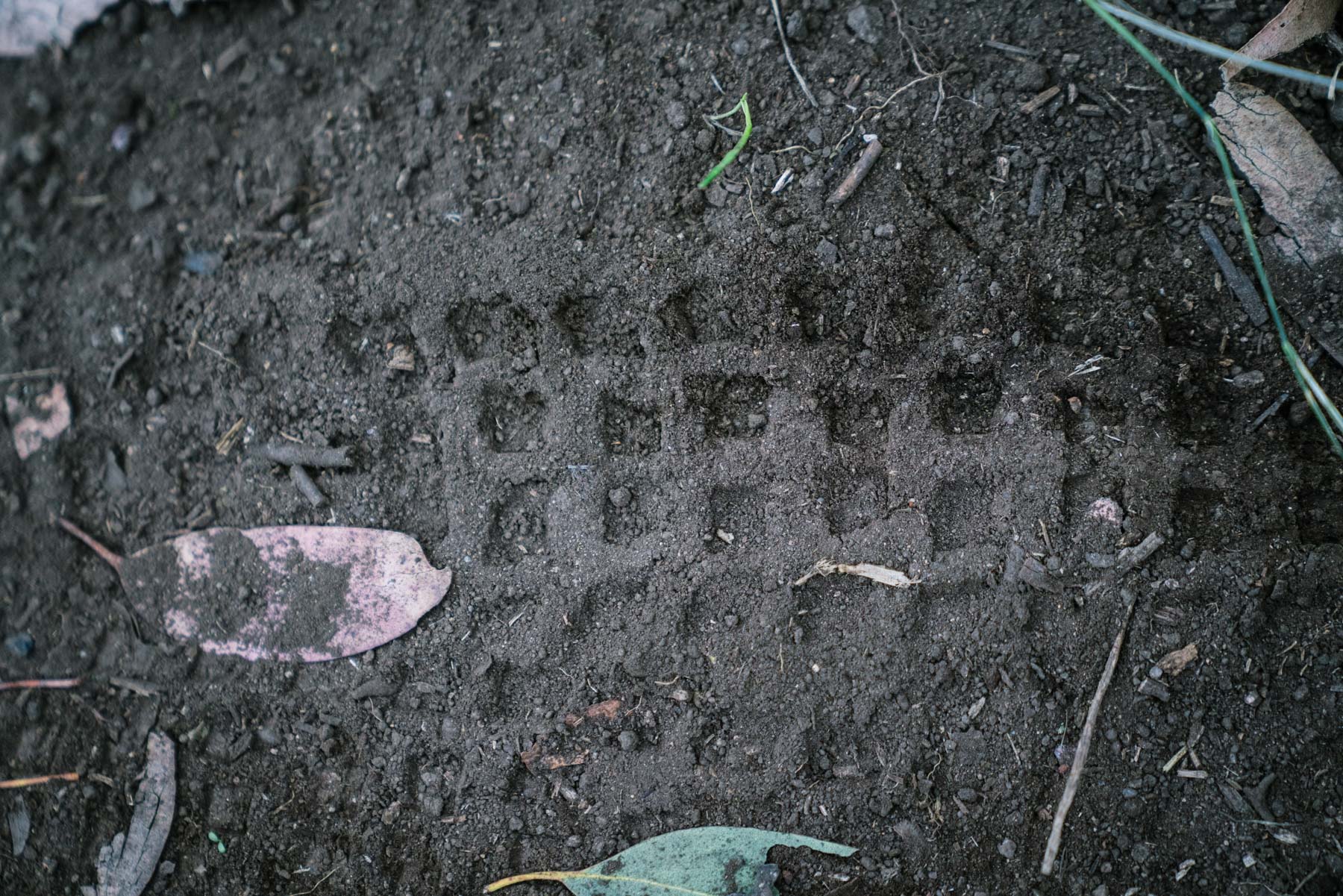 Alongside the Levo, we also brought along the Merida eOne-Sixty and a Canyon Spectral:ON for some back-to-back testing. We'll get onto a comparison between all three bikes in just a bit.
It's the Levo Pro that we've got on test here, which looks positively resplendent with its spiffing matte Caramelised Tandoori Hot Nights™ paint job. It's remarkably clean for a big travel e-MTB, with the smooth carbon frame complemented by the internal cable routing and minimalist approach to graphics.
Despite the 700Wh battery, heavy duty suspension and tough GRID Trail casing tyres, the Levo Pro turned out to be impressively light at just 22.06kg.
Specialized Levo sizing & fit
With Mick standing at 178cm tall and Wil at 175cm tall, we chose the S3 size. Compared to the 435mm reach on the old Medium, the S3 frame is considerably longer with a 452mm reach. It's effectively gone up a size.
We were initially concerned it would feel too big, but the S3 fits us both well. The seat tube angle has steepened from 74.8° to 76.7°, which is a good number. It puts you in a comfortable seated position on the climbs, but it's not so steep as to see you trying to benchpress the handlebar on rolling singletrack.
Speaking of, the contact points are spot-on. The 780mm wide bars offer a comfortable profile, and the Deity Copperhead stem is trick. We both loved the compound and tread pattern of the Knuckleduster grips, and the Bridge saddle continues to be a favourite here at Flow. Aside from lowering the bar height a touch and making use of the neat included conical headset spacer, we both felt very at home on the Levo straight away.
Suspension & tyre setup
Specialized recommends setting up the rear shock with 27-29% sag, which equates to 15-16mm of displacement at the O-ring. Once at our desired pressure, we setup the Float X2 damper with slightly lighter settings than Fox's recommendations in order to keep things nice and lively.
To suit our 70-75kg riding weight range, we ran the low-speed rebound just five clicks off the fastest setting (13/18 clicks), and the low-speed compression dial a third of the way through its range (6/18 clicks). Both high-speed rebound and compression were set one click off the lightest settings.
We found Fox's air pressure recommendations for the 38 to be about right, though just like the shock we went a bit lighter on the damper tune. Low-speed rebound was set a click faster than halfway (8/14 clicks), and low-speed compression wound a third of the way through the range (5/16 clicks). High-speed rebound was set to full fast, though we added a couple of clicks of high-speed compression damping (2/8 clicks) for big-hit support.
As for the tyres, Specialized's supportive GRID Trail casing allows you to get away with decently low pressures. We aired up the Butcher with 18psi and the Eliminator with 21psi. Despite not having any rim protection fitted, this setup proved to be plenty tough on the many big rocks and sharp edges we smashed into during our time up at Mt Buller.
The handling kicks up a notch
Within the first few pedal strokes on the trail, the Levo's handling is easy to get along with. For a bike this size, it isn't difficult to move around at all. It's surprisingly agile and easy to tip over, no doubt a result of the dedicated mullet setup. The effect of the shorter chainstays and smaller rear wheel is very noticeable over the previous Levo, with the new bike exhibiting more willingness to initiate turns at speed.
There's a tonne of traction to back it up too. The supple suspension generates a bucketload of grip, and the 2.6in tyres put plenty of rubber onto the trail surface. Special mention goes to the Butcher with its sticky T9 rubber compound that keeps the front wheel glued to the terrain, even across loose rocks, soaking wet granite and slick hardpack berms. This is a bloody good tyre combo.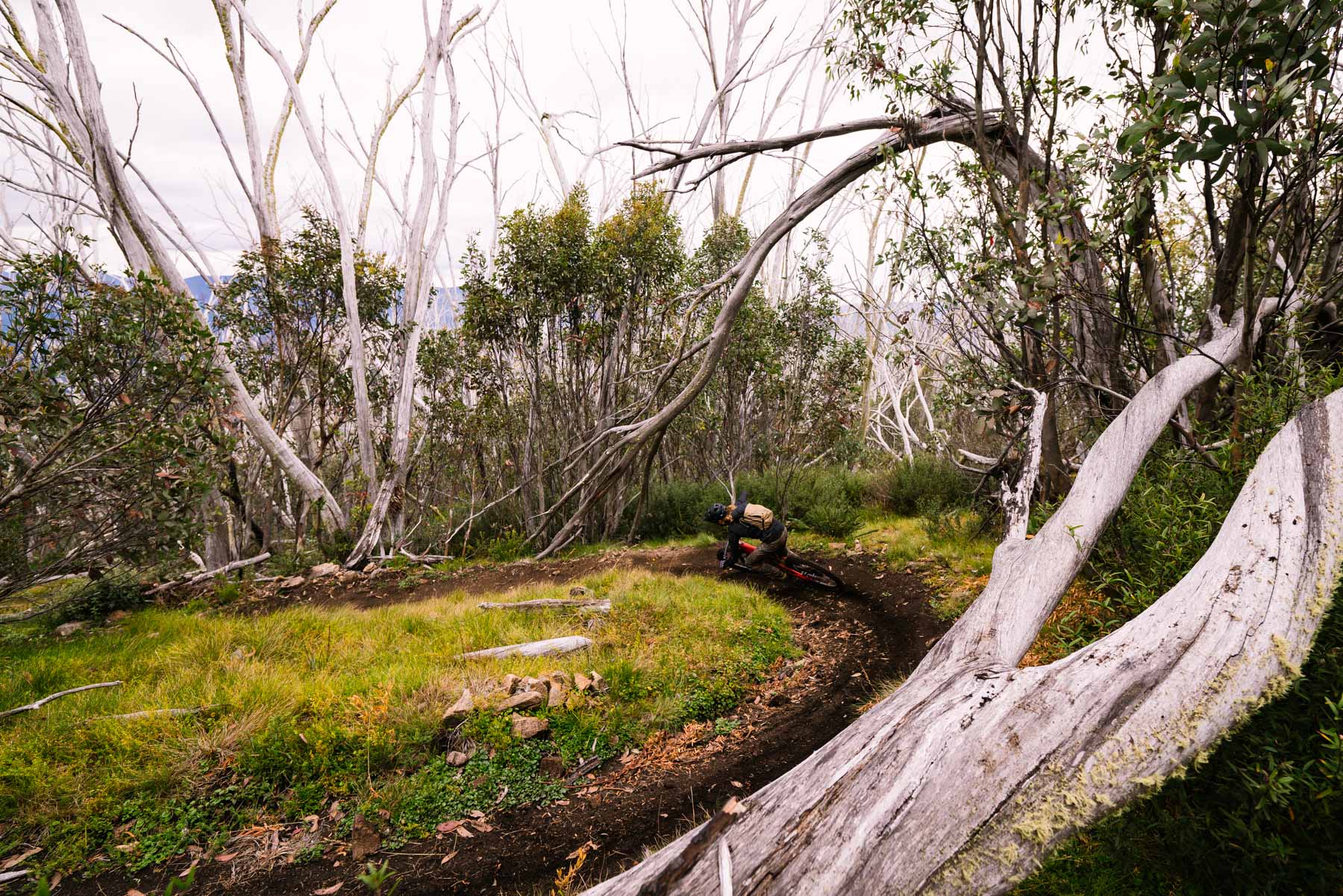 You also feel very much in-the-bike thanks to the healthy 27mm BB drop. It isn't as low as the Stumpjumper EVO – the Levo's BB sits a full 10mm further off the ground. Though being an e-MTB, you do need more ground clearance since you're pedalling a lot more of the time.
To that end, Specialized has also fitted stubby 160mm crank arms on all frame sizes. So while the Levo does afford a low centre of gravity, we've not had any untoward issues with clipping pedals.
That's even been the case in the Low geometry position, which brings the BB down by a further 7mm. It also increases the chainstay length by 5mm to 447mm, which provides a more stable and ground-hugging ride all-round. We expect this will be a useful tuning option across different frame sizes – shorter riders on the S1-S3 frame sizes will likely favour the High geometry position and its shorter chainstay length, while taller riders on the S4-S6 frame sizes may prefer the Low geometry position with its longer chainstay length.
Scream if you wanna go faster!
As well as the improved cornering performance, the Levo delivers outstanding stability at speed. It's not quite as planted as the Kenevo, but it really isn't that far off. The steering is well-damped thanks to the shorter 44mm fork offset and slacker 64.5° head tube angle, and there's certainly no shortage of front-end confidence with the big 38 fork and sticky Butcher. You can charge mighty hard on this bike, and it rarely feels like you'll come unstuck. If you do manage to overcook things though, last minute emergency braking is no problem for the all-powerful Code RSCs and grippy tyres.
Further into our week of testing however, we did find situations where we felt over-biked on the Levo. While the slack geometry feels great on high-speed descents, it does slow down the steering through tighter trails, requiring more effort to pull the bars through sharper corners. This isn't a big deal when you're fresh and enthusiastic, but it becomes more labour-intensive as you fatigue, where it becomes harder to carve the perfect line. After multiple days of riding, we were more likely to understeer and hit the brakes if we weren't paying attention. And on our way back up, threading the front wheel around 180° switchback climbs became noticeably harder.
With this in mind, running the offset headset cup in the steep position may actually be a better option for riders who are looking for maximum all-round versatility. This will bring the head tube angle up to 65.5°, which could be the preferred setting for more advanced riders who desire more responsive steering, as well as those riders who aren't riding the absolute steepest terrain.
Of course if it's pure downhill performance you crave however, then flipping the offset headset cup into the slack position to bring the head angle back to 63.5°. And dropping the geometry chip into the Low position then kicks the head angle back another 0.5° to a positively recliner-like 63°. Self-shuttling park rats, take note.
Either way, it's fantastic having the in-built adjustability included with the bike. We'd highly recommend experimenting with those headset cups to see how you can tune the handling to suit your terrain and riding style – you might be surprised at how much of a difference it makes.
Smooth-as-butter suspension
Along with the handling, the Levo's suspension has also improved significantly over its predecessor. Specialized has drawn on the excellent kinematics of the Stumpjumper EVO, and given the Levo a notably more progressive leverage rate. Paired to the high volume EVOL air can on the Float X2 shock, there is very little force required to get the rear suspension moving.
Small-bump sensitivity is outstanding, which results in gobs of traction and a comfortable ride over choppy terrain. The steadily progressive rate means support builds gradually throughout the travel, giving a little more platform to push off of compared to the deeper suspension performance of the longer travel Enduro and Kenevo. This prevents the Levo from feeling too boggy, with a little more pop on flowier sections of trail.
When returning to earth, overall bottom-out resistance is strong thanks to the damping control of the Float X2 and its big internal bottom-out bumper. The result is a cosseting and supportive feel when landing jumps and slamming into large rocks and roots on the trail. Along with the big volume tyres and sturdy frame, the Levo has a really nicely damped feel.
Eating up all the rocks
Despite the smaller rear wheel, and the fact that we were running higher pressures to ward off attacks from Mt Buller's relentless rocks, the Levo's back end impressed us with its smooth reactivity. Of course the potential downside of a mullet setup is that the 27.5in rear wheel won't generate the same momentum and traction as a bigger 29in wheel. On the Levo however, much of that is mitigated because the rear suspension is so effective at getting the rear wheel out of the way in the first place.
The main pivot does sit quite high and rearward of the BB, allowing the wheel to travel rearward for the first half of the travel. While the benefits of this axle path are possibly a little overhyped by Specialized, we can't deny that it was easy to maintain speed through the rough. There was very little issue with the rear wheel getting hung up, and even with flat pedals, we were never blown off on more violent impacts.
Up front the Fox 38 is an admirable companion to the active rear suspension. We initially suspected it to be a little too much for the Levo. After all, Mick's Levo Expert did launch in 2018 with a RockShox Pike. Of course things have moved on since then, and once you've ridden the hulking 38 on the front of a 150mm travel e-MTB like the Levo, you'll appreciate the added stiffness and control when barrelling down more hectic sections of trail at speed. Useful, because the Levo does build momentum quickly when you're off the brakes.
Still, we do wonder if the stock suspension spec is likely to be overkill for some Levo riders. It'd be intriguing to see what it would ride like with a 36 and a DPX2, which could potentially give it more pop, while also dropping the total bike weight under 22kg. An appealing proposition for more general trail riding applications, though perhaps Specialized expects riders of that persuasion to instead defer to the lighter and lower-powered Levo SL.
Power delivery is so refined
The other standout attribute of the new Specialized Levo has to be the performance from the new 2.2 motor. While the overall architecture and peak torque value is the same as the previous 2.1 motor, this feels like a totally new beast on the trail.
It is so quiet in operation – quieter than the old Levo and both the Bosch Performance CX and Shimano EP8 motors. We're not sure if this is down to better noise management from the housing, or improved efficiency from the internal drive mechanism, but whatever the case, the Levo is the quietest e-MTB we've ridden.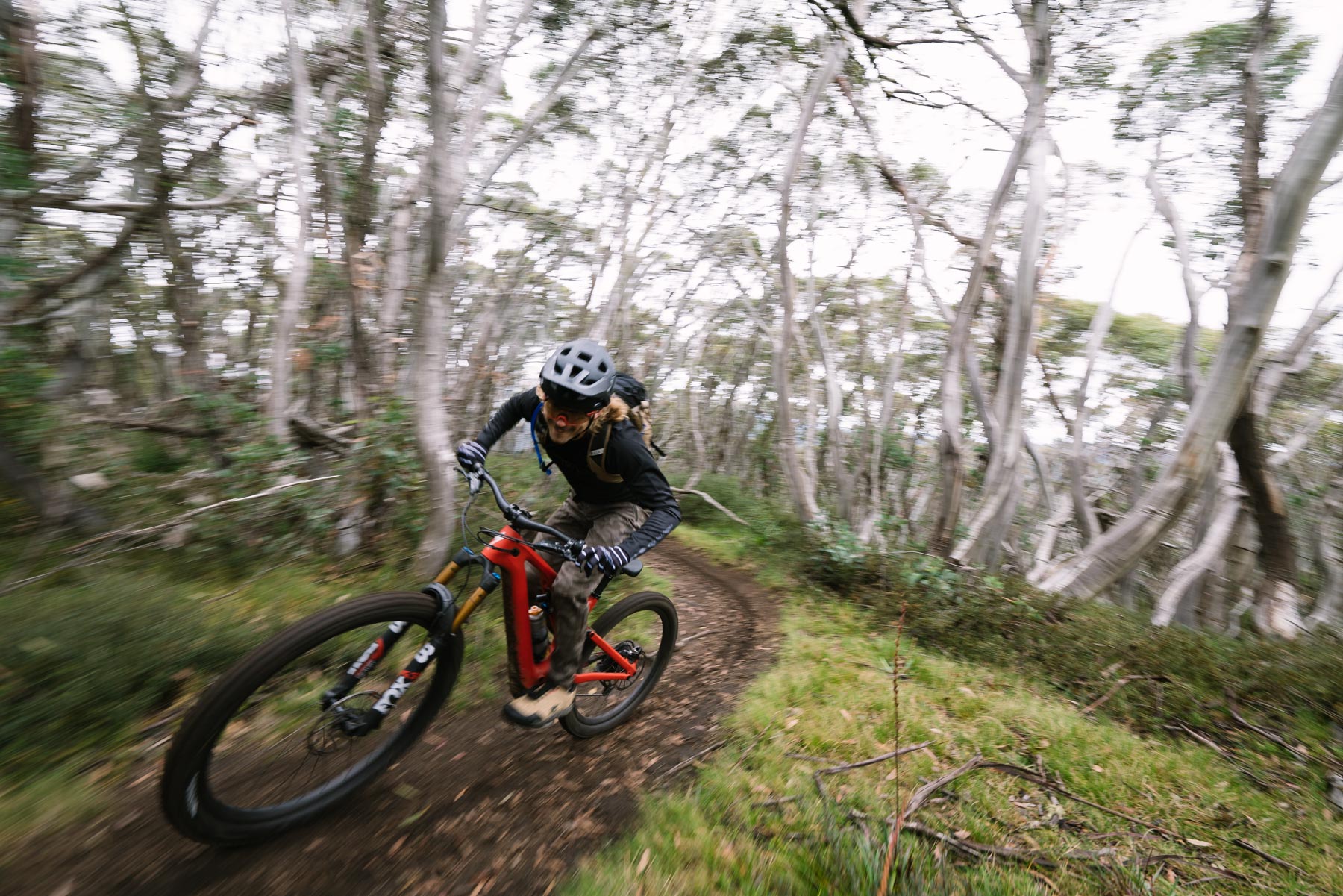 It's also super smooth in its power delivery. You can barely feel the motor engaging or disengaging, and unlike the Bosch and Shimano equivalents, there's no clacking noise either. The support is strong across a wide cadence band, something we noticed when pedalling at a higher RPM when building speed to crest a technical climbing feature.
For the most part, we stuck with Trail mode, which is factory set to offer 35% support and 100% peak power. This means that power delivery comes on quite gently but builds as you put more effort into the pedals. It's very easy to get used to, and we felt no need to change the support or peak power levels from stock.
As promised, the new MasterMind firmware has also calmed down power spikes, and it never felt like the motor was running away from us. Whereas the Bosch and Shimano motors can feel a little 'peaky' in some circumstances, there is no such peakiness from the Levo's motor.
It's still a bulky motor though
Because it does use the same mounting points and overall shape as the old 2.1 motor, the new 2.2 drive unit is still quite bulky. Its physical size dominates the Levo's profile, and it also limits clearance around the rear tyre. This is likely one of the reasons why Specialized went to a mullet setup, in order to get the chainstay length down.
It's worth noting that the Trek Rail has no such issue with its Bosch Performance CX motor. That bike features a similar 447mm rear centre length, albeit with a 29×2.6in wheel and tyre.
And while the Levo's motor is quieter and smoother than its competitors, it isn't a resistance-free design. Once you clock over the 25km/h support limit, there is quite a bit more drag through the pedals, which you do notice when sprinting out of the saddle. It's not horrible, but we found it noticeable during back-to-back testing.
Big battery range
While we've only had a week of riding on the new Levo, so far the overall efficiency and range have impressed. On one test loop, which took us out from Mt Buller to ride Stonefly and back, Wil managed to cover 26km in Trail mode with 1,000m of elevation gain, while finishing the ride with 54% battery remaining. In theory, that means a 70kg rider could potentially notch up 2,000m of elevation gain on a single charge. Of course you can expect that range to grow significantly when using Eco mode.
This is certainly an appeal of the big 700Wh battery, which provides more juice than the 625/630Wh batteries from Bosch and Shimano. However, for those chasing ultimate range, it's worth noting that there's no option to add a piggyback battery to the Levo.
Otherwise we've found the electronics to be easy to get along with. A full charge takes a little over five hours, and we have to say that the new charge port is absolutely brilliant. The triple-sealed latch is pretty much foolproof, and it's reassuring to see how effective it is at keeping moisture and dirt away from the zappy bits.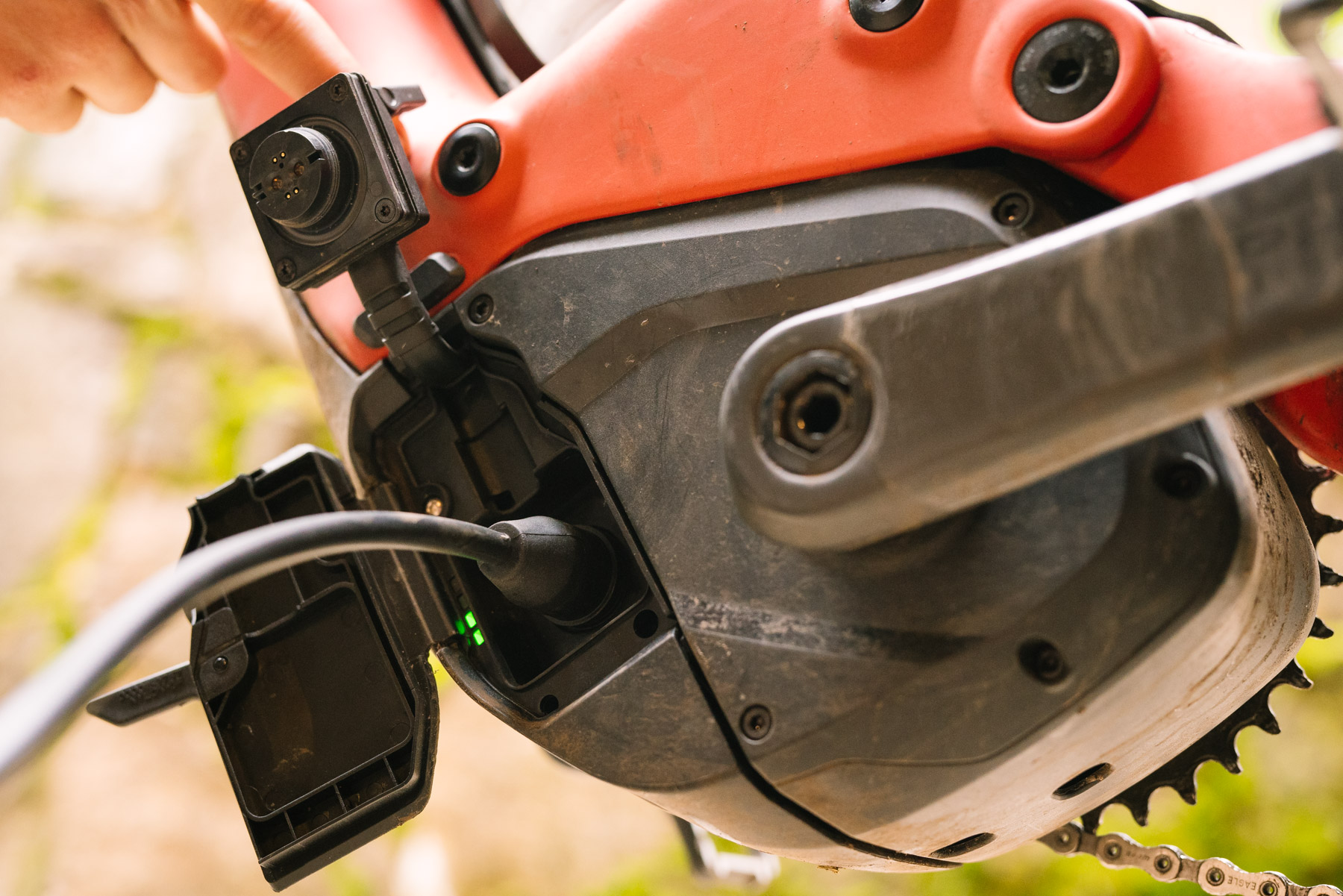 We also love the new MasterMind TCU. The display is crystal clear and easy to read, and the ability to customise the data sets for each page is fantastic. The Live Consumption readout is an interesting feature too, though the format is back-to-front for us Aussies. Car fuel efficiency ratings here are displayed in litres per 100km, which is the opposite of the Americans, who use miles per gallon. Once you get used to the format and the fact that you're aiming for a higher number though, it is potentially a great educational tool for learning how to maximise your range, while also reducing your strain on the motor in the first place.
Component highs & lows
There is no denying that the Levo Pro is a seriously spendy e-MTB. In fact, this is the most expensive bike we have ever tested here at Flow.
Of course you are getting a premium-level chassis, motor and battery. And the electronics and carbon frame are beautifully finished, with exceptional attention to detail. The cable routing is neat, the adjustable geometry is brilliant, and the MasterMind TCU integration is so slick. There's also decent frame protection, with a large mudflap over the main pivot, and rubber armouring around the seatstay bridge to shield it from caked-up mud. Along with the textured chainstay guard, it's a quiet and well-damped bike on the trail.
Otherwise we have no complaints regarding the Levo Pro's build kit, and we reckon you'd have a hard time justifying the extra four thousand dollars for the S-Works model.
The Traverse carbon wheels might not be as light as the Traverse SLs on the S-Works model, but they've been solid, and we like that they feature DT Swiss 350 hubs and standard J-bend spokes.
SRAM's Code RSC brakes continue to be one of our favourite options, with huge stopping power, a smooth lever feel and a positive bite point. The crisp X01 Eagle drivetrain performs well, and we certainly made good use of the huge 52T sprocket while climbing up Mt Stirling with our backpacks loaded with camera gear.
Specialized Levo vs Merida eOne-Sixty vs Canyon Spectral:ON
During our Mt Buller test session, we also brought along the Merida eOne-Sixty and Canyon Spectral:ON, so we could test them back-to-back on the same trails as the new Specialized Levo. Carrying three high-end e-MTB's around the High Country, we relied on the Thule towball rack for security and peace of mind.
While there are plenty of differences, all three are mullet e-MTBs with 150mm of rear wheel travel. The Spectral:ON is equipped with a 150mm Fox 36 fork, while the Levo and eOne-Sixty have 160mm Fox 38s. In a further opportunity for comparison, both the eOne-Sixty and Spectral:ON are built around the latest Shimano EP8 motor and 630Wh battery.
How does Shimano EP8 compare?
Next to the Levo's 2.2 motor, the Shimano EP8 drive unit is lighter and notably more compact. That allows bike designers to build their frame with shorter rear ends, as Merida and Canyon have done.
The EP8 motor also has considerably less drag above the 25km/h cutoff, which is great for sprinting, or for when you have your tail between your legs on the ride home after having rinsed the battery dry.
The on-trail feel is great, but when ridden back-to-back with the Levo, it isn't quite as smooth or as natural-feeling, and the motor's whine is also more audible. There's also the clacking noise that occurs every time the motor engages and disengages – an issue that the Bosch Performance CX motor suffers from too. It doesn't take many rides to tune out that noise, though it was always rudely brought to our attention again each time we jumped off of the Levo and onto the eOne-Sixty or Spectral:ON.
We also noticed less power delivery with the EP8 motor when really winding up the RPM on technical climbs, and there's also less overrun support. In general, EP8 prefers you to keep those pedals spinning at a slightly higher cadence to get the most out of it.
As for touch points, the mode switch is lovely on the thumb and Shimano's display is nice and clear, though less information is displayed compared to the MasterMind TCU. The biggest issue is the battery status indicator, which is made up of five bars on the Shimano display, making it harder to keep track of what's left. EP8 can be tuned via Shimano's E-TUBE app, so you've got more control over the motor's power output and support characteristic compared to the old E8000 motor, though the interface is still not as user friendly as Specialized's Mission Control software.
All that aside, there is considerable appeal with the EP8 system because it's a Shimano product, and that means it's backed up by Shimano's global dealer network – which there are more of than Specialized dealers.
Merida eOne-Sixty
On the trail, the Merida eOne-Sixty feels closest to the Levo. It's similarly aggro with a Fox 38 fork, tough Maxxis DoubleDown tyre casings, and a sticky compound Assegai up front. We've found it to be a mighty capable e-MTB with excellent stability, though there are some key differences.
Compared to the Levo, the eOne-Sixty has a steeper 65.5° head angle, a 51mm fork offset, and the reach on the Medium frame size is shorter at 440mm. The result on the trail is a faster and lighter steering feel, which makes it easier to weave through the turns. And with a shorter distance between the grips and the rear axle, less effort is required to loft the front wheel.
The eOne-Sixty also feels more playful and poppier thanks to the lively DPX2 shock. There's excellent bottom-out support, and it certainly loves getting airborne. The progressive suspension performance from the single pivot platform does result in more feedback through the pedals though, so it doesn't have the same deep-stroke plushness as the Levo.
And while the eOne-Sixty exhibits a robust and practical overall design, it's not as polished as the Levo. There's no geometry adjustment, the external cabling over the chainstay is untidy, the EP8 motor isn't as well integrated into the frame, and the aesthetic is considerably busier.
That said, the eOne-Sixty is vastly better value. While the eOne-Sixty 9000 we tested misses out on the carbon bars, cranks, handlebar, rims and Kashima bling of the Levo Pro, it is nearly $10K cheaper. Not an inconsiderable sum of cash.
Canyon Spectral:ON
Likewise, the Canyon Spectral:ON we've been testing is also priced favourably alongside the Levo Pro. Of course Canyon sells its bikes direct-to-consumer, and not through bricks & mortar bike shops like Specialized & Merida, so there are the well-discussed pros and cons that come with that. Still, the top-end Spectral:ON CF 9 comes with a similar spec level to the S-Works Levo, but manages to sell for about half the price.
Ignoring the dollar figure, the Spectral:ON does offer a considerably different ride experience. It has a shorter 435mm chainstay length, and it also sits lower to the ground with 5mm more BB drop. The head angle is sharper at 66.5°, and there's a 51mm fork offset too.
On the trail, the Spectral:ON is the most agile of the three. The steering is lighter and more responsive than the Levo, and the bike was an absolute hoot through the curvy singletrack of Misty Twist. It drops into corners quickly and easily, and it also makes short work on those tighter uphill switchbacks. Like the eOne-Sixty, the Spectral:ON's suspension is poppier than the Levo, giving it such an enthusiastic feel on rollicking flow trails.
For most riding conditions, the Spectral:ON is a very capable bike. That said, we could have definitely done with tougher tyre casings and stickier rubber to keep up with the other two on rougher descents. And when we were really gassing it on some of the faster and rockier trails, it did ping around more compared to the surefooted and well-damped Levo.
While it was the better climber on the tight and twisty stuff, the lighter steering was actually somewhat detrimental on the really steep and more natural tech climbs, where the Spectral:ON felt more jittery and harder to keep on-line. That's the tradeoff for the spry handling elsewhere though, and it certainly gives it a different character to the Levo.
Flow's Verdict
As e-MTBs continue to evolve at a rapid pace, brands are having to move even faster to try and stay ahead of the curve. With the release of the new 3rd generation Levo, Specialized has done exactly that.
The improved geometry and dedicated mullet chassis make it a better handling bike than its predecessor in pretty much every regard. And with six possible configurations via the adjustable headset cups and chainstay flip chip, it can also be adapted easily to suit different riders and terrain. This ability to shape-shift builds in a degree of future-proofing, a clever move by Specialized.
Plusher and more progressive suspension performance has bolstered the Levo's big-hit capability, and along with the Fox 38 and aggressive tyre spec, it's a bike that absolutely loves ripping high-speed turns and bashing through rocky off-piste singletrack.
Only time will tell if Specialized's promise of improved motor durability plays out, but that question aside, there's no doubt this is the smoothest and quietest performing motor we've ridden. It absolutely hums on the trail.
Coming in just over $20K, the Levo Pro is of course a seriously premium piece of kit. While Specialized has announced an Expert build that knocks nearly $4k off the retail price, we are still talking about a $16,000 mountain bike.
But, for those with the means to afford such a bike, we can confidently say that this isn't just the best Levo yet; it's the best e-MTB we've ever tested.