Wil reviews the Specialized Levo SL Expert Carbon
When the Specialized Levo SL first launched back in early 2020, its incredibly low weight captured media headlines around the world. Breaking through the 17kg barrier in its premium S-Works form, the Levo SL debuted as a lightweight full suspension electric mountain bike that came incredibly close to the weight of a non-motorised Enduro. However, there were concessions to get the weight down to that level. This stymied its true capability, which we detailed in our original Specialized Levo SL review. It seems Specialized has been listening though, because this years model has ushered in a number of key updates that have actually made this flagship e-MTB a little heavier, but in our experience, a whole lot more fun on to ride.
---
Watch our video review of the Specialized Levo SL here:
---
An overview of the Specialized Levo SL
The Specialized Levo SL is essentially a lightweight version of the popular Levo. Both are do-it-all full suspension e-MTBs that feature a four-bar FSR suspension design and 150mm of rear travel, but there are some significant differences.
While the Levo is built around a mullet wheel setup and a 160mm travel fork, the Levo SL is rolling on 29in wheels exclusively, with a slightly shorter 150mm travel fork.
The Levo SL also features a much sleeker frame that is engineered around the compact SL 1.1 motor. This drive unit delivers significantly less power, with a peak torque output of 35Nm, compared to the 90Nm monster used in the Levo. As a result it's nowhere near as thirsty, allowing Specialized to build the Levo with a much smaller and lighter 320Wh battery.
The result is a 4-5kg weight saving over the regular Levo. That's a hefty difference that you'll appreciate when loading the bike into the back of a car, and it's also very noticeable on the trail.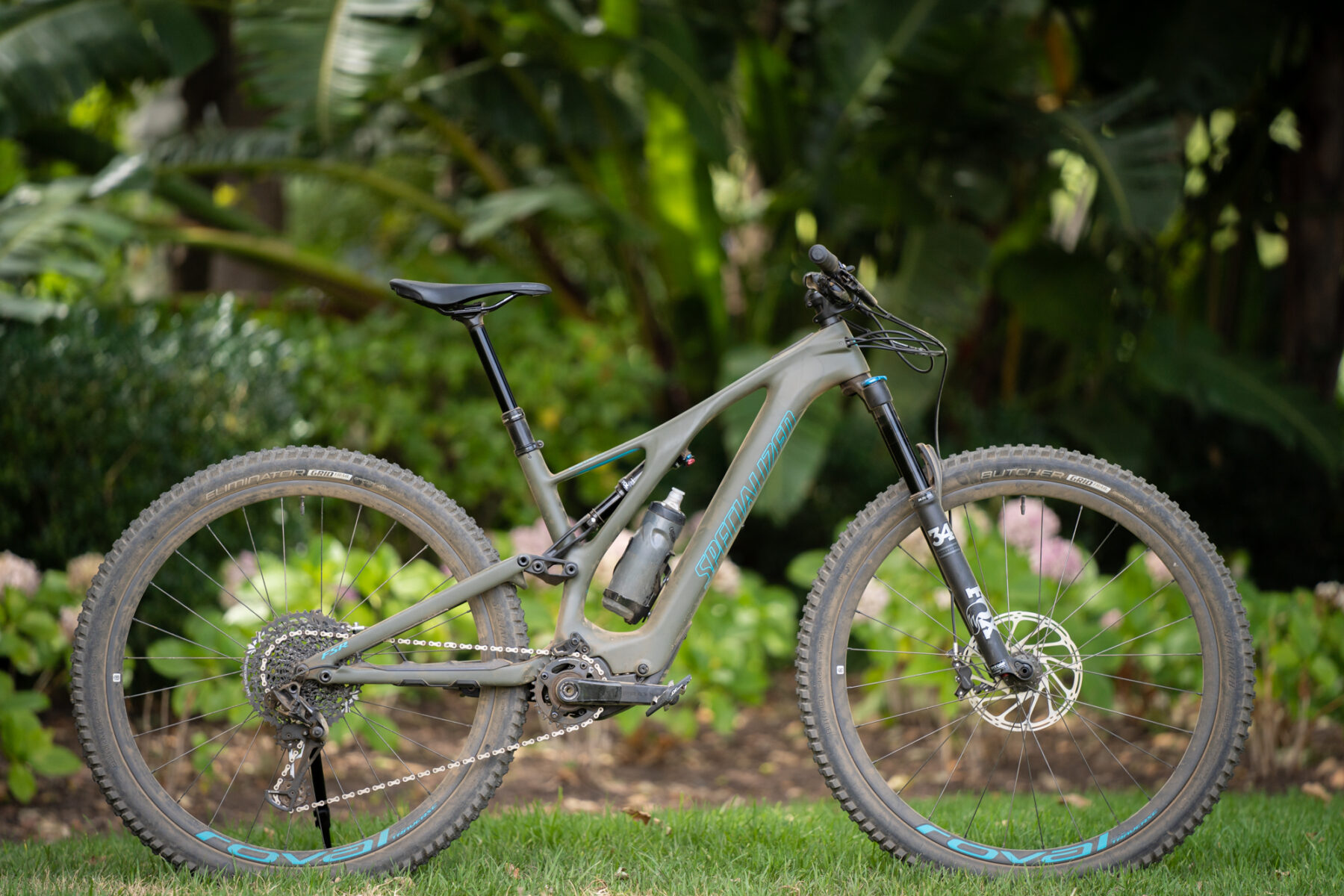 Bigger suspension & bigger brakes
While the chassis, motor and battery are unchanged from last year's bike, the latest Specialized Levo SL features some key updates to its component spec.
On the higher-end Levo SL models, Specialized has moved away from the skinny Fox 34 fork and in-line Float DPS shock. In their place you'll now find a Fox 36 GRIP2 fork and a Float DPX2 piggyback shock.
There's also been a change from SRAM G2 brakes to the bigger Codes, which are a little heavier but significantly more powerful. These are matched to 200mm rotors front and rear.
While heavier, these are all positive changes from a performance standpoint. Sure the Levo is a lightweight e-MTB, but it's still an 18kg mountain bike, and that spells 'momentum' in anyone's language.
Updated brains
Specialized has also developed new firmware to drive the SL 1.1 motor. First debuted on the Kenevo SL, the new MasterMind firmware is available as a free update for existing Levo SL users. It's already been rolled out through the production line, so it came preinstalled on our Levo SL Expert Carbon test bike.
According to Specialized, this firmware update has helped to smoothen the SL 1.1 motor's output. Previously the motor could cut out during choppy pedalling, and it also struggled to react during high-RPM bursts on technical climbs. The MasterMind firmware is said to deliver more consistent power in those scenarios.
Otherwise the touch points remain the same, with a low-profile controller on the left side of the handlebar giving riders access to Eco, Trail and Turbo assist settings. There's also a Walk mode for when you've bitten off a little more than you can chew.
Battery life is displayed on the TCU head unit, which is integrated into the frame's top tube. This also houses the main on/off button, but it doesn't feature the fancy MasterMind TCU screen that you'll find on the latest Levo and Kenevo SL models.
Specialized Levo SL price & specs
There are four models in the current Specialized Levo SL range, with both alloy and carbon frames on offer.
The price range varies from $11,100 AUD for the entry-level Levo SL Comp, and goes up to a dizzying $22,300 AUD for the S-Works Levo SL.
Our test bike is the Levo SL Expert Carbon, which is a full $7K cheaper than the S-Works model. It was originally listed as a 2021 model year bike, though due to it arriving quite late in the season, Specialized will be carrying these bikes through to 2022.
2022 Specialized Levo SL Expert Carbon
Frame | FACT 11M Carbon Fibre, FSR Suspension Design, 150mm Travel
Fork | Fox 36, Performance Elite, GRIP2 Damper, 51mm Offset, 150mm Travel
Shock | Fox Float DPX2, Performance Elite, 210×52.5mm
Drive Unit | Specialized SL 1.1, 35Nm
Battery | Specialized SL1-320, 320Wh
Wheels | DT Swiss 370 Hubs & Roval Traverse Alloy Rims, 30mm Inner Width
Tyres | Specialized Butcher GRID Trail 2.3in Front & Eliminator GRID Trail 2.3in Rear
Drivetrain | SRAM GX/X01 Eagle 1×12 w/Praxis 30T Alloy Crankset & 10-52T Cassette
Brakes | SRAM Code RS 4-Piston w/200mm Rotors
Bar | Specialized Trail 7050 Alloy, 30mm Rise, 780mm Width
Stem | Specialized Trail Alloy, 40mm Length
Grips | Deity Knuckleduster Lock-On
Seatpost | X-Fusion Manic, 34.9mm Diameter, Travel: 125mm (S), 150mm (M/L), 170mm (XL)
Saddle | Specialized Bridge Comp, Hollow Steel Rails
Available Sizes | Small, Medium, Large, X-Large
Confirmed Weight | 17.84kg
RRP | $15,200 AUD
Specialized Levo SL sizing & fit
As with last year's bike, I've been testing a Medium size in the Specialized Levo SL Expert Carbon to suit my 175cm height.
Geometry is quite conservative. There's a short 435mm reach and a fairly relaxed 75° seat angle. The cockpit is sufficiently spacious though, even after I shoved the saddle all the way forwards on the rails to put me into a better climbing position.
Once dialled in, I found the Levo SL to be a really comfortable bike and a nice change from the latest crop of uber-long reach bikes. The touch points are excellent, including the Bridge saddle and Deity grips. The 780mm wide riserbar has a great profile, and even the ergonomics for the dropper post and shift levers were appreciated.
Specialized Levo SL weight
With the tyres setup tubeless, our Specialized Levo SL Expert Carbon came in at 17.84kg, without pedals.
It's gained some weight over last year's version, which clocked in at just 16.9kg for the S-Works model, and 17.6kg for the Expert. Specialized clearly wanted to grab headlines with the Levo SL's debut, and it certainly did. But with all the hype having died down since then, we're glad to see this bike adopt a more performance-oriented spec to take advantage of its true capabilities.
Also good to see is that Specialized hasn't resorted to paper-thin tyres, with both the Butcher (1,045g) and the Eliminator (998g) using reinforced GRID Trail casings. Even still, the rocks are particularly tenacious around these parts, so as per usual I fitted a CushCore insert into the rear wheel. Tyre pressures were set at 22-23psi on the front, and 25-26.5psi on the rear, depending on conditions.
Rear shock setup
Specialized recommends setting up the Levo SL's rear shock with 28-30% sag. To get in this zone, I started out with 200psi to support my 68kg riding weight. The suspension rate is quite linear, which means it's very plush and comfortable, something you do appreciate during seated climbing on rough sections of trail. However, I found when pushing the Levo SL on the descents, the back end was too spongy and willing to hit full travel.
I steadily bumped up the pressure until I was up at 220psi with just 25% sag. This reduced some of the wallow, but I was still getting a harsh bottom out more frequently than I'd like.
Changing from the stock 0.6³ volume spacer to a bigger 0.86³ spacer did the trick, making a considerable improvement to the suspension performance. I was able to drop pressures down to 200psi and get back into the preferred sag zone, while having better bottom-out resistance. It also made the Levo SL feel significantly more lively, with greater mid-stroke support that kept the back end riding high through the chop and when pushing into berms and rollers at speed.
The stock suspension tune will likely suit beginner riders and those who aren't spending a lot of time with their wheels off the ground. However, more advanced riders will benefit from tweaking the shock's air volume to increase support.
What's good about the Specialized Levo SL?
The low weight is the obvious drawcard for the Specialized Levo SL. From a practical standpoint, it's just easier to deal with. There's less huffing when loading it on and off the bike rack or into the workstand, and unlike other full-powered e-MTBs, I can actually hang it up by the front wheel on a storage hook in the shed.
On the trail the low weight also delivers exceptional handling, with the Levo SL being remarkably agile for an e-MTB. The battery alone is around 2kg lighter than the 700Wh whopper used in the regular Levo, and the difference is noticeable.
It's also not overly raked out. The 66° head angle and 51mm fork offset provides nice and light steering, and the whole bike initiates turns easily without fuss. On less demanding trails, it's a comfortable and intuitive bike to ride, which makes it well suited to newer riders and those who aren't necessarily ripping at warp speed.
For more skilled riders, it's brilliantly adept on twisty singletrack. It carves through sharp turns, pivoting off the back wheel with nary a hint of understeer. It's a really playful bike, with a willingness to flick the back end out and change direction quickly when asked.
The short chainstays are a big contributor here – the Levo SL features a 437mm rear centre length, which is very compact for a 150mm travel e-MTB with 29in wheels. On our Medium sized test bike, it means there's almost a perfect 50:50 split between the reach and rear centre length. This provides well-balanced weight distribution, and along with the active suspension performance and the chunky cornering blocks on the Butcher and Eliminator tyres, there is excellent cornering grip available.
Levelling up the suspension
Admittedly the Float DPX2 shock doesn't feel drastically different to the DPS, but the piggyback reservoir means that the higher oil volume is more resistant to heat build-up. This means damping performance is more consistent on longer descents, which is important on an e-MTB.
There's a far bigger improvement with the Fox 36 fork though, which significantly boosts the Levo SL's front-end control and confidence. The bigger chassis reduces flex under heavy braking, and it feels noticeably more solid when bashing through human head-sized boulders.
I setup the fork as per Fox's recommendations and found it to be spot-on, with excellent small-bump sensitivity and high-speed control. There's of course huge adjustability available via the GRIP2 damper, so you can tweak away to your heart's content.
It's no Kenevo SL though
While the bigger fork has significantly bolstered the Levo SL's descending chops, this is still a very different bike to the Specialized Kenevo SL.
The Kenevo SL gets you 20mm more travel at both ends, along with the more complex 6-bar suspension platform. It's also a significantly longer and slacker bike, and it's equipped as such with a bigger Fox 38 fork, a Float X2 shock, stickier rubber and even bigger brake rotors. As a result, the Kenevo SL is heavier at 19.12kg for the equivalent Expert model.
All of that adds up to a raucous e-MTB that is insanely planted at speed, with the Kenevo SL's gooey suspension performance delivering endless amounts of grip and control. As a purpose-built electric enduro bike, it really is ideal for shuttling laps at the bikepark, boosting huge doubles, and bombing down steep, double black diamond singletrack.
In comparison, the Levo SL sits right in the trail bike camp. The light steering means it is twitchier at high speeds, and it doesn't inspire as much confidence when pointing down near-vertical chutes. However, it is lighter, more agile and livelier. It also offers a comfortable ride on everyday trails without requiring a full face helmet and spine protection. Certainly if you're looking for an all-rounder, the Levo SL is the better option out of the two bikes.
How much range can you get out of the Specialized Levo SL?
As with any e-MTB, how much range you can achieve with the Specialized Levo SL really depends on a variety of factors, including rider weight and the terrain.
In general though, total range isn't that far off full-powered e-MTBs with bigger batteries – you just climb at a slower pace on the Levo SL. In the stock Trail mode, I've been able to rack up around 1,400-1,500m of elevation gain over a 40-50km ride.
Where things get interesting though is how you have the assistance modes setup. Through the Mission Control app, you can tweak the Support Power and the Peak Power for each mode. For a better understanding of what these adjustments mean, be sure to check out our Specialized Levo tuning tips article. Here's how I've currently got the Levo SL setup;
Eco (30/30) – With both the Support level and Peak Power set at 30%, I've found this setting to be ideal for group rides with regular mountain bikes, since the motor's minimal assistance basically cancels out the additional weight. You'll be working just as hard as everyone else.
Trail (25/100) – Setting the Support level at 25% and maxing out the Peak Power allows for more progressive power delivery, which encourages you to pedal harder to access more power from the motor. This is my preferred mode for solo riding.
Turbo (100/100) – If I'm going to use Turbo mode, I want as much kick as possible! I use this setting for commuting on the road, or when riding with full-powered e-MTBs. Even still, you'll be working hard to keep up.
And how does it compare to the competition?
To see how the Levo SL's range compares to some of the other e-MTBs we've been testing lately, including the Orbea Rise, I subjected it to our shuttle test. This involves climbing up a tarmac road with a 10% average grade, in order to access a variety of descending trails for the way back down. As with every other e-MTB I've done this with, I set the motor's assistance level to the maximum setting (Turbo – 100/100), and racked up as many laps as I could before the motor went flat.
Here's how the Levo SL stacked up;
Norco Sight VLT (Shimano EP8, 900Wh Battery) – 2,478m climbing (12.8 runs)
Cube Stereo Hybrid 160 (Bosch Gen 4, 625Wh Battery) – 1,800m climbing (9.3 runs)
Canyon Spectral:ON (Shimano EP8, 630Wh Battery) – 1,570m climbing (8 runs)
Orbea Rise (Shimano EP8-RS, 360Wh Battery) – 1,388m climbing (7.2 runs)
Specialized Levo SL (SL 1.1, 320Wh Battery) – 1,377m climbing (7.1 runs)
Specialized Kenevo SL (SL 1.1, 320Wh Battery) – 1,053m climbing (5.5 runs)
Looking at the results, I was surprised to find that the Levo SL achieved basically the same amount of range as the Orbea Rise, despite the Rise having a 10% bigger battery. The main difference here is the more powerful motor on the Rise, which sucks more energy but also gives you a slightly higher average climbing speed.
Also interesting was the increased range over the Kenevo SL. Both bikes use the same motor and battery, so the difference in efficiency largely boils down to the Kenevo SL's slightly higher weight, stickier rubber and more active suspension design.
What could be improved?
The SL 1.1 motor impresses with its smooth, consistent and low-drag performance, and the new MasterMind software means it's more effective at filtering out messy pedalling inputs from the rider. It's still a noisy little bugger though, with a high-pitched whine that gets louder as the motor spins harder and faster.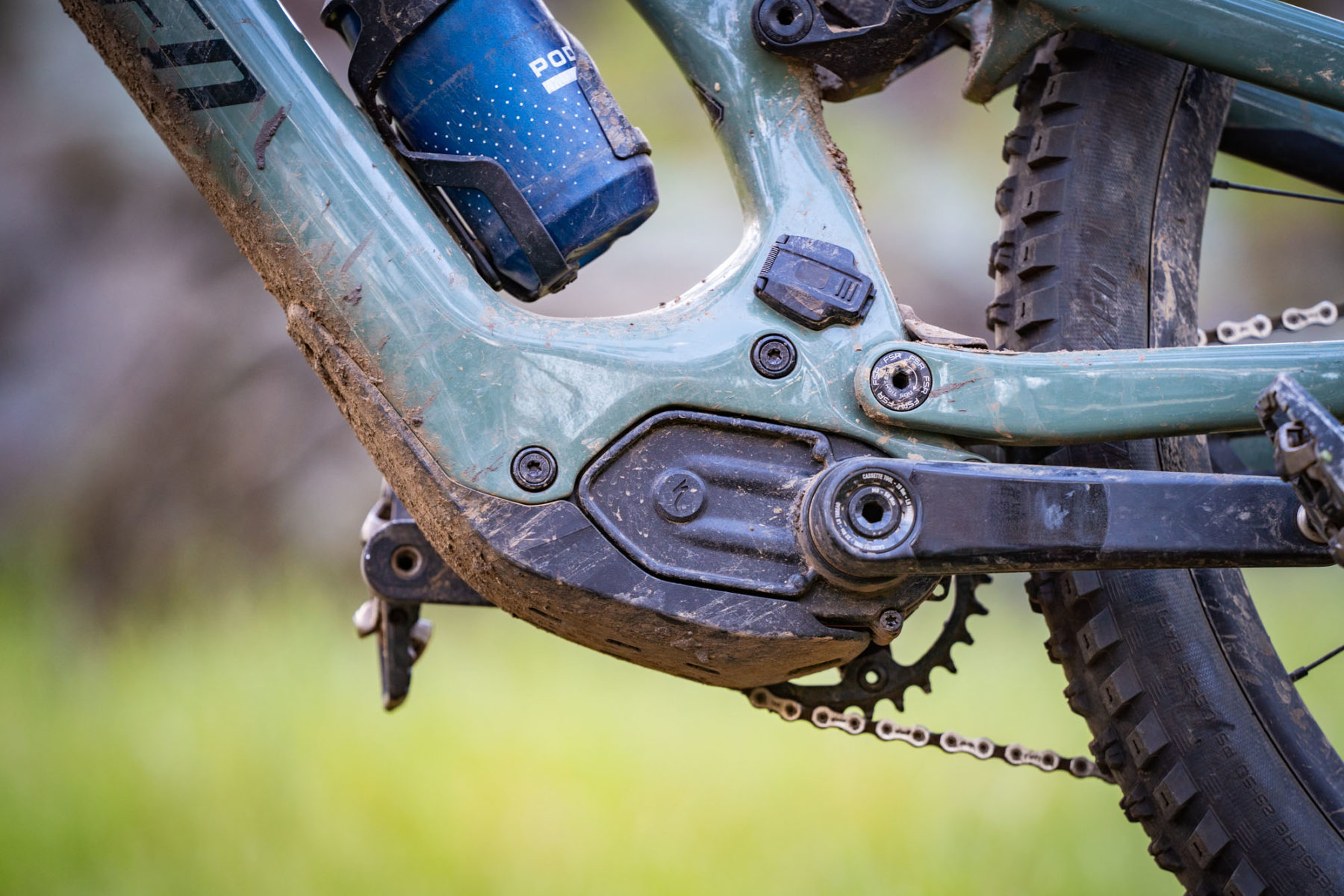 Personally speaking, I've also found the pedal stance to be a little too broad on Specialized e-MTBs. The 181mm Q-Factor on the SL 1.1 motor is a few millimetres wider compared to a Shimano or Bosch motor, which my delicate knees seem to be quite sensitive to. This really is a non-issue for most riders though. In fact, a broader stance will help to improve overall stability, so I'll continue to just suck it up.
If this were my bike, I'd for sure fit a Butcher up front with the new T9 rubber compound to improve traction even further. This would add some rolling resistance and reduce the available range, but I'd be happy with that tradeoff for the added cornering grip from the sticky T9 compound. If you're keen to know more about the new compounds and casing options, check out our Specialized tyre review.
I'd also love to see Specialized incorporate some of the adjustable geometry features found on the latest Levo and Kenevo SL, particularly the option to adjust the chainstay length. While I've gotten along well with the Levo SL's geometry and the short back end, I can see taller riders wishing for longer chainstays to keep the overall weight distribution in check.
Those newer Specialized models also feature the snazzy MasterMind TCU display, and we really like the crisp glass screen and how it displays the battery level as a percentage. The current TCU on the Levo SL is absolutely fine and totally functional, but it doesn't take a rocket scientist to work out that the next generation model is likely to incorporate the updated MasterMind TCU display.
Component highs & lows
While the Specialized Levo SL Expert has done well to elevate its suspension and motor performance over last year's bike, it's worth noting that it has also downgraded from carbon to alloy wheels. That's despite the retail price having jumped by $2,000 AUD.
The Traverse wheels are only a little bit heavier (1,947g confirmed), and perhaps there's an argument that an alloy wheelset is a more practical choice for an e-MTB, since alloy rims are much cheaper to replace. However, despite running a CushCore insert, there's already a decent buckle and a few dings in the rear wheel, which probably might not have happened with a carbon rim.
The increased power and consistency of the Code RS brakes has been a welcome improvement over the G2s, though they're not as sharp and snappy as the higher-end Code RSCs. The lever blade pivots on bushings instead of bearings, resulting in a mushier feel. Not helping things, the rear brake calliper on our test bike suffered from sticky pistons right out of the box, resulting in some irritating brake rub.
The drivetrain has performed without drama, and the short 165mm crank arms are a great spec choice. However, the pinned GX cassette is cheap on a $15K bike, and it's indicative of the overall build kit erring towards functionality rather than outright bling. Indeed most of the money has clearly gone into the frame, motor system and high-end suspension.
The Levo SL has otherwise held up well throughout testing, with no rattles or groans to speak of. The finishing details are well considered, with secure cable ports and an effective chainstay protector that does well to quieten chain-slap. The charge port door is simple but effective, and I like that it takes just 2.5 hours to fully charge the battery. The integrated SWAT tool in the fork steerer tube is also a nice touch.
Specialized Levo SL vs Orbea Rise
We recently tested the Orbea Rise M10, which is the most prominent competitor to the Specialized Levo SL Expert Carbon.
The Rise follows a similar concept, but it uses a slightly bigger 360Wh battery and a de-tuned Shimano EP8 motor that is restricted to 60Nm of torque. As a result it's the heavier of the two bikes, clocking in at 18.54kg despite its light-duty rubber. If the two bikes were fitted with identical tyres, the Rise would be a full kilo heavier than the Levo SL.
On the trail the Rise's EP8-RS motor delivers notably more power. Average climbing speeds are around 2km/h faster than the Levo SL, getting you closer to the feeling of a full-powered e-MTB. Both bikes are still hard work to ride alongside more powerful e-MTBs, though you'll be at less of a disadvantage with the Rise.
Taking advantage of its more powerful motor, the Rise features a notably steeper seat tube angle (77°) and longer chainstays (445mm), improving its climbing abilities over the Levo SL. It's also slacker (65.5°) and longer (450mm reach), which increases overall stability at speed. Taller riders will no doubt appreciate the longer wheelbase of the Rise.
Because of its length and the reduced offset fork, I did find the Rise benefits from a more assertive riding style. In comparison, the Levo SL is easier to pilot on twistier singletrack, which will be more noticeable for lighter and smaller riders.
The lower weight and tighter geometry means the Levo SL offers a more playful feel with agile handling. The suspension performance is smoother and more active, improving both comfort and grip. The addition of the Fox 36 GRIP2 fork has also helped to significantly boost the Levo SL's performance on steep descents and across choppy terrain, and that's helped to narrow the gap in overall stability.
Compared to the vague LED display on the Rise, there is no doubt the Levo SL's TCU is the better interface, and the Mission Control app is also far more user friendly. Otherwise both drive systems work well, despite having their quirks. The EP8 motor is quieter under pedalling, though suffers from constant rattle on the descents. The SL 1.1 motor is quiet on the descents, though makes a high-pitched whine in the higher assistance modes. Pick your poison.
Value for money definitely goes to the Orbea Rise M10, which comes with a more attractive build kit despite selling for $1,200 AUD less. They are both excellent bikes though, and for those on the fence about which one to go for, it may simply boil down to what's available – such is the landscape we find ourselves in 2021.
Specialized Levo vs Levo SL
And how does the Specialized Levo SL compare to its full-powered sibling, the regular Levo?
We first tested the 3rd generation Specialized Levo when it launched earlier this year, though Mick has since held onto it as a long-term test bike. You can check out the modifications he's made over that time, along with a discussion about the pros and cons he's encountered in our Living With The Levo feature.
As mentioned earlier, the Levo and Levo SL both share the same amount of rear wheel travel at 150mm. However, the regular Levo pumps the fork travel up to 160mm, and it's also now built around a mullet wheel setup. It features the more powerful Brose-manufactured 2.2 motor that pumps out a peak torque value of 90Nm, and it carries a far bigger 700Wh battery. The result is a much heavier bike that weighs in at 22.06kg for the Levo Pro we've been testing. That's over 4kg heavier than the Levo SL.
On the trail the Levo dishes out way more power than the Levo SL. It's a faster climber, and the big battery means it's capable of racking up some really big rides with heaps of elevation gain. Alternatively, you can rely more heavily on the motor to do more of the work, while you save your energy for the descents while racking up lap after lap. The motor performance is exceptional, and it's also much quieter than the whiney drive unit on the Levo SL.
Suspension quality and handling are also brilliant. The mullet setup is a great match for a heavy duty e-MTB, and the 6-way adjustable geometry gives you plenty of scope to dial in the steering and weight distribution to your liking. It's a fun bike to ride, and it hides its weight well.
That being said, it's more lethargic than the sprightly Levo SL. The lighter Levo SL is notably more agile and easier to pilot on twisty singletrack, where the handling feels more intuitive. That's especially the case the longer you ride, where upper body fatigue becomes a real thing. The Levo SL requires less input to whip around, and its low weight and short chainstays means it pops up the front wheel with ease. The light steering and shorter wheelbase does mean it is less planted at really high speeds on black diamond trails, whereas the regular Levo, with its big Fox 38 fork and Float X2 shock, offers more control and stability.
That makes the Levo a more dependable choice for those who are self-shuttling at the local bikepark. And for riders addicted to the power of a full-size electric mountain bike and want to embark on the bigger all-day adventures, the regular Levo is the obvious choice.
Flow's Verdict
There was already a lot to like about the original Specialized Levo SL Expert we tested last year. However, the addition of several key spec updates has helped to address what we didn't like, while unlocking more potential out of this lightweight e-MTB.
It's still an agile, comfortable and easy-to-ride bike, which makes it a very approachable option for beginner riders. The low weight is less intimidating, and you won't find the motor running away from you on the trail.
Experienced riders with good fitness will appreciate the spry handling and playful nature of the Levo SL. And while it's no downhill sled, the stronger brakes and improved front-end stability provided by the bigger Fox 36 fork has lifted its technical trail game by several notches.
Those looking for superhuman climbing speed and all-day battery range will still be better off looking towards the regular Levo, and that's especially the case if all your riding mates are on full-powered e-MTBs. But if you're an existing e-MTB user that typically spends all your time riding in Eco mode, or you're e-Curious and are looking for an experience that's as close to a normal mountain bike as possible, the Levo SL remains as one of the lightest, sleekest and most well-rounded options going.