Wil reviews the Specialized S-Works Recon shoes
The Specialized S-Works Recon is a brand new lightweight shoe that's purpose-built for XC racing and gravel riding. Joining the existing S-Works Recon MTB and S-Works Vent EVO Gravel shoes, this latest model is no doubt the sleekest and lightest option out of the three. It's also the most expensive, coming in at an audacious $625 AUD for the pair.
What exactly makes them so special? And does their on-trail performance justify the premium price tag? I've been getting around in a pair of the Specialized S-Works Recon shoes over the past couple of weeks to find out.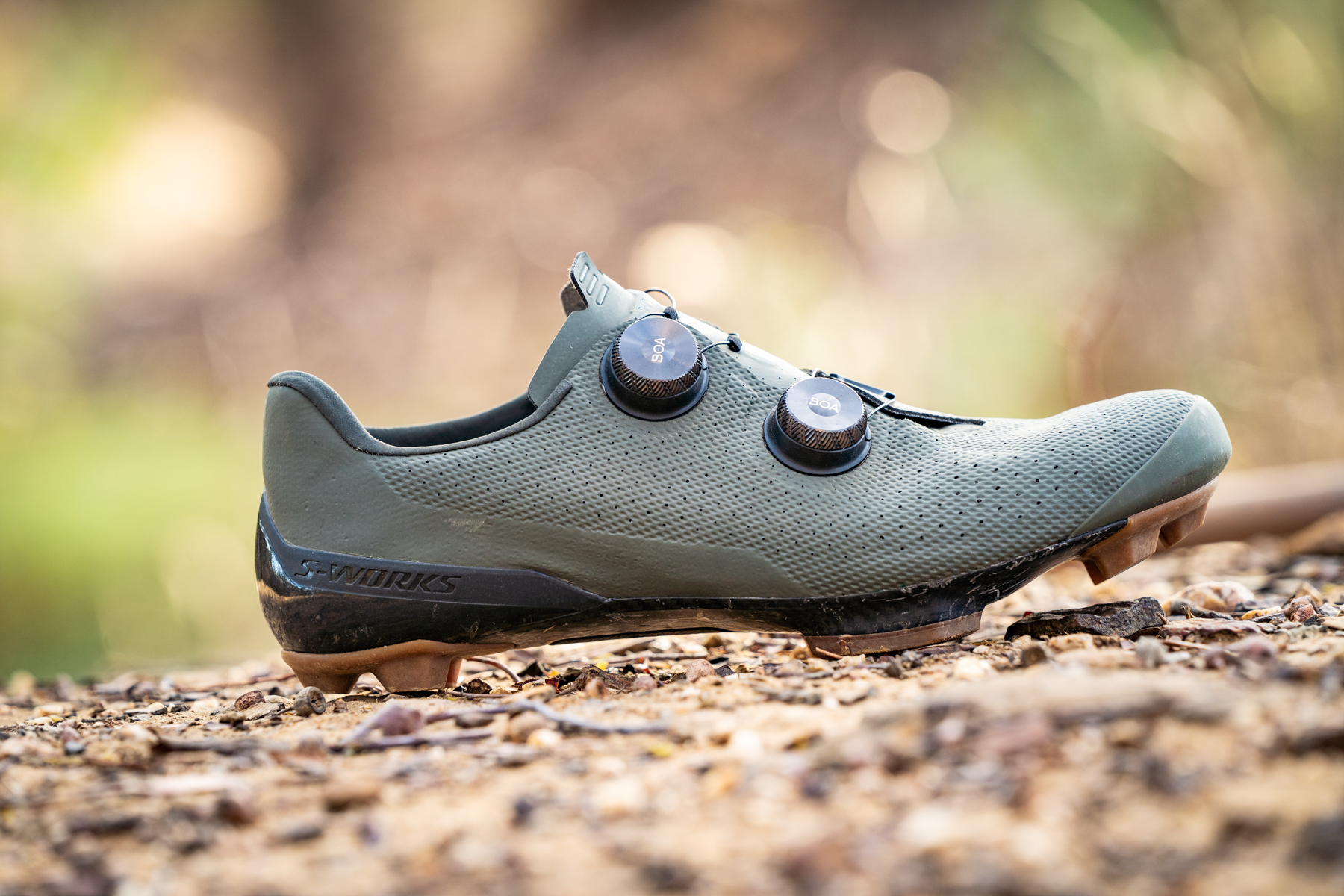 Sub-300g weight
Of course the main reason you'd be considering the Specialized S-Works Recon in the first place is for their paltry weight. And you'll be happy to know that these are easily the lightest off-road shoes we've ever tested, coming in at a confirmed weight of just 298g per side for our size 44 test shoes. Yes, sub-300g per shoe. That's insanely light!
Not only is that lighter than the the existing S-Works Recon MTB shoes (323g), it's also lighter than the Fizik Vento Ferox (351g) and the Shimano XC9 (386g).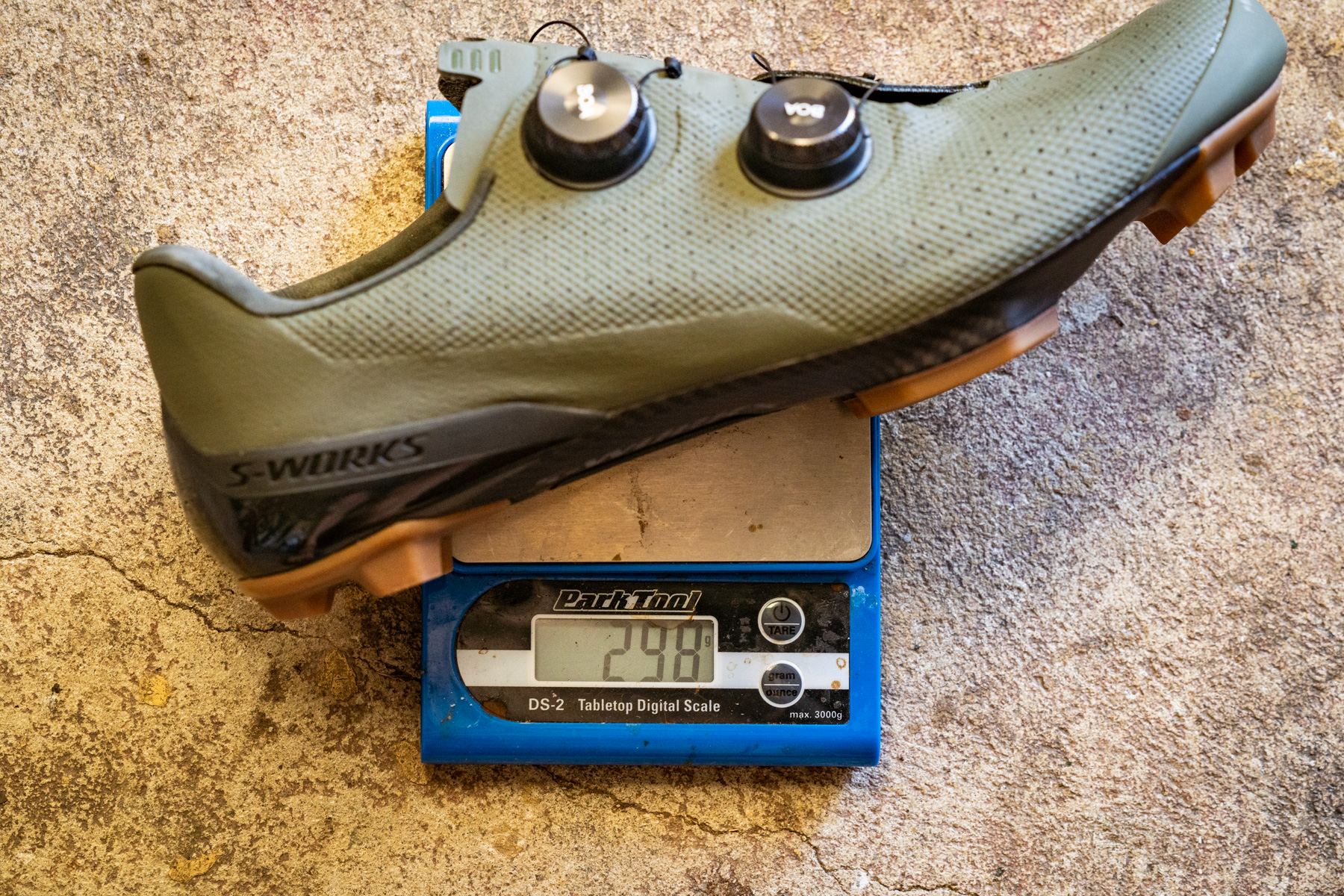 While that doesn't sound like a big difference, given your shoes are potentially doing tens of thousands of revolutions per ride, the benefits of a small weight saving here can certainly add up. That'll no doubt be appreciated by riders and racers who count grams and spend thousands of dollars on lightweight carbon frames, high-end wheelsets and cranks.
They're super stiff
Of course the full carbon sole has a lot to do with low weight of the Specialized S-Works Recon shoes. It also makes them incredibly stiff.
When attempting to twist or bend the sole in your hands, there is perhaps the slightest amount of give up at the toes. Otherwise they're very rigid. And on the bike, any flex is entirely undetectable.
Specialized says the new carbon sole is built with an internal I-beam that reinforces the entire structure without having to add material, and therefore weight. The result is a super stable platform even when using small lollipop-style XC race pedals.
Your bodyweight is distributed over a broader surface area, which helps to reduce the buildup of hotspots on longer rides. It's also fantastic for explosive efforts when racing, with the stiff soles delivering exceptional power transfer at the mere whiff of a watt.
A snug but wider fit
In terms of sizing, I've been riding a size 44 in the Specialized S-Works Recon shoes. That's the same as what I wear in Fizik and Bontrager, but one size smaller than Shimano (I fit a 45 in Shimano shoes due to their shorter equivalent length).
Overall the S-Works Recon provides a relatively snug fit, with plenty of overlap for the upper to wrap around the tongue. I'd say the width and volume is on the medium side, coming in similar to a pair of Bontrager's, but wider than Fizik and Shimano.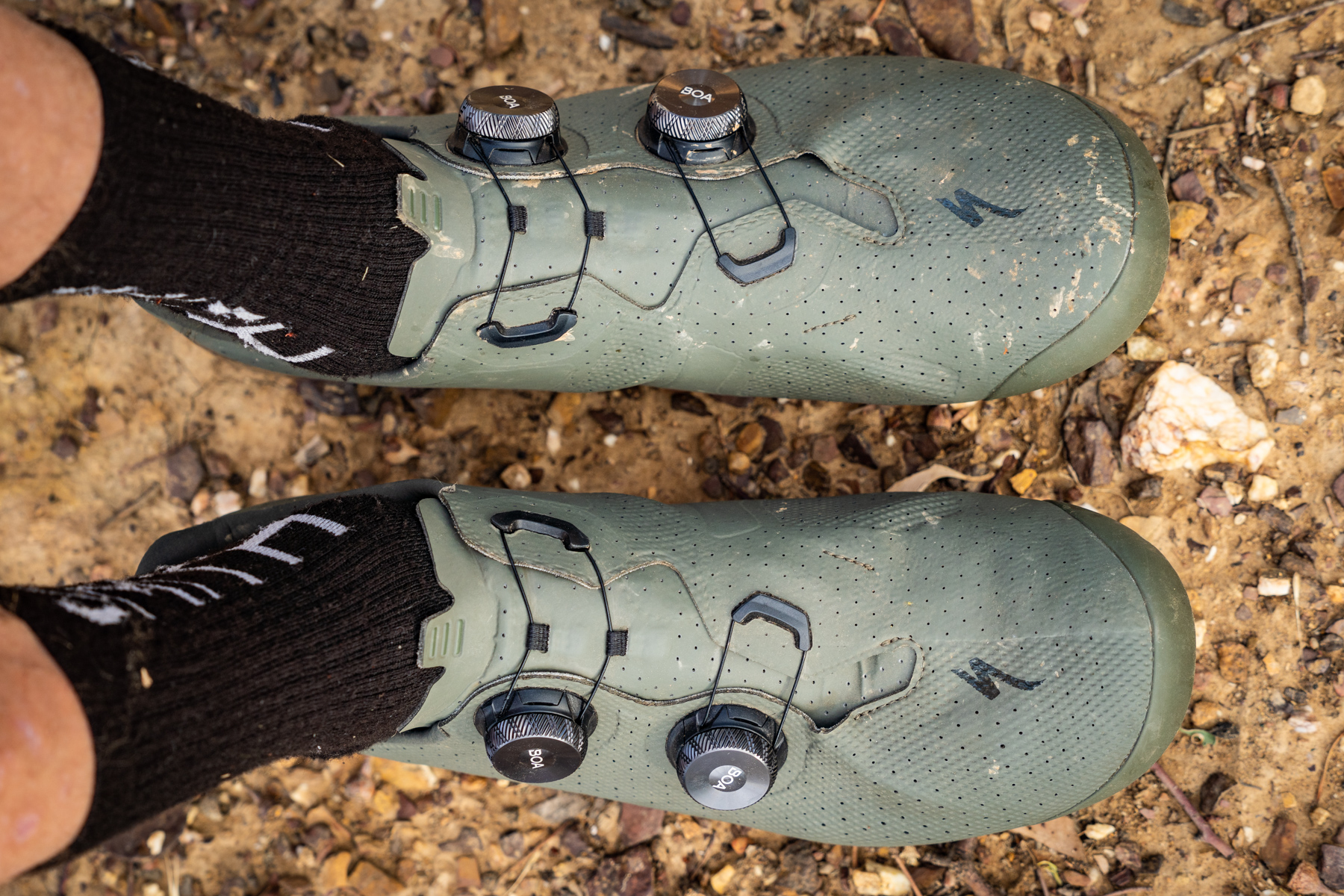 Having analysed 100,000 foot scans from its in-house Retül fit data, Specialized explained that it decided to broaden the fit of the S-Works Recon shoes compared to its existing offerings. In real terms, the base plate is 4mm wider than the S-Works Recon MTB shoes.
That checks out aesthetically too, with the new S-Works Recon looking notably broader through the ball and toe. They're certainly boxier than the Shimano XC9 and the Fizik Vento Ferox shoes. Whether that works for you or not comes down to your feet. I prefer a narrower shoe to suit my skinny flippers, but the fit of the new S-Works Recon is likely to work for a broad range of the population.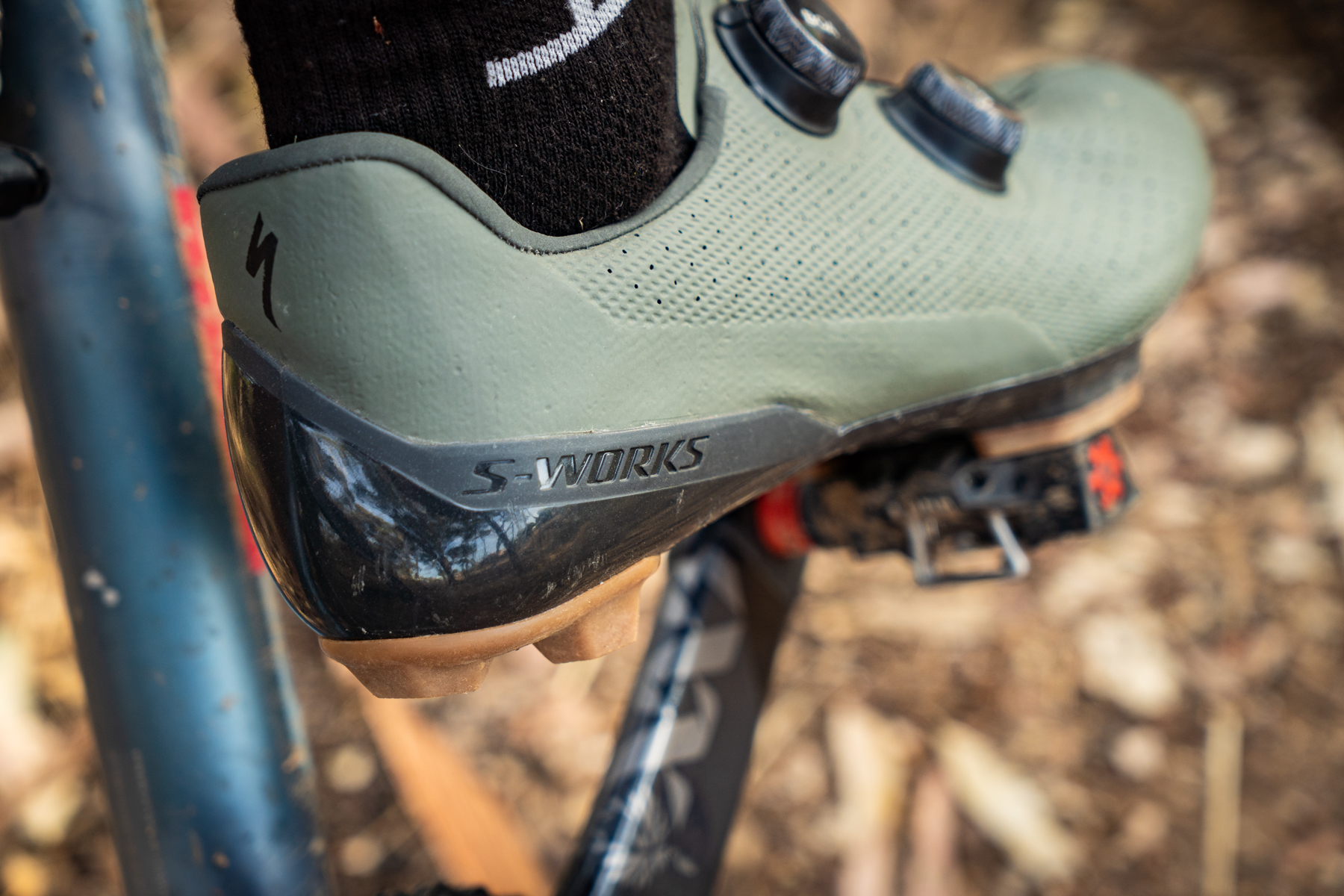 Supple & breathable uppers
Despite the increased width, I've actually found the Specialized S-Works Recon shoes to be more comfortable than the Recon MTB shoes I've used previously.
The uppers are made from a supple and thin material that wraps comfortably around your feet. They're quite forgiving without having a lot of bulk. There is some padding around the inside of the heel and cuff, which is lined with a suede-type fabric that adds some non-abrasive friction.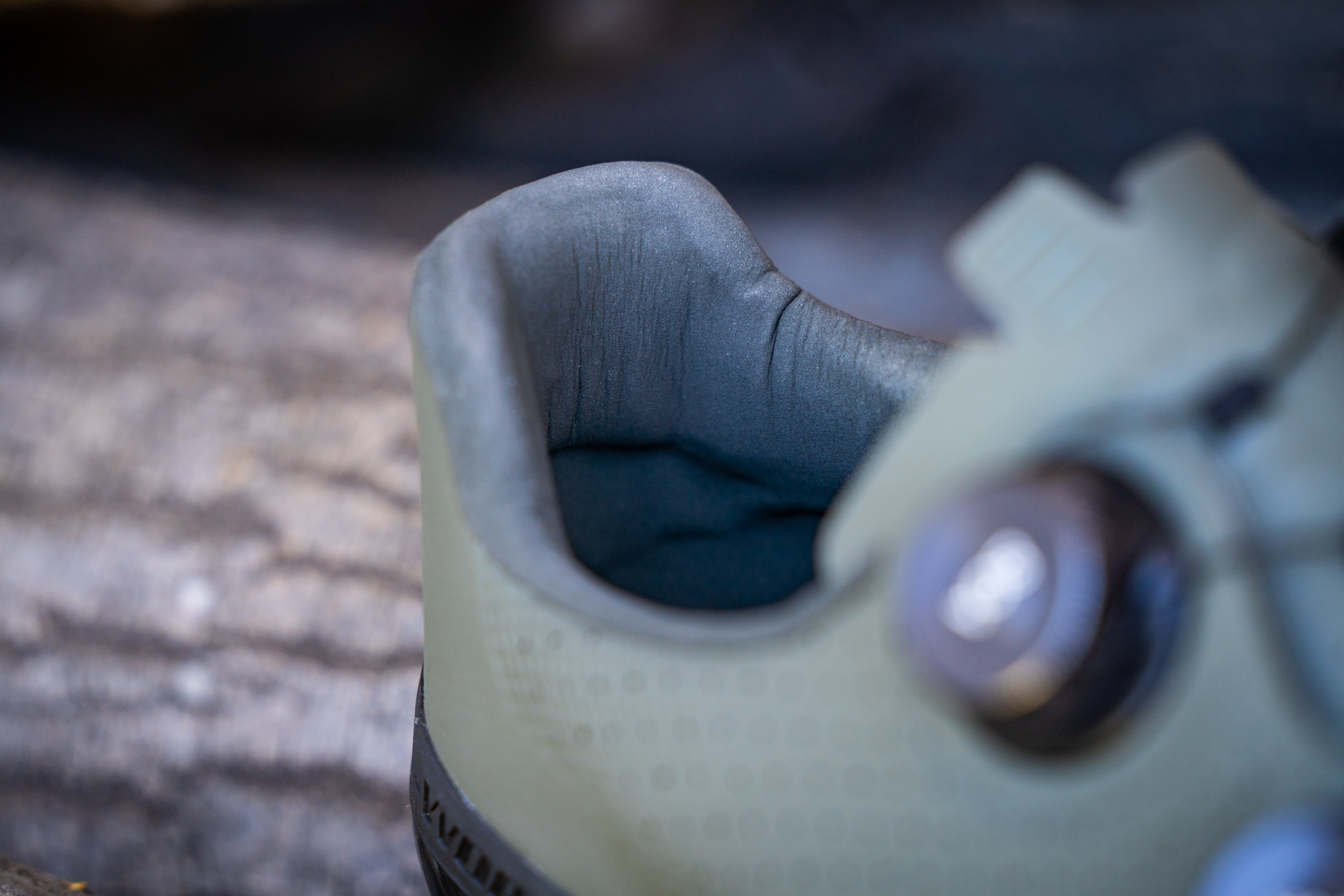 The uppers are also heavily perforated throughout. This adds notable ventilation that makes them quite light and airy even on the hottest of summer rides I've been on lately.
There's also great support from the Body Geometry footbeds. Unlike most footbeds, these are made from a relatively stiff EPS foam, which gives more structure to the arch support and metatarsal button. Their shapely but stronger construction no doubt contributes to the shoe's overall responsiveness.
Double BOA
Compared to its off-road siblings, the Specialized S-Works Recon has done away with the Velcro strap entirely, and instead relies on two BOA dials to adjust the fit over the top of your feet. These are super easy to tweak, and I like that the direction of the ratchets have been mirrored between the left and right shoes. That makes them intuitive to use while riding, with the ratchets offering micro-adjustability when you need to increase or decrease the tension.
There's no pop-up quick release function like some other BOA dials though, so you have to fully unwind each dial when taking the shoes off. I suspect this makes the ratchets lighter, simpler, and potentially more durable, so it's a tradeoff I'm willing to make.
With the dials tensioned there's minimal heel lift when heaving away on the pedals. The heel cup itself is asymmetric, being much lower on the outside where the support isn't needed as much. Aside from reducing weight, this allows the upper to have a lower cut around the ankles.
Minimalist protection & grip
The moulded heel cup on the Specialized S-Works Recon shoe does provide some protection, as does a discreet toe cap at the front. Otherwise there's virtually no armouring for the upper, which is necessary in order to make these shoes so light, flexible and breathable.
Likewise, the rubber tread is quite minimal in order to strip away as many grams as possible. The rubber that is there is quite grippy though, and there's a small panel under the arch to provide a little extra grip when hike-a-biking or when momentarily resting your unclipped foot on the pedal body.
Still, it's not a shoe we'd recommend for general trail riding and bush-bashing. My test shoes already have a heap of scratches on the carbon sole from traipsing over rocks during photoshoots, which makes me feel like a horrible person that shouldn't own nice things. If you're after something more practical for everyday duties, the cheaper Recon 3.0 lathers almost the entire sole in SlipNot rubber to provide a lot more grip and protection.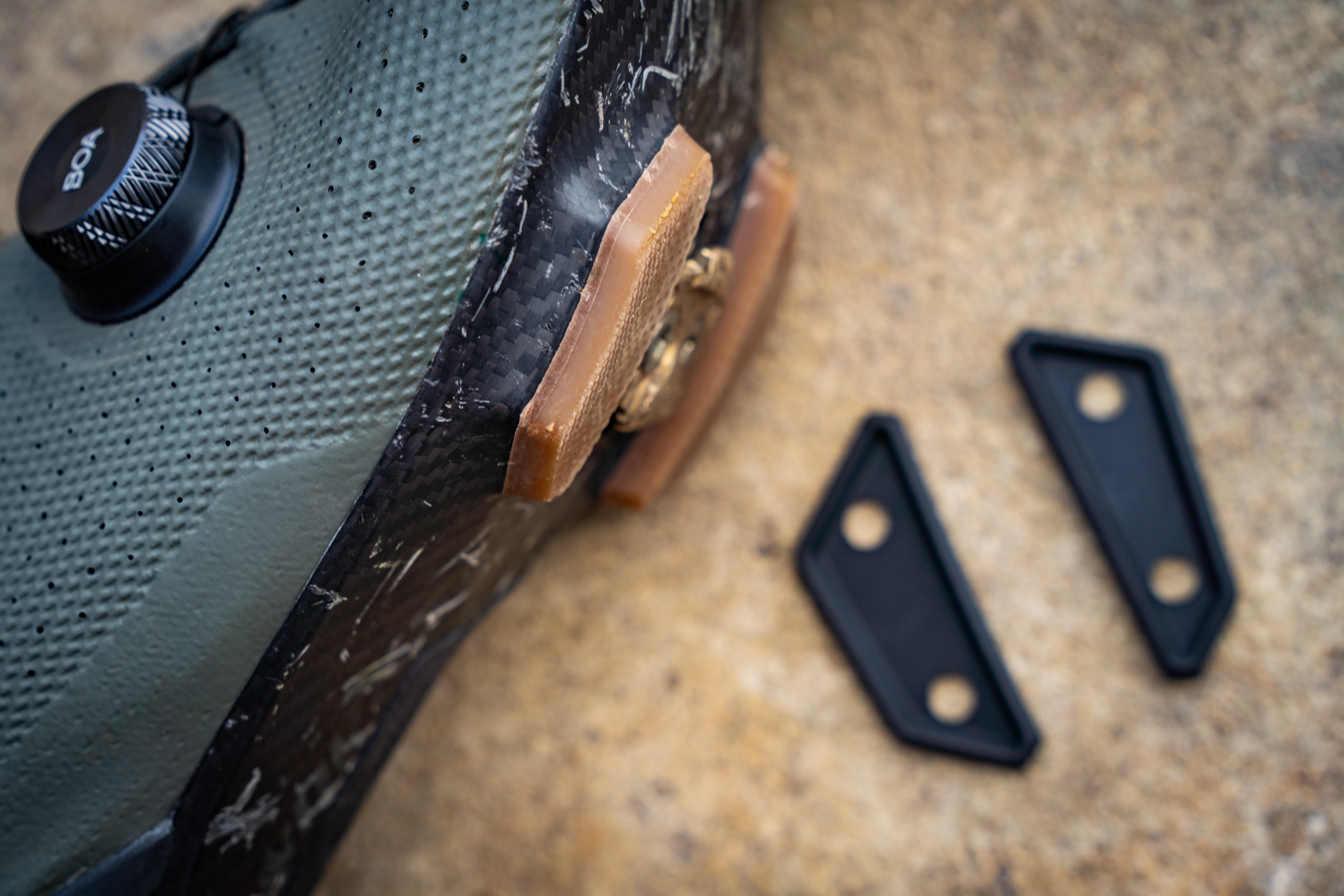 Replaceable tread & customisable fit
Speaking of the tread, it is possible to replace the rear section and two middle sections on the new Specialized S-Works Recon shoe.
This differs from almost every other mountain bike shoe, which moulds the rubber directly onto the sole. That doesn't leave you with a lot of options when the tread wears out, so the ability to replace those options on the S-Works Recon shoe is appealing.
This feature also allows for new options to fine-tune the pedal interface and cleat stack. The shoes come from the factory with no spacers fitted under the rubber tread 'pontoons', though 1mm thick spacers are included in the box. Fitting these will allow you to take up any slack between the tread and pedal body, and they can also be used in conjunction with cleat shims in order to change the stack height between your left and right shoes.
Furthermore, Specialized will also offer 3, 6 and 9mm pontoon spacers in an aftermarket pack that comes with matching cleat shims. This is a fairly small detail, but it will be very appreciated by  riders who have had a professional bike fit and are looking to account for differences in the length of their legs and feet.
Flow's Verdict
The Specialized S-Works Recon shoes are super-light, incredibly stiff and highly breathable. They offer marvellous power transfer and stability on small platform pedals, which will be valued by XC racers and gravel riders looking for maximum support.
They are one pricey pair of shoes though, and the lack of armouring and rubber tread will make them a no-go for trail riders and gear thrashers. Those folks will be better served by the more practical Recon 3.0 shoe.
But if you're counting grams on your race bike and regularly analysing post-ride power data, the Specialized S-Works Recon shoes will be ones to add to the list.