Wil reviews the new Specialized XC tyre range
Over the last couple of years, Specialized has been steadily overhauling its mountain bike tyre lineup. We're not just talking superficial updates either, but rather entirely redesigned tread patterns and the introduction of all-new rubber compounds. These changes have coincided with updated graphics and a new naming structure to help riders navigate all of the available options.
We've already covered the more gravity-oriented tyres in the Specialized lineup, and you can see our Butcher, Eliminator and Purgatory tyre review for more info on those. Here we'll be diving into the lighter and faster XC tyres of the range; the Renegade, Fast Trak and Ground Control.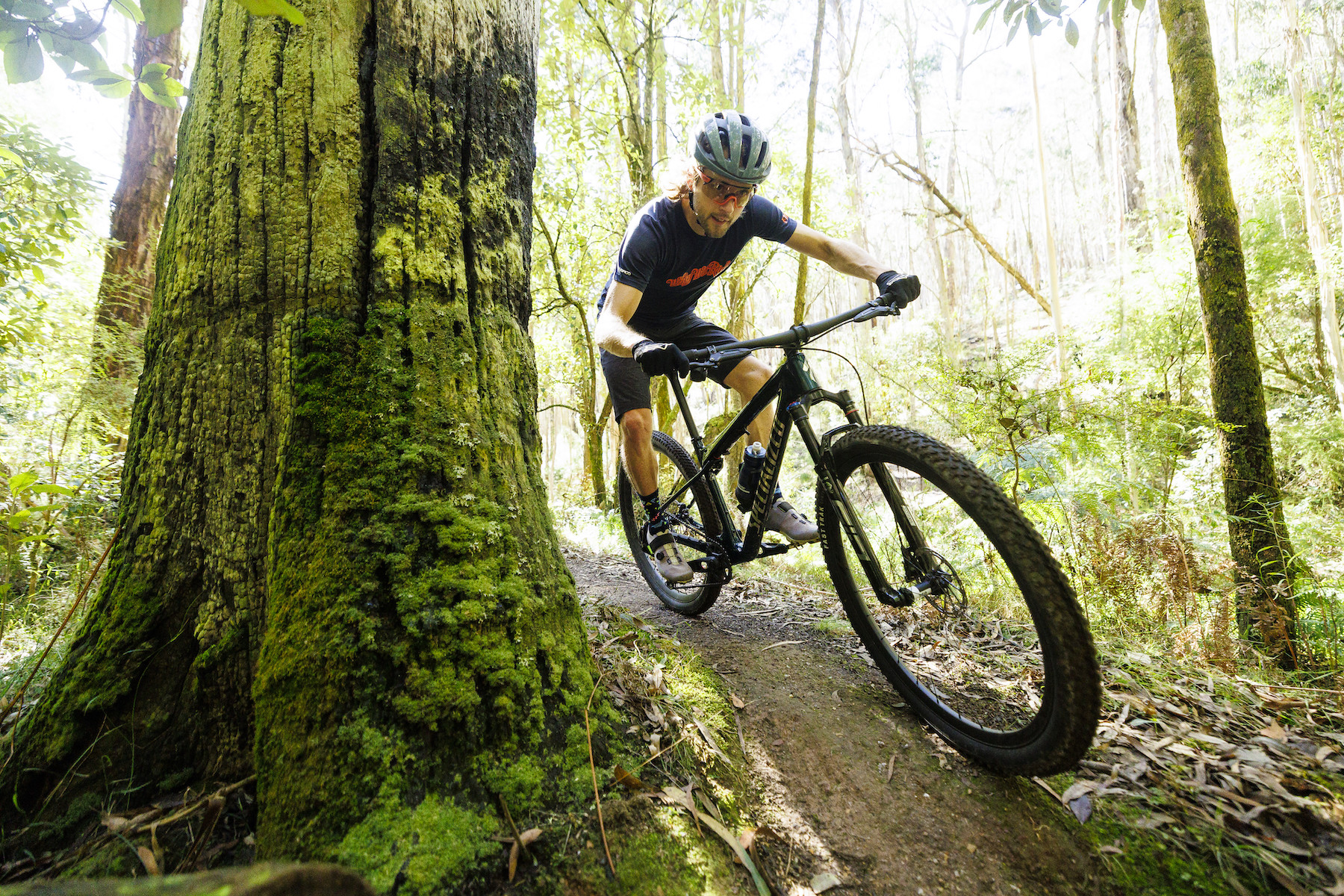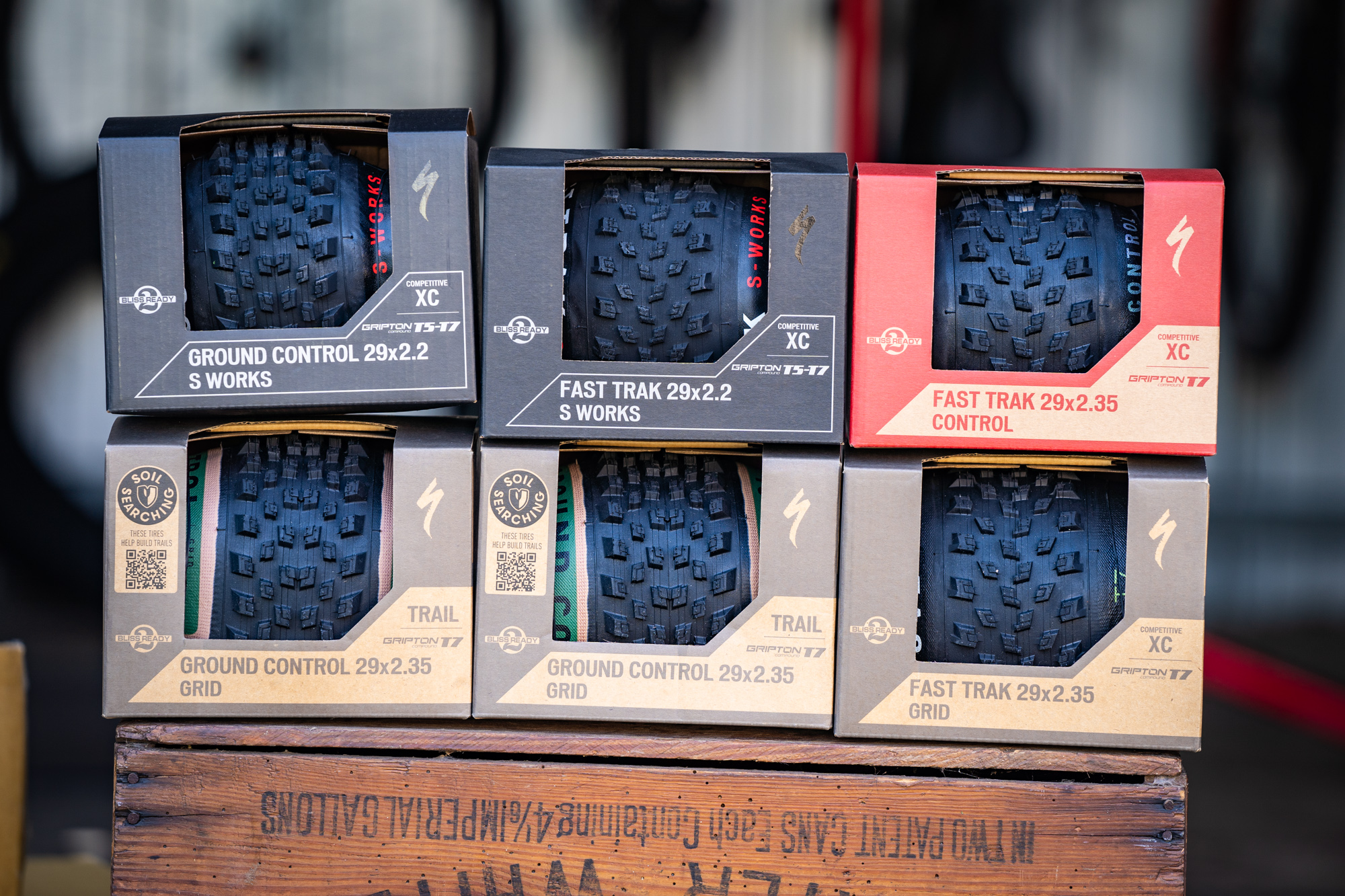 Tread patterns – Renegade, Fast Trak & Ground Control
Back in 2021 Specialized revamped its XC tyre lineup with the introduction of new tread patterns for the Renegade, Fast Trak and Ground Control tyres. Designed to cover everything from dusty hard-pack through to wet, loose and muddy conditions, all three tread patterns are built to be efficient and fast-rolling.
You'll find these tyres as standard equipment on Specialized XC bikes like the Epic World Cup and the Epic EVO. They're also available aftermarket and are priced competitively at around $70-80 AUD per tyre, depending on the specific model you're looking at.
All three tyres are only produced in a 29in diameter, though they're typically available in both 2.2in and 2.35in widths.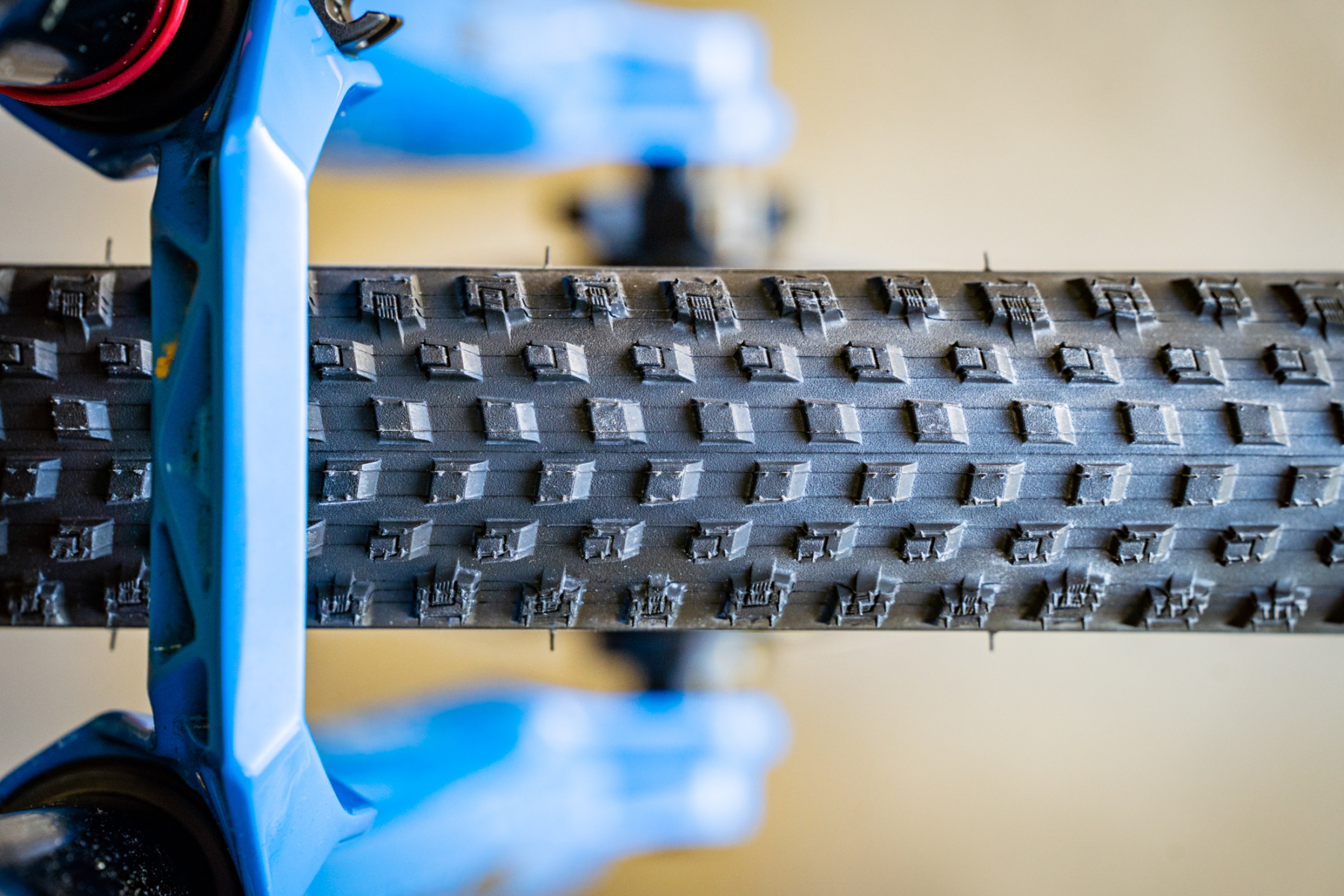 The Renegade is the fastest rolling tyre of the lot, and is optimised for use in dry conditions and on firmer terrain. It uses a tight array of knobs that aims to provide maximum surface area contact on hard-pack terrain, though generous ramping on the leading edges aims to minimise rolling resistance and improve acceleration.
Compared to the old model, the new Renegade gets elevated shoulder blocks that are designed to boost cornering stability and predictability. The shoulder and transition knobs use a block-in-block design, which pairs a wider base for support with a taller inner block that's designed to pierce through the dust and dirt for more bite in the turns.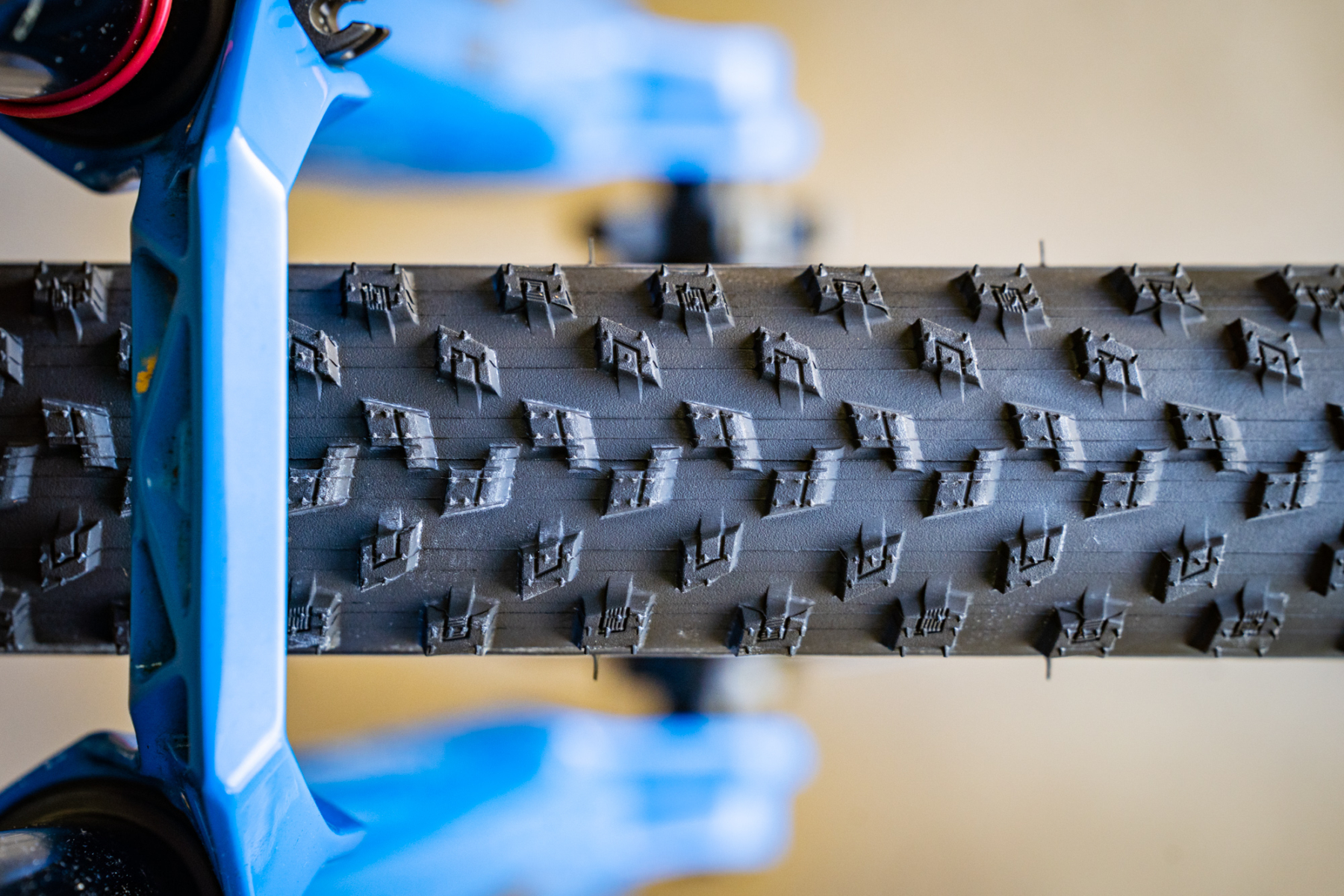 The Fast Trak is an intermediate XC tyre that offers greater versatility over the Renegade, particularly in wetter and looser conditions. The tread pattern employs more negative space to help clear mud, while taller knobs with more defined edges aim to increase bite when leaning into softer soil.
It's still designed to be a quick-rolling tyre, with a stacked and alternating pattern for the centre tread that uses ramped leading edges. This gives the Fast Trak good contact through the middle on hardpack trails, but with sufficient clearance through the transition and shoulder knobs to deliver grip through loose and sketchy turns. Those outer knobs utilise the same block-in-block approach as the Renegade, albeit with a more pronounced structure.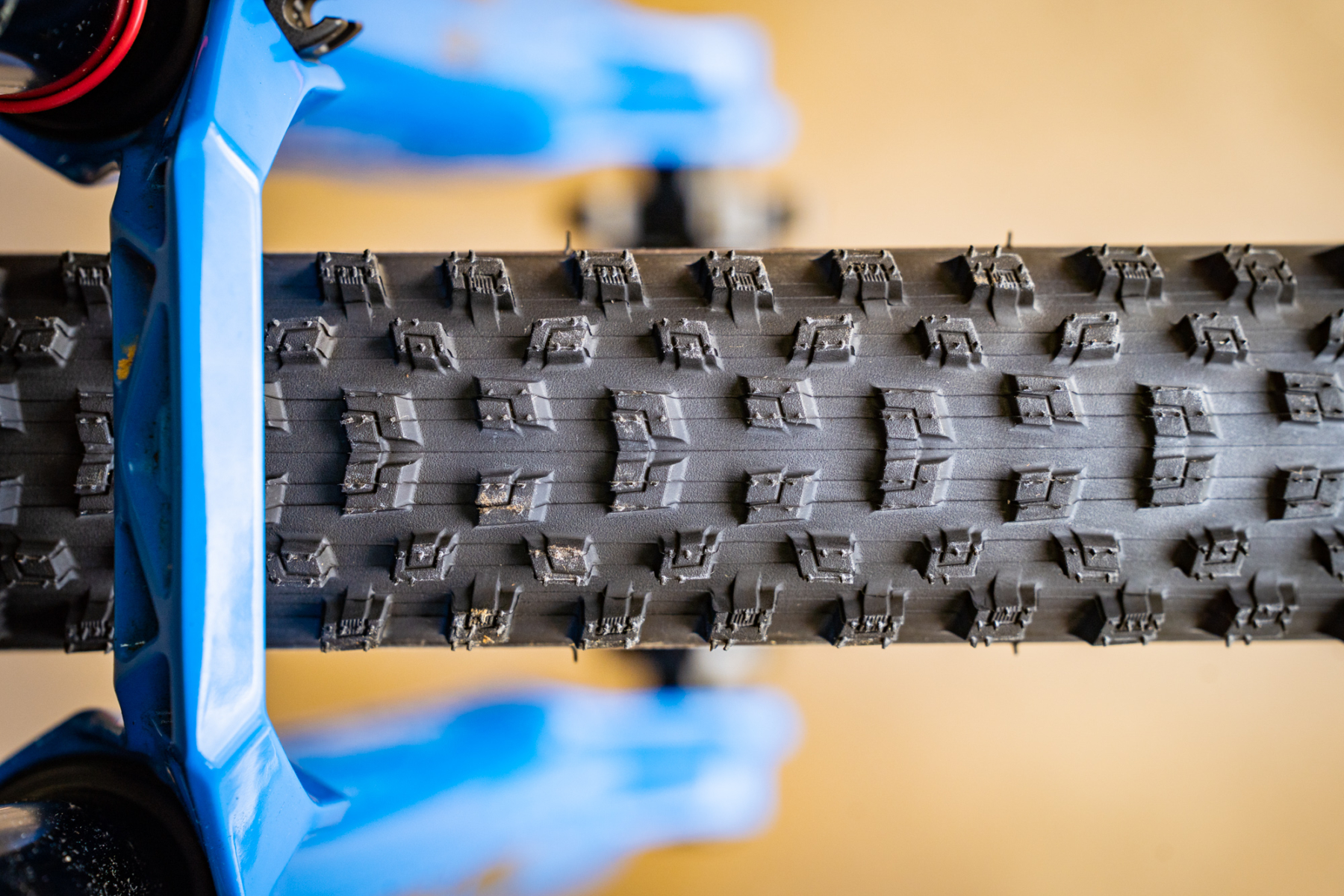 As one of the oldest-running names in mountain biking, the Ground Control is the most aggressive option in the Specialized XC tyre lineup. It's pitched as an all-season tyre for all-conditions, and while it isn't as fast-rolling as the Renegade or Fast Trak, it's the pick of the bunch if you're after maximum grip across as many trail types as possible.
You'll spot the same block-in-block tread design that's used on the other tyres, but in the case of the Ground Control the knobs are taller and sharper again for increased bite in soft soil and loose rocky conditions. Wider centre knobs are ramped on the front to decrease rolling resistance, while featuring broad lateral trailing edges to increase braking bite.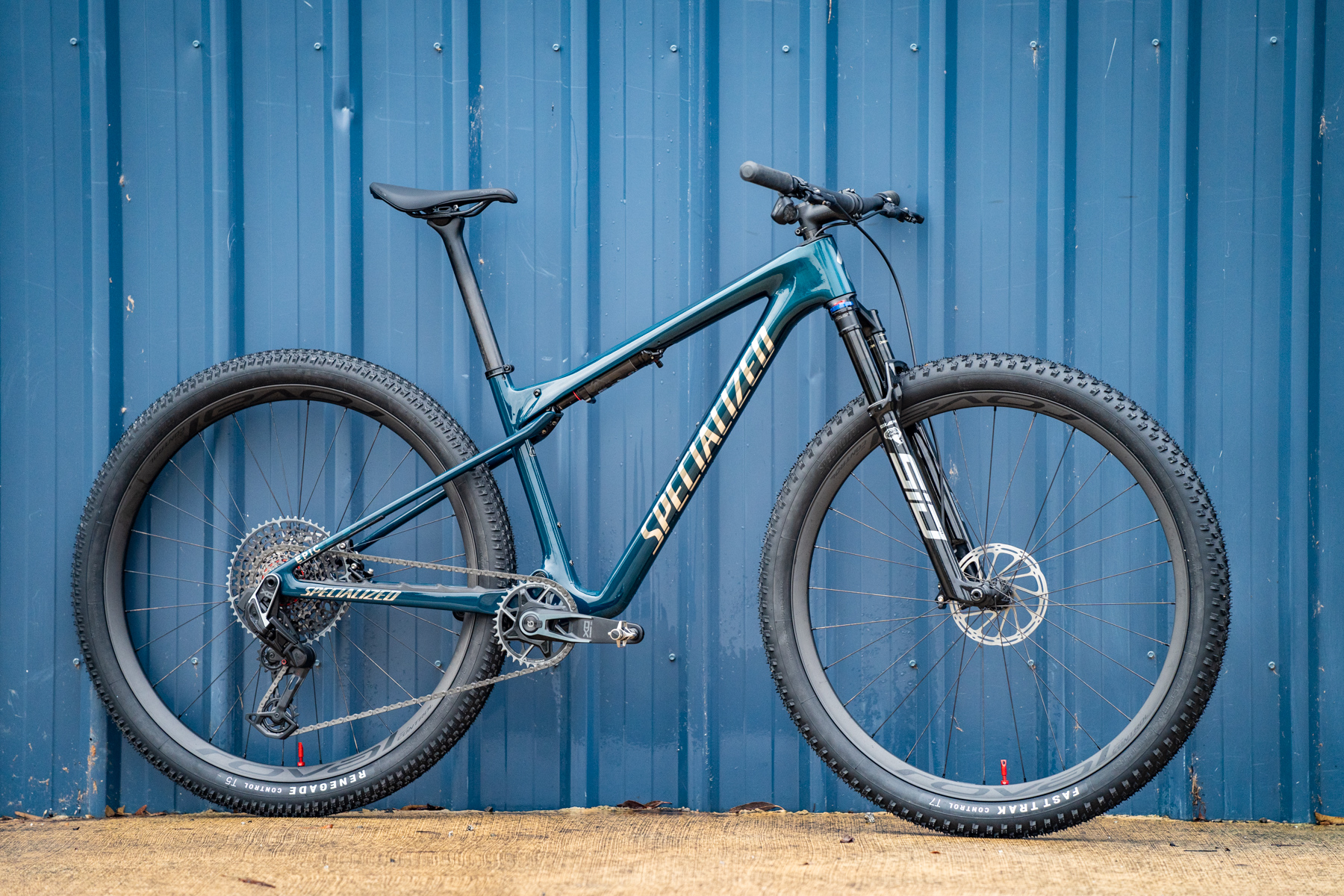 Rubber compounds – T5, T7 & T5/T7
Of course there's more to a tyre than just its tread pattern. Indeed the rubber compound makes a huge difference to grip, damping, rolling speed and durability, so it's important to consider what you need from your tyres when choosing from the available options.
To help distinguish between all the options, the Specialized XC tyre range has adopted the same labelling system as the gravity tyres. You'll spot the letter 'T', which refers to the tread compound, followed by a number. The higher the number, the softer and tackier the rubber compound.
Beyond how 'firm' or 'soft' a rubber feels to the touch, tyre manufacturers can also manipulate the material makeup to change how it deforms. And the way the rubber compound compresses and rebounds will radically alter how a tyre performs on the trail.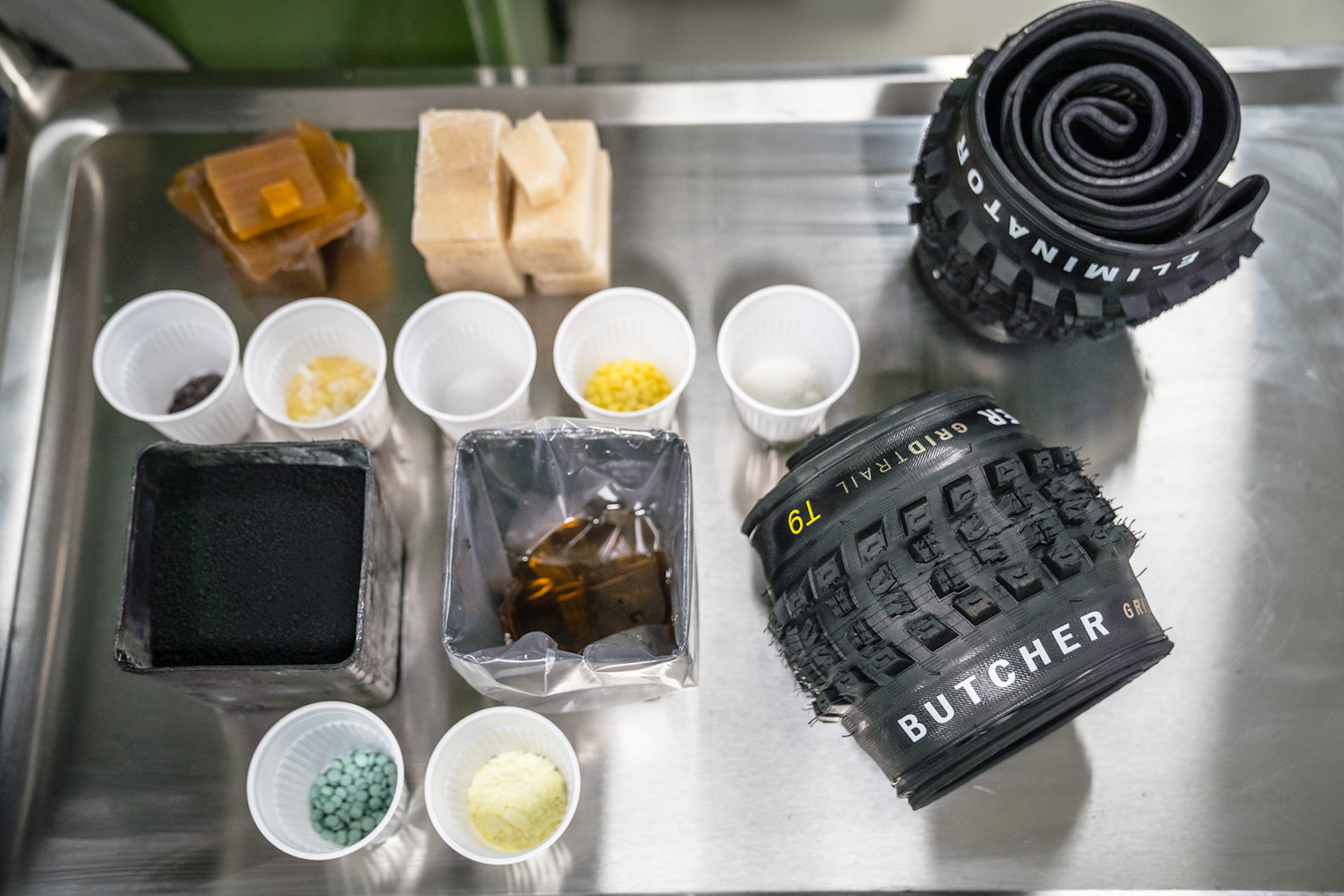 In general you'll find XC tyres making use of firmer and faster rebounding rubber compounds, which offer decreased rolling resistance and improved wear life. Downhill tyres tend to use a much softer and slower rebounding rubber compound to provide maximum grip and damping, especially in loose and wet conditions. The downside of a soft rubber is that it typically wears a lot faster and will also roll slower as the rubber tends to cling to the terrain more.
While most of the Specialized tyre range feature a single rubber compound for the makeup of its tread blocks, some utilise two compounds. These tyres employ a firmer rubber for the centre tread, and a softer rubber for the shoulder blocks. This dual-compound design makes the tyre more complex and expensive to manufacture, but it can help to increase cornering grip without detracting too much from overall speed and durability.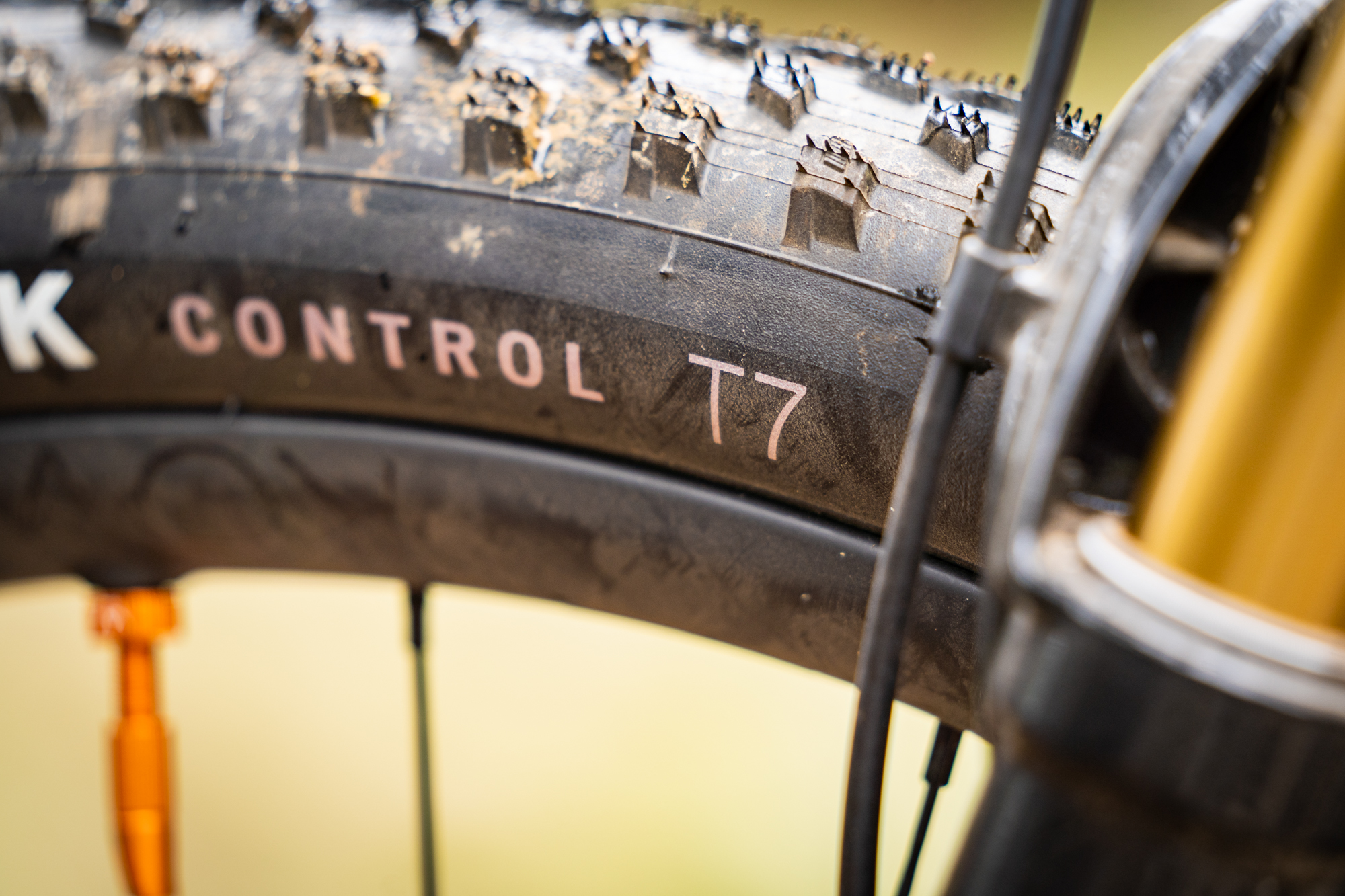 T5 is the firmest compound option. T5 rubber is said to offer minimum rolling resistance, along with a high wear rate and cut resistance. That makes it well suited to XC riding and racing in dry conditions across hard-pack terrain, where speed is the top priority.
T7 is a softer intermediate trail compound. It's the most common rubber compound across the Specialized tyre lineup due to its balance between rolling resistance and grip. Compared to T5, the T7 compound produces more grip in wet conditions, and it offers increased damping for a smoother ride.
T5/T7 is the dual compound option. Tyres that feature this combination employ the firmer T5 rubber for the centre tread and the softer T7 rubber for the cornering tread. The idea is to provide a more nuanced balance between rolling speed, durability and grip. Being a more complex tyre to manufacture, you'll only find the T5/T7 dual compound option used on the high-end S-Works tyres.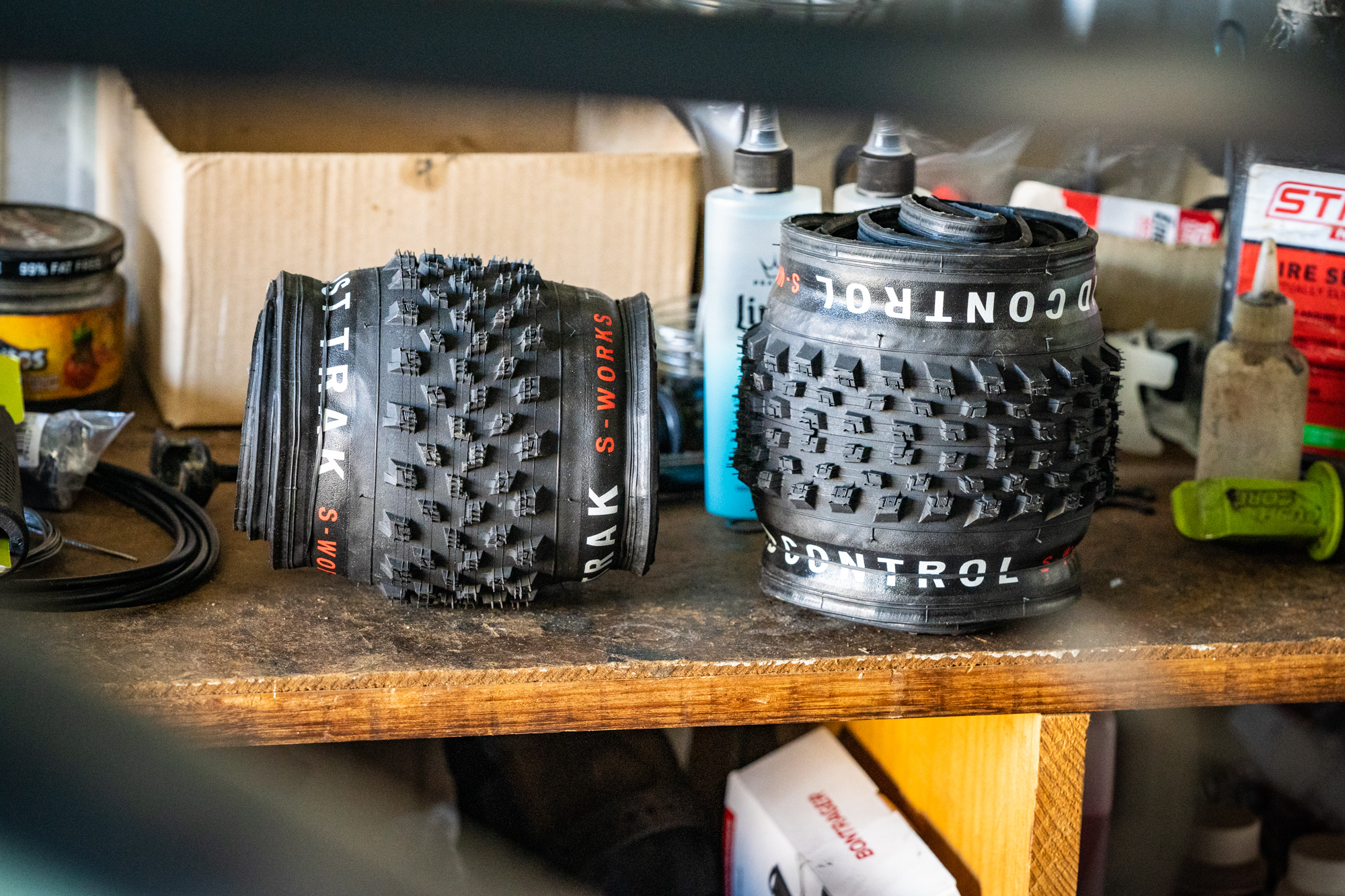 Casing options – S/Works, Control & GRID
Along with the various tread patterns and rubber compounds, Specialized also has options when it comes to the tyre's casing. The casing is essentially the skeleton of the tyre, and by employing different construction techniques and materials, the tyre can be tailored to specific riding conditions.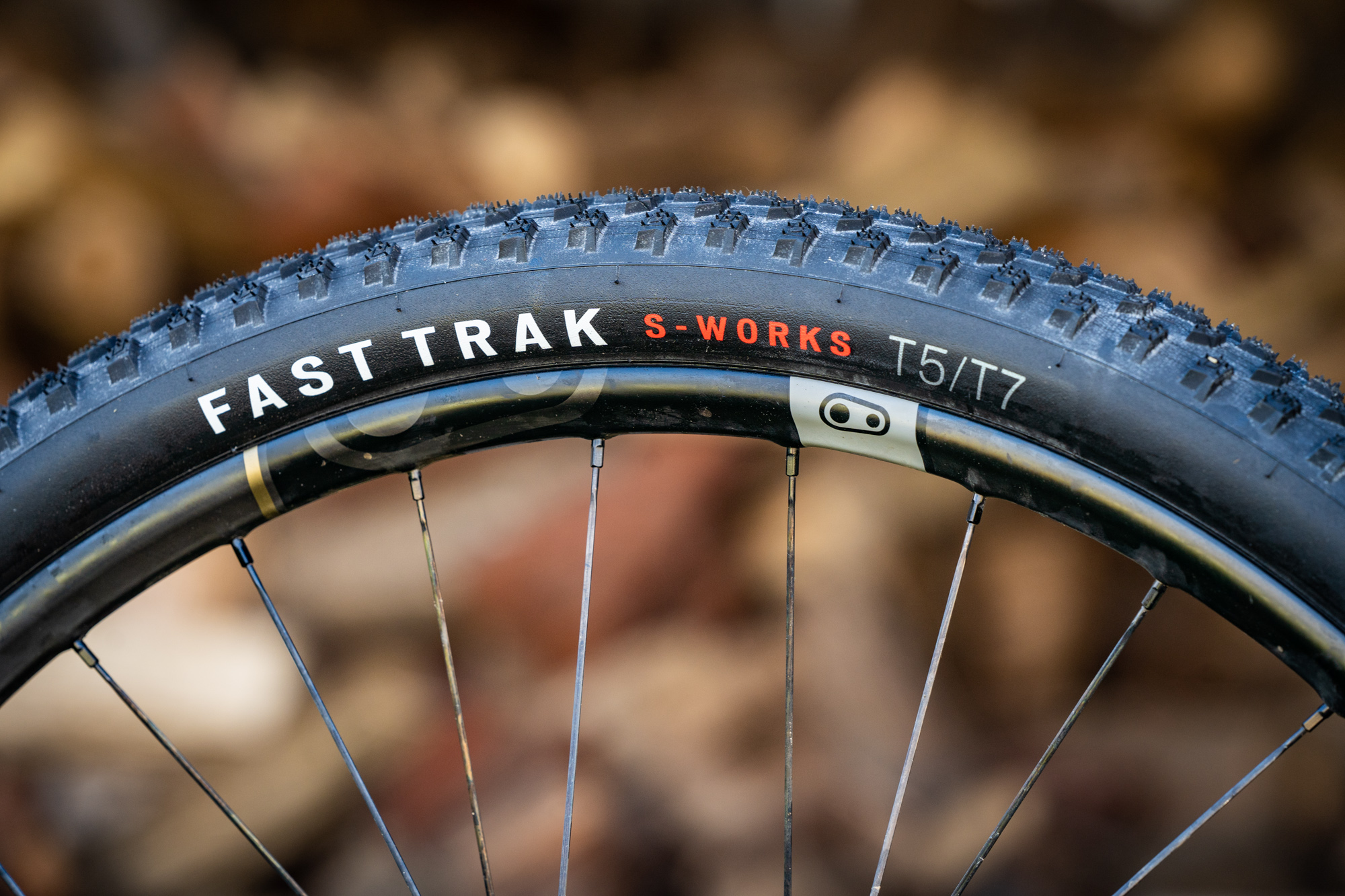 The S-Works casing is the lightest option in the range. It features a 120tpi construction that creates a flexible and supple tyre that more easily deforms to the terrain. The downside is that the S-Works casing is quite thin and lacks any reinforcing layers. This means it's more puncture prone on rocky terrain, and it can lack stability under heavier riders. However, if you're a lightweight rider that's racing XC on smooth courses, this could be the ticket.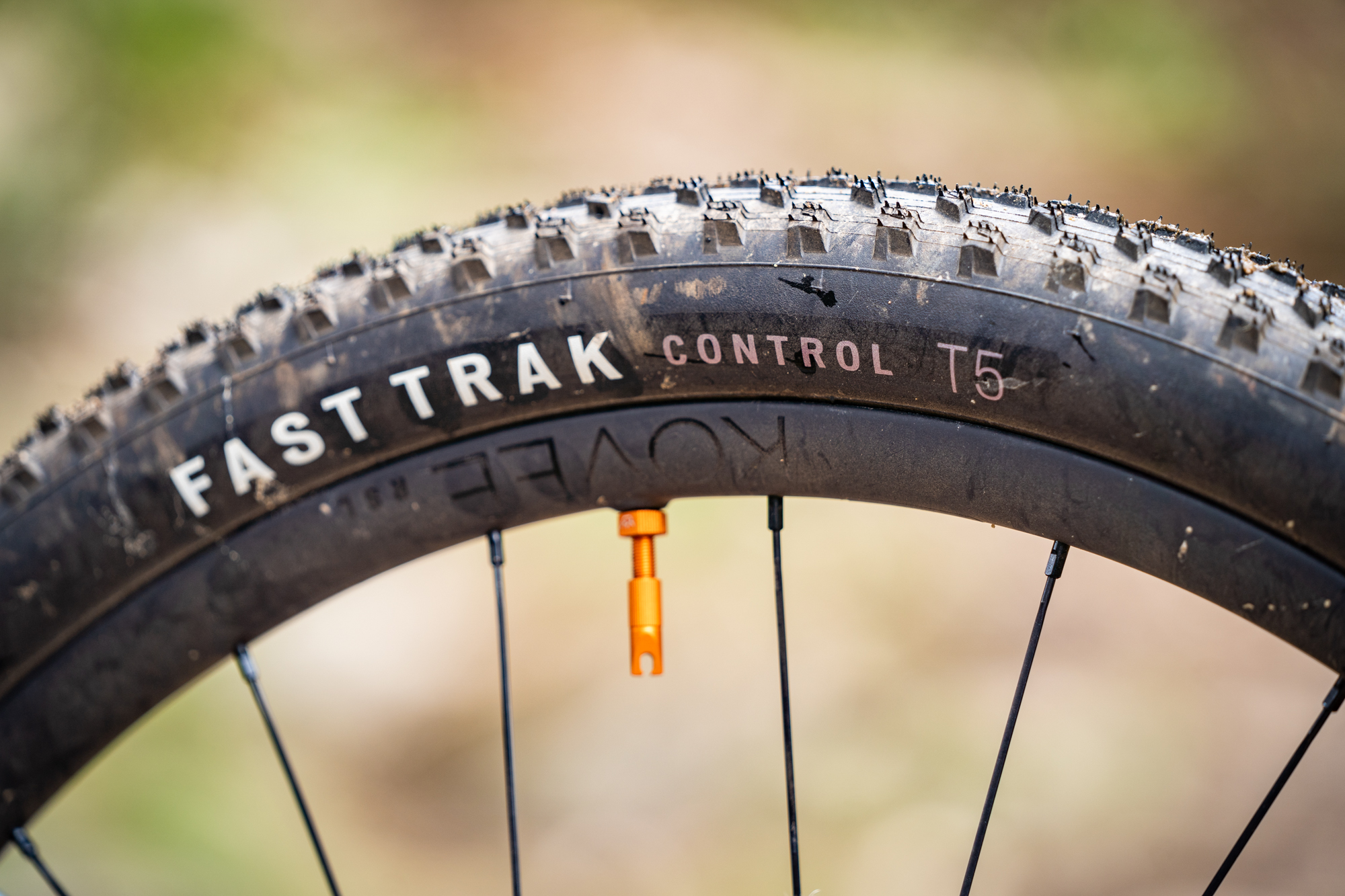 The Control casing is the middle option of the bunch. It uses a 60tpi construction, so the nylon threads are less densely interwoven compared to the 120tpi weave on the S-Works tyre. This means there's a higher ratio of rubber used in the makeup of the casing material, and that leads to more weight. However, the Control casing does offer increased stability and puncture resistance. That makes for a more durable and reliable tyre, especially if you're riding rockier trails.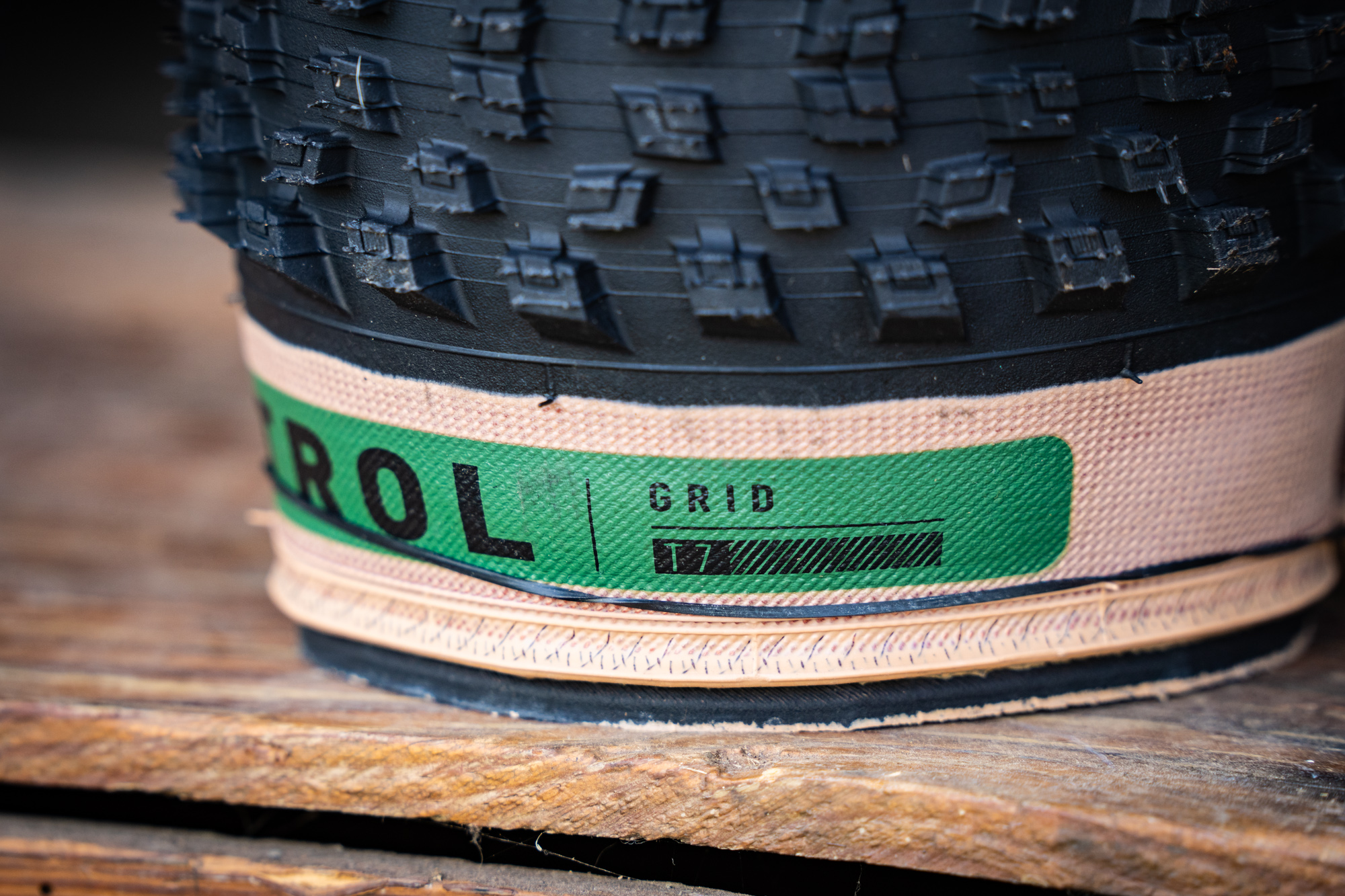 The GRID casing is the toughest and heaviest option. It uses a 60tpi construction like the Control casing, but adds heavy duty polyamide strips in the sidewalls to bolster the tyre's pinch-flat resistance. These strips also serve to stiffen the tyre's overall structure, so it offers better stability when running lower pressures. The GRID casing is quite heavy though, which means it's better suited to training and everyday trail riding rather than XC racing.
Testing the Specialized Renegade, Fast Trak & Ground Control
Over the past year I've been riding a variety of Specialized XC tyres across a range of different test bikes. To experience the various casing and compound options, I've put together several different combos to help illustrate how you might approach choosing the best XC tyre for your own needs.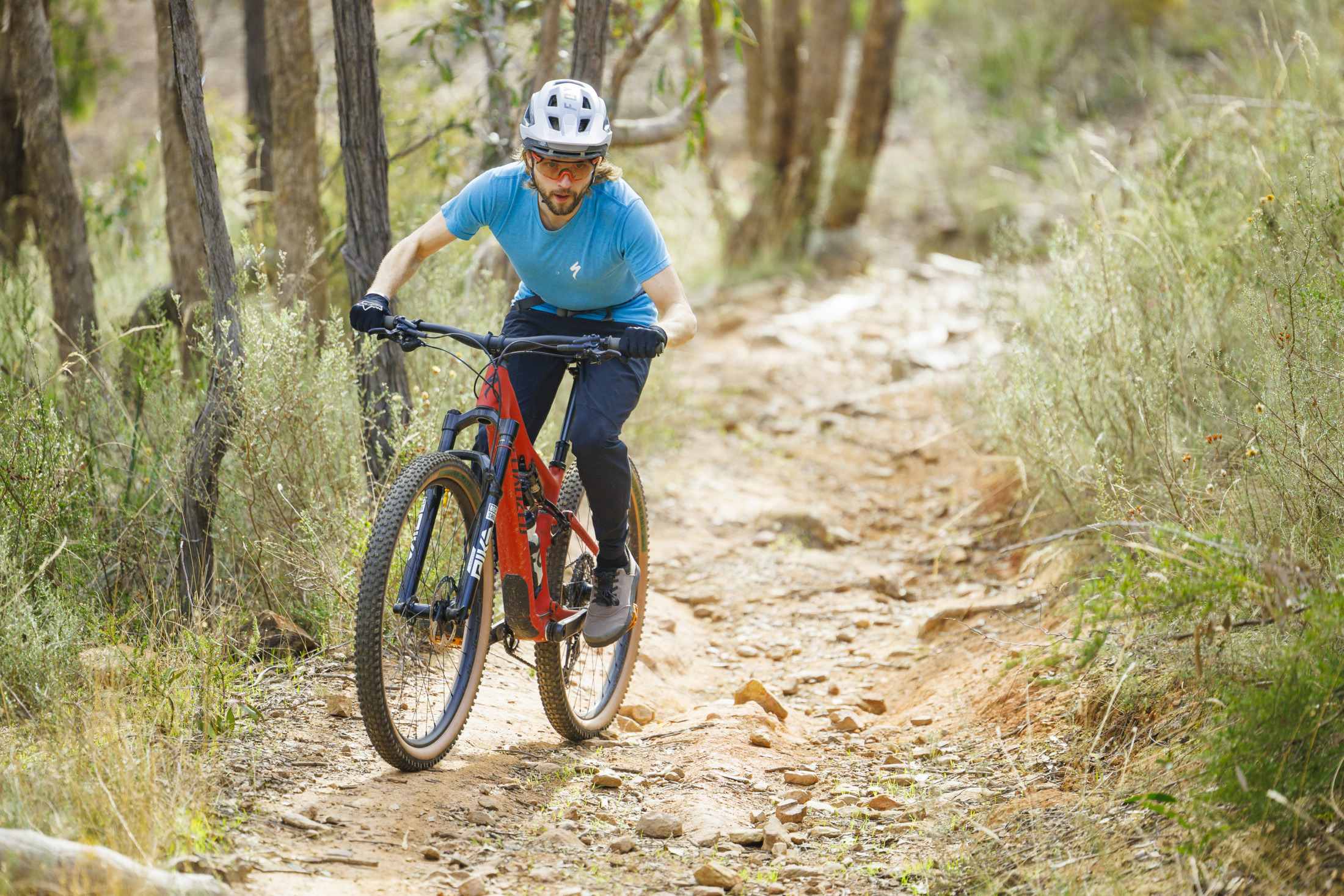 You'll likely spot that there are no S-Works tyres on any of the bikes below. This boils down to my local terrain, which is simply too sharp and rocky for the lightweight and relatively delicate S-Works casings. If you're blessed with soft, loamy singletrack in your riding backyard however, then the S-Works tyres are a great option.
Specialized Chisel
Front & rear tyres: Renegade Control T5, 29×2.35in (677-681g confirmed)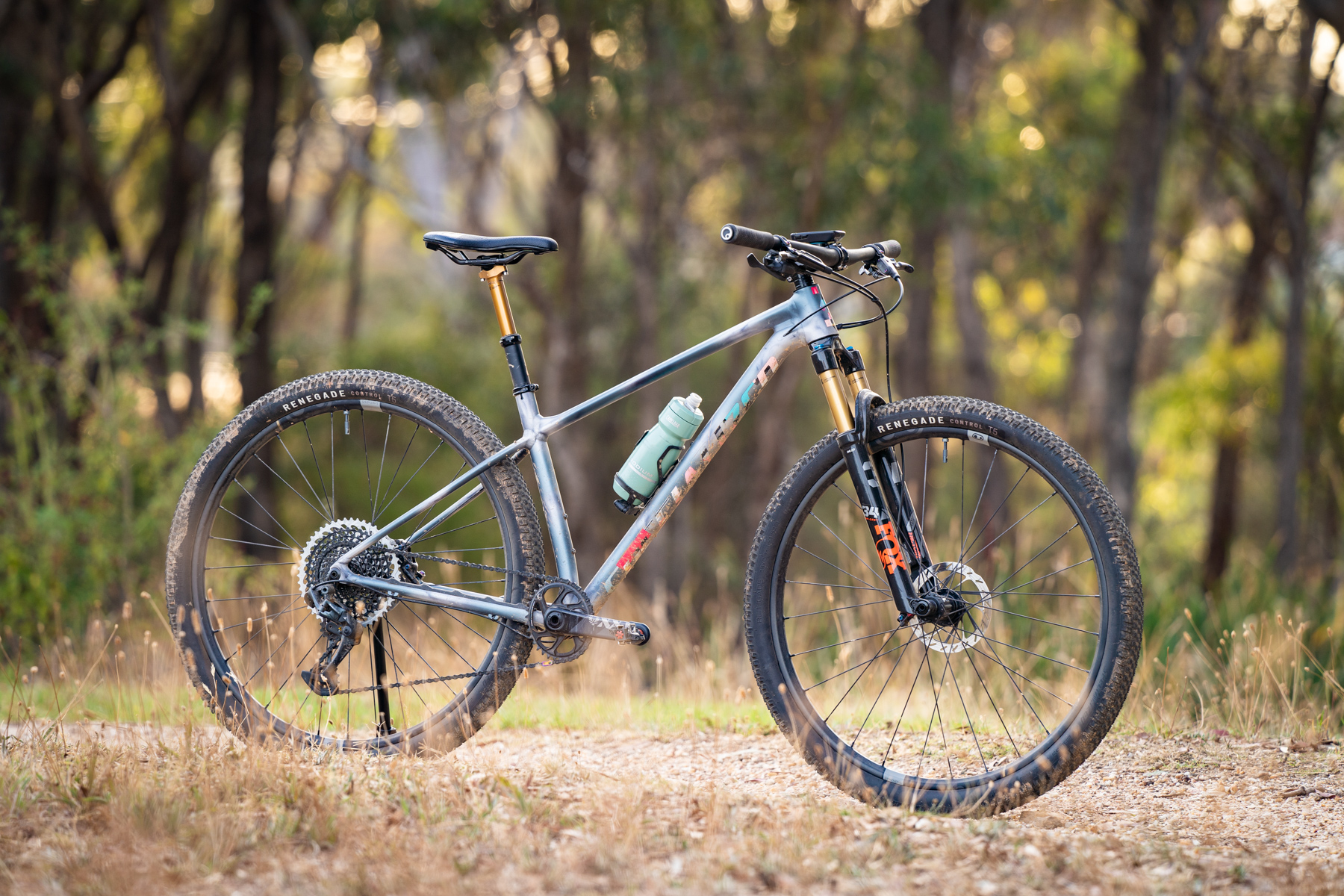 I've had my Specialized Chisel LTD for a good while now, and in that time it's proven to be an excellent test bed for reviewing numerous components and accessories. I love how light and whippy it is, with the compact frame offering responsive handling on tight and twisty singletrack.
To suit its speedy nature I set up the Chisel with a pair of Specialized Renegade tyres in a 29×2.35in size. While it would have been nice to have gone for the lighter S-Works version, I chose the Control casings as they're considerably more durable. They're also not that much heavier, coming in at just 681g per tyre.
To keep things fast and efficient, I elected for the firmest T5 rubber compound. The same tyre is available with the stickier T7 compound, and I think I'd likely fit that on the front if I wanted more grip for riding trails with chunkier rock slabs. Alternatively, I'd love to see Specialized offer the dual compound T5/T7 rubber with the Control casing, which would likely be the ultimate option for running front and rear.
I fitted these tyres to a set of Crank Brothers Synthesis XCT wheels and I've got a CushCore XC insert fitted in the rear wheel. The measured width came in slightly smaller than claimed at 2.32in.
Installation was a breeze and air retention has been excellent. I typically run the front tyre at around 22-22psi and the rear at 23-24psi, depending on the conditions.
While there are even more anaemic XC tyres on the market, these Renegades are for sure some of the fastest I've used. They accelerate aggressively and they maintain their speed alarmingly well. The micro-knobby tread pattern gives them a very smooth and consistent feel on hard-pack trails, and that's the case when cornering too.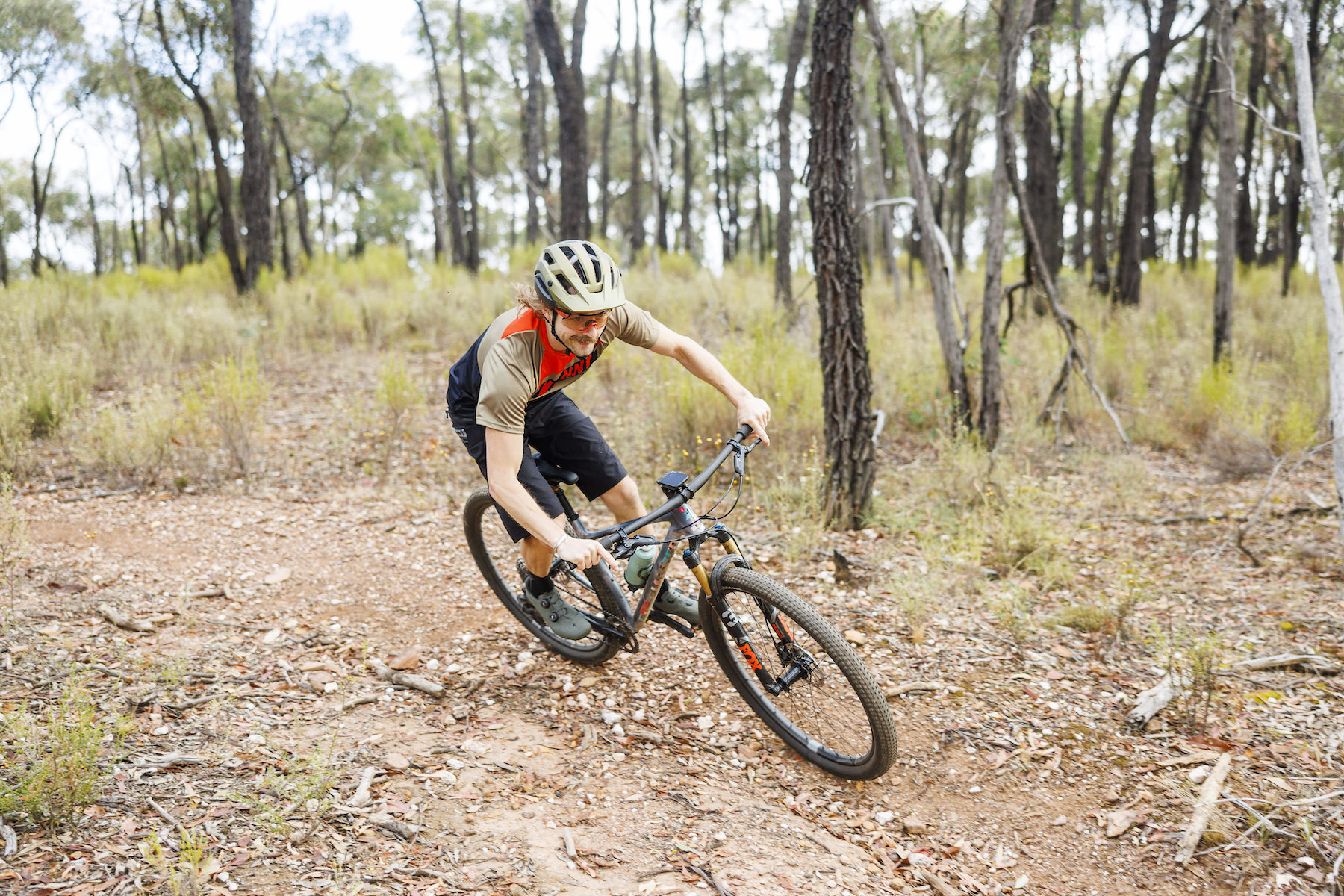 Thanks to the high volume 2.35in wide casings they provide good cushioning on harder hits, which has been particularly appreciated on the hardtail. This helps them to hang on surprisingly well in loose rocky conditions, though the rear does exhibit noticeable wheel spin on more scrabbly climbs compared to the Fast Trak. The difference in grip is even more pronounced when things get wet, where things can unravel quickly.
But if you're riding on dusty, buffed-out singletrack, and it's minimal weight and rolling resistance you're after, the Renegade is a seriously quick race tyre.
Canyon Lux World Cup
Front tyre: Fast Trak Control T7, 29×2.35in (738g confirmed)
Rear tyre: Fast Trak Control T5, 29×2.35in (700g confirmed)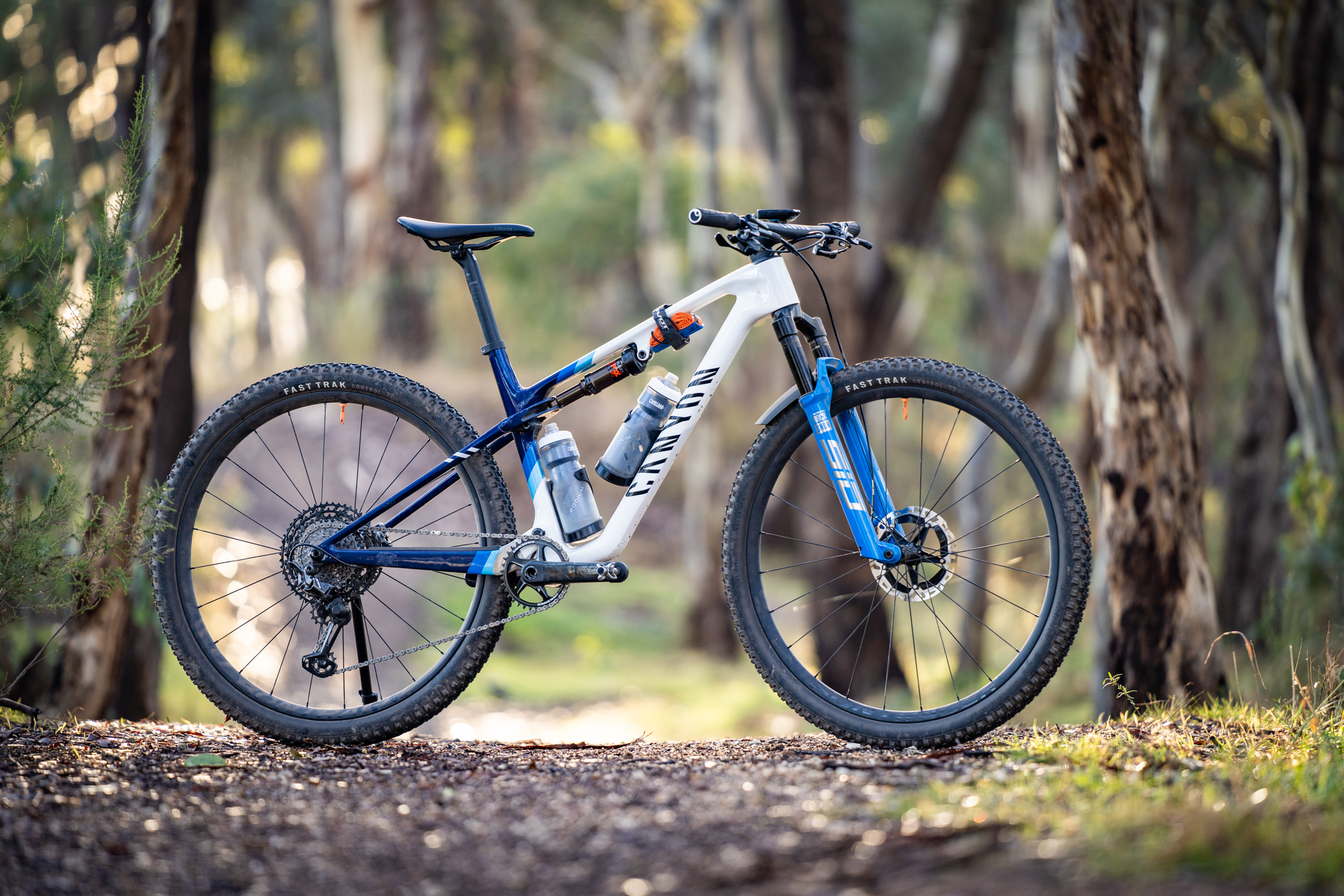 Having finished testing the Canyon Lux World Cup in its stock trim, I've been after a little more grip to handle the random spurts of precipitation that had been peppering our local trail network during the Autumn season. I went with a pair of Specialized Fast Trak tyres, with a softer T7 compound up front, and a firmer T5 compound out back.
Both tyres are the 2.35in wide option and feature the Control casing. As with the Renegades, the Fast Traks ended up measuring slightly narrower than claimed at pretty much bang-on 2.3in wide. It doesn't sound like much, but they look visibly narrower when compared to the Ikons that came stock on the Lux World Cup, which actually measured up wider at 2.4in. Given how many modern XC bikes are building in clearance to fit proper 2.4in rubber, Specialized could certainly plump up some of its tyres to suit.
Again I had no issues airing the Fast Traks up tubeless with a standard floor pump. They've been installed on a set of Bontrager Kovee RSL wheels, and I'm running a CushCore XC insert in the rear. Pressures have been set at around 23psi on the front and 25psi out back.
Compared to the Maxxis Ikon 3C MaxxSpeed tyres they replaced, the Fast Traks don't offer quite the same level of rolling resistance. Much of this comes down to the softer T7 rubber compound on the front tyre, which sticks to the ground a little more. However, the added damping and traction pays dividends on technical terrain, where the front tyre can be leaned over further and harder. I've been able to corner with more confidence, and sketchy descents can be approached with less braking as there's simply more grip on tap.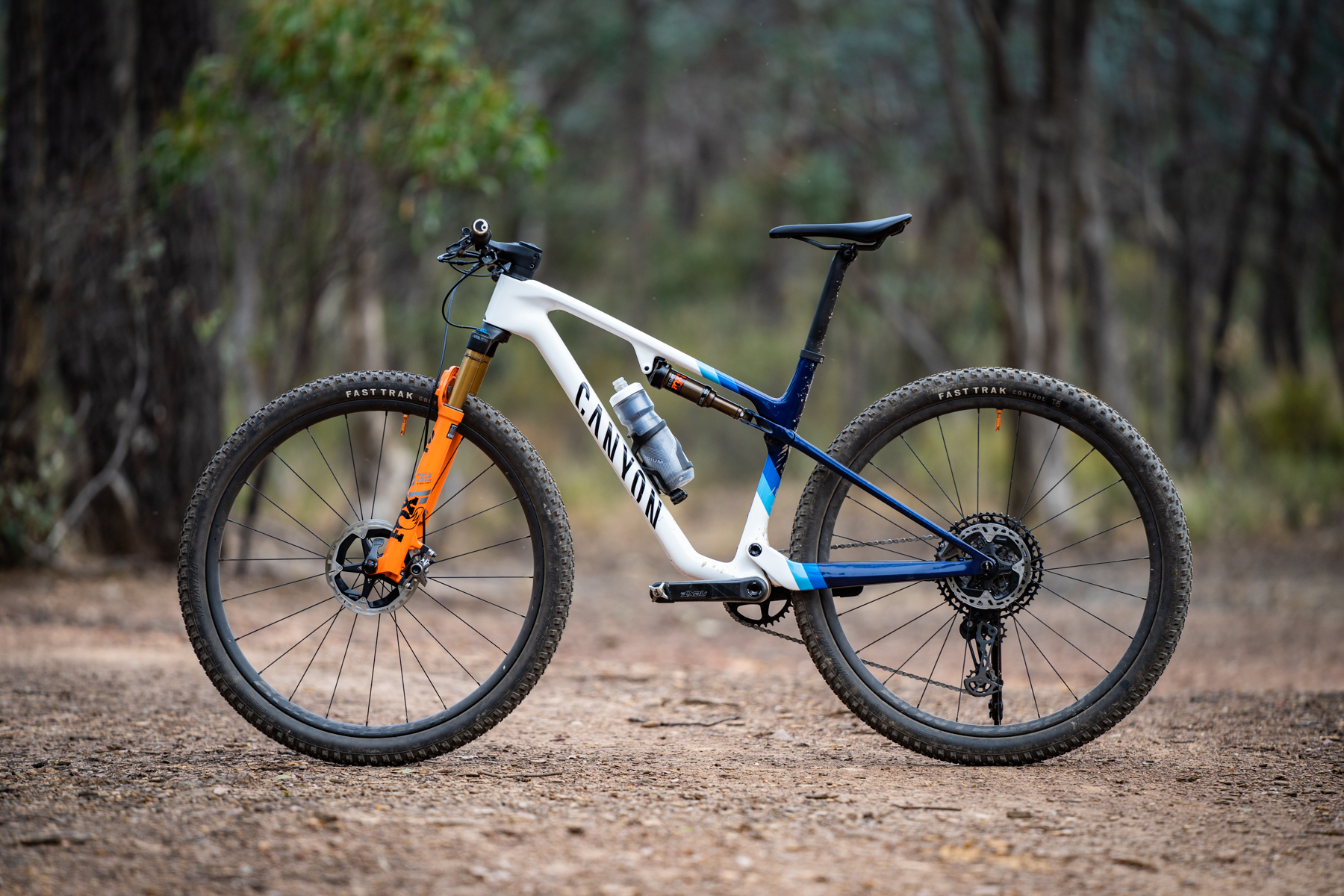 Indeed the combination of the Fast Trak T7 up front with the T5 out back has proven to be an exceptional pairing for a pretty wide variety of surfaces. If you're regularly riding in the wet and your local trails have a lot of roots and slick rocks, I'd recommend running the T7 on the back as well. Alternatively, if your conditions are typically dry, you could fit the Renegade on the rear to improve rolling speed. That exact setup (the Fast Trak T7 on the front and the Renegade T5 on the rear) is actually what comes standard on the new Specialized Epic World Cup.
That said, the Fast Trak on the rear does provide a noticeable increase in both climbing and braking traction over the Renegade. The back wheel is less likely to slide out if you lock up the rear tyre on a tight corner, and that makes it a better choice for high-speed pinners who are looking to make up time on the descents over their competitors.
Specialized Stumpjumper
Front & rear tyres: Ground Control GRID T7, 29×2.35in (888-917g confirmed)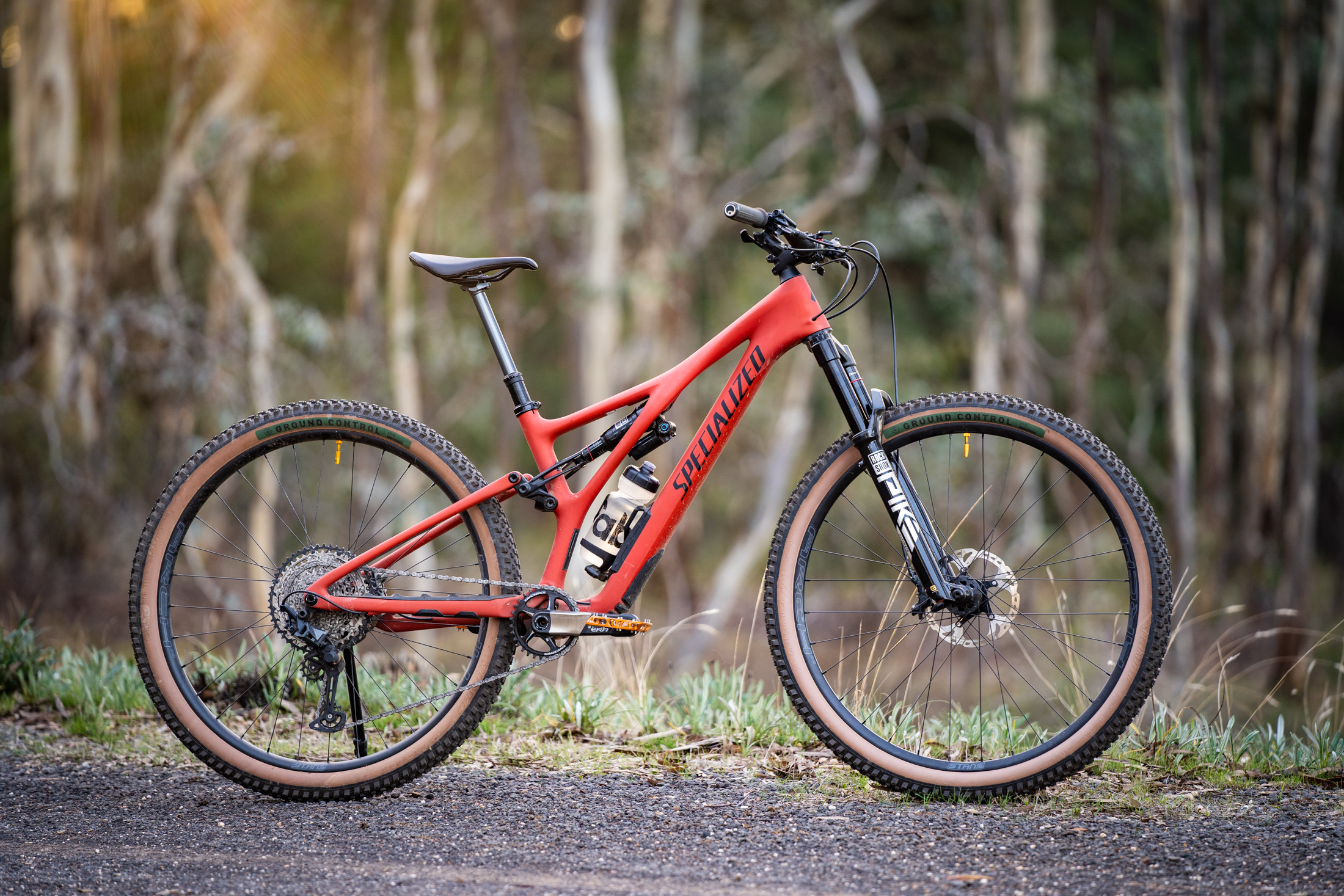 I've had a solid year of riding the Specialized Stumpjumper Comp Carbon, which has evolved into a long-term test bike thanks to its sporty ride quality and versatile demeanour. I've particularly enjoyed testing it out with a longer fork, a piggyback shock and a mixed wheel setup.
Lately I've moved in the other direction, with the Stumpjumper having gotten a little lighter and speedier overall. As part of that change I decided to swap out the stock tyres (a Butcher T9 on the front and a Purgatory T7 on the rear) for some faster-rolling rubber.
I went with a set of 2.35in wide Ground Control tyres, both with the GRID casing and T7 compound. With each tyre weighing in around the 900g mark, they've lobbed a solid 250g of rotational weight off the bike, which is significant. You can go lighter again if you choose the Control casings (785g confirmed).
Unlike the Renegades and Fast Traks, the Ground Controls measure up ever-so-slightly larger than claimed at 2.37in when fitted to Stan's NoTubes Arch Mk4 rims. Set up with a CushCore Pro insert in the rear wheel, I've run pressures at 23psi in the front and 25psi in the rear.
Straight away the added turn of speed over the stock tyres was noticeable, with the Stumpjumper feeling a lot zippier at the pedals. Whereas the Butcher is quite square, the Ground Control tyres have a far more rounded profile. Along with the tighter tread pattern, they offer vastly better acceleration along with a smooth and consistent feel on hard-pack trails.
The firmer T7 rubber compound is noticeably less tacky than the T9 rubber however, so you don't get the same sensation that the tyre is melting over the rocks in front of you. A Ground Control tyre with T9 rubber doesn't exist, but if it did it'd be a pretty interesting option to try out on trails littered with big granite slabs.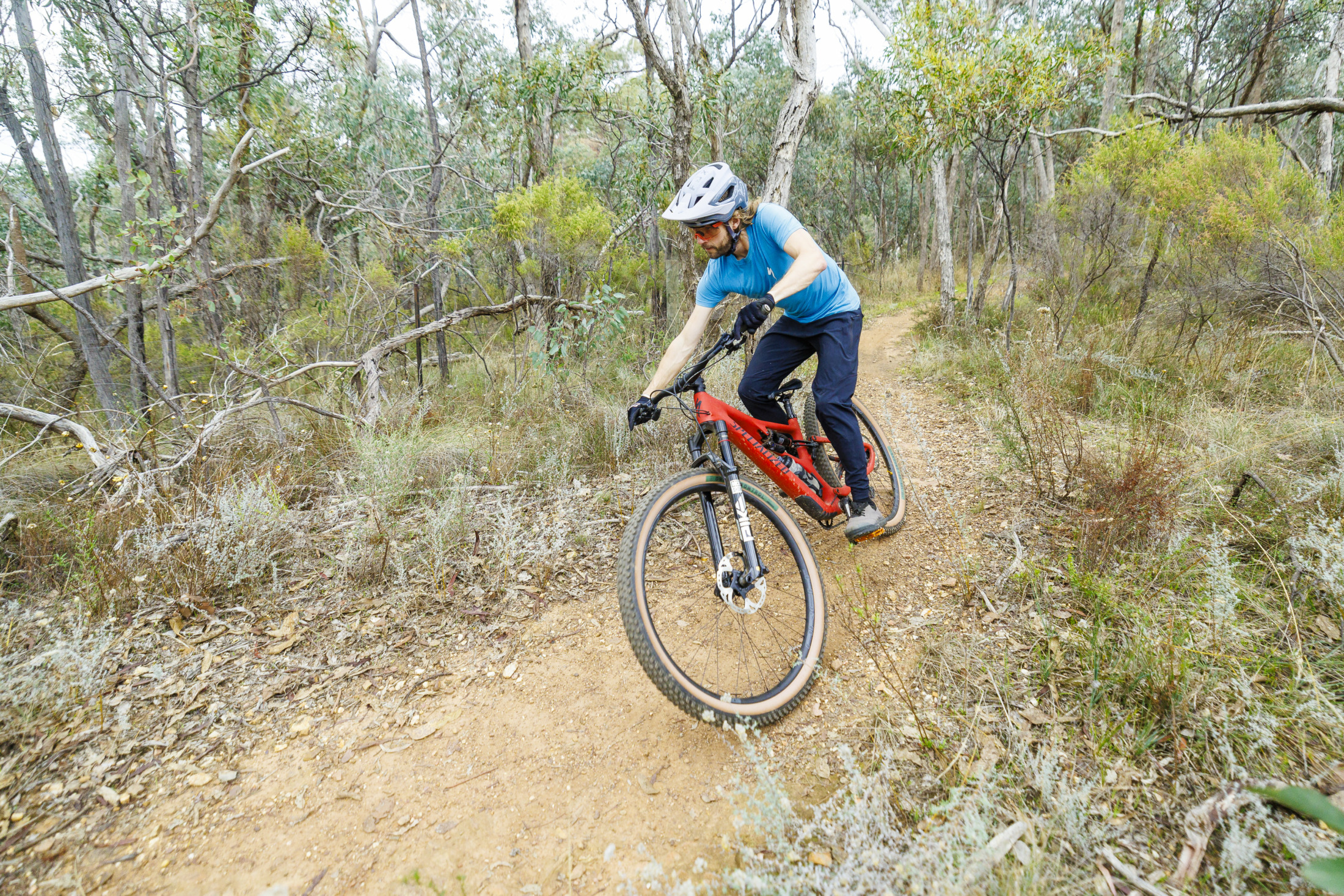 That's admittedly going beyond the remit of the Ground Control, which is really pitched as a technical XC tyre. And in that application it absolutely rips. It's superb on soft soil and loose dusty surfaces, and it holds its cool when things get wet and slick. The GRID casing is also considerably more durable and stable at lower pressures compared to the Control casing, making it a better choice for heavier riders and those frequenting rocky terrain.
Of course those who are serious about XCO racing are unlikely to consider the Ground Control, unless the weather forecast was looking particularly dire. However, if I was racing multi-day events and unsure of the trail conditions, a Ground Control on the front and a Fast Trak on the rear, both with the lighter Control casing, would be a fantastic option.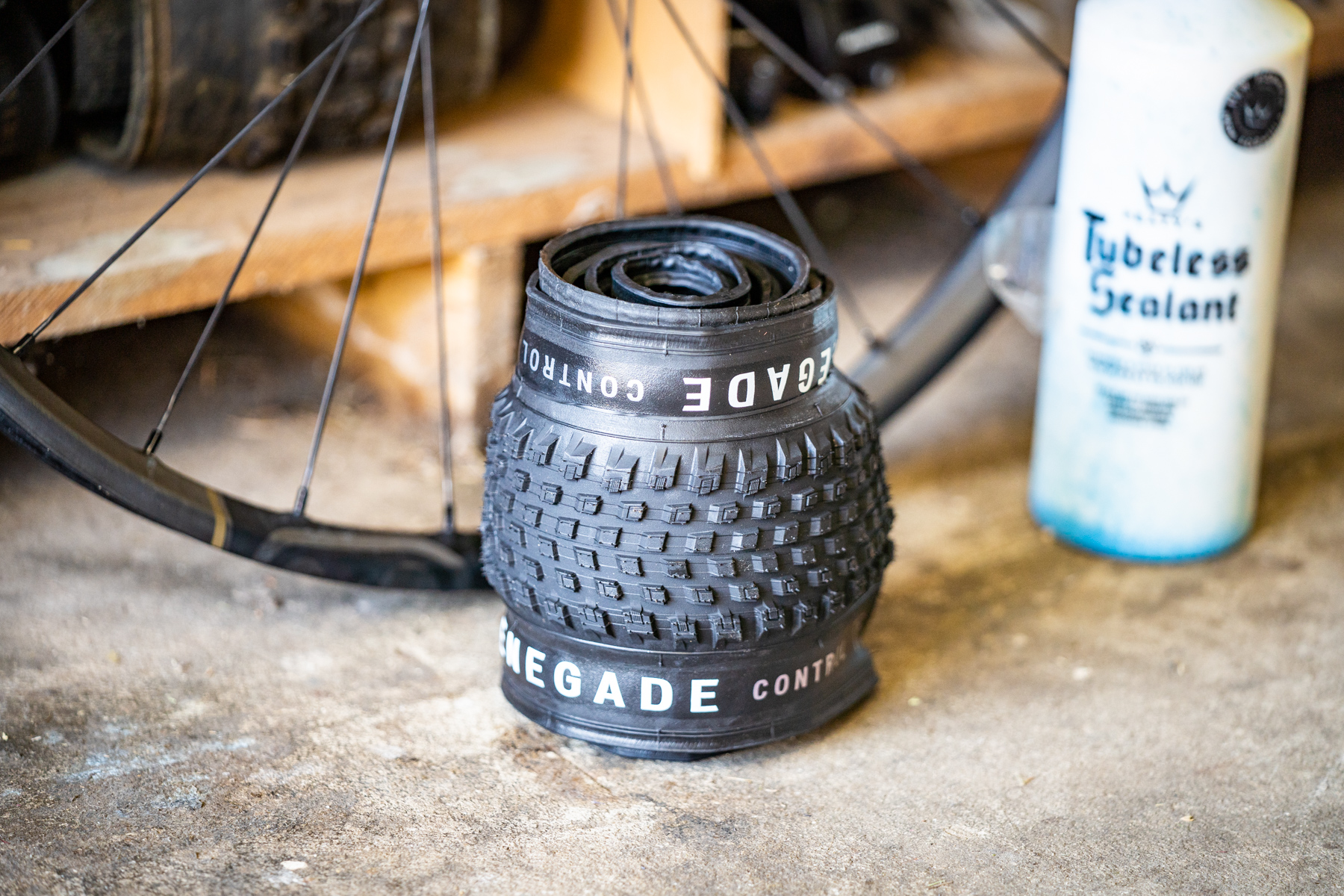 Flow's Verdict
With the latest updates to the Ground Control, Fast Trak and Renegade, Specialized has a trio of tyres that are capable of covering the full gamut of conditions you could expect to face on an XC bike. And being able to mix 'n' match different rubber compounds and casings means it's easier to hone in your ideal setup.
We would like to see the dual compound T5/T7 rubber offered in the tougher Control and GRID casings, but in the meantime pairing a T7 tyre on the front with a T5 on the rear is a good compromise.
And having ridden numerous examples over the past year, we've found these tyres to be of consistently high quality when it comes to installation, ride performance and long-term durability. Better yet, they come in at a significantly cheaper price point compared to the high-end options from Maxxis or Schwalbe. That makes them easy for us to recommend, whether you're riding a Specialized mountain bike or not.