Wil gets hands-on with the new SRAM GX AXS groupset
The robots have returned! What you're looking at here is the newest mountain bike drivetrain on the block – SRAM GX AXS. Two years after launching the flagship XX1 & X01 Eagle AXS groupsets, SRAM has now trickled down its wireless AXS technology to the much more accessible GX Eagle level, and as expected, the pricing is considerably more appealing.
For clarification, this isn't an entirely new groupset. SRAM is simply introducing a GX AXS derailleur and GX AXS controller (shifter), which joins the party with the latest GX Eagle mechanical drivetrain. You'll be able to get the new GX AXS components individually, as a whole groupset, or as an upgrade kit.
How much does it cost?
The SRAM GX AXS Upgrade Kit comes with a sticker price of $904 AUD, which is pretty darn impressive and nearly half the price of XX1 AXS. In this upgrade kit you're getting the shifter, derailleur, battery, charger, and chain gap tool. Here's how the pricing compares to the XX1/X01 equivalents;
SRAM GX AXS Upgrade Kit: $904 AUD
SRAM X01 AXS Upgrade Kit: $1,399.95 AUD
SRAM XX1 AXS Upgrade Kit: $1,699.95 AUD
Of course like any SRAM Eagle 1×12 drivetrain, it's possible to mix and match components. So you could pair a GX AXS shifter with a XX1 AXS derailleur, and run them with a X01 cassette and an NX Eagle chain. On that note, you'll also be able to buy the GX AXS shifter on its own ($226 AUD) and the GX AXS derailleur ($558 AUD). However, the standalone derailleur doesn't include the necessary AXS battery.
So what's different then?
Functionally speaking, SRAM GX AXS zips and whirrs just like the pricier XX1 and X01 Eagle AXS components. Indeed the key electronic components – the battery, motor and switches are identical. However, the use of less exotic materials elsewhere has helped to bring that wireless shift technology to a significantly cheaper price point.
The main point of difference can be found in the derailleur cage, which is made from steel as opposed to alloy (X01) or carbon (XX1). You also get regular steel hardware, rather than the titanium adjustment screws used on the XX1 mech. Otherwise that's kind of it.
Oh, see that funky vented cover on the back of the derailleur? That's a new plastic clip-on cover, which is designed to add a little more protection to the battery underneath. It's included with the GX AXS derailleur, and it's also compatible with the XX1 and X01 AXS mechs. SRAM will be selling it as an optional accessory for $30 AUD, which does seem like a lot of money for a fairly uncomplicated piece of plastic.
What's the weight like?
GX AXS is heavier than its more expensive siblings, and it's also slightly stockier than mechanical GX Eagle. If we compare just the shifter, derailleur and associated cabling, it's 62g heavier than the mechanical option (532g vs 470g confirmed).
Breaking those weights down, you'll actually find that the minimalist GX AXS shifter is very light at just 68g. Compare that to a mechanical GX Eagle shifter with cabling, which comes out to 170g.
However, it's the GX AXS derailleur that is quite a bit heavier than its mechanical counterpart. Including the battery, the rear derailleur came in at 464g on our workshop scales. That's 164g heavier than a mechanical GX Eagle derailleur (300g). I mention this because some riders are particularly sensitive to how much weight is hanging off their rear axle, and we suspect there'll be a large number of mechanical XX1/X01 users who will be eyeing off the GX AXS Upgrade Kit.
For those riders, here's a quick weight comparison with some of the SRAM 12-speed options in order of lightest to heaviest;
XX1 Eagle Derailleur: 265g
GX Eagle Derailleur: 300g
XX1 Eagle AXS Derailleur: 375g
GX Eagle AXS Derailleur: 464g
Certainly compared to those alternatives, GX AXS is kinda porky. And if we're talking about the whole drivetrain, then there's a reasonable amount more mass with the GX Eagle cassette and crank options too. As such, true weight weenies will be better served by the higher end groupsets.
Setting up SRAM GX AXS
It isn't all about weight though. Of course one of the most appealing aspects of the AXS wireless system is the fact that you do away with cables entirely, which not only results in a pleasingly clean setup, it also makes for the easiest installation process ever.
I've had the GX AXS drivetrain installed on two test bikes – my Cotic BFeMAX and more recently, a custom Specialized Chisel (more coming on that bike soon). The BFeMAX uses external cable routing (totally underrated FYI), so setting up a regular mechanical drivetrain is hardly a pain. The Chisel on the other hand uses internal cable routing. Rather than having to fiddle with foam tubes and poking cables through tiny ports in the downtube though, bolting on the GX AXS derailleur and shifter couldn't have been any easier.
The derailleur is officially compatible with both 10-50T and 10-52T options from SRAM. I haven't tried it with a Shimano 12-speed cassette yet, but it's worth noting that others have achieved success elsewhere with the Shmeagle™ setup. Of course neither SRAM nor Shimano would approve of such an inbred configuration. I went full pedigree for our test, setting up the GX AXS derailleur with a 10-52T GX Eagle cassette, chain and alloy crankset.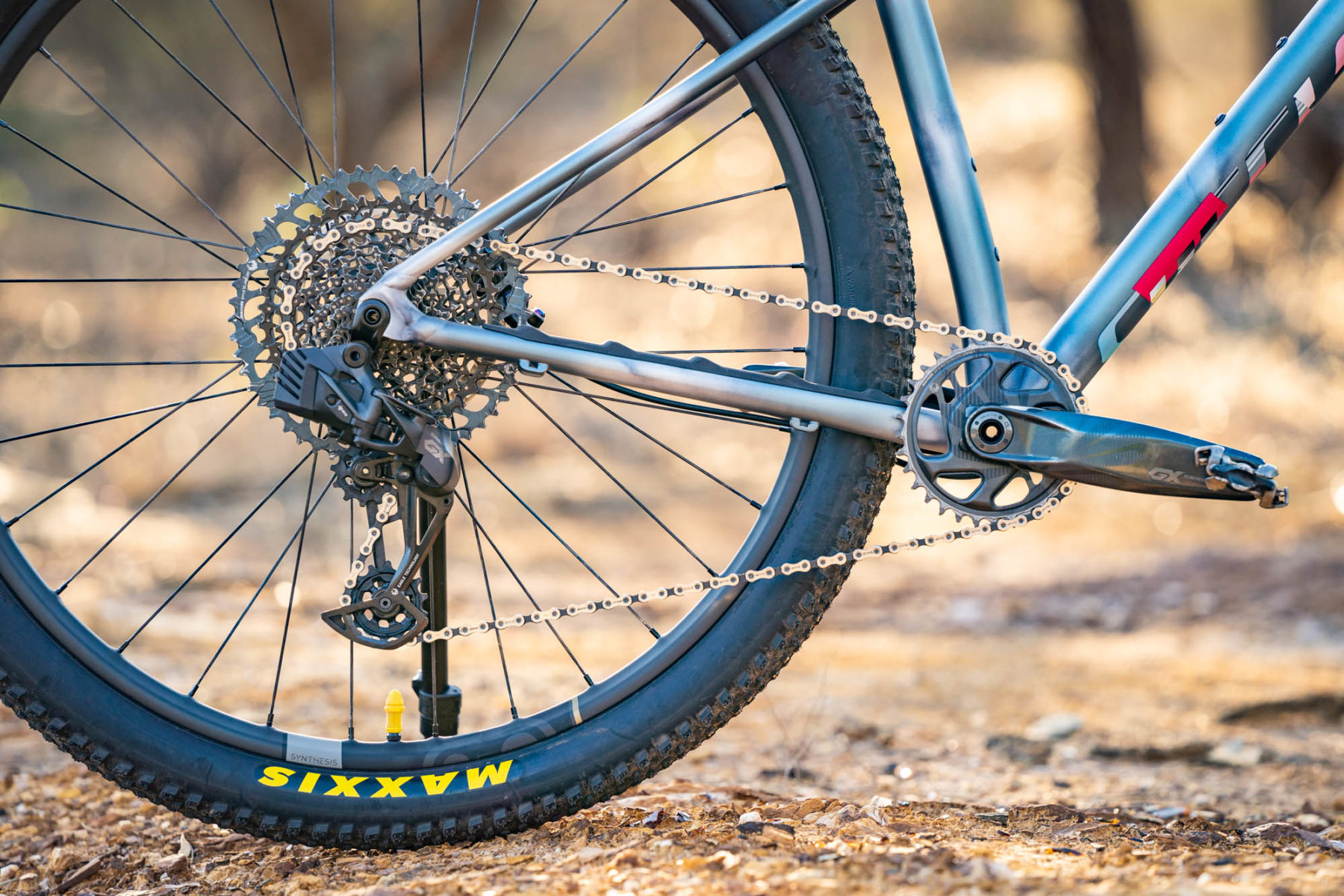 At the other end, the shifter either mounts to the bar with its own standalone clamp, or directly to a MatchMaker clamp on a SRAM brake lever. From here, a quick pairing process is all that's needed to get the shifter talking to the derailleur (check out SRAM's video for a handy AXS installation guide).
As with any Eagle derailleur, getting the right chain length and setting the B-tension correctly is paramount to proper shift performance. To help set B-tension, SRAM includes a plastic guide with the GX AXS Upgrade Kit. Shift the chain into the second largest cog, then use the guide to align the upper jockey wheel at the correct distance off the cassette. If you've got a full suspension bike, you'll need to set this point with the rear suspension at sag.
Another important note is that once you have the derailleur setup, you'll need to make sure the limit screws are backed off slightly. SRAM recommends turning those back by 1/4 of a turn, which avoids the motor working against the limit screws and potentially burning itself out (an issue we had with a Specialized Epic last year).
How's the performance on the trail?
In all honesty, I've found it indistinguishable from the XX1 & X01 AXS equivalents. Overall performance is brilliant, with the lovely light action from the AXS shifter delivering near-instantaneous shifts at the rear mech. The low thumb force required to initiate a shift is nice on short rides, but the difference to a cable-actuated setup becomes quite noticeable on longer rides – something that marathon racers and big-day trail riders will appreciate.
If we're talking about overall performance of the whole drivetrain though, the GX Eagle cassette doesn't have the same meticulous machining that the pricier XX1/X01 cassettes have. As a result the chain doesn't glide as seamlessly from cog to cog, particularly under pressure. Put the GX AXS derailleur onto one of those XX1/X01 cassettes with a matching chain however, and the performance gap evaporates. In fact, that's probably the setup I'd go for – rather than splurging on a full X01 AXS drivetrain, I'd just pair the GX AXS shifter and derailleur with an X01 cassette and chain. You'll save yourself about 600 buckeroos on the derailleur with only a small 76g weight penalty, while enjoying the same shift quality.
As well as the neater cockpit, it's nice having one less cable to manage and potentially make noise. I'm also a fan of the Cage Lock button on the rear mech, which makes for easier wheel installation and removal compared to a Shimano derailleur. And on rough trails the derailleur's one-way roller bearing clutch dishes out good tension on the chain, reducing slap and the chance of derailment.
The GX AXS derailleur itself is quite bulky compared to a Shimano equivalent though. This is particularly noticeable when you're in the smallest 10T cog, where the outer knuckle of the derailleur sits around 48mm outboard of the hanger. While that does increase the chance of it clipping a rock in the first place, the AXS design incorporates an in-built overload clutch that means the derailleur will move inboard in the event of an impact. This clutch helps to protect the internal motor mechanism, and after (hopefully) getting out of the way, the derailleur will then shift back out to its original position. Clever stuff!
It's also worth noting that our GX AXS shifter came supplied with the regular paddle, and not the newer generation Rocker Paddle. Having used both, I prefer the classic paddle, with its concave surface providing a smooth platform for your thumb to flick up or down to command a shift. Riders who are looking for a more tactile shift feel and a more defined position for the up and down-shift levers will likely prefer the Rocker Paddle though. That will continue to be available as an optional upgrade for $35 AUD.
You can utilise the AXS smartphone app to change the shift mapping, depending on what feels more natural to you. The app also provides firmware updates for AXS components, and it provides you with the battery charge status.
Speaking of, you will of course need to remember to charge the AXS battery from time to time. SRAM reckons you'll get around 20-hours of ride time between charges. Unfortunately you can't charge it with a standard Micro-USB cable like everything else – you have to use the special AXS battery charger that comes with the Upgrade Kit. If you're heading away for a multi-day riding trip, don't forget to bring the charger. And it might be a good idea to get yourself a spare battery too.
Flow's Early Verdict
Given the commercial success of its wireless road and mountain bike groupsets, bringing the AXS technology down to the GX Eagle level was an obvious move for SRAM. And having spent the last few weeks riding the new GX AXS drivetrain, I can say that it's a move has been very well executed.
Shift performance is effortless and consistent, and while the derailleur is noticeably porkier than its more expensive siblings, the fact that it comes in at half the price will make the weight an easy tradeoff for most trail riders. While long-term durability is yet to be determined, I've not encountered any issues so far, and the existing XX1/X01 AXS groupsets have set a positive precedent in this regard.
Of course GX AXS still won't be for everyone. There's another battery to remember to charge, and shift performance at the cassette isn't exactly lightyears ahead of a well-tuned mechanical setup. And while it is cheaper than X01/XX1 AXS, it's still more expensive than most mechanical drivetrains – we're talking about a $558 AUD derailleur here.
The shift action at the thumb is vastly lighter though, something that becomes more noticeable the longer you ride for. Along with the ease of setup, the cleaner cockpit, and the consistent performance from the cable-free design, SRAM GX AXS provides a new and significantly more accessible invitation into the world of wireless shifting.