Flow reviews the new SRAM GX Eagle AXS Transmission
The new SRAM GX Eagle Transmission arrives hot on the heels of the XX SL, XX and X0 groupsets that launched earlier this year. As you may have seen in our SRAM XX Eagle Transmission review, we've been mega impressed with the robustness and ease of setup of the new hanger-free derailleur, and we're excited to see many of the same technologies being trickled down to a more accessible price point.
GX is now the fourth groupset to adopt the T-Type transmission design, and as expected it's the cheapest by a hefty margin. A GX Eagle Transmission will start at $1,631 AUD, which is 56% less than an XX SL groupset, and 40% cheaper than X0.
As well as being good news for those who are keen to fit a SRAM transmission to their existing mountain bike, we expect that GX will be an immensely popular groupset on complete bikes for 2024 and beyond.
So what exactly are the differences between GX and its pricier siblings? We've had the chance to install and ride a SRAM GX Eagle Transmission over the past few weeks, and here we'll be taking a closer look at all the tech details behind it, and how it performs out on the trail.
---
See our video on the SRAM XX Eagle Transmission here:
---
We've not dropped a chain or experienced any mis-shifts with the GX Eagle Transmission, and we appreciate how solid the direct-mount derailleur feels. A conventional hanger just looks kinda flimsy now.
SRAM GX Eagle Transmission Derailleur
Price: $688 AUD
Weight: 489g
We'll start at the business end of the SRAM GX Eagle Transmission with the new derailleur.
Utilising the same hanger-less design, the GX derailleur bolts directly to your bike's dropout via the UDH interface. As with XX and X0, that means you'll only be able to fit the new GX Eagle Transmission to a bike that features UDH-compatible dropouts.
The setup procedure is identical, with no limit screws or B-tension adjustments required. You'll need to have your chain cut to the right length and the derailleur's A/B setup key set to the correct position, but otherwise installation is incredibly fast and easy.
In terms of construction, the GX Eagle AXS derailleur utilises a two-piece assembly for the Full Mount section that bolts directly to the frame. This differs to the one-piece construction found on the XX and X0 derailleurs, and as a result the GX version features a reconfigured gearbox and a repositioned AXS battery that has been tucked in further inboard to keep it better protected.
The derailleur features a replaceable outer link and skid plates so you can rebuild it as needed. The inner cage for the jockey wheels is made from steel instead of alloy or carbon, and this results in a little more weight. It isn't much though, with the GX derailleur adding just 45g over the much more expensive XX SL derailleur (489g vs 444g).
SRAM GX Eagle Transmission Crankset
Price: $344 AUD
Weight: 735g (w/32T chainring, no BB)
As with the derailleur, the SRAM GX Eagle Transmission crankset incorporates more modest materials and less machining to help simplify manufacturing and bring the price down.
The crank arms are made from solid-forged alloy and feature with a deep channel on the backside and a small relief on the front. They miss out on the cutaway of the pricier X0 cranks, but they're barely 20g heavier (735g vs 713g).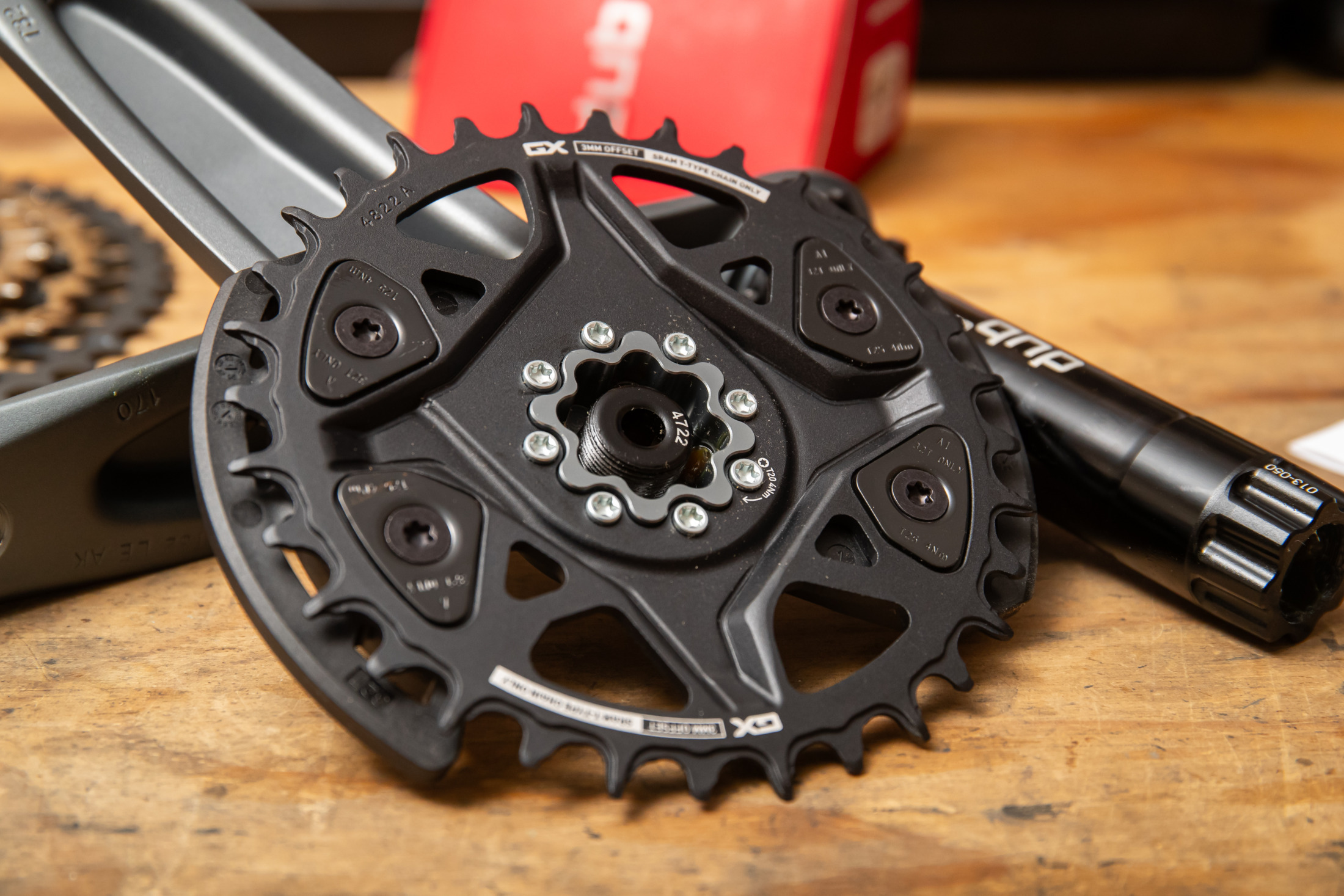 The GX Eagle Transmission crankset is built around the DUB interface with an alloy spindle that can be paired to a threaded or press-fit DUB bottom bracket. It also adopts the new 8-bolt direct-mount chainring interface. SRAM has done this so its new generation cranksets will more easily accommodate a spider-based powermeter, though we're less enthused about there being another chainring standard.
Chainrings will be available in 30, 32 and 34T sizes, and you'll be able to get the crank arms in 165, 170 and 175mm lengths. It's worth noting that unlike the current GX AXS drivetrain that's available with both alloy or carbon crank arms, the new GX Eagle Transmission is only offered with an alloy crankset. If you want carbon you'll have to step up to XX.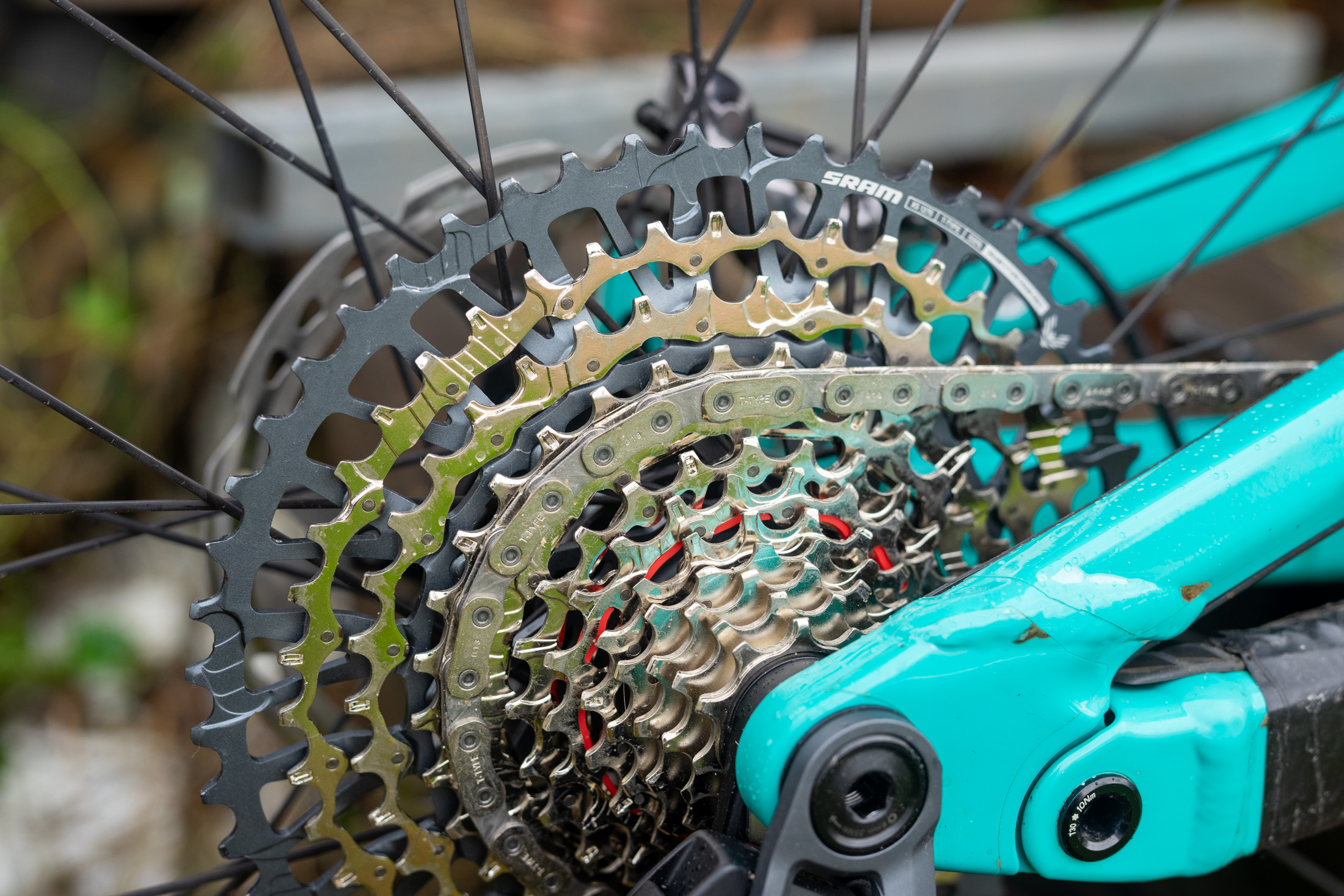 SRAM GX Eagle Transmission Cassette
Price: $430 AUD
Weight: 444g
While the SRAM GX Eagle Transmission cassette still features 12 speeds and a 10-52T spread, almost everything else about it is new.
The ratios have been changed to provide more modest gaps between each gear, particularly at the low end of the range. SRAM has also updated the GX cassette with the X-Sync tooth profile to increase retention and improve shift accuracy.
It's still designed to fit an XD freehub body, though because the cassette sits 2.5mm further outboard and butts up against the derailleur, it's only compatible with SRAM Eagle Transmission components and bikes with a UDH dropout.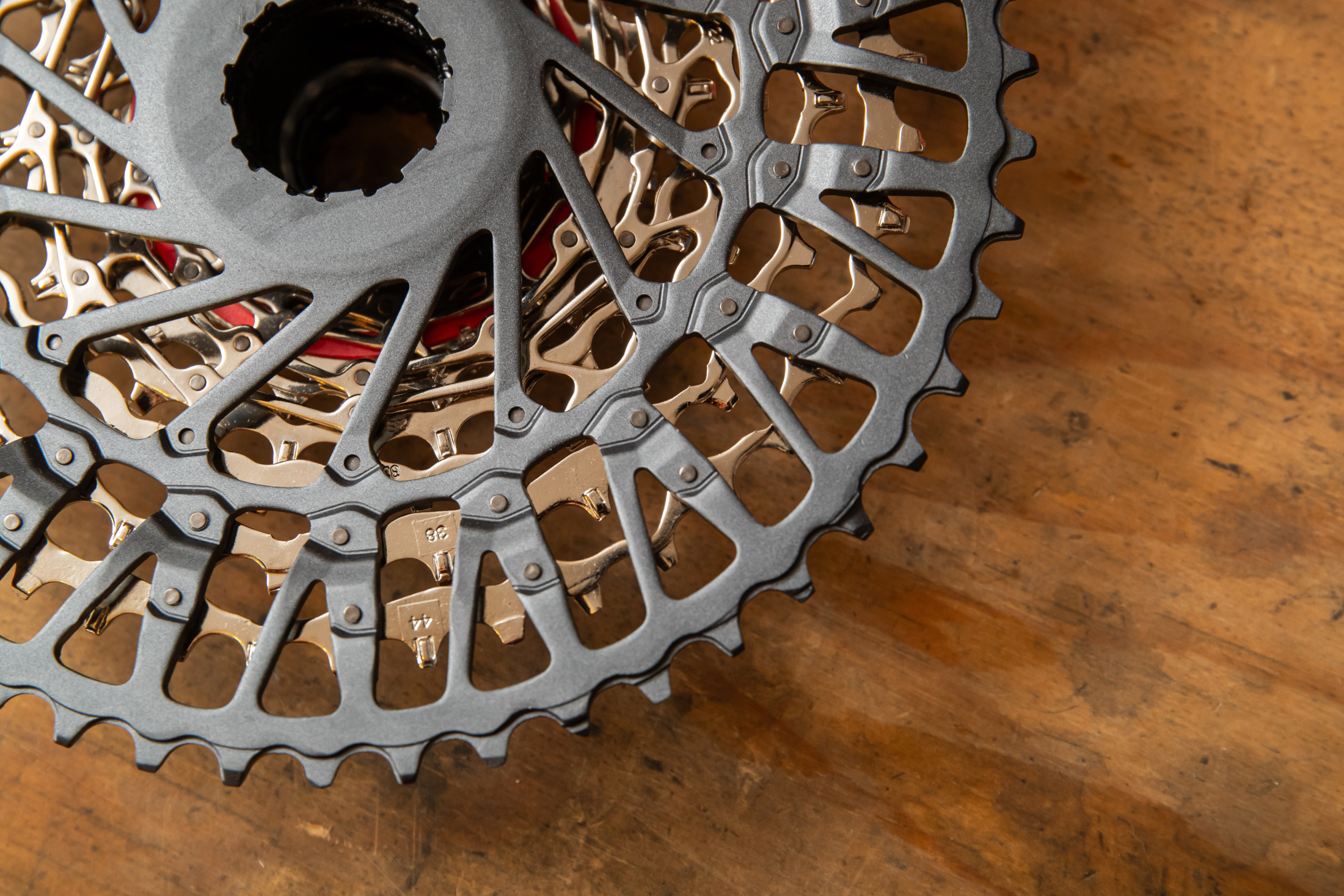 Compared to the higher-end XX and X0 cassettes, the GX version utilises a pinned construction to help bring the price down. The first eight gears are pinned together, while the top four sprockets form a one-piece cluster. Bar the 52T alloy sprocket, the rest are made from steel and use nickel plating to reduce noise and improve wear life.
With its simpler construction, the GX cassette is heavier than the XX and X0 equivalents. However, it's also considerably cheaper;
XX SL (350g) – $1,031 AUD
XX (385g) – $945 AUD
X0 (385g) – $688 AUD
GX (444g) – $430 AUD
For what is a consumable drivetrain component, the lower price of the GX cassette will be welcome news to riders with a SRAM Eagle Transmission on their bike, especially if that bike has a motor.
SRAM GX Eagle Transmission Chain
Price: $85 AUD
Weight: 263g
A comparatively dull, but no less important component of the SRAM GX Eagle Transmission is its new chain.
As we've seen with XX and X0, the GX chain adopts the Flattop profile that's specific to the new T-Type Transmissions. It gets a PVD coating to increase corrosion and wear resistance, and it features solid pins that makes it ready for use on high-powered e-MTBs.
SRAM GX Eagle Transmission Pod Controllers
Price: $258 AUD (each)
Weight: 69g (including MMX bar clamp)
Lastly we've got the SRAM GX Eagle Transmission Pod Controllers.
Now we'll point out here that these controllers aren't specific to the GX Transmission. In fact, SRAM isn't branding its controllers with the XX/X0/GX labels. Instead there's the Deluxe Pod Controller that comes on the with the XX SL, XX and X0 groupsets, and the standard Pod Controller that comes with GX.
While the electronics are shared between the two different Pod Controllers, the Deluxe version gets a nicer finish and interchangeable pads that are offered with flat and concave profiles. In comparison, the standard version comes with flat profile buttons that can't be changed.
Functionally they're otherwise identical, and the pairing process is the same with a small AXS button on the inside of the controller that allows you to sync it up with the derailleur. There's a heap of adjustment available with the rotatable mount, and you can choose between a standalone Infinity handlebar clamp or an MMX clamp that allows you to affix the Pod Controller directly to your SRAM brake levers.
It gets cheaper if you BYO crankset
As well as purchasing the components individually, you'll be able to get a complete SRAM GX Eagle Transmission groupset in several different formats.
If you've got a regular mountain bike you'll be able to get a complete GX Eagle Transmission including the crankset for $1,889 AUD.
SRAM will also be offering a couple of e-MTB specific groupsets, one for Brose and one for Bosch, which feature specific cranksets and chainrings for those motors. These groupsets will retail for $1,803 AUD each.
If you already have an e-MTB with a 104 BCD chainring interface however, you'll be able to get a GX Eagle Transmission without the crankset but with a 104 BCD chainring to fit to your existing cranks. That option drops the price down to $1,631 AUD.
On the trail with the SRAM GX Eagle Transmission
To test out the new SRAM GX Eagle Transmission Jono fitted it to his personal Scott Genius ST 910 in place of the previous GX AXS drivetrain.
Installation went without a hitch, and everything synced up quickly and easily. It's worth noting the improved chainline with the GX Eagle Transmission, as the cassette sits a further 2.5mm outboard compared to a normal Boost drivetrain. This helps to line up the middle of the cassette more evenly with the 55mm chainline, and SRAM has also designed the derailleur accordingly so that the lower jockey wheel is always pointing towards the chainring whether it's in the 10T or 52T sprocket.
Much like our experience with the XX and X0 transmissions, everything meshes together smoothly and shifts are fired off reliably and accurately. The increased clutch tension helps to minimise chain-slap, reducing vibration and noise. We've not dropped a chain or experienced any mis-shifts with the GX Eagle Transmission, and we appreciate how solid the direct-mount derailleur feels. A conventional hanger just looks kinda flimsy now.
We've seen some folks online commenting about the shift speed of the new SRAM T-Type derailleurs, and indeed it is on the slow side compared to a mechanical drivetrain. This is said to be a deliberate design feature, with the derailleur only making a move when the chain is ready to engage the next cog. This ensures the chain maintains consistent engagement with the teeth on the cassette, reducing the chance of derailment and potential breakage. The result is bulletproof shifting, with an incredibly solid feel as the chain moves up and down the cassette.
Of course this kind of shift performance will be less important to experienced riders who know how to change gears properly. But for newer riders and anyone aboard a full-powered e-MTB, that kind of robust shifting goes a long way to avoiding an expensive mistake.
Furthermore, the fact that you don't have to worry about having a perfectly-straight hanger, or having your B-tension or limit screws adjusted just-so, is a big plus for both riders and bike shop mechanics. It's this simplicity that we think is the biggest positive of the new SRAM GX Eagle Transmission.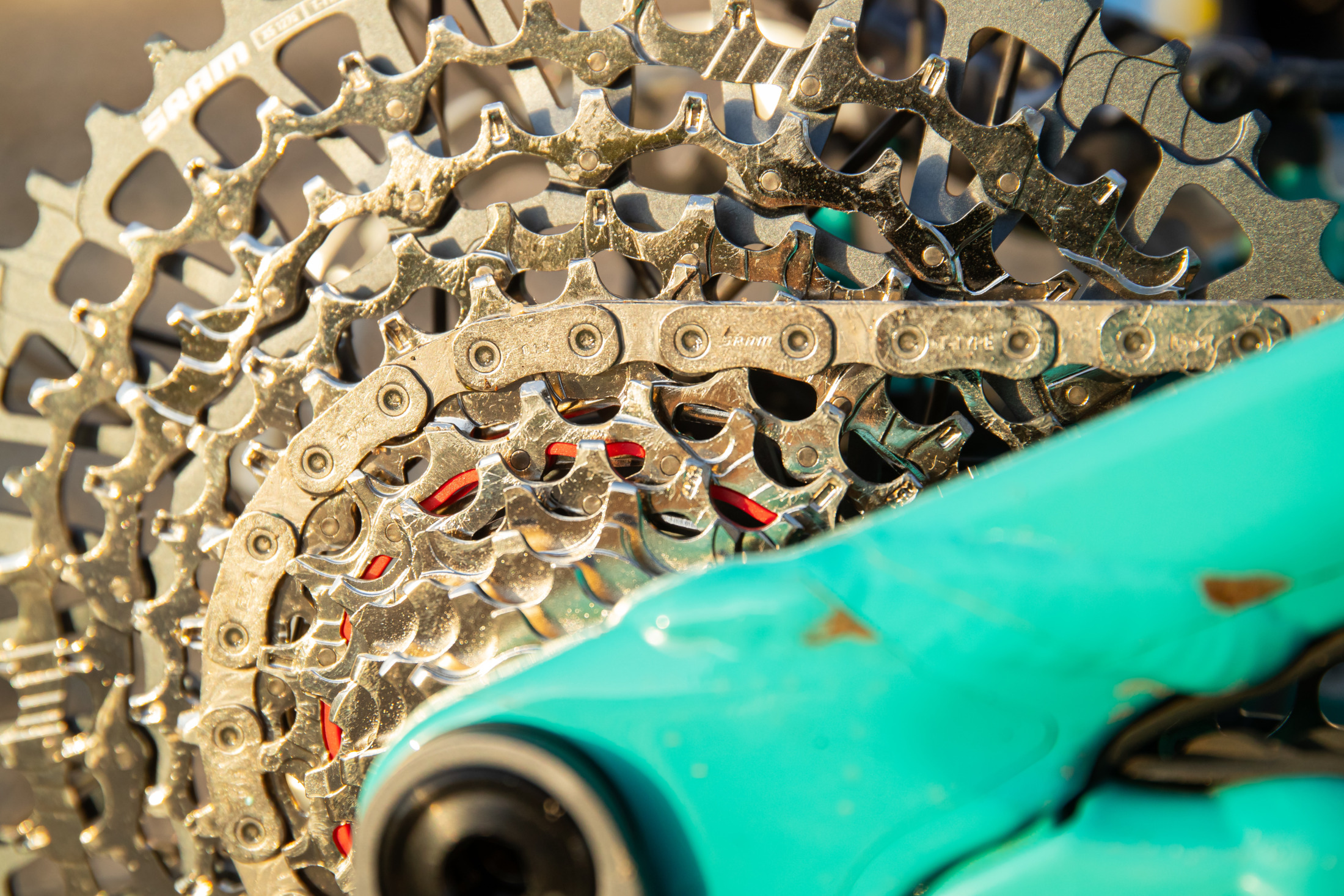 Flow's Verdict
Ever since we first got our hands on the SRAM XX and X0 Eagle Transmissions last year, we've been eagerly awaiting the arrival of a cheaper GX variation. We were certainly impressed by the performance and durability of those top-tier groupsets, but there's no denying that the cost of entry is very high.
Thankfully the SRAM GX Eagle Transmission delivers on that front, bringing much of the same functionality and ease of setup down to a more appealing price point. Indeed its performance on the trail leaves very little to be desired, despite not being that much heavier.
Long-term durability is still yet to be determined, but given we've now got nine months of riding aboard our current XX and X0 groupsets without a single problem, we expect much of the same with the GX transmission.
Keen to know more about the intricacies of its design and the technology behind the clever electronic shifting? Check out our in-depth SRAM XX Eagle Transmission review for the full story.