Let's get the elephant out of the room right from the start.  These rims aren't cheap and rather than harping about the price constantly throughout the review we will talk about it up front.  Yep, $2199 is a bucket-load of money and yes you can buy a hell of a lot of other things for that money – we agree.  Spending that kind of money will not be everyone's cup of tea but if you have the coin these rims are actually very much worth it.  It's not just the sexy factor we're talking about – we have Strava times that show how they improved our speed. [private]
If you don't have the money, don't stress as the prices of these (and other carbon offerings) will surely reduce over time and become more obtainable for the rest of us.  Also, if you need extra justification to squeeze the bank account a little more then these aren't even at the high end of the carbon rim market.  Just keep reminding yourself of that fact as you pass the credit card over to your local bike shop – it will help the healing process.
But let's not talk about money again.  That just gets in the way of things.
We were initially sceptical about the rims.  'How much difference can a carbon rim make?', were our initial thoughts.
To be honest, and this is the 100% truth, we were blown away by how good they felt on the trails and how they actually made us faster.  On the very first ride on one of our favourite well-ridden trails, our Strava times were quicker.  We hadn't been EPO'ing the night before, the rest of the bike was unchanged and the trail conditions were standard.  It was the rims. Their weight savings, their strength, their acceleration, their ability to hold a line, it all added up to make the difference.
Day one of testing we were sold.  Carbon rims rock and SRAM really had a killer with the Rise 60.
Rather than rattling off specification after specification we want to focus on the ride.  The technical details are a nice sound bite used for marketing but how they rode on the trail proved more telling than a bearing count or spoke diameter ever could.  There is one very important specification we do wish to highlight though, and that is the weight.  At 1410 grams for the set (we weighed them ourselves) these represented a significant weight saving from what we had already on our test bike.
That weight saving made a huge difference.  Rolling weight is a big thing and the less weight you have rolling underneath you the better you can accelerate and brake.  In the past the only way to save grams on rolling weight was to use rims that were either super thin or had less spokes than a guitar has strings – all meaning a sacrifice in strength.  SRAM solved all these issues by using super strong carbon (obviously) while still maintaining a 19mm rim width and 24 spokes.
We really noticed the difference in the reduced rolling weight immediately and the bike felt faster out of corners and more playful over jumps and across rocks.   It was like new-bike-fever all over again as it made our old familiar steed feel new again.  The strength was also immediately noticeable and the rims enabled us to hold our lines better.  We cannot explain it (beyond maybe the lack of flex and overall strength in the rims) but rather than the normal deflection and throwing offline that we were used to we were able to hold on to those difficult line choices across rough terrain and through rock gardens.
Another notable plus was acceleration performance.  The rear wheel engages super quickly thanks to a combination of 54 teeth and 9 points of engagement (3 paws @ 3 teeth each) hidden in the freehub body.  Not only did this make the rear hub sound like a dream (oh, it sounds so, so good) but it also made pedal engagement instantaneous.  The speed of engagement may not always be noticeable to everyone but the security of the engagement gives you a certain level of confidence when you're stomping on the pedals.
Worthy of a little special comment is the rim noise – or lack thereof.  Some rims 'ping' and 'pong' as you ride and the noises make you cringe.  Not these puppies.  These rims are quiet and there is no noise at all from the spokes or rims – even when we were hitting rocks really hard.  A nice artefact of the carbon material perhaps, and nice if you love a silent bike (like we do).
Without a doubt the rims are strong.  All up we have been riding these for about 3 months on all kinds of terrain and not all 100% recommended by SRAM for this wheel-set.  They are designed more for cross country riding but we have been giving them a good workout on some big trails including big rocks and jumps.  Even after our abuse they're still straight and we haven't had to touch them.   Don't tell SRAM, but we even threw these onto a 6" travel bike for a week or so and still we didn't get any problems.
The only negative we want to highlight is the lack of tubeless compatibility.  If you run tubes, these rims are 100% perfect and feel free to skip the next couple of paragraphs.
For that money (I know we said we weren't going to talk about money again) we expected them to be fully UST compliant.  They're supposed to be run with tubes but we prefer tubeless hands down and the latter option isn't part of any factory setting.  We converted ours to tubeless using Gorilla tape and a DT Swiss tubeless valve. That combination made the rim airtight, no issue – the issue was more with the rim bead (the part of the rim that locks onto the tyre bead giving that perfect seal).  We felt the rim bead was a little too shallow and thus it was a pain to get a tubeless tyre to get that initial hold.  We were able to do it, but it took some skill, lots of swearing, and a few beers to get them to seal with a compressor.
The other factor that showed the lack of tubeless capability was the leaking and burping we experienced.  They burped more than Homer Simpson at Moe's.  Maybe not that bad but it was enough to notice the Stans sealant on the tyres.  That being said, and to their credit, it never caused an on-trail issue but it did mean that we had to check our tyre pressures regularly before rides.   Also, over the test period they never came off the rim and we had no flats or any other issue on the trail.
Just to reiterate.  The issue was more with the initial setting up of tubeless tyres and some minor burping.  Once set, they actually held air pretty well.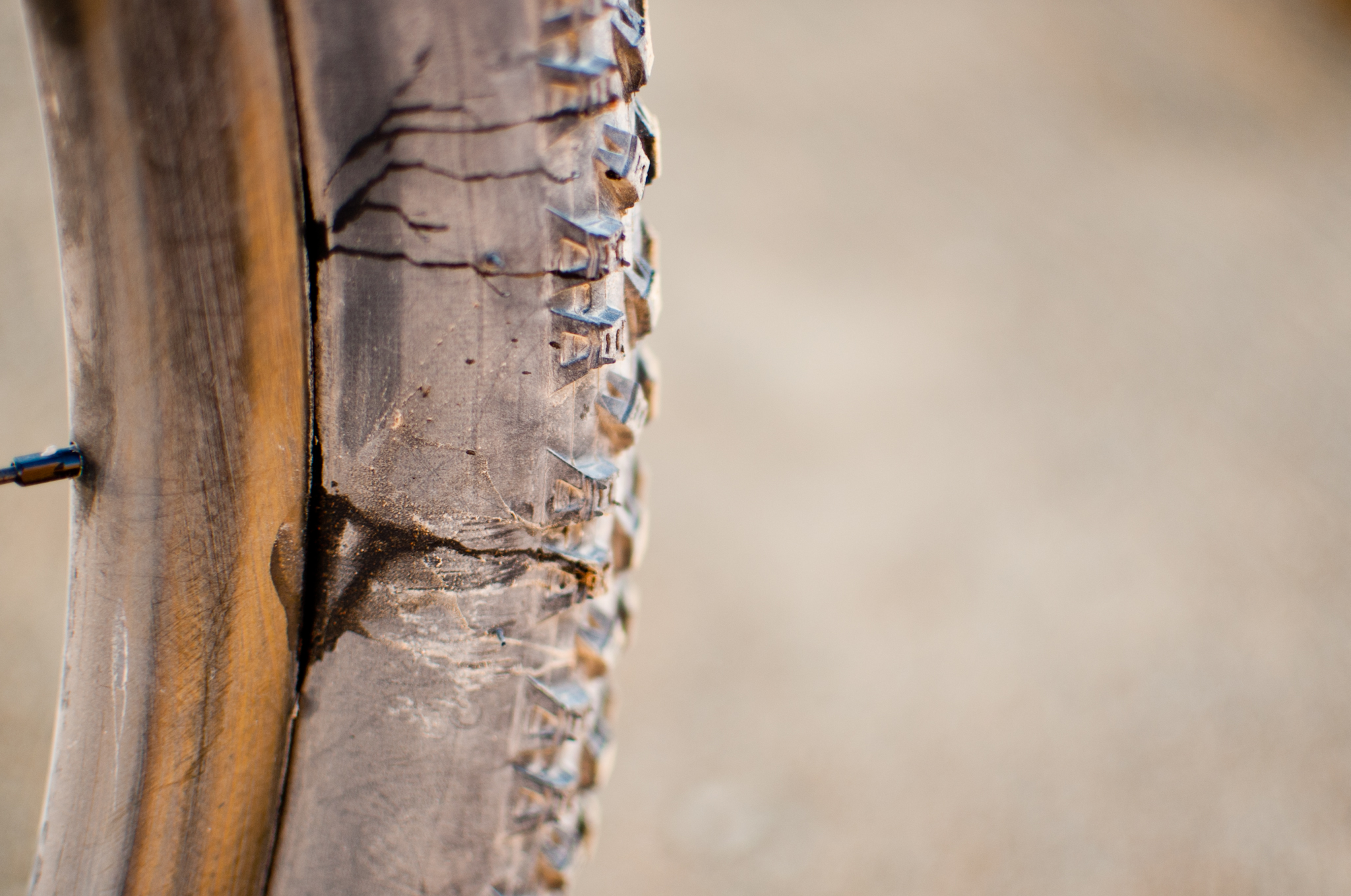 We acknowledge that this 'negative' is essentially by our own design as the rims are not UST compatible, but we think it should be an option.
The rims also come in 29er size ($2399) and whist we haven't tested any yet, we do expect the performance improvements and all the good stuff we experienced with the 26er's to be comparable.  The 29er's may (and that's a big "may") take a little less abuse but a comfortable assumption would be that they would be fine for their designed purpose – cross country riding.
The box came with a myriad of adaptors and sleeves so you can mount them on most bike configurations.  Remember, these are designed for cross country performance so don't expect a big bolt through rear axle or anything that will suit your big travel bike.
We were very impressed with the on trail performance of the SRAM Rise 6o carbon rims.  They were noticeably fast, noticeably strong and noticeably fun….all money aside.
[/private]