The hot new concept in the mountain biking for 2016 is…. trail riding! Yes, the kind of mountain biking that most of us do every day is exactly where we're seeing the development focus across the industry, and this can only be a good thing.
FOX have aimed their heavy development artillery at two of the most important trail riding products in their line up; the 34 fork and the Float rear shock. We've been riding production versions of FOX's 2016 34 and Float DPS shock for a few weeks now, and it feels good to be able to come clean with the details.
Putting it simply, these new products are shit hot. Ride transformingly good. Like you've taken the trail to a dry cleaner and asked 'excuse me, but can you kindly press the living hell out of this, so the bumps disappear?' But let's take a look at what makes them work.
---
A couple of weeks ago FOX released their first tidbit of 2016 product info, with their new 27.5+ specific 34 fork. Hidden in amongst all the blabbing about new axle widths and the rise of fattish tyres (oh gawd) were a handful of references to new technologies that underpin the completely updated 34 fork.
When we say completely updated, we mean it. Barely a scrap of this fork is the same as its predecessor. Chassis, damper, air spring – all new. FOX have also done away with long-travel versions of the 32 fork. The 32 now tops out at 120mm-travel, with the 34 covering 120-160mm, and the 36 taking care of the 160-180mm segment. Clean, easy, makes sense.
The new 34 is filthy light. A 150mm-travel version of the new 34 is lighter than an equivalent 32 series fork. Notably, it's also a fair chunk lighter than a Rockshox Pike too. The biggest weight saving has been made in the air spring, with 90g shaved, by using an air negative spring, rather than the steel coil found on earlier versions – a change we saw pioneered on the 36 RC2 fork last year (read our full review here). The air spring is also more tuneable too, with volume spacers that can be fitted under the top cap to provide a more progressive or linear stroke. We've seen this concept on both the 36 and the RockShox Pike too, and it's a useful feature for the more involved suspension tweakers.
The only downside to the new air spring is that the travel of the fork can't be so easily adjusted. Previous versions could simply be spaced down, but the new 34 requires a different air spring assembly to change the travel.
Over on the damper side, the big news is that the CTD system has been axed in favour of the FIT4 damper. We could delve into a deep and brow-furrowing discussion of oil paths and damper shaft diameters here, but there are two main changes from a usability standpoint. The first is the new adjuster configuration; there are three main compression settings (much like CTD, with open, medium and firm), but there's also a completely independent low-speed compression adjustment. The central black dial has 22 points of adjustment, giving you a much broader and precise range of control over low speed compression, similar to the 36's RC2 damper.
The second big damper change that users will notice is an all new rebound assembly, which is designed keep the fork riding higher in its travel, particularly after big impacts. Beginning stroke rebound (i.e. for smaller impacts) can be set quite slow, for a more stable and planted ride feel. But on bigger impacts the fork will rebound more quickly to recover from heavy compressions, helping avoid getting bogged down deep in its travel.
Finally, FOX have made some huge leaps in terms of service requirements for their forks. Through better sealing and more advanced lubricants (especially the new Gold Oil), service intervals are now 120 hours of riding, which is far cry more manageable than the 30-hour intervals of yesteryear!
But it's not just the front end that gets the love this year, and FOX have also made some big changes to the Float and Float X rear shocks too. Most obvious change is the new EVOL (extra volume) air sleeve, which will be retrofittable to older FOX shocks too. This is more than just an extra volume air can, as we've seen in the past. The EVOL air sleeve is all about increasing the volume of the shock's negative air spring. This has a number of positive effects.
Firstly, there's improved bump sensitivity in the initial parts of the stroke. Secondly, the EVOL air sleeve provides an overall flatter spring curve, with more support in the mid-stroke (helping alleviate that wallowing feeling that can afflict some longer-travel air sprung bikes). Finally, the EVOL air sleeve helps slow down the shock's rebound as it nears full extension, which should reduce the likelihood of getting 'bucked' over the bars after heavy compressions, particularly off the lip of a jump.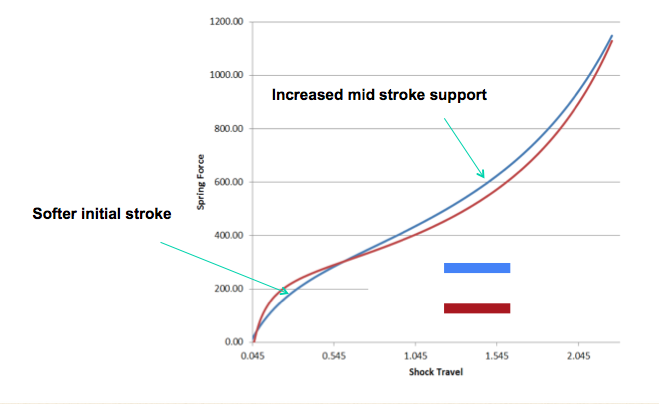 There has also been a huge re-think of the shock's damping, which has led to the new Dual Piston System design and the ditching of the Boost Valve system. Again, we'll avoid teching you out too much here, and stick to what's actually noticeable for the user.
While the external damping adjustments are the same (CTD lever, with three position Trail Adjust), the firmness of the lockout (or Climb mode) has been increased significantly. At the same time as making this setting firmer, the level of damping control provided once your blow through the lockout has also been improved. On Boost Valve shocks, there was often inadequate compression control once you'd pushed past the initial lockout platform, but this has been rectified. If, like many cross country racers, you like to run your shock in Climb mode a lot, this change will definitely be appreciated.
---
Ride time! Our 34 fork and DFP shock were fitted to a Yeti SB5. We selected this bike as our test beast, not just because it has been on our must-ride list for a while, but because its Switch Infinity suspension system was designed in conjunction with FOX. With 127mm rear travel, the SB5 can be run with a 130-160mm travel fork. Given the choice, we opted for a 140mm, to keep the bike more in the realm of a trail bike, and not push it into Enduro territory (Jared Graves has been racing an SB5 with a 160mm fork).
Following FOX's setup guide, we ran 63psi in the fork, and set the rebound 9 clicks from fully closed. Ultimately we slowed the fork down even more, running it 7 clicks from full slow. We dialled in a few token clicks of low-speed compression too, though we're not certain we really needed it. The shock was set up with just shy of 30% sag.
Any brand new fork and shock will always feel good, but the way the wheels of our Yeti tracked the terrain from the very first ride was pretty insane. Both fork and shock are as close to frictionless as we've ever experienced – constantly in motion.
Interestingly, this responsiveness was probably appreciated even more in the shock than it was in the fork. On rolling and moderately rough terrain, the shock offered no discernible transition from compression to rebound either – it sounds ridiculous, but the sensation was hover-esque.
We rarely find ourselves utilising the Climb mode on FOX rear shocks around our home trails, as they're generally pretty rough. But what little experimentation we did certainly revealed a very firm level of lockout, so that should satisfy the hammerheads out there.
For suspension testing, the most challenging trail in our region is one that we affectionately call the 'Milkshake'. It's noted for having long, fast straights of rough sandstone, filled with holes that are just perfectly distanced to bottom out both fork and shock simultaneously. The kind of trail where you do a fair bit of teeth clenching and praying.
It was here that the new 34 and DFP shock really shone, delivering the kind of stability you don't normally expect for a bike with just 127mm of rear travel. We're accustomed to that awful bucking feeling of running out of front travel right at the exact moment your rear shock starts to reach full extension, but our SB5 kept things bizarrely composed.
Yes, it's a kick arse bike, but we feel a lot of credit must go the rebound control of both fork and shock. The way the fork quickly digs itself back out of trouble after a solid wallop, combined with the rear shock's more gradual rebound as it nears full extension, gave us more confidence to wallop square edged hits. And the sheer smoothness and responsiveness of both fork and shock is pretty amazeballs too.
We can see a lot of riders opting to fit the EVOL can to their existing Float shocks, and the 34 fork is a huge improvement over the CTD equipped forks of the past couple of years. Obviously long-term testing will reveal more, but at this early stage FOX appear to have hit the trail-riding nail on the head with a freaking big hammer.