FACT: There are almost as many bikes in the Avanti range as there are sheep in New Zealand. This well-regarded Kiwi brand has options from some of the sweetest beach cruisers going, through to triathlon, road and of course mountain biking. They're very much the big little brand.
The Ridgeline Carbon 2 is Avanti's peak cross-country dual suspension offering; a taut and efficient 100mm-travel carbon main-framed machine. With a few long days on the trails planned scouting out the Port to Port MTB course, we thought the Ridgeline would be just the ticket.
Build:
Magic plastic out front, metal out back. The carbon/alloy construction combo of the Ridgeline is a sensible choice, making for a light yet robust frame. That's really the gist of the entire frame build – light enough, but built for the real world, where crashes and cack-handed riding happens.
From the stout head tube, to the oversized PF30 bottom bracket shell and compact dimensions of the front triangle, this is a frame that is built to resist twist. The rear end keeps that theme running, with what Avanti call their Integrated Rocker, which is really just a massive welded rocker link. This link drives a FOX CTD Evolve shock, for 100mm of suspension travel.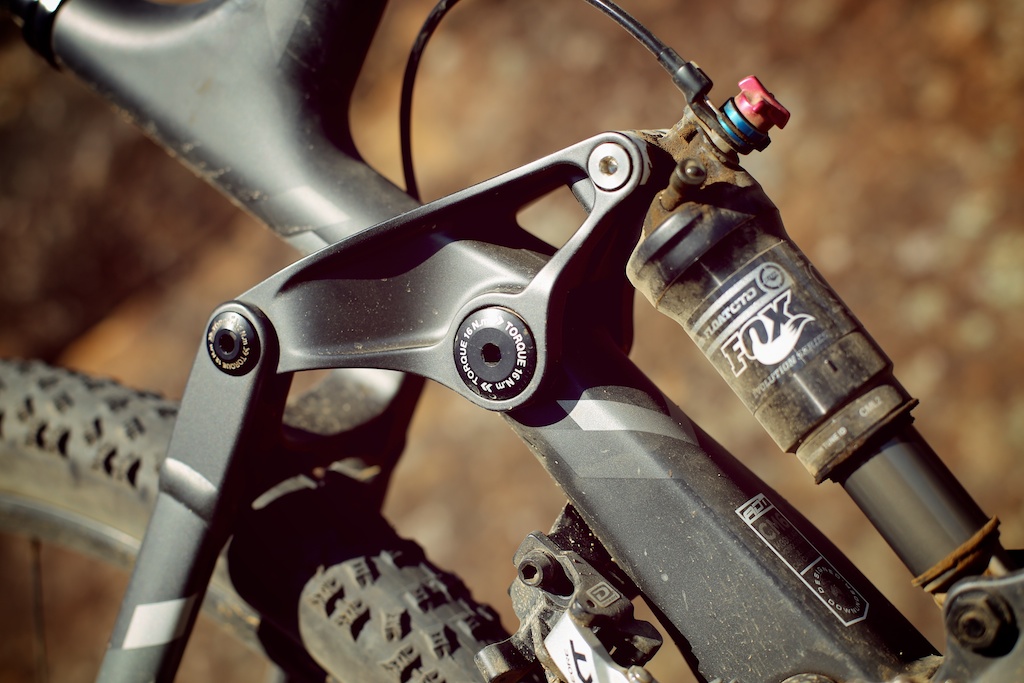 There are no undersized pivots, just large diameter bearings, all culminating in a Syntace X12 rear axle which ties the whole rear end together ferociously. Wibble wobble like jelly on a plate, she does not.
Lockout cables have the potential to ruin a bike's clean lines like bird crap on a freshly polished Benz, but Avanti have done a decent job of preserving the bike's aesthetics, with the shock lockout looping up to launch a surprise attack from behind the seat tube. The gear lines are internal through the front triangle too.
One element of the compact front triangle is the short seat tube, which is bizarrely paired with an overly short seat post. Our medium sized test bike was so low slung in this area that we had to run the seat post just beyond the minimum insertion point (DON'T DO THIS) in order to get the right seat height. As as many will attest, our test rider for this review is quite a stunted fellow. Taller riders will need to buy a longer post or opt for the more stretched-out ride and taller seat tube of a size large.
Spec:
Shimano XT is a truly ace groupset. When you say 'shift', its only answer is 'how fast, sir?' The brakes still have the best lever feel of any offering on the market (in this reviewer's opinion anyhow) and while 2×10 drivetrains aren't as hip and happening as the latest 1×11 setups, the gear range is much appreciated.
Wheels are one of the most important items on a 29er, and they can really make or break the way a bike rides, so it's fortunate the Avanti have gone high-end with the rolling gear. The DT X1600 wheels are light and the hubs have the hassle free performance you want, especially if you plan on tackling longer events or stage races on this beast.
Unfortunately the Kenda Slant Six tyres are an overall poor choice. Too narrow, too heavy for their meagre tread, and frustratingly stubborn in their refusal to be converted to tubeless. We wasted a lot of sealant trying to get these buggers to seal up before reinstalling the tubes.
Some will love the dual remote lockout, made by Shimano for Fox. It allows you to simultaneously toggle the fork and shock between the three compression settings: Climb, Trail or Descend. On the whole, we think it's a great system, though occasionally we did wish we could just adjust the rear shock to Trail or Climb mode while leaving the fork in Descend. It's the kind of feature that racers will undoubtedly love.
For the price tag, we do think it's a little disappointing that the Ridgeline misses out on a carbon bar or seat post. It's still a good value bike, but some carbon in the cockpit would've been a nice touch.
Ride:
This bike oozes reliability on the trail. Despite some horrendously dusty riding, the Avanti never so much as murmured during our testing, remaining tight, true and quiet. That's the exact traits you want if you're planning on racing this bike, so you can just concentrate on the pain you're in, rather than worrying about the bike!
With 100mm travel, you shouldn't expect a plush ride, and the Avanti is certainly on the firmer side when it comes to suspension feel. Even though we had no troubles extracting full travel when needed, that upper half of the suspension stroke is fairly stiff. It kind of suits the bike's style though, and we embraced the notion of switching the fork and shock into Trail mode and getting out of the saddle to attack climbs. With the firm suspension and stiff frame, it really responds well to hard efforts. We think that changing the tyres to a tubeless setup with slightly more volume would make a lot of difference to this bike's compliance over the small bumps. We also diligently cleaned and sprayed fork legs with Finish Line Max Suspension spray before every ride, as we did find the fork had a tendency to get a little sticky in dry, dusty conditions.
Speaking of compliance, the saddle on this bike treated our undercarriage like we had just insulted its family. Damaging stuff. But anatomy is personal, so maybe it will suit you better!
In terms of handling, Avanti have the numbers spot on for cross country riding. The 70-degree head angle is stable enough for all but the roughest, fastest riding and still sharp enough to slot into a single track corner nicely. With 447mm chain stays, it's not overly 'flickable' but it settles into long turns well, and the climbing position is nice and neutral as well, so there's not a lot of weight shifting needed to maintain traction. With some tyres that deliver a bit more bite, we'd like the Avanti's handling even more.
Overall:
This is a very solid offering from Avanti, both figuratively and literally. As a cross country machine, it feels a damn sight more reassuring beneath you than many others, but without becoming too hefty. It's a great overall package, and one we'd happily put in the same league as bikes like the Giant Anthem or Trek Superfly as a ready-to-roll marathon, cross-country or all-day machine. With a new set of tubeless rubber, and perhaps a carbon bar or post, the Avanti would reach another level too, so keep some change aside for these little upgrades down the line.