Those who know me are probably tired of me banging on about my favourite bike that I ride all the time, yeah, yeah it's the Norco Sight 29er. This one is getting a little long in the tooth now, although the 2017 model carries on unchanged into the 2019 season, minus a few spec tweaks and longer travel forks. Reflecting its long tenure at Flow, with four different wheelsets, three drivetrains, five forks, three seatposts, and countless km, we have enjoyed having one bike to try so many parts on for a clear picture of how each product impacted on the bike's behaviour and performance.
Since our last update, we have had quite a few new parts to try out; fork, wheels, drivetrain, tyres, cranks, seat post and Bluetooth tyre valves. Plenty!
---
Cane Creek Helm Coil fork.
Let's start with the fork; a new experience for us, our first time on a Cane Creek fork, and many years since a fork with a coil spring inside!
Coil sprung suspension has come back in vogue steadily over the last couple of years. Coils have always been the norm in downhill, but with EWS racers using them on particular tracks, it legitimized it to a degree, to be used on bikes with lesser travel, and for suspension brands to expand their coils sprung offerings.
While FOX and RockShox don't offer a single-crown coil sprung fork, other major players like MRP, Öhlins, and Cane Creek do. We wonder if the big two are working on something, or they are happy enough with their air sprung forks at the moment?
Why coil? Generally speaking, the inherent properties of coil sprung give the suspension a very supple and sensitive action, with less moving parts than an air spring they can react with lower levels of force. Though in comparison to an air spring, they add weight and lack a certain degree of progressiveness as the suspension nears the end of the stroke. Coils tend to maintain consistency when temperatures rise, also.
Air spring suspension is obviously infinitely adjustable, adding and subtracting air pressure to nail the desired sag, while a coil requires swapping out springs for different weight options.
The 35mm legged coil fork gains 260g over the air version with the same damper and chassis (air: 2080g, coil: 2340g).
Travel is adjustable between 160mm and 130mm in 10mm increments.
Riding the Helm Coil.
We love the way this fork feels on the trail, it's so very sensitive and smooth, and when pushed hard the support is fantastic. Turning the bike on an off-camber section of trail littered with roots is a place you really feel the fork's light breakaway threshold is its strength, creating a very active fork.
Better than a FOX or RockShox, then? It's hard to put a finger on what exactly makes the Helm Coil feel so different on the trail and to make a definitive call if its a better system than the best offerings from FOX or RockShox. While we haven't been able to test it to its limit on long descents, or at EWS level race pace, we feel it's close to the quality and damping performance of the big two, but we'd still have a hard time giving up a FOX fork with a FIT damper for anything.
What we like.
The fork is very supple and sensitive, which aids traction over chattery terrain and reduces fatigue in the hands.
Travel adjustments are so easy, with no additional parts or purchases required, at any home garage, with no degree in suspension mechanics or fancy tools required.
Solid and robust chassis, with a slick stanchion action and little stiction.
What we don't.
Cane Creek's attempt to reinvent the humble quick release axle may have failed, sorry guys, but taking the skewer in and out should not be that tricky. It requires more than one hand to manage, and watching someone use it for the first time, and figuring it out is too painful.
Those bling'n compression adjusters are sharp on the hands, gloves only!
The coils do rattle a little bit inside the fork, but not loud enough to hear on the trail, just when bouncing around the carpark.
Changing coils isn't as quick and fine as adjusting air pressure.
---
Continental Baron and Mountain King tyre combo.
Ok, we're not going to hold back at all here; this tyre kicks some serious ass! While an aggressive tyre like this won't suit everyone, we can't get enough of the way that it tames the trickiest type of dirt, the loose, dry, deep, soft and sketchy trails. The combination of a very open tread pattern, tacky yet supportive knobs, tall shoulder tread and a robust casing make this tyre something you can really count on.
We'd draw comparisons to the Maxxis High Roller, the way it bites the trail rather than sticking to it, holding on pretty hard when leant over.
We matched it to the Mountain King out the back, which may not have been the most logical combination as they are two very different tyres, but the trails we ride this bike mostly didn't require such a big rear tyre. The rounded and lower profile shape gave the rear wheel a good dose of speed, and the tradeoff is certainly less bite than the Baron on the front. But those who've tried running a gripper tyre on the front than the back will appreciate how you can steer the bike through the turns by leaning over the front and letting the rear drift around behing you.
---
SDG Tellis Dropper Post.
A relatively new player to the highly saturated dropper post market is SDG, known primarily for their long history of making saddles, their foray into the world of droppers would have to be special for it to stand out. Their whole approach is about simplicity and value, ease of installation and accessibility to maintenance.
We've had this one fitted to our Norco for many months and it's going really, really well, up and down nicely. It was a absolute snack to install, having the cable head fixing at the seatpost end helps keep life simple.
On the trail the Tellis is a quiet achiever, somewhat vague in it's actuation when compared to a FOX Transfer, Specialized Command Post or RockShox Reverb, the thumb lever feels so light to push with a long throw, it lacks a tactile feeling that it's actuated. The thumb lever is positioned like a mirror image to the Shimano XT thumb shifter on the other side, so it's a natural action to actuate when riding.
Probably the most important test for a dropper post is how it fares in bad weather, and how much side-to-side play it develops over time. So far, it has impressed us on both accounts, with no change in its action after plenty of winter rides, and a totally acceptable amount of play. It does move up and down a little, lifting the seat when not at full extension there's about 3mm of movement, though nothing noticeable when riding.
With an RRP of $439, we'd recommend the Tellis, for sure.
---
FSA SL-K Modular Cranks.
Full Speed Ahead wheels and cranks have been fitted for a few months, and have given the bike fuss-free performance. The SLK cranks use a new modular system that lets you tune the chain line and swap out spiders easily for different chainring sizes. Their carbon arms and one-piece ring and spider let it achieve a highly appealing 485g weight, only 60g heavier than the SRAM XX1 DUB SL cranks, but significantly lighter than Shimano XT and about 110g lighter than 9000 series Shimano XTR.
The carbon arms come with a protective sticker to ward against damage to the nice finish from shoe rub, but it's next-t0-useless and began to peel off after the first ride. There's no protective boot like many other popular carbon crank arms either, so we weren't surprised to see the nice finish marked up underneath from striking against rocks on the trail.
The 11-speed cranks retained the Shimano chain perfectly, no dropping, with no chain guide too. The rings are dead-quiet when pedalling, and didn't grind against the chain when the trails turned muddy.
The SL-K cranks have been a good experience, despite the protective stickers peeling off, we'd recommend them for their adaptability of different chain lines and boost/non-boost compatibility, low weight and great chain retention.
---
FSA Afterburner Wider Wheels.
While the end goal for us trail riders is always expensive carbon, a pair of aluminium wheels will always have a place. This set of wheels come from a company with huge experience in components found anywhere on your bike, and their new Wider wheels bring them right up to speed with the latest trends of wider and lighter wheels.
At 1720g and $1,211 they are competing against many carbon wheels on the market in terms of weight, but with a much lower price tag, and with 27mm internal width rims, they suit the all-round trail/all-mountain market where traction and durability are paramount.
We've given these wheels a pounding, and they are 100% true, tight, and rolling smoothly. Coming off a set of carbon Bontrager Line 30 wheels, the Norco may have lost a little bit of zing that carbon wheels do, but they feel very compliant and smooth over the chattering terrain.
The rear hub bearings do feel a little under the weather – so to speak – rolling rougher than we'd expect at their age, worth noting. Perhaps they aren't as well sealed as we're used to.
Setting up tubeless was refreshingly simple, with the supplied valves and rim strip up to the task, with no struggle.
We're glad we tried these wheels out, it proves that a simple set of aluminium wheels can be a great upgrade to a bike if you're looking for a bit more width for a more compliant ride and increased traction.
---
e*Thirteen TRS 11-Speed Cassette.
Giving a larger gear range than most 12-speed drivetrains, this cleverly designed cassette from e*Thirteen provides a 511% gear range with a tiny 9T sprocket right down to the 46T. The tooth count is 9-10-12-14-17-20-24-28-33-39-46t.
We swapped out our SRAM Eagle 12-Speed drivetrain for this setup for review and this all went well.
The tiny 9T really requires a dialled drivetrain for it to be of effective use, we rarely shifted up to it as our drivetrain wasn't exactly brand new, and shifting up and down the cassette was not as smooth as the Shimano XT kit or SRAM Eagle it replaced.
Shifting feel and usability of the 9T sprocket aside, this product is a great option for those wanting to add gear range to an existing 11-speed drivetrain without going all-out on a new drivetrain, though it does require an XD driver body (SRAM).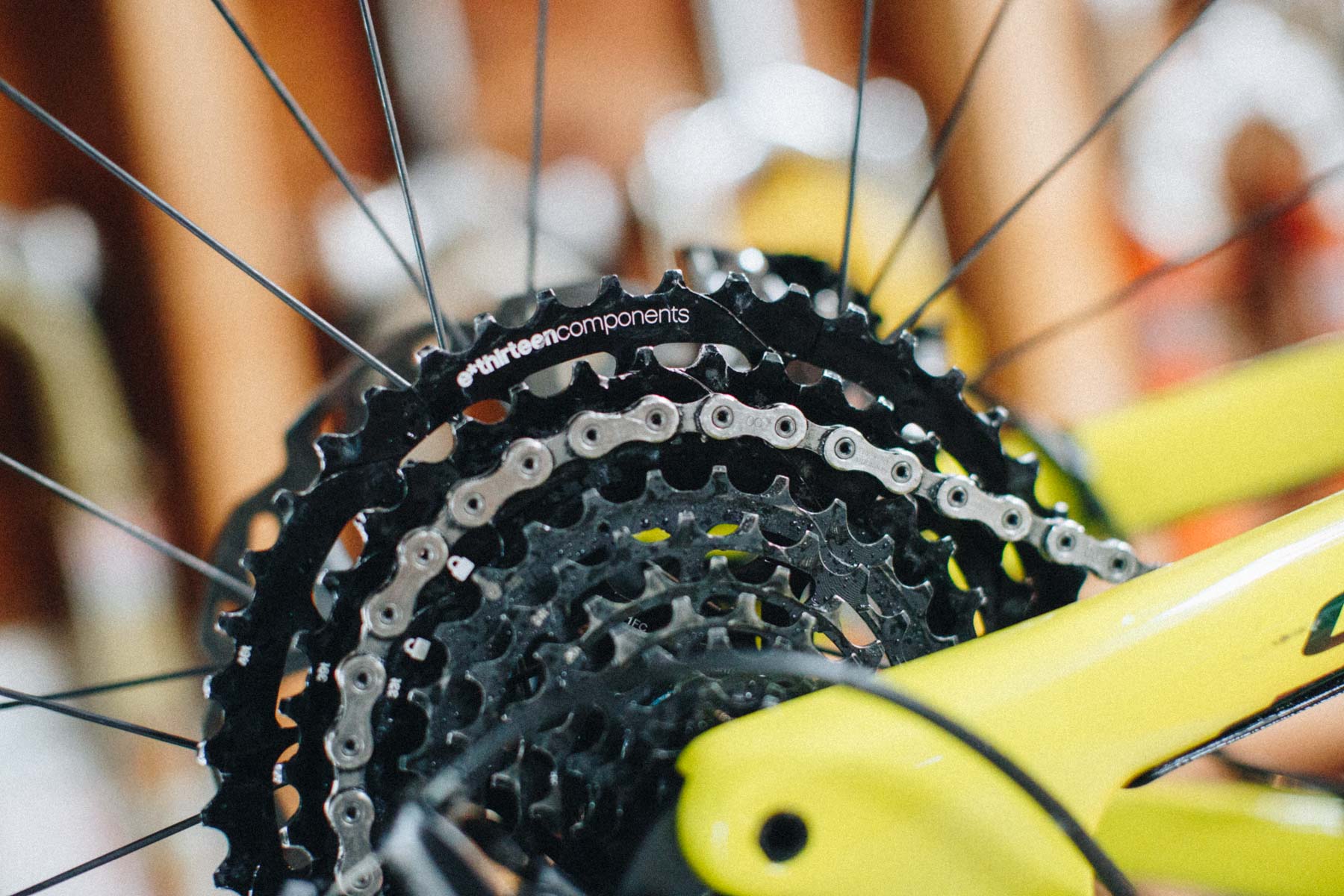 ---
Quark TyreWiz.
This is a bit of an odd one… We are incredibly picky about tyre pressure, with a gauge going on our tyres each ride without fail. We keep one digital gauge in the garage, and one in the car or travel bag. Knowing and keeping a consistent tyre pressure is imperative to our bike testing process. A slight change in pressure has a great impact on how a bike rides. Though this isn't exactly groundbreaking news, this little device is!
Do we need a device to tell us tyre pressure on our phone? Well, no, we do not, but you might.
It does do some pretty cool things though; it can be read on your GPS or phone via ANT+ or Bluetooth, and it can be programmed to sound an alarm when pressures go out of set parameters. So if you've got a flat, slow leak, or a burped tyre you'll know about it.
This gadget comes from the SRAM group Quark, the crew that brought us the very useful ShockWiz, a product we use on most test bikes. Check that out here: ShockWiz suspension tool.
Stay tuned as we announce a new long term test bike, soon!