Choosing a bike isn't as easy as one, two or three. It's tricky, with a market loaded with brands and options. And then there is the wheel size thing, a painstakingly irritating mess of conflicting opinions and bold marketing hype. What wheel size is best? There is no best. But when it comes down to a short travel dually like this one, 100mm of travel and 29" wheels go hand in hand like your first marathon and a sore arse.
Build.
This frame is unmistakably carbon, it looks more like a carbon bike than many bikes out there with its lustrous woven carbon finish under a glossy clear coat, and swoopy curves. The Edict is a lovely bike to look at, glistening and shining in the sunlight like a swimwear model in a sun shower, we do like its appearance.
To us, the most unique element of the frame construction is the suspension pivot layout, look closely and you won't see a pivot near the rear wheel like you would normally expect. The frame's suspension design relies on a slight amount of flex in the carbon material on place of a pivot.
This system has been around for years in short travel bikes, and makes sense, as those little pivots on the seat or chain stay near the rear wheel really only rotate a couple of degrees as the suspension compresses. So if replacing a bearing, pivot casing, hardware in a frame join can be possible, the result is a lightweight and simple solution to a moving part.
The cable routing adds to the smart finish with the gear cables disappearing inside the frame, hiding and simplifying the look. The rear brake however still runs down above the down tube quite loosely, rattling against the frame, we'd recommend silencing it with another zip tie or tape.
We did have a fairly prominent issue with the Felt's linkage hardware unfortunately, where the rocker arm joins the rear end the pivot axles floated side to side. We checked the pivot bolts for the correct tension, but that was not the issue, it didn't clamp up tight. It appears that the whole pivot axle is floating in the pivot.
We couldn't say that we noticed this when riding, but any play in the suspension linkages will only ever worsen over time. We contacted Felt to see what could be the issue, we plan on updating this review with any feedback we receive.
Spec
A full Shimano XT/Deore kit with decent Mavic wheels and Rockshox shockies deck out the Edict, and after a few good long rides we found ourselves very happy with the parts used and the way they suited the bike's nature. We loved the Shimano brakes, the solid lever feel and decent power are winners.
The Shimano XT double chainring setup gives a huge gear range for grinding up steep pinches and tapping out on fast open trails, we never felt short on gears when trails turned upwards. We would have preferred to see a Shimano XT Shadow + derailleur instead of the non-clutch XT version, the clutch derailleurs help silence the bike and secure the chain on the chainrings for a minute weight penalty, its odd that the Edict is without one.
The wheels look hot, and rolled along nicely, but make sure you don't hang onto the Continental X-King tyres if you plan on riding only hardpack-surfaced trails as they prefer to spike softer ground rather than sticking to rock or hard, drier dirt.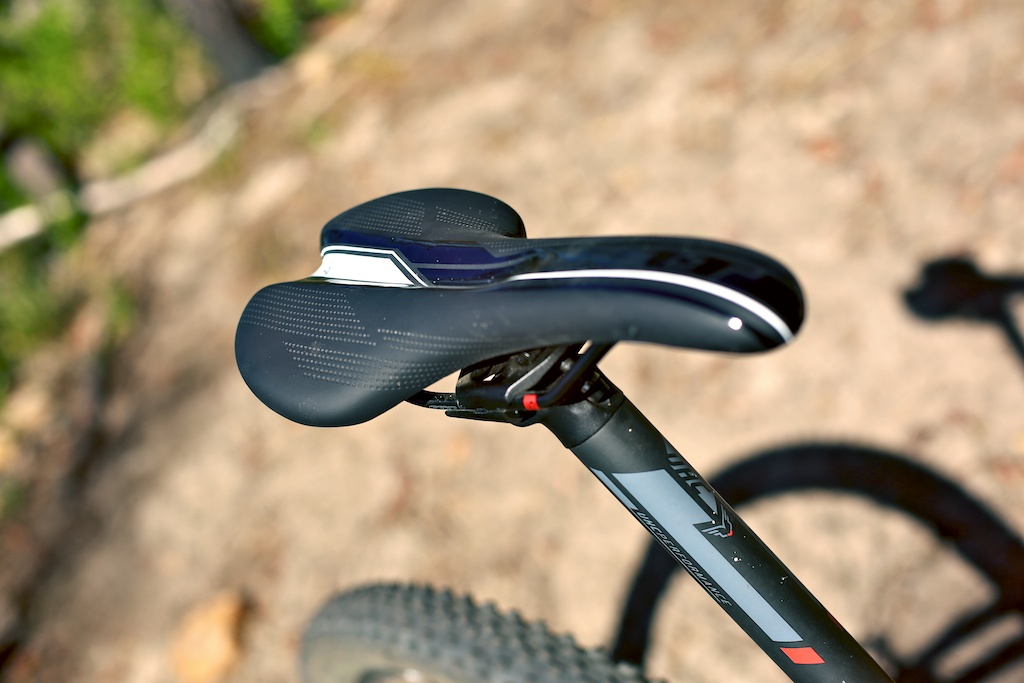 A carbon seat post and handlebar make for a nice touch, and there aren't many grips that say lightweight like ESI silicone ones, favourites of ours too. We'd also be happy to sit on the stock saddle all day long, it's a comfy and slim number and easy to move around on.
Our main spec woe was the fork, and it actually became quite a dominating element of the ride quality. The Rockshox Reba feels nice and supple, with a very user-friendly remote lockout but we found it to bottom out harshly way too often.
Even with more than the correct air pressure, the fork blows through the travel, falling to the bottom under mid-size impacts and even under front braking. The rear shock however was quite the opposite; the spring rate is very progressive, ramping up hard towards the end of the stroke, making it difficult to gain full travel.
Ride
Long, low and sharp is the order of the day, in true marathon racing style. The Edict hums along a racetrack, or fire road like a race bike should. It means business, and handles the trails at a consistent pace, maintaining speed up and over climbs. It's not a play bike, nor does is like to be pointed down steep and rocky trails, it's all about covering ground efficiently.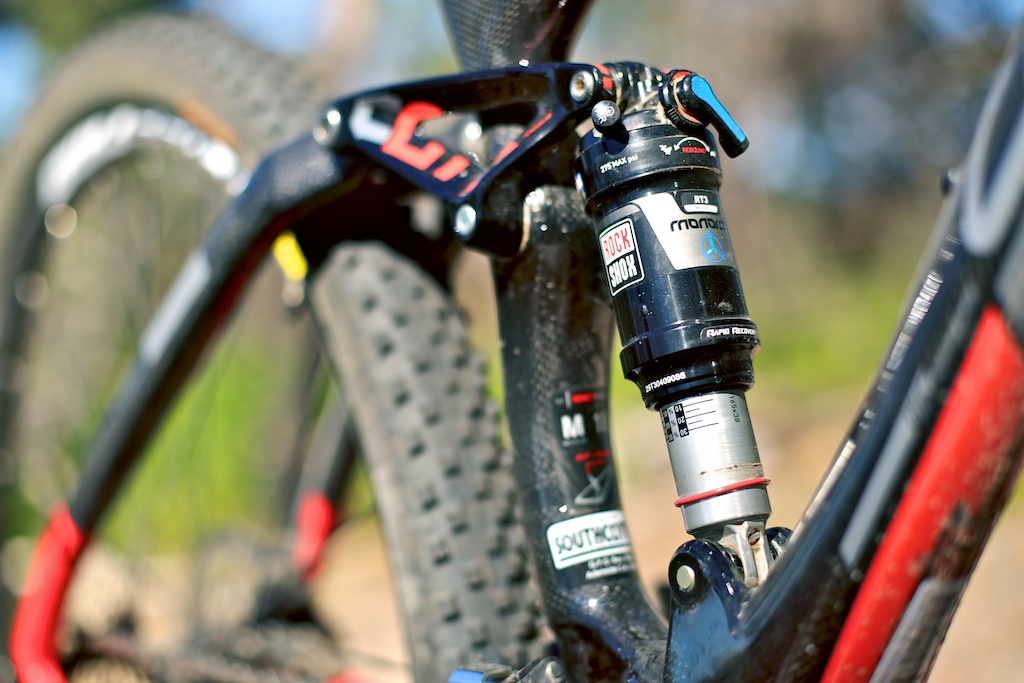 The 100mm of rear travel feels quite firm, but not in a harsh way, you don't seem to feel the rear shock motion up and down at all, even when you bounce on it. But it simply does its job, using a small amount of travel to take the sting out of the trail, without bobbing about or robbing you of energy.
The length of the bike is one geometry trait that boosts climbing and long fast trails. Feeling very stretched out and low the Edict will claw its way up a climb quite easily without the front end lifting and wandering around in your hands. We love the way it finds traction up a climb; it's a very capable ascender.
Descending confidence is in line with what you would expect from a bike that rolls so fast and climbs so easily, the compromise is totally fine with us. It prefers to take long and gentle lines into corners when up to speed, don't expect to be drifting turns or jumping obstacles on the Edict, it's a mature ride.
Verdict
When it comes to selecting a bike for marathon racing, carbon 100mm 29ers are pretty hard to beat. They fit that category nicely, with low weight and with minimum suspension to reduce fatigue.
The Felt Edict would be a fantastic tool for the 100km events, 24 hour events, or if you're that type of rider that races your mates or the clock each time you ride. We'd recommend seeking a bigger travel bike if you plan on riding steeper terrain, or wilder singletrack though, this thing has a strict purpose. Racing, fast and munching down miles of trails washed down with electrolytes and energy gels.