Liv/Giant are clearly committed to women's bike design and innovation. In 2014 they were the only brand to manufacture a comprehensive range of alloy and carbon bikes exclusively built around the 27.5" or 650B wheel size.
In 2015 we'll see these products launched under the name Liv (without the Giant). This designates a confident and purposeful step toward a section of the market that's thankfully getting the attention it deserves.
The Giant Lust 27.5 2 is the latest in a growing number of women's bike tests at Flow. With a minimal 100mm of front and rear suspension, it's the obvious choice in the Liv/Giant range for women looking at making a serious jump into the world of mountain biking. It's also an interesting opportunity to reflect on whether the Liv brand is heading in the right direction for the varying needs of female riders.
[divider]Build[/divider]
Our alloy test Lust features the same XC race geometry as the carbon Lust Advanced 27.5 0, but in a package that is $2,500 rather than $7K; a difference of quite a few dollars per gram, a ticket to Europe or a new Ikea kitchen (OK, maybe not the whole kitchen).
In comparison to the men's counterpart, the Giant Anthem 27.5, the Lust geo has a few key changes to fem it up. These include a tighter wheelbase, lower standover, slightly shorter reach, and a taller head tube (the bit at the front of the bikes that the forks run through).
The idea behind these changes is that they reflect a generally shorter torso length in women, and add agility and confidence in smaller frame sizes. The Lust is only available in sizes XS-M. Giant have found a way to incorporate these features around their well-loved Maestro suspension and maintained enough clearance for a full size water bottle. Functionality through and through.
The ALUXX SL alloy frame uses the same 'OverDrive 2' head tube technology as Giant's racier bikes. We can't say we noticed the claimed extra stiffness or steering precision in a bike of this spec. What we did notice was that OverDrive2 system requires a stem with a different diameter to other popular bikes on the market. This means owners are more or less locked in to using Giant's own stems.
While we appreciate that the Lust frame has a taller head tube to suit a broad number of women riders, we would have liked to be able to purchase a stem with a steeper angle to let longer torso-ed or racier minded users lower the height of the front end. Unfortunately Giant Australia don't currently stock this. This forces local customers off-shore and into best guess set up scenarios, hopefully something that will change in the near future.
[divider]Spec[/divider]
Wherever you stand in the wheel size debate it's not hard to appreciate the benefits of 27.5 for smaller riders.
Riders we met during the test period were consistently quick to comment on the value for money the playful looking Lust 2 offers in terms of the spec. It's basically a no nonsense build drawing on technology that top level racers were peeing themselves to use about five years ago, assembled around the latest craze in wheel size. Wherever you stand in the wheel size debate it's not hard to appreciate the benefits of 27.5 for smaller riders. They offer some of the extra rolling ability of 29" hoops, without the so-called disadvantages in cornering and acceleration. More than that, they allow for XS-M frame designs that promote a very nimble and responsive ride feel.
At 13kgs this model isn't particularly light and there's obviously some weight that could be quickly shed by swapping out the Giant branded wheelset. But unlike a 29er at a similar price point, riders will be far less conscious of this weight slowing them down.
The Shimano and SRAM componentry are the other big brand names that turn heads on this blue and purple plaything. The 22×36 SRAM crankset offers slightly easier gearing than the 24×38 tooth chainrings you'll see on the Anthem 27.2 2. The Shimano Deore Shadow Plus rear derailleur keeps everything quiet and secure at the rear. We never dropped a chain, nor did we wish for gears (or legs) we didn't have.
The Shimano brakes are in the identified-by-numerals-rather-than-words end of the range. We were surprised to discover that they weren't very bitey when called into action. The positive side of this is that the brakes won't grab too hard or fast, which can be irritating or disconcerting for developing riders. The negative is that once we got the bike up to speed we had to compensate for a lack of braking power by quickly exaggerating our body position to stop the bike shooting off into the bushes. This improved our riding dramatically, but if we were to buy this bike and ride it in this way regularly, we'd absolutely upgrade the brakes for increased control.
Other contact points were taken care of nicely. The 690mm bars and the 170mm crank length were spot on. The Giant women's saddle was a good shape, although the soft parts were a bit too soft, making the structural parts feel a little hard.
[divider]Ride[/divider]
The 27.5" wheels make the Lust so playful and responsive that we quickly zoned in on the trails and completely lost track of time, the way all good rides should be
Whether you're carefully thinking about buying your first serious mountain bike, or a hardened dirt shredder curious about the latest technology and a shiny new ride, the first thing that stands out about this Lust is how comfortable and agile it feels. It blew us away at what can be achieved at this price point. Satisfaction is even higher in this regard due to an out-of-the-box build that is so spot on we hardly changed a thing.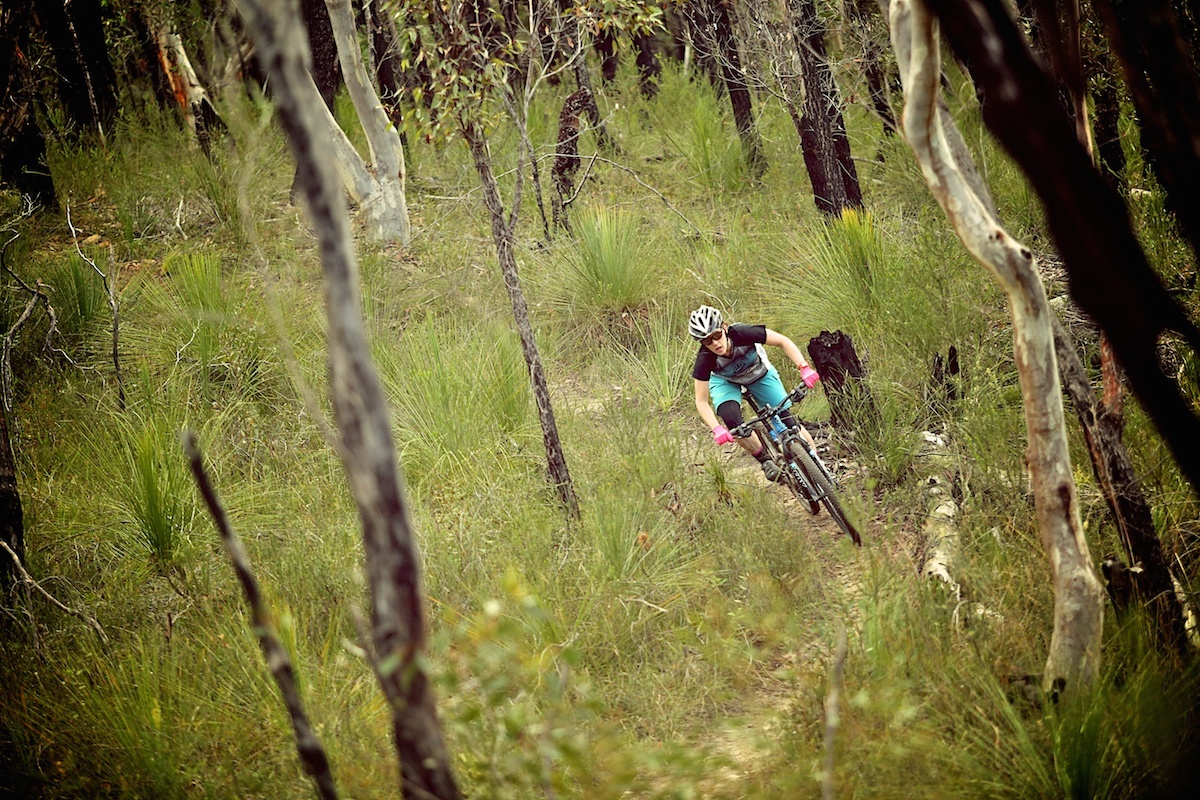 The 27.5" wheels make the Lust so playful and responsive that we quickly zoned in on the trails and completely lost track of time, the way all good rides should be. In comparison to bigger wheels we never had that feeling of being on board too much bike or having to think too hard about cornering position.
The rear suspension makes this bike almost limitless in it's appeal too. It's comfortable, capable and adds versatility to the types of trails, events and experiences it's owner could consider.
We found ourselves throwing the Lust at everything from lumpy rock gardens in Sydney's Northern Beaches to all-day rides linking together the best bits of Canberra's Centenary Trail as we made our way from one trail network (and coffee shop detour) to the next.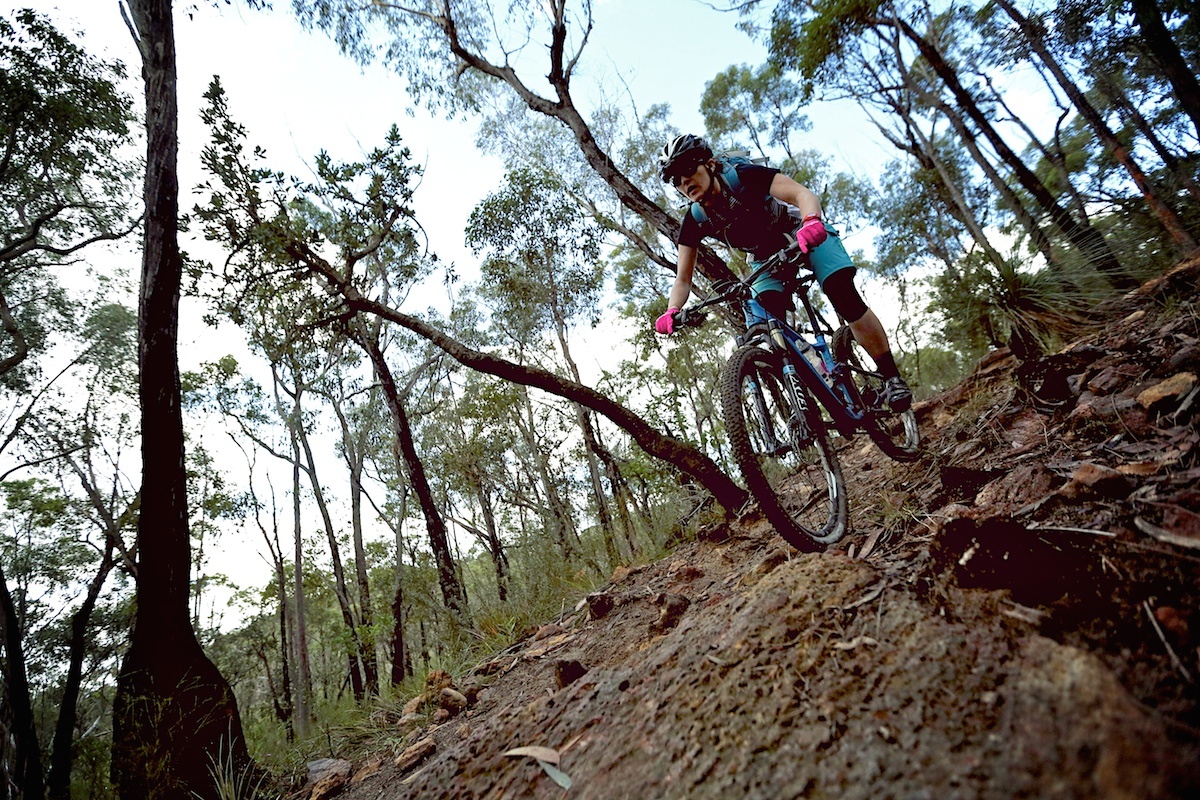 With it's XC race geometry the Lust feels most stable with an aggressive riding position: elbows out and weight over the front wheel. As new riders pick up their confidence on the trails it will reward them instantly. It provides an addictive feeling of playfulness and is incredibly capable at speed. This made us want to climb every climb just to experience it again on some well-loved descents. On technical climbs we found it quite hard to keep the front wheel tracking where we wanted it too. We imagine this is partly due to pushing the extra weight of this model up the hill, and also to do with not setting the front end up in a way that suited our personal preference and riding style.
We spoke to a couple of riders who had ridden the Lust 2 as well as the carbon Lust Advanced 0 team race bike. They confirmed that the carbon model, despite sharing the same geometry, feels more balanced and is much easier to climb on. The flipside of buying a bike at a cheaper price point is it does show you why some riders won't question paying extra to build on the great things a such bike allows.
Given the absence of a better specced alloy Lust in the range the $3499 Lust Advanced 27.5 2, featuring a carbon frame, much better brakes and more manoeuvrable weight, is arguably better value that upgrading the alloy model one part at a time. It will be far more nimble on climbs and allow its pilot to push it harder on the descents. If you're more interested in building your skills and discovering the trails, we'd recommend leaving this one largely unchanged. Ride it, crash it, replace the odd part that isn't going to break the bank, have a blast, have a holiday and push your skills on more trails still.
[divider]Verdict[/divider]
The biggest confidence vote the Lust 27.5 2 provides in this respect is that there's not much we'd want to change
Liv/Giant's range goes far beyond chick specific gimmicks and covers the bases for a variety of rider types. The biggest confidence vote the Lust 27.5 2 provides in this respect is that there's not much we'd want to change to make this bike feel 'more right', provided an agile XC ride feel is what you're after. Those wanting the extra stability of a trail bike might want to cross their fingers and hope that 2015 sees the Intrigue hit our shores (this one is more like the 5" travel Trance).
For someone thinking of giving mountain biking a crack, or simply choosing between a hardtail and a dually, the biggest benefit of the Lust is that it provides its owner with endless options. It forces her to develop a good riding position, rewards a thirst to explore and try new things and it doesn't need a super human knowledge of bike components to make it fit and perform the way it should. Most of all, it is such a pleasure to ride it will make her feel fit, skilful and strong as a by-product of having a great time outside.
[tabgroup][tab title="Rider Details" ]Kath Bicknell, 164cm, 56kg[/tab][tab title="Changes Made" ]Tubeless conversion, Longer 90mm stem[/tab][/tabgroup]