It has now been over six months since we stepped into the world of GPS and fitted the Magellan Cyclo 505 to our mountain and road bikes, ready to track our riding with a level of detail that we'd never encountered before.
The 505 boasts an absolutely massive array of features, some of which we found very useful for our purposes, others less so. The highlights include clear touchscreen operation, seamless wireless uploading of your rides via Wifi, excellent turn-by-turn navigation and the ability to display a lot of information on the 75mm screen clearly at a glance. You can also configure the device for multiple profiles, which is perfect if you plan on using it on your road bike as well as your mountain bike.
A recent firmware update just released (which you currently need a PC to install, grrrrr!) enables to 505 to communicate with your smart phone via Bluetooth as well, so you can answer calls, read messages and even control your music from the head unit, all without taking your phone out! Also packaged into the latest update is Di2 connectivity via the new Di2 D-Fly system, which is timely with the release of XTR Di2, so you can easily view gear selection and Di2 battery level. Necessary? No, but tech geeks will swoon.
The 505 also has the ability to track and display heart rate, power, calories burnt, elevation loss/gain, avergage and total distance, total and moving time, average and current speed and much more…In all, the 505 of is less of a GPS, and more of a NASA command station for your bike! Of course, you don't have to have all this info on display and it's easy to configure the dashboard to only display the information that's important to you. We optimised our dashboard display to show us only the seven readings we really wanted to know while riding.
We found the 505 synced easily with our various sensors (heart rate and cadence), but just make sure you turn the search mode off if you're not using them, or it'll ask you to sync with the heart rate monitor of everyone who rides past!
Finding your way around the device is simple. Much like an iPhone, there's one 'home' button that exits your current screen, while moving between the various menus or making selections is all done via the touch screen. Gloved operation was a little hit and miss, especially in colder weather, which was sometimes frustrating. We found that Specialized's awesome Wire Tap gloves are the perfect option, enabling perfect touchscreen function even with your gloves on.
In terms of route finding functions, you can upload your own routes from GPX files, follow a bunch of pre-loaded rides (both mountain bike and road), and the device is pre-loaded with cycling specific points of interest too (like bike shops, cafes and such).
There's also a pretty funky 'surprise me' function, which generates a random route based upon the parameters you set (time/distance, road/trail preferences), and a 'shake and share' function for sharing your route with other Magellan users. As cool as these functions are, the nightmare of Sydney traffic makes the 'surprise me' function a bit hit and miss, and we didn't use it on the mountain bike. Perhaps if you did your road riding in a quieter part of the world it'd be more useful.
For us, the most useful aspect of all the route-related functions was the ability to upload a route and follow it live. We found that the route is communicated clearly, with turn-by-turn navigation telling you when the next change of direction is coming up, or even what the gradient of the next climb is should you wish.
We've used this function extensively, to best effect during the Port to Port MTB stage race; we found it really helped being able to quickly see the remaining distance and the elevation profile of each stage, as well as when we were going to enter/exit the singletrack. This race also highlighted how weather proof the unit is too, with rain and mud galore not troubling the 505.
Unfortunately the mechanism for loading a route to the GPS is a clunky, especially for Mac users, and it involves digging into a series of folders. It seems like the Cyclo is really built with PC in mind, not Mac. The Magellan Cyclo web portal is fairly rudimentary too, especially when compared to say Garmin Connect and this is where the Magellan lags behind the competition. However, we've recently been told by Magellan Australia that the Cyclo web portal is receiving a total overhaul in the next few weeks and we look forward to seeing the improvements.
You can largely bypass the Magellan Cyclo portal entirely in day-to-day operation; because the device can be synced via Wifi, you don't actually ever need to connect it to your computer. And the Magellan Cyclo portal can be configured to then automatically share your rides with other sites (such as Strava or Training Peaks), so it's rare that you'd need to even need to visit the Magellan Cyclo portal at all.
The Cyclo 505 is literally the big daddy of Magellan's cycling specific GPS units, and its size is both a blessing and a curse. The whopping screen makes it very easy to navigate and view info while riding, but for mountain biking the size can make mounting options tricky. The device is supplied with both bar and 'over-the-stem' mounts, but in reality it looks like a TV if you strap it to your bars, and because of the device's weight, the bar mount does have a tendency to rattle loose. The over-the-stem mount is nice and secure, but if you're using a shorter stem, you'll need to chop down your steerer tube so it's flush with your stem (any spacers above the stem may interfere with the device). In reality, most folk using this unit will be on more cross country oriented bikes anyhow, and are likely to have an 80-100mm stem fitted.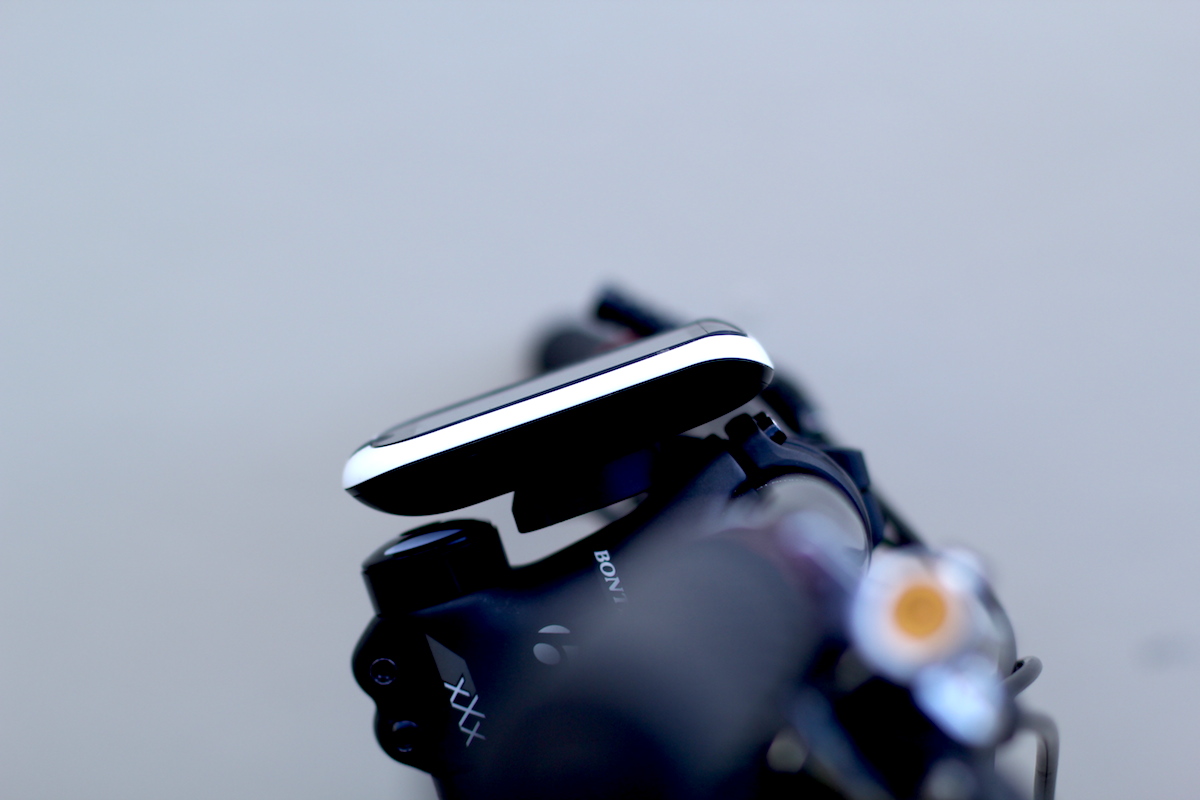 Battery life is fine – Magellan claim up to 12hrs from a full charge, but that will decrease depending on the number of sensors connected and display brightness settings. We made it through three of the four stages of the Port to Port MTB race (about eight hours of riding) before feeling compelled to pop it on the charger again.
In all, the Cyclo 505 is a serious beast of a device, with far more functions than we, or probably most other users, will ever need. Honestly, you could spend so much time looking at data that you'd run out of time to look where you're going! For us, the turn-by-turn navigation is the star feature, along with the slick wireless uploading. In reality, this device will find more fans on the road for now, but as electronics become a more common aspect of mountain biking we're sure that the culture of the sport will change too, and devices like the Magellan Cyclo 505 will soon be part of the sport in a bigger way. Now, if you'll excuse me, my GPS is telling me my wife is calling….