Our Ninety-Six XT test bike is the middle of three models in the range, the base Ninety-Six 800 version with an all aluminium frame is $3099 and the top-level Ninety-Six Team with a full carbon frame and ultra premium spec is $9999. The full range can be found here: Merida Ninety-Six range.
For more on the Ninety-Six Team take a peak at our first impressions piece of the high end racer here: Flow's First Bite: Merida Ninety-Six Team.
---
Frame
With an all-new frame for 2016, as well as a great value package for the every-day racer and cross country rider, the Merida Ninety-Six XT is light, clean and smooth. The new Ninety-Six range will be available in both 27.5" and 29", letting smaller riders utilise the smaller wheel size in small, while bigger riders get 29″ wagon wheels in medium, large and extra large sizes.
Suspension travel is 100mm travel at both ends, the standard amount for serious cross country bikes with a racer edge.
Distancing themselves from the old vertical rocker link setup of last year's models, Merida have instead chosen a far more aesthetically pleasing and slim single pivot/swing link setup – which Merida believe to be the most optimised position for both weight savings and shock actuation. Pair that with a beautiful matte carbon/black finish, short head tube and internal cable routing, Merida have made one of the best looking bikes we've seen from them so far.
The new frame's suspension kinematics are far more in tune with 1×11 setups with the positioning of the main suspension pivot in relation to the chainring – though the XT model is specced with a 2x front derailleur setup. Equipped with 720mm wide bars, Shimano Deore brakes and the XT 2×11 drivetrain, the Ninety-Six is easily adjusted to suit riders on the hunt for a trail or race steed.
Merida have also employed a direct mount front derailleur, to allow them to shorten the chainstays and re-route the cable straight up the downtube, instead of having to go up into the seat tube – allowing for the potential of a dropper post.
Internal routing sucks sometimes. That's why Merida have worked hard to integrate the new Internal routing and keep it all very functional and clean; utilising clever end clamps at each entry and exit to secure the cable from moving or slapping. It also comes with clever inserts to make it all DI2 compatible – for when you want to upgrade and fully trick your drivetrain with electric shifting. Another great touch is a large bottom bracket port for all the internal cables to exit the frame. This makes internally routing a very stress free task in all the Ninety-Sixes.
Other neat features of the frame include a quick release 142x12mm rear Axle and large swing arm bearings and bolts – boosting the rear stiffness significantly – as well as a clean internally mounted rear brake mount, which sits snug in between the seatstay and chainstay.
---
The parts
As the name suggests, there's a good dose of Shimano XT on this bike, with the drivetrain and hubs. The double-ring gives the rider a great range of gears, but we'd lean more towards a single ring setup.
A carbon post adds a little class to the kit, and the long stem and flat bars are a nod to the cross country racer.
Suspension: FOX at both ends is quite a good find at this price point, the smooth and supple performance makes the most of only 100mm of travel.
Tyres: Right out of the shop, we would definitely recommend swapping out the Continental rubber – they are spikey, hard and unfortunately not tubeless compatible. We found them to be decent performers on grass and soft dirt, but really slippery and loose on sandstone slabs and hardpacked surfaces. A quick swap to a Bontrager XR series set, or a pair of Schwalbe Rocket Rons would more than do the trick if your trails are drier.
Wheels: If you have upgrading in mind, the wheelset is a great place to start. A new set of carbon hoops and premium hubs would up the stiffness and reliability tenfold – in our experience the stock Shimano Deore hubs are prone to higher maintenance, while the DT Swiss Rims are narrow even for today's cross country standards. Keep an eye out for some new hoops as an upgrade and you will be throwing yourself down rough sections in no time.
Remote Lock out: Lockout is a must have for many cross country riders, to squeeze every last drop of efficiency motoring along to another KOM. The Ninety-Six comes with a cable actuated 3-stage lockout remote, which adjusts both shocks in sync by means of two separate cables and a cable splitter. Though this pushes the cable count and spaghetti factor right up with a very cluttered handlebar region, we found it to be really functional whenever you want to put road miles down or on climbs. The Fox Float DPS responds incredibly well to the lockout – giving a seriously rigid ride when you're all about laying down maximum pedal power.
---
The Ride
Comfort is an adjective that comes to mind when describing this new Merida! Comfy foam grips, buttery smooth Fox suspension and a forgiving seat make for one attractive do-it-all cross country whip to anyone. Hard days out training, long marathon races or slogging it on a multi-lap race is this bike's home turf, far more comfortable over time than a hardtail.
Testing the Ninety-Six XT out on a range of different style trails – from woody singletrack, to sandstone slabs and grass circuits – we found Merida's new Ninety-Six XT's new suspension platform to have a balanced, effective feel out on the trail. This gives a fairly controlled ride, even at high speed. The wider bars bridle the stealth horse nicely through corners and technical features, inspiring a bit more confidence than what is normally the case on race-ready machines.
Chainstay length on the Merida is definitely spot on for this category – a short 435mm. Keeping the rear end so short gives the Ninety-Six XT really comfortable cornering and descending abilities. For a 29er, being short and manoeuvrable is key to making the most of larger diameter wheels without detracting from the bike's agility at slower speed. Out of the saddle climbing the body position is excellent, there's a real racing pedigree in Merida's history and it becomes quite clear that they know how to design a race bike's geometry, it climbs hard and efficiently.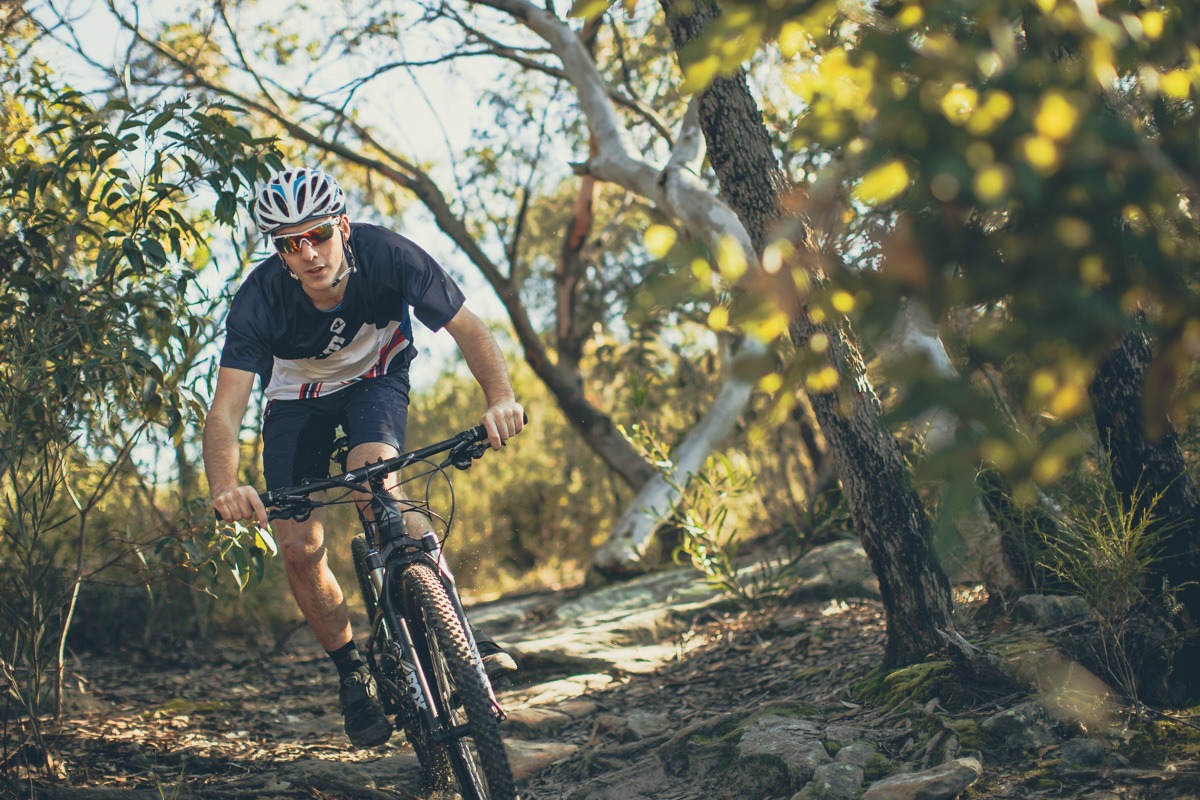 However, it wouldn't be a cross country bike without a great deal of chain slap and rattle. The front derailleur is largely to blame; converting this bike to a 32 or 36 tooth narrow wide single ring setup would have a huge impact on the feel of the bike.
---
The Verdict
For someone not looking to race all the time, the Ninety-Six XT comes stock as a great trail bike. The geometry, cockpit and wheelset leans nicely towards light trail and cross country riding, giving anyone suitable gearing range, grip and control for everyday riding.
With a load of new developments, Merida have put themselves up in the mix with the most popular XC bikes around, developing a frame that stands up to the best. And with a build kit with good potential, the Ninety-Six XT is a silent achiever and definitely one to seriously consider – whether for the race circuit or the local trails.