Ah Merida. It's a brand well loved by cross country racers, but one that has traditionally done little to excite us outside of the realm of XC-whippetry. They make some spectacularly refined machines (albeit a little devoid of personality) but for riders like us who want to tackle rough all-mountain style riding they just never had a truly competitive offering. Until now.
When we ripped open the box containing the new Merida One Forty B, we immediately knew that this was a big step in our preferred direction. Fortunately for us, we had a five-hour ride planned the next day on the exact style of trails this bike's designed for. Let's get acquainted!
Design:
It says it right there on the glossy black top tube 'all mountain'. With 140mm of FOX sprung travel, down and dirty geometry and huge rubber on 27.5″ rims, this bike's intentions are clear.
At first glance, you might think 'yawn… it looks like all the old Meridas, just blacker'. But you'd be wrong. The One Forty B runs the new VPK (Virtual Pivot Kinematics… not everything has changed at Merida, the acronyms are still dull) suspension system, which was debuted late last year. It's a completely different setup to the old single-pivot Merida's, utilising a twin-link system in a similar vein to Giant, Intense, Niner and Pivot, to name just a few.
The VPK arrangement not only allows for better performance under braking and pedalling than the old single-pivot system, but gives a more rearward axle path too. Net result, the wheel moves out of the way of big hits better, no matter what you're doing.
The Merida doesn't look all that burly, but it sure felt solid and stiff when subjected to the old carpark 'runch' stiffness test. The flush pivot hardware all uses Allen keys, which is a plus for on-trail maintenance – you wouldn't believe how many test bikes get rattly on the trail and then require either a massive spanner or some obscure Torx key.
Big ticks for the cable routing which keeps the cables well away from points of frame rub, the inclusion of a Stealth dropper post, room for a full-size water bottle and a sturdy 142x12mm rear axle arrangement.
Smaller ticks for the tight clearance at the top of the seat stays. Admittedly the rubber on this bike is huge, but we can imagine it'd get pretty gummed up in the mud.
The Build:
Merida have a good reputation in the value-for-money side of things, but the spec is often a little left of centre. Not so the One-Forty B, which is dressed in very sensible Shimano XT, FOX and a tough set of Sun Ringle hoops. The 150mm FOX TALAS fork is a welcome addition, its ability to drop to 120mm-travel a boost to the bike's versatility.
The wheels are a worthy complement to the bike, as stiff rims are important with the larger 27.5″ wheel diameter. They're tubeless ready too, already pre-fitted with Stan's No Tubes yellow tape and are plenty wide enough to stop the big rubber from rolling around in the corners.
Schwalbe's whopping Nobby Nics in a 2.4″ are a good tyre choice. On our rocky and sandy trails they proved a little skatey, but our experience with these treads in softer soils has been great. With the huge air volume, we felt comfortable running them in the mid 20psi range, especially as these tyres are equipped with a reinforced Snake Skin casing. This protection makes them a little heavier, but it's well worth it.
Ride:
If we had around $4000 to spend on a trail/all-mountain bike, we'd put the Merida on the shortlist. That's not something we've ever said about a Merida before.
From the first stages of setup, it proved to be a very easy bike to get along with – completely hassle-free. Simple things, like setting the suspension sag and adjusting brake lever positions were just easy, whereas some bikes make it hard with tight shock placements or too much garbage on the bars.
In terms of suspension setup, we found the rear suspension rebound tune quite heavy, and for our 63kg test rider, we ran the rebound damping almost completely open in order to get the right speed. For heavier riders this won't be a concern, but anyone lighter than 60kg may struggle to get the rebound as fast as they'd like.
Our medium size test bike had ideal proportions, combining a long top tube with a 60mm stem and 740mm bar. This is the kind of confidence inspiring geometry we like, letting us ride the Merida aggressively down steep chutes without fear of going out the front door or having the front wheel flick out from under us in a fast corner. Speaking of which, this test highlighted the importance of matching your tyres to your trails; we know from experience that the Nobby Nic is a great tyre, but its big side knobs were a bit loose on the sandstone of many of our local trails.
Some of the most inspiring moment on board the Merida came on the roughest trails. Hit the dropper post remote, get that saddle out of the way and blast it. With the stiff wheels and frame holding a true line, and the suspension carrying great momentum, it was fantastic to just let the bike run and allow the big wheels and massive tyres to monster-truck over the rocks. (Especially with the tyres set up tubeless making us less concerned about flats.) It wasn't the quietest bike in these rough situations, with more chain noise than many, but to its credit the XT derailleur never threw the chain.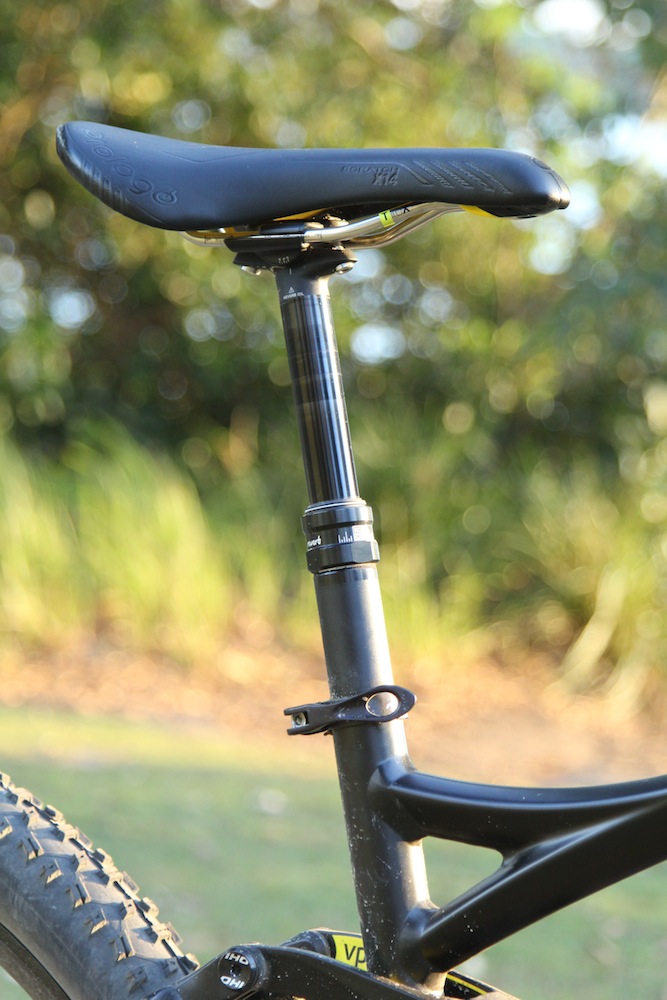 The fork and rear shock work exceptionally well together, their suspension curves well matched. We reset the suspension o-rings regularly, and it was always good to see after a section of trail that both front and rear were using their travel equally. For the majority of the test we left the CTD adjustments for both fork and shock in the Descend mode giving us the most supple performance possible. Combined with the low tyre pressures, the ride quality over the small hits was brilliant.
Due to the rearward axle path, there's a bit of chain tug when climbing in the smaller chain ring. It's not a problem, and it's a trait common to most bikes with a pronounced rearward axle path. Using the rear shock's CTD lever to minimise the suspension movement (and therefore chain growth) helps. With the big tyres, traction was never a problem, and the steep seat angle leaves you well positioned to spin up most climbs, plus you've got the option of using the TALAS lever to drop the front end height should it get really steep.
Overall:
Merida have well and truly smashed our preconceptions with this bike. It's confident, smooth, well-priced and easier to get along with than a drunk uncle at Christmas, with the kind of build kit that'll go forever. We even like the colour.