We aren't joking, this hardtail is a serious trail bike. Why? Huge amounts of grip, slack and incredibly comfortable geometry and a spot-on stock build. This is a bike every mountain biker will enjoy and appreciate.
Originally a staple in the Hardtail Category of your local DH races, the early versions of the Norco Torrent were a do-it-all bike, built to survive everything you could throw at it. For 2016, Norco have reinvigorated this legacy in the best way possible, utilising the new 27.5+ format running whopping 3.0″ tyres to create a hardtail that'll baulk at nothing.
With a hydroformed aluminium frame, Norco have been able to create funky lines and shapes that are not winning awards for aesthetics, but are guaranteed to survive forever. With an internally-mounted rear brake, quick-release 12x142mm rear axle, external cabling and routing for stealth dropper posts, the Torrent truly is the best combination of functionality and durability.
From a geometry standpoint, this frame is exceptional. Built around 130mm of travel, the 67-degree head angle is a great medium between a full-blown enduro rig, and a light trail bike. The reach for each size is also nice and comparable to a well-sized full suspension bike, giving a comfortable and relatable fit for any rider. One of the standout elements are the super short chain stays. Even with the huge tyres, Norco have been able to keep the rear end to just 422.5mm on a size medium (5mm longer on a size x-large). No wonder this thing is playful!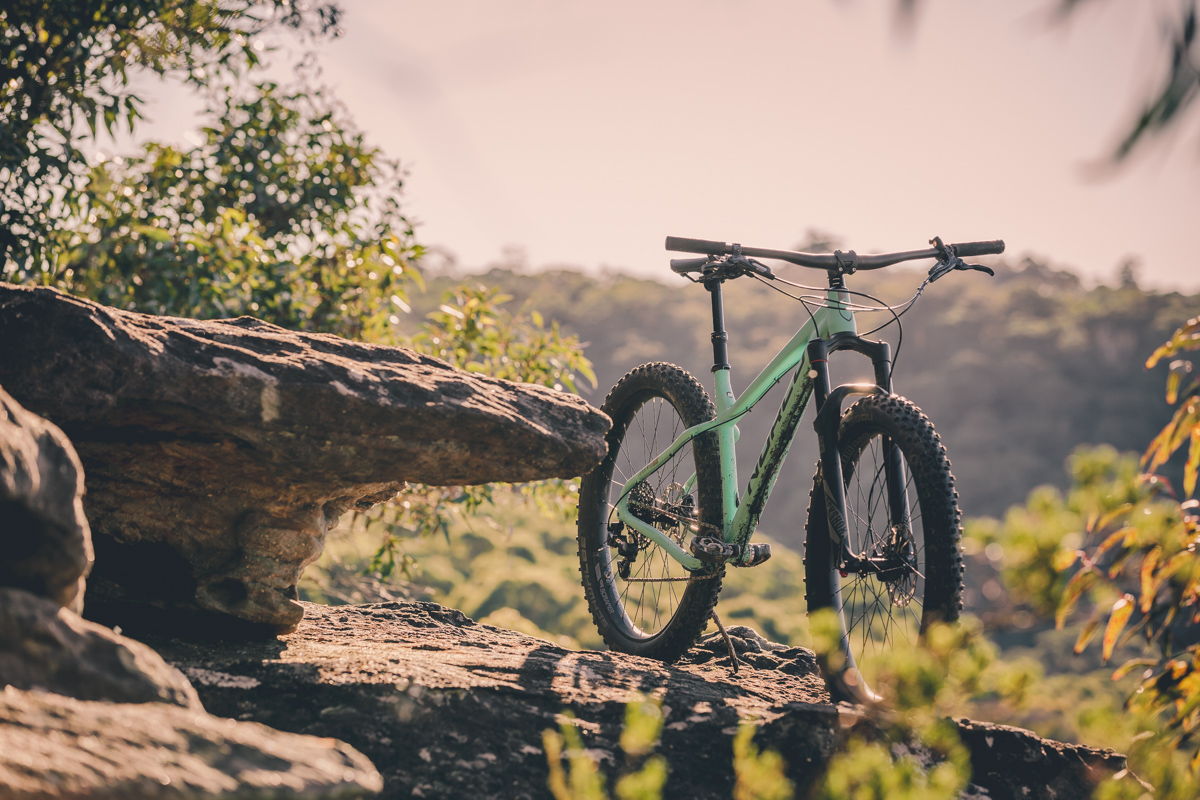 ---
Check out our recent reviews of some other 27.5+ hardtails
Specialized Fuse Expert 6Fattie
---
Component Check
The Torrent is kitted out with an almost bulletproof list of reliable components while still maintaining a pretty great value for money. With the rise of semi-fat wheels, more and more brands are embracing the new format which has made them both reliable and affordable.
The Wheels
It's hard to not talk about the wheels first, shod with their big rubber. The wide tyres give far greater confidence and control to the rider, through a more stable feeling over rough, off camber or rocky terrain. We highly recommend having a test ride and seeing the magic for yourself; the Plus format will have you cornering harder than you ever thought you could.
While nowhere near as light as your current 29er race wheels with 2.0 tyres, the WTB Scraper 27.5+ wheelset paired with the new Schwalbe Nobby Nic TrailStar 27.5 x 3.0″ tyres are strong and reliable setup. The Scraper rims' 45mm width give a great tire profile and keeps them stiff. The Nobby Nics are a great performer in all situations where grip is needed and don't roll around too badly under cornering.
However, don't plan on changing your tires too often – they are a more challenging set of tyres to get on and off. We recommend taking the time to set them up tubeless too with better rim tape than what is provided, as this will keep the weight down and almost completely eliminate the chance of flats.
Our wheels copped a beating throwing the bike down some rough rock drops – the kind that usually bottom out full suspension bikes – and they stayed straight and true. However, we did manage to dint them in testing but never lost any pressure in the tubeless setup.
The Groupset
The Torrent is fitted with a mix of SRAM GX and RaceFace components, both of which are a solid choice for this kind of do-it all budget trail bike.
We noticed little to no loss in performance compared to X01 or even XX1 with this entry-level 1×11 drivetrain, with SRAM's tried-and-true capable feel. The shifting is quick and precise, with absolutely no play in the shift lever, it's quality kit.
Norco has also continued their insightful component spec with a RaceFace bottom bracket and Aeffect crankset with the Cinch System chainring setup. An extremely good looking and functional system, the Cinch System works similar to Shimano Centrelock Discs, which allows for a fully flexible mounting system to allow for any sized chainring, as well as adaptability for any chainring standards you may want to use. We never dropped a chain or had any annoying creaks, even under large stresses.
Cockpit
Some bikes take a little while to get used to, and some just need a whole new stem and bar just to get going. Not the Torrent. Despite being a Norco-branded stem and handlebar, you will feel right at home straight away. With a great width and rise, these bars will surely be a favourite for most average sized people. At 780mm wide, there's plenty of room to cut down to a size of personal preference, or just run as is.
They aren't flexy either, utilizing the newer 35mm standard bar diameter to give increased stiffness. We loved this cockpit, as the numbers almost exactly matched our usual go-to bar-and-stem combos.
Suspension
Norco have definitely gotten their choice of fork right. The new RockShox Yari is an awesome mid travel fork using the chassis of the Lyrik with a Motion Control damper (not the Charger damper in the Lyrik), perfect for the bike's style of riding. These are the new Boost standard width to accommodate the extra rubber, expanding the hub spacing an extra 10mm. This doesn't seem to take away any lateral or torsional stiffness, instead just looking and feeling like a beefy pair of Pikes. The Yari runs a simple Solo Air spring, making it super easy to set up. It's everything you need to thoroughly enjoy the bike without ever feeling like there is too much flex, or ever bottoming out.
---
The Ride:
From the get go, we had the Torrent doing wheelies down the street, despite a bit of extra drag from the oversized tyres. On the trails, this thing punched far above what 'old' hardtails could do.
The fit and sizing of the Torrent is quite similar to any other Norco mountain bike, with a good length in the front and just enough seat tube to get you up in a comfortable riding position for climbing. Our test bike was a medium, which is a good fit for anyone up to about 185cm tall. Hardtail suspension setup is simple and super straight forward – put in your desired PSI, set your usual rebound click, and you are away. We had ours set to 60 PSI and a very central rebound.
The climbing ability of this new wheel standard is unrivalled, with a great mix of agility, grip and stability. The Torrent will always have your back – up slippery gravel, wet rock, awkward turns and bumpy chutes. The 28 tooth chainring gives a really great range for all terrain, giving you a really nice low range for steep stuff while never spinning out on normal descents. With the addition of nice wide bars, the control you have at your disposal on the ups is just fantastic.
The extra fat width and tyre volume keeps a huge contact patch on the ground, giving you around double the surface area than a high pressure cross country tire. This also helps keeps you really rolling over tough and challenging sections of trail; they are far less prone to being shaken about by roots and rocks, keeping you upright and giving you the confidence to go even faster.
Forget what you previously thought hardtails could descend, because the Torrent can handle much more. It tears through any kind of corner far harder than you will be prepared to at first riding it, letting you reduce the braking and barrel into everything. We found the fat tyres to be incredibly reliable in off-camber corners and sections, where you can just lean in and grip without feeling like skating out. The extra weight in the wheels is really not even noticed once you are having a ball of a time, throwing the cushiony rubber into anything you want.
Running low, grippy pressures is obviously a great time, but if you go too low you'll find they tyres really swab out through banked, tight corners and they're far more prone to rim dents. This is what got us; just a touch too much confidence in sending the Torrent into a few awkward rocks left the rear wheel with a few dings – however no flats in sight!
The RockShox Yari performed superbly, like an out-and-out enduro fork. They are up to absolutely anything you can throw their way – paired with the Torrent frame you have an unstoppable and unbreakable tool of trail destruction.
What we would change:
Despite an almost-bulletproof components list, we wouldn't hesitate to swap the grips for something more substantial. We found the single-sided lock-on grips too flimsy and they squrimed on the bar. We would recommend trading them out for grips of your preference.
Who wouldn't want it?
There is no denying the fact that these tyres are BIG. Hence an inherent hindrance to rolling speed, which is more noticeable on hard pack trail or tarmac. The tyres also do feel as they roll and squirm through hardpack berms at low pressures more so than your standard tyre, which may put off those that regularly push hard through smooth, machined trails. It's not going to be the best tool for flatter cross country applications either, but will make them a lot more fun.
The wide bars, large forks and 1×11 drivetrain will also not be everyone's favourite, as they are far more suited to having a great time on the descents instead of climbing or high speeds.
---
Verdict
Where would we all be without our first hardtail? The one you rode till it broke, fixed it, then snapped in two? The Torrent is a higher-end reincarnation of that trusty old do-it-all hardtail, just with better geometry, more reliable componentry and modern standards that can take your riding the next step further. The Torrent is a great application of the new 27.5+ wheel size; this a new standard is breathing fresh life into longer travel hardtails. If you still haven't tried it out, we definitely recommend having some fun on some.

If you like challenging yourself with technical features, want to get the most out of a trail and enjoy the simplicity of the lack of rear suspension, the Torrent may just fill that little hole in your heart that wants to send skinny wood features and rock roll downs. This is by no measure an 'entry level hardtail' but is a far cheaper option than its full-suspension cousins with comparable componentry, and you'll be surprised how close it comes to the performance of a duallie in the rough too.