But building up a wheelset lets you get exactly the product you want, generally with the added bonus of easy serviceability should something need replacing. The Pacenti TL28 wheels we've been riding lately are a 'classic' set of hoops, built up the traditional way: 32 J-bend spokes, lacing an aluminium rim to a hub that'll last a lifetime.
Pacenti isn't a name that many riders are familiar with, which is odd given how influential the man behind this brand has been in mountain bike development. Kirk Pacenti was one of the pioneering proponents of the 650B wheel and he continues to be a very influential thinker in the world of bike design. He was also one of the folk to first grasp the benefits of a wider rim (for both mountain bikes and road bikes) and we've been riding one his creations, the TL28 rim in a 29″ size, for the past couple of months.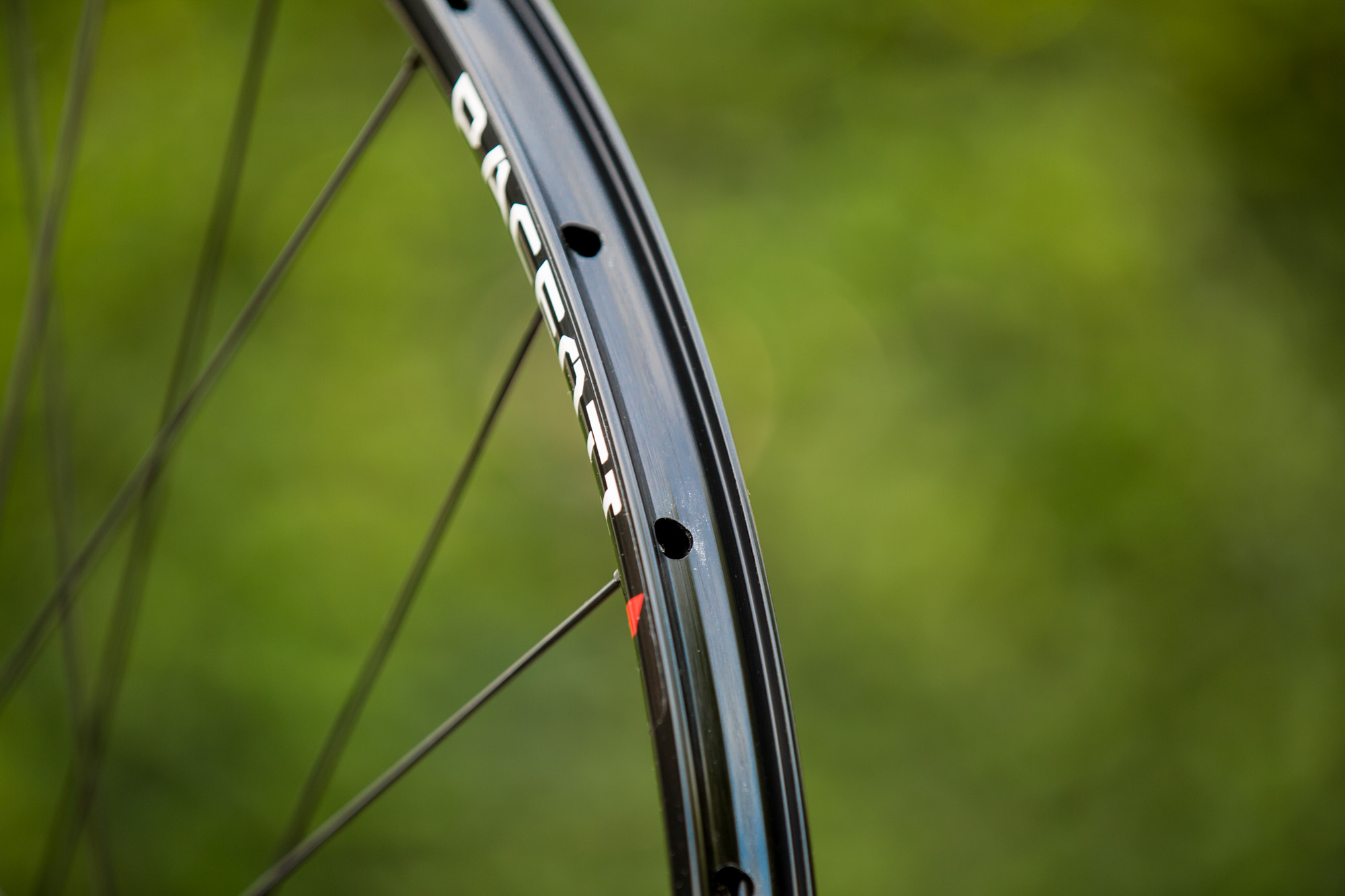 If you're looking for category redefining features, you won't find them here. The TL28 doesn't push the boundaries of width – a 23mm-internal width is in line with most other trail riding rims. A weight of 445g puts them at lighter end of the spectrum, but again not setting any records.
But what this rim does offer is top quality construction and a sensible blend of weight and strength. The rim join is welded for strength, the spoke holes are all eyeleted to withstand higher spoke tensions, and the bead hook is secure for tubeless use. It's the kind of rim that has appeal for people who appreciate classic, quality design – people who want serviceability, reliability and practicality.
Our Pacenti TL28 rims came laced to a gorgeous set of Chris King's new ISO Boost hubs (110/148mm spacing). King hubs don't need any introduction, their in-house bearings will spin forever, and the 72-point RingDrive system offers the best freehub engagement in the business. A pair of King hubs is a sizeable investment, but you can be guaranteed they'll be the one part of your bike you're never going to worry about, year after year.
Combine the Pacenti rims and King hubs and you have a pair of wheels that traditionalists will love. They're not a particularly light wheelset, at 1862g, but then that's not the aim. These are wheels that are all about hassle-free reliability, not winning cross-country races.
The rims don't come taped for tubeless use, but a couple of loops of Orange Seal tape and valves was all that was needed. We ran Continental rubber on the wheels, and found the rim width and profile suitable for the tyres' roughly 2.25″ size. The 23mm width gives the tyres a rounder profile, which many people appreciate. If you were looking to run bigger rubber or you want to run lower pressures, we'd suggest going to the wider DL31 rim, which would offer more support for bigger tyres.
After two months of use on our Norco Optic C9.2, there's little to report, and when you're talking about wheels, that's a positive. The smallest of wavers has emerged in the rear wheel, but with regular spoke nipples, giving them a quick true is within the skill set of most home mechanics. We also did put a slight ding the rear rim, not enough to worry about however, and we didn't lose any pressure or burp the tyre with the impact either. Again, the beauty of an alloy rim is that dents can be straightened out too, with some gentle manipulation. Another tick for serviceability.
There's much to be said for doing the basics well, and while the Pacenti TL28s aren't flashy, build them onto a set of reliable hubs and you have wheelset that will likely follow you from bike to bike and won't give you spare parts nightmares or workshop downtime along the way.