If you're going to hang a Picasso, you don't do it in a chicken shed. You pick somewhere grand, with security guards and marble floors. And when you've got a new Shimano XTR Di2 groupset to play with you, you don't fit it to any old shitter. You pick something sensational, something that will perform at the same level as the grouppo.
When Shimano gave us a new XTR Di2 groupset to review, our very first inclination was to secure the new Pivot Mach 4 Carbon as the test sled. This bike has the kind of performance pedigree that Bart Cummings (rest in peace) would appreciate, and also had the benefit of being one of the very first Di2 optimised bikes on the market.
You can read more about why we picked the Mach 4 here, and the build process of installing Di2 onto this remarkably sexy frame. We've now had a number of months on this bike; we've raced it, razzed it and experimented with a number of different setups, so we feel like we've got a great handle on what it's all about.
---
[divider]A classy evolution[/divider]
We've ridden (and owned) earlier versions of the Mach 4, back when it was an alloy, 26-inch wheeled bike, and we've also spent a lot of time on board the 29er version, the Mach 429. While our time on both those bikes is remembered with fondness, a brief look is all it takes to realise the Mach 4 Carbon sits at a completely different level of refinement. This is one sophisticated lady.
But let's not confuse sophistication with beauty. We're clearing the air here: we dig this bike, but it has looks that only mother could love. Of course, every swoopy, bulgey bit has a purpose – Pivot's head honch Chris Cocalis is not the kind of man who will ever sacrifice performance for appearance sakes. Pivot build their bikes to uncompromising standards.
The Mach 4 Carbon is really a cross-country machine, but not in your traditional lycra and calf definition kinda way. The geometry is definitely cross-country oriented, but it has a little more travel, and while the XC sector is still largely dominated by 29ers, it runs 27.5″ wheels.
Because of these traits, it has a pretty broad scope of use.
A light build with a 100mm fork could make it a razor sharp race bike for technical conditions, but you could also build it with the ability to act tough (we've seen some riders put a 140mm fork up front, with a 60mm stem).
In our mind, the bike's sweet spot is somewhere in in the middle, equally happy on a buff racetrack or scampering through rocky descents. Our build played to the bike's strengths, running the recommended 120mm fork, an 80mm stem and, of course, the delectable XTR Di2 grouppo. Basically, we built it up as the nicest bike on the planet.
[divider]The frame[/divider]
We received our Mach 4 as a bare frame set, which gave us a chance to really appreciate its construction. It's a super compact frameset, with one of the lowest standover heights we've ever seen. The shock is slotted up close to the top tube, leaving just enough room for a bottle.
Reducing unwanted frame flex is a guiding principle for Chris Cocalis, and the Mach 4 is stiffer out back than your legs that time you woke up sleeping in a hotel shower. But let's not go there.
The links are chunky little hunks machined alloy, and the stays are stoutly bound together with a DT 142mm axle. The wide, press-fit bottom bracket laughs in the face of your attempts to induce flex.
For us, part of the Pivot's appeal was its Di2-ready construction. The frame comes supplied with rubber grommets to house and guide the wiring, and there's a battery compartment in the down tube too, stashing it away from harm. It's neater than a military haircut. Building the bike took us a while because it was our first experience with building a Di2 bike from scratch, but at least that gave us plenty of time to enjoy the process!
If you're building up a Mach 4 with cables and not electric wires, you'll be happy to hear that the cable routing is 1000% better than on the older generations of Pivots. The bike is supplied with a variety of plugs and port covers, so you can run all kinds of permutations of cabling and keep it tidy and rub free.
Protecting your investment from chain slap and rocks are pleather down tube and chain stay protectors, but keep the high pressure hoses away from their adhesive undersides if you want to keep them.
[divider]Suspension[/divider]
Suspension performance is at the heart of every Pivot's design, and Dave Weagle (holy grand Sharman of mountain bike suspension, hallowed be his name) works closely with Pivot's engineers on the development of each new frame.
The Mach 4 gets 115mm of travel, which seems like an unusual number, like inviting people for dinner a 7:19pm…. Whatever, the DW-Link system is at the top of the pyramid of suspension systems. You need to be quite precise with the sag setup to extract the most out of this bike – if you're of the XC mindset of just pumping the hell out of your shock to firm it up, then you're absolutely wasting your time and this bike's abilities here.
When set up with the correct sag, it's one of the most stable pedalling bikes out there, with nary a murmur of unwanted suspension bobbing.
Controlling the motion of the ocean is the superlative FOX CTD Factory shock, tuned specifically for the Pivot with very low compression damping settings.
[divider]Build highlights[/divider]
As we've said above, our Pivot was dressed to impress with a full Shimano XTR Di2 groupset. Pivot offer the Mach 4 in more build kit options than Mormons have kids, including two XTR variants, but ours was a custom build using Shimano all over. Over the course of our testing, we ran the Pivot in both a 2×11 and 1×11 drivetrain configuration. We also ran it with/without a dropper post, and mucked about with tyre size too.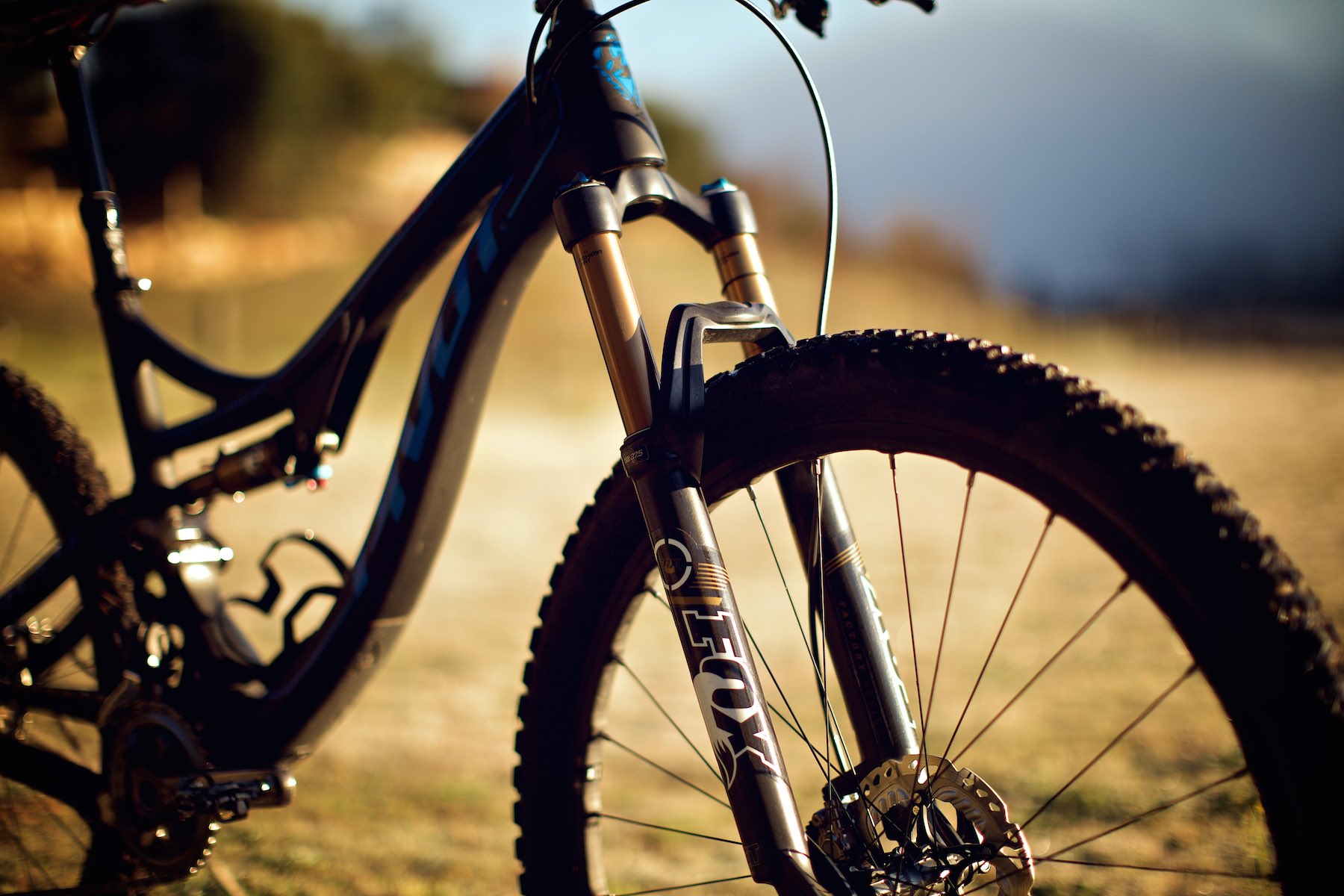 Our favourite setup was a 2×11 drivetrain, but using Shimano's amazing single-shifter Synchro Shift mode. Synchro Shift operates both front and rear derailleurs with just a single right-hand shifter, freeing up your left hand for a dropper post remote. You can read more about Syncro Shift in our full XTR Di2 review here.
[divider]Setup[/divider]
As we've stressed above, you need to get the rear suspension sag right. At 30%, some people may well feel it's a little soggy when they first swing a leg over, but from the first pedal stroke you'll know it's perfect, the suggested setup guide speaks truth.
While it might be tempting to run skinny little cross country tyres on the Mach 4, we'd suggest going something with a bit more volume to it, in order to totally maximise the climbing traction available from the super active rear suspension. We ran a Specialized Ground Control / Purgatory combo in a 2.3″ in the end, after initially using a set of Schwalbe Rocket Rons which didn't have enough bite on the front end for our liking.
The Pivot is pretty low up front (good if you do want to get in a racy position), but on steep descents it's quite front heavy. With the flat bar and negative rise stem we were using, we ended up running about 15mm of spacers underneath the stem so we weren't too low when things got rough. A shorter head tube is a good thing overall, we feel, as you can run a taller fork without jacking up the bars too high, or get lower than shortie if you're a hammerhead racer.
Because we were using PRO's Di2 compatible Tharsis cockpit (with internal wiring for the shifters) we were a bit limited in terms of the stem/bar options. Our 80mm stem / 720mm bar cockpit was pretty much spot on. We wouldn't want to go any longer on the stem, as it's a fairly rangy top tube already, but going a smidge wider on the bar would be a good idea, just to help muscle the bike out of situations when you push its limited travel to the limit.
We took advantage of the Pivot's internal dropper post routing and ran Specialized dropper. We'd encourage you to do the same, even if you're only interested in strictly cross country riding – it just frees this bike up so much! You're in a pretty front heavy position on the Pivot, so being able to lower your centre of gravity is a blessing.
To all the cross-country crew: don't be a luddite, don't let #xcpride get in the way of fun, use a dropper post!
[divider] Singletrack manners[/divider]
Like a Depression-era grandma, nothing goes to waste with this bike – you pedal, it responds. The chassis is twist-free and the suspension stability doesn't get upset by the kind of floppy, random pedalling that generally accompanies cresting a massive climb. Being such a roomy bike, thanks to the super low top tube, you can really sprint it about, chucking the bike from side-to-side freely and even then it stays calm and won't wallow.
The Mach 4 gets up to speed fast, whether you're seated or out of the saddle. Sure, it doesn't match obscenely snappy acceleration of a hardtail or something like the Specialized Epic, but unlike either a hardtail or an Epic, the suspension works all the time. You're not constantly flipping shock levers, or worrying about what mode you're in, and there aren't the usual compromises between pedalling and bump-eating performance.
On paper, the Mach 4's bottom bracket height is pretty low, but we didn't find ourselves smashing up the lovely finish of the XTR cranks as often as we feared. We did however appreciate the low bottom bracket height in the corners; combined with the low front end, your centre of gravity is low, right in the bike so you can tip in nicely.
[divider]Going up![/divider]
Long, steady, steep, loose – these are the climbs the Pivot loves. Anywhere you can get into a rhythm and tap out a tempo is where you'll fly past your mates (or competitors). For a smaller wheeled bike it motors up the ascents beautifully, where a 29er would ordinarily have the advantage. The very low weight of our test bike helped too, of course, but the fact the Mach 4 finds traction where others skip out and yet doesn't get stuck in a quagmire of syrupy travel is where the real gains are.
As we've noted before, using a dropper post has its advantages on a climb too. With a regular post, it's common to run the saddle a tiny bit lower than is ideal, so you can get a bit more clearance on the descents, but with a dropper you can get the correct extension on the climbs while slaughtering the descents too.
[divider]Get excited, but not too excited[/divider]
When things get rapid and downhill, the Mach 4 has the edge over other bikes of its ilk. When compared to something like the Scott Spark – a highly comparable 120mm 27.5″ bike – the remarkably stiff frame and buttery suspension of the Pivot are leagues ahead when you're looking to hold a rough line.
But push too far, and you do get reminded that the Mach 4 is still a cross country bike, and therefore requires a steadier hand and a bit more attentiveness than a slacker, longer bike would allow. The wheelbase is pretty compact and the suspension is tuned for traction rather than swallowing up your mistakes, so you find the bottom of 115mm relatively fast when you start trying.
[divider]Other options[/divider]
If you're considering a Mach 4 Carbon, you're obviously a bit of an afficiando as it sits pretty high in the pricing stakes. The Scott Spark in a 27.5″ is a very racy alternative; light as hell, savagely efficient, but not nearly so smooth as the Pivot. You could also look at Treks Fuel EX series, which are more of a trail bike than a race bike, but in the higher end models are pretty damn light. The GT Helion we tested a while bike is a funky alternative too, with its unique spec.
[divider]Final thoughts[/divider]
This is a really, really nice bike. While the price is fairly stratospheric, you can actually see the value here in the superb finish and zero-compromise performance. It's lightweight yet anything but flimsy, efficient but magnificently smooth, precise without being unmanagably sharp, and it defies being pigeon holed on the trail.
While you don't have to build a Mach 4 Carbon with an XTR Di2 groupset to enjoy it, it has been an amazing experience having this bike in the fleet for the past few months. This bike doesn't just continue Pivot's legacy, it pushes the brand even further ahead of most of the pack.
There are few bikes that can match this one in our opinion.