---
---
 What a great few days we had on board this bike.
The brand new Pivot Mach 4 SL lobbed into our life just a few days before the Port to Port stage race, giving us the perfect opportunity to test this bike as it's intended to be ridden. This is Pivot's cross country race machine after all. Most of our bike reviews are done of trails we know well. But racing is all about unpredictability and Port to Port presented us with a brilliant mix of terrain and challenges to learn more about this bike.
How did we like it?
We loved it. It's hard to imagine a better bike for this kind of racing. In case you missed our first impressions video, here's a bit of a recap of this bike.
The Mach 4 SL is the follow up to the popular 429 SL. The new frame is 300g lighter, embodies the new school of XC race bikes, with geometry that's much happier shredding the descents than the previous generation of XC whips. It still utilises DW-Link suspension for 100mm rear travel, and it can be run with either a 100 or 120mm fork.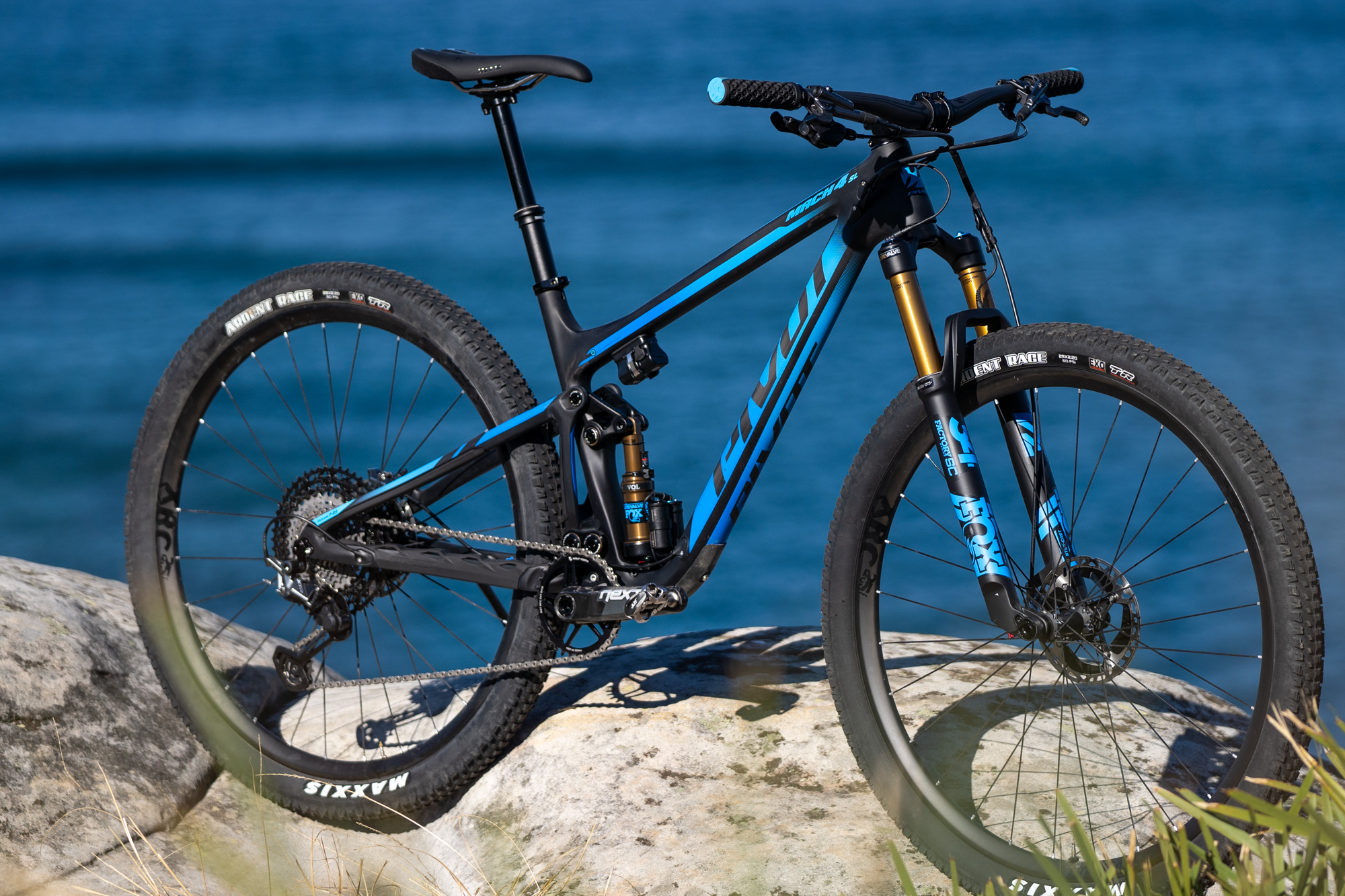 Pivot aren't dipping a toe in here, they've gone hard with a massive range of build kit options for this bike, from XT 11-speed, right up to the new SRAM AXS wireless drivetrains, plus you've got options for either conventional suspension with a regular remote lockout lever, or the insanely cool FOX Live Valve system. On top of it all, you can get this bike in a few World Cup variants too, which get a 100mm-travel FOX 32 SC fork, a flat bar, and a fixed carbon seat post instead of a dropper as well.
So what model are we riding?
Our bike is the XTR Team 'Live' version. There's a FOX 34 SC fork up front, XTR 12-speed out back, a FOX Transfer 125mm dropper up top, DT XRC1200 carbon wheels handling the rolling stuff, and in the middle there's the FOX Live Valve suspension, all weighing it at 10.9kg.  Yes, it's not a bad bike, is it? But for $16,000, you'd expect it to be pretty well adorned.
Yes, we said 16 grand. Just to put things in context, putting this bike on the back of my car instantly tripled the value of my vehicle. Few times in my life have I been as nervous as when I had to leave this bike on the back of my car while I popped into the Cessnock bakery to buy a curried egg sandwich and a milkshake.
But like I've often said about price – if you can't afford, then you're not the target market. I can't afford to shop on Saville Row, so I go to Uniqlo, it's simple us that. Still, at this price, we would have liked to see the Factory version of the FOX post, and maybe a carbon railed saddle too.
We only received this bike a couple of days ahead of Port to Port, so we didn't have a lot of time to experiment with setup. Following Pivot's guide for the rear shock sag and FOX's recommendations for the fork and shock gave us a good starting point. Ultimately we dropped the pressure in the fork a little below FOX's guidelines, to provide a more supple ride and lower the front end a smidge for steep climbs.
We also invested in some heat shrink and Bunning's second cheapest heat gun to tidy up the cables, and as we didn't want to risk a sore butt souring our time on the bike, on went our favourite PRO Turnix saddle. To bring it up to full race mode, we added XT pedals, a Specialized Zee-Cage with SWAT multitool, a Barfly computer mount and a Back Country Research race strap to hold a lever, tube and CO2.
The question on everyone's lips.
While we didn't want this review to become overly focused on the FOX Live Valve system, it's pretty hard to unpick the bike and its remarkable suspension. Over the four days of Port to Port, we had dozens of people point at the battery pack beneath the top tube and ask "What is THAT?"  We soon had our spiel down better than any FOX marketing employee – "It's the battery for the FOX Live Valve, which is a suspension adjustment system that automatically changes the suspension settings in response to the terrain that you're riding on." This always leads to the next question: "How much is it?" Which inevitably lead to grunts of surprise.
Let's talk about FOX Live Valve.
Live Valve was launched last year to much fanfare (watch our in-depth video discussion here) and then promptly failed to appear, well, anywhere. In fact, this is the very first production bike we've actually seen with Live Valve. Pivot Cycles were one of the brands who worked closely with FOX on Live Valve's development, and the Mach 4 SL integrates the system beautifully.
We've discussed Live Valve in detail before, so here's the potted version. In a nutshell, Live Valve aims to solve that age-old problem of maximising efficiency without impinging on suspension performance. Other systems have tried to achieve the same outcome before, like the original FOX Terralogic forks or Specialized Brain or the e:i system, but frankly Live Valve is in a different world to these implementations.  It's a complete system dedicated to the task, with a specific fork and shock that run Live Valve dampers. On the fork, and at the rear dropout, there are two tiny sensors to detect impacts. In the middle, is a computer and battery pack, which also houses a tilt sensor too.
If the terrain is smooth, and the fork and shock aren't registering impacts, Live Valve will automatically firm up the compression settings of fork and shock. But as soon as an impact is detected, in just three milliseconds, the suspension compression circuits are opened to operate normally and absorb the bump. What's more, is that the system uses its tilt sensor to operate differently if you're climbing or descending. On a climb, if you hit a bump, the suspension will open to help you maintain momentum and traction and then will quickly re-engage the lockout, so your efficiency is maximised. On a descent, if you hit an impact, the suspension will remain open for longer.
Furthermore, if the suspension is unweighted and the sensors detect you're airborne or dropping, the suspension will open up, ready to absorb the impact, so you never have that harsh feeling of landing with your suspension locked.
You've also got control over the sensitivity of the Live Valve's lockout threshold with five settings to choose from. We experimented a little and ultimately settled on the middle setting, which seemed to offer a bit more front wheel grip than the firmer settings. You can also control the firmness of the compression overall of the fork and shock, which we left in the softest possible setting, so that when the suspension was open it was as smooth as possible.
Does it work like the can says?
Oh yes, it sure does. When we first rode this system, it was on board a long-travel Enduro bike, and we didn't quite get to grips with it. But on the Pivot, in this application as a multi-day race bike, the system was outstanding. Deep into a race stage, when you're accidentally spitting on yourself and your face is tingling, this system means you've got on less thing to worry about. Rather than fumbling with levers on your shock, or accidentally forgetting to unlock your fork, you can just ride, confident in the knowledge that your bike is automatically doing everything possible to make sure it's as efficient as possible, all the time, whether you're in singletrack, on a fireroad, or sprinting down a tarmac section.
If you're a rider who is reluctant to use lockouts in case you accidentally leave it on for the descent, then Live Valve removes that conundrum. It takes your brain out of the equation, which is a good thing when you're already making dubious decisions with your heart pounding in your ears.
Do you feel it working?
Just, just barely, and only then if you're really focused on it. If you bumped the threshold sensitivity up to setting five, the operation becomes more noticeable and the overall ride feel was a little too firm for my liking, but in the middle setting the transition between locked out and open was as good as seamless.
And battery life?
FOX claims 12hrs or so, but we can't verify that. Each afternoon, once we'd washed the bike, we popped the battery off and charged it alongside our GPS. It never took more than an hour to be back up to full charge. If you think that's a hassle, then you probably own a Nokia 3210.
Would we buy this bike without Live Valve?
Yes. But honestly, if we were already spending $12,000 on the XTR version of this bike, we'd take out another credit card, and find the other $3000 to get the Live Valve version.
Enough about the suspension, what about the bike?
Pivot nailed the brief of creating a race bike that's not nervous when things get a bit loose. We were fearful that the lightweight frame may abandon some of those traits of precision and excellent tracking that we most admire in Chris Cocalis's bikes, but the Mach 4 SL is every inch a classic Pivot. Give it a nudge, sail off a water bar into the unknown, slide it through a corner with your foot out – it's happy to play. Ok, it doesn't feel as stiff as the Trail 429 for instance, but it's more than stiff enough for this application. We're sure there was a temptation to spec this bike with a lighter 75mm travel dropper post, but the decision to go with a full 125mm dropper frees this bike up, as does the choice of 760mm bars.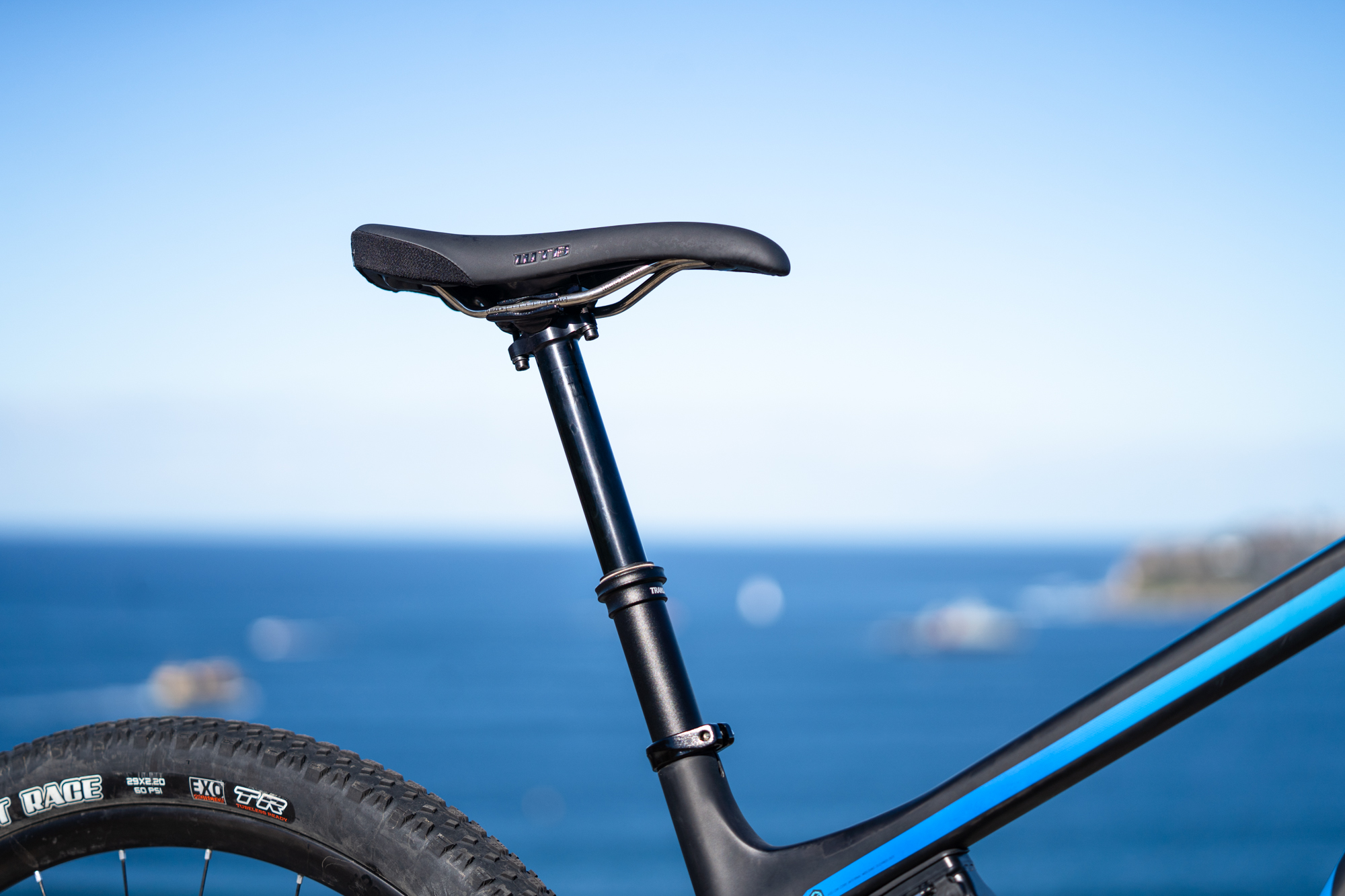 The reach is roomy enough that a 75mm stem doesn't feel cramped, and the 67.5-degree head angle is definitely on the slack side for this style of bike. In our mind, that's a bonus – once again, when you're on your limit, you want a bike that forgives lapses in concentration, not punishes them.
The seating position is on the slack side.
My seat height is 720mm from bottom bracket to top of the saddle, and on a medium frame, I found I needed to push the saddle rails right forward in the post to get in my preferred position over the bottom bracket. Admittedly, I like to sit right over the cranks more than most, and I run my cleats as far back as possible, so other riders mightn't have the same issue. It's worth noting that The World Cup version of the bike, with its 100mm fork, is a degree steeper in the seat and head angle.
Quiet and silky.
The silence of the bike is impressive. Chain slap is deadened by the clever stay protector, cable rattles are silenced, and the suspension doesn't clatter or hiss like some bikes. That feeling of silky smoothness extends to the XTR drivetrain too, which peels off shifts like a warm scoop through lime sorbet. It didn't matter how inappropriately timed and awkward our shifts, it never faltered. The XTR race brakes match the effortless feel too, with a lovely, light lever pull that has more than enough power for this style of bike.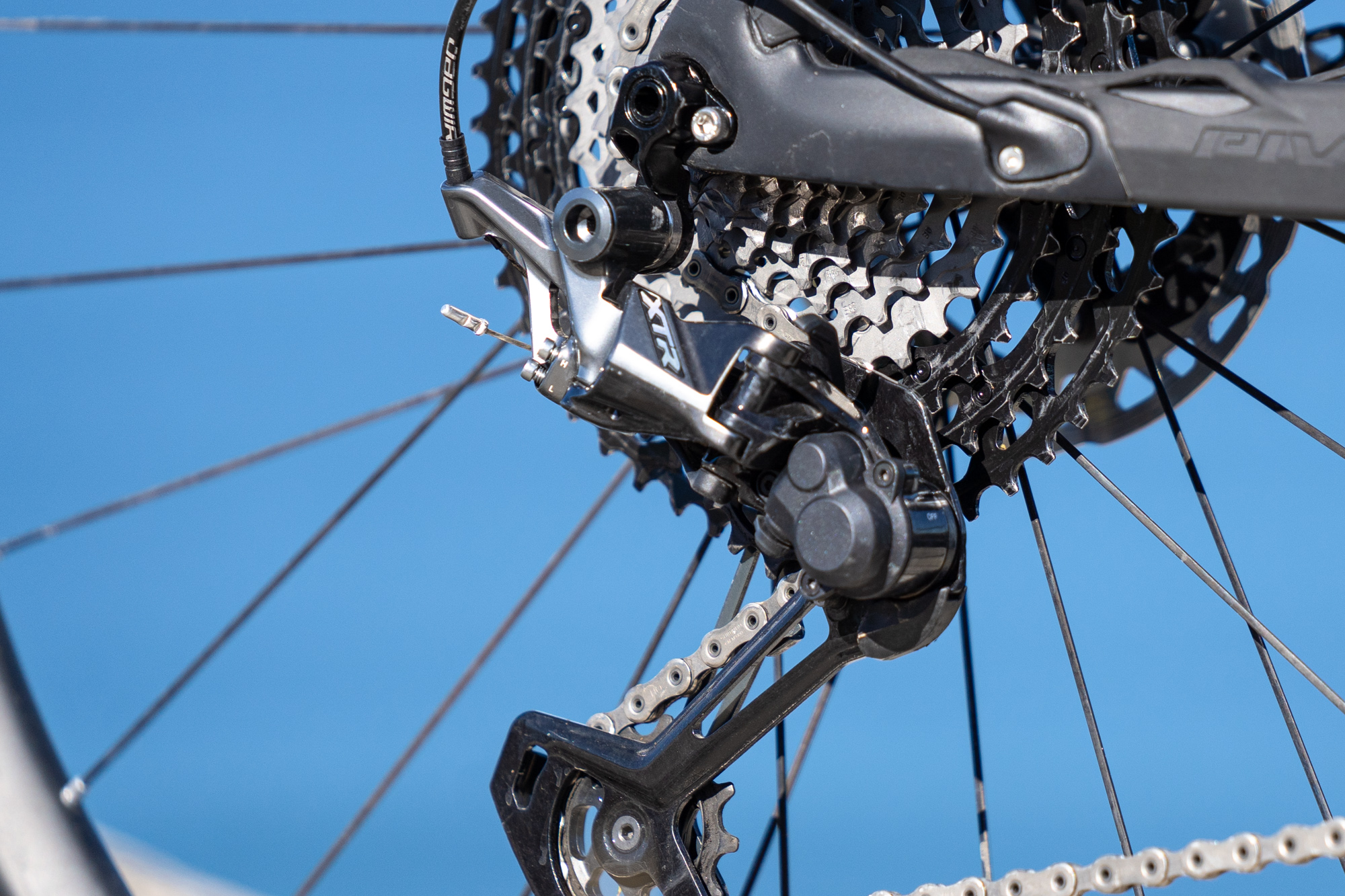 A convincing argument….
This bike is an impressive demonstration of a potent partnership done right. Pivot Cycles and FOX are both brands embody that performance-first ethos; they're not fretting that their pushing into a price bracket that very few will ever consider. Our YouTube comments will be awash with people agog at the price, but after seeing the number of top-end bikes rolling around at Port to Port, we're sure there will be plenty of people willing to hand over the coin to experience this bike and its suspension themselves. It was fantastic to race this bike, and we're just thankful we kept it rubber side down!