The Siksiu D8 is Polygon's aluminium frame 27.5″ wheel dually with 120mm of suspension travel, purchased online from Bicycles Online and shipped to your door.
Buying a bike from a website isn't a new thing, and it sure does comes with the typical drawbacks, but Bicycles Online do their best to ensure the process is as simple and easy as possible. There are systems in place like their 14 day returns policy, assembly video tutorials, sizing guide and the option of a $99 Pro Build where the bike is unpacked built at the Bicycles Online workshop in Sydney by a mechanic, then tested and tuned before re-packing for shipping.
It's the consumer's choice whether or not the valuable service of a bike store is needed – or going direct to save dollars – is worth it.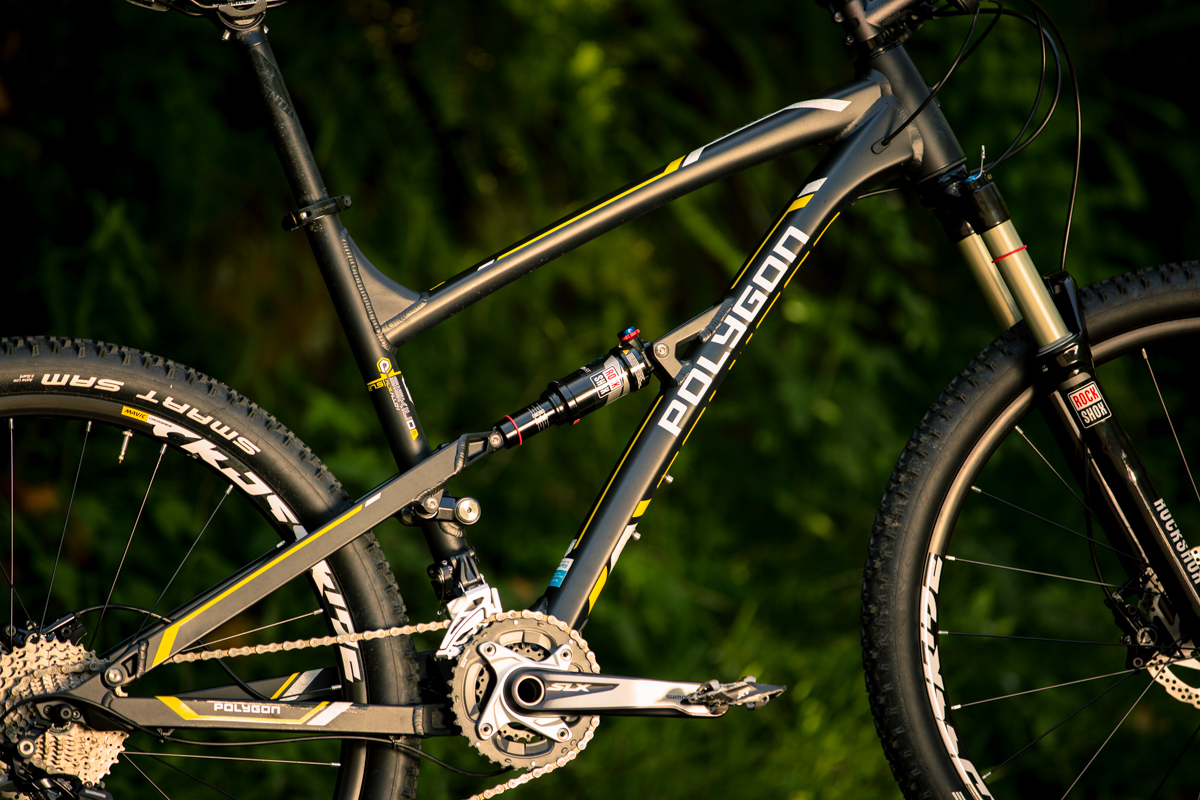 The Siskiu is an all-new bike for 2016, previously called the Recon which we reviewed last year. Click here for our review of the 2015 Recon 4. We found the lower price point Recon 4 to be a great handling bike but lacked in a few areas of finishing detail like the cable routing and a couple spec areas. Fast forward to now, and the Siskiu D8 looks to have it all sorted and more.
For $1999 you'd be choosing between a mid-range front suspension hardtail, or an entry level dual suspension. Dual suspension bikes don't usually come this far down in price, so it really opens up a lot of choice for potential buyers.
---
The Frame.
Polygon's huge dual suspension catalogue is full of weird and wonderful looking bikes using advanced suspension designs and carbon frames (like this wild one), but the Siskiu keeps it pretty simple with a classic single-pivot suspension design and an aluminium frame.
The big changes to the frame for 2016 from the previous model is the hydro-formed (call it curvy) tube shapes, wider 142mm dropouts to keep up with current wheel standards and routing the gear cables internally through the frame.
The whole bike weighs only 13.3kg, we think that's pretty good!
---
The Parts.
Bikes have come SUCH a long way in a relatively short time. Not too long ago a dual suspension bike of this price would not be up to the task of real mountain biking, the brakes would certainly not have cut it on wet trails, the wheels would have bent out of shape easily and it probably would have weighed about 18kg. But fast forward to 2016 and we're spoilt with all this performance!
The moment we first saw this bike we searched with a critical eye for a weak link – a component that could possibly let us down on the trails – but nothing was obvious at all.
And after a few solid weeks riding the Siskiu showed us the great quality mixture of Shimano, Mavic, RockShox and Polygon's own components are up to the task.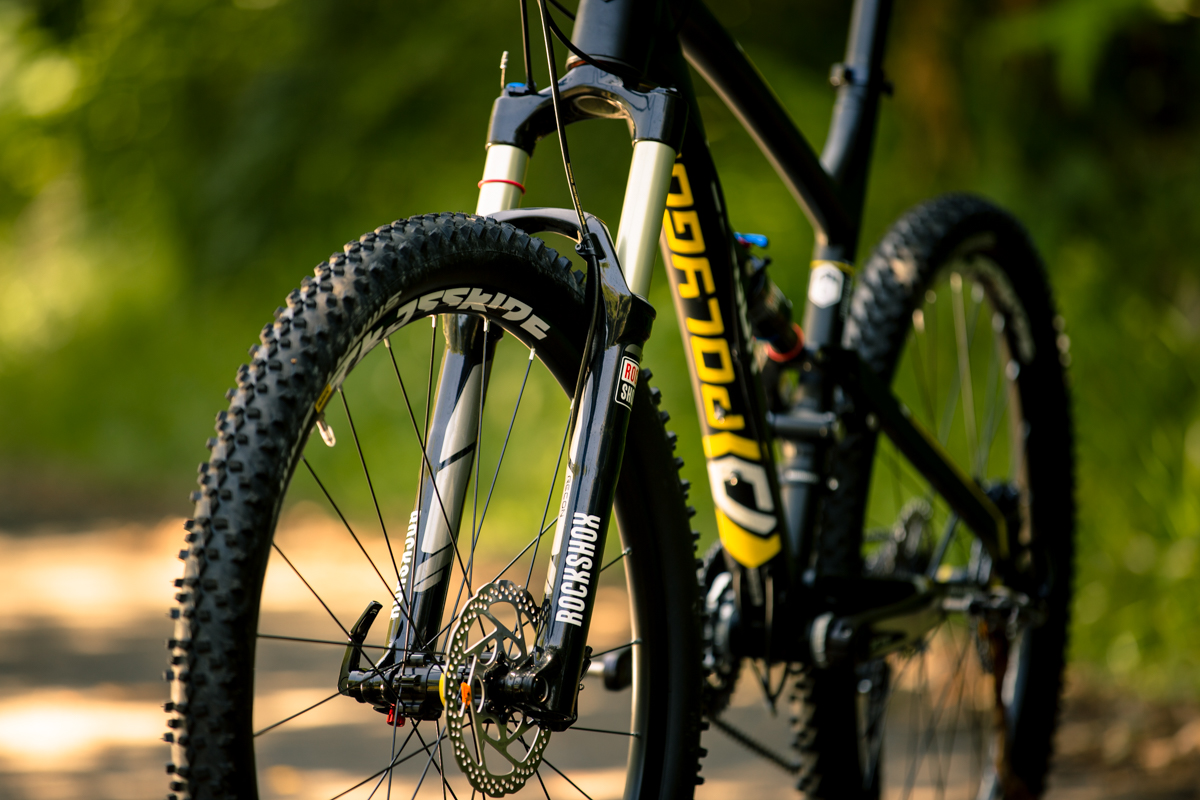 RockShox handle the suspension duties with a Recon Gold Air fork and Monarch RT rear shock, both are very decent pieces of kit in our experience. The fork uses an adjustable air spring which makes for easy setup for each individual rider, and the rebound speed is also adjustable.
A remote lockout button is fitted to the bars for quickly firming up the fork when climbing up steep hills or jaunts on the tarmac where you don't need the suspension bobbing around.
Out back is the RockShox Monarch RT shock, with air adjustment and handy sag guides etched on the shaft helping to set your correct air pressure and sag height. We found the sweet spot at around 25% sag.
The little blue lever has two settings, open and closed. Locked out the suspension was still active to a degree, just right for smoother sections of trail and climbs.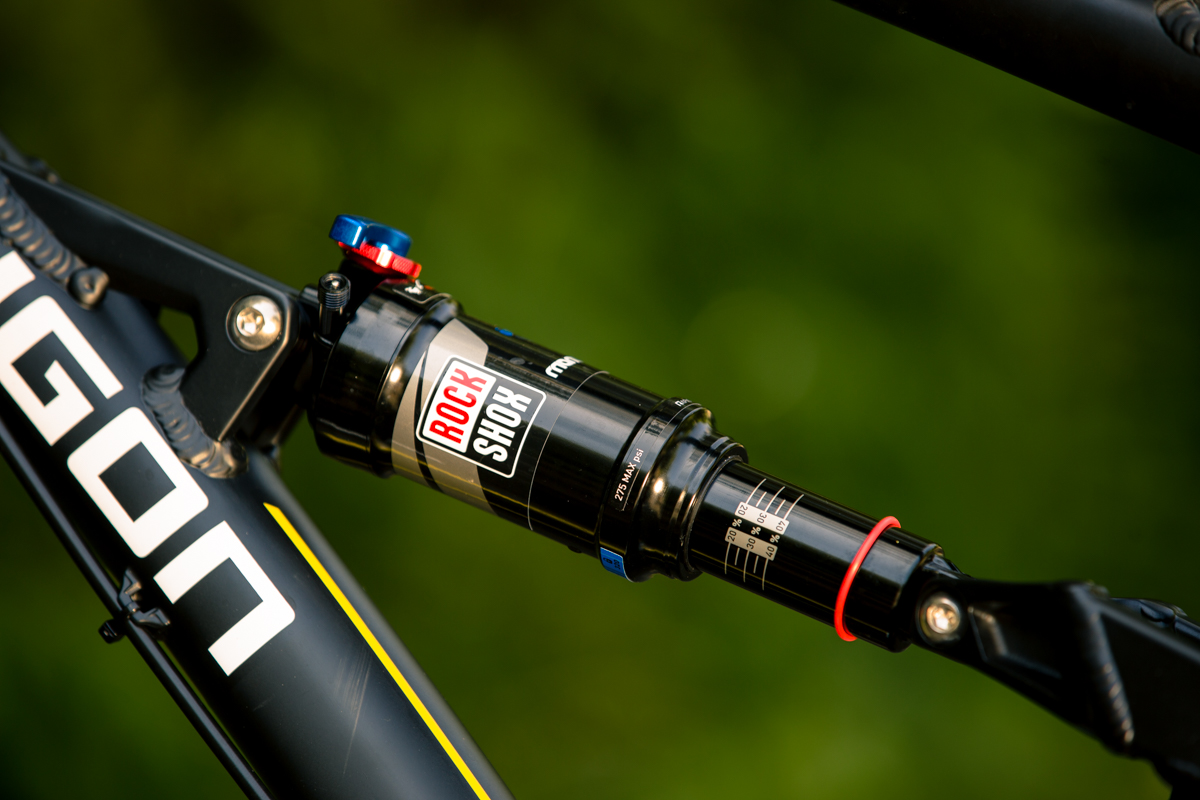 The Shimano's hydraulic brakes on this bike are astonishing, the light and consistent lever feel when given a squeeze gives the Siskiu a high end feel.
While they don't quite have the serious bite and power of the high end versions, they out-performed our expectations. In the mud and wet the braking remained powerful enough to keep the bike under control with only one finger on the lever, impressive.
It's a bit of a European affair with the hoops, with French rolling legends Mavic take care of the wheelset and German tyre guru's Schwalbe with the rubber bits.
The wheels are the Mavic's  27.5″ CrossRide, they felt both strong and fast to us, with no signs of any straightening needed after our test. Schwalbe's Smart Sam tyres are a bit of an all-round type of tyre, with a close tread pattern in the centre for smooth rolling on hard surfaces, but sharp edges on the side knobs help traction in the corners. They aren't the tubeless ready ones though, that's something to look at as a future upgrade perhaps, going tubeless does wonders to a bike.
Shimano's SLX/XT drivetrain is a real winner, with a very wide range of 20 gears to ensure you'll never run out. The XT rear derailleur uses the clutch mechanism which provides stable and quiet chain retention with a flick of the switch, a big advancement in technology that's happened to mountain bike gears in recent years.
---
The Ride.
If you're spending $2K on a dually, it'd have to be worth it when compared to a hardtail.
Generally speaking you'd pay around $700-$1000 more for a dual suspension bike with a comparable level of components found on a hardtail. But the beauty of a good dual suspension bike is how it will easily trump a hardtail in terms of ride quality, and not only for rough trails. With rear suspension you'll be able to ride faster in more control, and ride more tricky sections of the trail without getting off.
The classic penalties for a dual suspension bike comes in the shape of increased cost, weight, and the extra maintenance associated with more moving parts. Then there's an element of efficiency that the rear suspension can rob you of if it's not done well.
But hardtails are just so darn… hard!
The Siskiu is a very comfortable bike to ride, the cockpit is quite tall and our large size test bike felt relaxed enough to ride all day long.
Polygon have done a good job in designing the frame geometry to suit its intended use for an entry level suspension bike, it isn't too slack and nor is it too sharp, the angles feel just right for legitimate everyday mountain biking.
Descending: When the trails turned down we were really able to test out the suspension, and to its credit the Siskiu did a pretty good job! Sure, when compared to some of the top-shelf bikes we test here at Flow the Siskiu's suspension wasn't as composed or smooth when the speeds got higher, but it certainly took care of smoothening out the trails so we could let the brakes off and have a good time. 120mm of travel is a good amount for general trail riding, any more and it would feel too cumbersome on the climbs.
The rear suspension worked best when unlocked for the roughest descents, and we ran the rebound speed slightly slower than normal. We found the limits of the fork when ridden extra hard, on the biggest impacts the fork would reach the end of its travel with a harsh clunk, so we upped the fork pressure an extra 10-20psi when we were riding rougher descents. The tyres are a bit of a dual-duty type, with a close and sharp tread pattern that rolls fast and grips well but consider a larger tyre down the track if you want a bit more cushion and flat tyre protection.
Upgrading to an adjustable seatpost would do wonders to the descending abilities of this bike, as would a tubeless tyre conversion.
Climbing: Getting back up to the top of the fun bits was also a fairly good experience, the bike's 13.3kg was manageable and the rear suspension helped increase the traction at the rear wheel, letting us climb looser and rougher lines without slipping. The rear suspension is certainly not tuned for cross country racing, so it'll bob around if you're heavy on the pedals on a climb so it's best to flick the switch when you know what's coming up.
Out of the box the Siskiu's stem is at full height, and that's pretty high, great for cruising about the trails. But if you want a more aggressive climbing and cornering position we'd suggest dropping the stem down on the fork steerer (like in the pic below), and replace the headset spacers on top. Ask your local bike store for a hand if that sounds confusing.
With the double chainring up front and ten speeds out the back, you'll be hard pressed to find a climb that's too steep for the gears available.
Cornering: The Polygon isn't an aggressive bike, so it responded best to a gentle hand when turning through singletrack corners. We always felt safe and secure when tipping the bike down through a bend, with the Schwalbe Smart Sam tyres hooking up nicely and biting into the dirt finding good traction.
Its 27.5″ wheels suit the bike's feel, and let the bike be quite nimble and playful, we found it quite fun to punt off drops and play around on the trails.
Any issues? Our test bike developed a knocking feeling in the moving parts of the rear suspension, it rattled slightly when riding and we were not able to fix it by tightening all the bolts and rear shock hardware. After it returning to Bicycles Online they were able to get to the bottom of the issue pretty easily, a simple washer was missing from the rear shock mount. Polygon have since rectified the issue and as our test bike came from an earlier batch any new bikes will be correctly assembled.
---
Verdict.
Riding the Siskiu was more than just a case of 'getting what you pay for', it showed us how far mountain bike development has come and the 'technology trickle down effect' is certainly working.
Polygon's are sold online, so unless you're able to try before you by at the Bicycles Online headquarters in Sydney's north you'll face the challenges of online shopping, but that's also why this bike is such killer value.
In the end we enjoyed this bike, with such solid performance and reliability from the components fitted to a sturdy and well-thought out frame, we'd take a Siskiu D8 over a hardtail any day.