Travelling with a bike kind of like travelling with a toddler, the only difference is that you're the one chucking the tantrums. With a toddler, you can always sedate them, but when it comes to bikes, the best solution is a proper bike bag.
We've usually gone down the route of a cardboard bike box for travelling with a bike, purely because there are generally a few empty boxes lying around the office. But on our recent trip to Alice Springs, we were transporting some precious cargo – a $10,000 Trek Fuel EX 9.9 – so a cardboard box wasn't going to cut it. We wanted something that offered lots of protection, but which wasn't going to blow out our baggage allowance. Enter the Mega Bag.
The PRO Mega Bag weighs in at 7.75kg on our scales (surprisingly, almost a kilo less than PRO claim), which is a fraction lighter than both of the other bike bags we've used in the past 12 months (Evoc and Dakine, both 8kg). In terms of construction, it melds some aspects of a soft bag and a hard case, with an alloy frame reinforcing the the bottom of the bag, and it has four wheels, so you can use it as a skateboard. It's all put together with quality materials, reinforced seams and robust-looking zippers and there are more handles than an octopus could use.
With no instructions supplied, we thankfully didn't have to think to hard about how to fit our bike. First, off come your handlebar/stem and pedals. Fit the triangular frame protection pad around the head tube area, then affix the bars vertically to the pad using the velcro straps. Stick the pedals in one of the bag's interior pockets.
Next, both wheels come off, then it's a matter of securing the bike's dropouts into the resin dropout mounts/brackets using the bike's own axles to hold it all in place. The resin brackets can be slid along the alloy frame to account for wheelbase variations, and there are upper and lower mounting positions to account for the height of your bike. With our 29er, we needed to extend the wheelbase adjustment almost to its limit – bikes with a wheelbase longer than 120cm will be a tight fit – and we used the lower mounting point for the fork dropout. The rear dropout bracket has a neat chain holder too, so your derailleur and chain are kept under tension and don't flop around. There's also an optional drivetrain cover, which is kind of like a shower cap for your chain, that we didn't bother with, along with two more random foam blocks that can be fitted to the frame alongside the head tube and seat tube junctions for a little bit more cushiness.
The sides of the bag are large zip-up compartments for the wheels, and they're generously voluminous – our 29er wheels with 2.3″ tyres didn't need to be deflated to fit. There are hard plastic panels to protect your rotors (or you could remove them) and thick padding prevents the hubs/cassette from digging through the interior panel and damaging your bike in the main compartment. Finally, there are a handful of zip-up pockets in the bag that can be stuffed with tools, tubes and jelly snakes, and also a large mesh bag that's perfect for your hemet, shoes and hydration pack. The second time we used this bag, it genuinely took us about five minutes to completely pack the bike.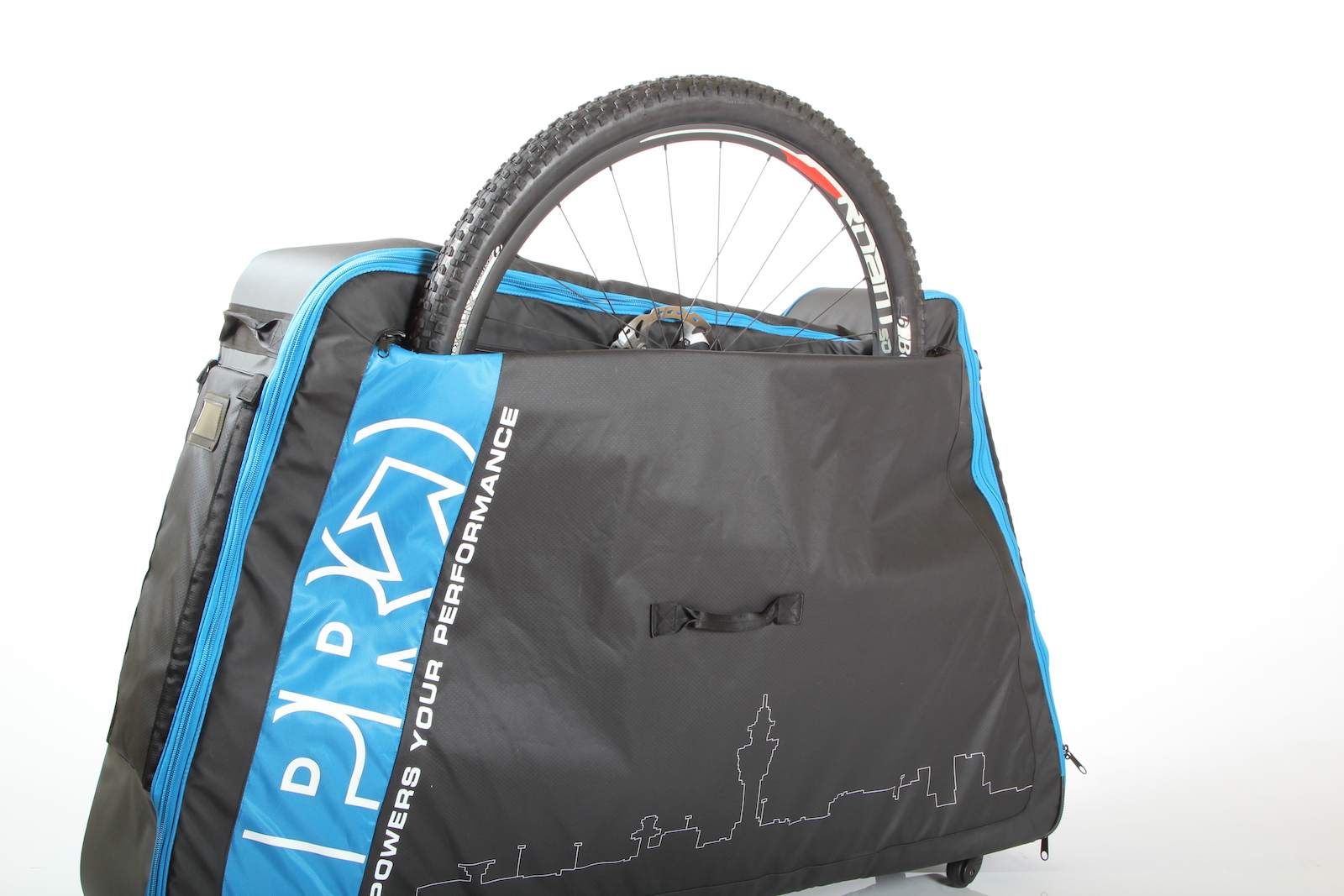 Our only gripe with the PRO Mega Bag is that it's a bit of a handful to wheel around. Because all four wheels can swivel, it's actually really hard to keep the bag rolling in a straight line, kind of like trying to teach a puppy to walk on a lead! We think the bag would be better if one set of wheels were fixed and the other set swivelled, as this would give you all the manoeuvrability you need but without the bag occasionally flying out of control like a satellite that's spun out of orbit.
Of course the high price is also a serious consideration. At almost seven hundred clams, this PRO Mega Bag is a lot more expensive than your average cardboard box (infinitely more expensive, actually, as cardboard boxes are normally free). Still, we're sure they'll be available for less than the ticket price, because this is a competitive part of the market. Regardless of the price, compared to the pain of cramming your bike into a cardboard box, jamming it with padding, fretting about the box getting wet or crushed, and then having to drag it around the airport with the handles tearing apart… well, let's just say that we're not going back to the old cardboard box, that's for sure. If your bike is your baby, you travel often, or you can't bear the idea of travel damage, then a bag like this is a no brain-brainer.